Welcome, Foolish Mortals, to the Haunted Mansion. If those words make you excited every time you hear them, keep reading.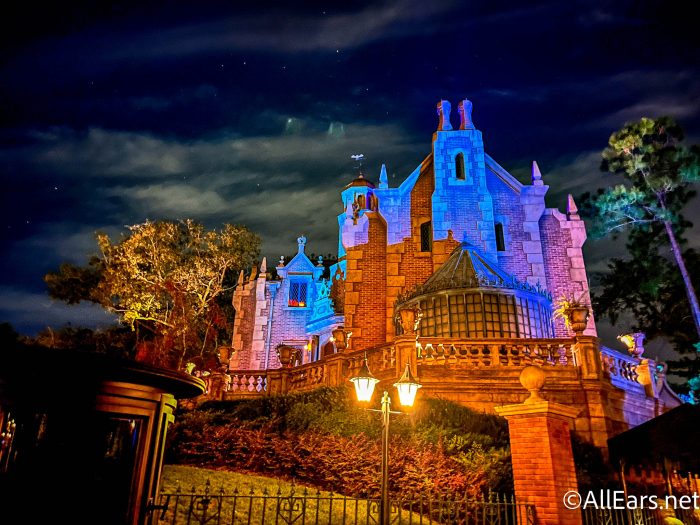 Yes, we get that a LOT of people are obsessed with the Haunted Mansion (it's us, we're people). Not only is this one of Disney World's most unique attractions, but it's a classic ride that has stood the test of time as one of Disney's best! So if you love Haunted Mansion as much as we do, we're going to tell you about some SERIOUS Haunted Mansion collectibles, Haunted Mansion Loungefly bags!
Now, we need to note here that Haunted Mansion Loungefly bags can be very popular, and these aren't available new now because they were sell-outs. But if you LOVE Haunted Mansion, you might find these on resell apps!
Haunted Mansion has so many details that you can ride it over and over and learn something new about it every time. It even has a TON of memorable characters (and again, there are so many, we're not sure even we've had a chance to study them all). There's Madame Leota, the fortune teller who's calling out to spirits beyond…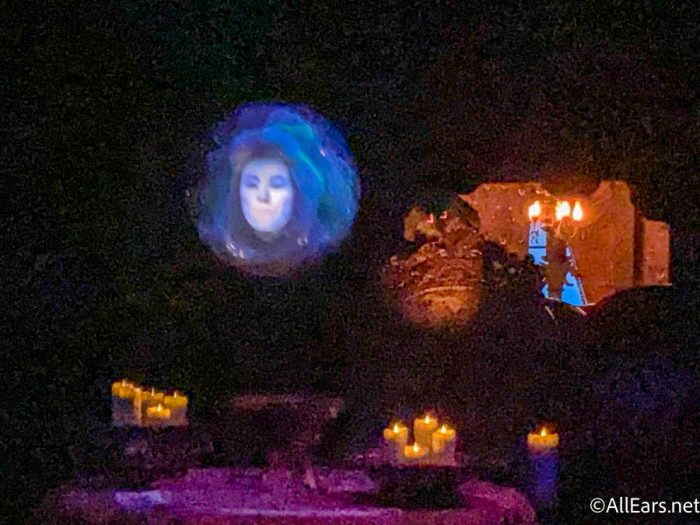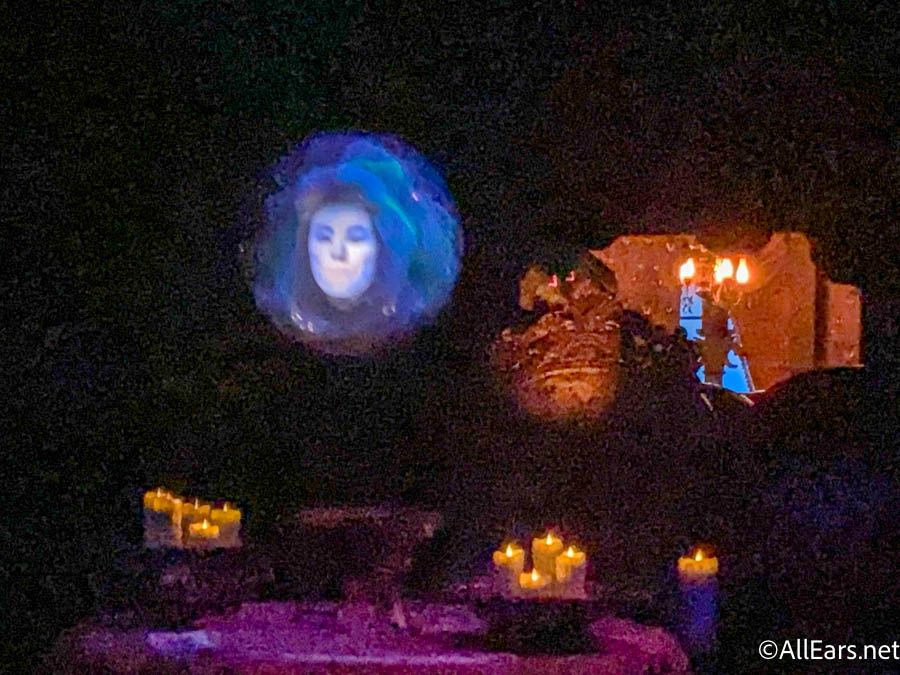 There's the Ghost Host, whose deep and foreboding voice welcomes us into the mansion and then warns us about the Hitchhiking Ghosts. There's Constance Hatchaway, the black widow bride, the Singing Busts Ghosts, the Opera Singer, and more! We found them ALL on this purple Loungefly Collection. The Haunted Mansion Mini Backpack dares you to spot all the characters from the ride that are on it (hint: there are a lot!)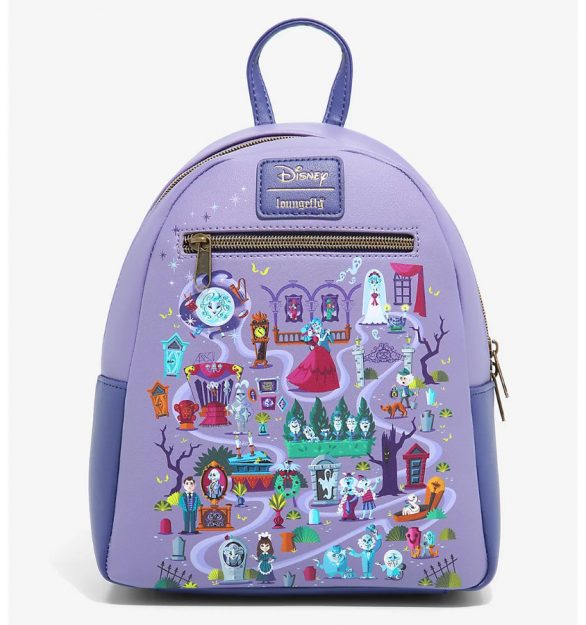 The matching Wallet doesn't have enough room for all those characters, so it just features some of the more infamous ones, like the Hitchhiking Ghosts, Madame Leota, the Opera Singers, Constance Hatchaway, the Gravedigger and his dog, and the Haunted Knight Armor.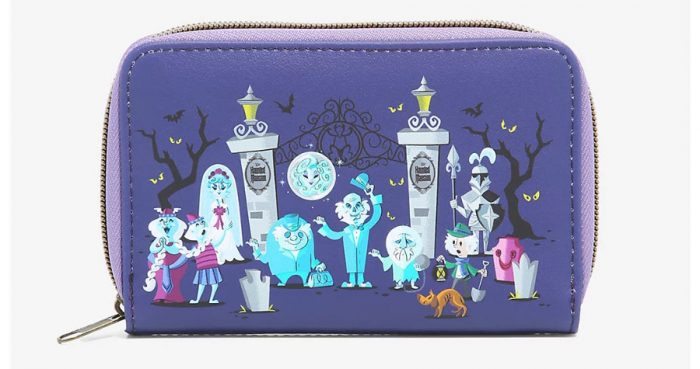 There's a Satchel Purse with the same design, but there is a very cool print of bats on its sides. We love the mix of the dark and light purple on this design. This bag would be great for when you need a bigger bag to carry all your stuff in.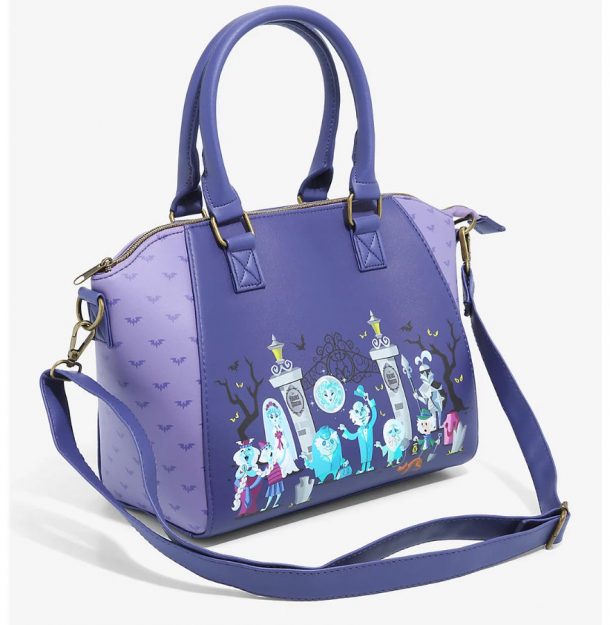 If you're more of a Crossbody Purse person, there's a Crossbody Bag, too, and this one looks a little spookier. Its background is black, and it's got the characters in a pattern all over it. "When the crypt doors creak, and the tombstones quake, spooks come out for a swinging wake." And they are certainly swinging on this bag.
We've mentioned Madame Leota a bit, so here's a little something you need to look for the next time you find yourself standing in line at the Haunted Mansion. Just before you enter the building, you'll see a graveyard on the left that includes Madame Leota's tombstone which has her face on it. Watch it long enough and you just might see her spring to life!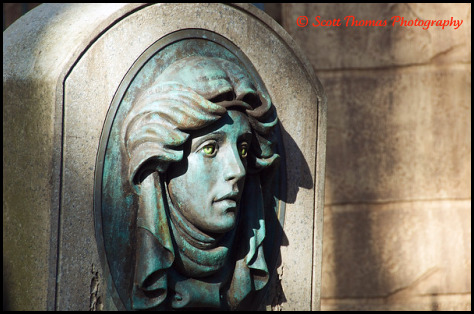 One of the most iconic pieces of decor inside the Haunted Mansion is the purple wallpaper with the creepy eyes on it. If you love that wallpaper design, this Haunted Mansion Loungefly Mini Backpack is just for you because it's covered in that creepy wallpaper.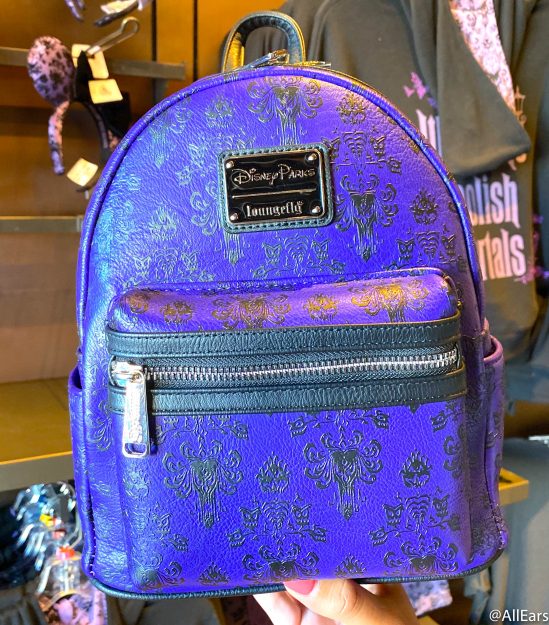 The lining of the back on the inside has that same pattern, but it's done in an eerie black and white, making it even spookier.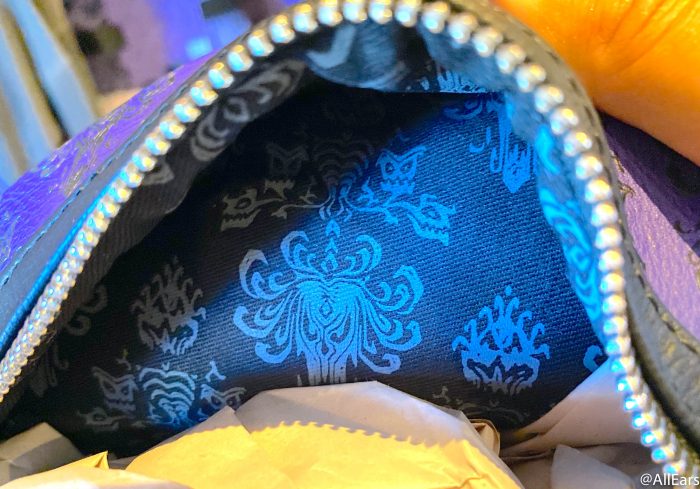 If we had to pick a favorite Cast Member outfit in all of Disney World, we'd have to say the Cast Members' outfits for Haunted Mansion are a SCREAM. They give off an ancient and creepy vibe that fits the Mansion's atmosphere so perfectly. We even saw the Costume as a Loungefly Mini Backpack. How could not love that "Ghost Host" nametag, too?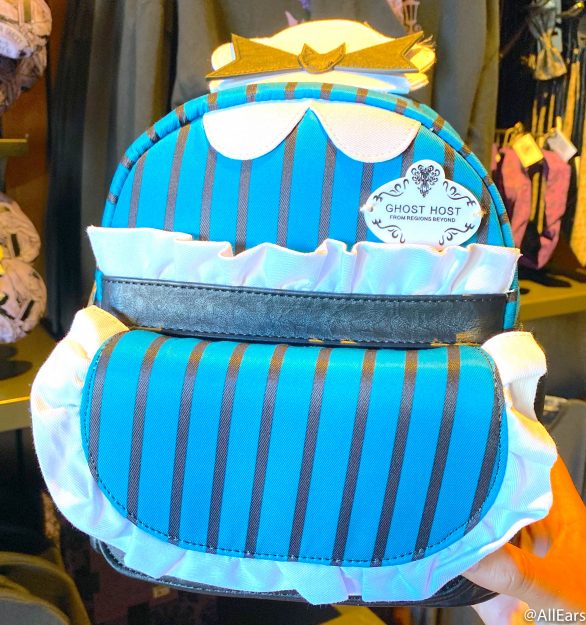 It's even got the little bat on top like the headpiece the Haunted Mansion Cast Members wear.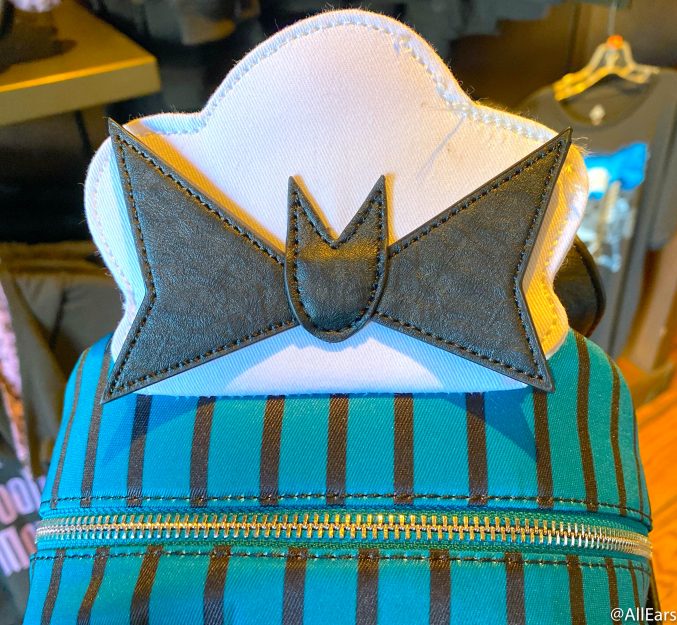 Did you know you can actually see the Ghost Host inside the ride? There's a portrait of him just after you pass the casket with the hand hanging out of it trying to escape. You'll find it on the right before the Doom Buggy swivels around to show you the Grandfather clock. You know it's him because there's a rope around his neck and he's holding an ax, presumably the ax he cut himself down with.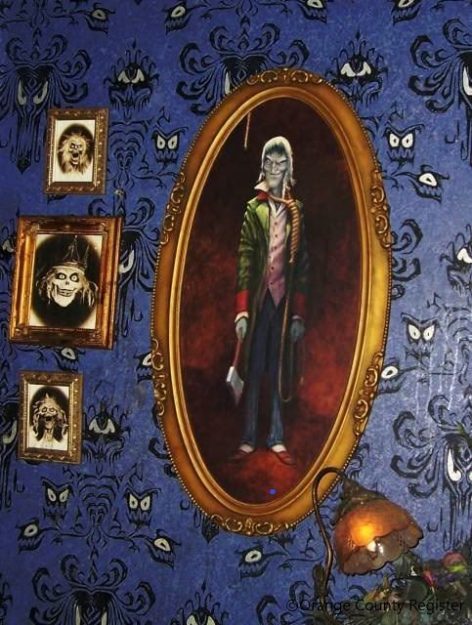 If you definitely want to bring a Hitchhiking Ghost home with you, this Hitchhiking Ghosts Crossbody Bag has all three: Ezra, Phineas, and Gus. They can come home with us anytime! This bag even kinda' resembles a Doom Buggy.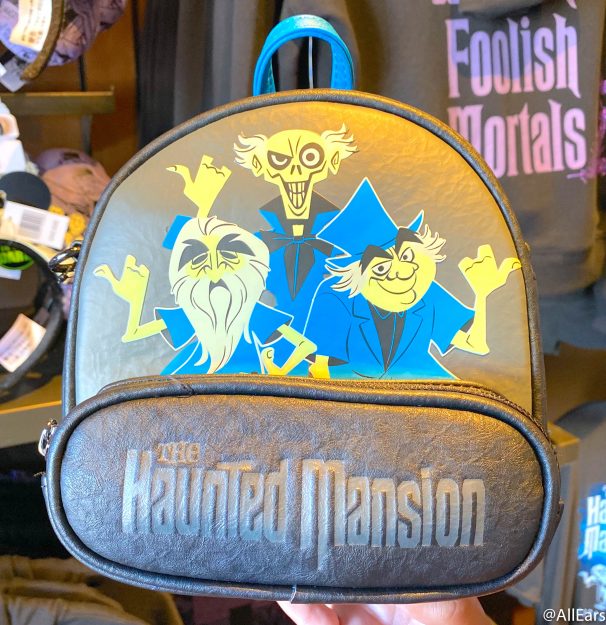 There's a cute pattern of the hitchhiking ghosts INSIDE the bag, too, on its lining, along with some bats, other ghosts, and tombstones.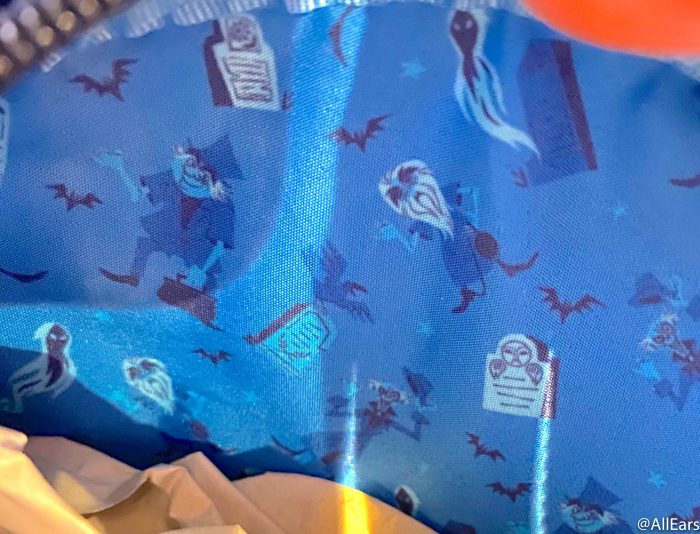 Back in 2022, one of our absolute favorite collections was the Mickey Mouse: The Main Attraction collection which featured Mickey collectibles every month themed around a Disney World ride. Of course, our favorite month was October, when the theme was The Haunted Mansion. That collection featured a sweet Loungefly Mini Backpack with Mickey ears covered with the striped wallpaper design, bats, and a front pocket with the classic eyes wallpaper design.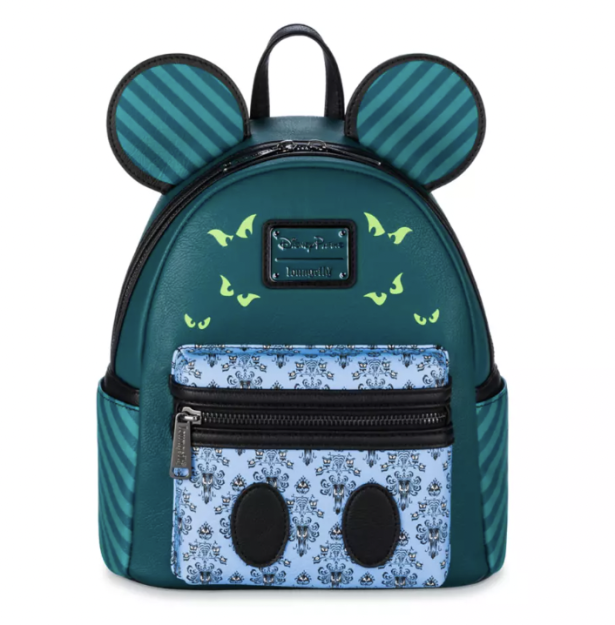 So if you're a big Haunted Mansion fan, be sure to keep an eye out for new Loungefly bags celebrating Disney's spookiest attraction. Most of these bags are released just before Halloween, but we've seen them throughout the year, too. We'll let you know when we spot new bags online, so as Little Leota says at the end of the ride, "Hurry back…"
Do you have any Haunted Mansion Loungefly bags? Let us know in the comments!