Last fall, Walt Disney World introduced a pilot program to allow dogs stay in hotel rooms at four of its resorts. That program is scheduled to end on Oct. 15 of this year, and Disney officials say there are no plans to extend it.
Guests who have reservations on or before Oct. 15 in the designated locations will be allowed to have their dogs stay through the end date of their reservations. (Cats are not part of this program.) When this program ends, the only pet-friendly lodging option on Walt Disney World property will be some of the pet-friendly campsites at Fort Wilderness.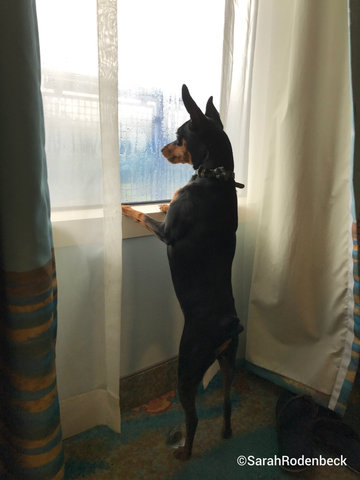 Pet-friendly hotels in the test program include Art of Animation, Port Orleans Riverside, Yacht Club and the Fort Wilderness cabins. Guests can have a maximum of two dogs per room, and there is an additional cleaning fee per night per room of $50 at each hotel. (The fee is $75 at the Yacht Club, which is a Deluxe resort.)
The rooms are located in sections of the hotel with easy access to outdoor pet walkways for exercise and green spaces with pet relief areas. Disney has designated certain floors or sections of a hotel as dog-friendly, while the majority of areas have remained canine-free to accommodate guests with allergies or other concerns.
At check-in, guests receive Pluto's Welcome Kit, which includes a mat, bowls, a pet ID tag, courtesy plastic disposable bags, puppy pads, dog-walking maps and a Pluto "Do Not Disturb" door hanger. Housekeeping only is provided when guests are in their rooms and can be scheduled by calling. Dogs have to be quiet when left unattended in rooms; otherwise guests are contacted and have 30 minutes to address the issue. The Walt Disney World policy says that dogs should not be left unattended in rooms for more than seven hours.
While dogs will be allowed to stay in guest rooms of the designated hotels, they will be expected to be well-behaved, leashed in public resort areas and properly vaccinated. Dogs are not permitted on furniture in public areas. Additionally, only service animals are permitted in restaurants, Club lounges, pool areas, fitness centers and other public guest areas. The same is true of Disney Springs and the theme parks — only service animals are admitted.
However, pets coming to stay at Walt Disney World are allowed to use some Disney resort transportation, including Magical Express and Minnie Vans. Dogs must remain in pet carriers during travel.
During Hurricane Irma last year — which struck Central Florida before this pilot program was in place — Walt Disney World allowed guests fleeing the storm to bring their dogs to the resort hotels. You can read about that experience here.
Going forward, if guests with pets are not staying at Fort Wilderness, they can board their dogs at Best Friend Pet Care, which is a luxury facility located on property.