To all who come to this photo trivia game, Welcome! Along the way, the photos can make us relive memories and see details Walt's Imagineers put into everything we love in Walt Disney World!
Happy Belated Father's Day! I hope you had a wonderful time!

Thank you for all the birthday wishes!
My dogs "helped" me with this week's post (they laid on the keyboard). I think I cleaned up their additions, but I apologize if I missed any. They get demanding for attention sometimes.

Now for Challenge #541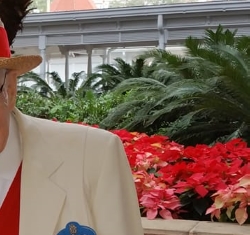 And here's the answer: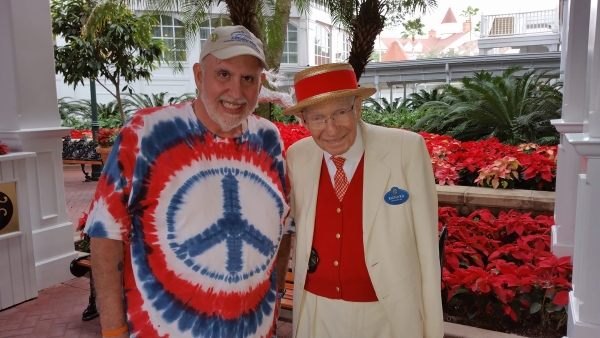 Copyright © Erin Blackwell
My husband with the late Mr. Richard Garth, the greeter at the Grand Floridian. A wonderful man who gave a perfect example of what a cast member should be.
Let's also hear it for my husband's fashion choices. You can tell he's shy and likes to blend into the background. 😊
Cathy Fleming was the first to send in the correct answer! Congratulations to Cathy and to all our winners this week! Patricia Morin, Phyllis, Joseph M. Zafia, Brian Gallant, Martha & Justin Colllins, Gloria Martin, Claire Gregory, Linda Hoffman, Larissa Huda, Steve Porter, Al & Kerry Ganter, Tammy Warmouth, The Gunnels Gang, Sandie Albrecht, Michael O'brien, Karen O' Brien, Andy Hickey, Michaela O'brien, The Nufranick Family, Team Hill, Adolph And Kimberly Timm, Tricia Petty, Bruce Hinterleitner, Stephen Reilly, Ken Maikowski, Sharon Powell, Michelle Buchecker, Hunter Armstrong, Josh Weiss, Joann Albrecht, Belicia Cullen, Scott C, Jim Finley, Karen Ramirez, Margaret Convery, Vicki Britt, K Beasley, Linda College, Loring Family, Russ Morgan, Chris Kelly, Sands Family, Tim Johansen, Luis Rodriguez, Beth Mcmeekin, Jim & Lorie Sonnen, Amy, Leach Family, Bonnie Jean, Karen Schlumpf, Emma Ramsey, Ruth Woodhouse, Maureen And Warren Handy, Nan Amor, Emily Hudson, Team Bonnie Sue, Grumpy's Groupies, Smitty, Stacie Huang, Steve Knapp, Theresa Rucando, Jeremy Hardy, Renee Hardiman, Janet Fosbender, Vera And Izzy Williams, Mickey Eckert, Kris Nixon, Ashley Collins, Mis Jamie Marie, Christi Ison, Erin Hammer, Andrew Carrieri, Ken Savage, Theresa Maradei, Karen Taylor, Pam Lorenz, Becky Norman, Deb Ragno, Jodie S., Melissa Haeberle, Jeff Blank, Kyra, Wayne Chadourne, Blake Schmidt, Cathy Connors, Pensacola Glenn, Karrie Rodriguez, Leigh Mertz, Nicole Shuler, John Paul C., Christine Dagney, Linda Scrivano, Rebecca Keenan, The Patterson Family, Kate G, Robert Wescovich, Monica, Annie Middelberg, Jim Thompson, Sue And Ed Adams, Cheryl Chambers, Terry Harris, Mark Hardy, Jamie Poynton, The Kertes Family, Dee Dee Kenney, Cheryl Costello, Karen Adamakis, Eric Enli, Carri Marotto, Jamie Steiner, Dan In Nh, Patrick Broaddus, Hillary Waldroop, Sheila Bagg, Barclay Bakkum, Liz Moreau, Donald Purney, Linda Grau, Chris, Gretchen, And Katie Barnes, Matthew Cofone, Jane Edgecomb, Shirley Garcowski, Andreas Beer, Melissa Gvist, Michael & Jackie Mclucas, Thomas R Higbee, Gallagher Family, Maureen Tavrell, Linda Ranatza, Vincent Degasperis, Jane Johnson, Sherri Pell, and George Mundy Jr.!
_______________________________________________________
Challenge #542 Where in the world is this?
One of my favorite characters! You only have to tell me who he/she is. Hint? This person is dressed for a celebration here, but they are more known for their… let's say masculine attire.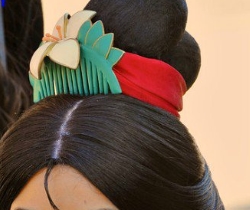 Do you know? Do you have a guess? Please send in your answer, before the end of the day on Thursday, June 28th, by clicking on the blue box below.
Please do not post answers using the Feedback Form link at the bottom of this post.
See you soon, Players!


_______________________________________________________________________
Everyone who sends in a correct answer to a Where in the World Challenge this month will be entered in a drawing at the end of the month for some special AllEars® goodies!
–