Walt Disney: One Man's Dream Mickey Avenue Disney's Hollywood Studios Archives
One Man's Dream began the transition to Walt Disney Presents on August 17, 2017.

INTRODUCTION
Walt Disney: One Man's Dream opened October 1, 2001, in conjunction with Walt Disney World's 100 Years of Magic celebration. Housed in one of the soundstages along Mickey Avenue, it brings guests their first view of special Disney memorabilia. One Man's Dream is presented by D23 — The Official Community for Disney Fans. "D23 Welcomes You" signage is displayed on the marquee of the attraction and a display case featuring the room of a Disney fan adds to the collection of Disney history currently on display. Many of the pieces on exhibit came from the Walt Disney Archives, which is a big part of the D23 community. The new D23 display case features items a real Disney fan might own, including the Ultimate WALL·E, a "Treasures of the Archives" lithograph and the five-Mickey pin set which was the very first Walt Disney Archives Collection item.
ATTRACTION
WALT DISNEY: ONE MAN'S DREAM — This interactive gallery features a collection of memorabilia from the Disney archives that has never been available to the public before. Visitors are shown artifacts from Walt Disney's life and from the history of the company he founded — from his birth in 1901 through the company's vision for the future. In addition, the attraction includes a short film of Walt Disney's life in a special "Walt Disney Theater." The film explores the extraordinary hardships Disney overcame, as well as previously unseen footage, including Walt talking about his creation, Mickey Mouse. The film is narrated by actress Julie Andrews, who starred as Mary Poppins in Disney's film of the same name.
NOTE: The film on Walt Disney's life is often replaced with temporary "sneak previews" of upcoming Disney films. As of March 2017, theater is running a preview of the live-action version of "Beauty and the Beast." In addition, there are a few pieces on display from the film, including Belle's yellow ball gown and the Enchanted Rose.
Throughout the gallery, scenic pieces and props create a trip through each era of Disney's life, beginning with a brief look at Disney's early years, from his birth in Chicago and his formative years in Marceline, Missouri, a period that was crucial to his development as an artist and storyteller.
Among the artifacts on display:
— a model of Main Street, U.S.A.from Disneyland
— Walt's animation camera stand, the table on which he animated "Steamboat Willie" and "Plane Crazy"
— Oscars for "Snow White and the Seven Dwarfs" (one regular size and seven dwarf-sized) and "20,000 Leagues Under the Sea"
— Animated bird from the 1800s that inspired The Enchanted Tiki Room
— Disneyland Castle model
— An interactive re-creation of Project X (Walt Disney World Resort) Florida
— A life-sized Roy Disney graphic with interactive audio as Roy dedicates Walt Disney World Resort in his brother's name
— Abraham Lincoln sculpture bust
— Disneyland Paris Sleeping Beauty Castle model
— Disney's California Adventure model
Throughout the display, "connection cards" join the stories of Disney's creations, from boyhood dreams to reality. In one of the attraction's most exciting features, Walt Disney himself talks about the most meaningful and emotional moments of his life through a rare collection of audio interviews, many heard publicly for the first time, which are triggered when guests approach the various sections of the gallery.
TOURING TIPS
This is a walk-through exhibit, which takes at least 15 minutes to view. There is no place to sit until the end of the exhibit, where you enter a theater to view a film.
The film on Walt Disney lasts about 15 minutes.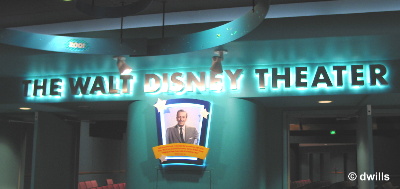 If you're short on time, visit this attraction in sections — view the exhibits during one visit, then re-visit the attraction to view the movie.
Ask a Cast Member for the trivia quiz that goes along with this attraction. If you complete the quiz correctly, you'll get a certificate!
Translator units for this attraction are available at the entrance.
This attraction is wheelchair/ECV accessible.
Assistive Listening Devices from Guest Services Can Be Used Here.
KIDS AND CHARACTERS
At the rear of the gallery, just beyond the entrance to the Walt Disney Theater, there is a character meet-and-greet location. As of June 2017, the meet-and-greet is home to Star-Lord and Baby Groot, from the film "Guardians of the Galaxy, Vol. 2."
TIP: If you would like to see characters without a long wait, visit first thing in the morning, or wait until the evening, when many of the visitors are going to see Fantasmic!
Many youngsters are not aware that Walt Disney was a real person. This exhibit will help show that he was more than just an icon, but a man with a vision. Because of the nature of the exhibit, though, it may not be of much interest to very young children.
Check your daily Guide Map for times and locations of Character Meet and Greet opportunities throughout the Disney's Hollywood Studios.
Disney's Hollywood Studios Characters At A Glance
Character Meet and Greet FAQ!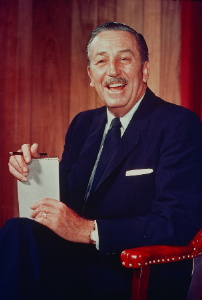 INTERESTING FACTS
The priceless collection of memorabilia for "Walt Disney: One Man's Dream" arrived via Federal Express from California on an Airbus A300 designated Spirit of Imagination. There are more than 400 items in all.
Walt Disney was born in Chicago on December 5, 1901.
"Steamboat Willie", Mickey Mouse's 1928 debut, was the first fully synchronized sound cartoon.
Walt Disney only attended one year of high school.
In 1923, in California, Walt and his brother Roy formed the Disney Brothers Studio. At Roy's insistence, the company soon became the Walt Disney Studio, since he felt that Walt's name should be emphasized. This is officially recognized as the starting date of The Walt Disney Company.
Walt grew his famous mustache at age 25.
Walt Disney was the voice of Mickey Mouse for two decades.
Walt Disney won 48 Academy Awards and 7 Emmys during his 43-year career.
The film at One Man's Dream was originally narrated/hosted by then-Disney CEO Michael Eisner. It is now narrated by actress Julie Andrews.
If you have comments or tips to share with others about touring Disney's Hollywood Studios, please email us. Thank you.