Despite how badly you might want to believe it in your heart of hearts, Disney is NOT perfect.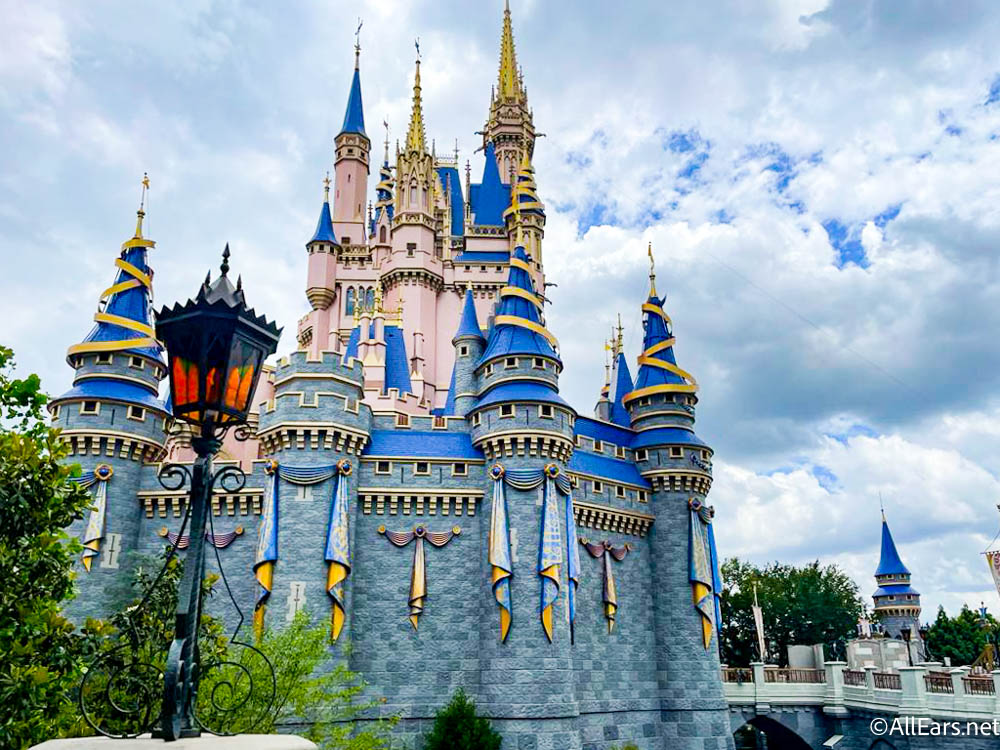 Rides go down, technical issues can shut down mobile order, and other things can happen that make the Most Magical Place on Earth a little less, well, magical. And while Disney's new paid FastPass+ replacement system, Genie+, can help you skip the standby lines, it has its flaws. Many might think that Genie+'s biggest flaw is the price (or the fact that you have to pay for it at all), but that might NOT be the case. Genie+ actually has a BIGGER flaw… .
Genie 101
Before we begin, let's go through a quick overview of what Genie+ is.  Essentially, Genie+ is a paid replacement for FastPass+, but it operates under some different rules than what FastPass+ fans were used to.
First, we have to mention that there is FREE Genie — that is a free planning service built into the My Disney Experience app. With Free Genie, you basically input your desires and likes, and Genie develops an itinerary for you and continually updates its suggestions for your day.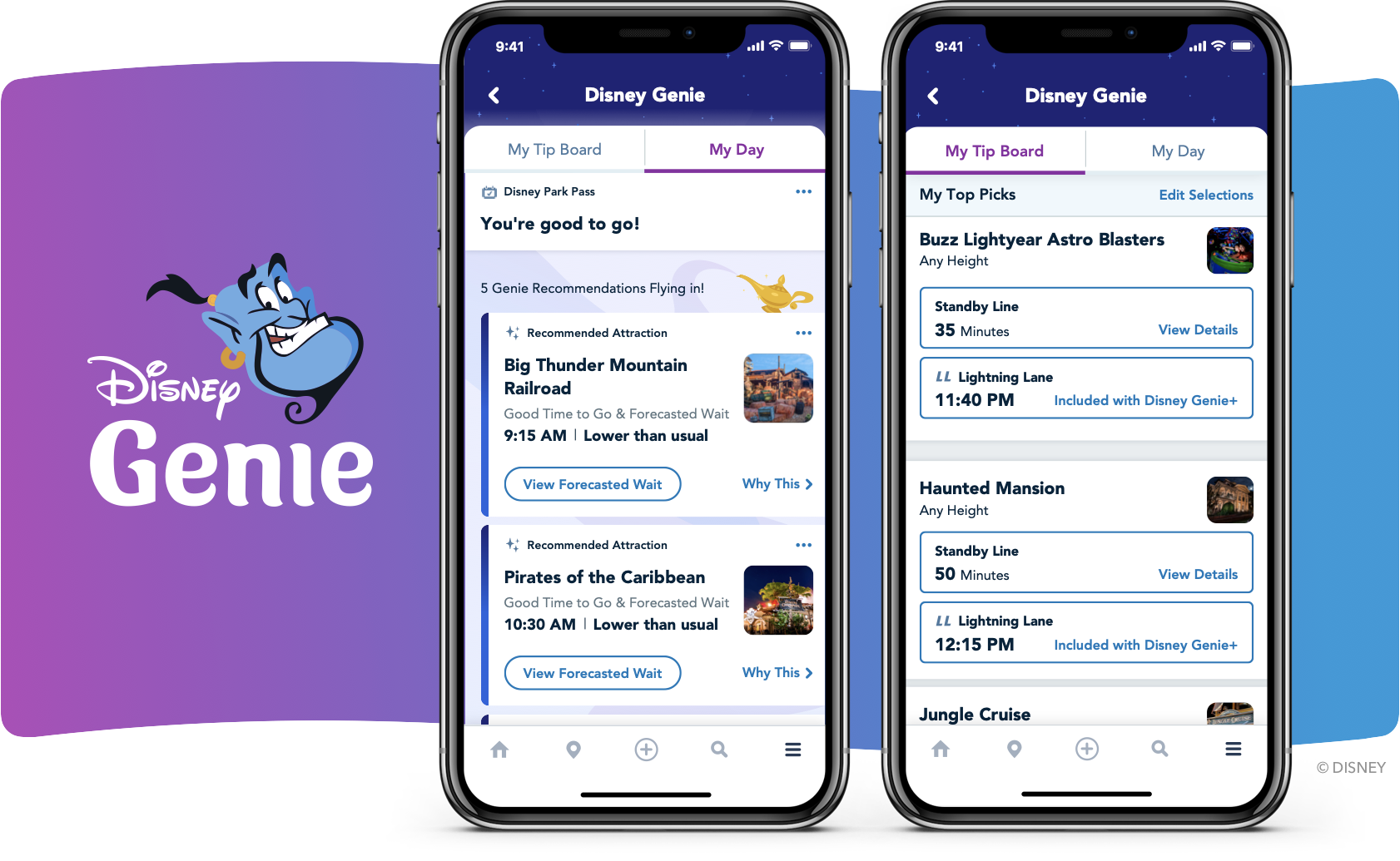 Then there's Genie+. For Genie+ you pay $15 per person per day in Disney World ($20 per day per person in Disneyland). For that $15 in Disney World, you can then look through the My Disney Experience app (Genie+ is built into the My Disney Experience app) and see the next available time to return to a ride and SKIP that ride's standby lane.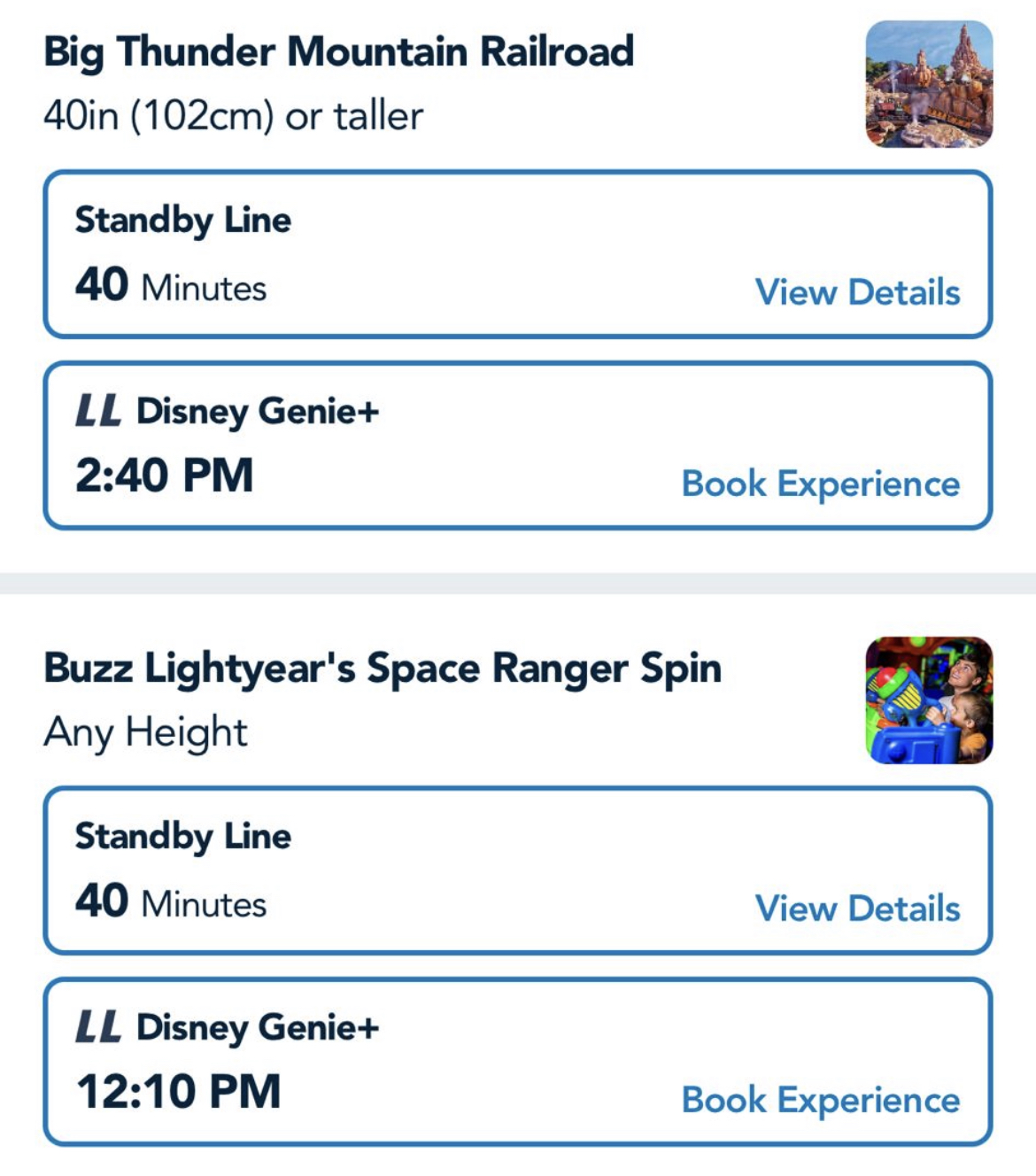 You'll essentially see when you can return to a ride and use that ride's Lightning Lane (the old FastPass+ lane). You'll select the ride you want, choosing the next available return time. Then it's time to hang around the park until your time arrives.
When your time arrives, you'll go to the ride, scan your MagicBand or ticket, use the Lightning Lane, and skip the standby line!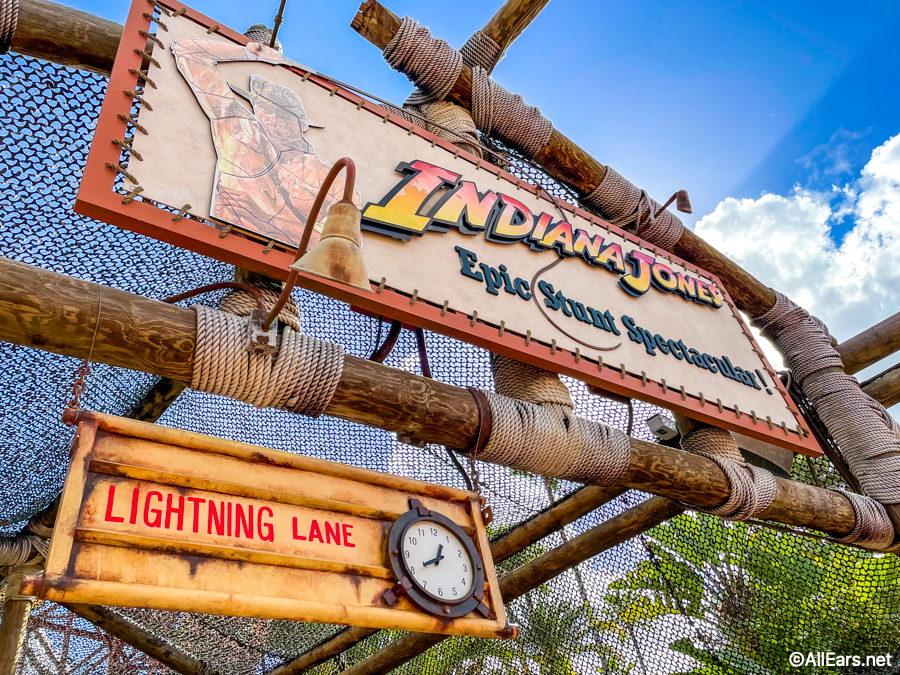 Then you can make another selection. You can make 1 selection at a time throughout the day (but note the 120 rule can complicate things a bit — more on that in a second!).
Another big thing to know is that not all rides are available through the standard Genie+ service. Some of Disney World's most popular rides are available through Individual Attraction Selection (or what is sometimes called pay-per-ride).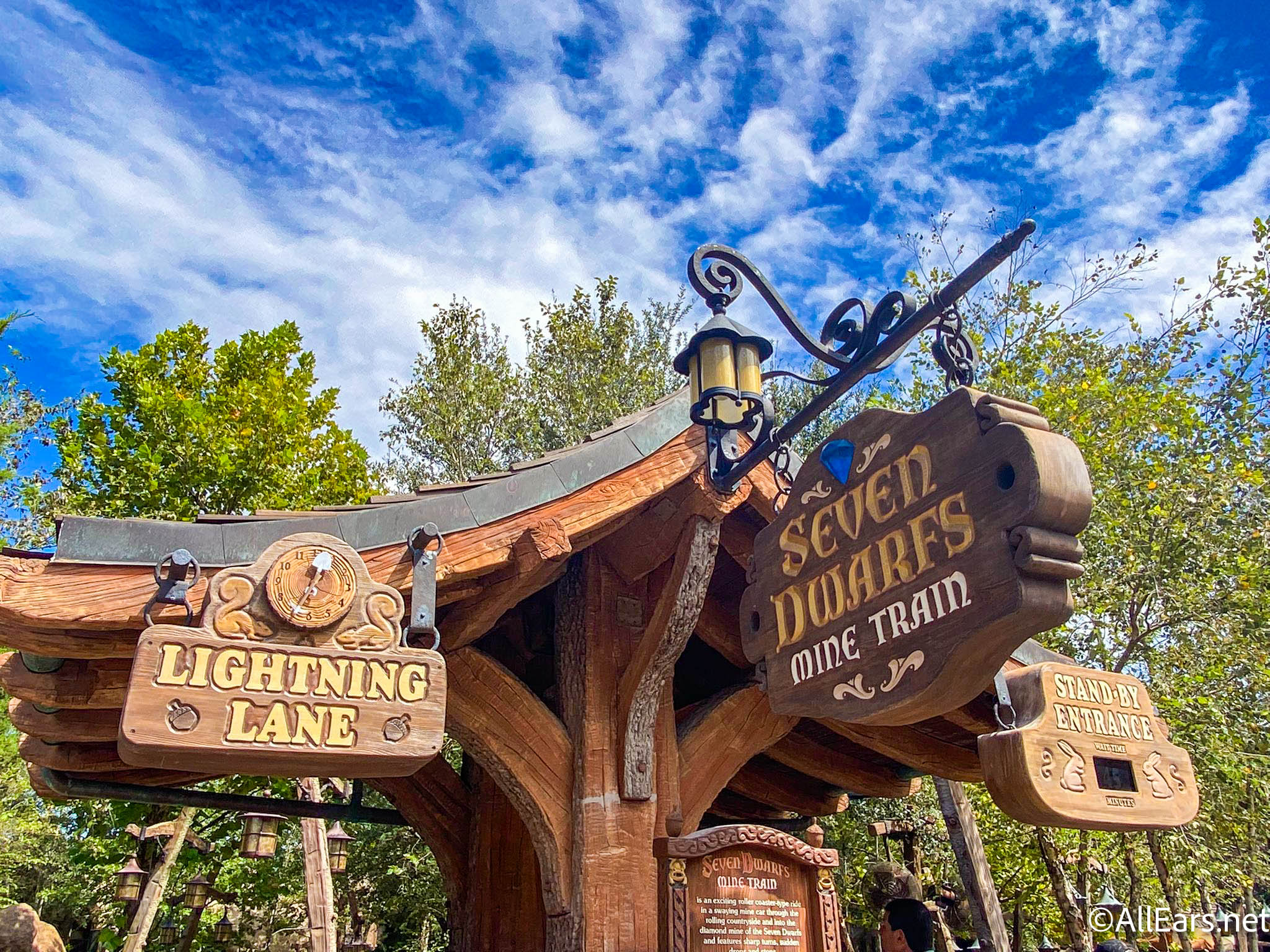 Rides like Remy's Ratatouille Adventure, Seven Dwarfs Mine Train, Star Wars: Rise of the Resistance, and Avatar Flight of Passage are available through this service.
You can purchase up to 2 pay-per-ride selections per day and basically what you pay for is the ability to skip the line ONCE for a single ride. Prices for these vary depending on the day, park, and ride.
Many People Think PRICE is the Issue
For many, the fact that you have to pay for Genie+ (and IAS) and the price points for both is the big issue. And we get it, FastPass+ used to be included in your park admission.
For quite a few guests who used and loved FastPass+, having something go from being included in the price of admission to having to pay EXTRA for it (on top of rising ticket prices) the situation isn't ideal.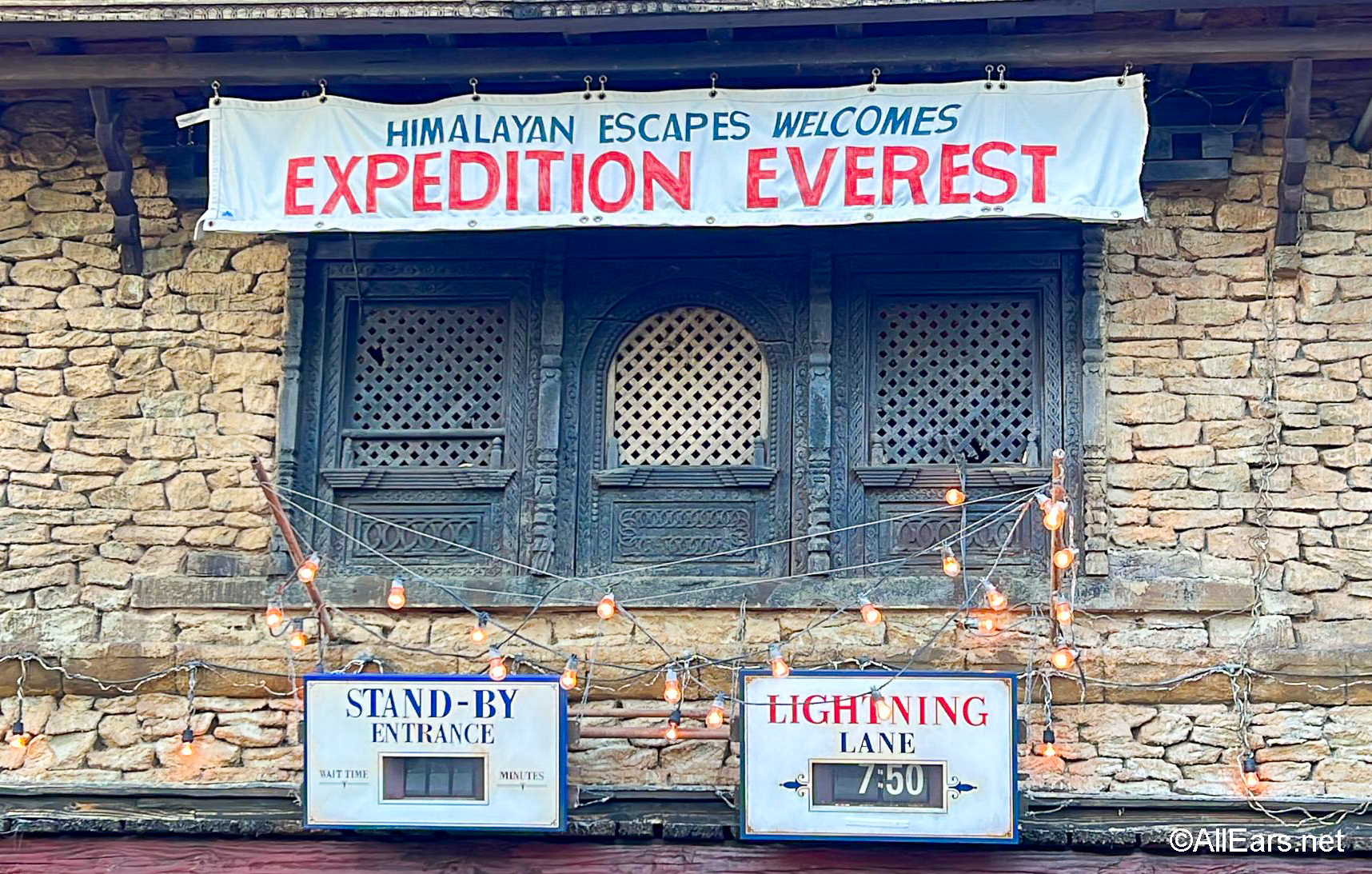 That $15 per person per day (at Disney World) can really add up if you want to use Genie+ on several days or are traveling with a larger party. Not to mention you have to factor in the cost of buying Individual Attraction Selections on top of that (if you want those).
The price can be a difficult hurdle for some to overcome, but price might NOT be Genie+'s biggest issue.
Genie+'s Biggest Flaw Is…
While price can be a frustration, Genie+'s biggest flaw might actually be…how confusing it is! Perhaps just by reading our Genie+ 101 summary above you got this feeling. There are a LOT of things that can be confusing and complicated about Genie+.
1. It's Not a Single System
For starters, Genie isn't just one system. There's FREE Genie (the free planning service), Genie+ ($15 per day per person), and also Individual Attraction Selection (price varies).
You've got to keep these systems separate and, most importantly, know which rides fall into Genie+ vs. Pay-Per-Ride, which can be an issue all on its own.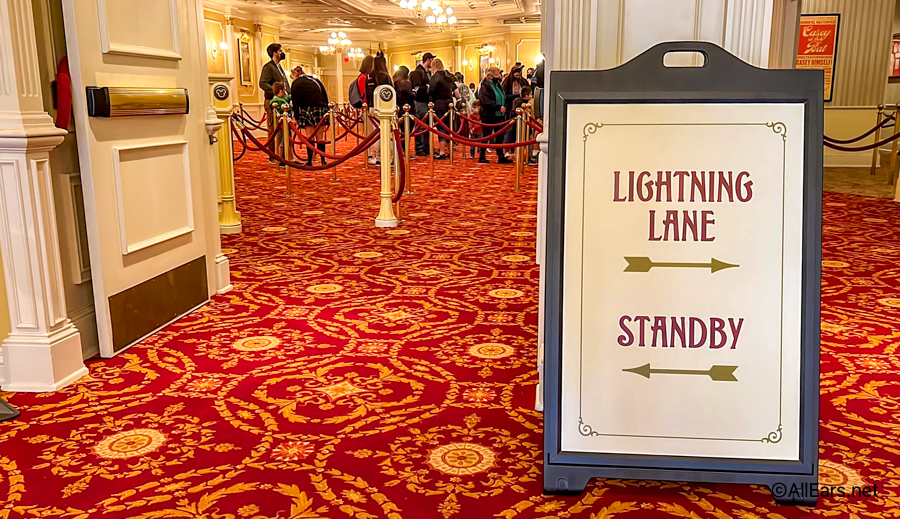 You may also have to deal with the challenge of making those first Genie+ and Pay-Per-Ride selections at the very same time. All guests can make their first Genie+ selections at 7AM on the day of their trip. Disney World Resort Hotel guests (and guests at certain other hotels) can also make their first Pay-Per-Ride selections at 7AM. All other guests can make those first Pay-Per-Ride selections when the park opens.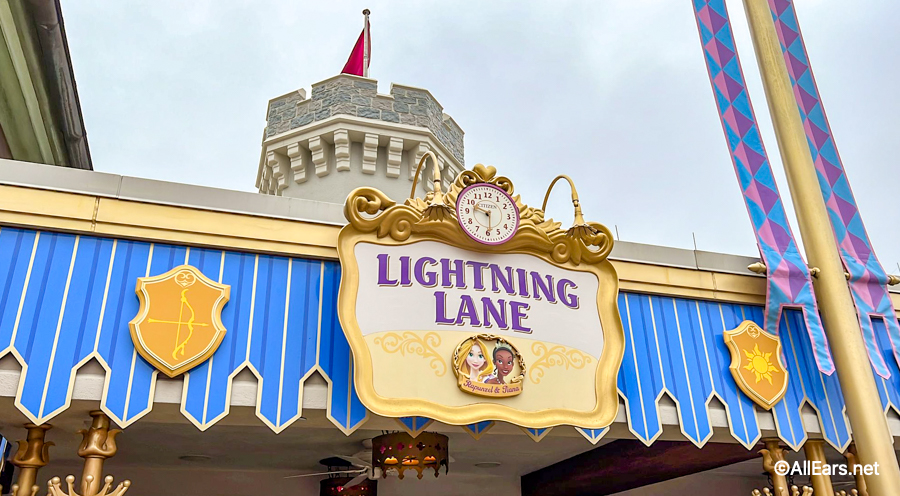 If you're trying to grab that first Genie+ selection at 7AM, but are also a hotel guest and want to make your Pay-Per-Ride selections at 7AM, you'll have to navigate that complication as well. Do you split the job between 2 family members? Do you have family members tech savvy enough to get it done?
Or do you just book those popular Pay-Per-Ride selections first and take your chances with being a few seconds late to make that Genie+ pick?  It can make 7AM a lot more stressful. (And you probably haven't even had your coffee yet!!)
2– There are Confusing Times to Know About
We just discussed it above a bit, but there are some important times you need to keep in mind when using Genie+ and these can easily make your head hurt.
Genie+:
All guests can make their first Genie+ pick at 7AM.
Pay-Per-Ride: 
7AM: When Disney World Resort guests (and guests at the Walt Disney World Swan and Dolphin Resorts and Shades of Green) can make their pay-per-ride selections
Park open: When all other guests can make their pay-per-ride selections
Confused yet?
3. The 120-Minute Rule
This rule alone can break some people's brains. Basically you can make 1 Genie+ selection at a time throughout the day.
You can make your next selection:
Once you've used your first one,
Once the return time for your first one has expired, or
120 minutes after you booked that previous Genie+ selection, whatever comes first
Let's look at an example. Let's say it's 9AM (and the park you want to go to is open) and you make a Genie+ selection, but the return time isn't until 5PM. You don't have to wait until you scan in at 5PM for that particular lightning lane to make your next Genie+ pick.
Instead, you'll only have to wait 2 hours (120 minutes) after 9AM (so until 11AM) to make your next pick. That alone can confuse many of us.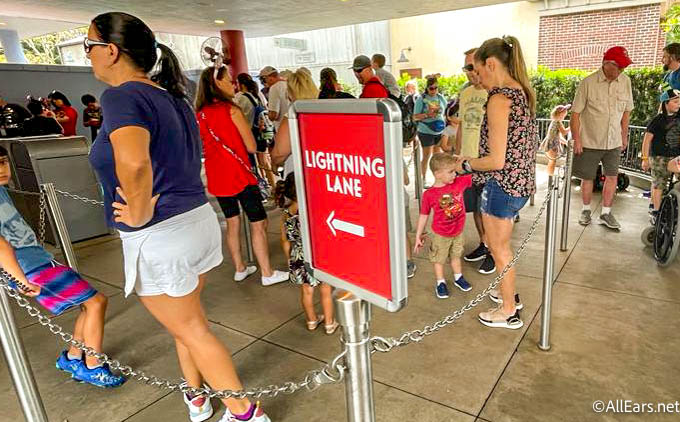 But it can get worse. The 120-minute rule, coupled with the fact that you can make your first Genie+ selection at 7AM (before the parks have opened), can create interesting situations.
Let's say you make your first selection at 7AM and it has that 5PM return time. Do you have to wait until 5PM to make your next selection? You already know the answer is "no." So when can you make the next selection? In 120 minutes right? Well…not quite.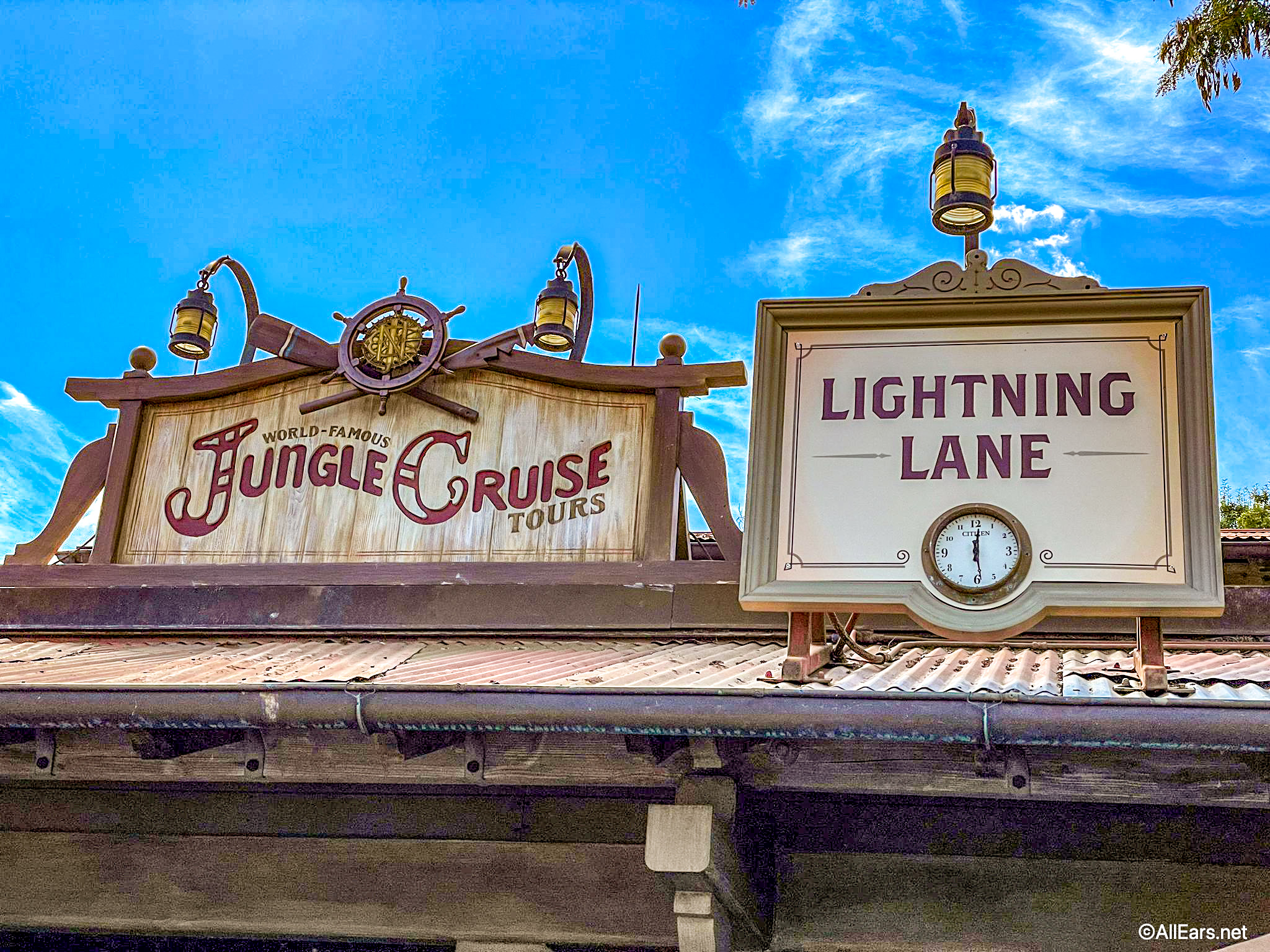 Since you made that selection at 7AM, before the park opens, you'll actually be able to make your next selection 2 hours after the PARK OPENS (not 2 hours after you made that first selection at 7AM).
So if you made the selection at 7AM and the park opens at 9AM, you'll be able to make your next pick at 11AM. BUT keep in mind that's only because the 120-minute rule is the first thing that would apply in this situation.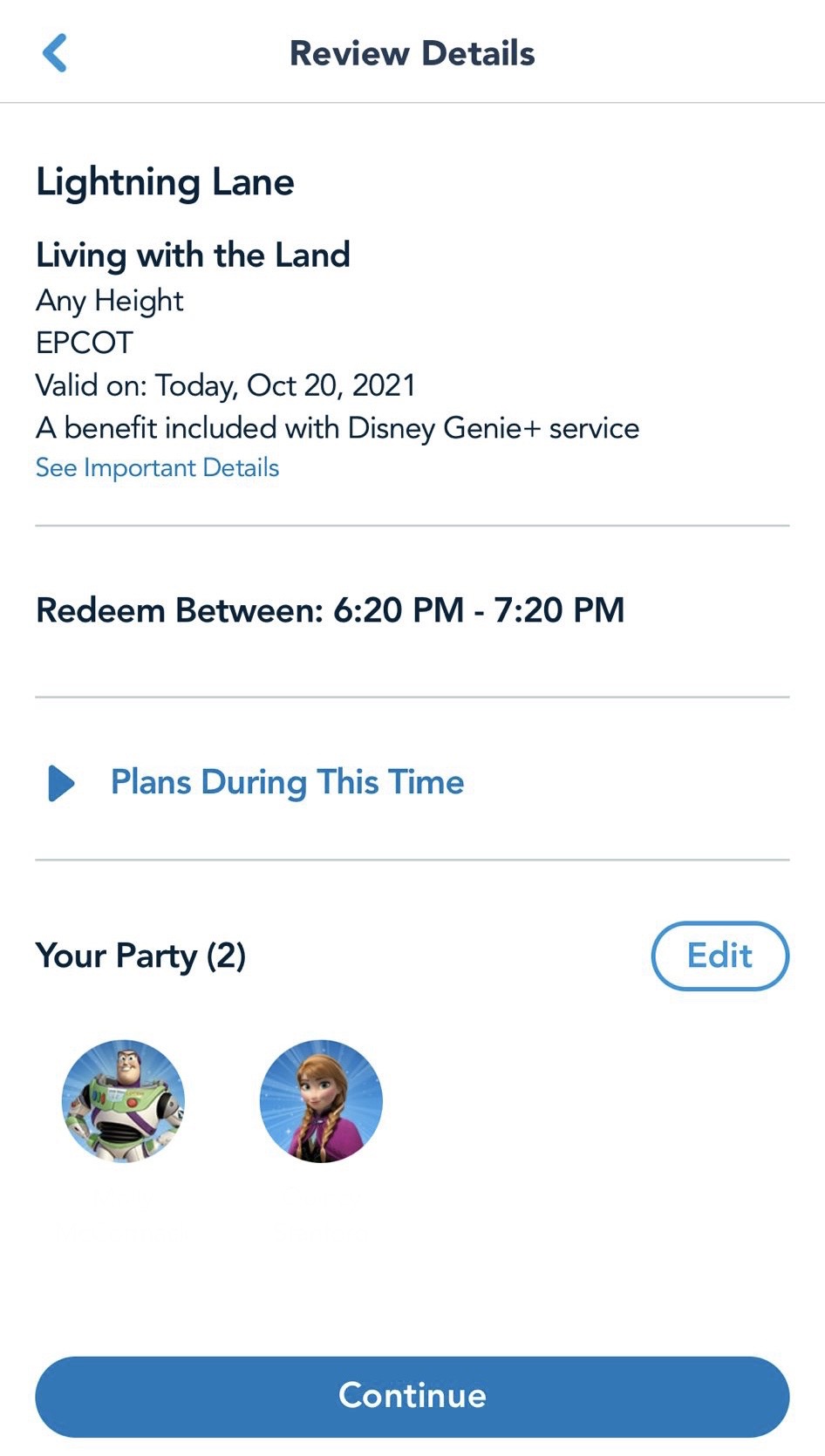 If, on the other hand, you make a Genie+ selection with an earlier return time — say 9:05AM — you will be able to make another reservation as soon as you scan in for your first pick. No 120-minute rule applies because the first thing that would happen here is you scanning in (or even just letting that return time expire).
The 120-minute rule really only kicks in for Genie+ selections with return times that are a bit later in the day.
4. You Can Fiddle Faddle
If you know us here at AllEars, you KNOW we love a good fiddle faddle. This is basically when you play around with return times or refresh options to see if new options appear that previously weren't there.
When it comes to Genie+, you might look at the available selections and return times for a particular park and none of them might really work for you. But by refreshing and going in and out of certain screens (like tapping a return time and then going back to the main page), more selections or better times might pop up (the fiddle faddle lives!).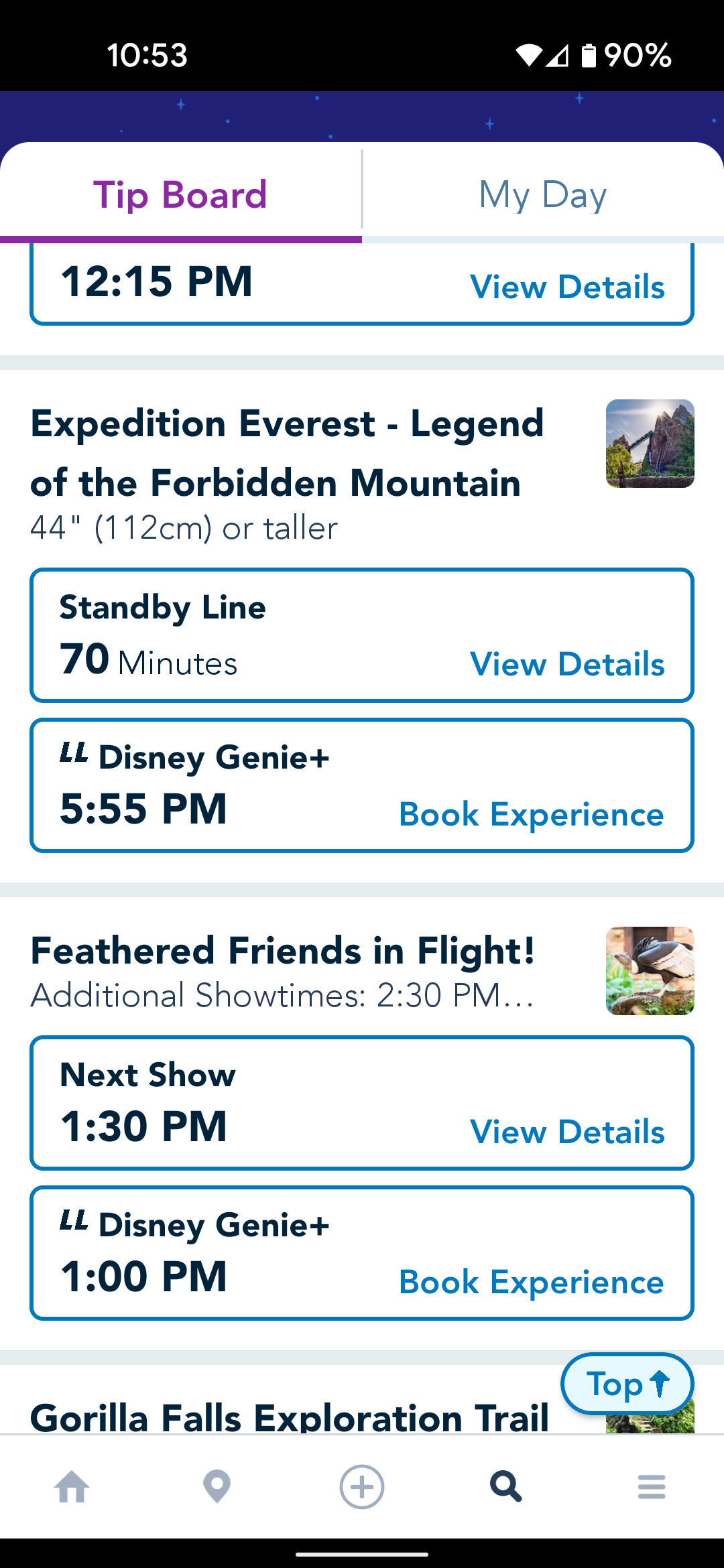 While this can be great for those in the know, it can also add on some stress knowing that there could be better options out there if you keep refreshing. Our advice? Don't refresh for too long. Refresh just a limited number of times, fiddle faddle for a few minutes, and then make a decision.
You can always go back and cancel that selection and make a new one if something better pops up. You could live under that "there could be something better out there!" mentality forever and never pick anything, which would make things even WORSE.
5. Things with Genie+ Can Change
Sometimes rides that are typically available through Pay-Per-Ride get temporarily moved to the regular Genie+ service. For example, in early 2022, Disney announced that Frozen Ever After, Space Mountain, and Mickey & Minnie's Runaway Railway (normally pay-per-ride attractions) would be available through the standard Genie+ service (the regular $15 per person per day one) for a limited time. Expedition Everest then joined that lineup.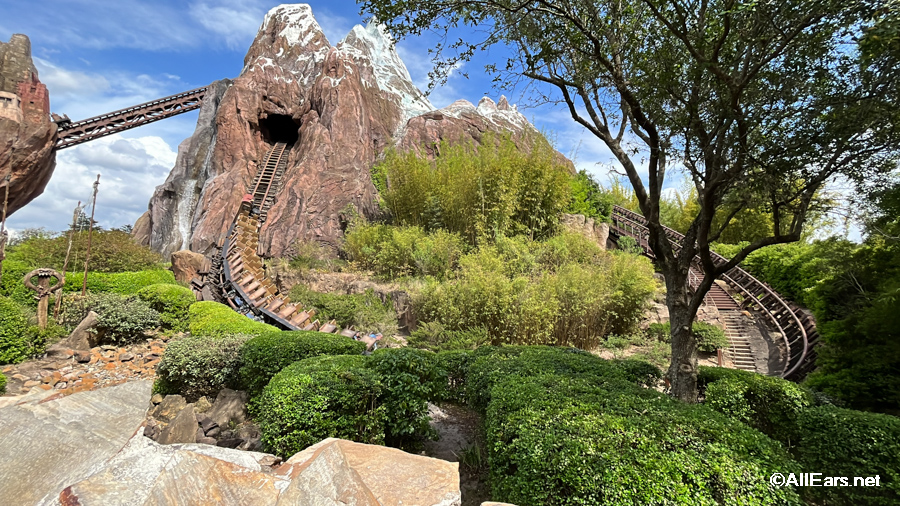 Attractions that are reopening may just get added to Genie+ in general or brand NEW attractions (like Guardians of the Galaxy: Cosmic Rewind) might get added to the Individual Attraction Selection service.
You'll need to really be aware of these changes to make sure all of your plans don't get thrown out the window. We work on providing these updates to you! Make sure you're subscribed to our newsletter so you don't miss a thing!
6. It Has Its Own Language
If you were familiar with FastPass+, then you were used to the terms it used — FastPass+ Lanes, FastPass+ selections, etc.  But now you've got to learn new ones with Genie+.
There's Genie itself (free planning service), Genie+ (paid service that gives you the ability to select a return time for many rides, 1 selection at a time), and Individual Attraction Selection (or pay-per-ride). But there are also more terms to know: Lightning Lanes (basically the new name for the old FastPass+ lanes), the Tip Board (the spot in the My Disney Experience app where you'll see available Genie+ selections), and My Genie Day (the part in the My Disney Experience app that'll show you your selections for the day), just to name a few.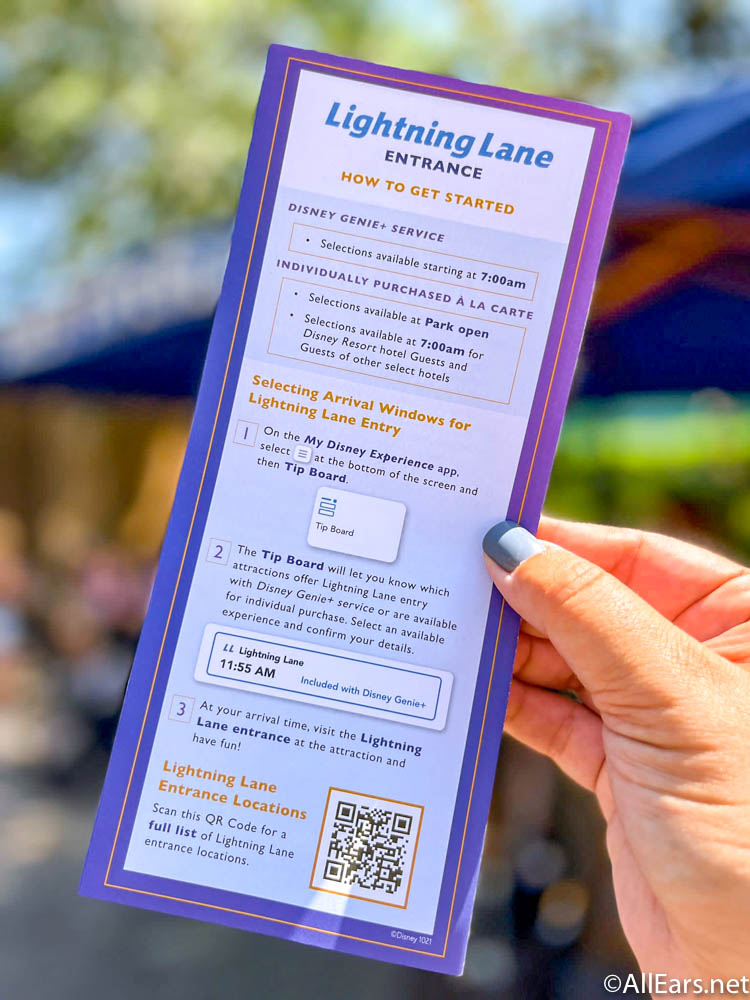 You might feel like you need a little Genie glossary at times! But knowing those terms can really help you master the system.
7. You've Really Got to Get Used to the App
You may have been a pro at making those FastPass+ selections, but now you've got to master a new system of doing things through the My Disney Experience app. For many, it won't be all that difficult to figure out, but it can take some adjustments.
You'll need to know how to navigate to the Genie+ area, look at the Tip Board, switch between parks, and just generally understand how the app works, how to make selections, how to pay for any purchases, etc.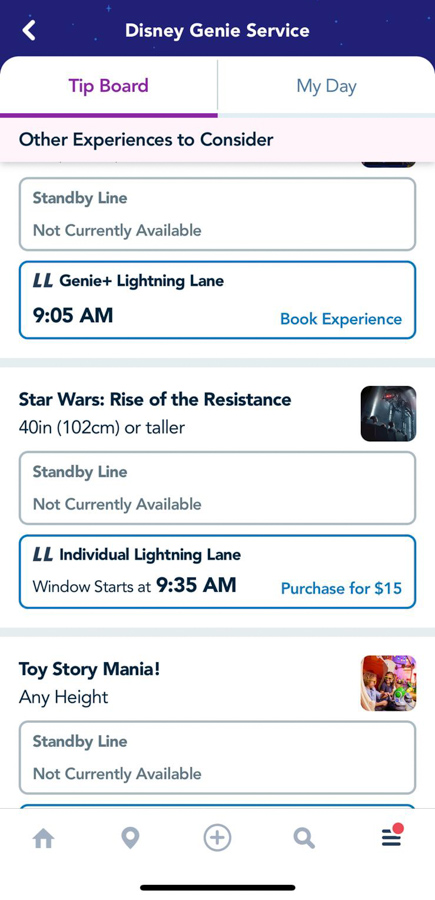 A few minutes of a delay could mean missing out on grabbing that Individual Attraction Selection for Rise of the Resistance or not being able to grab the return time you wanted, so every second truly counts!
9. Changing Things Isn't Easy
At this time, there isn't a modify button when it comes to Genie+ selections. You can change the selections you've made, but to do so you'll have to cancel your existing Genie+ pick and make a new one.
That alone can get confusing for some. On top of that, you run the risk that by the time you've canceled your existing selection, the other selection you wanted may have filled up and no longer be available.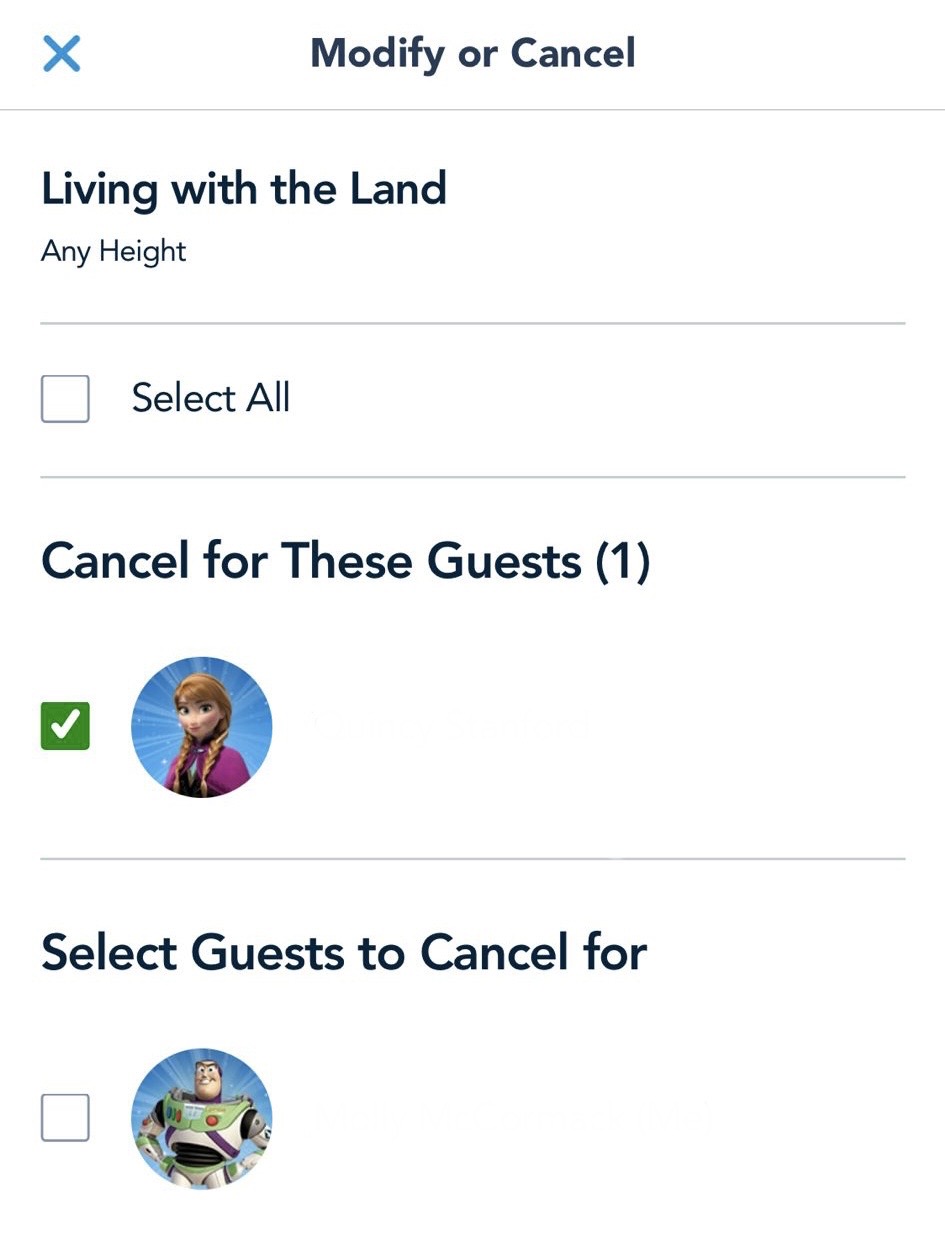 So before you decide to cancel a Genie+ pick to make a new one, carefully consider whether you're okay with giving up the one you have.
Basically, it can sometimes feel like you need a masters degree in Genie+ just to wrap your head around this system and really use it to its fullest. We totally get that. But we're here to help! Here's how you can BEAT the worst part of Genie+.
How to Make Things Less Confusing
Yes, Genie+ can be really confusing.  But you can conquer that if you go into it prepared!
First, play around with the My Disney Experience app and specific sections within it related to Genie+ — namely the Tip Board and My Day.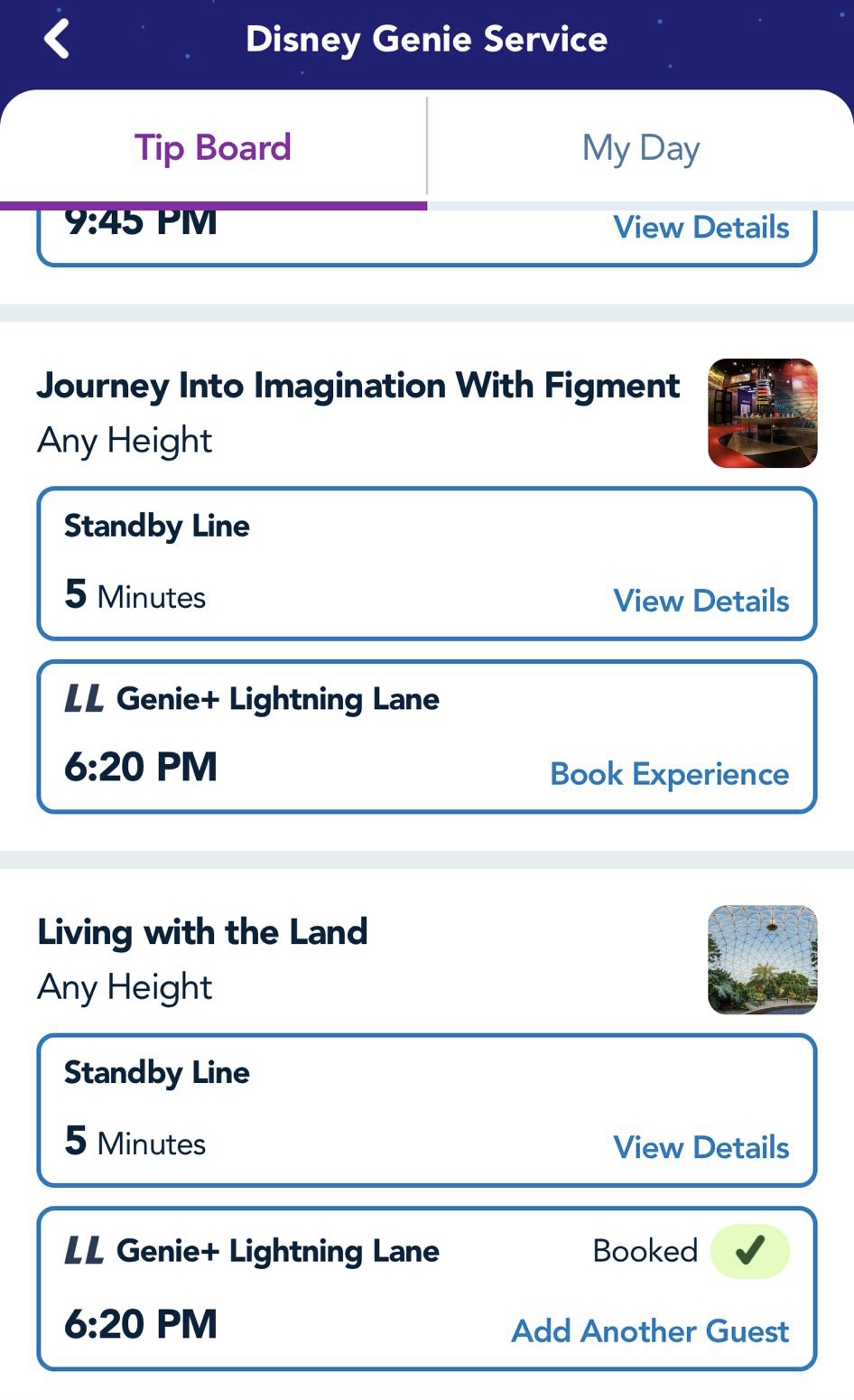 Become familiar with the app and those specific sections, see what it's like to make a Genie+ selection and pay for Genie+ and Individual Attraction Selection. Essentially, you should try to go through all of the steps, as much as possible, without actually paying for the selections ahead of time.
Another thing you'll want to do is link all tickets, Park Pass reservations, hotel reservations, and guests (friends and family members you'll be traveling with) through my Disney Experience.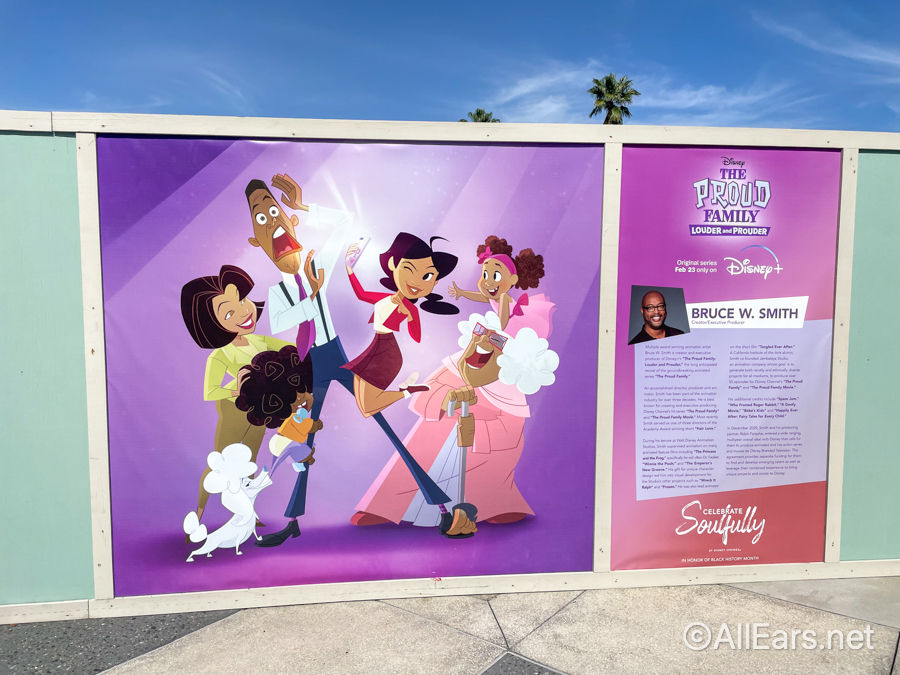 Make sure you've got it all set up WELL ahead of time so you don't have to mess with that on the day you'll be making Genie+ selections.
Another big thing is to come up with a game plan. Review the list of rides that are available through Genie+ and Individual Attraction Selection. Which ones are a must-do for you and the people you're traveling with? Which of your must-dos sell out the fastest? Prioritize your list and know what you absolutely MUST ride and which ones you should grab first.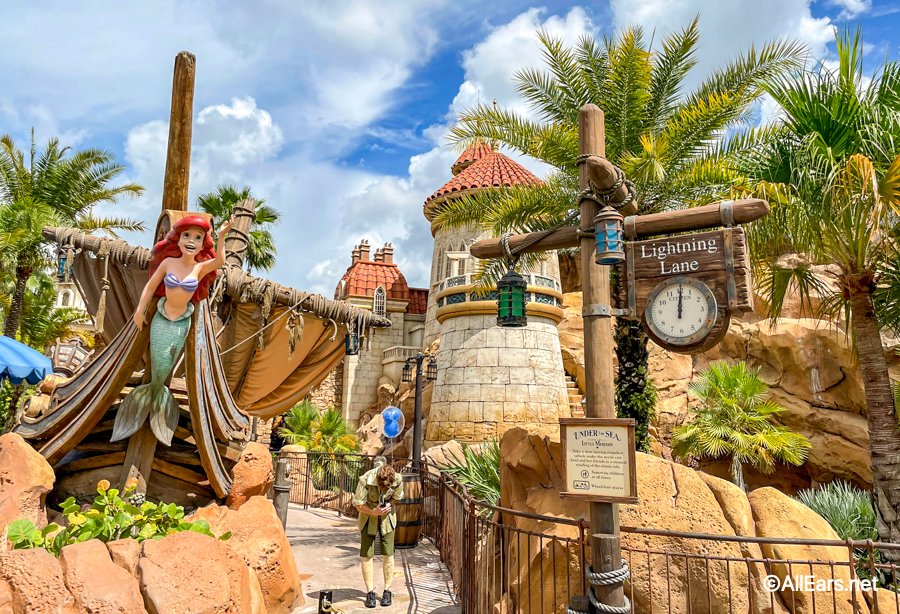 If you plan things out, it can make the entire experience way less stressful!
Another tip: learn from our mistakes and experiences! We've used Genie+ and Individual Attraction Selection a LOT. Like, a lot, a LOT. We have SO many articles discussing our experiences with the system. Don't repeat the same mistakes we've made — allow our experiences to help and guide you so you can be prepared! Check out some of our posts below: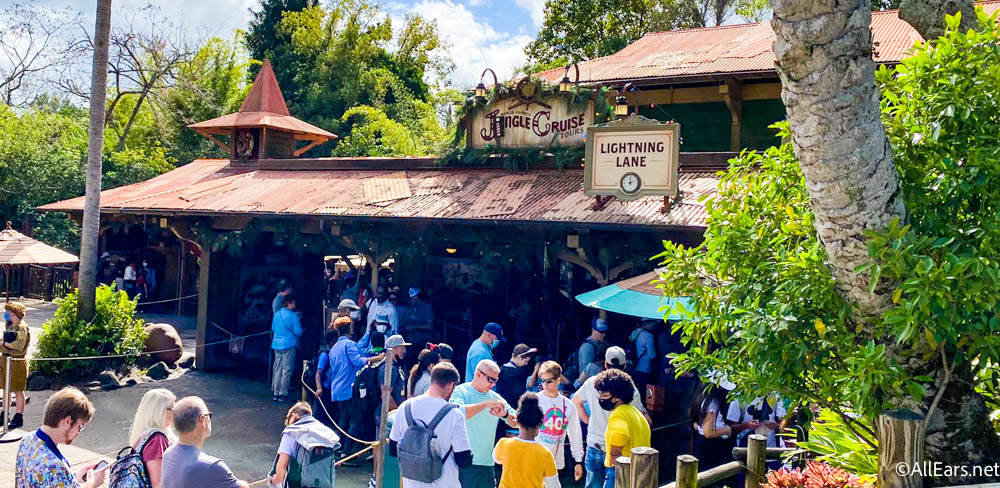 But it's not just about posts, we've also got VIDEOS to help! We've seriously tried and tested it ALL and we've got all kinds of tips and tricks for you.
We've got tips for Magic Kingdom…
…Disney's Hollywood Studios…
…EPCOT…
…Animal Kingdom.
We've given ourselves an extreme Genie+ challenge…
…a challenge only using FREE Genie…
…and we've broken down why everyone hates Genie+!
We can help! Watching those videos and getting familiar with how the system works can make your trip run that much smoother.
Don't Be Discouraged
Yes, Genie+ can be confusing and there's a bit of a learning curve when using the system for the first time.  But if you come in prepared you could totally conquer the parks and Genie+ without a worry in the world! 
We'll continue to check for Genie+ updates and tips and we'll share those with you. Stay tuned for more updates!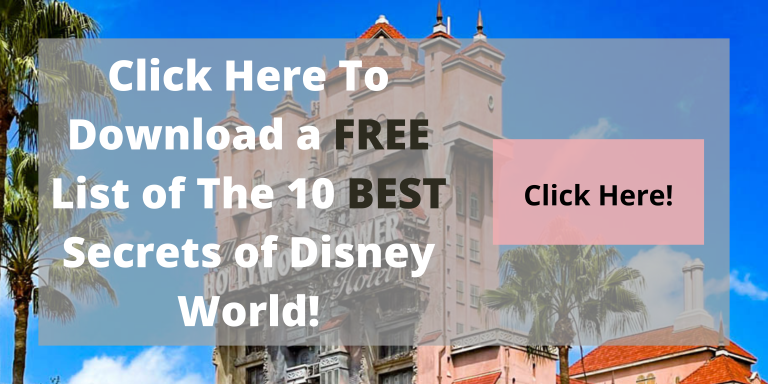 Have you used Genie+? Share your best tips in the comments!