Let's talk about the elephant in the room.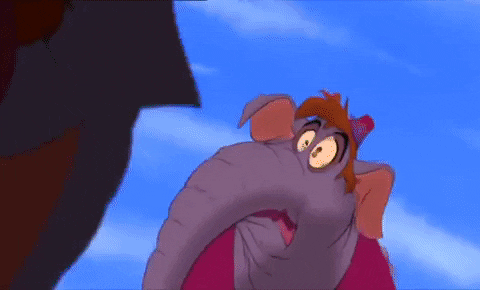 Disney Genie (and Genie+) arrived in the parks last fall and it was met with a LOT of thoughts from guests. Some yearn for old FastPass+, some love the new system — but no matter where you fall on the spectrum, we can all agree on one thing: DISNEY GENIE IS CONFUSING.
Seriously confusing. Like — you can book different passes at different times and sometimes it matters where you're staying and which ride it is and everything costs a different amount and sometimes you can pick your return time and sometimes you can't confusing.
Luckily, it's our job here at AllEars to figure it out and break down all the confusing info so you don't have to. I have made it my personal mission to become the Genie Master and push it to the limits in an effort to be able to answer YOUR questions and help you navigate the system.
You Can Watch My Recent Magic Kingdom Genie+ Challenge Here!
Recently I reached out on Instagram to ask what questions you still had, and that's what this post is all about!
I'm answering some of your FAQs below
— and don't forget to watch our videos IN the parks so you can see Genie in action! Also,
go check out this Genie 101 post for a full breakdown of the system!
Answering YOUR Most Frequently Asked Questions About Disney Genie (in Walt Disney World)
1. When can I book my first Lightning Lane?!
For picking your first Lightning Lanes, it depends on both what type of attraction AND where you're staying. As a reminder, when we say Lightning Lane, it simply means the designated queue at the ride itself (it used to be called the FastPass queue). Both Fancy Rides and Genie+ ride have Lightning Lanes.
Genie+ Lightning Lanes: Your first one can be booked at 7AM, no matter where you're staying.
Individual Attraction Selections (Fancy Rides): If you are a Walt Disney World resort guest you can book your Fancy Rides at 7AM. You can book up to two rides per guest, per day, and you can book them BOTH at 7AM. They do NOT have to be at the same park.
If you are NOT a Walt Disney World resort guest, you can book Fancy Rides at the time THAT park opens — you can also book up to two per person, per day. (For example, if you want to book Remy's Ratatouille Adventure, you can book it at the time EPCOT officially opens to all guests. This will likely be a different time than you could book Flight of Passage, as Animal Kingdom typically opens earlier than EPCOT.)
This is why we often say non-resort guests will likely NOT get the chance to purchase certain Fancy Rides, as they tend to sell out before non-resort guests have the chance to buy them. It's always worth checking, but typically, Rise of the Resistance sells out shortly after 7AM. Keep checking back if what you want isn't available, however, because we see certain Fancy Rides (Seven Dwarfs Mine Train, Flight of Passage, Remy's Ratatouille Adventure) often pop back up throughout the day.
2. Can I pick what time I want?
Genie+ Attractions: No. This is a "next-available" system, similar to old paper FastPass. Remember walking up to the physical machines and it would say "Now Distributing 1:30-2:30PM"? It's like that — but in your pocket.
What you see is what you get. (Unless you refresh — which we will get more into momentarily.) This is one of the biggest changes from FastPass+ when you could select your return window from any available.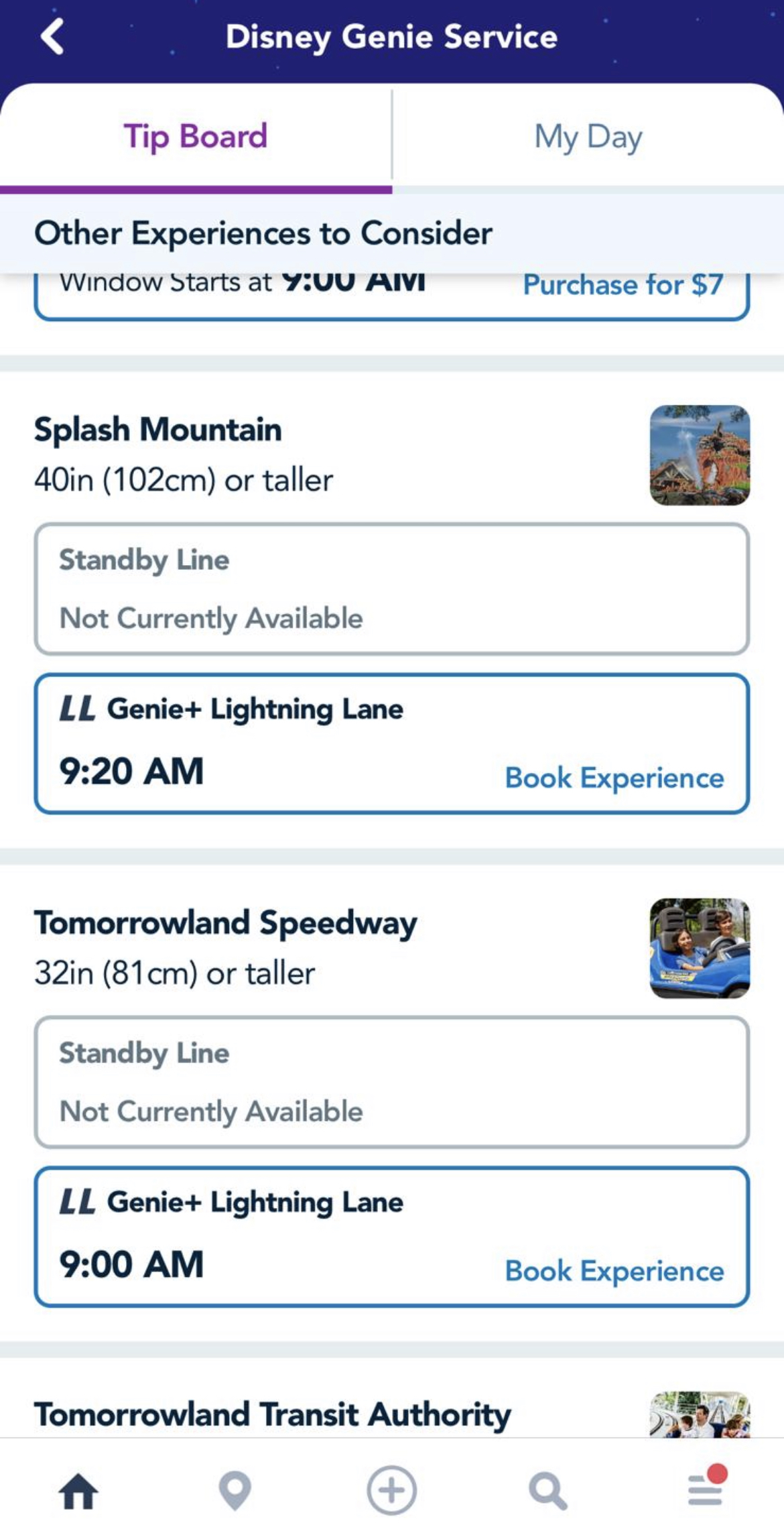 Individual Attraction Selections (Fancy Rides): Individual Attraction Selections ARE like old FastPass+, in that you can select what time you'd like to return. (Times can sell out though, so move quick — especially at 7AM for Rise of the Resistance!)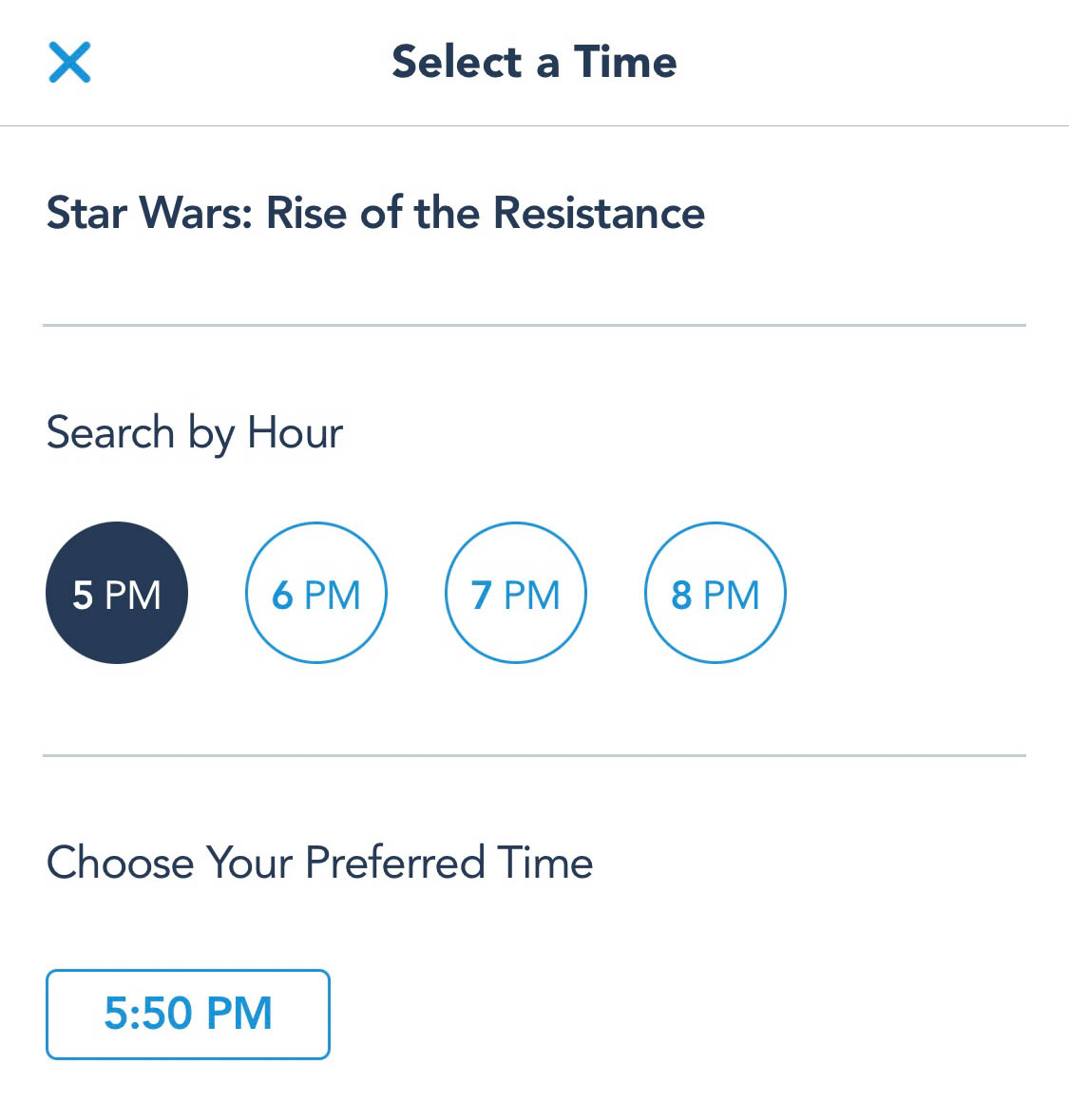 3. When can I book my next one? Don't I have to wait two hours?
Speaking about Genie+ attractions only here!
A lot of guests hear about the 120-minute rule and assume they can only book a Genie+ selection every 2 hours, but that's not true!
You can book your next one either:
1. Once you've redeemed the first one. (As soon as you tap in at the Lightning Lane, start looking and booking! Make sure to ask Cast Members if the attraction has two touchpoints, and if yes, you'll need to have tapped twice to be able to book another.)
2. Once your return window expires. (So if you miss it for some reason. A better move, if you're going to miss a redemption time, is to cancel it as soon as you know you won't make it — then you can book another one right then.)
3. If it's been 120 minutes SINCE booking the first one. (More details below!)
And none of these rules apply to Fancy Rides. The system categorizes them as two completely different things. They do NOT interfere with Genie+ selections. So live your life and book 2 Fancy Rides at the same time (whenever you can according to Question 1. Confused. yet?)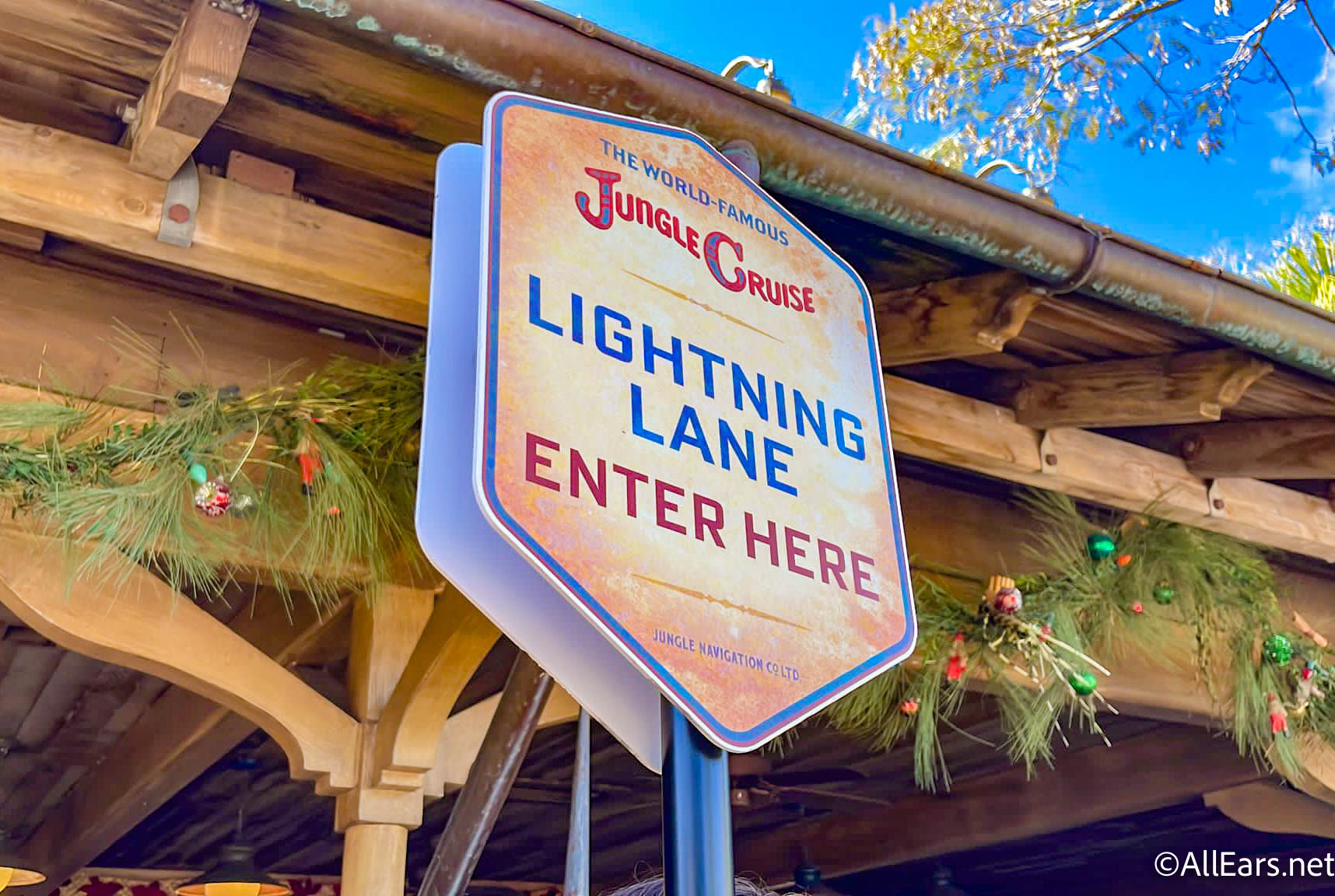 4. Wait so…what's the 120-minute rule?
The 120-minute rule was designed so that you don't go hours and hours without being able to book a new Genie+ selection — and only applies in a very specific situation.  It also only applies to Genie+ rides — remember, the system doesn't even recognize Fancy Rides (IAS) and Genie+ Lightning Lanes as the same thing.
Basically, if you book a ride return time that is MORE than 2 hours from that moment, you can book another in 120 minutes, instead of waiting to tap in at that ride.
For example: if it's currently 11AM and you book a 6PM return window for Tower of Terror, you can book another attraction return time at 1PM, instead of having to wait until you tap in at Tower of Terror.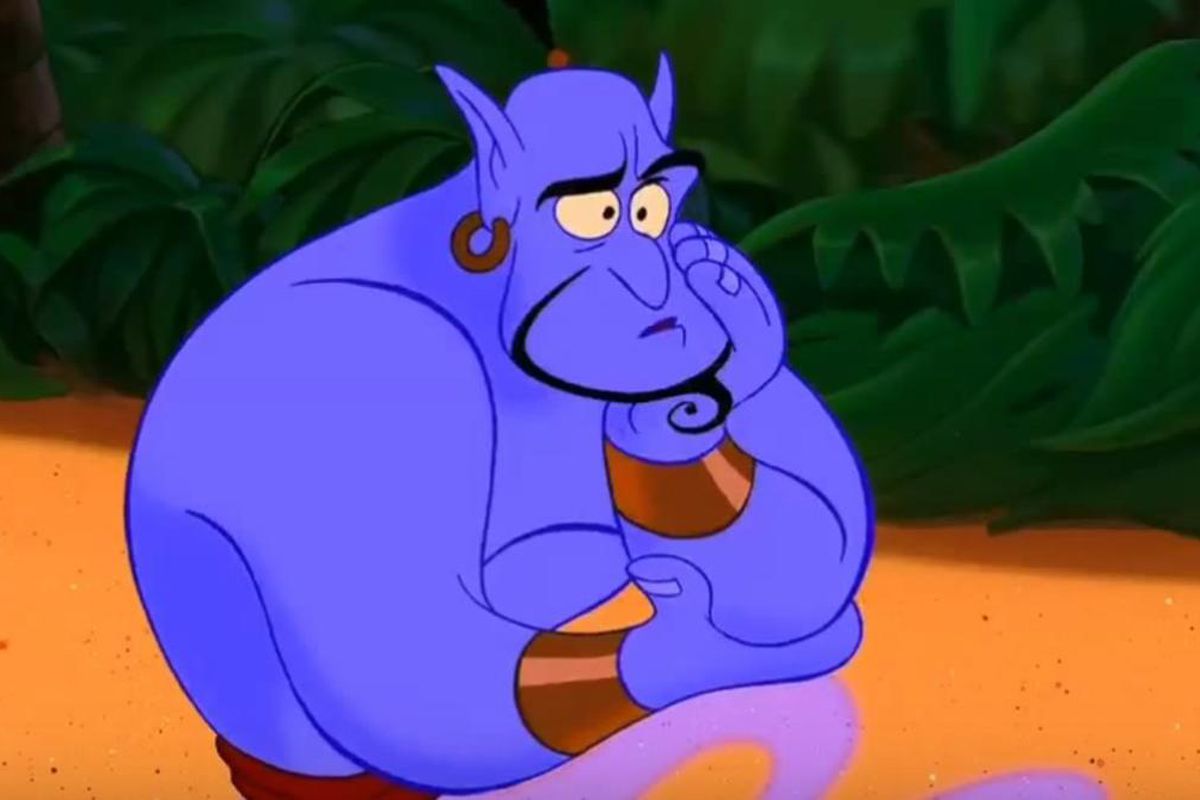 To make matters MORE confusing, the 120-minute timer doesn't start until the park officially opens. So if you book a 2PM return time for Slinky Dog Dash at 7AM, you don't get to book another at 9AM. You get to book another 2 hours after the park officially opens to all guests.
As a huge tip — always know when you can book your next Genie+ Lightning Lane and set an alarm for a minute or two before. You can check what time you can book another easily in the app — just try and book another one and it will give you an error with the time.

The 120-minute rule is somewhat inevitable at Disney's Hollywood Studios and even Magic Kingdom, but it's not so bad if you plan for it. I usually wait to "trigger the 120-minute dead time" for when I have my Fancy Rides or a dining reservation booked, or I plan to see a show or rides things with low waits. If you're leaving the park for a meal or a rest, consider kicking the 120-mins off as you're leaving!
5. Can I book a Genie+ and a Fancy Ride at the same time? 
YES. You can book both literally at the same time. Quincy and I have tried this at 7AM — she booked us both on Slinky Dog Dash (Genie+ attraction) while I booked us Rise of the Resistance (Fancy Ride). We were both logged into our OWN accounts at the time, but linked up as friends.
Make sure you're all linked up with your friends and family well before you are ready to book things, that way you can book things easily for each other.
6. Can I book Fancy Rides at 7AM on my check-in day, even though I haven't checked in yet?
YES. As long as you have a Disney World hotel reservation linked to your account, you can take advantage of the early booking time, even if you haven't checked in yet.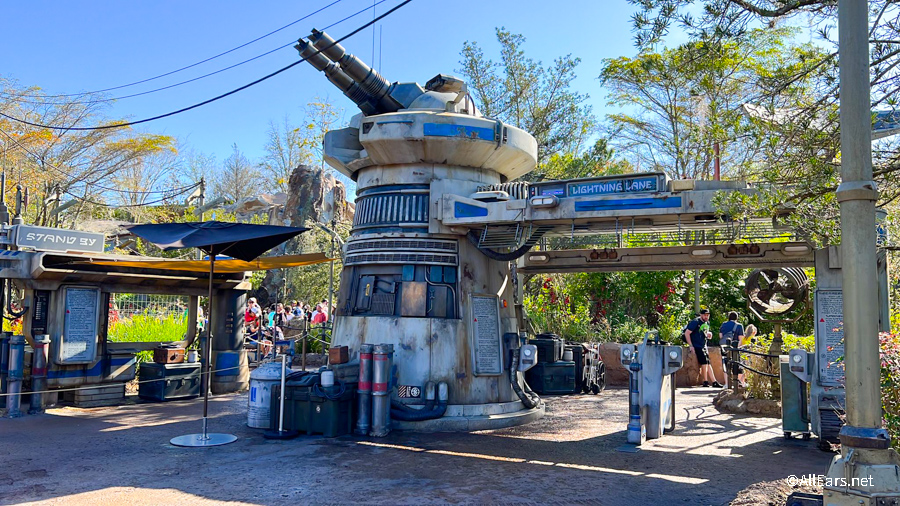 7. Can I book a Fancy Ride or Genie+ for a park I'm hopping into?
YES. But it will default to a 2PM or later return time (as that's when park hopping is currently allowed.)
This is a great way to set yourself up for success at your second park, especially if you're rope-dropping your first park. For example — say you're starting in Animal Kingdom where Genie+ isn't usually necessary, and hopping into Magic Kingdom. At 7AM you could book Splash Mountain, and the system will automatically book you a 2PM return time. Set your alarm based on when you can book another (see above) and then book another as soon as you can Keep booking and "stacking" them in Magic Kingdom and you'll walk into the park with several passes ready to go!
As long as you wait your 2 hours between reserving each Genie+ return time, you can keep booking and stacking Lightning Lanes on top of each other.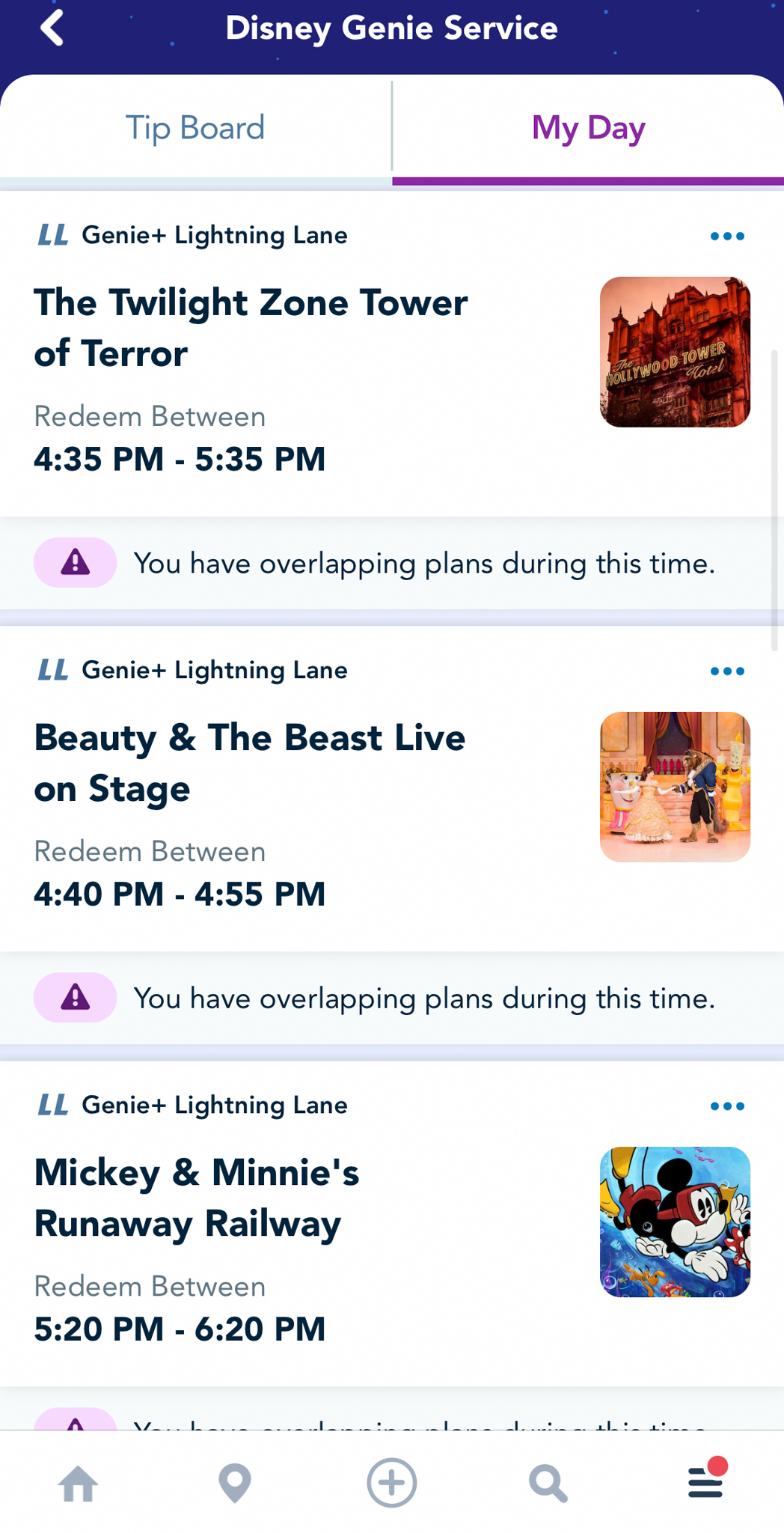 As far as Fancy Rides go, let's say you're starting your day at Animal Kingdom and hopping to EPCOT. At 7AM (or when you're eligible) you can book ANY fancy rides you want for the day — at both the park you're starting at and any you're hopping to. But again, it won't let you book one before 2PM.  (And remember there is a max of 2 per day.)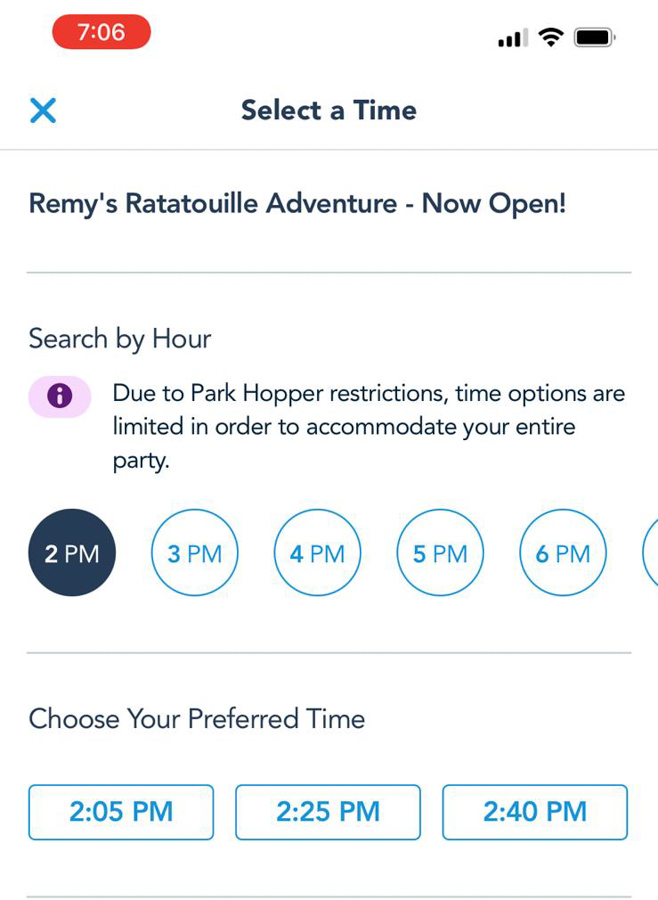 8. What is "Fiddle-faddling?" How do you do it?
Fiddle-faddling is my secret sauce and the key to successfully using this system. Remember when I said Genie+ attractions were first available and you get what you get? That's true…but also not.
If you refresh the Tip Board (pull down the board it'll refresh the screen), you will see new return times populate. Typically they are later in the day, as people are reserving the earlier times, making the next available later and later. BUT very often, SOONER times will pop up.
This is the beauty of this system be digital, vs. old paper FastPass kiosks. If the ride flow is moving quickly, the system can release more times. Often by just refreshing a few times (fiddle-faddling) you can secure a sooner time. Additionally, rides that appear to have "sold out" for the day, may pop back up!
Watch the video below for tips on Hollywood Studios — the most difficult park right now!
Do I recommend spending 30+ minutes at a time refreshing your phone over and over? No. Don't waste your WHOLE day on your phone — but I recommend trying a few times ESPECIALLY if it's a ride you REALLY want. I can usually get what I want in less than 5 minutes.
Have I fiddle-faddled for an obscene amount of time in videos? Yes. I spent a whole hour once just refreshing to get Rock 'n' Roller Coaster to pop back up in the evening.  But that is just to complete a fun challenge, and not how I recommend actually using the system. The ideal way is to mix Lightning Lane and Standby — refresh a bit to get decent times for the most popular rides and then use Standby (plus rope dropping) to knock out everything else.
Is this ideal? No, of course not. I'd rather live in a world where I could just ride whatever I wanted, whenever I wanted without waiting. But this is the reality right now, and I'd rather spend 5 minutes refreshing my screen to book a good Lightning Lane than waiting in a 70-minute line for Mickey and Minnie's Runaway Railway.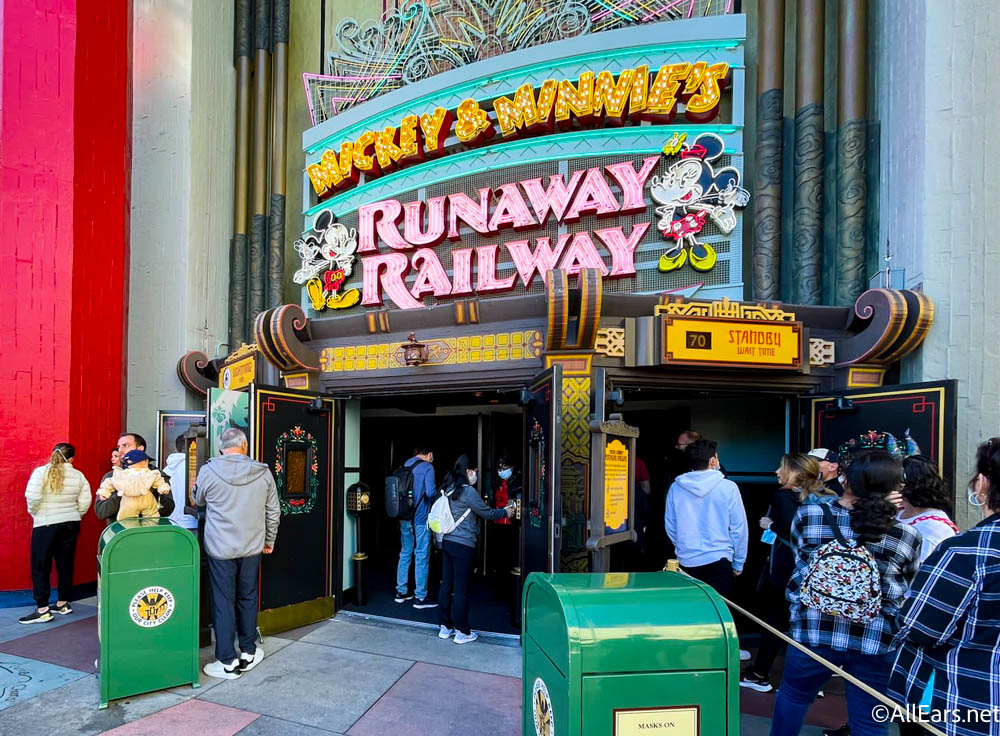 9. Does group size matter? Are you only successful because you're alone?
Lots of people assume that the only reason I am able to book so many Genie+ Lightning Lanes is because I am alone. But I will continue to shout from the rooftops that this is NOT the case — the system works the EXACT same for up to 10 guests. (You can plan your day with up to 12 people, but I was told by Disney that over 10 has issues, hence why I say 10.)
Remember walking up to a paper FastPass kiosk? It didn't matter if you had 4 people in your party, and the person next to you had 10. You all got the same return time. That's the same logic here, as it's a next-available system.
We put this to the test as a party of four in Hollywood Studios, and in just a few hours were able to ride 5 of the most popular rides in the park by the use of fiddle-faddling.
You can watch this video here!
Make sure everyone is all linked up, and it does help to have multiple people fiddle-faddling. (Not necessary, but more hands are better if you've got multiple tech-savvy people!)
Additionally, you can don't have to select all the people from your party if not everyone wants to ride the same ride. You can book them on something else.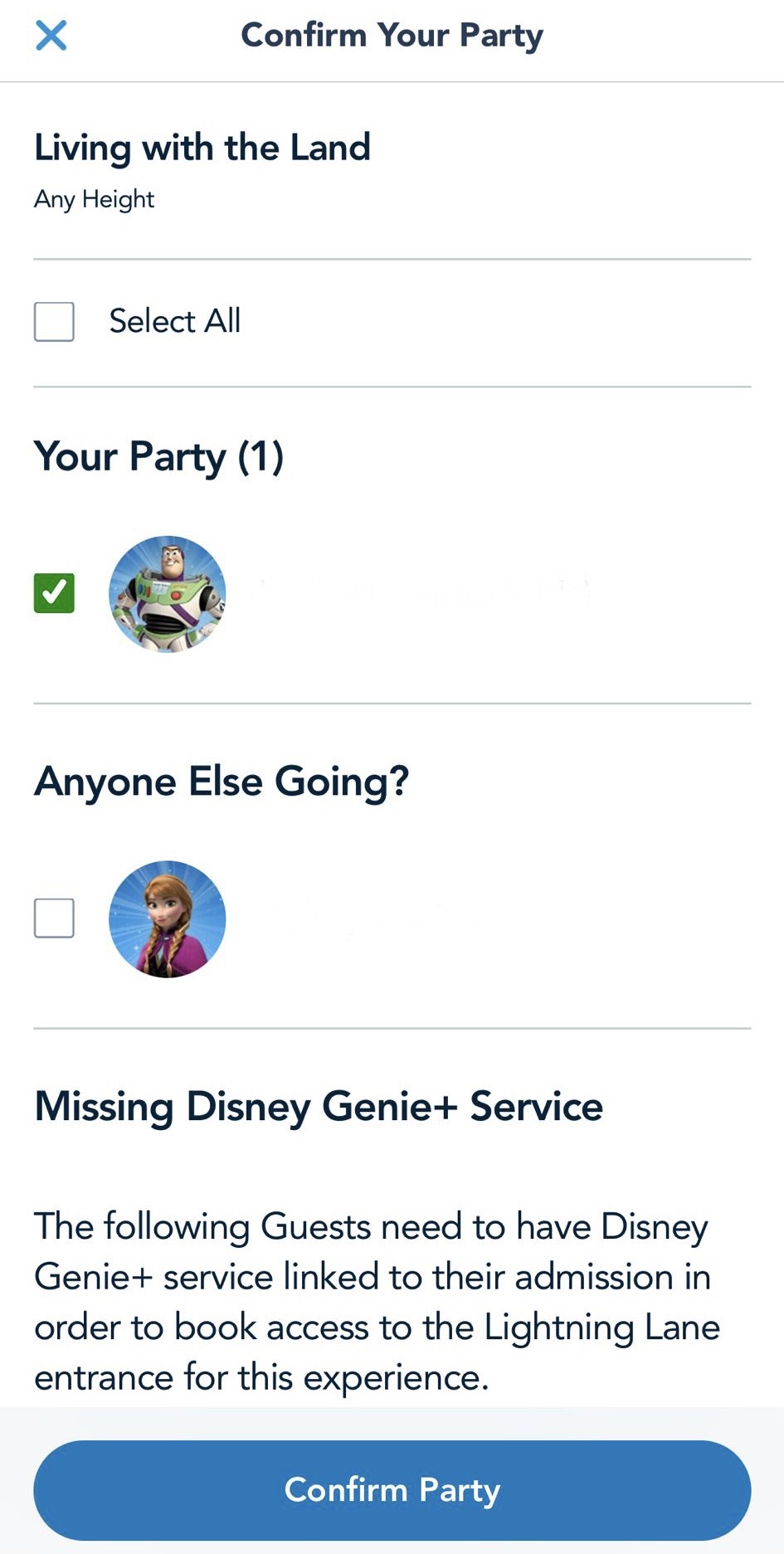 10. Is there a maximum number of Lightning Lanes you can get in a day?
NO! Well…not for Genie+. As I said before, for Fancy Rides, you can book a max of 2 per person, per day.
But for Genie+ Lightning Lanes, you can book as many as you'd like! The one hitch is you CANNOT repeat rides. Disney says you can expect to book 2-3 Lightning Lanes per day with Genie+, but as I've proven time and time again, you can book much more than that. I have booked over 20 Genie+ rides in one day.
Watch my Genie challenges to see me push the system to the limits!
People have gotten error messages when trying to re-book the same ride, and it says you have hit the maximum amount of Lightning Lanes FOR THAT RIDE. Unfortunately, people don't read the whole message and assume they've hit a maximum for the entire day.
And again — I don't expect anyone to try to book 20 Lightning Lanes in a day. I don't recommend it!! But these challenge videos are a fun way to provide tips and tricks for using the system. In reality, you should mix Rope-dropping (especially as a resort guest), stand-by, and Lightning Lanes to maximize your day. (Go check out my Perfect Day series to see what I'm talking about!)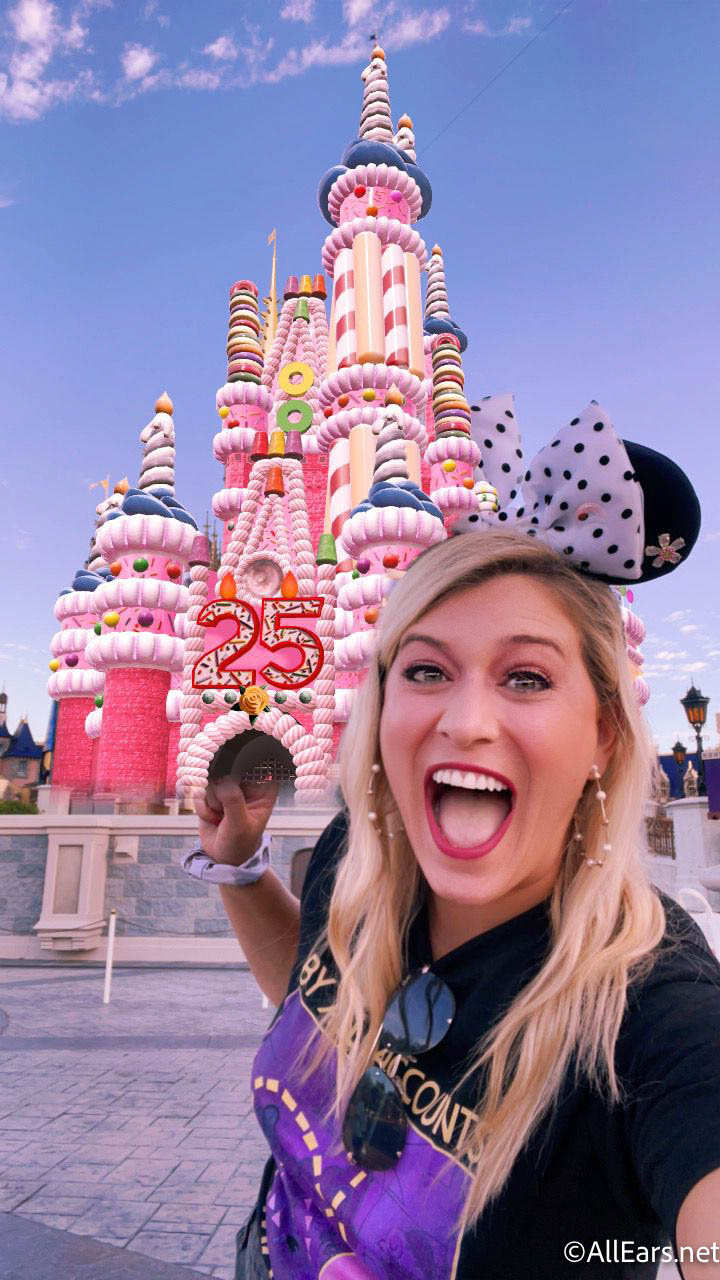 So there you have it — the answers to your most burning Genie questions. I know the system is flawed in how confusing it is, but hopefully, this helped! I seriously recommend watching our Genie+ videos before you go, as well as setting up the app and "practicing" at home.
Have you used Genie+ in Disney World yet? What. did you think? Let us know in the comments!