DISCLOSURE: This post may contain affiliate links, meaning when you click the links and make a purchase, we receive a commission.
Hey everyone! Molly here!
I'm back with another THEME PARK FASHUN ROUNDUP!
Now as always, I don't claim to be a fashionista or style influencer — but I DO spend most of my days in the theme parks around Orlando, and therefore have tested out dozens of pieces from shoes to masks to lipstick and beyond!
Here are 5 things you'll see me wearing a LOT these days — especially as the weather in Florida is ALL over the place. Seriously — it was below freezing recently, and then was back to over 80 a week later. It's very frustrating. 😉
And for the record — if you want to solely wear workout clothes and sneakers and no make-up your whole trip, I support you. You want to wear a ballgown and do a full face, I support you. There's no one right way to dress for a theme park — as long as you're comfortable and having fun! I see a lot of comments online about how people are dressed for theme parks, and TBH that's lame. Let the people who wanna wear lipstick wear lipstick, and the people who wanna wear messy buns wear messy buns. Ok end rant.
5 of My Current Favorite Theme Park Items
In the cooler months, it can be hard to find a fashionable AND comfortable boot. It can be even harder to find a waterproof shoe that isn't a sandal. But thanks to the recommendation of my Gen-Z co-workers, I found a perfect pair!
These chunky boots are legitimately VERY comfortable and waterproof which is a bonus. I've had no issues with them on shorter park days — the one time I found them slightly uncomfortable was after about 12 hours on my feet and LOTS of miles. But for an average park day, they've been no problem.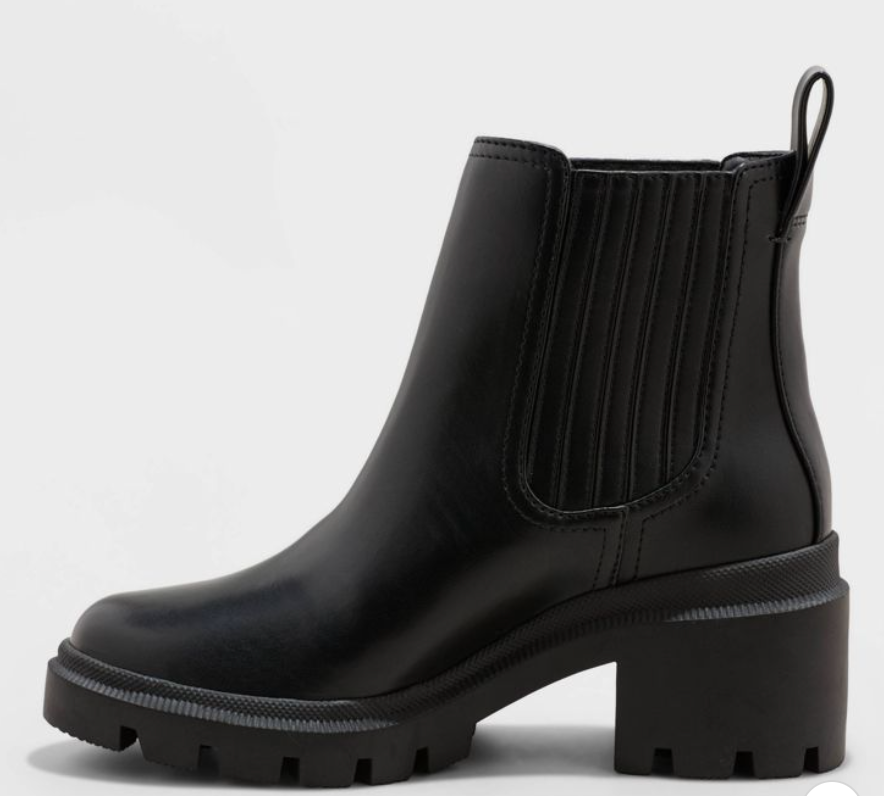 BONUS: they're dupes of the Doc Marten's from Target and a great price!
Sadly it gets so chilly in Florida (and California) that my slew of denim skirts and comfy dresses are out of the question some days. When scouring for casual but cute looks for a trip to Disneyland, I found these faux leather leggings from Amazon.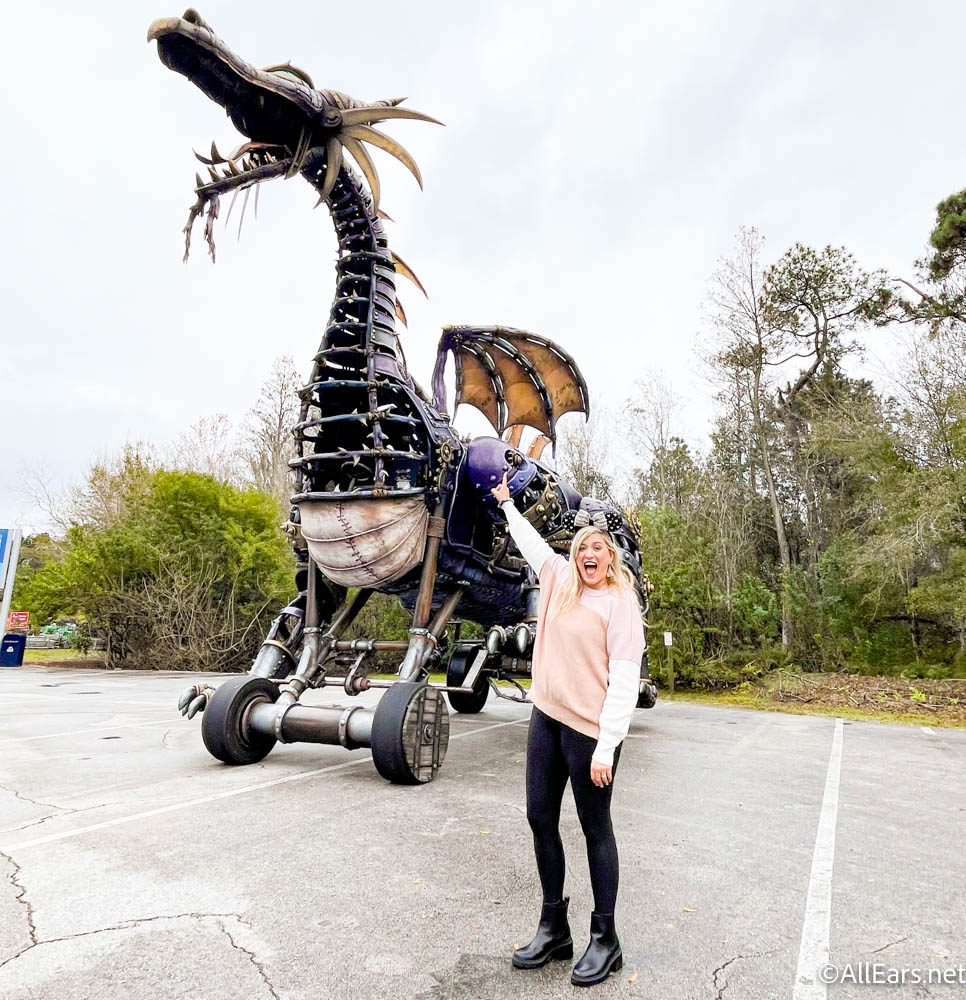 These faux leather leggings remind me of a similar (and more expensive) pair by Spanx — but GUESS WHAT!!? They have POCKETS!!!!! The ladies get it. There are very slim pockets on the thighs which are a perfect place to slide your phone or room key or credit card, etc. The possibilities are endless! Cute AND convenient?! WIN WIN.
Regardless of how you feel about it, masks are still required indoors at both Walt Disney World and Universal Orlando. And while I was rocking handmade cloth masks for the vast majority of the last two years (omg), at this point no matter how much I wash them, they're never really clean.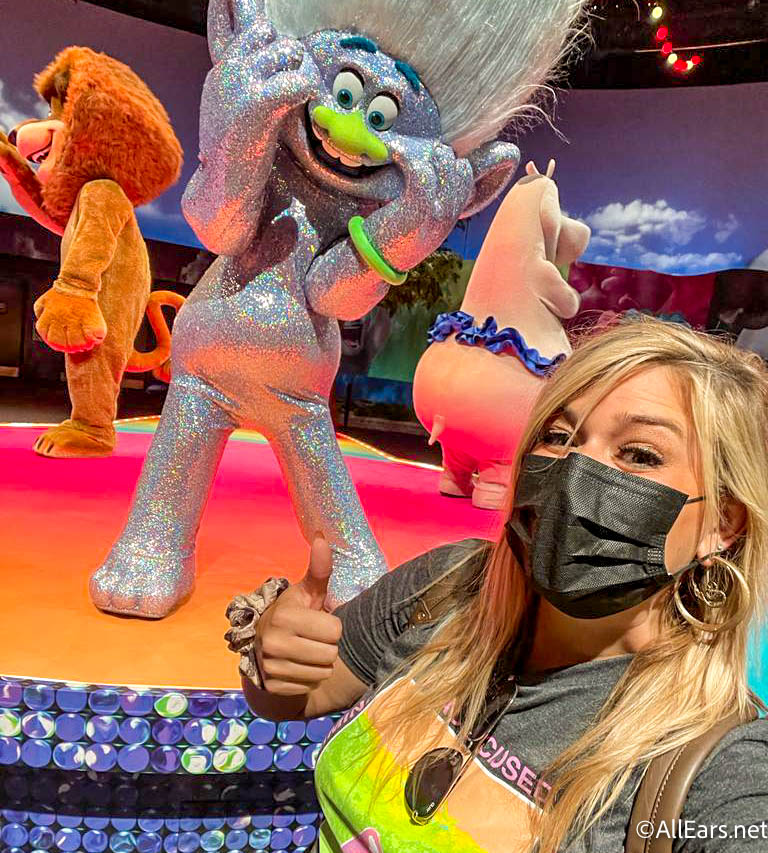 Plus the CDC recommended medical masks to better protect against Omicron, so I went and grabbed these disposable ones off Amazon! I actually LOVE them (as much as you can love a mask, I guess).
They're relatively inexpensive in a 100 pack, and best of all they come individually wrapped. This means it's really easy to throw a few extras in my backpack and not worry about them getting dirty.
This brand also makes some very cute and fun colorful masks, which I have bought as well. But they just aren't as convenient as the black wrapped ones!
4. Earrings 
I am all about a statement piece of jewelry — it's a fun and easy way to show some personality in your outfit but still be comfy in a theme park. My favorite places for jewelry are Kate Spade and Baublebar (including the Target x Baublebar collab).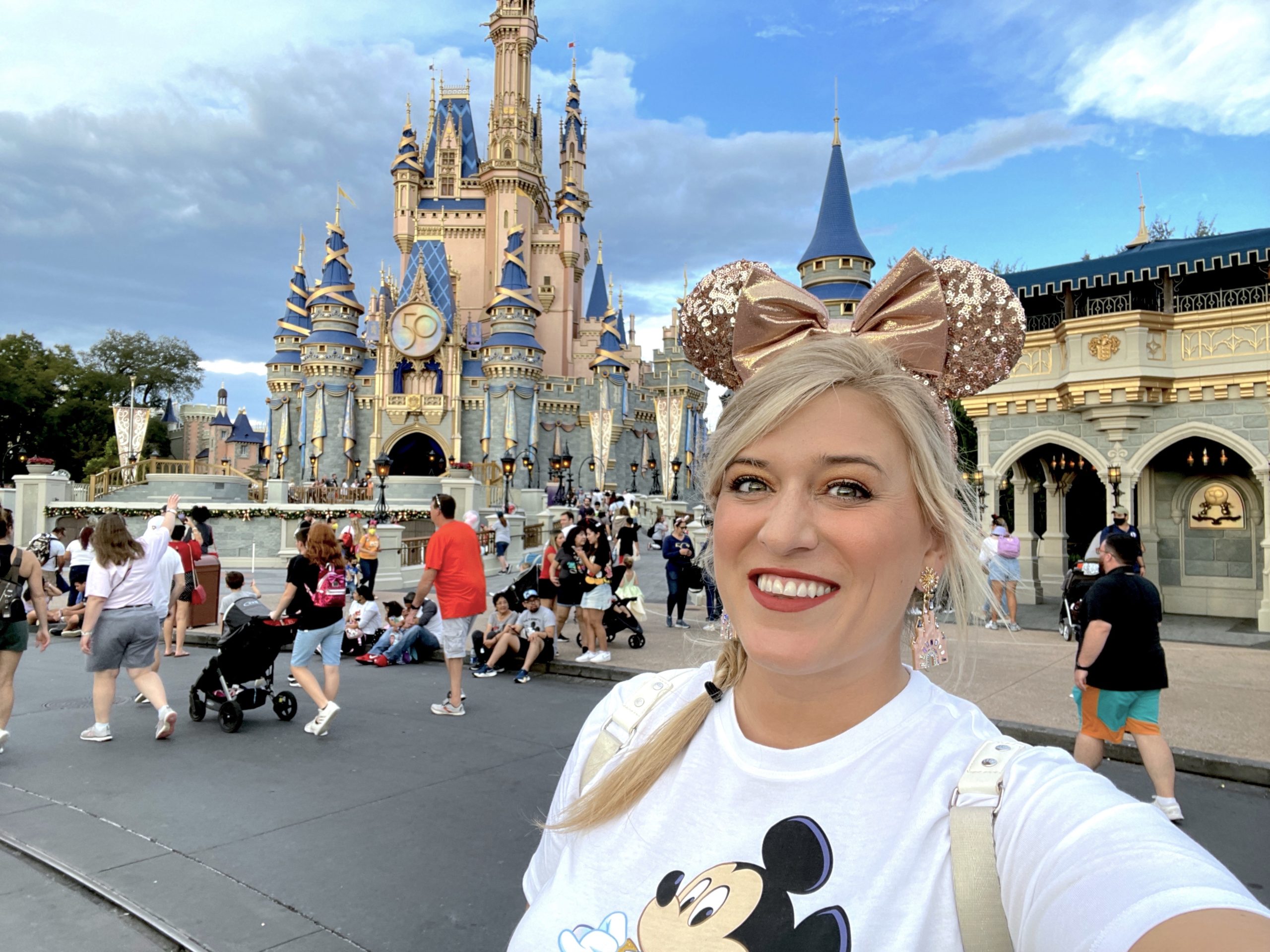 I'm obsessed with these over-the-top Cinderella Castle earrings Baublebar dropped for the 50th. They're currently sold out but fingers crossed they come back!
I also think a good pair (or seven) of gold hoops is a must. I've recently been very into this thick pair from Target! (The front pair, not the snake hoop in my second hole. Though…I do like those too for the Slytherin vibes.)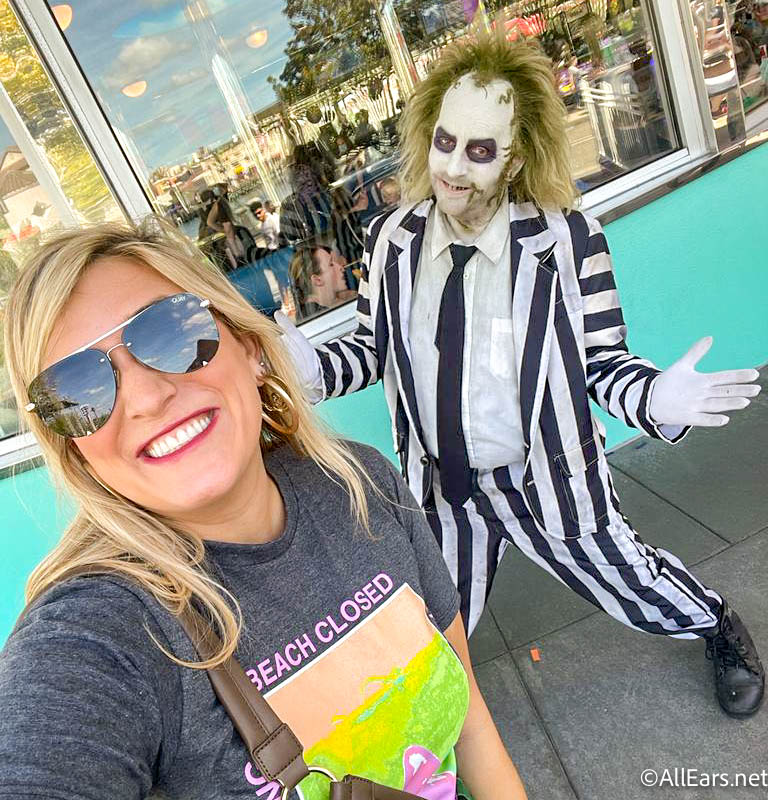 If there's one thing I buy excessively and always have at least two of in my purse, it's lipstick.
I have tried a LOT of different lipsticks, and pre-mask wearing days my top picks were different. But these days, Maybelline SuperStay Matte is the only lipstick I've tried that will stay on ALL day through snacks, heat, and masks.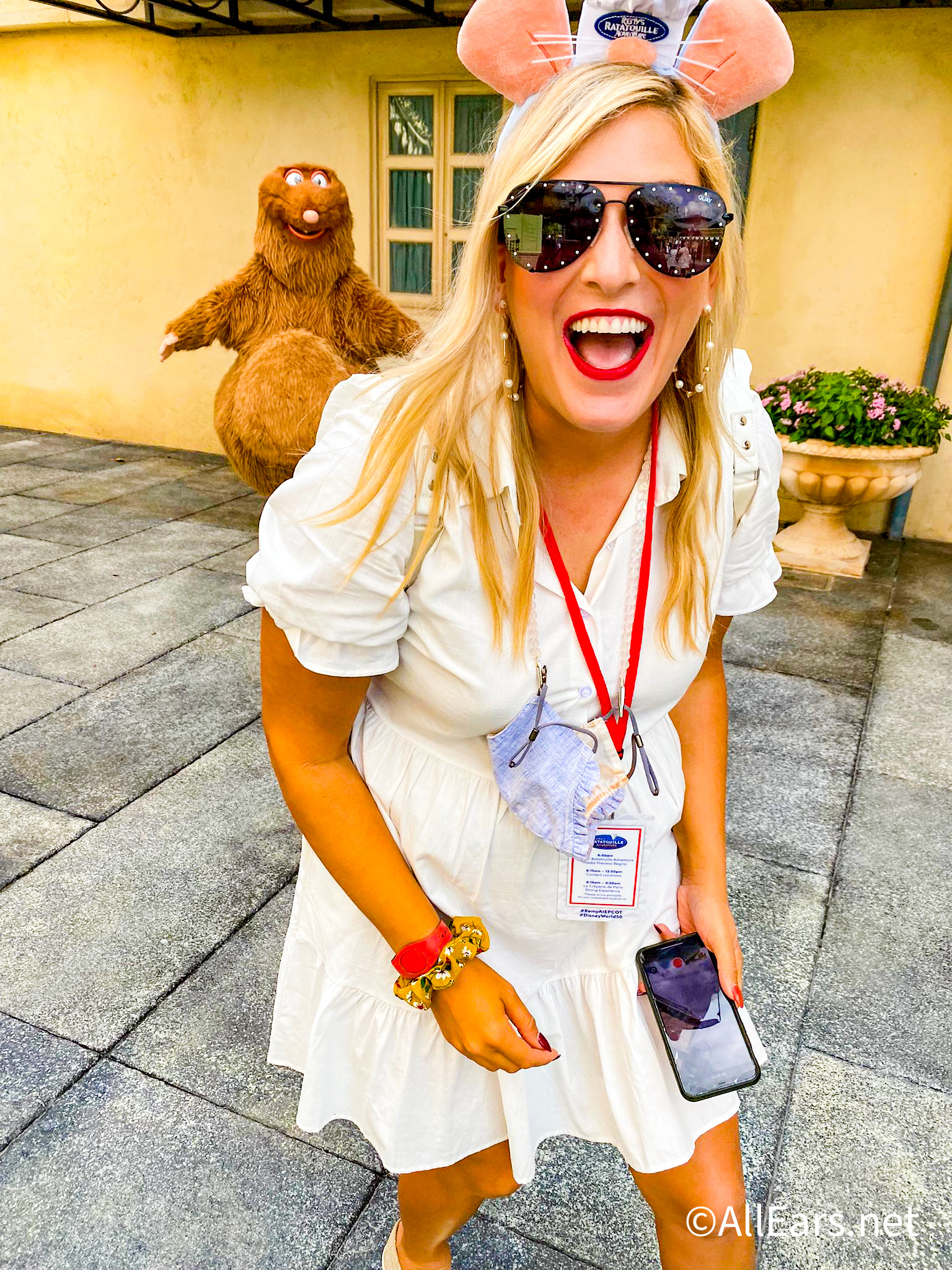 Bonus — it's $8 so you can buy a LOT of shades if you're heart desires. And my heart desires.
What is your go-to theme park look? Share your top picks in the comments!