Heading to Disney World soon? While there are lots of things that you can do in advance of your trip, one of the best things you can do is download the My Disney Experience app.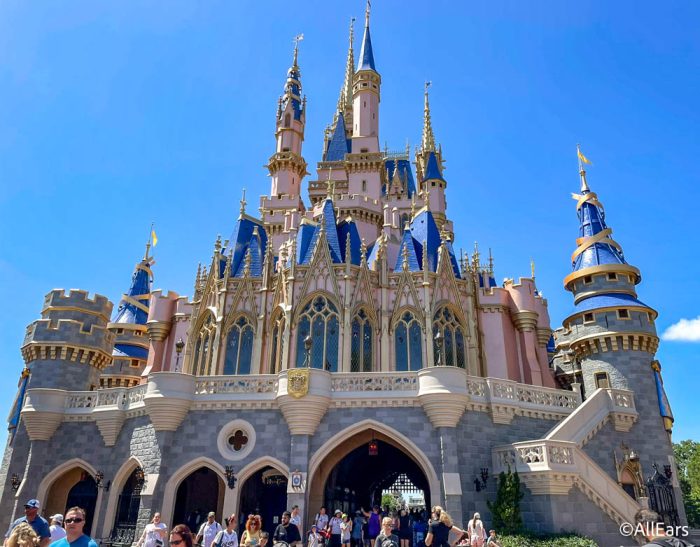 With this app, you can do things like check on attraction wait times, make dining reservations, and so much more. Even if you've used the app lots of times during your last trips, there may be some features that you didn't even know this app has that could really help you during your next trip.
Today we're breaking down the top 10 things you didn't know you could do on the My Disney Experience app!
1. Shop in Store Mobile Checkout
We start with something that's a relatively new addition to the app — Shop in Store Mobile Checkout! To find this feature, go to the home screen of your My Disney Experience app and press the + on the bottom.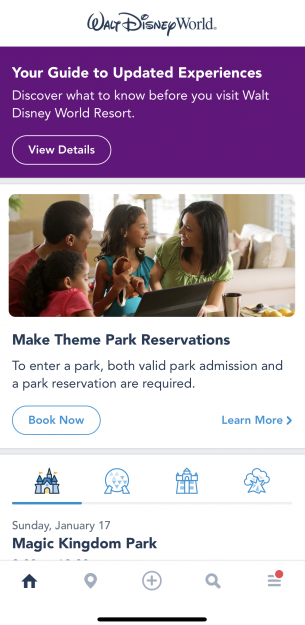 Then, select "Shop in Store."
You'll then be able to see what stores are currently offering the experience. It's limited right now to just a few locations as it still is just in the testing phase.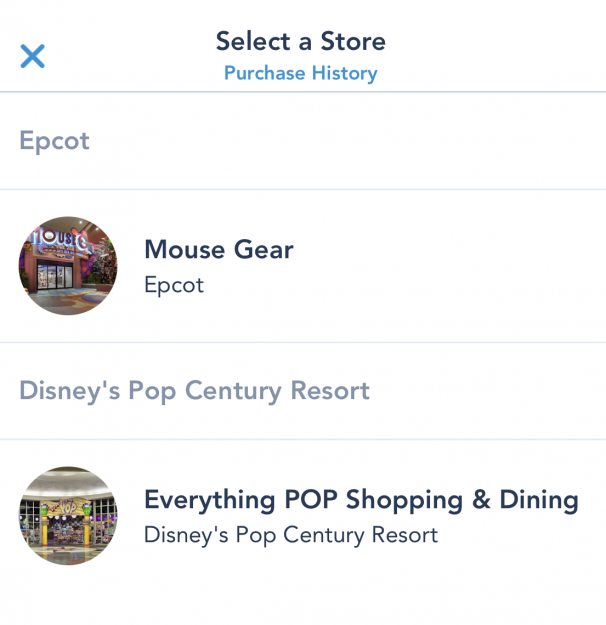 Instead of starting in the app, you could also scan the QR code at the available locations.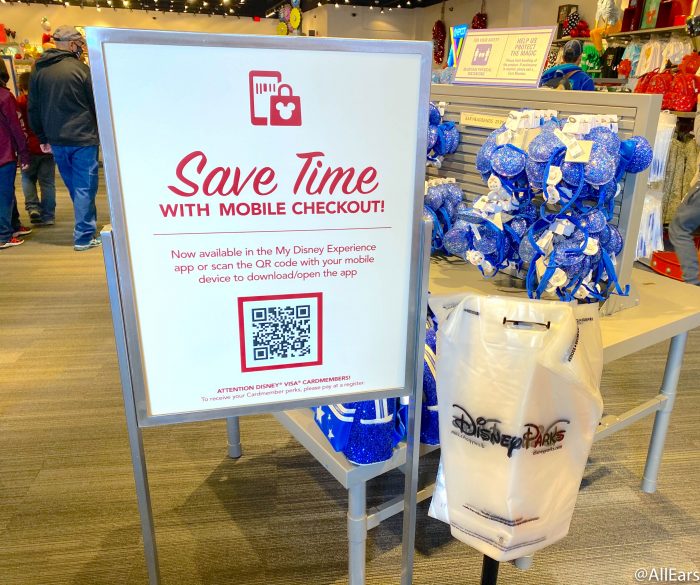 What is mobile checkout exactly? Well, it's a really convenient system on your app that allows you to skip those checkout lines (which can sometimes be EXTREMELY long) when shopping in select stores. All you need to do is grab the special mobile checkout bags, scan the items you want to purchase with the app…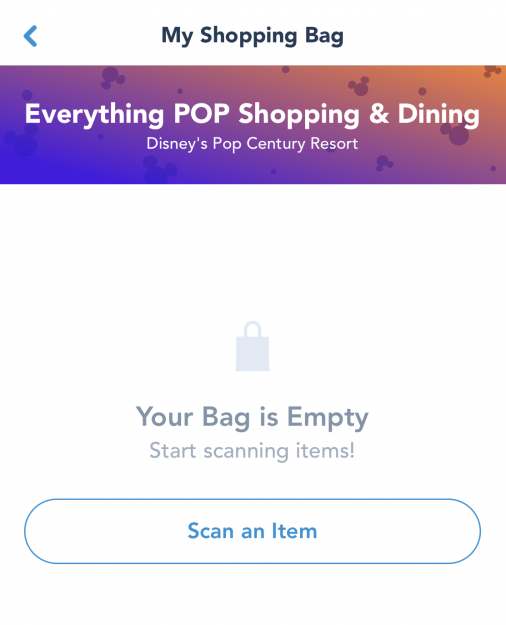 …and then pay for them when you're done.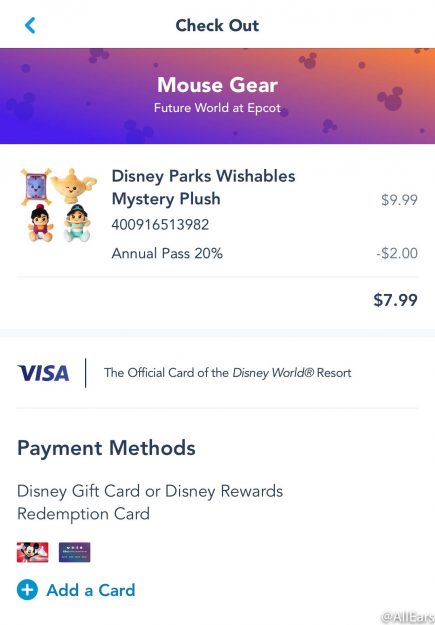 When you're finished, you'll head to the designated exit spot and show your QR code to the Cast Member there, and off you go! No waiting, no hassle, just shopping!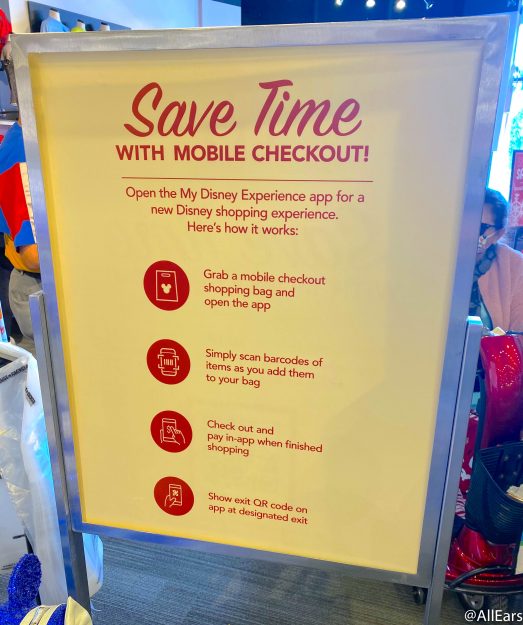 We're not sure how long this service will be available or whether it'll be expanded to other stores on property, but if you want to take advantage of it right now, you can thanks to the My Disney Experience app!
2. Enjoy Some of the Magic of the Disney Parks at Home
If you had to delay or totally cancel your Disney Parks vacation last year and are missing out on the magic, you can get a little taste of the parks right from the My Disney Experience app. To find this feature, scroll down on the home screen until you see the section that says "Disney Parks Stories."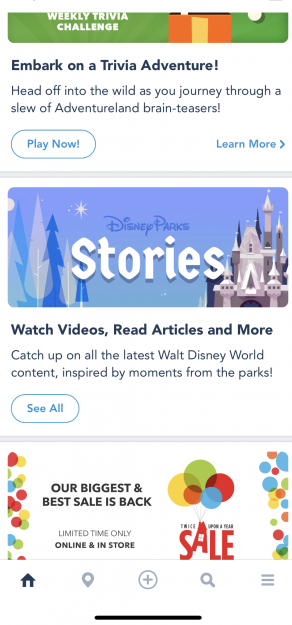 There, you can check out stories and videos about all kinds of things about the Disney parks around the world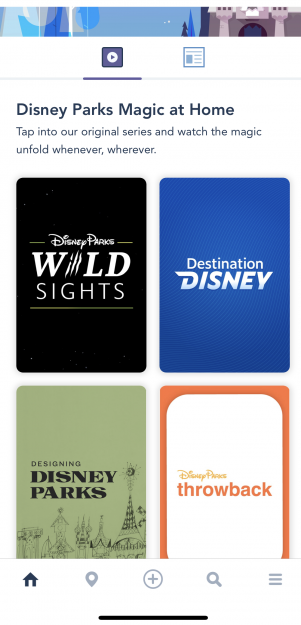 Discover more about the animals at Disney's Animal Kingdom Park and Lodge…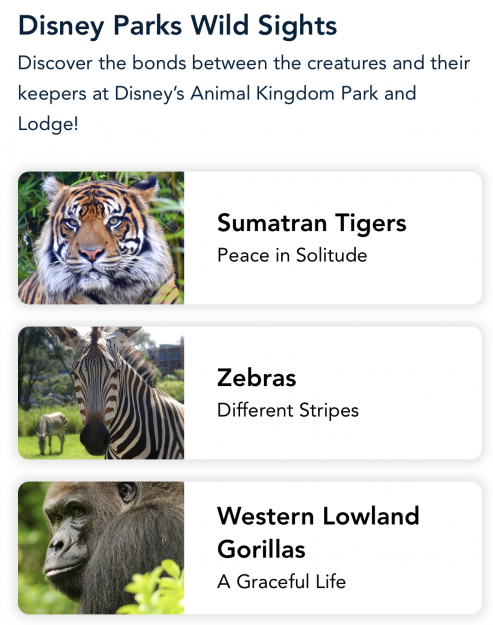 …get a tour of Haunted Mansion attractions around the world, get a tour of the Gardens of Imagination in Shanghai Disneyland, take a look at some moments in Disney history, learn more about Disney trash cans with an Imagineer, and more!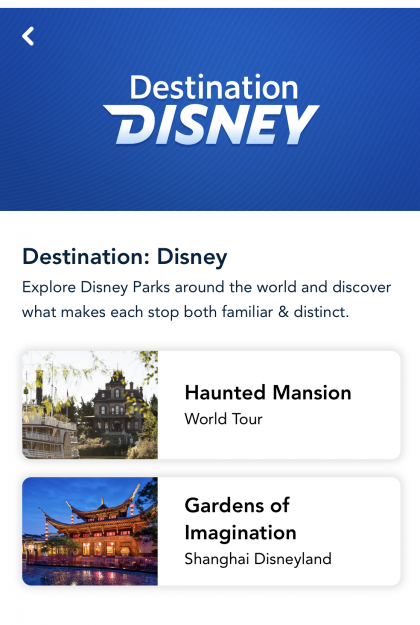 If you prefer to read, you can check out articles about Sumatran Tigers, holiday eats, Disney+'s anniversary, and so much more!
These articles and videos may change over time, but it's a great and easy way to learn more about Disney attractions and Disney history (and just enjoy a bit of the magic) no matter where you are.
3. Download Complimentary Photos & Wallpapers
You'll have to see if/when these are available, but sometimes Disney drops complimentary phone wallpapers on the My Disney Experience app for you to download and use. To find these, look for the Disney PhotoPass area on the home page.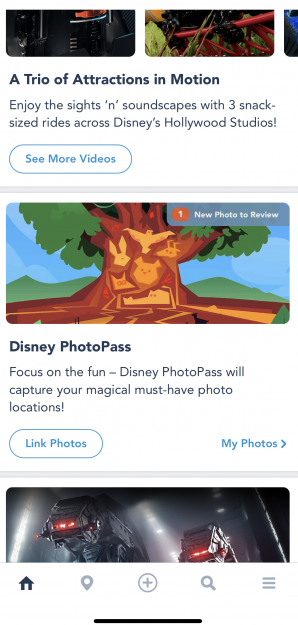 Tap on "My Photos" and you'll be taken to a screen showing all of your PhotoPass photos, including (if they're available) some complimentary wallpapers.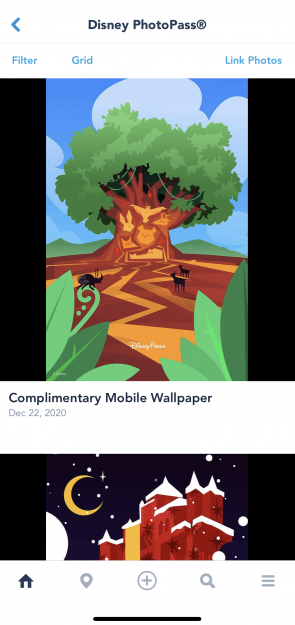 Tap on the ones you want and save them to your phone. Then, you can look at these magical designs on your phone!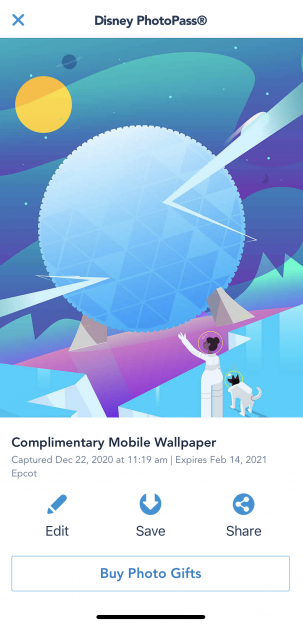 Again, the availability of these complimentary wallpapers can vary, so if one is released that you want to download, be sure to save it before it's gone.
4. Check out Menus and Other Information for the EPCOT Festivals
You might already know that you can see the menus for Disney's restaurants on the app, but did you know you can see the menus, performance, and other info about some special events too? Right now, the EPCOT Flower and Garden Festival is going on, and the app has lots of helpful info for you to help plan your day there. Scroll down on the homepage of the app to the Festival of the Arts section and tap "Learn More."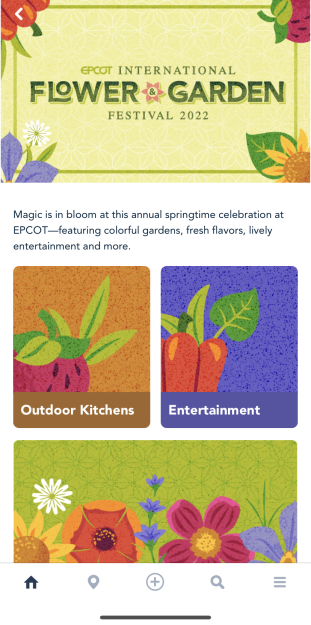 Then, you'll be taken to a part of the app that will lead you to other pages with info on the culinary arts, performance arts, and more.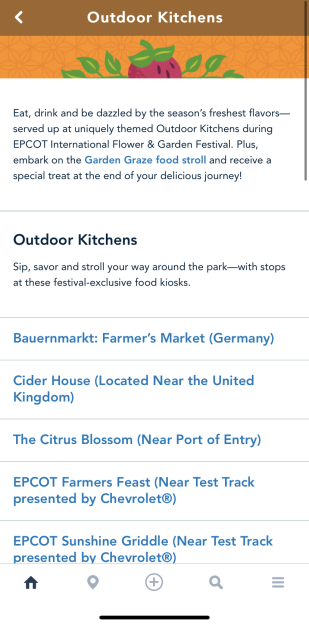 In the culinary arts section, you can check out menus for the various food booths that are part of the festival.
In the performance arts section, you can look for specific performance times for acts like the Garden Rocks Concert Series!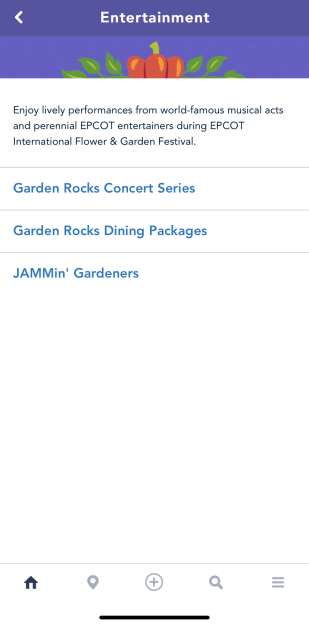 If you're headed to any of the EPCOT festivals, be sure to check out these features in the app to help you plan ahead of your trip and help guide you while you're in the park.
5. Search for Specific Food Items
Looking for that turkey leg? Got a picky eater in the group that will ONLY snack on chicken nuggets? Looking for a very specific treat? The My Disney Experience app can help! If you hit the search button on the app, you can look for all kinds of things including specific food items you might be looking for.
Now, the searches will generally pull up variations of the word you searched, so you can see it pulled up Pony Rides with the search "Turkey Leg" because the pony rides reference the 4-"legged" friends. But, just be sure to filter through the results yourself and you'll hopefully be able to easily find what you're looking for!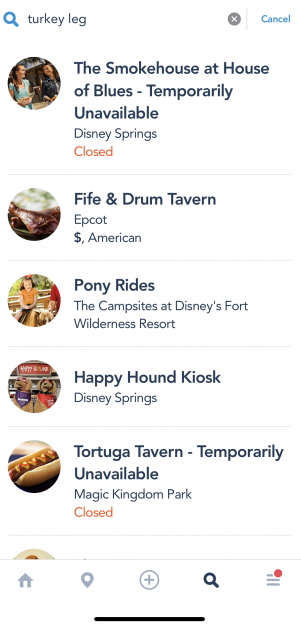 Overall, this feature can be really helpful if you're looking for something specific (like a yummy Dole Whip or a snack for a picky eater) and need to know what spots might have it available.
6. See Refurbishment and Hours Info
Things are constantly changing at Disney World. That includes refurbishment schedules and park hours. We're always working to bring you the latest info here at AllEars, but as your trip gets closer, you'll want to keep an eye on the My Disney Experience app for fast access to the latest updates. Look for the Park Hours section on the home page and click "All Hours."
You'll then get taken to a page where you can check park hours at all of the parks for as far out as the calendar will let you. You'll also be able to check on the Park Hopper hours for each day. Right now, Park Hopper hours have started at 2PM each day, but Disney has noted that could change in the future, so it's something you'll want to keep an eye on.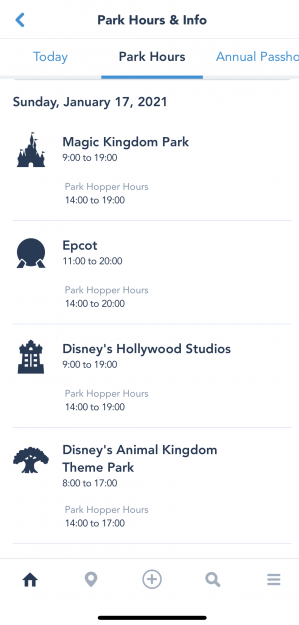 If you scroll down on the date you're checking the hours for, you can also see what will be closed for refurbishment that day. That can be really good for you to check as your trip gets closer and throughout your trip to make sure you don't get your hopes up for an attraction that's scheduled to be out of commission throughout your whole vacation, or possibly check out something that opens up during your trip.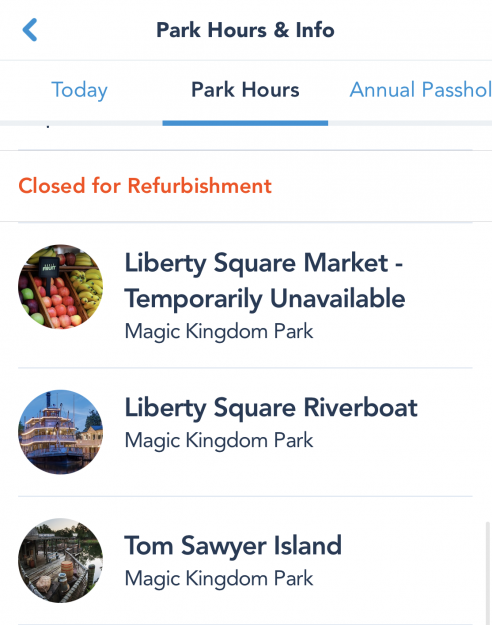 We're constantly checking these calendars and working to keep you updated, so be sure to check with us here at AllEars, too, for big updates.
7. Join a Walk-Up Waitlist For Some of Your Favorite Restaurants
Maybe you couldn't snag a reservation at a Disney restaurant you wanted. Or maybe you didn't think about you'd have the time for a sit-down meal, and you find yourself in the parks, looking to possibly grab a bite somewhere. Well, there's a new feature on the My Disney Experience app that can now help you join a walk-up list to eat at some fantastic restaurants!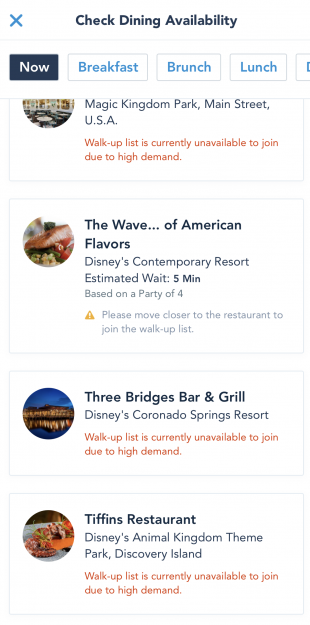 What you'll want to do is hit the "+" sign on the main page, and check dining availability. You'll then be able to input more info and see if any spots have walk-up list availability. Keep in mind, the Walk-Up Waitlist feature is more like a virtual queue while you wait your turn rather than an actual reservation. It'll help you virtually wait for the next available seating.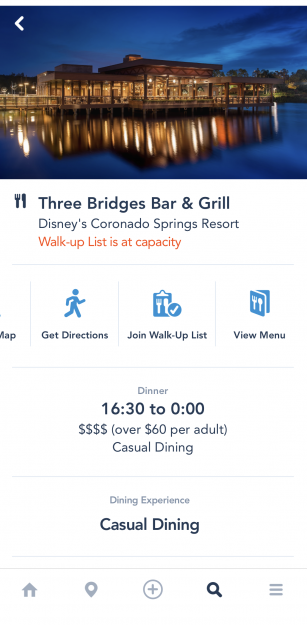 Availability can really vary here, depending on the time of day you're checking and how busy that restaurant is. But it could help you grab a last-minute spot at some Magic Kingdom restaurants, spots in the Resort hotels, and more.
8. Order Table Service To Go
What if you don't want to sit down at a Table Service location at all, but you do want to enjoy some of their food? Well, with Disney's Table Service To Go feature on My Disney Experience, you can get the best of both worlds. This feature allows you to actually order from some of your favorite Table Service spots and take that meal with you to enjoy wherever you'd like.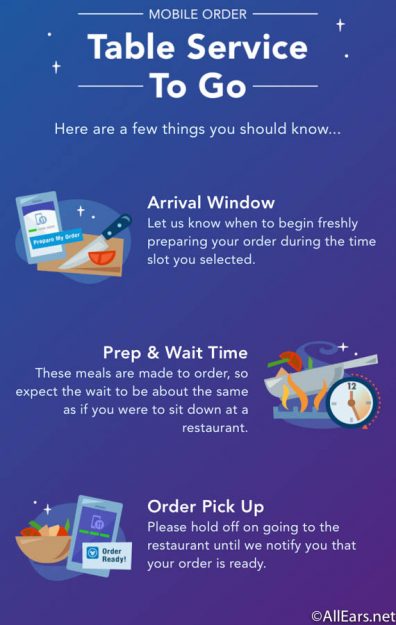 To check out this feature, you'll want to hit the "+" sign and select "Order Food." Then, look for the restaurant you'd like to order from. What food could you snag with this feature? How about some amazing bread service from Sanaa? Or some crab cakes from The Wave…of American Flavors or Parker House rolls from Ale and Compass Restaurant?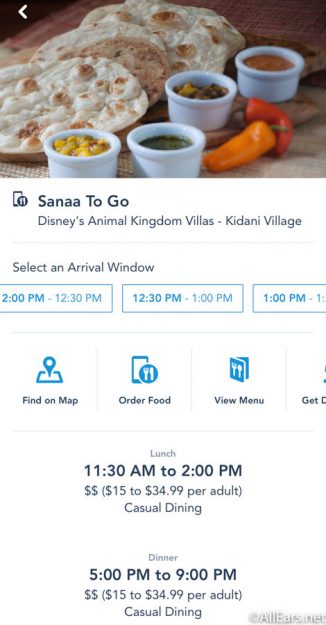 There are quite a few resort restaurants that have been added to the Table Service to Go feature, so be sure to check if the spot you're looking for is on there. Then, you can grab some delicious treats and enjoy them in the comfort of your hotel room or wherever else you decide!
9. Mobile Check-In
If you've already got an Advance Dining Reservation for a restaurant and you need to check-in for it, Disney is also now utilizing a Mobile Check-In feature on the My Disney Experience app. This allows you to skip the host(ess) stand check-in by checking in virtually on My Disney Experience. You may receive a push notification for check-in, or you can scan a QR code at the restaurant to start the process.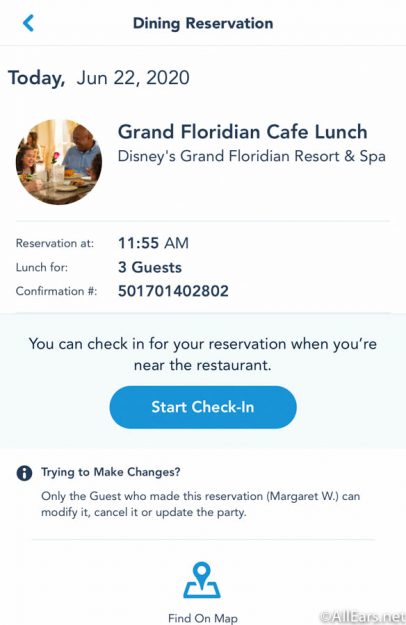 With this check-in feature, you'll be able to confirm your arrival time and details about your party. Then, you'll get a notification when your table is ready.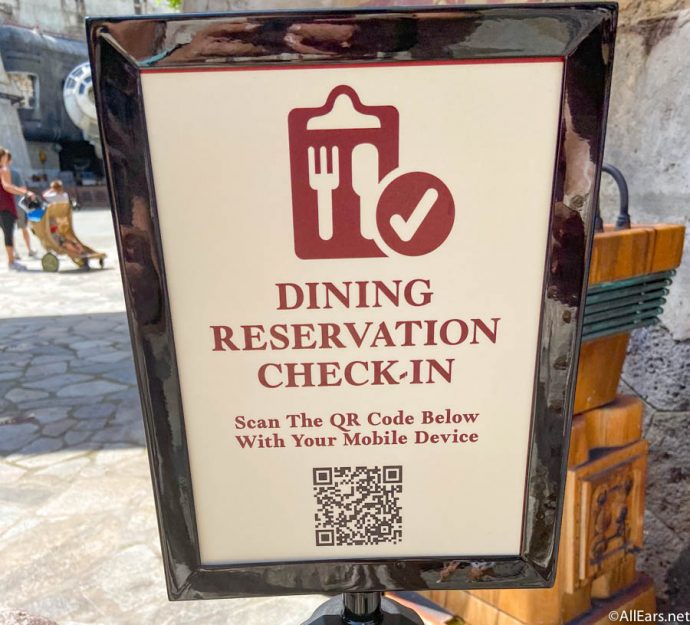 It's a great way to check-in for your reservation while still helping to maintain social distancing.
10. Filter the Map for Restrooms
Another really useful thing you can do on the My Disney Experience app is filter the map so it just points out what you're looking for. First, tap the locator button on the bottom and then tap the top center button. You can filter the map for several things including attractions, dining, or entertainment. But one REALLY helpful thing is to filter it for restrooms. The app will then show you where the restrooms are around you.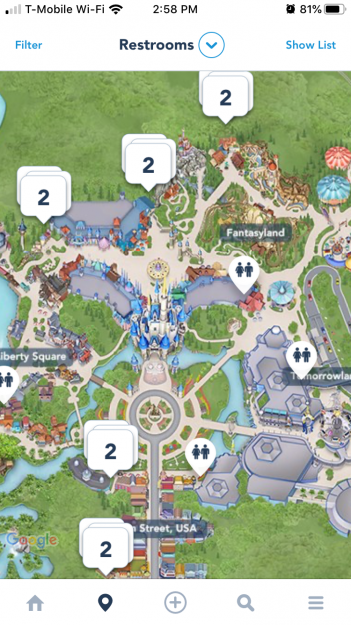 If you really need to go or are wondering where the next bathroom is on the way to your next attraction, this can be a really helpful feature.
And that's our list of the top 10 things you might not realize you can do on the My Disney Experience app. Wondering what other things you can use the app for? Well, if you collect Disney's pressed pennies or other pressed coins, you can actually use the app to find all of the coin press machines! Just search for "coin press" and tap the coin press machines option. Then hit "find on map" and you'll be able to see them all.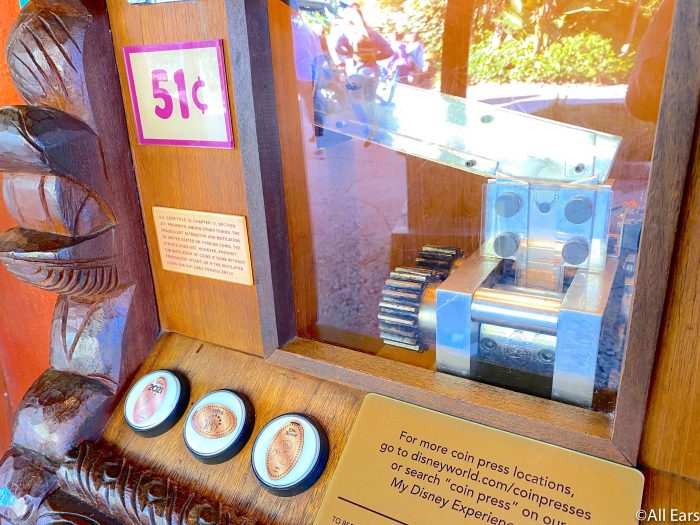 If you've got a service animal with you, you can also use the app to find all of the pet relief stations in the parks. Search "service animals" and tap the service animals option. Then hit "find on map" and you'll get to look at all of the relief areas.
You can also use the app to get directions to places on property. This can be helpful if you're in one spot in the parks or Disney Springs, for example, and looking to get to another attraction or store in the park. The step-by-step directions are good at pointing out specific spots that can help guide you visually.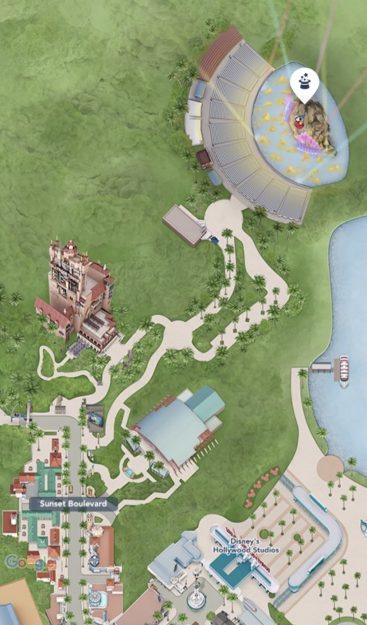 For example, in running directions from Space Mountain to Splash Mountain, it said things like "slight left at the lake onto Liberty Square…Pass by Liberty Square (on the right in 322 ft.)." This might help give you some sense of how to orient yourself to get to your next destination.
My Disney Experience can be a really useful tool throughout your trip. The app has been updated in the past, so we're interested to see what features get changed or possibly added in the future. We'll definitely be on the lookout for any big changes and let you know what we see. 
What is your favorite feature from the My Disney Experience app? Let us know in the comments!
Join the AllEars.net Newsletter to stay on top of ALL the breaking Disney News! You'll also get access to AllEars tips, reviews, trivia, and MORE! Click here to Subscribe!