After a nearly four month closure, the Disney World theme parks have started welcoming guests back again!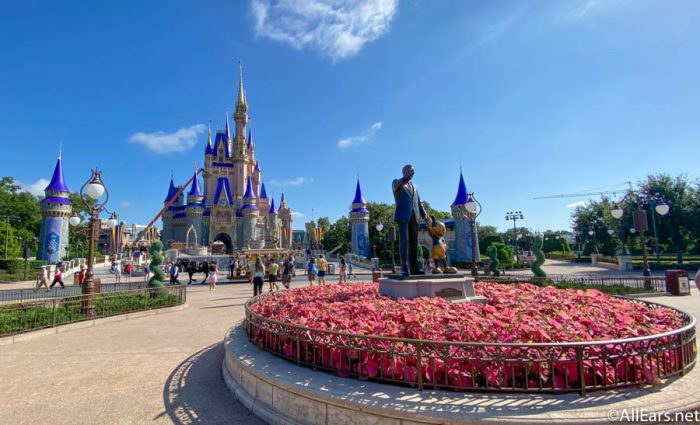 Earlier this week we attended the Annual Passholder Previews for both Disney's Magic Kingdom and Animal Kingdom, which you can check out below! Today we will be adding in our experience, and any differences we saw from the grand reopening, so follow along!
We will continue to update this post throughout the week, so make sure to check back for updates! 
Grand Reopening
Transportation
The Resort hotel transportation was running to Magic Kingdom, with hours listed for each method.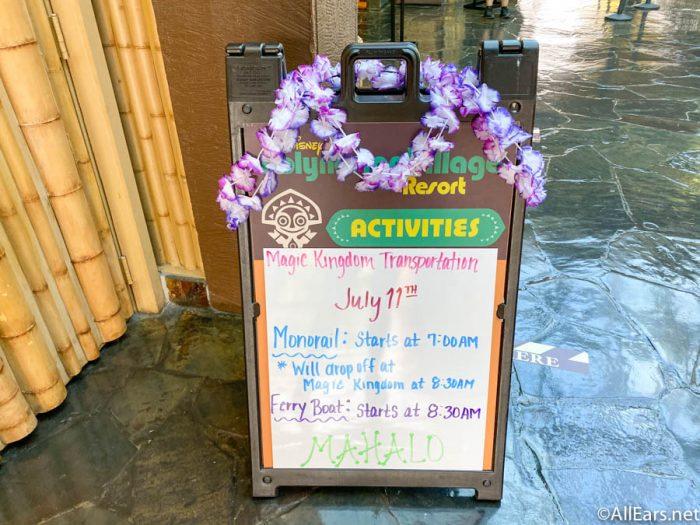 The Monorail began running at 7AM, though it did not start dropping off at Magic Kingdom until 8:30AM. At Disney's Polynesian Resort, you are not able to walk over to the Ticket and Transportation Center — the area was entirely blocked off from entry.
For the Monorail, security was set up outside, with markings on the ground for physical distancing.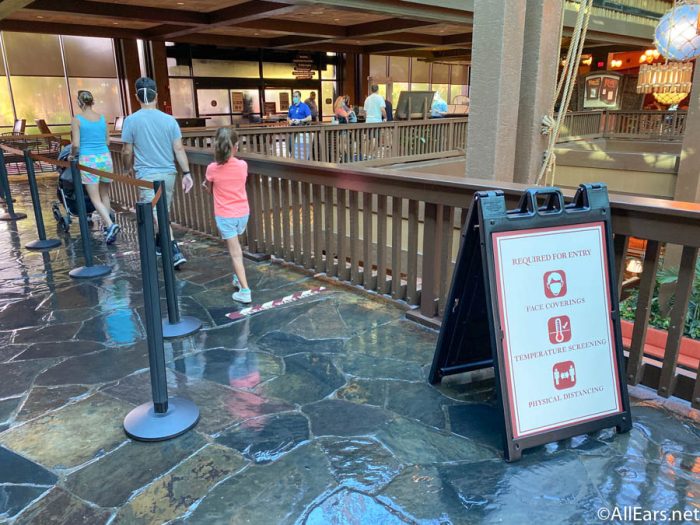 It's important to note that, while we were not far back in line for the Monorail, three different Monorails went by before we were able to get on one. This is likely because they are limiting each cabin to two parties, so without anyone getting off, there is limited room for additional riders. However, it's something to keep in mind if you plan on taking the Resort Monorail to the parks!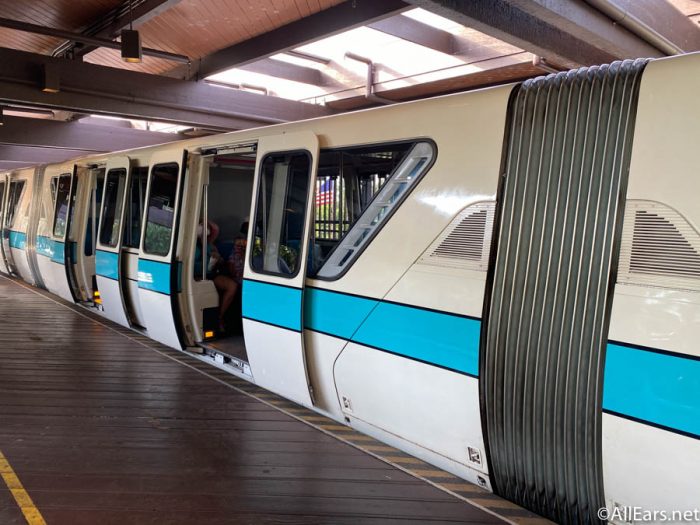 Park Entrance
Park entry worked pretty much the same as we had seen at the Passholder Preview!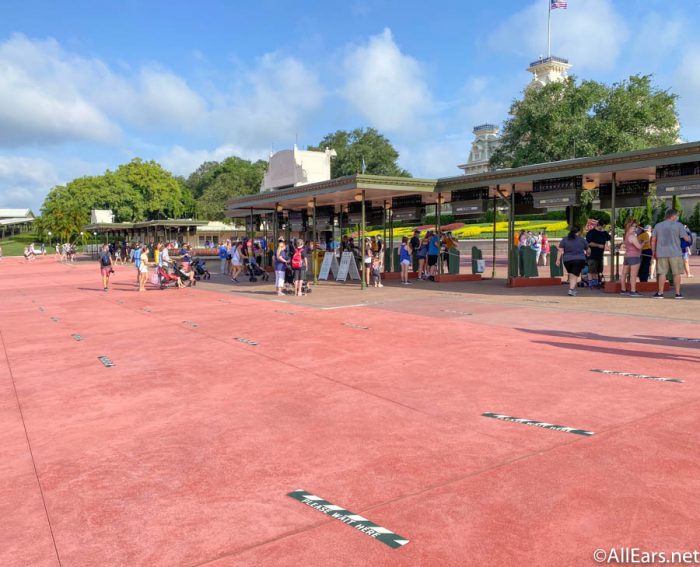 Like we saw this morning at Animal Kingdom, they are using the MagicBand scanners without requiring fingerprint scanning.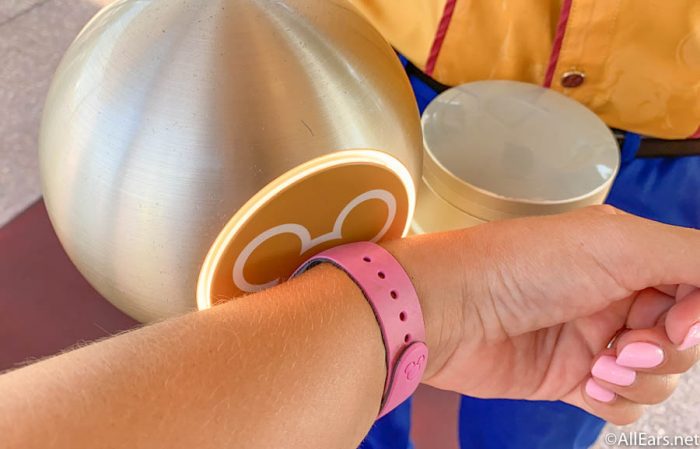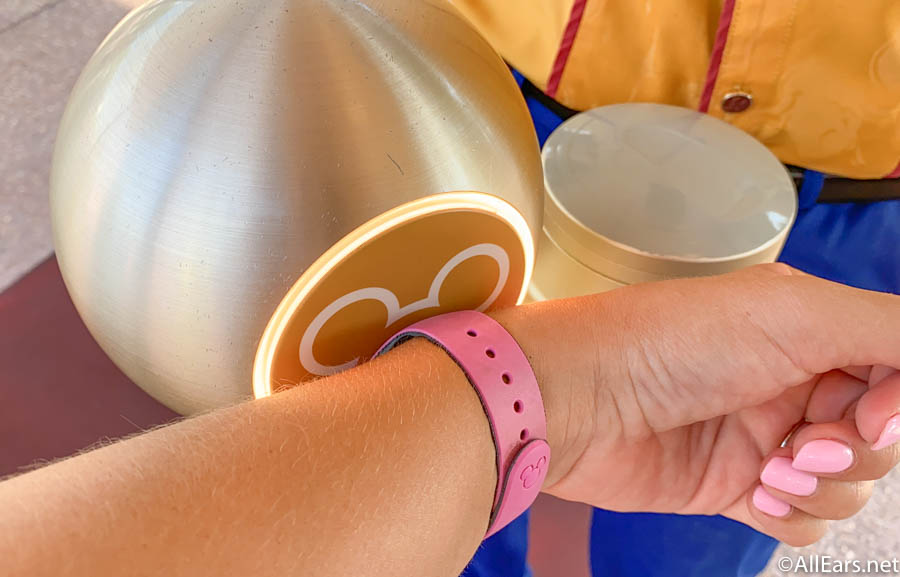 There was also a welcome surprise — characters greeting guests above the train station!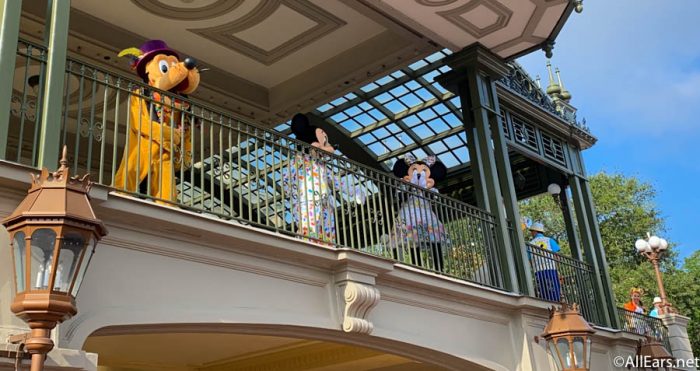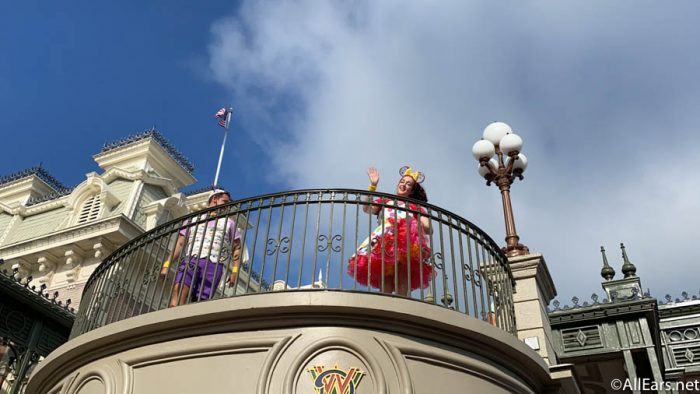 Crowd Levels
Once inside the park, Main Street USA definitely was looking a little crowded to start!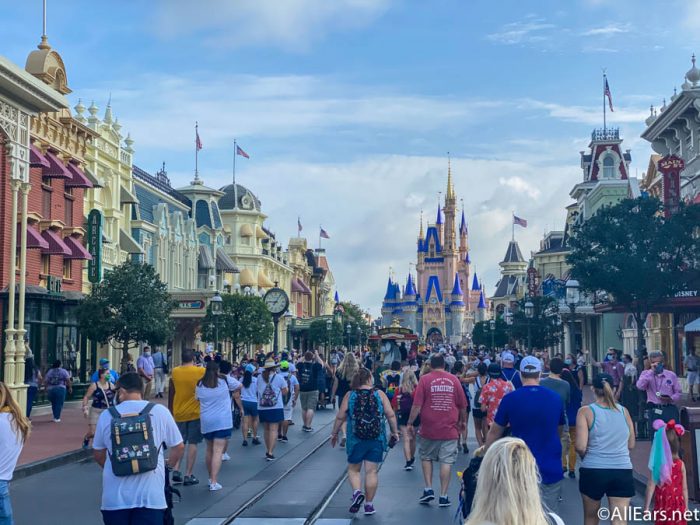 While it looks like a lot of people, it's important to note that this crowd quickly dispersed once further down Main Street.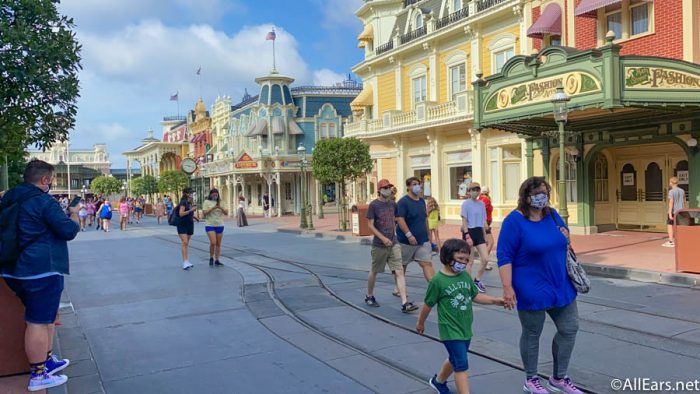 Over at Main Street Bakery, there was a line forming for guests to pick up their morning cup of coffee!
Ride Wait Times
As we saw at the Passholder Previews, crowds are definitely heavier for the early morning. At 10AM, some of the longest wait times were for boat rides, with Pirates of the Caribbean at a 50 minute wait, and Splash Mountain at 45 minutes.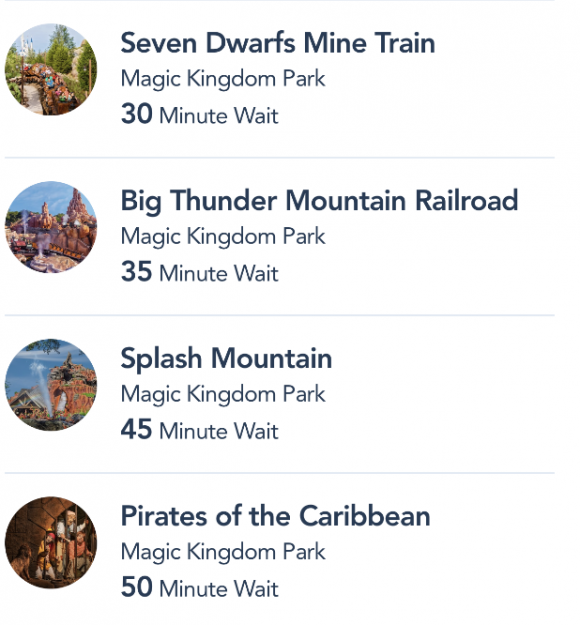 Considering it's the official grand reopening, these wait times are comparatively short! We will continue to update throughout the day, though, to get a better idea of how they change as the day goes on.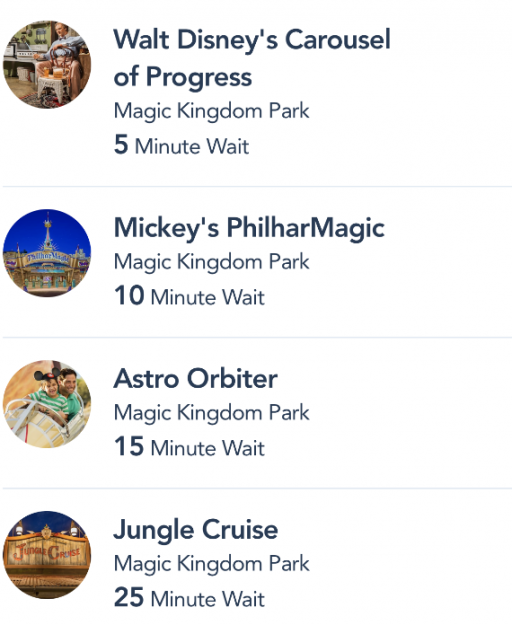 Some rides also had a shorter wait than what was listed. Over at Big Thunder Mountain, it was listed as 25 minutes, but we were on within about ten.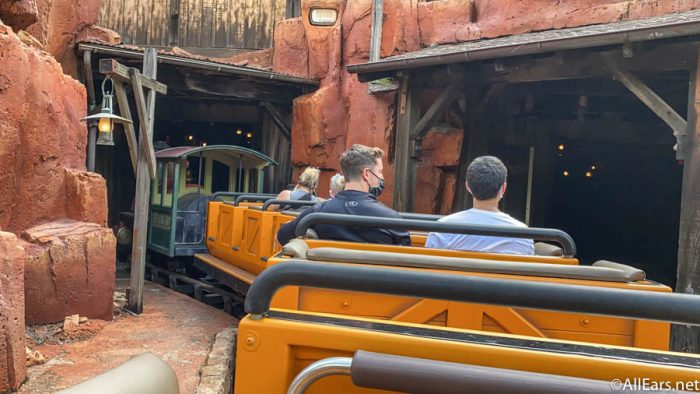 Certain lines like Space Mountain seemed long…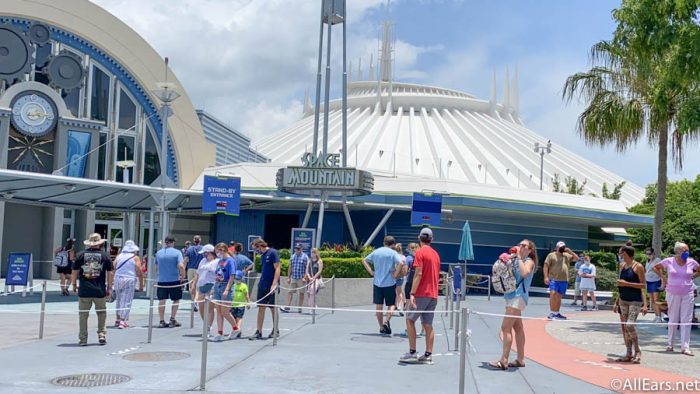 ….but in reality were more of a 15 minute wait. The length of the line is typically due to guest spacing.
One big line we saw AGAIN today? The line for the Splash Mountain gift shop! First, you had to get in this line to sign up for the virtual queue…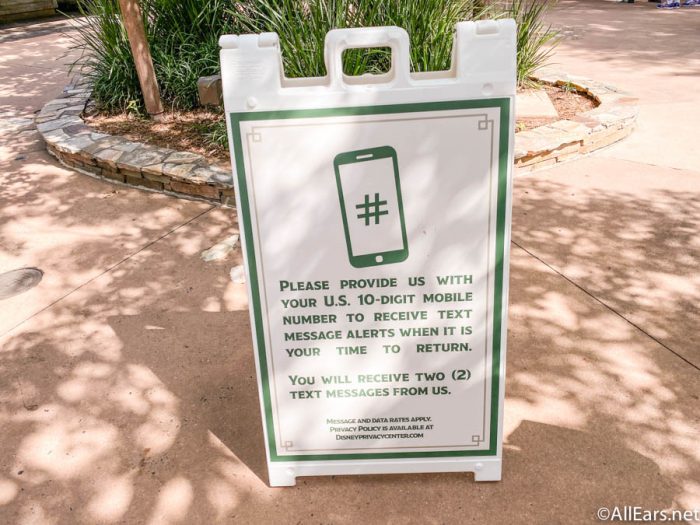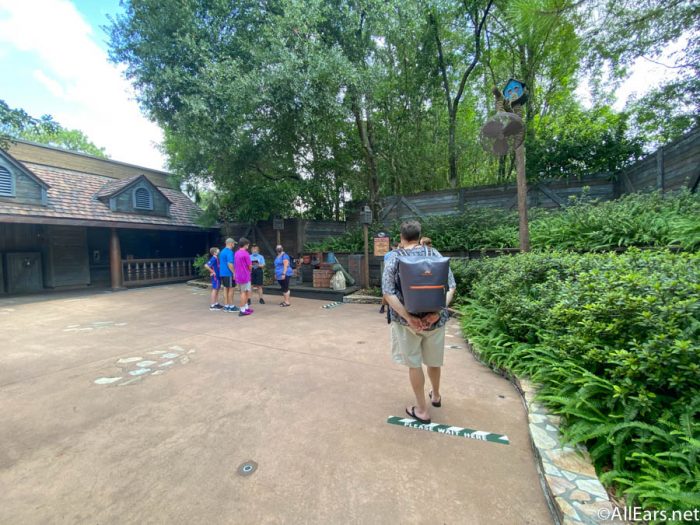 …and then, when you get a text telling you to return, you can go to this line!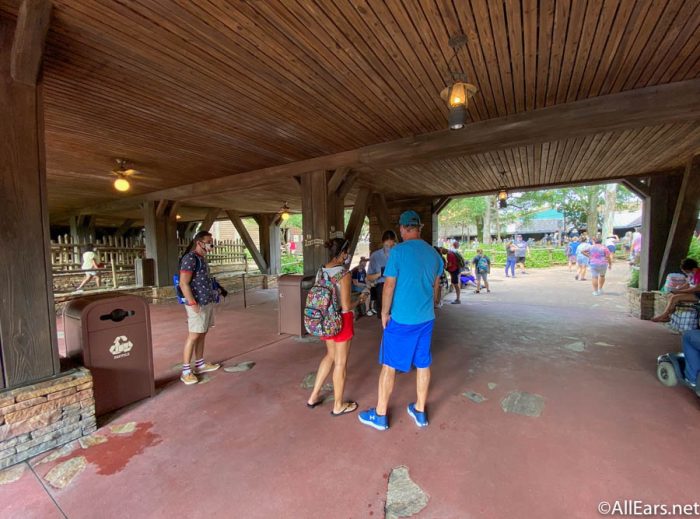 In fact, the line for Splash merchandise was so long that by midday, the virtual queue had reached capacity! While Cast Members were still allowing guests to  sign up for their spot, they were letting them know that entry was not guaranteed for the rest of the day.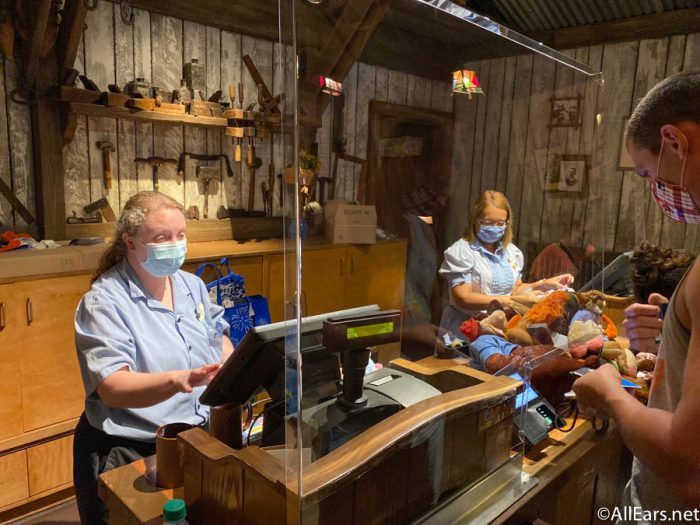 Mobile Order
Mobile Order at Pecos Bills was a lot quicker today than it was for the Passholder Preview! While heading that way, we did notice that there was some light crowding that happened when it started to rain.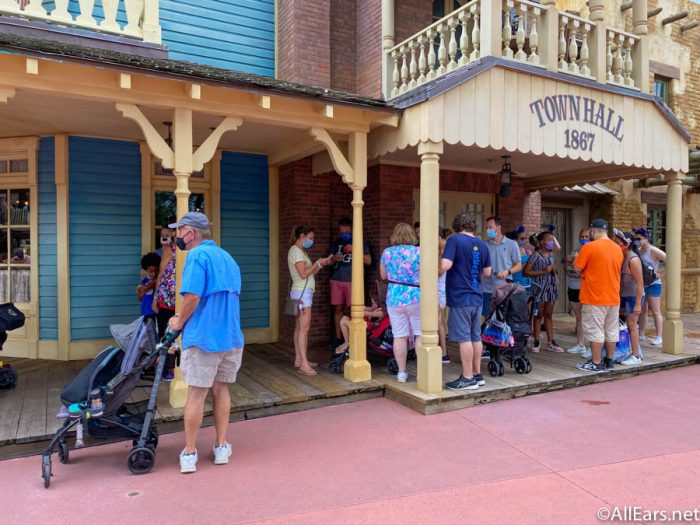 However, we quickly received our food through Mobile Order!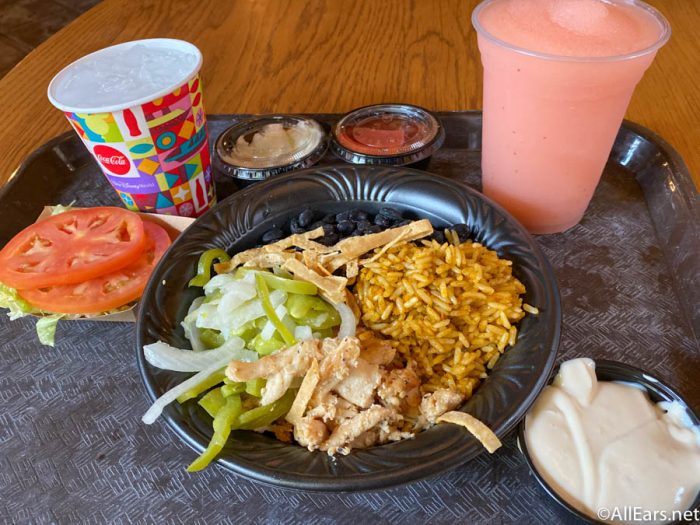 While many Quick Service restaurants are asking that guests wait until their food is ready to enter the restaurant, if you do want a free cup of water, we have found that by asking a Cast Member outside they will usually be able to assist!
Character Cavalcades
When we were done with lunch, we were met with LOTS of characters! Up on the roof, it was none other than the Country Bears greeting guests!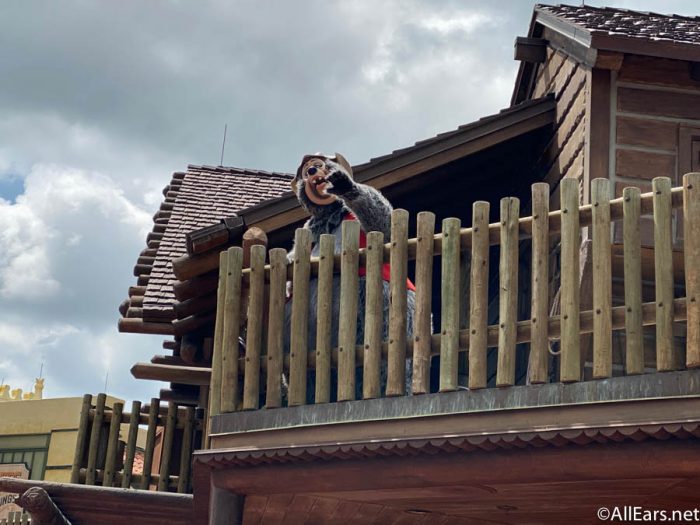 And then, Goofy's Character Cavalcade came by!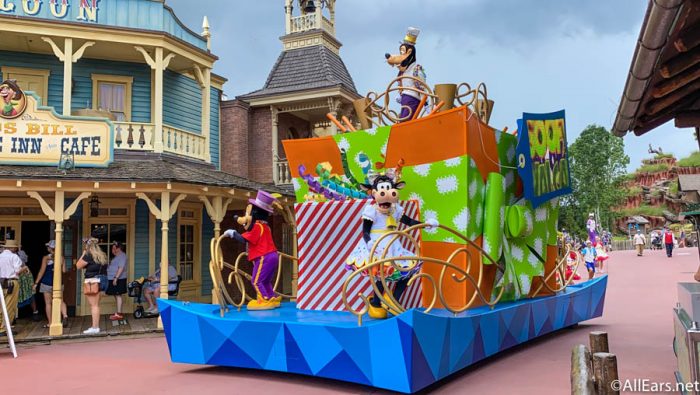 This character float included Clarabelle!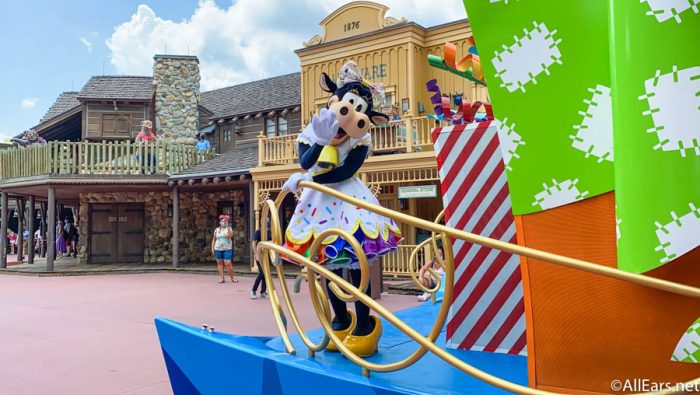 Plus, the cavalcade's namesake, Goofy, was on top!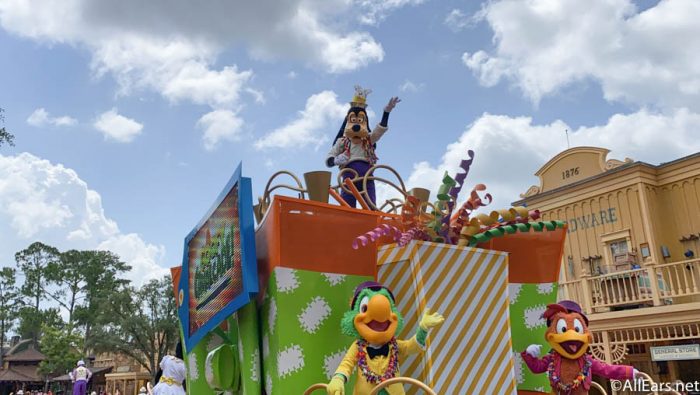 Annual Passholder Preview
Parking
Parking has now been shifted to cashless payments.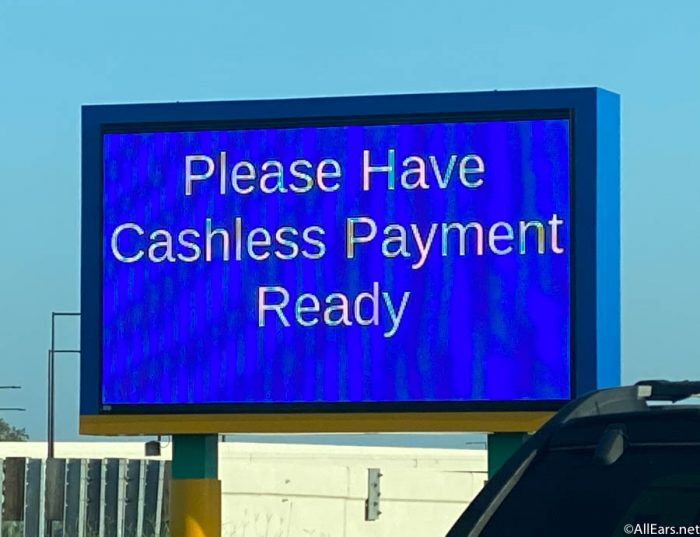 Signage is out clearly indicating the rates so guests can have their payment ready when parking.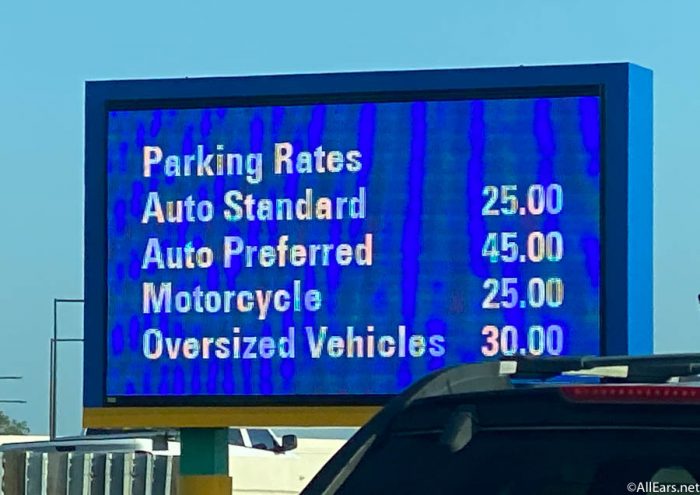 Cars are spaced out leaving an empty spot between each car.
We spotted the parking lot trams currently not in service.
Temperature and Bag Checks
At the Ticket and Transportation Center, there are tents set up where you will have your temperature taken, and go through security check.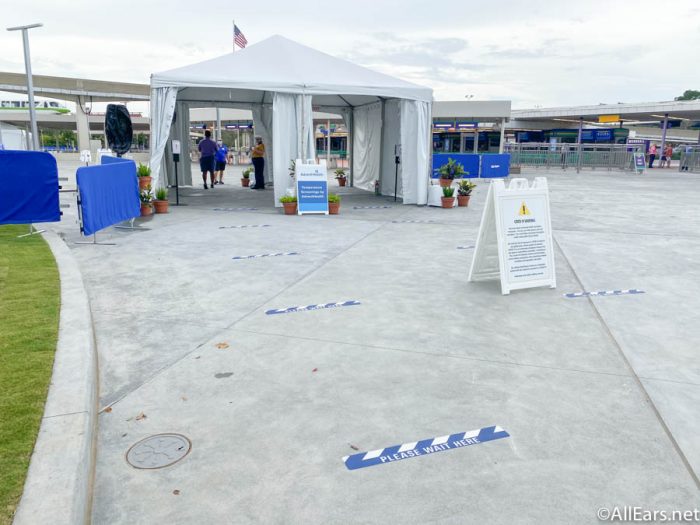 Disney is now testing out a new security method, where instead of a regular bag check, they will ask that you put any electronics or metal in your bag into a provided plastic bag.
Transportation
At the Ticket and Transportation Center, guests have the option of getting to Magic Kingdom by the Monorail or the Ferry Boat. For the Monorail, markers are spaced out in the queue as you wait.
All guests in line are asked to stand with their party on a specific number, where you are asked to wait until the next Monorail has come in.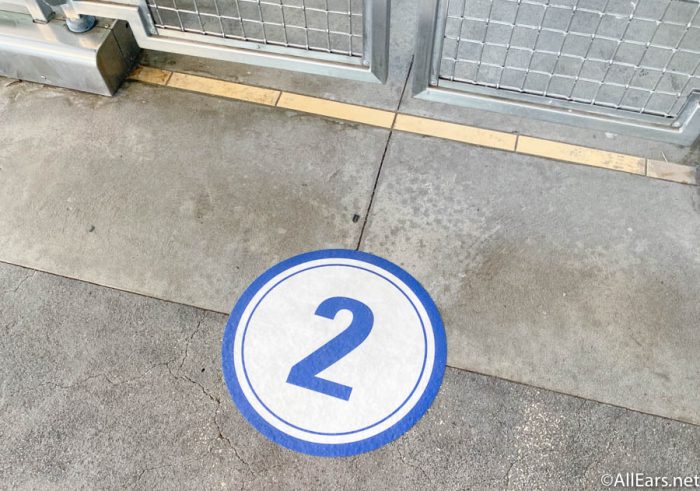 Each compartment will get up to two parties, and a Cast Member will ask that each party remain seated on a single side for the duration of the ride.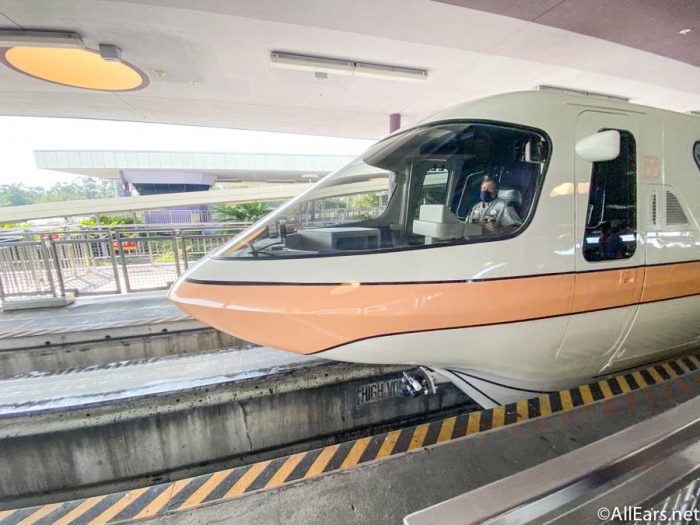 Behind each set of seats they have installed a partition to separate you from the party behind you.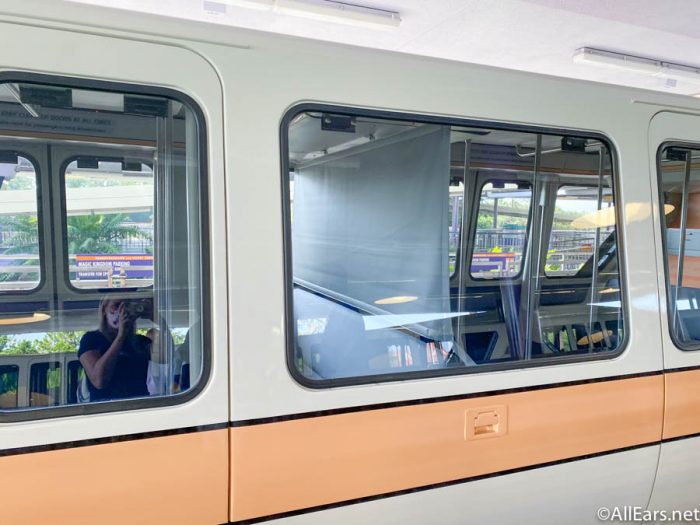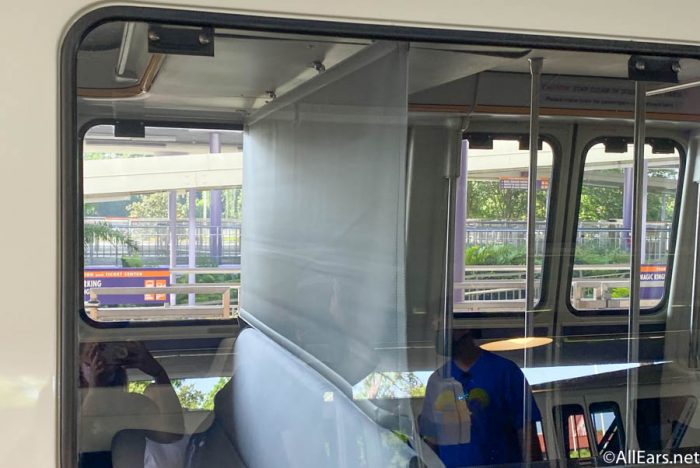 Park Entrance
Similar to what we've seen at Universal Studios, Magic Kingdom's entrance has markers for guests to wait on with their party until it's their turn to be checked in.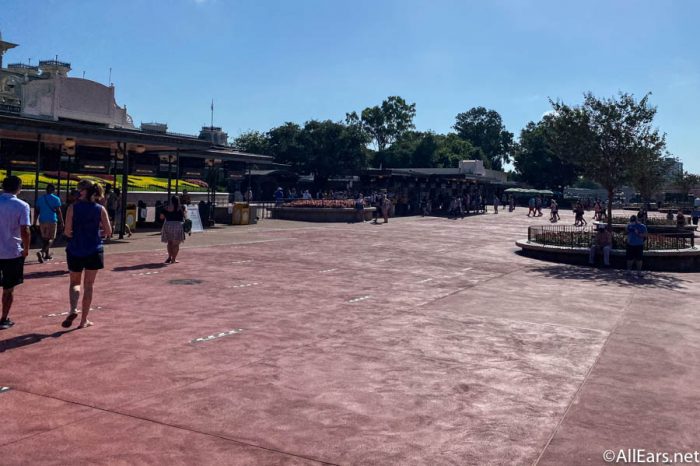 Outside the park, there are also a variety of Health and Safety notices set up, signs similar to what we have seen at Disney Springs and the Resort hotels.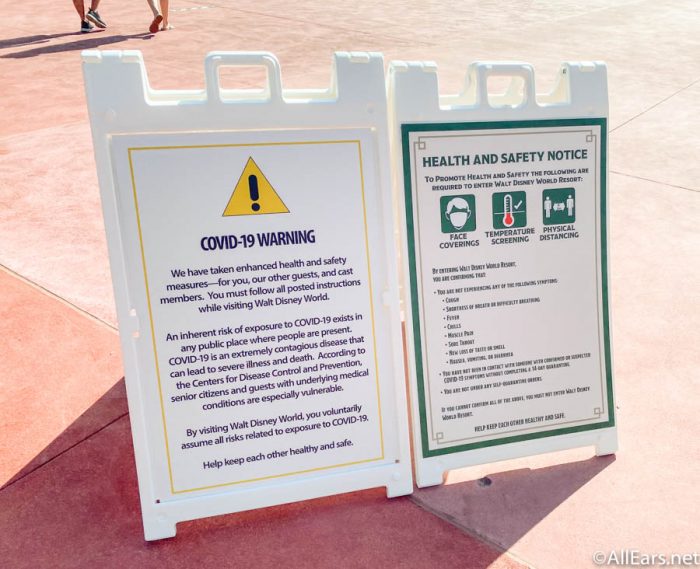 Character Cavalcades
Once inside of Magic Kingdom, we immediately spotted some of the character cavalcades that Disney had revealed would be a part of the reopening!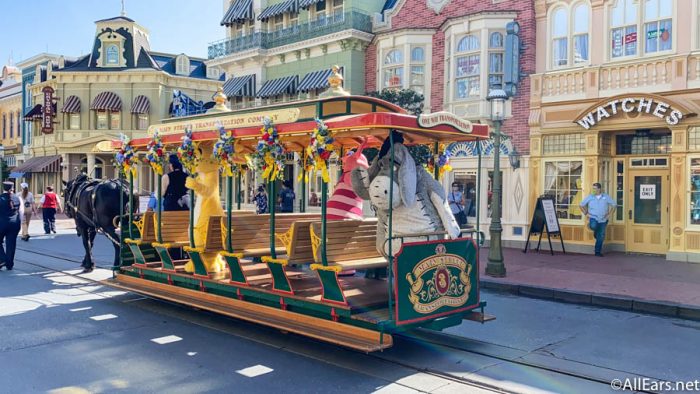 The Main Street Trolley went by with Eeyore, Rabbit, and Piglet all aboard and waving to guests throughout the park.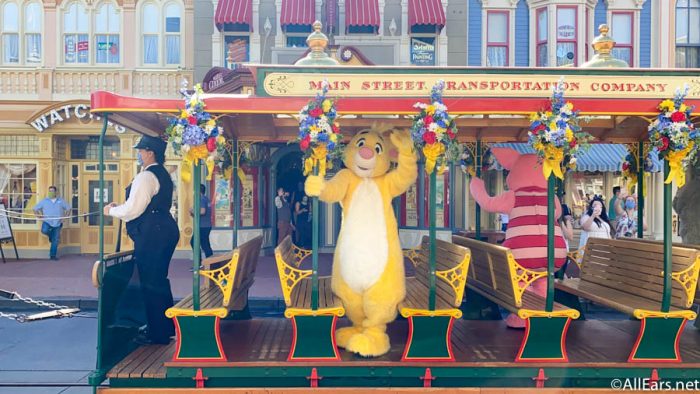 The trio were easy to grab a picture of as they drove by, allowing for a modified character experience still in the parks.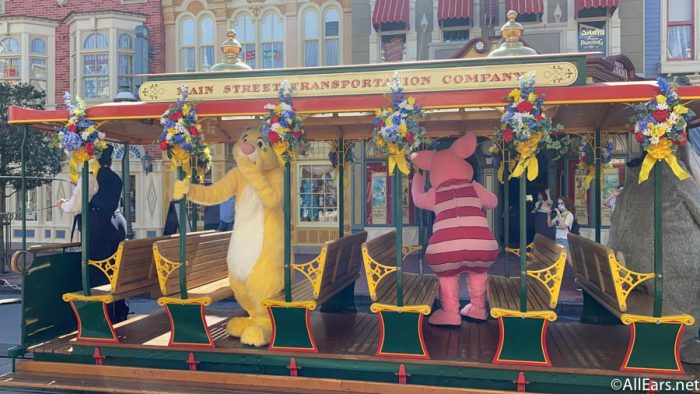 Later on, we also spotted the Mickey and Friends Character Cavalcade, which featured Mickey, Minnie, and Donald all driving by with some Cast Members following behind.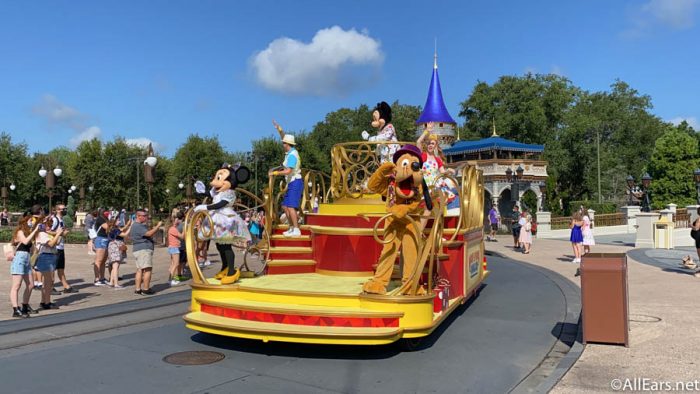 Similar to what we had seen earlier in the day, the Cavalcade slowly went by, giving guests ample opportunity to snap a picture of the characters onboard.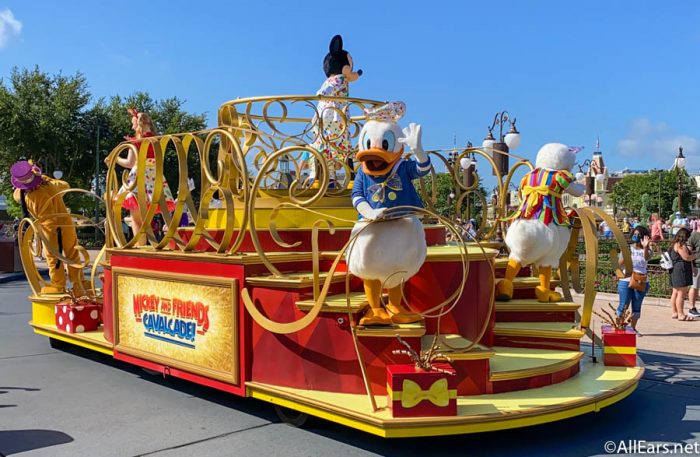 We even spotted Tinker Bell on top a huge treasure chest!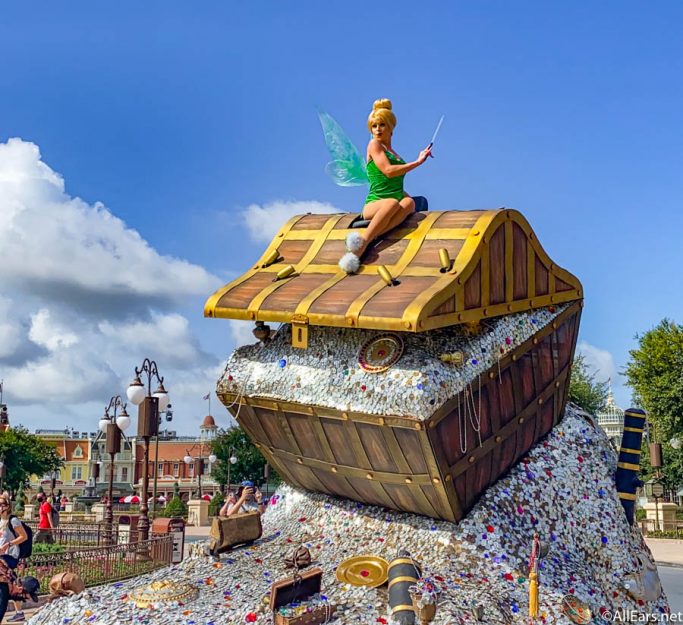 When we saw her pass by again (they come around relatively frequently form what we've seen!) we spotted the Country Bears on the balcony above their ride in Frontierland waving at the fairy!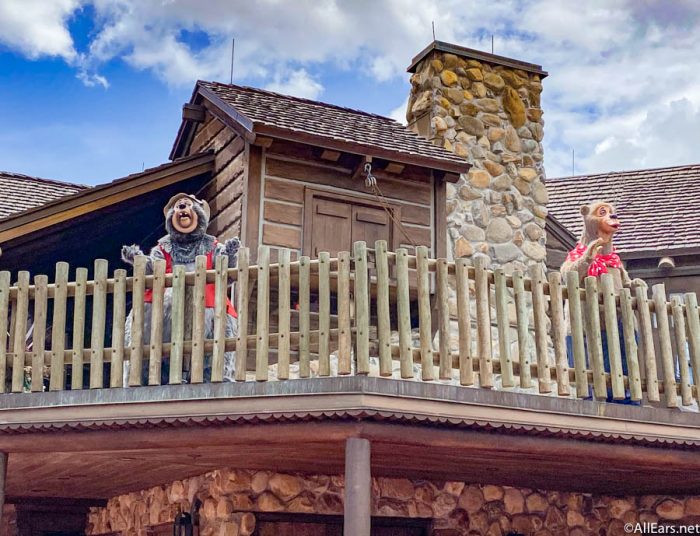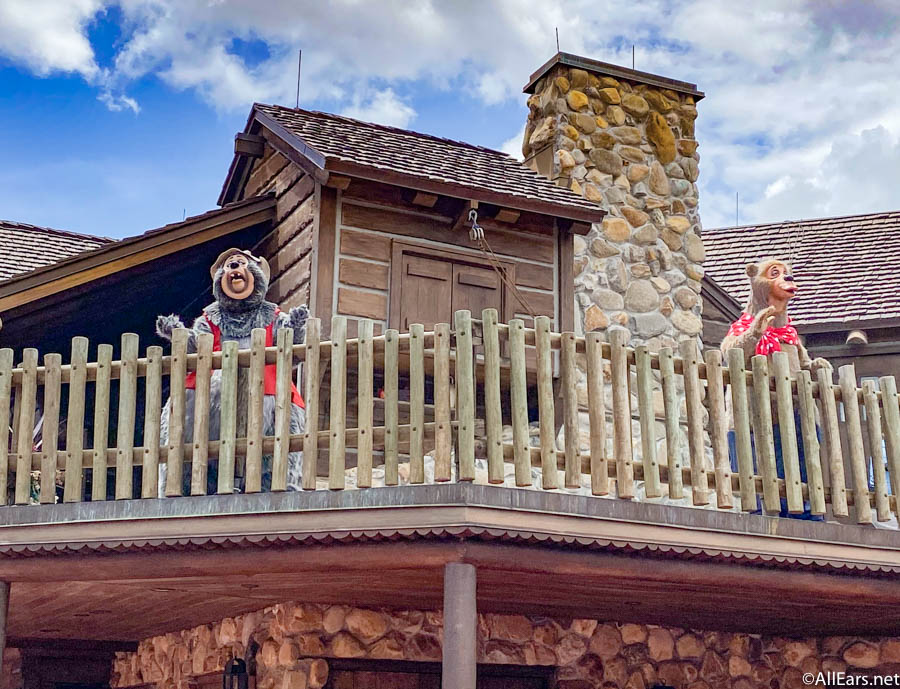 We also spotted a variety of characters around the parks! Over in Adventureland, Jack Sparrow was out, giving guests a chance to take a selfie with him in the background.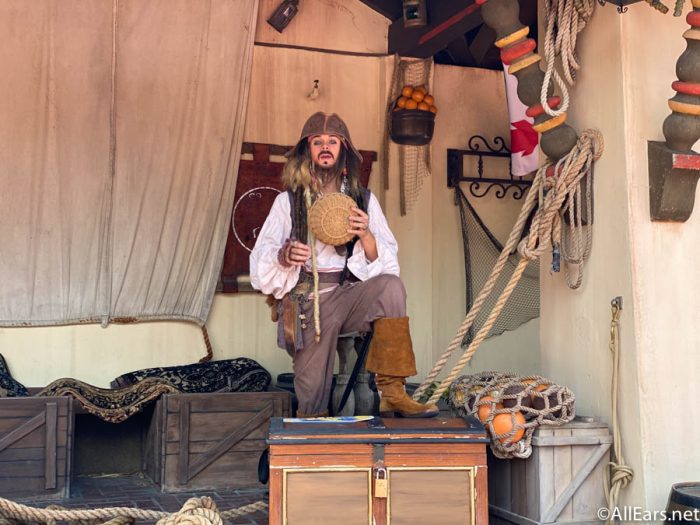 In Tomorrowland, Stitch was out and about…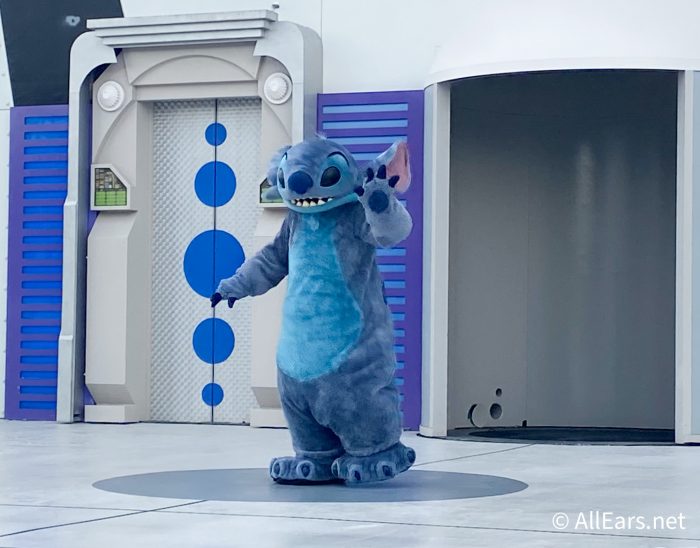 …as was Buzz Lightyear!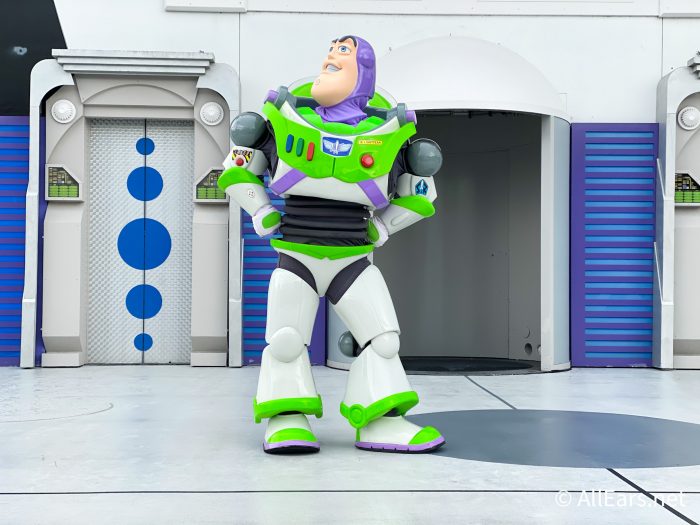 Throughout the course of the day we saw a variety of cavalcades. There are five in total, moving through Main Street during random intervals of the day. The Princess Cavalcade was led by none other than Merida, on her horse Angus!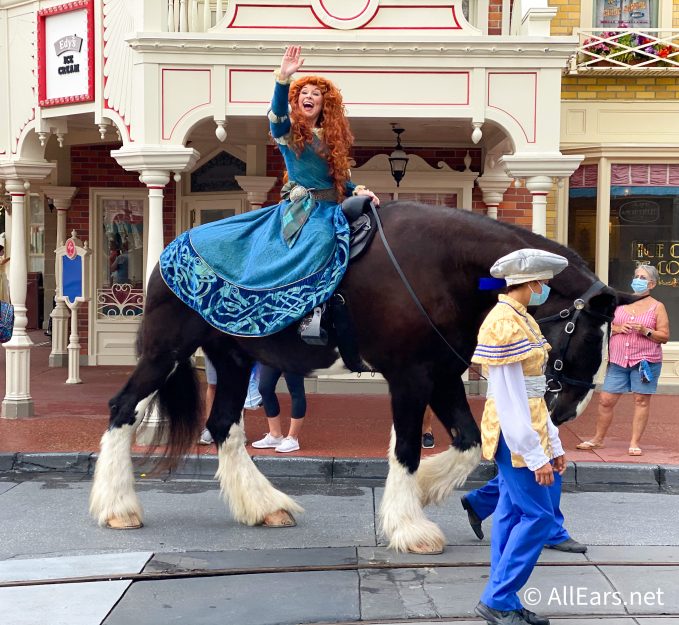 She was followed by a float with a LOT of princesses!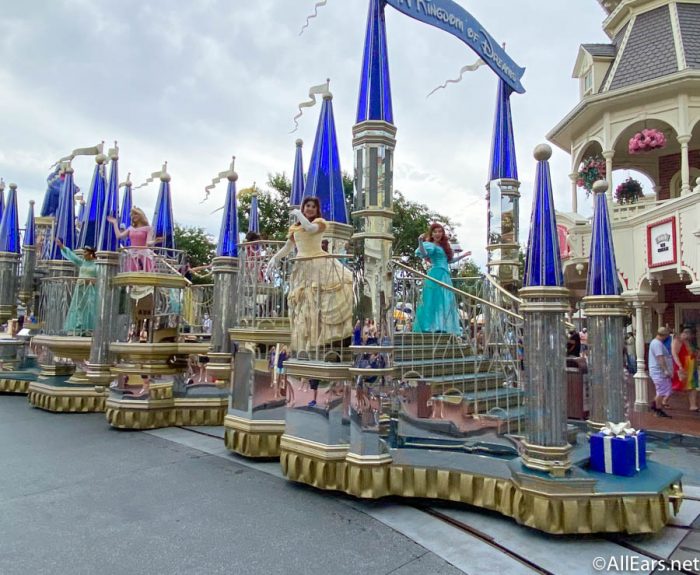 And followed up by none other than Gaston…
…and then the Fantasyland Friends Cavalcade!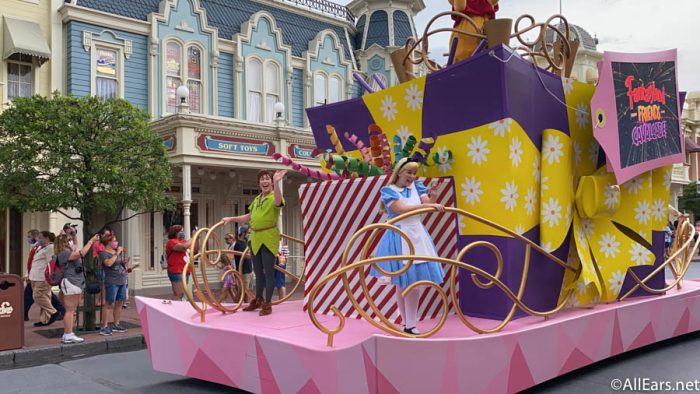 As you're exiting the park, you'll also see some familiar faces greeting you at the train station!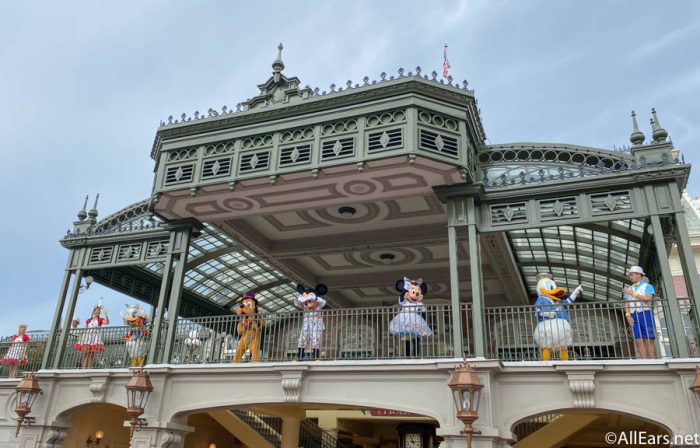 Cinderella Castle
One of our most frequently asked questions for the reopening was exactly how Cinderella Castle is looking mid-makeover. The answer is that the castle is looking well on its way to being done!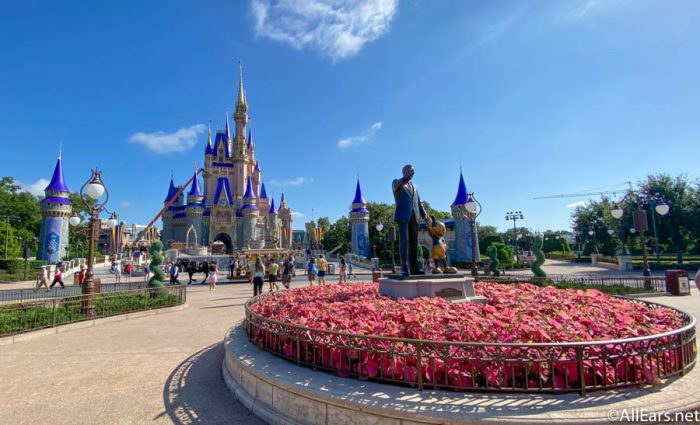 There were still some cranes out doing work, but overall the castle is looking very pink and blue!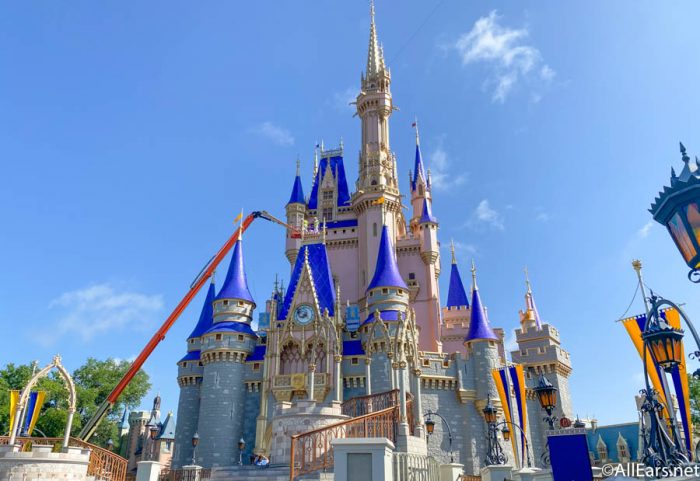 The castle is still very much under construction, as we spotted a number of workers still hand-painting the castle today!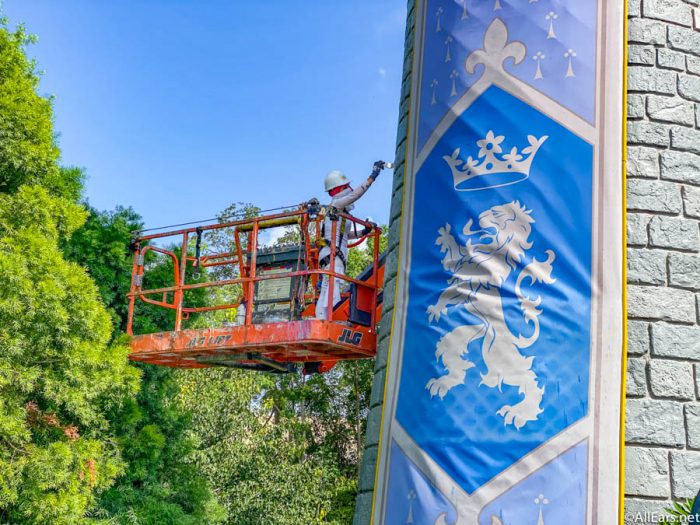 We even caught some of Disney World's smallest inhabitants out and about checking out the new castle!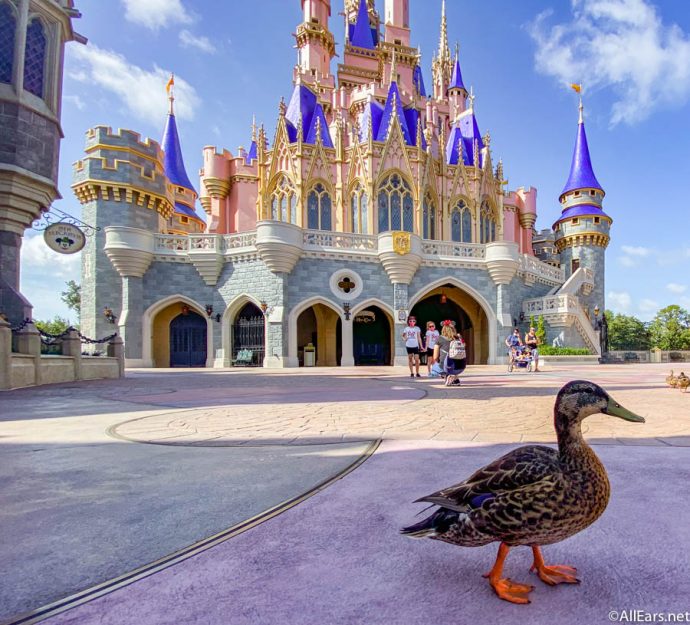 Notably, there is a different PhotoPass experience when you take a picture in front of Cinderella Castle now. A PhotoPass photographer will not be able to use your phone for photography.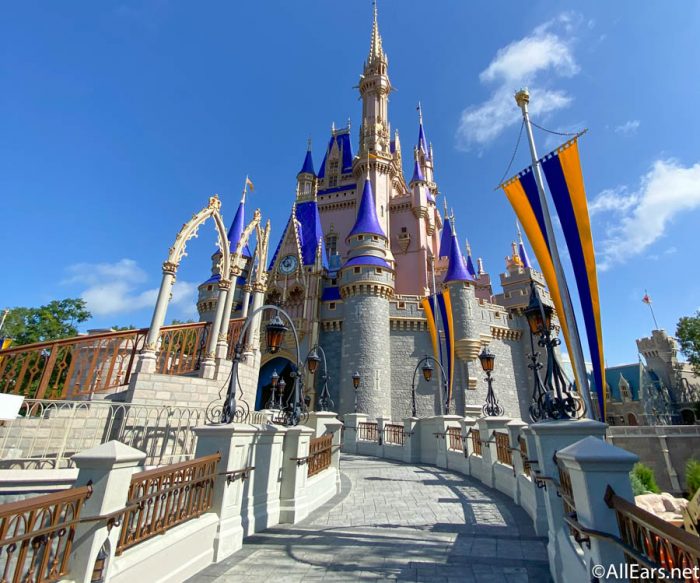 Additionally, we were told to leave our face masks on for the photo. We will continue to keep you updated on any further developments with these policies.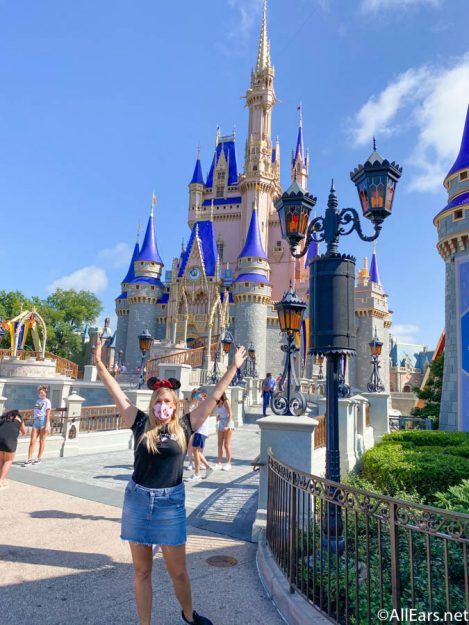 Ride Experience
Overall, ride wait times have been relatively short today, though we will be able to get a better gauge on wait times during the Annual Passholder Preview and at the grand reopening later this week. Due to the spacing in lines, sometimes lines looked like they would take a while to get through, but overall moved quickly. At Peter Pan's Flight, there were spacing markers throughout the queue.
For Peter Pan, each ride vehicle was being loaded with one party as normal.
Seven Dwarves Mine Train was set up differently, with partitions throughout the queue to ensure a barrier between guests.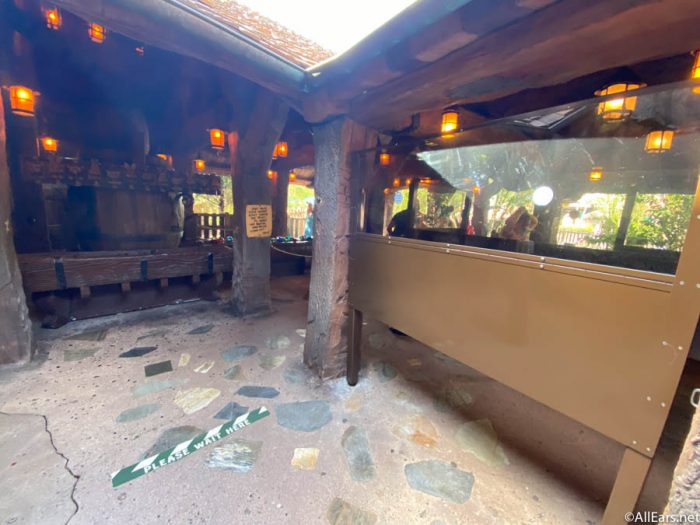 Interactive elements for the ride's line were also blocked off.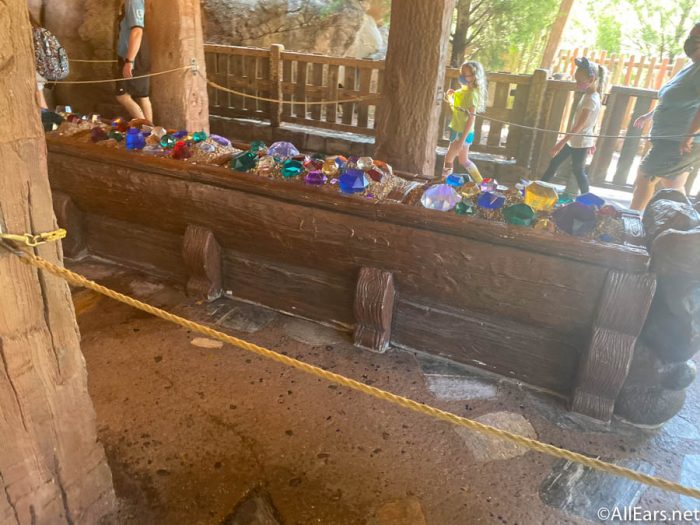 Distancing markers are placed throughout the queue to space guests in line.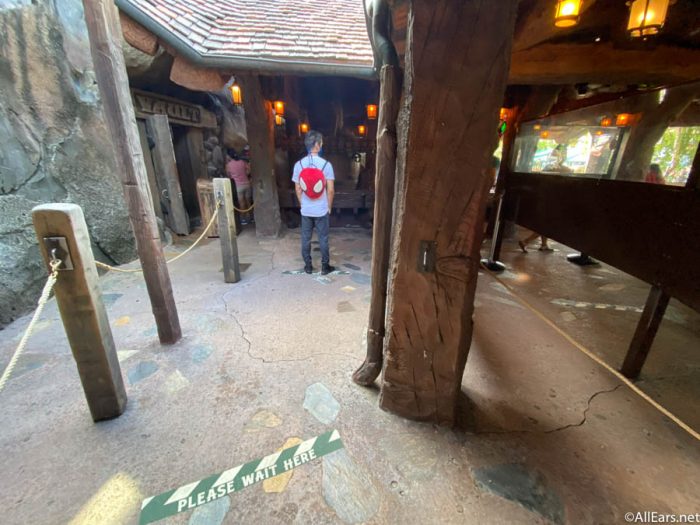 For the ride itself, they loaded every other row, which is another spacing aspect we've seen previously at Universal Orlando.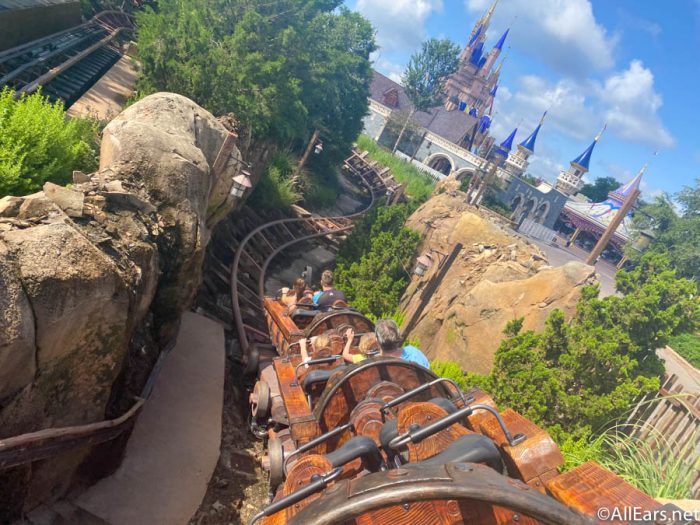 At Prince Charming's Regal Carrousel, we were instructed to load to a specific numbered row of the carousel. From there, we could select our own horse.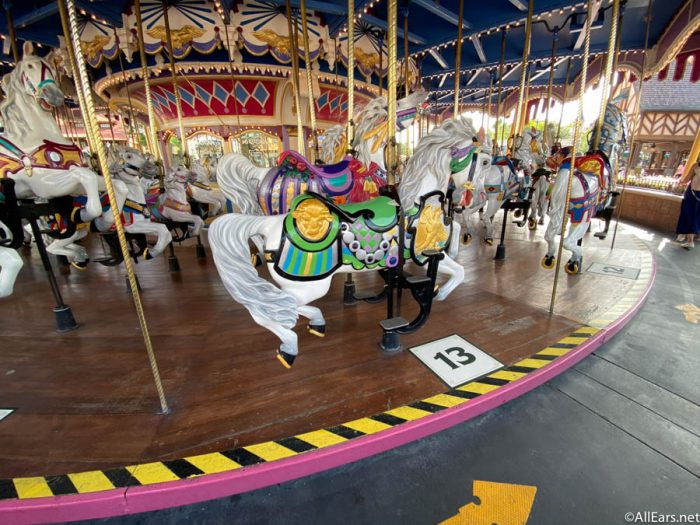 The horses, we were told, are being sanitized every two hours. Sanitizer is readily available for guests before and after riding.
On Splash Mountain, they were loading one party per log. For our ride at least, they did not ask us to take our face masks off once seated like they did for the water rides at Universal, so we kept our face masks on the entirety of the ride.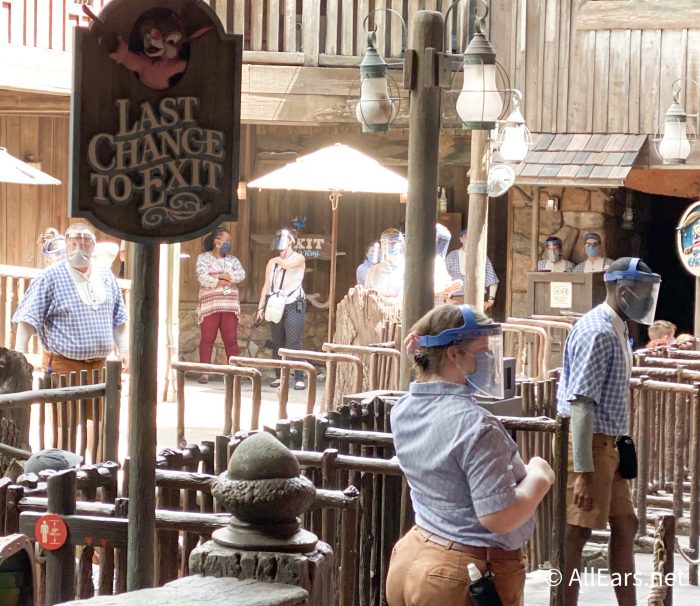 There was a Cast Member sanitizing each log as they came through as well.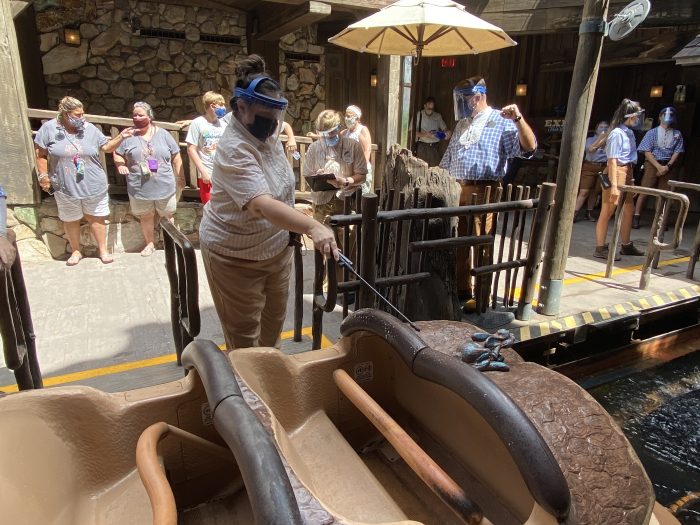 Over at the Haunted Mansion, we were curious what the procedure would be for a ride with a pre-show.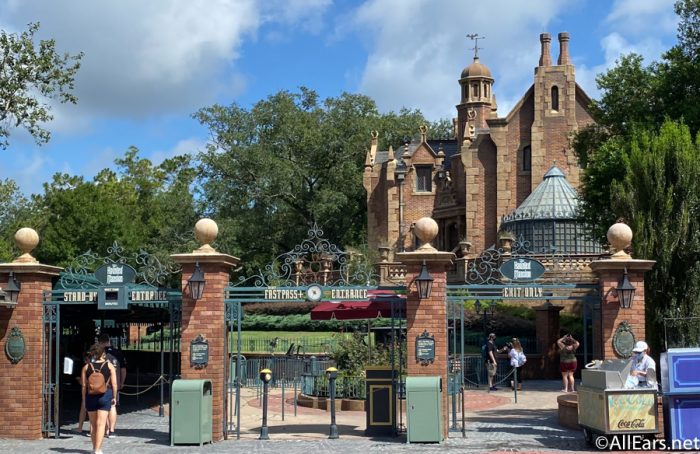 Turns out, they did end up skipping the pre-show entirely, and had guests walk through the Stretching Room instead.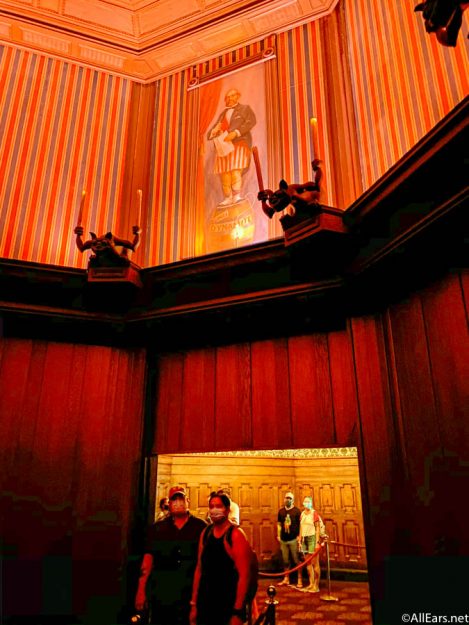 Buzz Lightyear Space Ranger Spin was running as usual, though in the queue, Buzz was notably missing!
On rides like the Jungle Cruise, guests are heavily spaced out on the ride, and instructed by their Skipper where to sit.
Boat rides like Pirates of the Caribbean have long queues due to distancing, but they're moving at a steady pace.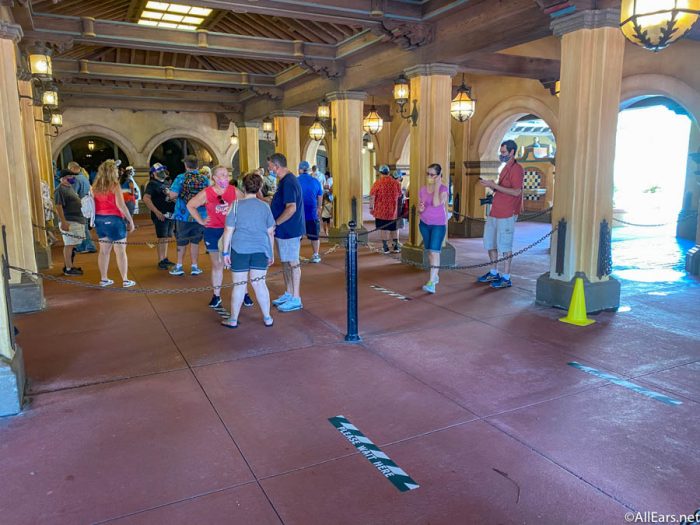 We were loaded on a boat with one other party at the front of the boat here.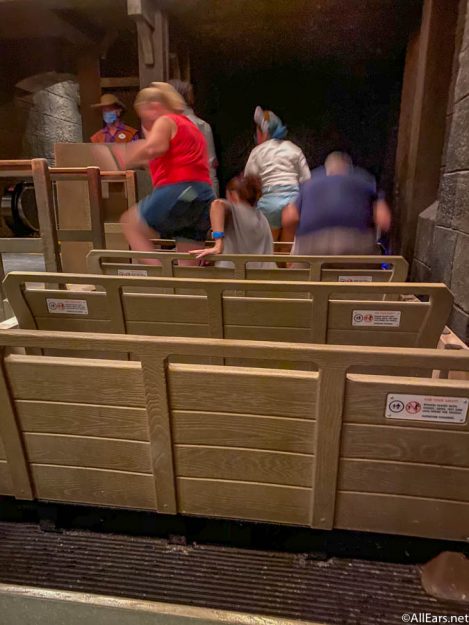 On Prince Charming's Regal Carrousel, we were instructed to stand by a number marked on the ground. From there we were free to select our own horse.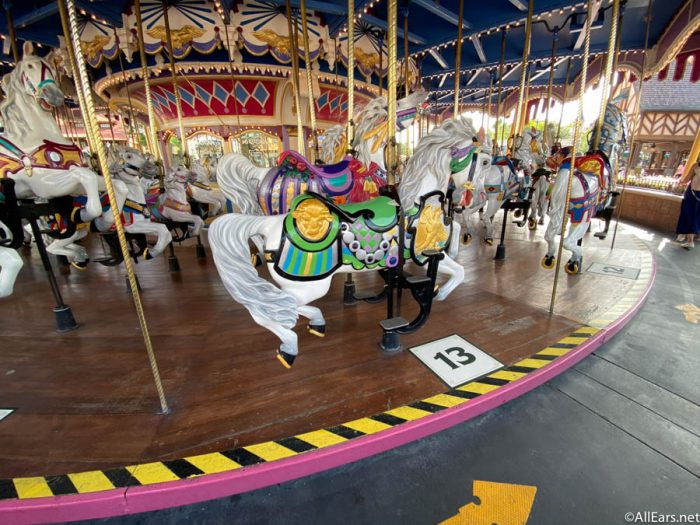 These are being cleaned, we were told, every two hours.
We've noticed rides that typically utilized the Rider Switch service or a Disability Access Service Pass are still recognizing these services. Most rides in Magic Kingdom had a station near the front to let a Cast Member know you wish to use these services.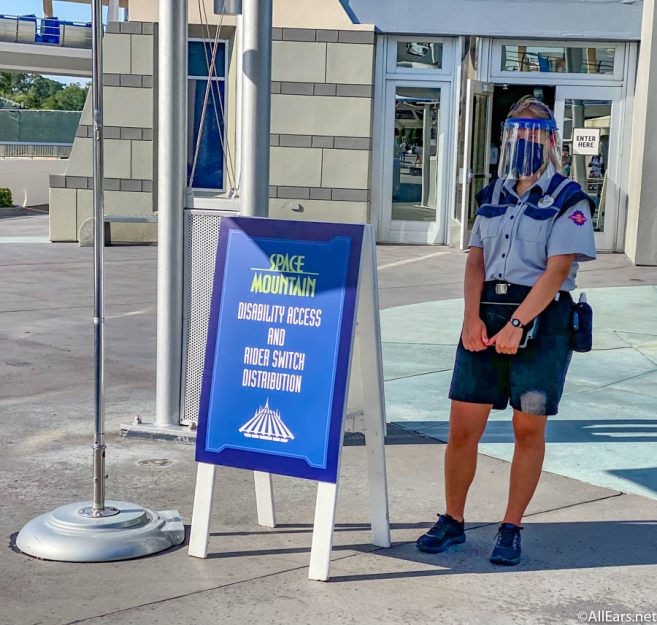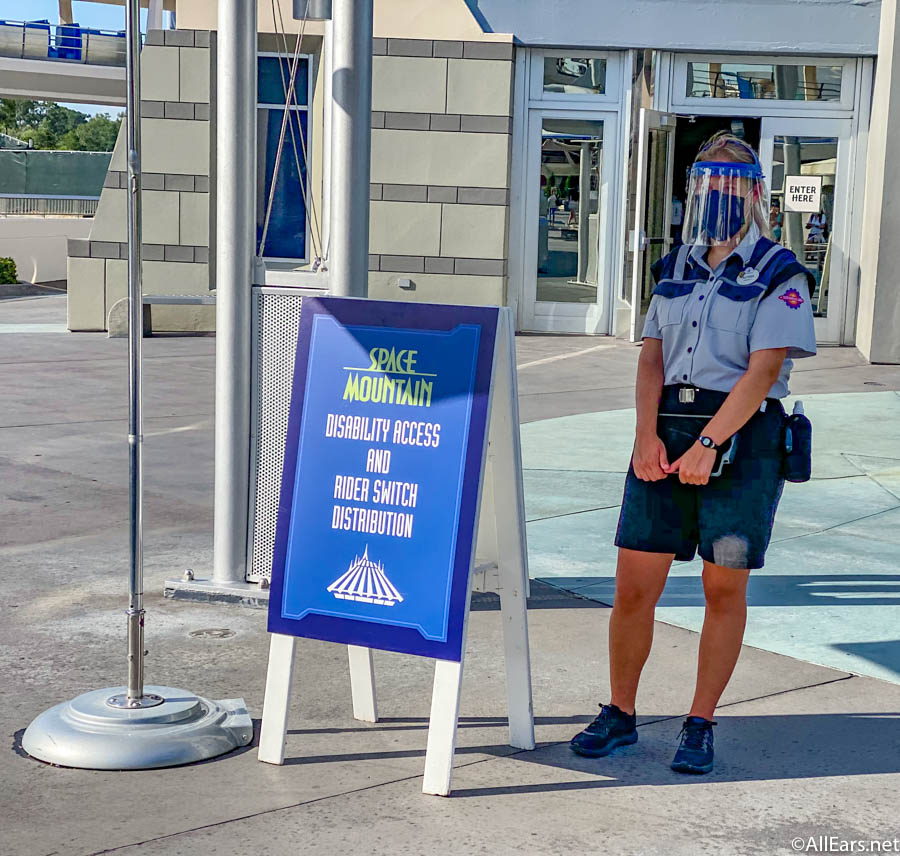 In most instances we observed, guests were directed through the FastPass queue to ride when they were ready and able for their turn to ride.
The Peoplemover has been closed for the day. We'll keep you posted if we see it reopen.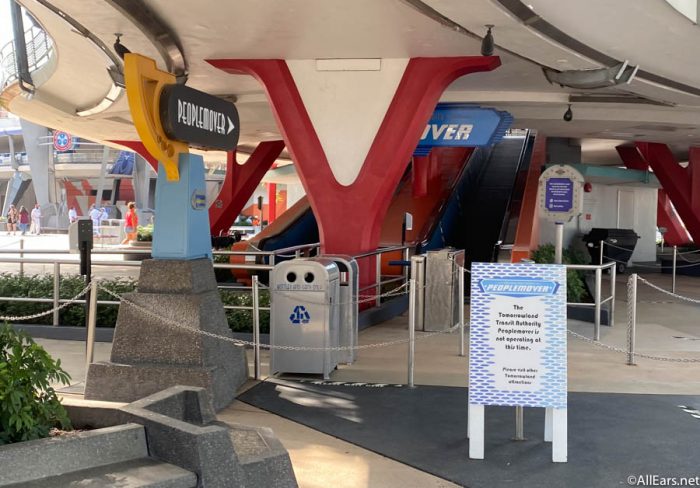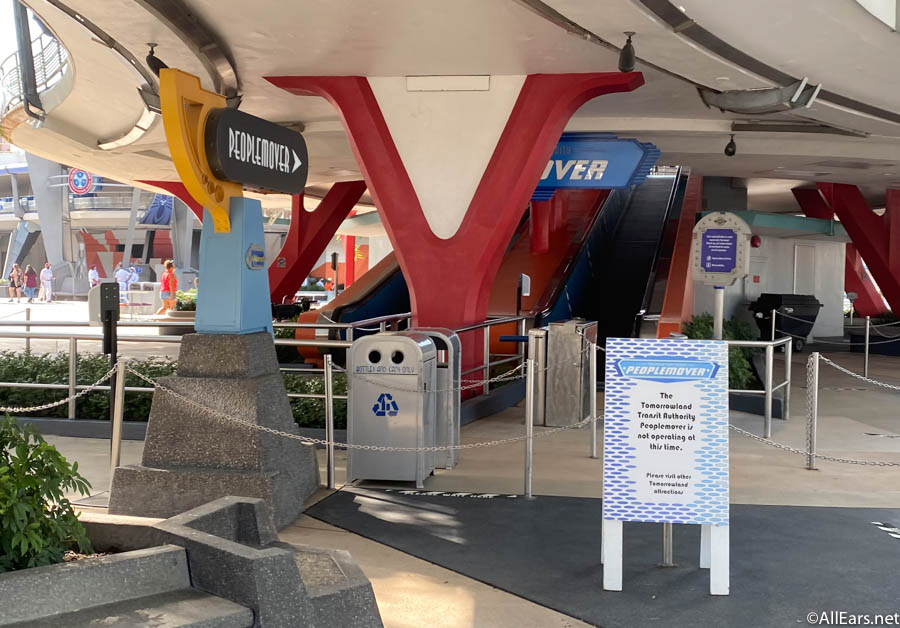 Relaxation Stations
When Disney originally proposed their reopening, they mentioned the possibility of "relaxation zones" throughout the parks. Similar to Universal Orlando's URest Areas, these were proposed as areas of the park where guests could safely remove their face mask while maintaining physical distancing. We spotted one of these new Relaxation Stations in Frontierland at the Golden Oak Outpost.
The spot has spaced out seating and Cast Members nearby. There is a limited occupancy in the area, so if it has filled up, there is a line set up for parties to wait for their turn.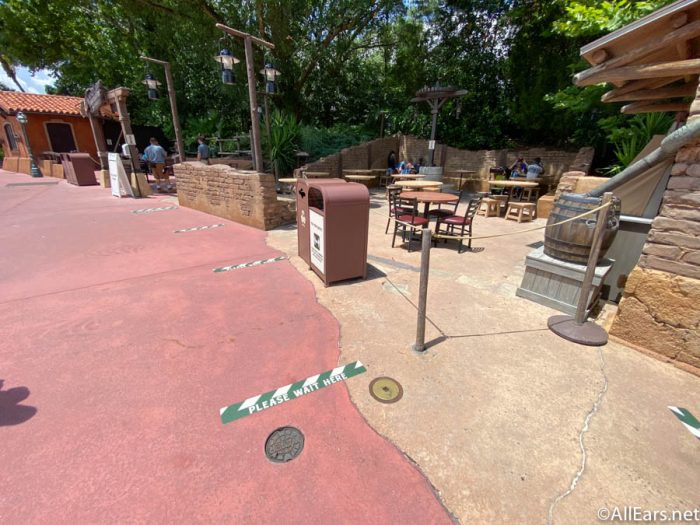 Inside the area, there are tables and seats that are marked off as unavailable, ensuring that guests can keep their distance from one another.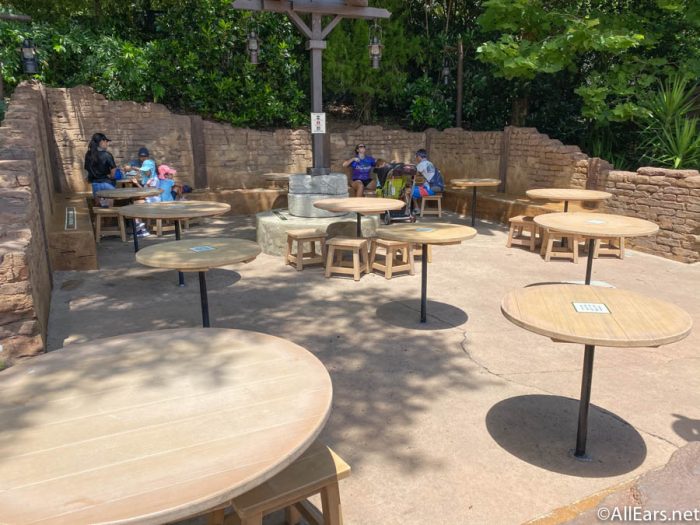 Another Relaxation Station can be found over at Tomorrowland Terrace.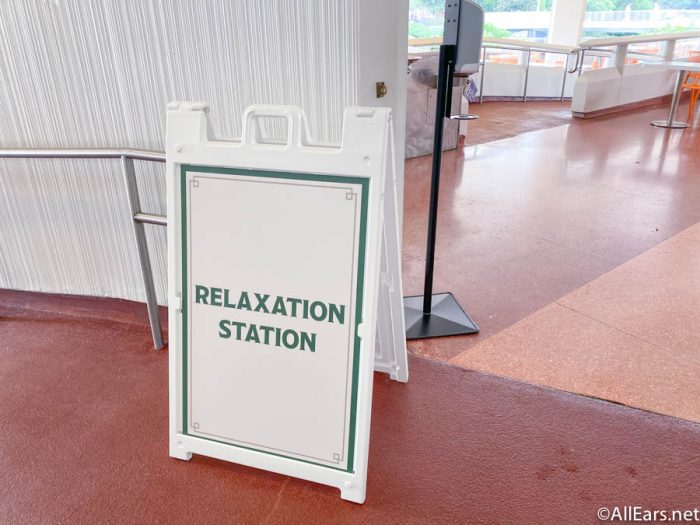 The third and final Relaxation Station in Magic Kingdom is located in Pete's Silly Sideshow. This spot is the only air-conditioned location of the three and offers tables and standing options.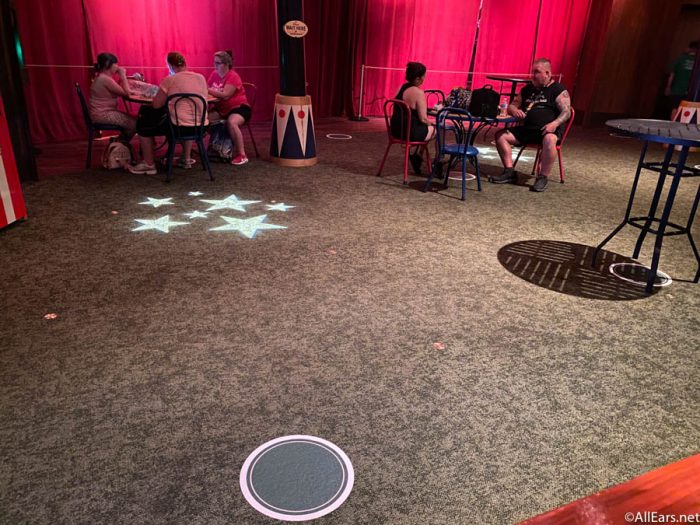 Quick Service Dining
Like we have seen at Disney Springs, mobile order is being implemented for use at Quick Service restaurants. We placed an order for Cosmic Ray's through the My Disney Experience app, and received a message telling us to wait outside the restaurant until we got a notification that our order was ready.
Once the order was ready, we received a notification to "Pick Up at 7."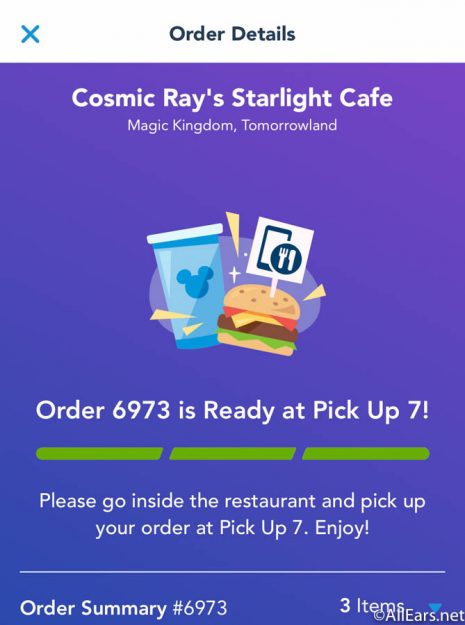 This makes more sense when you go inside, where you will see specific stations that your order can be picked up at.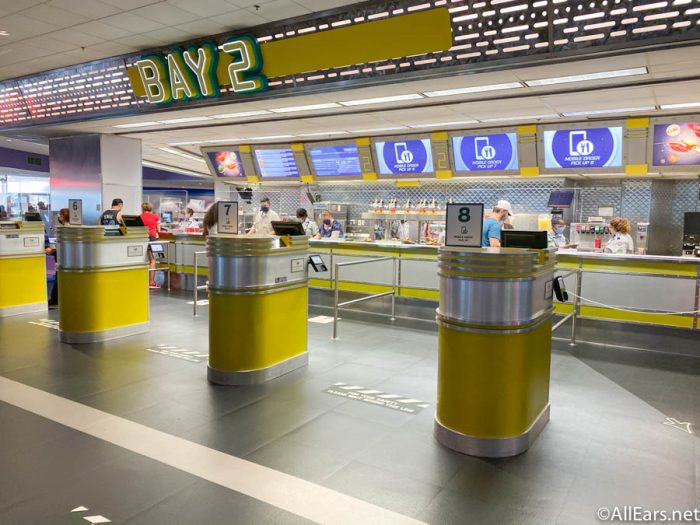 As this is their first day back for Cast Member Previews, they were still working out the system, but most of the party received their order relatively quickly! When you go to pick up, there is a partition separating you from the Cast Member who has your food.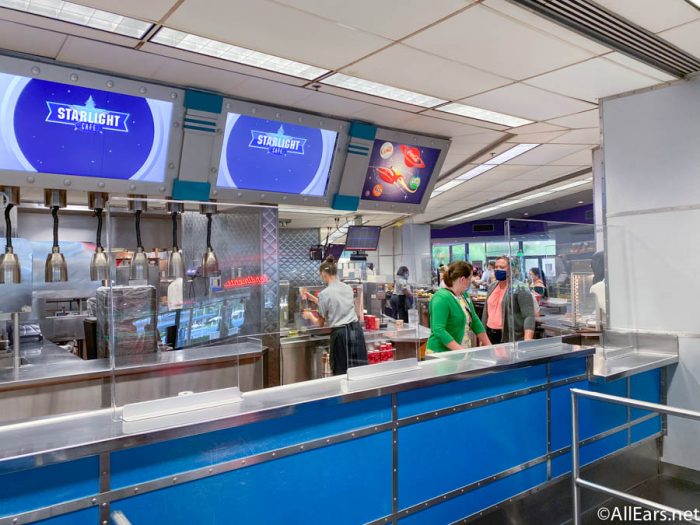 Once you have your food, you can follow the arrows over to the seating arrow, where Sonny Eclipse is out playing!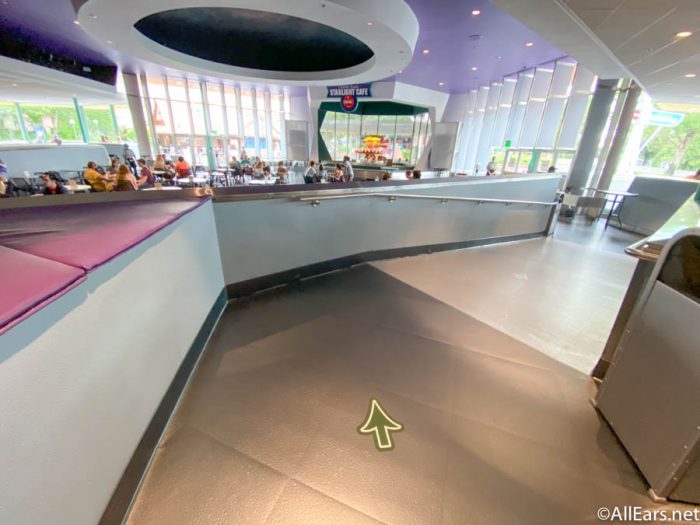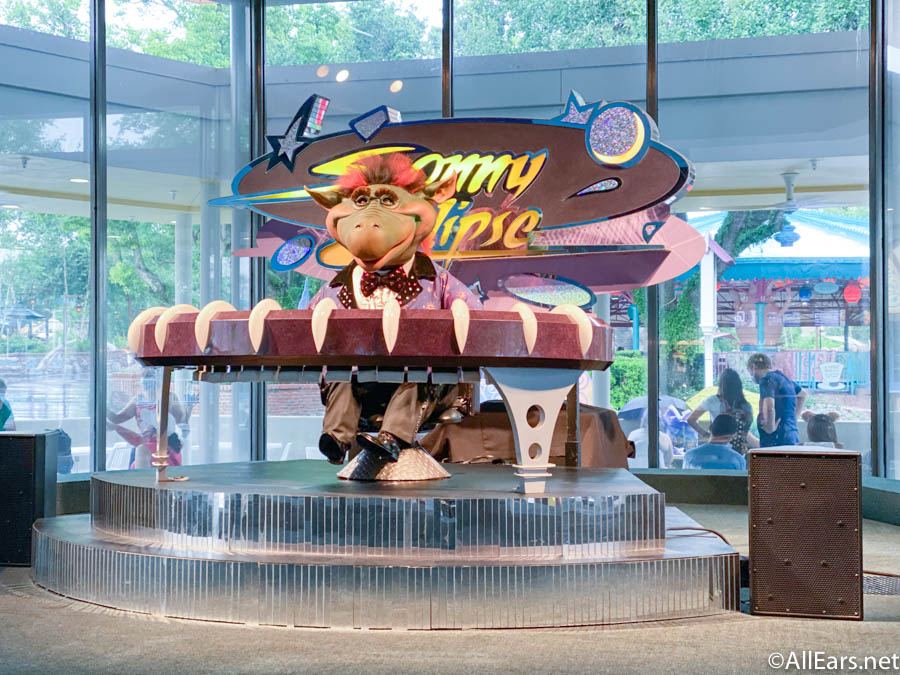 A variety of tables have signs requesting that no one sit there.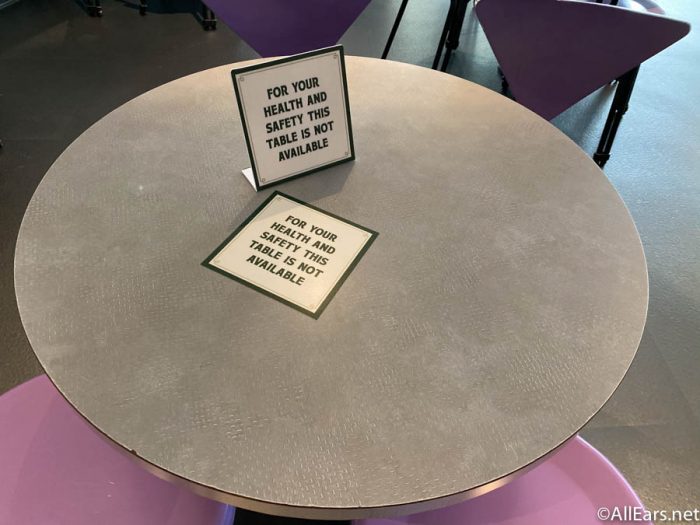 These signs ensure that different parties will be able to space out from one another.
We stopped by Pecos Bills Tall Tale Inn for a bite and noticed many of the same procedures. The topping bar was missing. Instead, you order any toppings to go with your meal.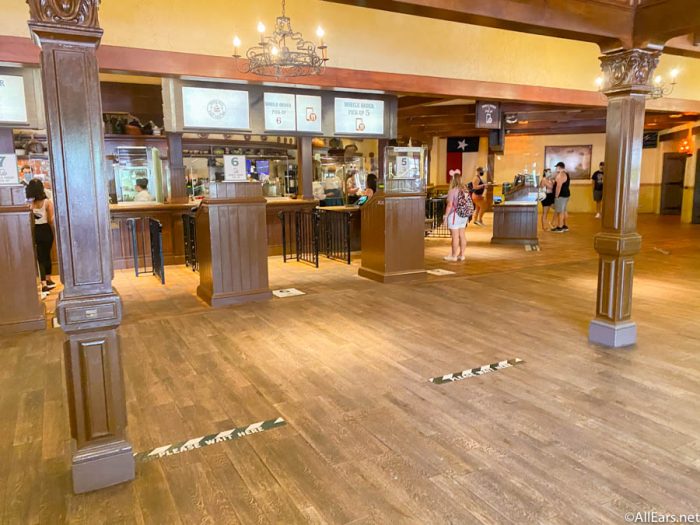 They were still working a few kinks out when we dined — our order took quite a while to be prepared!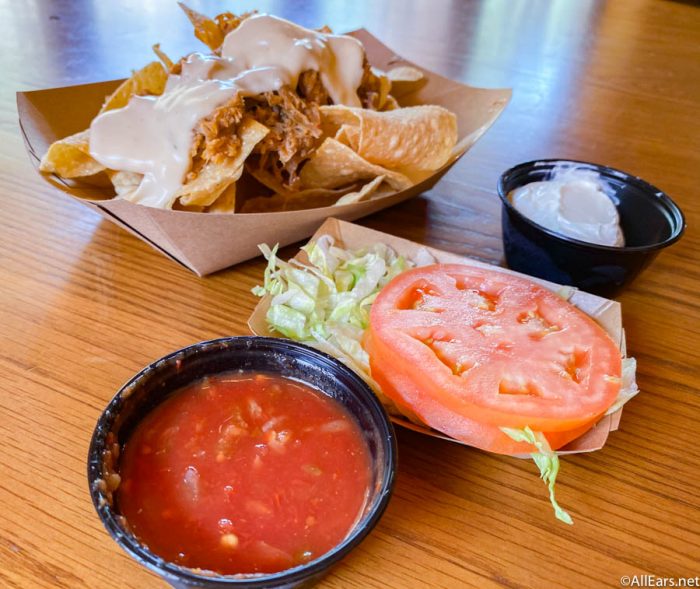 Aloha Isle is also working with a limited menu and encouraging Mobile Order.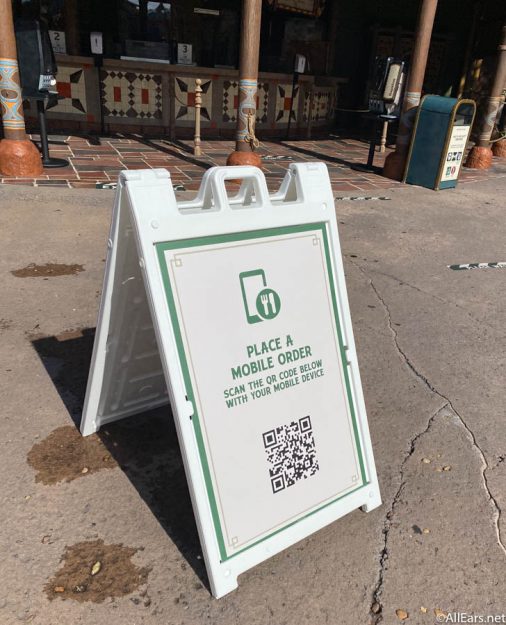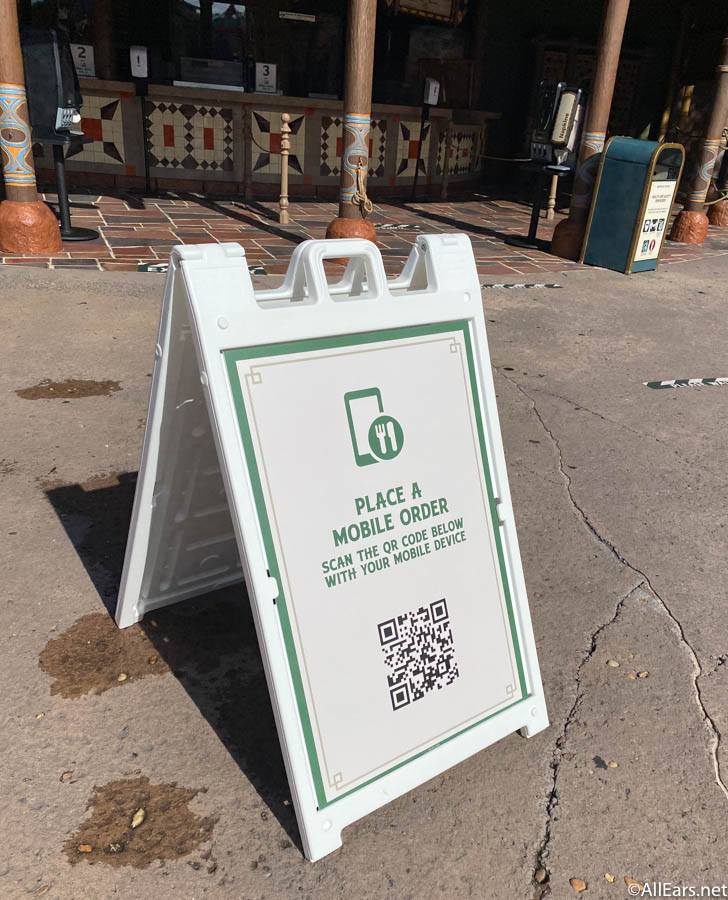 We asked if some of the menu items that were lost could make a comeback and the Cast Members there were hopeful they'll return down the road.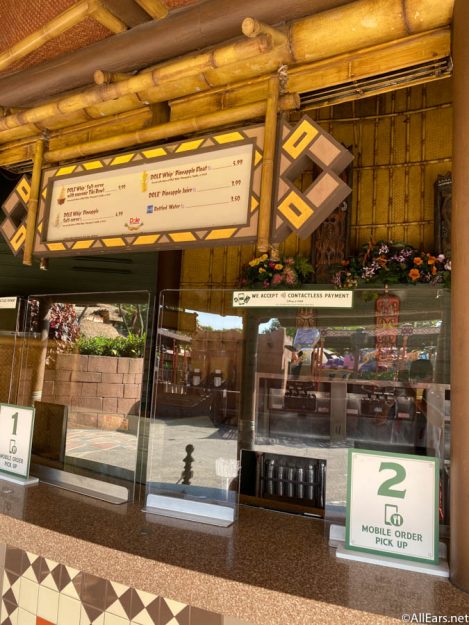 At Main Street Bakery (aka Starbucks!) all guests enter in the same door and filter through one distanced line to order.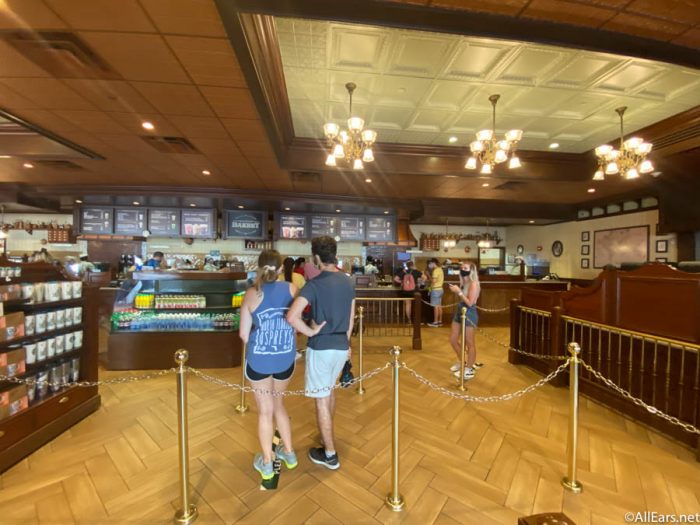 We placed an order and were instructed to wait on a marker until our order was ready.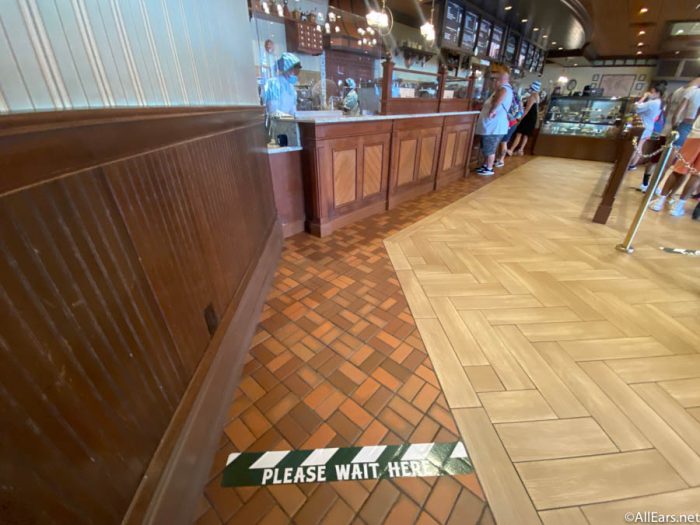 A Cast Member behind plexiglass handed us our drink.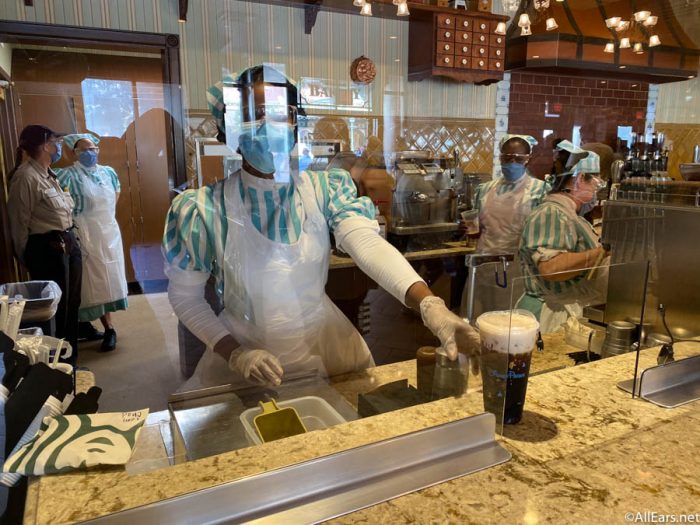 Then we had a very happy and caffeinated Molly!
Table Service Dining
We swung by Skipper Canteen in Adventureland and noticed that in addition the Mobile Dine Check-in signage…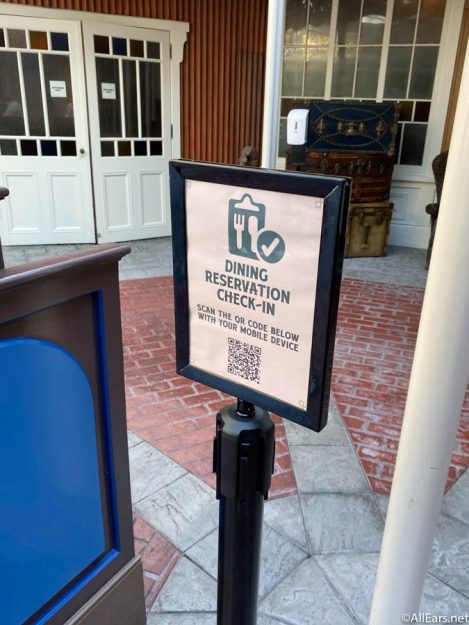 …distancing markers were clearly displayed indicating where guests could…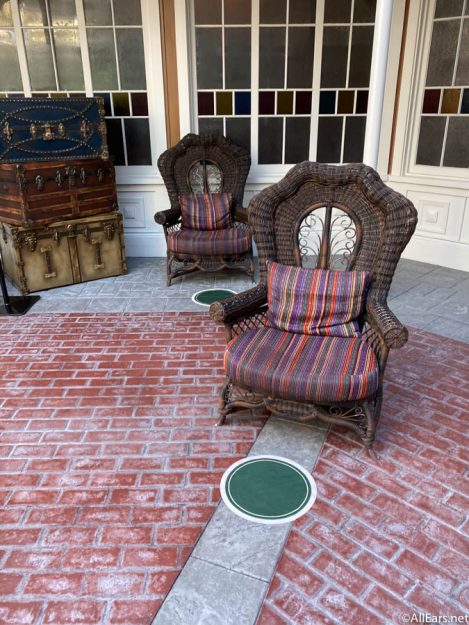 …and could not sit.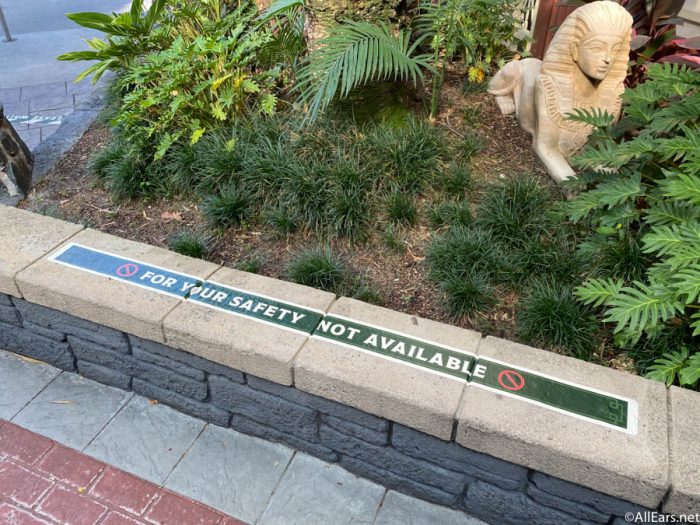 We took a break for lunch today over at Be Our Guest Restaurant where, for today, walk-up seating was available!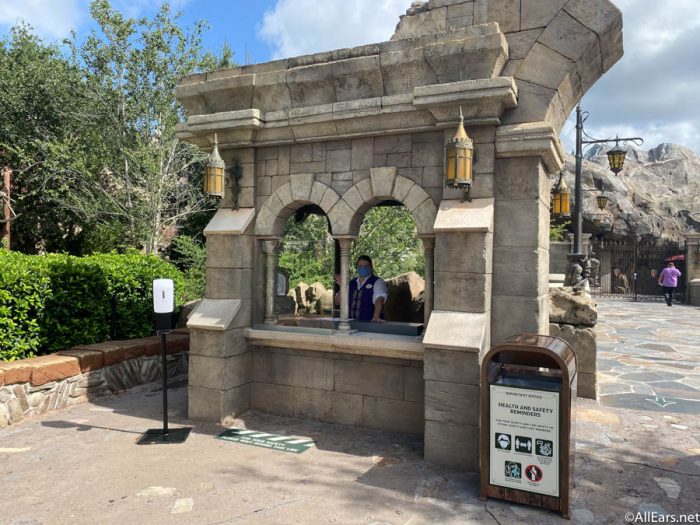 The Quick Service Lunch is no longer available at Be Our Guest, rather we chose from the items on the previous prix-fixe the dinner menu.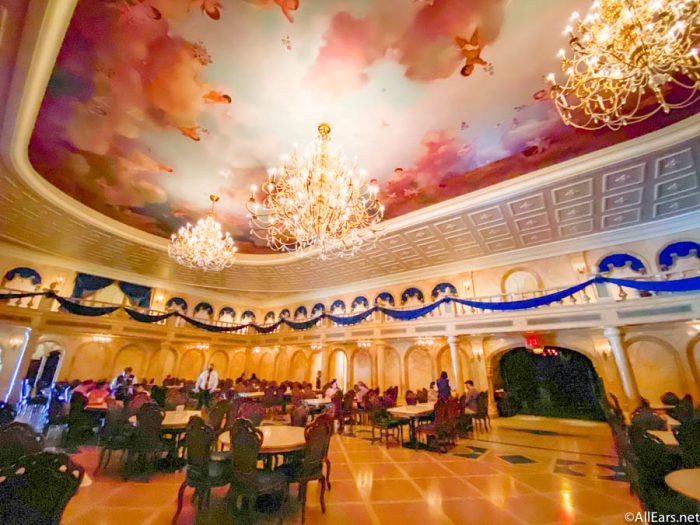 We even had a special guest at Lunch with us!
Shopping
The stores have also severely limited capacity, so if at any point a major store like the Emporium reaches its max capacity, they will implement a virtual line for entry, like we previously have seen at World of Disney in Disney Springs.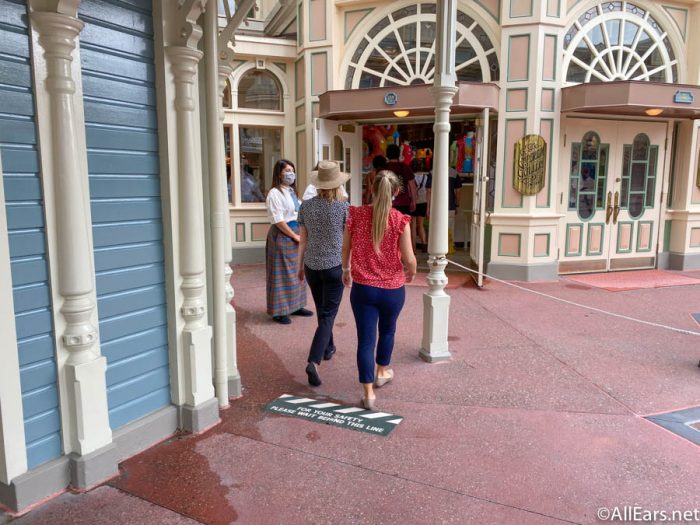 Inside the store, there are plexiglass barriers at the registers, where they are encouraging contactless payment.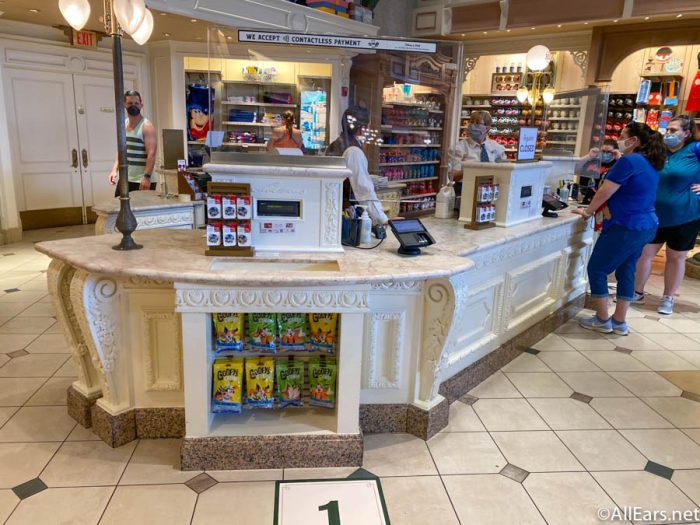 Around the store, there are health and safety reminder signs, along with markers encouraging distancing for shoppers waiting in line to check out.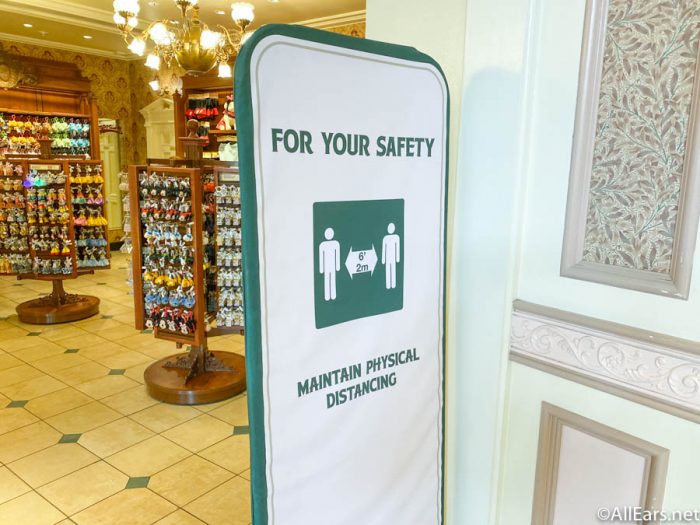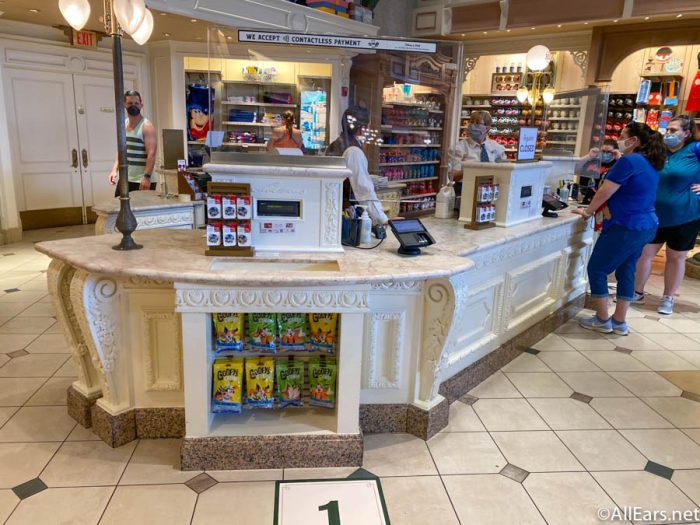 Additionally, the dressing rooms are currently closed for guest use.
Other shops, like the Ye Olde Christmas Shoppe in Liberty Square, hand ample hand sanitizer available and markers indicating where guests should stand in order to make purchases.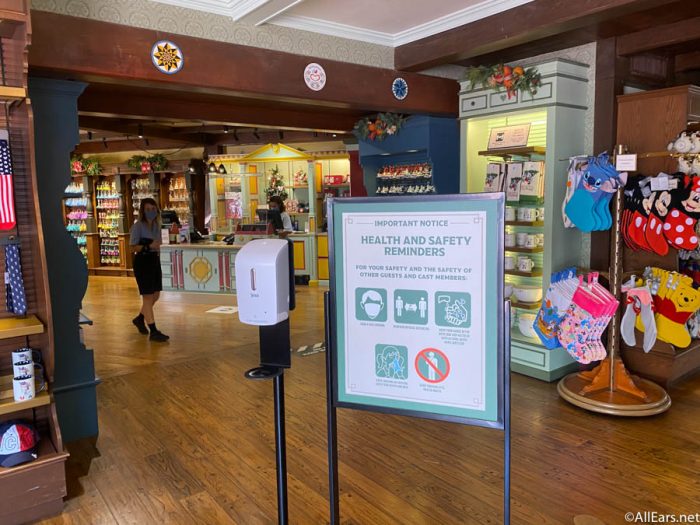 Sadly for the smaller (hey, or bigger) kids in your group, Sir Mickey's is currently not offering free pixie dusting anymore.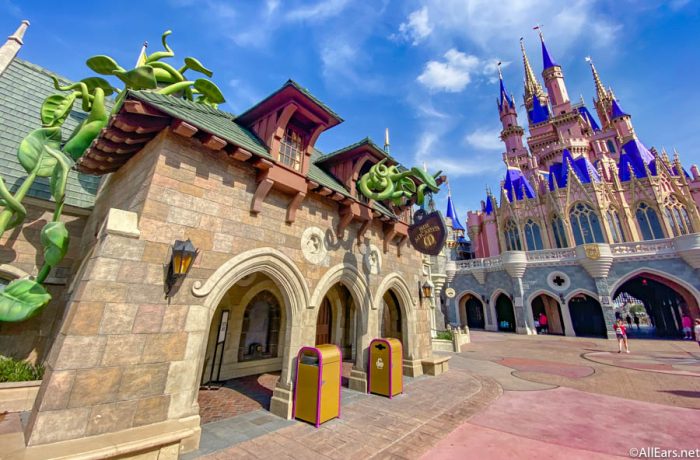 Extras
We had a sneaking suspicion this wouldn't make the cut following the reopening, but the Tomorrowland ball is currently out of commission for all you folks who enjoyed making this guy spin.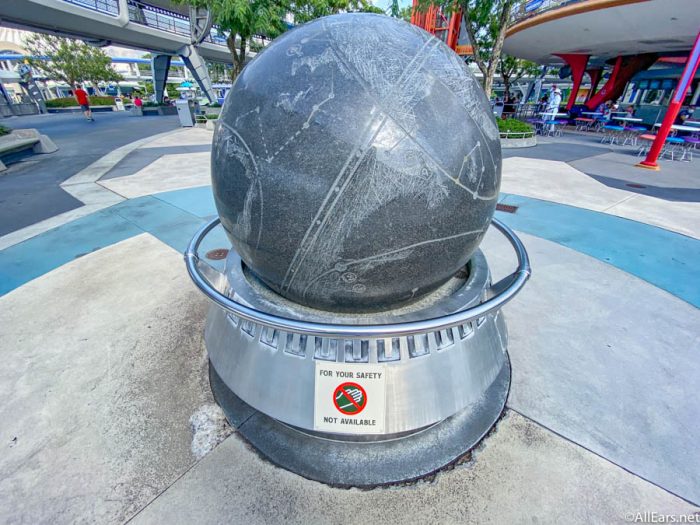 Cinderella's Wishing Well near the castle is still accessible to guests though, should you like to make a wish on your next visit.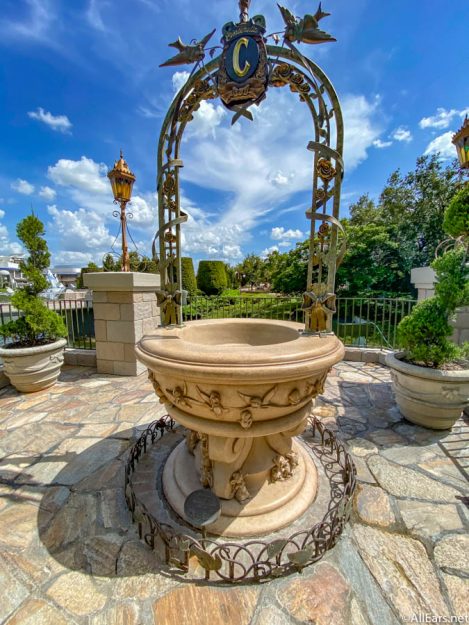 The Camel is STILL spitting at Magic Carpets of Aladdin (we know you were worried about this!). They weren't going crazy, but we did notice the camels back in action.
Transportation Back to the Ticket and Transportation Center
Heading out of the park, we took the Monorail back to the Ticket and Transportation Center. The ramp to the monorail has spacing markers throughout, with yellow tape down the middle that indicates where guests should not stand.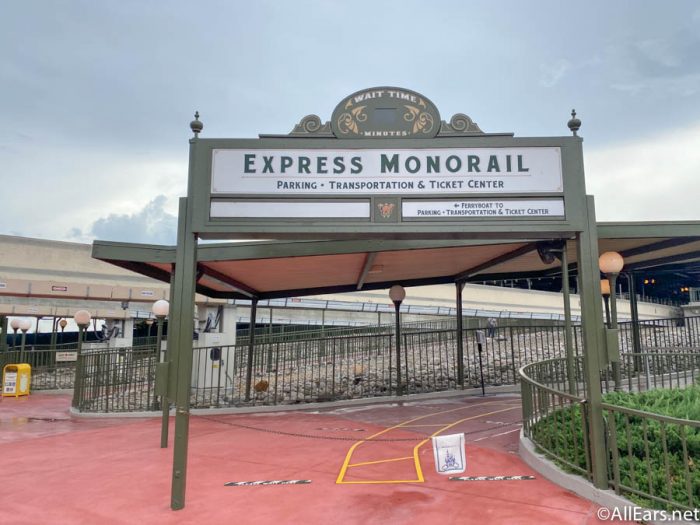 Similar to at the TTC station, the Magic Kingdom Monorail station also had numbers marked for parties.
On our way back, we also spotted some work being done to the in-progress Grand Floridian walkway to Magic Kingdom.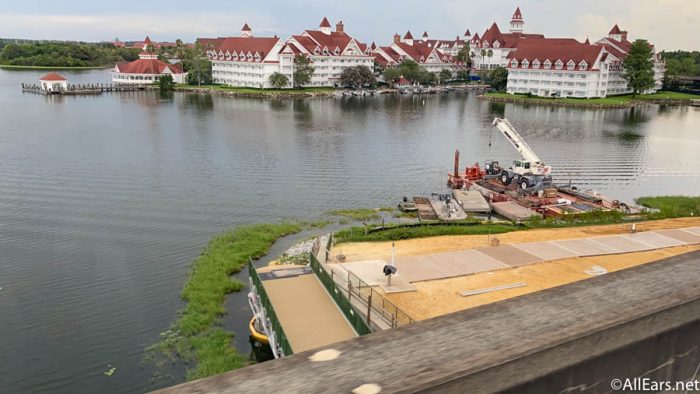 We will continue to update throughout the week, so stay tuned and follow along  with us!
Join the AllEars.net Newsletter to stay on top of ALL the breaking Disney News! You'll also get access to AllEars tips, reviews, trivia, and MORE! Click here to Subscribe!