Well, folks, that's a wrap on the first few days of Universal Orlando's reopening!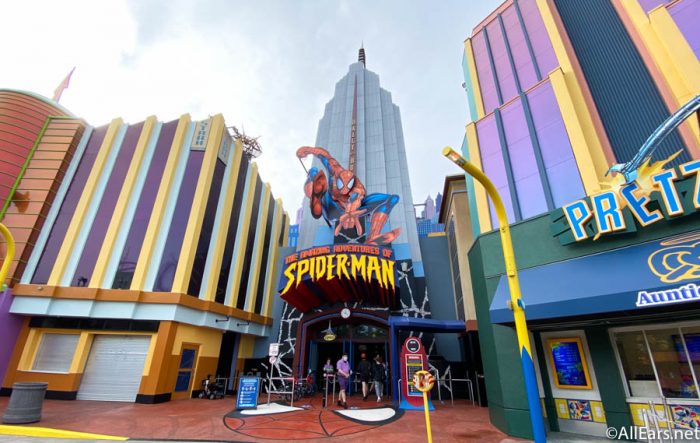 We've learned a lot about the parks this week (like how Mobile Order can glitch and the unexpected rides that have longer wait times). But, there's still so much to unpack from our experience!
As theme park journalists, we've experienced some wild things in the parks. Still, these things really surprised us during Universal Orlando's reopening today!
Very Low Crowds
We saw lots of people winding around The Three Broomsticks and the Leaky Cauldron on top of wait times that could reach 80 minutes for the Incredible Hulk Coaster during Passholder Previews. But, crowds were noticeable less for today's reopening.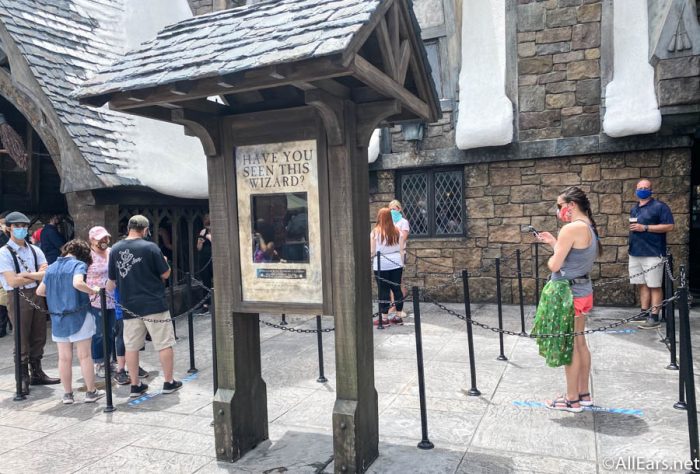 Namely, one of the longest wait times we saw was for the Hogwarts Express at 40 minutes. We also had to wait for 50 minutes to board Hagrid's Magical Creatures Motorbike Adventure (but the wait time was namely due to the use of the multi-experience passes that were given out after the ride had some technical difficulties).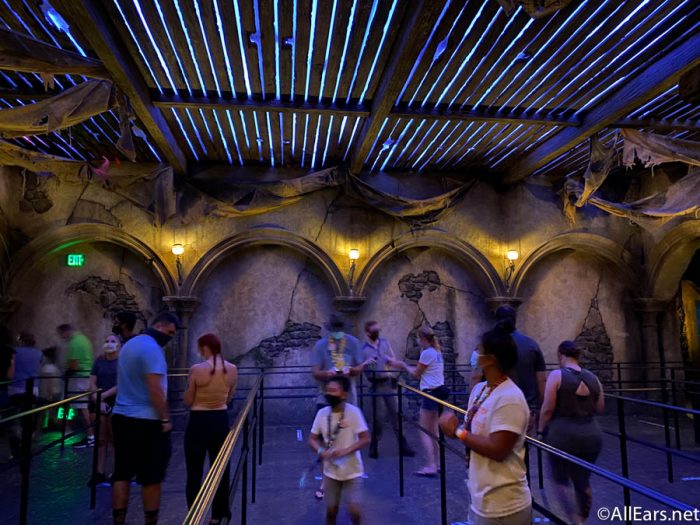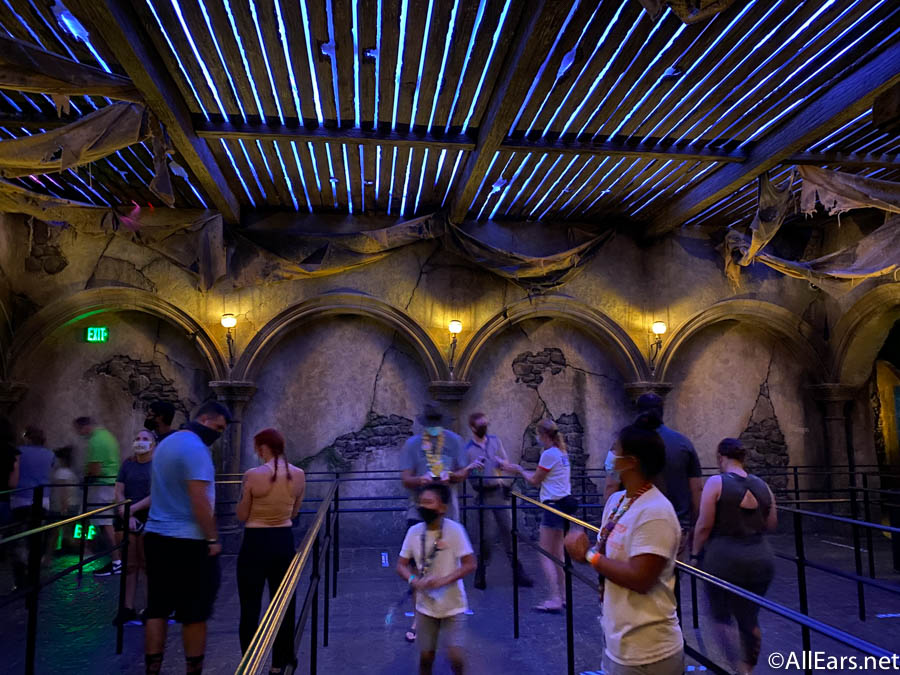 Many of the other attractions had wait times ranging from 5 to 25 minutes long. And, we were even able to visit the The Three Broomsticks twice in a day (once for breakfast and another time for lunch) with little to no wait!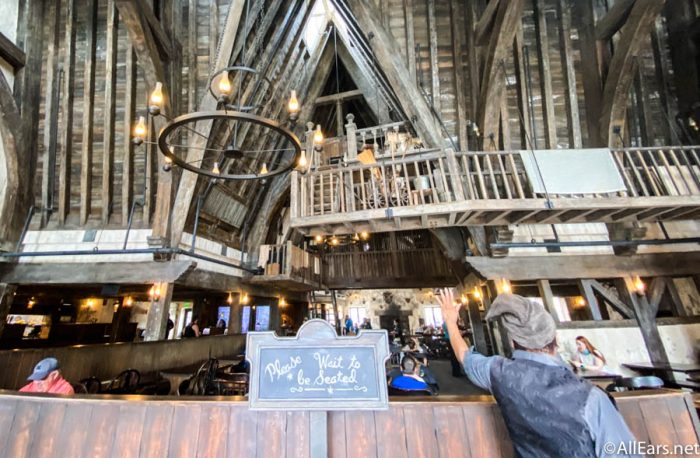 Although part of this may have been from the use of Virtual Queues, there was still a significant amount less of people than we had seen throughout the week.
Entertainers in Masks
Although character meet-and-greets aren't available at this time, Universal Orlando is still allowing guests to meet them around the parks! While there was an entire Character Palooza parade…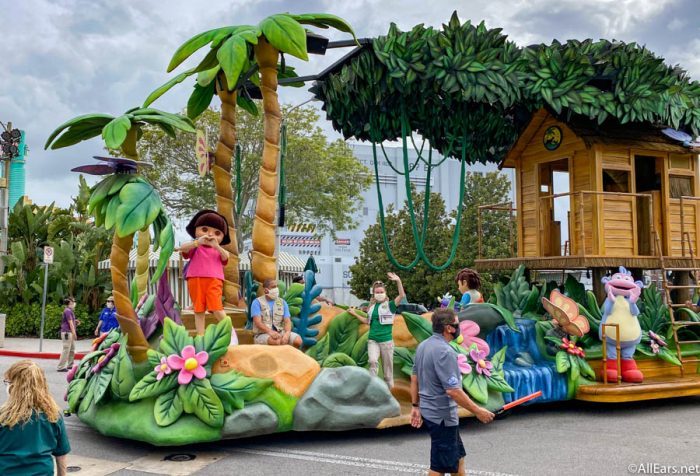 …and different characters out and about (but sectioned off from guests so they could only take photos in front of them)…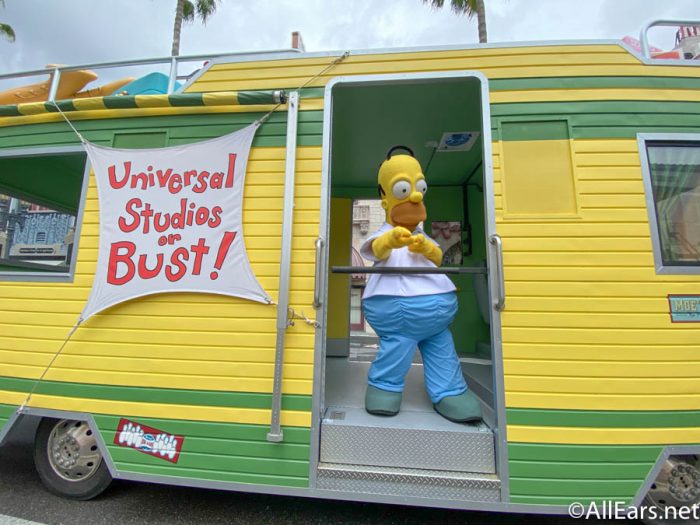 …we really loved seeing some of our favorite people performing in face masks! We really enjoyed the fact that we still got to listen to the Frog Choir…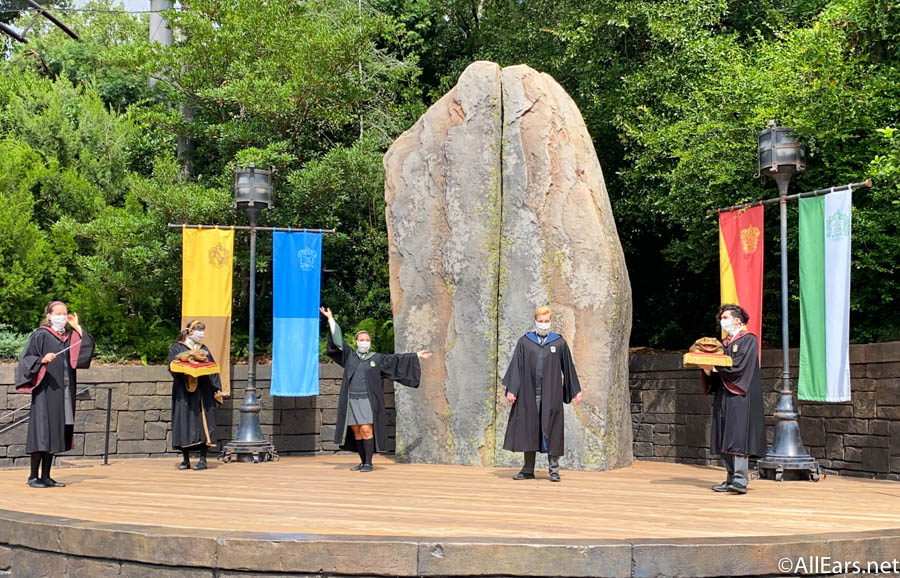 …watch Beetlejuice do his thing…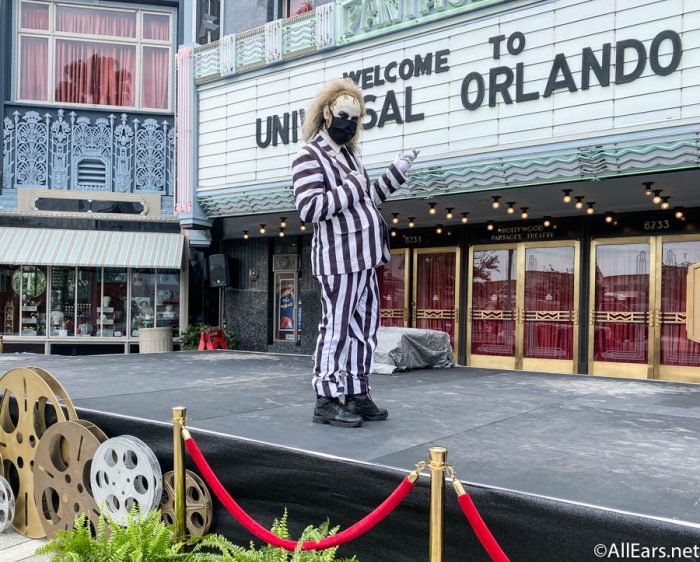 …and watch The Tale of the Three Brothers unfold before us as we learned the origin of the Deathly Hallows (through puppets, of course).
Since we weren't used to seeing performers and characters in face masks, this was an entirely new experience to us. We were highly impressed with how the entertainers and actors were able to adapt to using face masks, staying in character the whole time (Beetlejuice said he had to cover up because he was "too sexy.")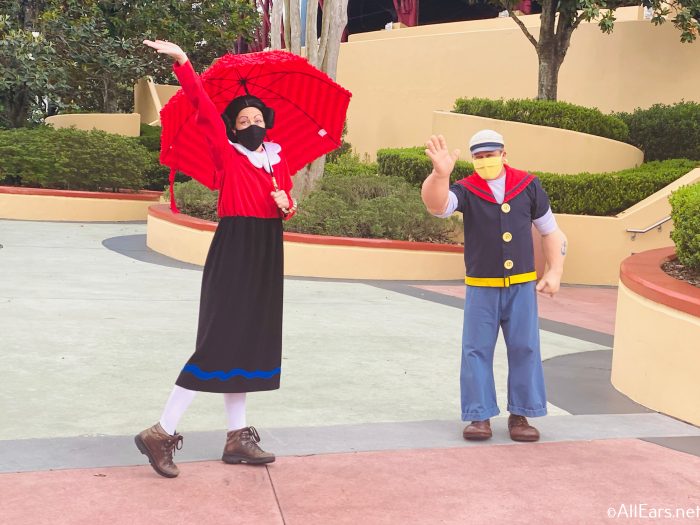 Minions in Cages
Although many of the characters were located behind roped-off sections or onstage, we were thrown for a loop when we saw a minion in a CAGE after Despicable Me Minion Mayhem.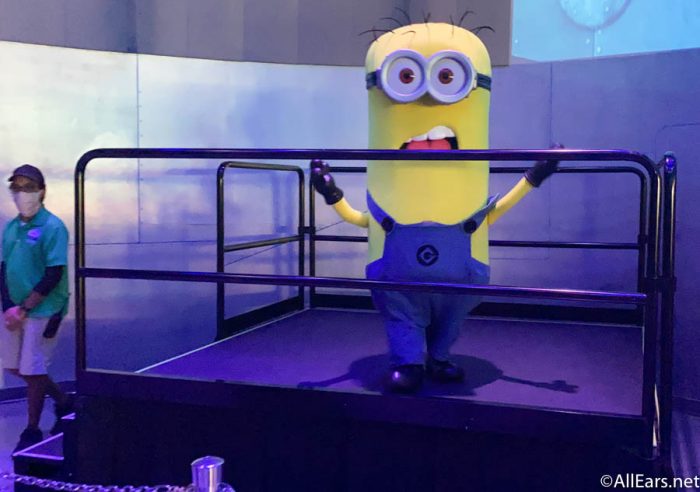 Although he was clearly having a great time dancing and jamming out, it was the first time we had seen any characters literally blocked off into a cage. We guess it was fitting since the Minions do cause a bit of Mayhem for Gru after all. ;D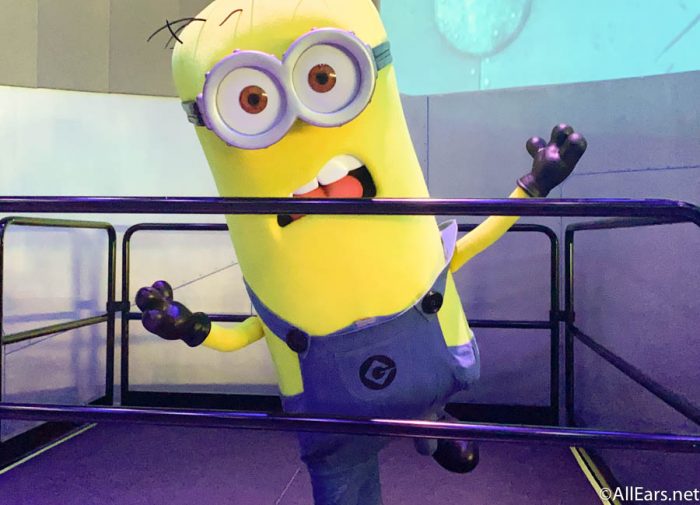 You Could Get in a Virtual Queue for Almost Every Ride
Since the Virtual Queues were able to be turned on and off for every ride in the parks, that basically meant you were able to experience one at any time of the day for the rides. However, whether a Virtual Queue was turned on all depended on how long the lines and wait times were.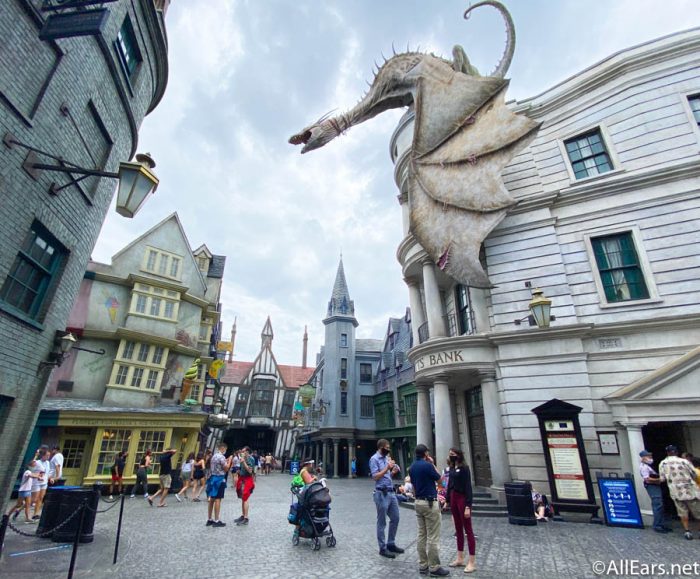 While we experienced shorter wait times today, that meant there weren't as many Virtual Queue lines available. However, that could change with more people in the parks as a way to promote distancing at attractions.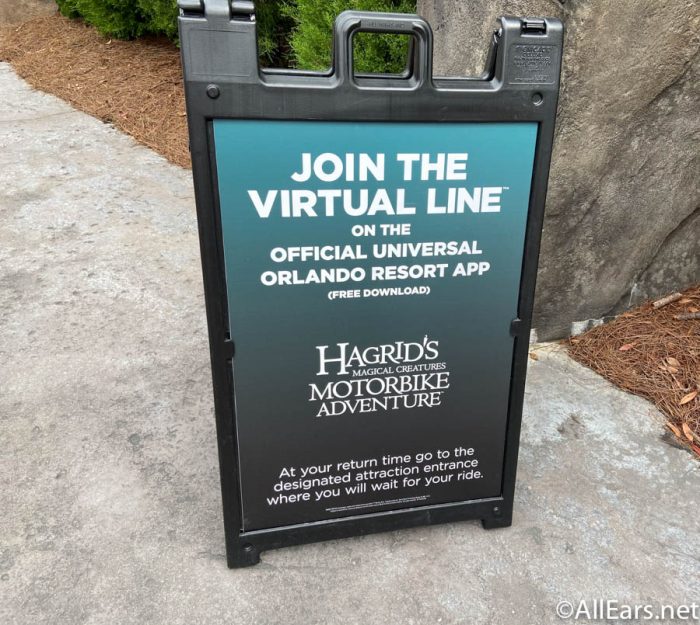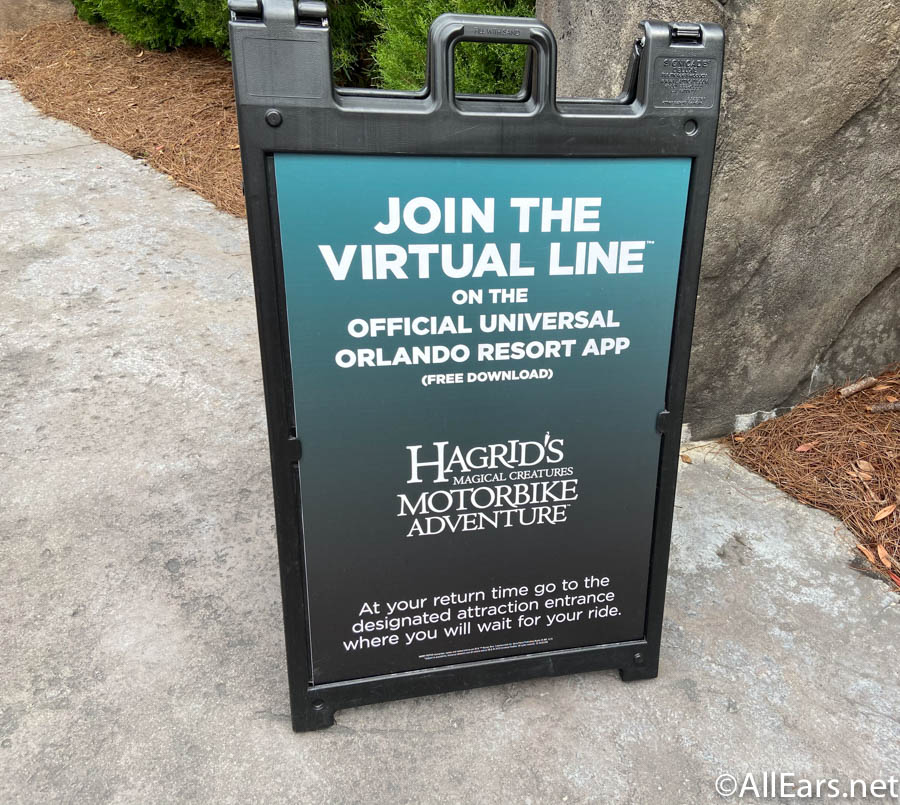 There are also a few places that most likely will not turn off Virtual Queues, like Despicable Me Minion Mayhem and Hagrid's Magical Creatures Motorbike Adventure.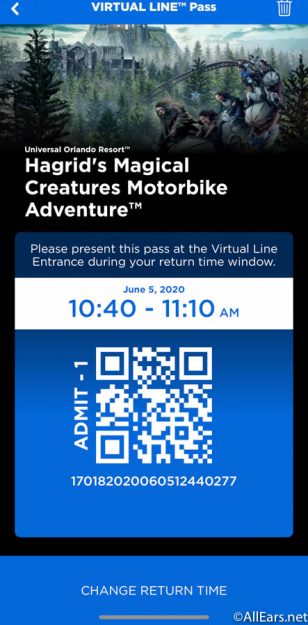 Minion Mayhem has a much more compact line structure, while Hagrid's is the most popular ride in Universal. Both of them need to have some sort of traffic flow control while guests are coming through.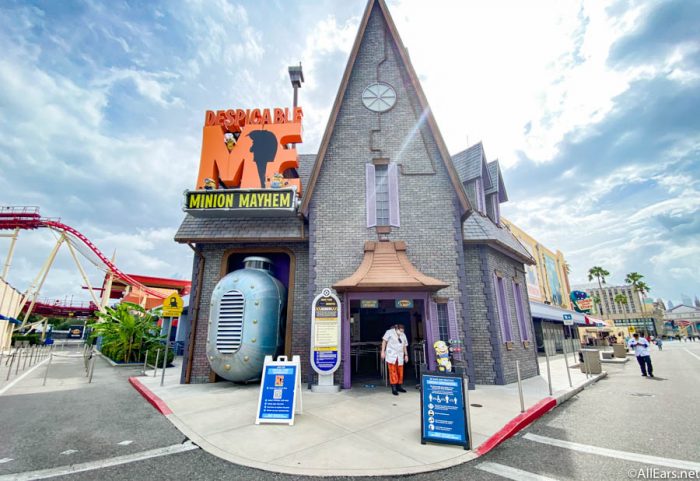 Virtual Queues Disappeared Early
Although Virtual Queues may run out of time slots before the end of the day, we also noticed that Universal picked up the barriers outside to direct guests earlier than expected.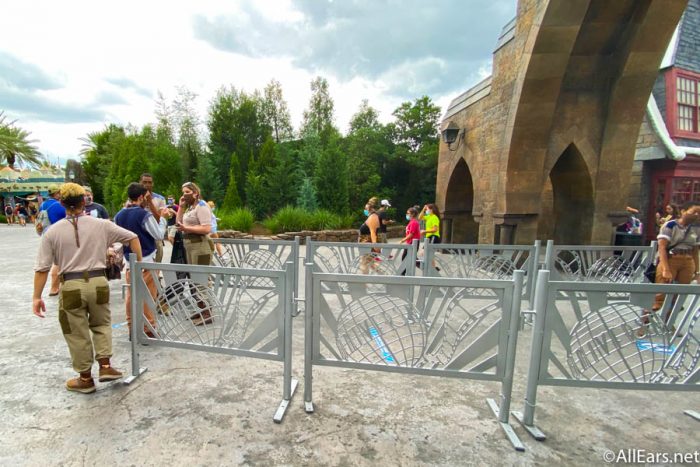 While the parks weren't supposed to close for another two hours, Team Members started gathering the barriers (most likely to be sanitized) before the end of the day.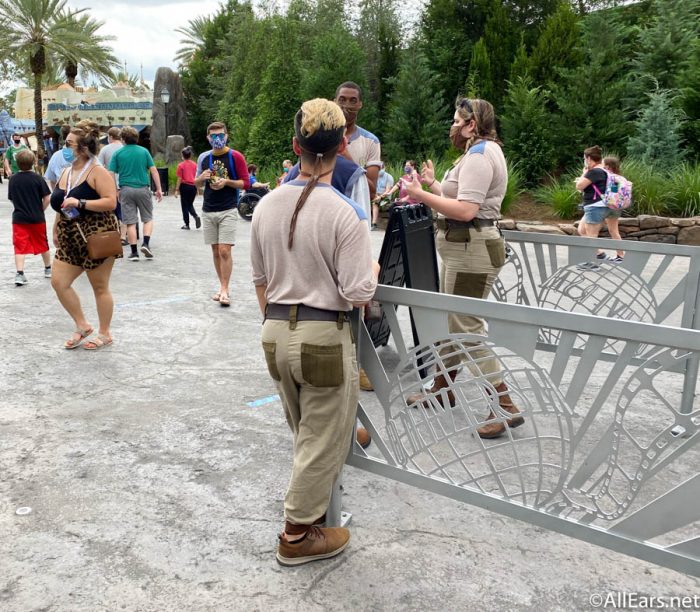 Even though we thought this was strange since everything was still open, it made sense since there weren't any passes left. The trickle of guests coming to the attractions, like Hagrid's, that primarily used Virtual Queues would be less and less as the day ended.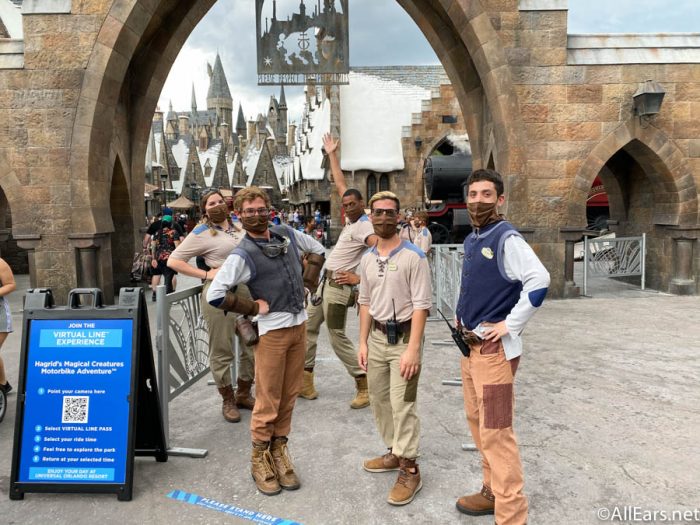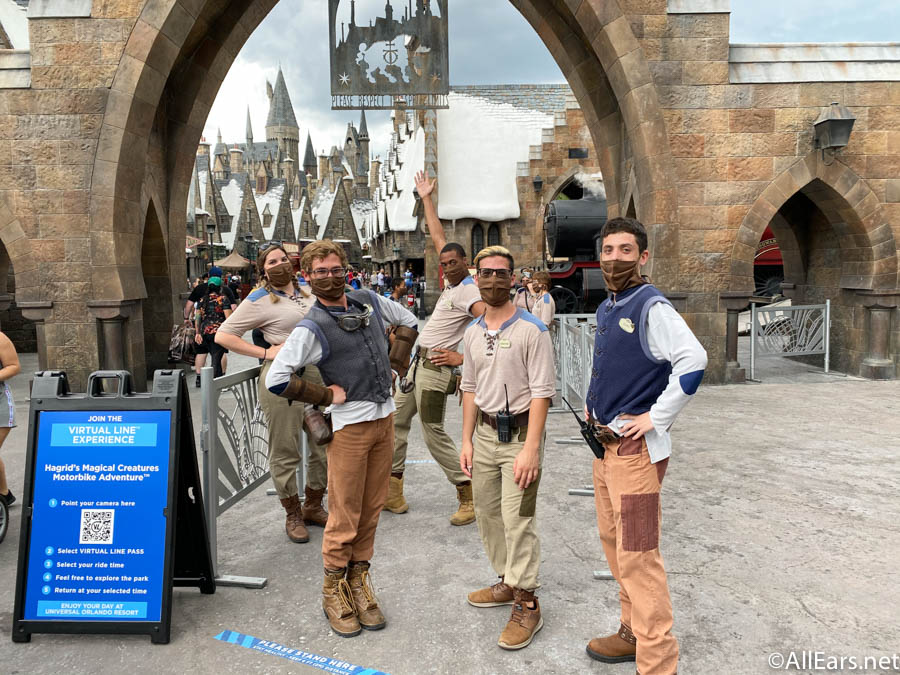 Honorable Mention: Fast and Furious… and Pretty Unrealistic
Although it did surprise us that Fast and Furious Supercharged had one of the longest queues (more on that here), we can't help but be shocked every time we ride the attraction that Vin Diesel made it out alive.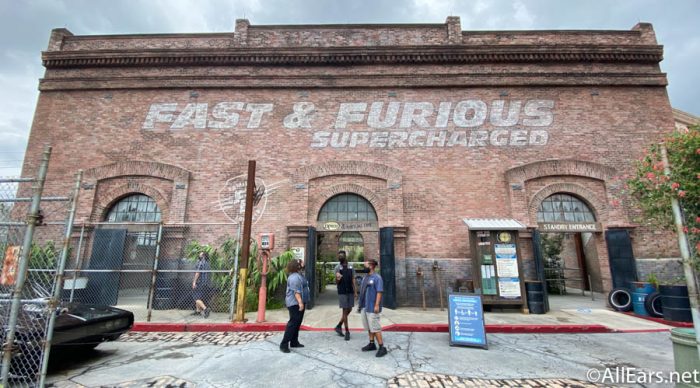 I mean, that man was picked up by a helicopter and DROPPED all the way through the sky, back into his car. No broken limbs? No shattered spine? Not a SINGLE scrape in sight?? Sorry, Vin — you may have been a Navy SEAL in The Pacifier, but you're not making it out of that bind without some kind of injury.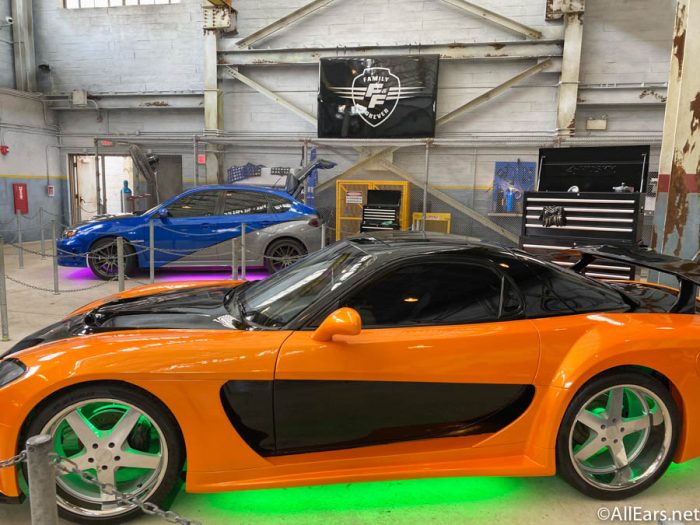 Although there were some ups and downs to Universal Orlando's reopening, we thought that the parks put a lot of thought into making guests experiences the best possible. Since it was only the first week, we expect that Universal will be smoothing out some of the problems AND continue to surprise us with exciting new things!
Have you returned back to Universal Orlando yet? Let us know in the comments below!