This week, Universal Studios will become one of the first major American theme parks to reopen to the public after a months-long closure. Prior to their June 5th reopening to the general public, however, the park has reopened to Passholders and hotel guests for a special early preview.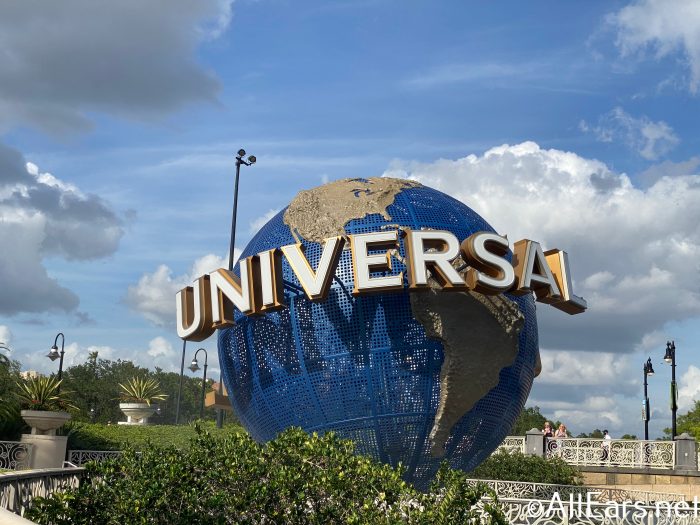 Today we're visiting both Universal Studios and Islands of Adventures for their soft reopening! From health and safety screenings to what rides were open, stay tuned with us as we take you through everything you need to know about Universal Orlando's reopening!
We will continue to update this post throughout the day, so make sure to check back for updates!
Temperature Screening
Similar to CityWalk, the theme parks and hotels also require a temperature screening. If you're staying a hotel, you will have your temperature taken upon entry. If under 100.4 degrees, you can get a wristband, and won't need to have your temperature taken at the theme park for that same day.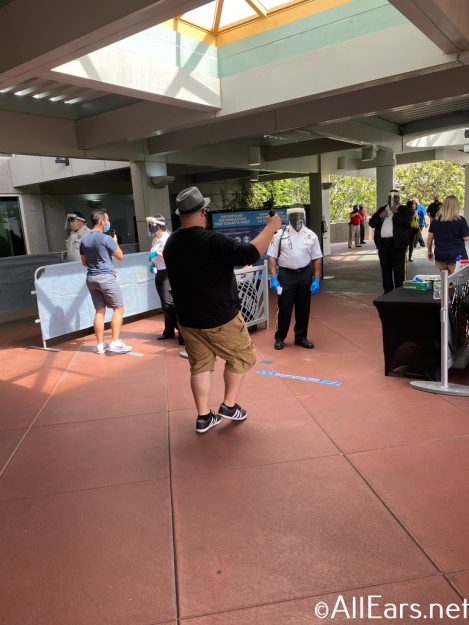 Note that guests staying at one of Universal's hotels will have their temperature checked daily at their hotel and they will receive a new colored wristband each day to verify they've been checked.
Buses for Resort Guests
We took a Universal bus from our resort to the parks. We were told by our driver that buses typically hold 45-50 guests, but are currently limiting capacity to 17 per bus.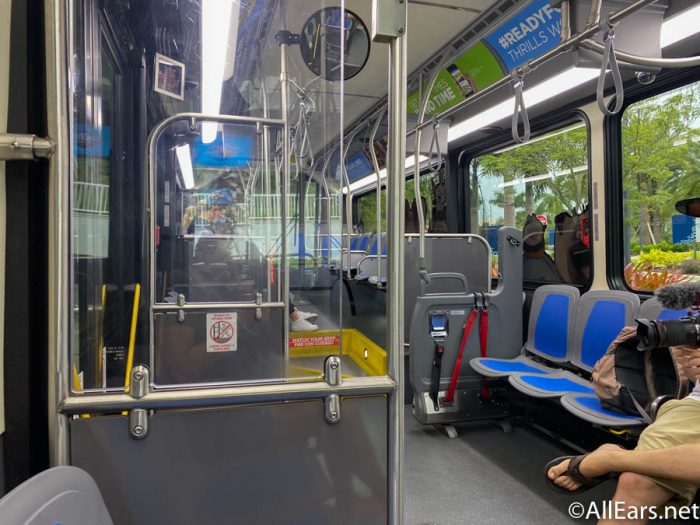 A safety warning video plays on loop on the bus alerting guests to the new safety requirements.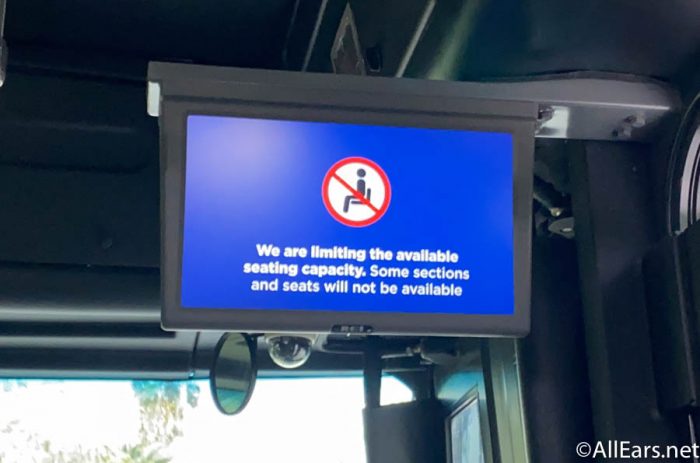 Ticket Scanning
To enter the parks prior to the reopening, guests needed to show a ticket, and also scan their fingerprint. Fingerprint scans are currently not being conducted. You'll simply have your ticket scanned to enter.
Note that resort guests do still gain early access to the parks. The only rides open early for hotel guests at Universal Studios Florida today were Escape From Gringott's and Despicable Me: Minion Mayhem. (Islands of Adventure was not open for early access today.)
Face Coverings
Another requirement for entry is a face covering, which is required for all guests two and up. These must be worn at all times, including on the rides.
Health Measures in Place
Once inside the parks, you'll notice that Universal has set up signs throughout, outlining the health and safety measures in place.
There are also team members you'll see consistently cleaning and sanitizing any high-touch points.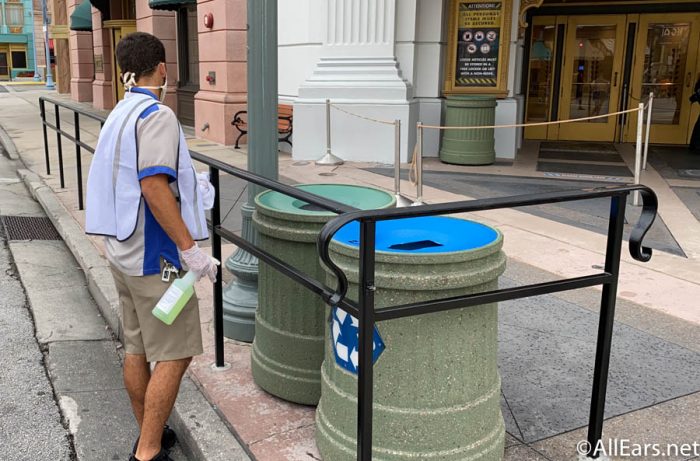 We noticed photo-ops, like the phone booth or the Knight Bus in the London section of the park, have distancing markers to keep guests spaced out while they wait to take a picture.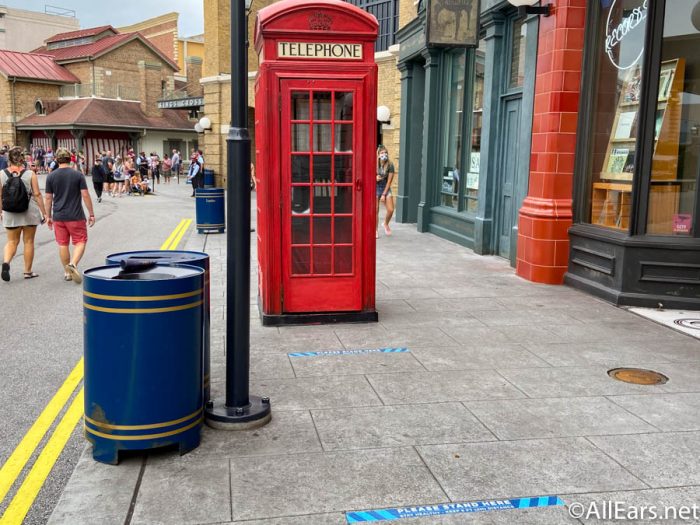 Attractions and Virtual Lines
For the reopening, Universal Orlando is implementing virtual lines for select attractions. In order to take advantage of the experience, you must be on property. However, you don't need to be in the same park you are reserving a virtual line return time for (you can book Hagrid's in Islands of Adventure, even when you are in Universal Studios Florida).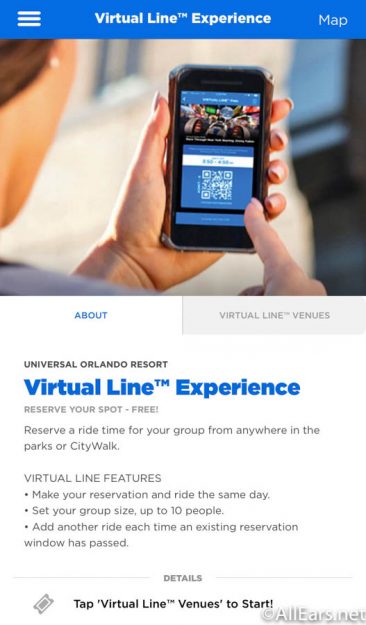 The way the virtual line works is through the Universal Orlando app. Guests can select the ride of their choice, and from there are able to specifically select a window of time to come back to the attraction.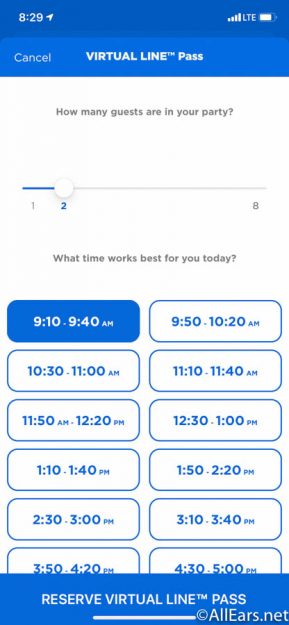 Your virtual queue group can have up to 8 people. However, no matter what size group you have, you can only get in a virtual queue for two rides at a time. However, you cannot hold two virtual queue passes during the same time slots or for the same attraction.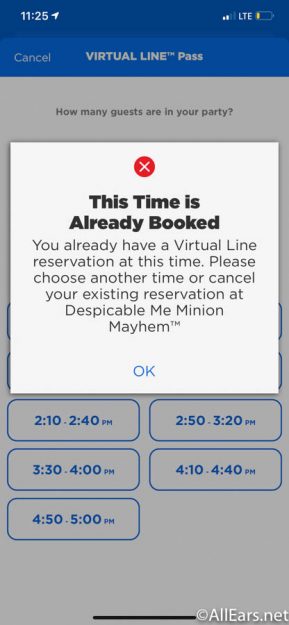 Once you get your time, you'll have a QR code available that a team member can scan when you go back to get in line. During our visit to Gringotts, we noticed that they looked at our app coming into the attraction. However, they didn't scan it right away. (We learned later they were having issues with the tablet.)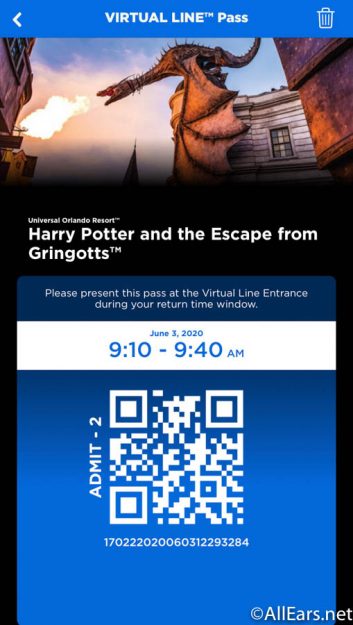 Signs are displayed outside attractions with stadium-style seating indicating where guests can sit on the ride. (Read below for more info on Shrek 4D!)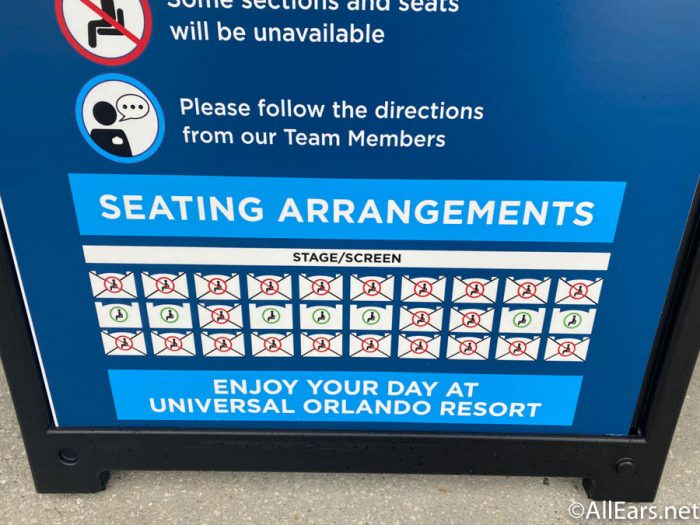 Before you enter the attraction, you will be asked to put your backpack away on select rides before enter. You will be given locker bay to use by a Team Member — at Escape from Gringott's we were also given a ticket with a our bay number on it.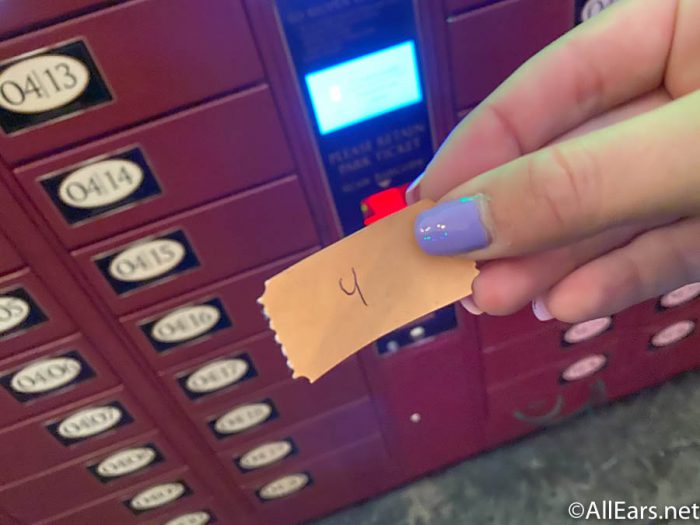 The lockers will open and close with your park ticket or room key barcode. Make sure to take your tickets or room keys with you on the attraction to be able to re-open your locker. And, remember your locker number in case there are any issues!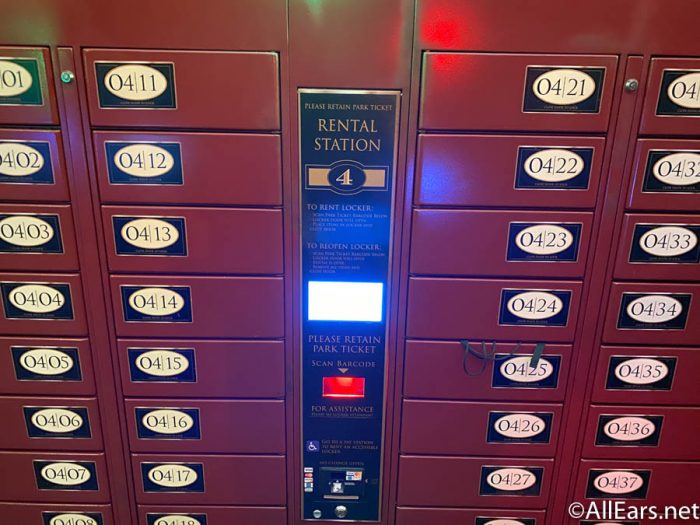 The queues have distancing stickers that space guests 6 feet apart from the person in front of them and the person next to them as well.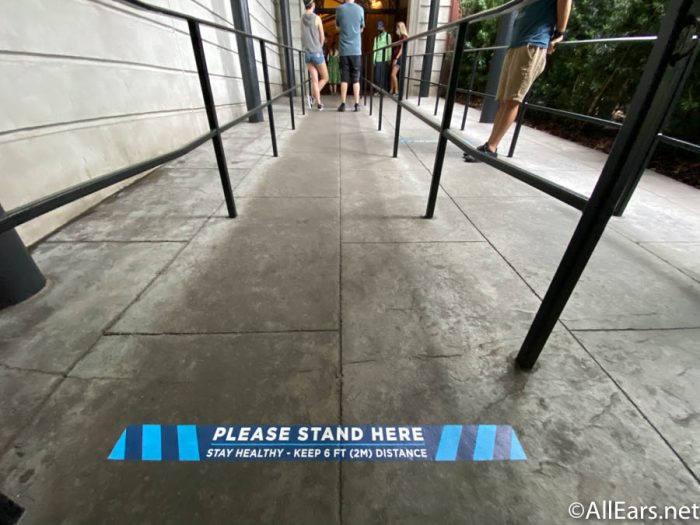 Although the queue may seem longer than it is, the line moves quickly still. The speakers will come on from time to time to remind you to keep your masks on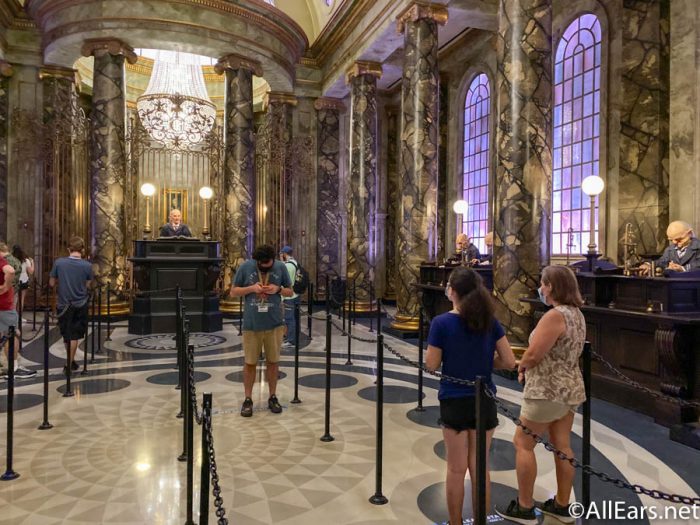 The attraction still allows guests to take "security photos" in front of the green screen. A Team Member will provide a ticketed "PhotoPass" to view the photos online later that day.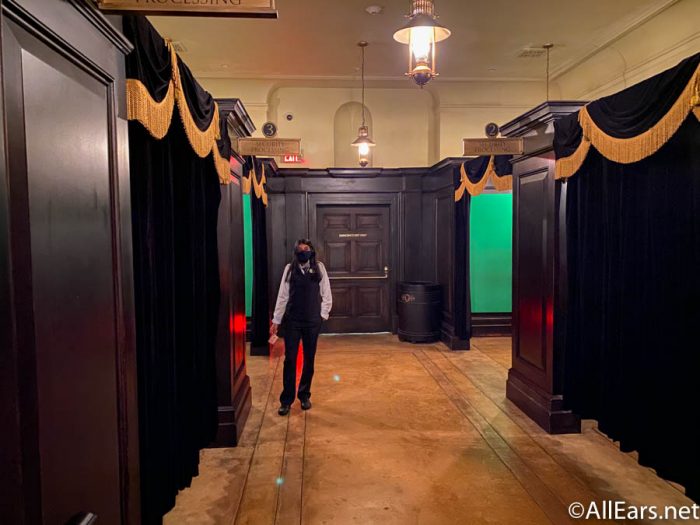 We bet we look siriusly awesome!!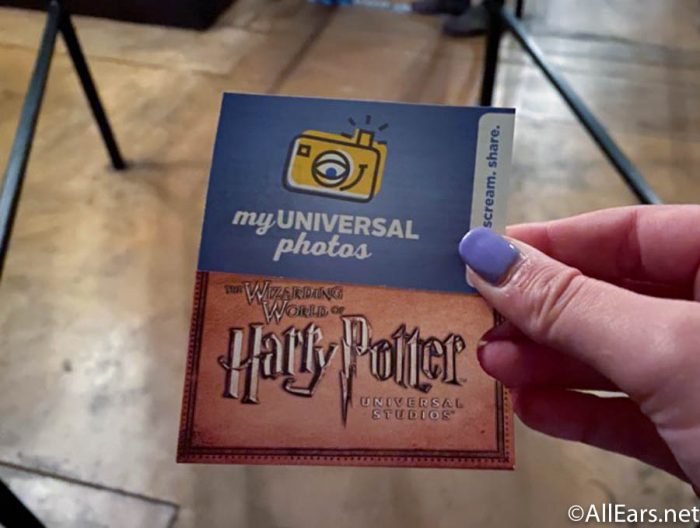 While Escape from Gringotts usually features a pre-show, the attraction has paused this for the time being. So, guests are not able to experience the vault's elevator…
…or watch Bill Weasley's introduction to Gringotts Bank at this time. We'd like to note that it took us about 25 to 30 minutes to reach where the pre-show would have been while we waited in the queue.
As a way to lessen contact on the attraction, guests are no longer able to grab their own cart goggles before boarding the ride.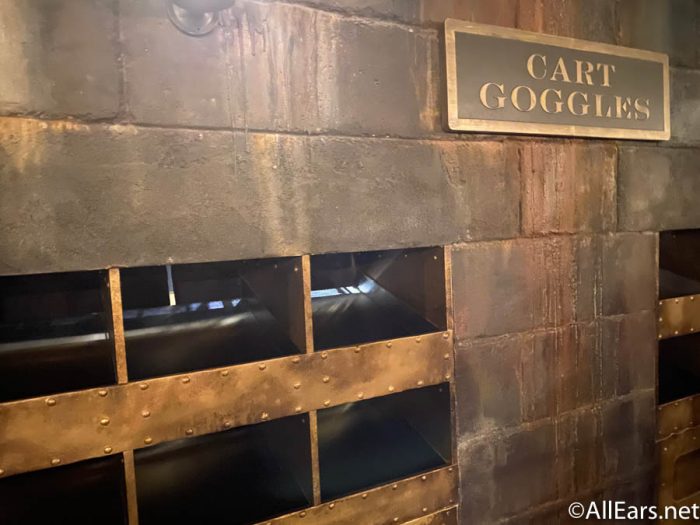 A Cast Member will provide them to you from a sanitized tray.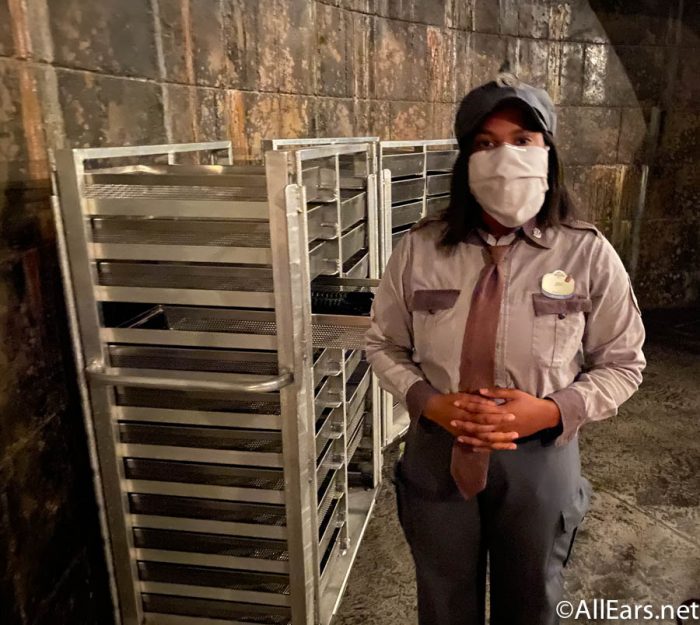 Who's ready to get this cart rolling, wizards??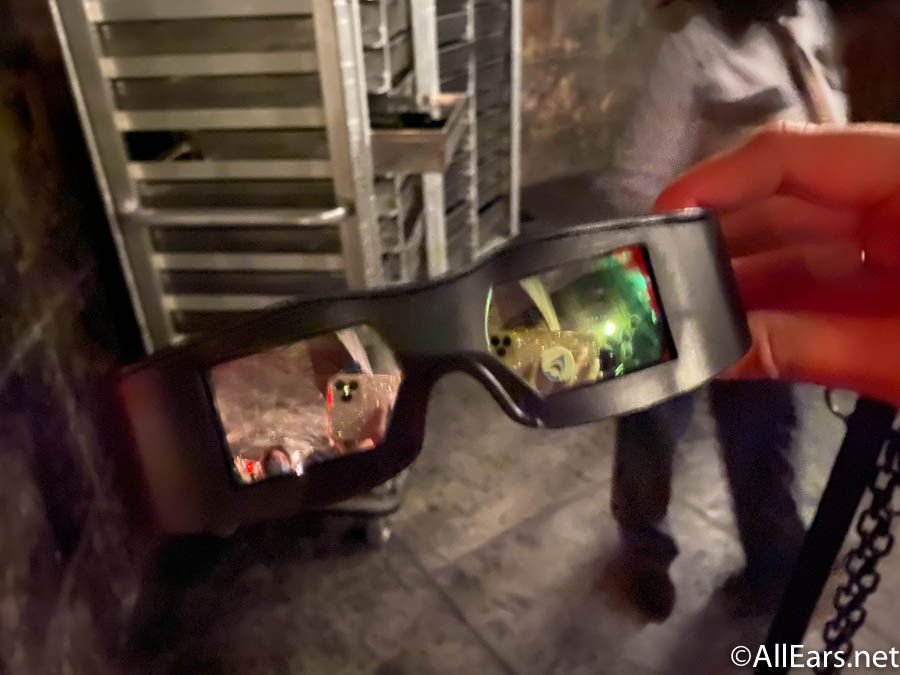 There is a requirement to use hand-sanitizer prior to the the ride. The carts will now have seating in every other row with one party per row.
It took us around 30 to 35 minutes to board the attraction, but your experiences may vary.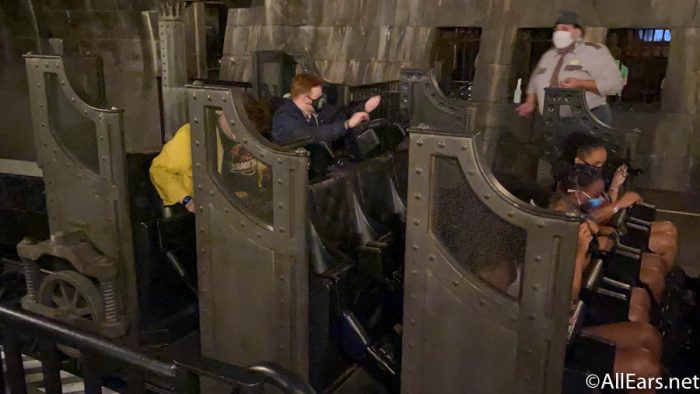 And, while you're on the ride, we suggest putting your face mask underneath the goggles so you don't fog them up!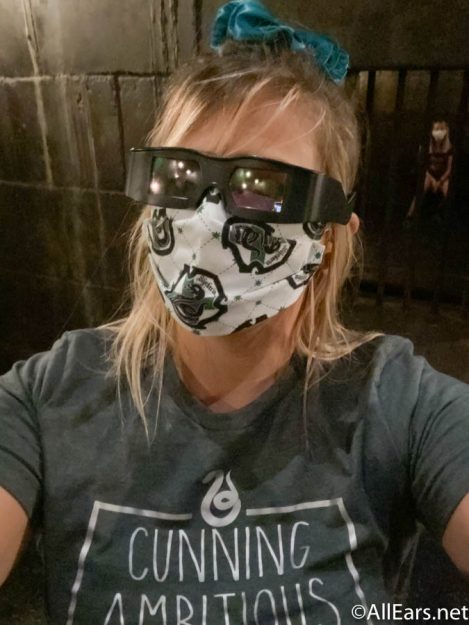 When you decide to board the Hogwarts Express to switch to the other park, a Team Member will scan your ticket barcode. There is no finger-scanning or contact before you enter the attraction.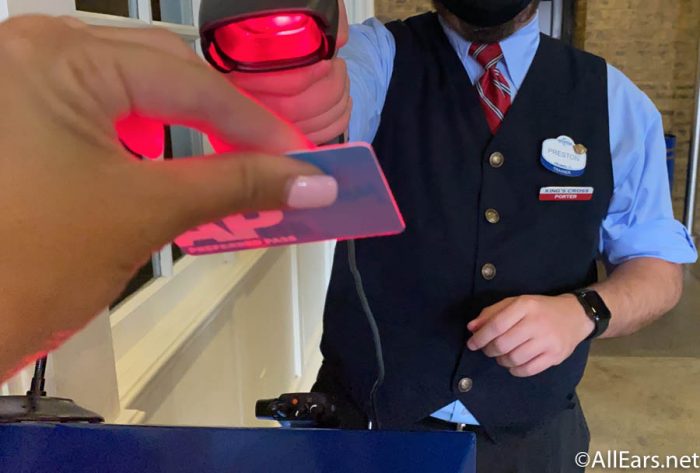 The line is staggered between guests so there's space in between everyone visiting the Hogwarts Express.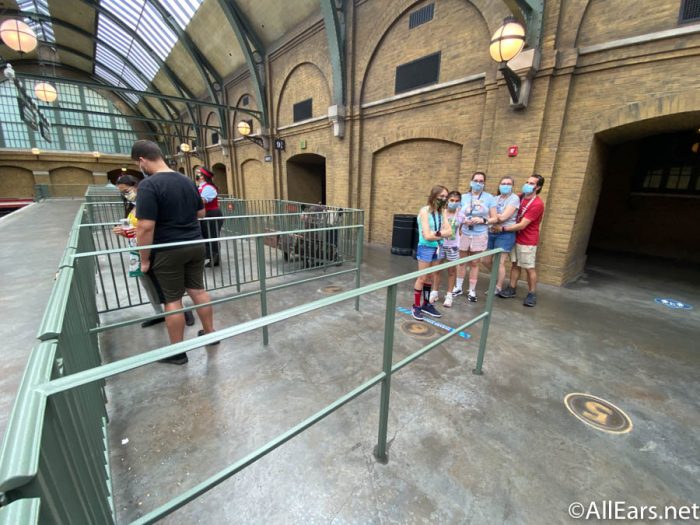 Once you board, your party will receive its own cabin during the journey (make sure to get some Chocolate Frogs and Pumpkin Pasties from the Trolley Witch for us!).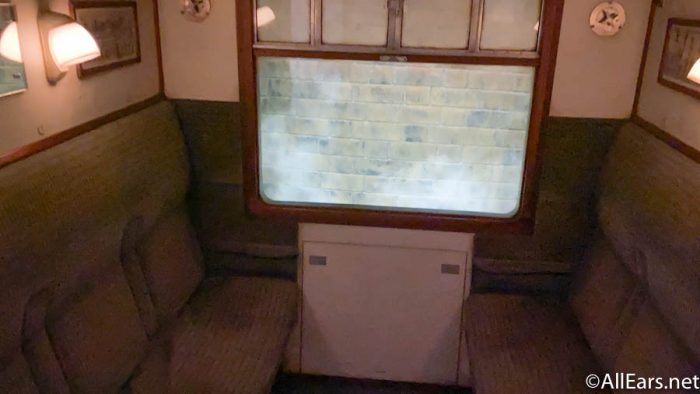 While we were making our way to Hagrid's, we were a few minutes late to our virtual queue time. If this does happen, you are able to book another time through the app for later in the day, if they are available.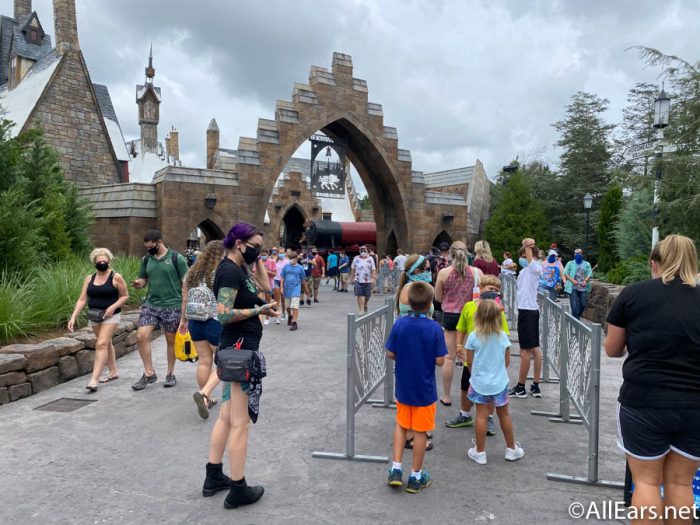 However, we made sure to show them a screenshot of our virtual line barcode when we entered. While there's usually not a set grace period like Disney World's FastPass system, they let us join the line since the virtual queue was already so long. (There's no guarantee a Team Member will let you in late, but if you're nice and show a screenshot, they just might!)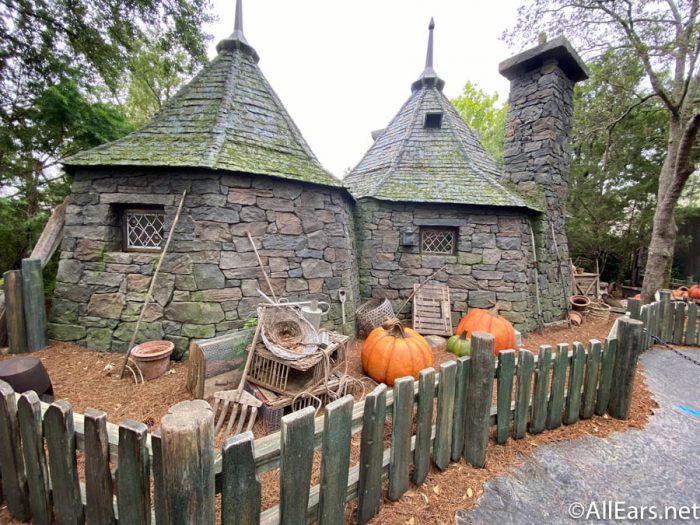 However, they did turn away guests who were too early for their designated times in order to control the flow of traffic. The queue first takes you to the lockers where you will wait for Cast Members to direct you.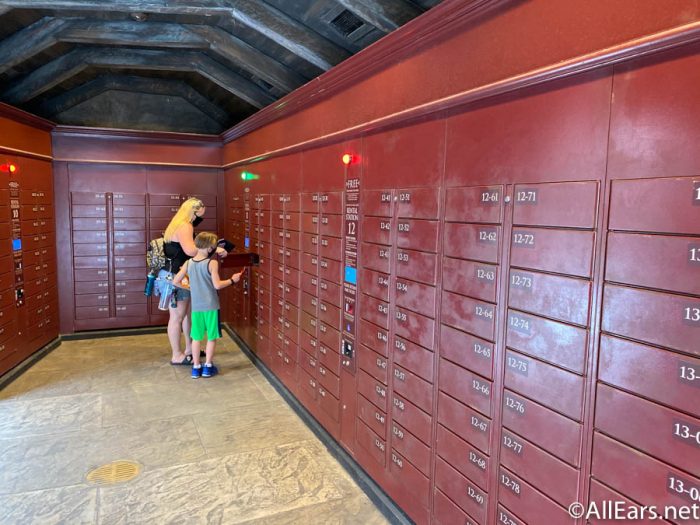 The queue area has distancing markers to keep everyone 6 feet apart from other guests.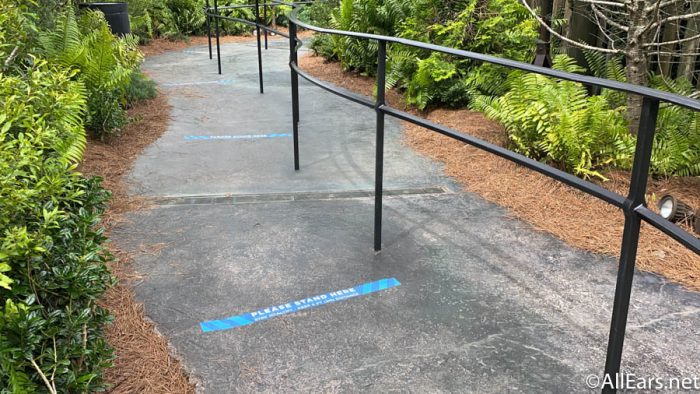 Anybody else ready to dodge some Devil's Snare??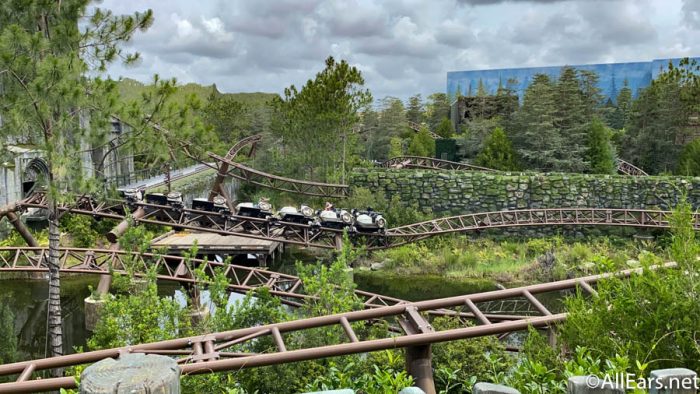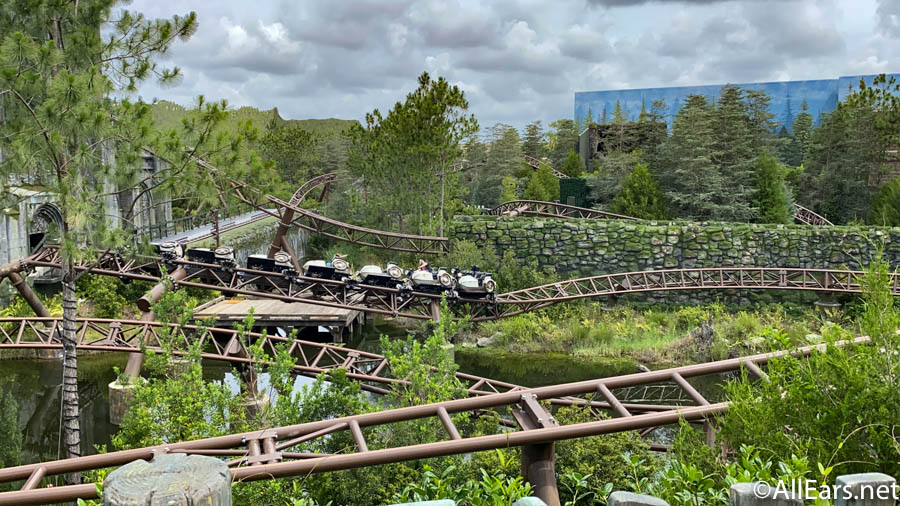 There is no pre-show in the attraction, just like Escape from Gringotts (you get to avoid the pixies… this time).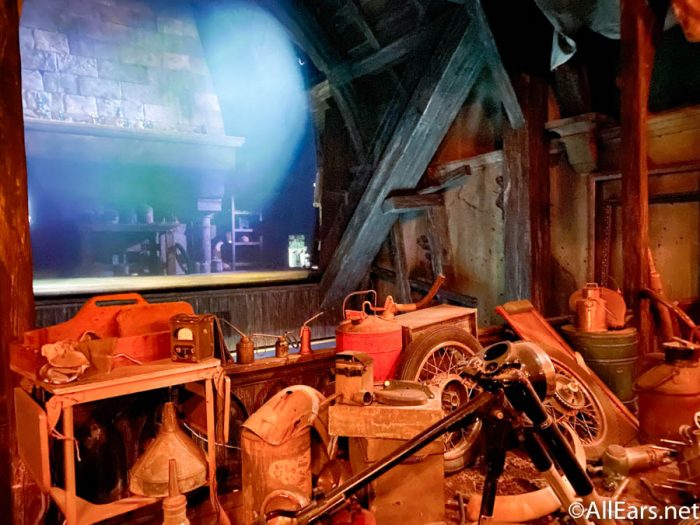 When given our pre-ride hand sanitizer, the Team Member referred to it as "potion to protect us from the skrewts" which we thought was adorable.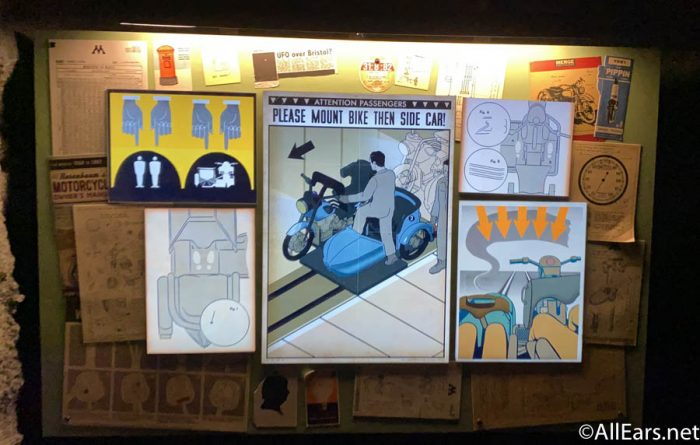 The motorbike vehicles are cleaned after each ride before the next round of guests can board. Note that you can only ride Hagrid's during this time if you use the virtual line through the Universal app!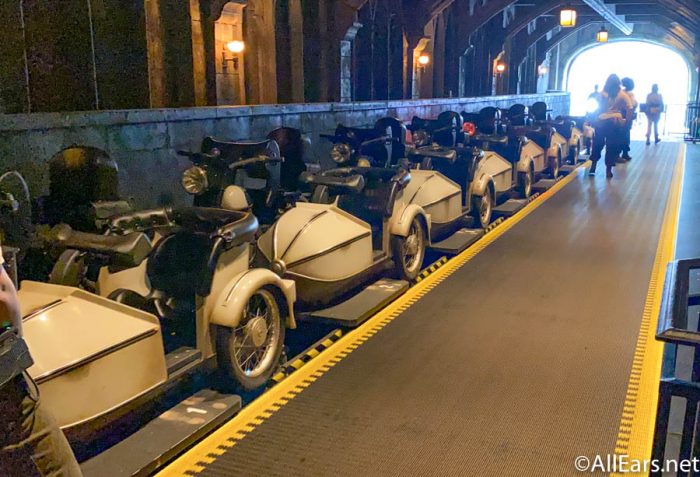 The Incredible Hulk Coaster, on the other hand, doesn't have virtual lines. Guests are required to put their thing up in a locker like always before getting in line to board. There are distancing markers on the ground, but the attraction moves very quickly!
There is one part per row with every other row blocked off. While we did feel our masks get breezy and slide up a bit, it didn't feel like it was going to blow off at any point.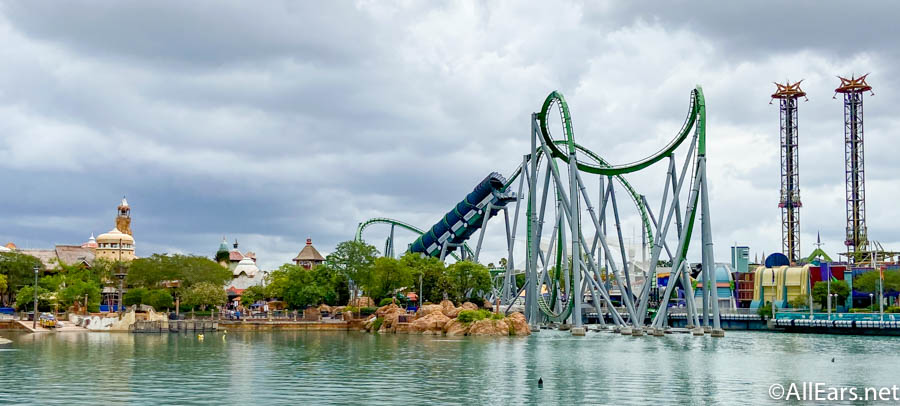 Shrek 4D is also seating guests in every other row. But, the theater is also hosting 3 seats between parties in each area (so the previous graphic wasn't entirely accurate to the situation). There is also no pre-show during this time.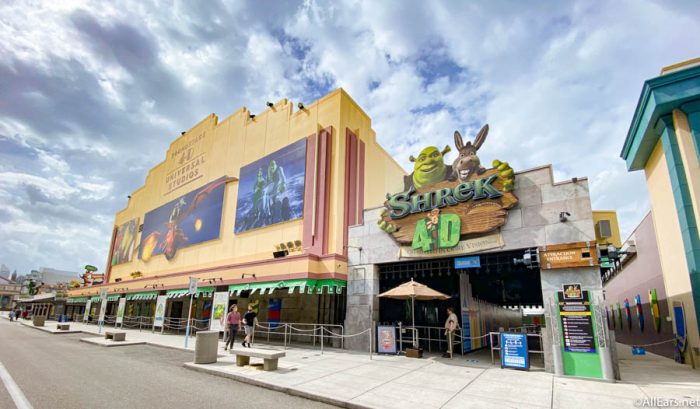 If you've ever wondered what a water ride is like with a mask, we've got answers for you! Once you're seated on Jurassic Park River Adventure, you can remove your masks for the duration of the ride.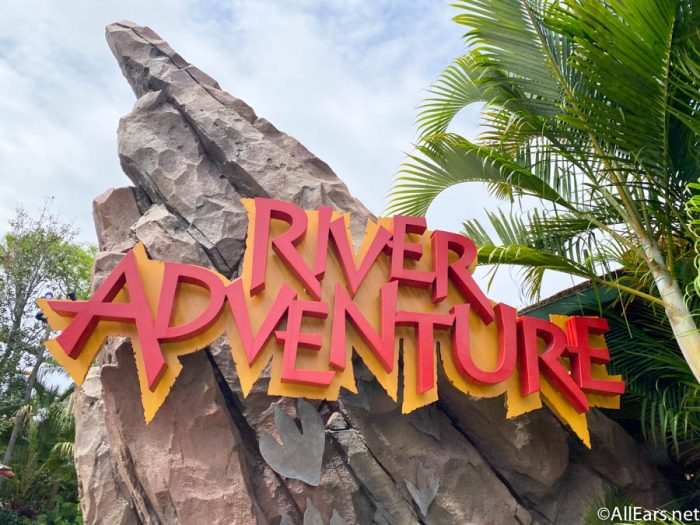 During our experience, there was a row between parties. However, there was a single rider seated directly behind us. The dryers outside of the attraction are also still currently available to use.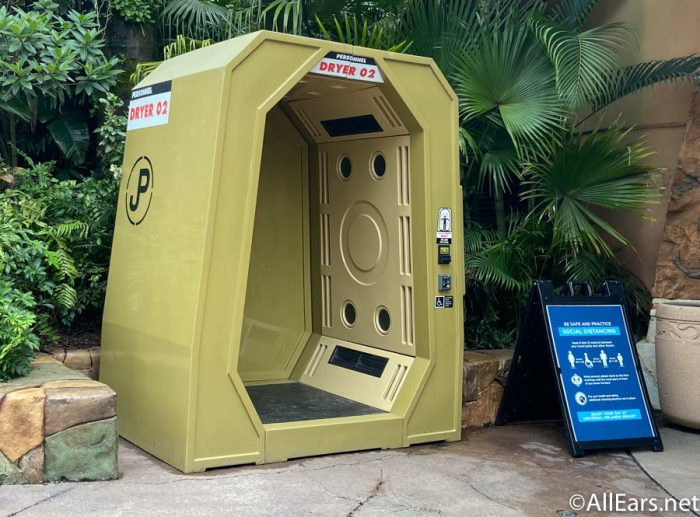 Buuut, while we were riding, we happened to lose our mask (yikes) and had to find a new one. Luckily, we were able to purchase one from the stores, but it was still a sticky situation!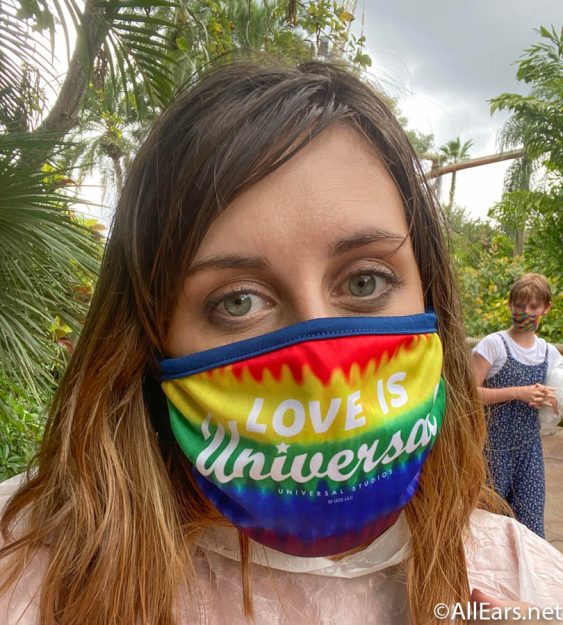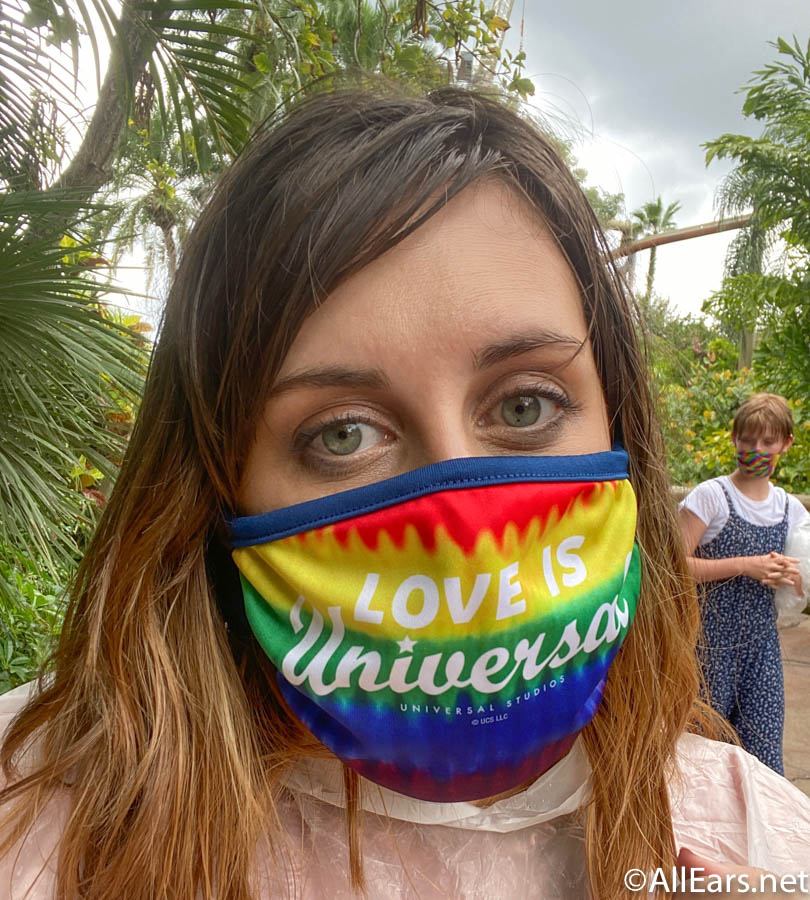 Read all about our experience losing our face mask in Universal Orlando here!
The Pteranodon Flyers are allowing guests to pick up virtual line passes from a kiosk…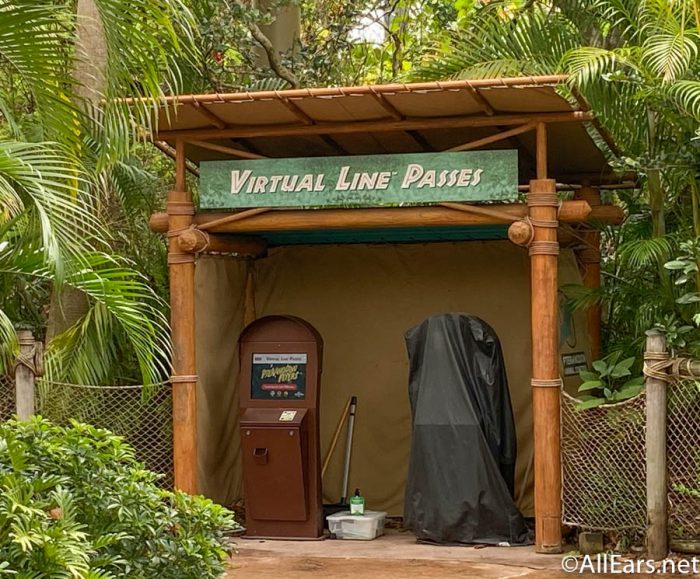 …where they will be given a time to return to board the attraction. Camp Jurassic is still open for little ones to explore during this time.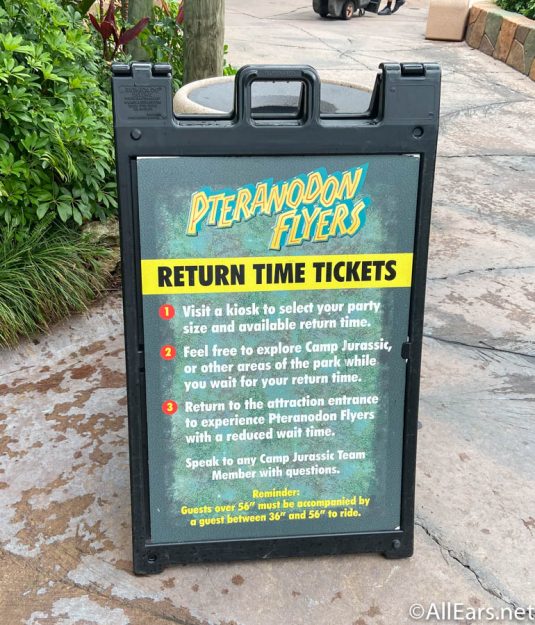 Fast and Furious Supercharged is still open for guests to visit with the pre-show that explains the attraction!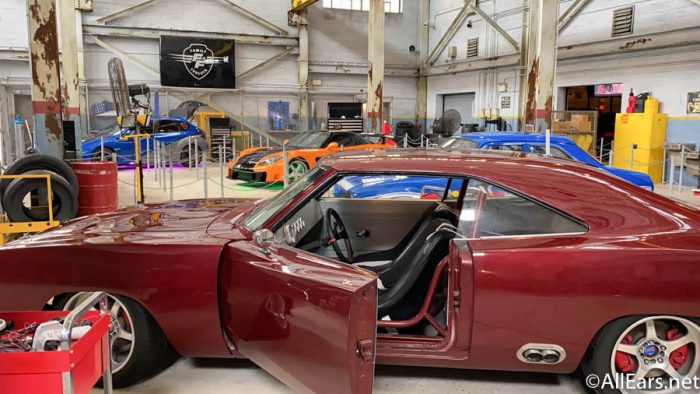 There are different distancing marks throughout the pre-show and queue to make sure that guests stay apart from one another.
Guests will then be taken to their "parking spaces" before they can enter the ride.
The carnival games throughout the parks are also open during this time for guests to win a new plushie or two!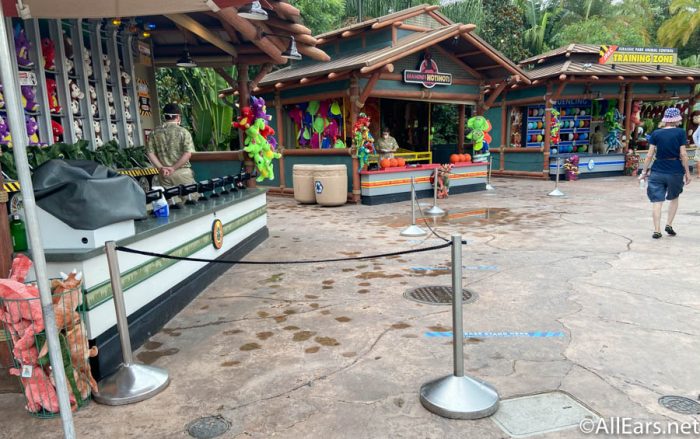 Before boarding, guests had to put their things up to enter Men in Black: Alien Attack. The pre-show is currently unavailable for the time being. We were surprised to find that the laser guns and seats weren't being wiped down between each guest.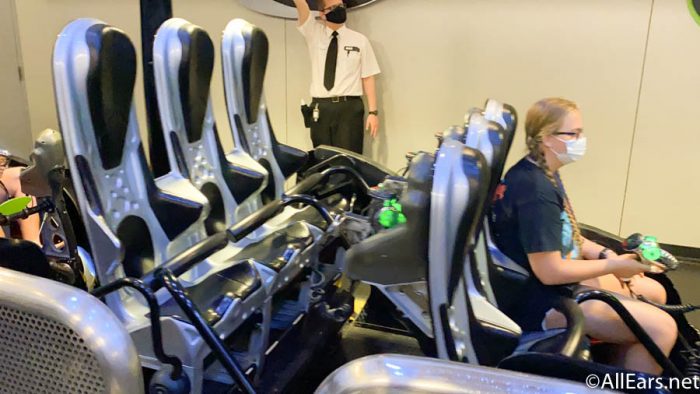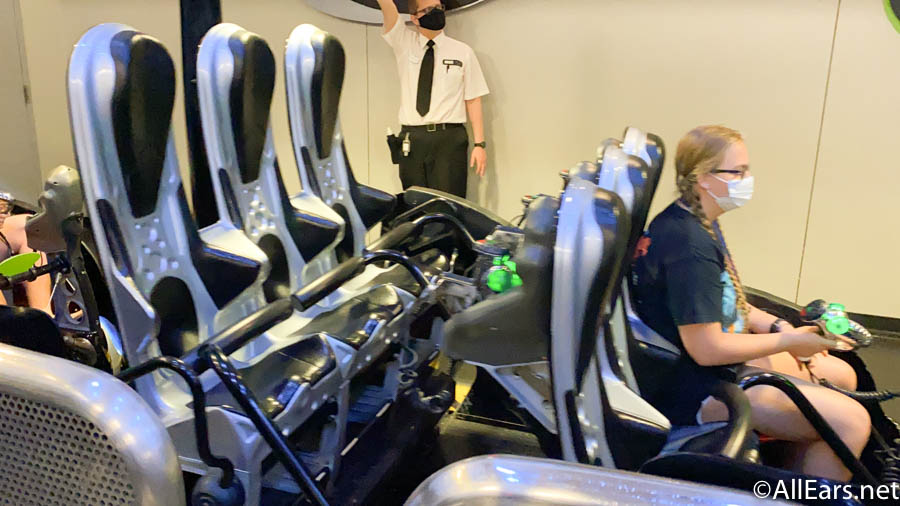 However, guests were given hand-sanitizer before hopping onto the ride to blast some aliens!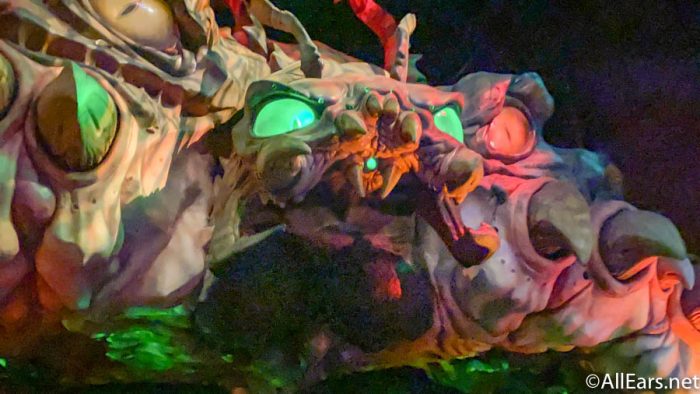 Characters and Entertainment
Universal Orlando has always had a variety of free-roaming characters throughout the parks, from Popeye to Scooby-Doo and even Marvel characters. They also have a number of daily street performers.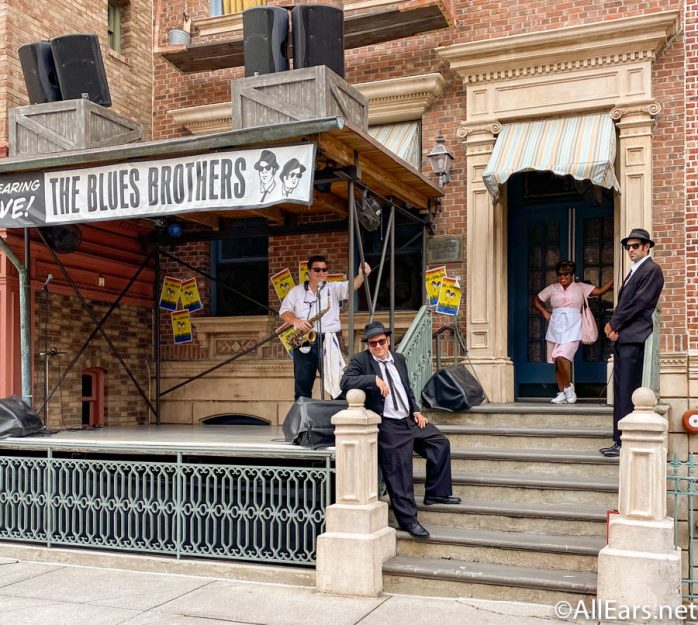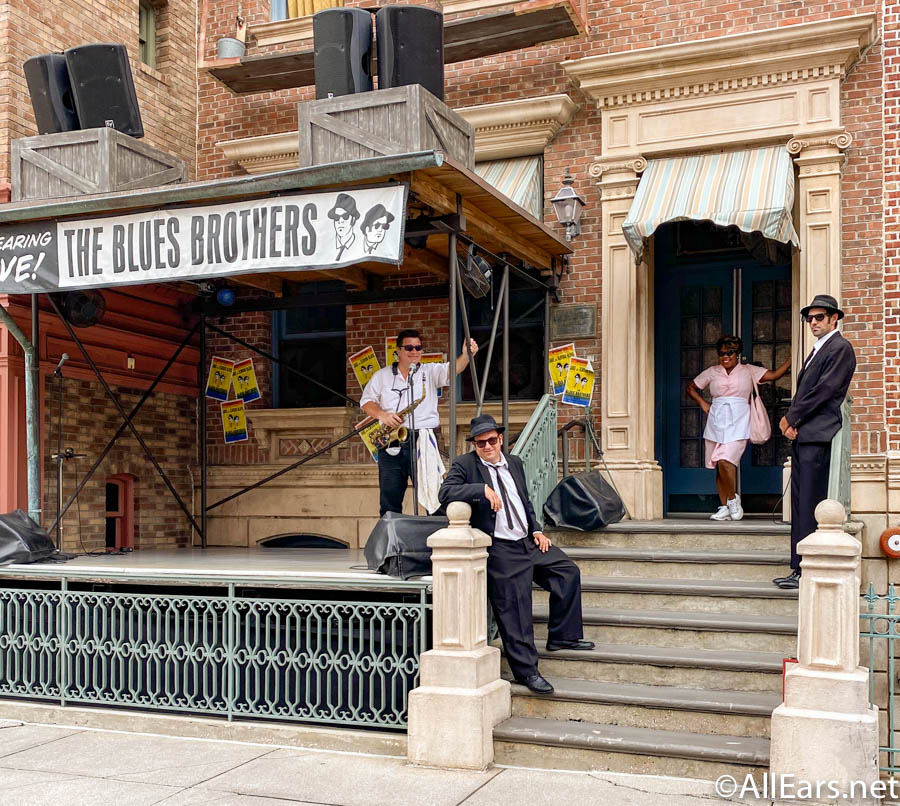 We also noticed that all face characters were wearing face masks! This included some of the entertainers, like the choir at Hogsmeade.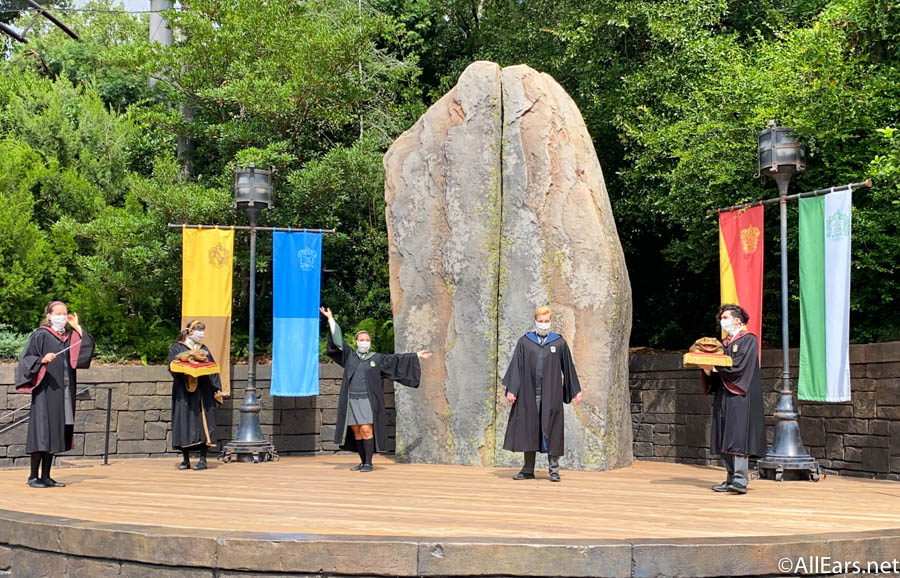 In Seuss Landing, there were also multiple Dr. Seuss characters chilling out to wave to guests.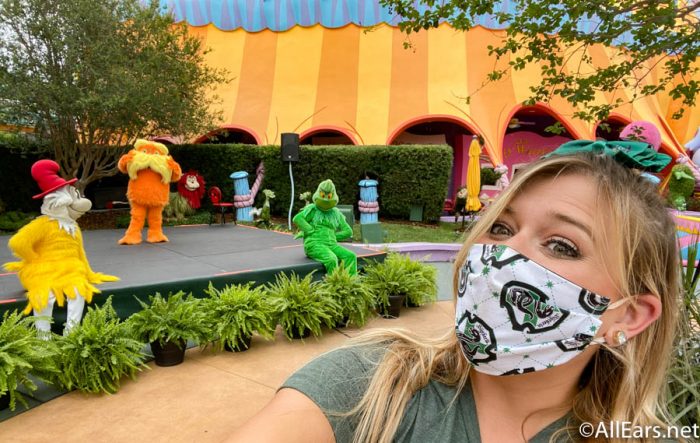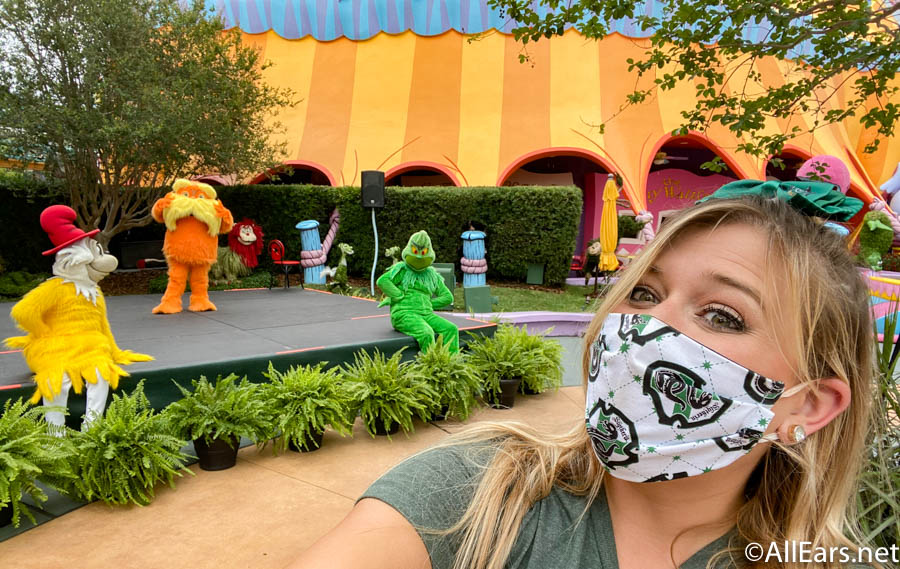 Molly blew the Grinch a "welcome back" kiss… but he caught it and threw it back at her (oof). Some of the other entertainment experiences at Universal Orlando have also changed during this time.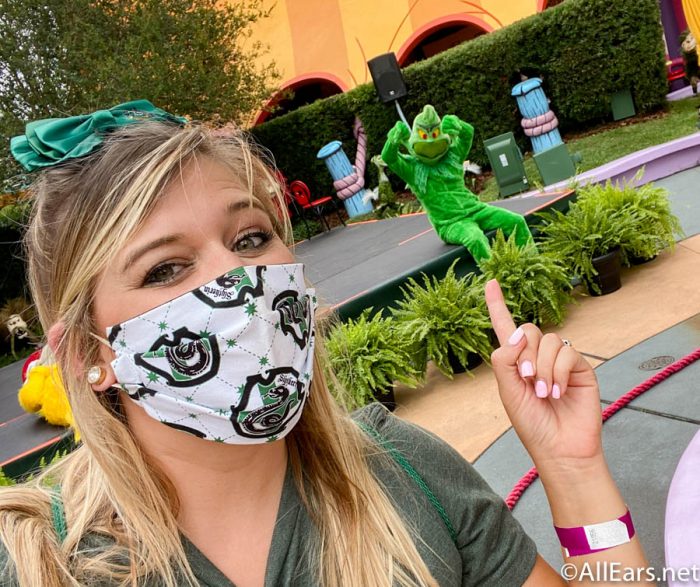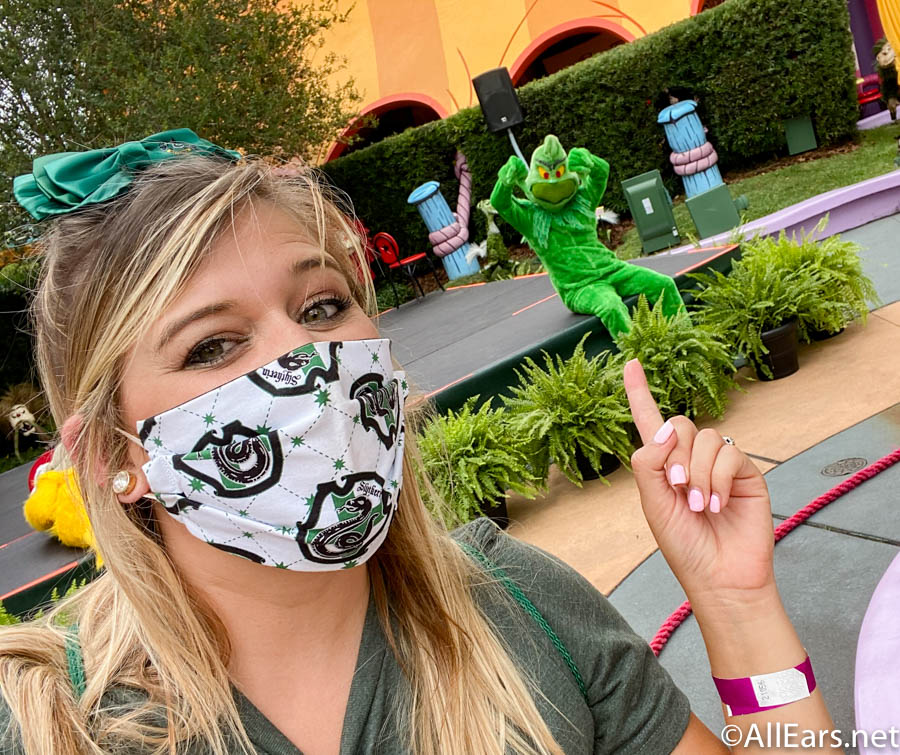 We even spotted "Thing One and Thing Two…"
…before spotting Krusty the Clown and Sideshow Bob in the Simpsons area! Lookin' good, guys!
The Character Palooza still went on with guests distanced from the performers! Aww yeah!! You can smile and wave at the Madagascar Penguins…
…eat a Lard Lad donut with Homer Simpson himself…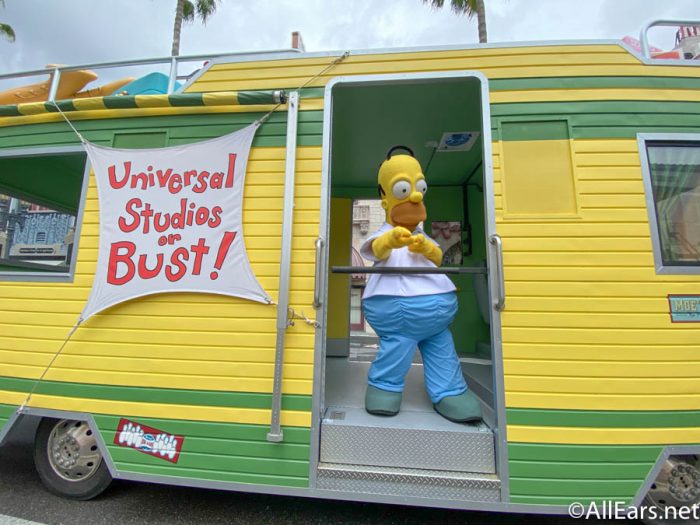 …or say Beetlejuice's name three times (or not!!!) to get the show rolling!
At the Wizarding World of Harry Potter, special experiences like wand shopping at Ollivander's has become a lot more personal. If you want to shop at Ollivander's, you will get in a line that will allow three groups in at a time.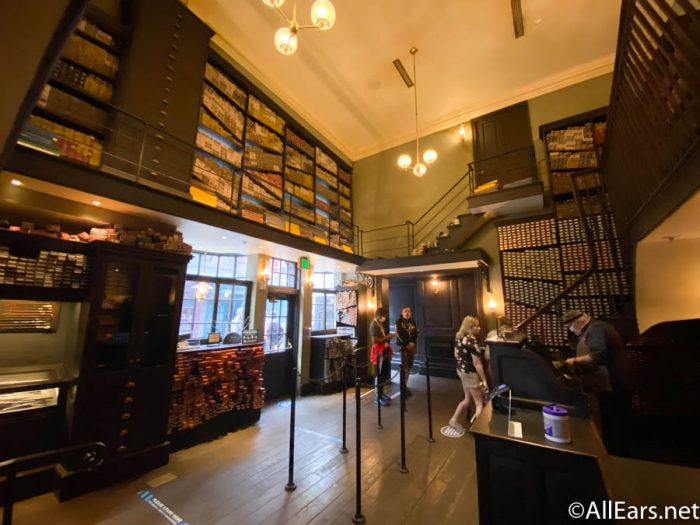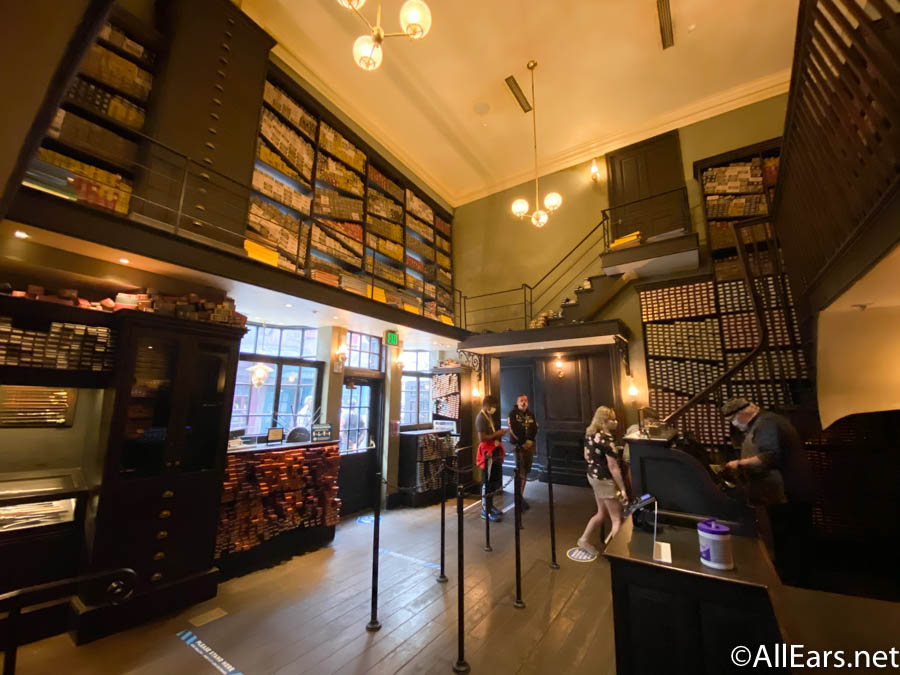 Similar to what we've seen at stores like World of Disney, the park is working to minimize unnecessary contact at merchandise shops. For stores like Ollivander's, a team member will assist you in making purchases to ensure that there is minimal merchandise contact.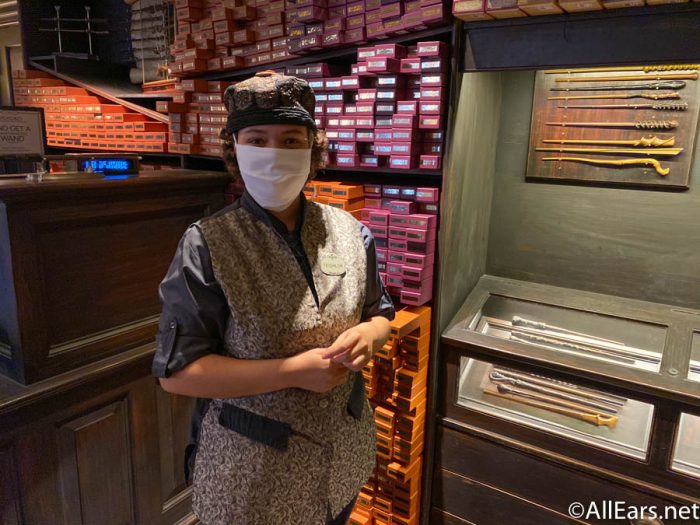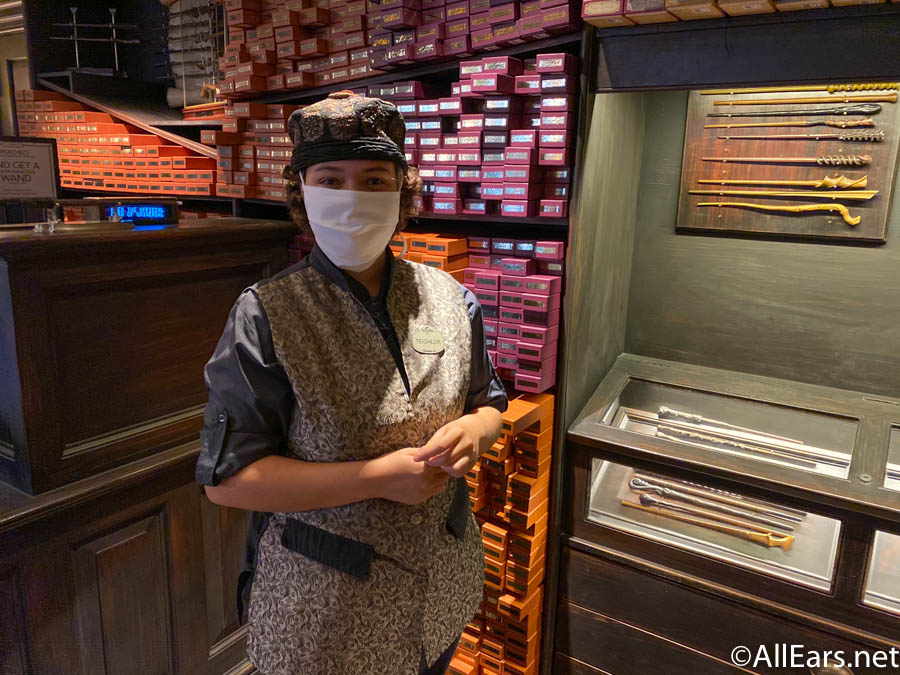 For the actual "experience" at Ollivander's where the wand chooses you, you'll now need to make an appointment.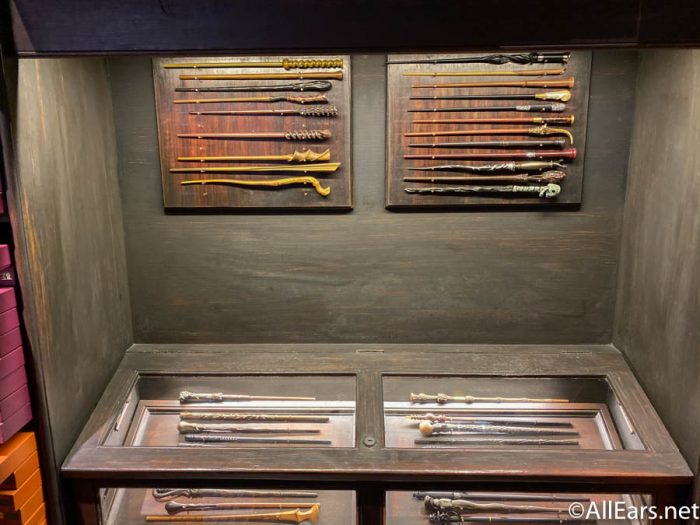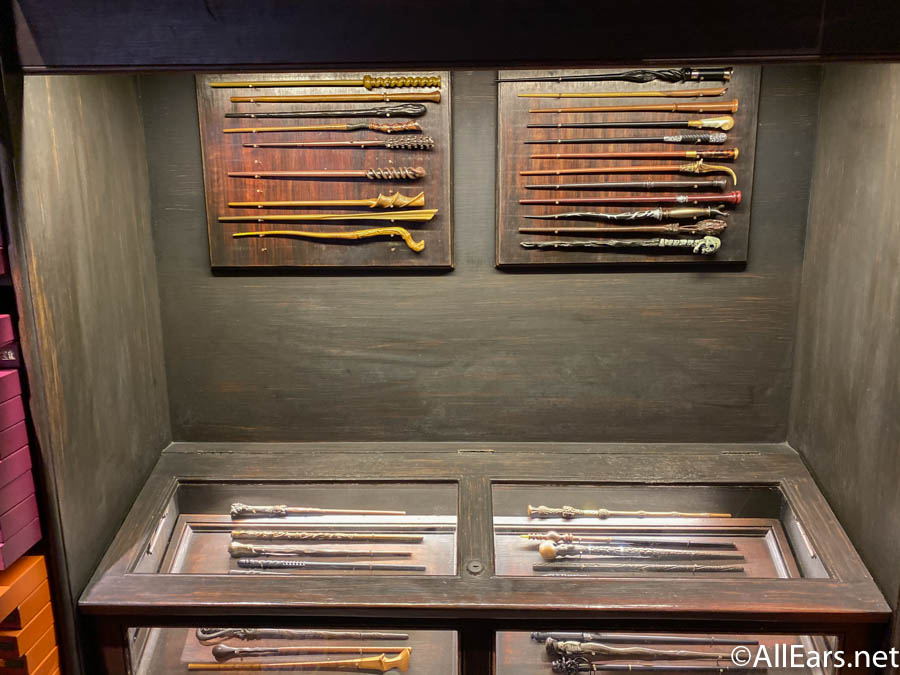 There are now distancing markers placed throughout entertainment viewing area in front of the performers to encourage guests to maintain distance.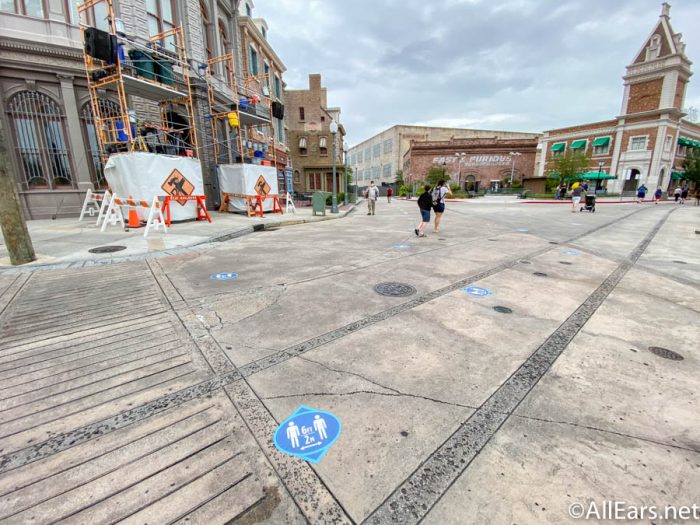 Dining
Walk-up snack stands are currently open with markers indicating where to stand as you wait your turn. As far as locations selling alcohol, if a location sells food, they're permitted to sell alcohol, but bars and bar carts are not permitted at this time.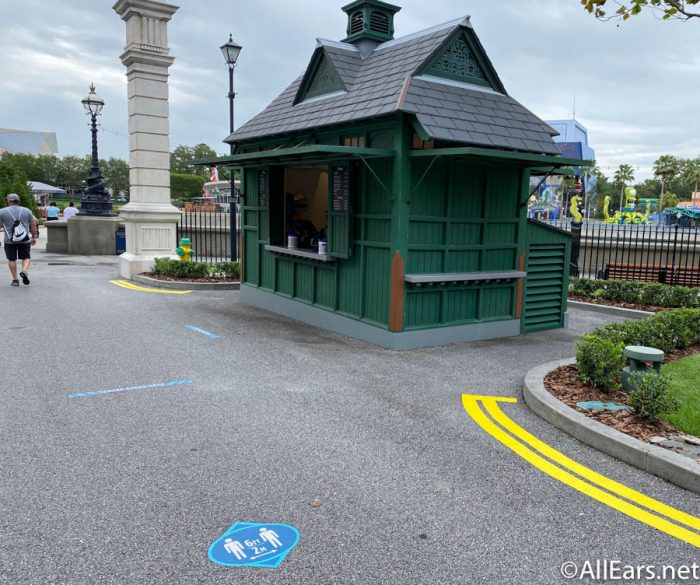 However, bars may be re-opening with Phase Two of Universal Orlando's plan! We will continue to keep you updated!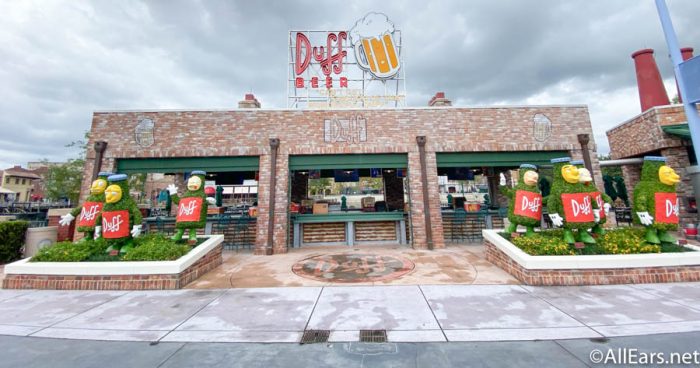 Along with contactless payment, Mobile Order is also being encouraged (or exclusively used) for select Quick-Service restaurants. For a spot like the Three Broomsticks, you'll be brought to your table first, and then for your Mobile Order.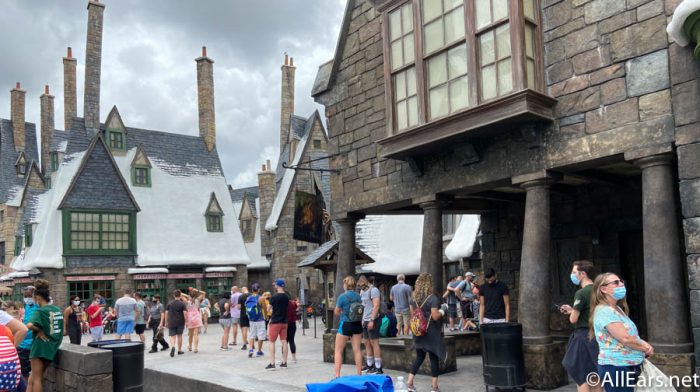 From there, a team member will take your name and the last few digits of your order number. Then, they will bring the food to you. After you're done eating, the restaurants will ask for you to leave the tray on the table for them to clear.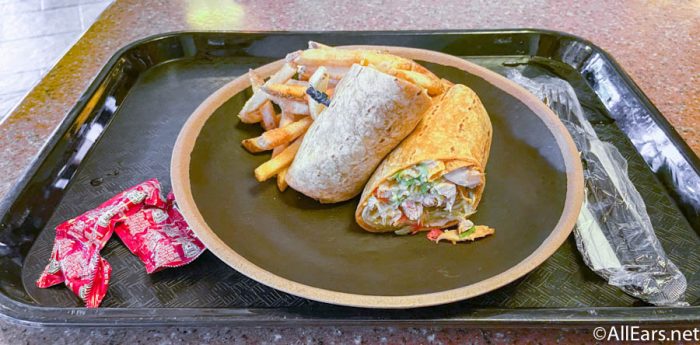 However, Mobile Order had some problems during Passholder Previews when we were there! The lines throughout the park were CRAZY long for places like The Three Broomsticks and The Leaky Cauldron.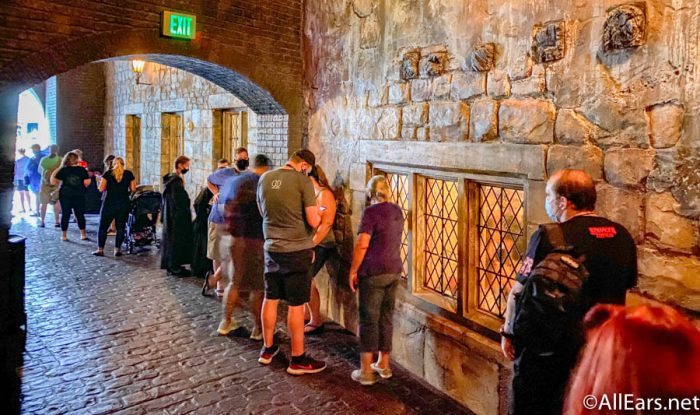 Guests were waiting 30 minutes just to make it inside the restaurant, whether they were eating there or picking their food up to-go. (Most seemed to be eating there which added to the wait.) Remember, there are limited tables for guests to comply with social distancing.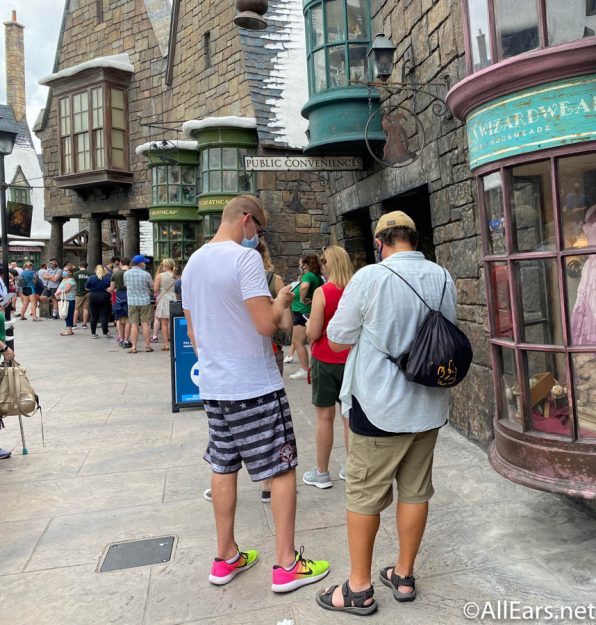 We also had a few problems using the Mobile Order feature on the app as well. When we tried to place our order at Thunder Falls, the app had trouble recognizing our location in the parks. Although it wouldn't let us order the first few times we tried, we were able to get it working eventually.
You can read more about the Mobile Order problems from today in Universal Orlando here!
For sit-down restaurants like Mythos, guests are brought to their table and given a one-time paper menu to use. Similar to what we saw at locations like Margaritaville at Universal's CityWalk, we also took our silverware from a tray brought over by our server, instead of them handing it to us directly.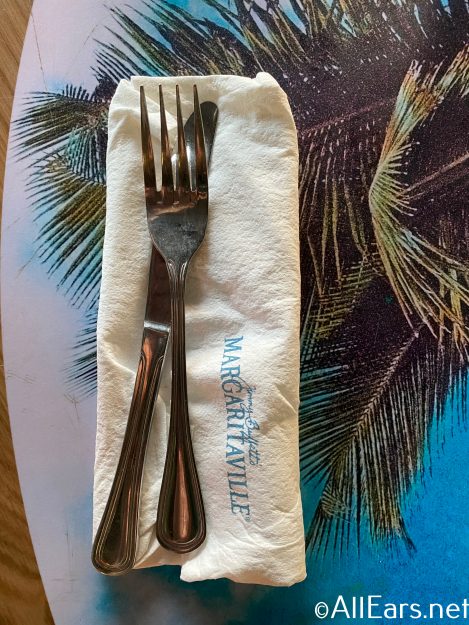 Shopping
A number of shops in Universal, particularly in the Wizarding World of Harry Potter sections, are rather small, so markers forming outside queues have been placed if shops reach capacity.
The stores are still selling face-coverings and hand-sanitizer for guests to purchase while they are in Universal Orlando.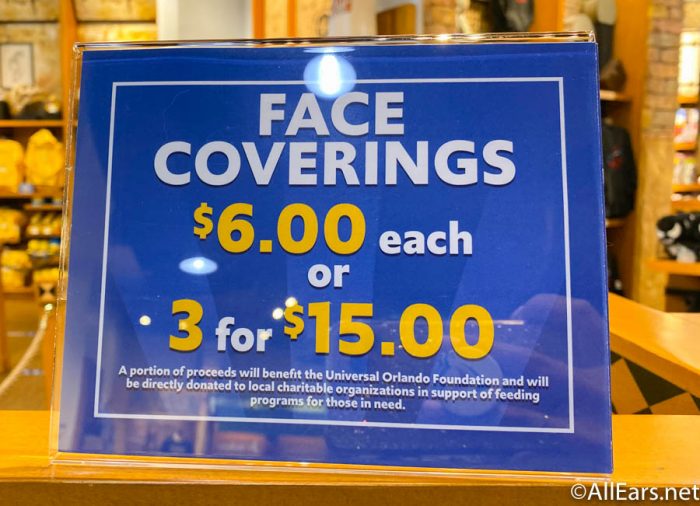 There are a few new face coverings that you can pick up for $6 each or 3 for $15…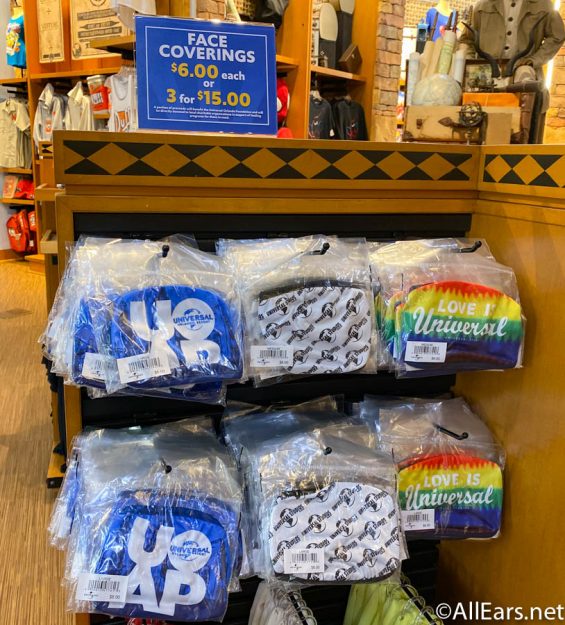 …or personal hand-sanitizer containers for $3 each!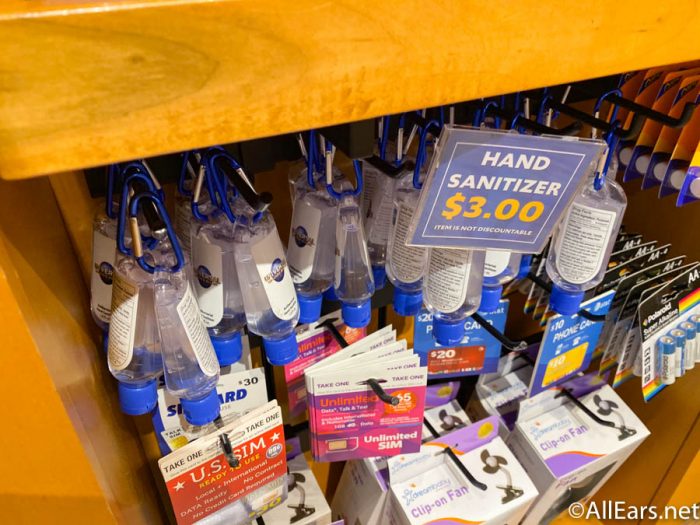 The check-out lines have distancing markers of six feet apart to keep guests safe as they wait.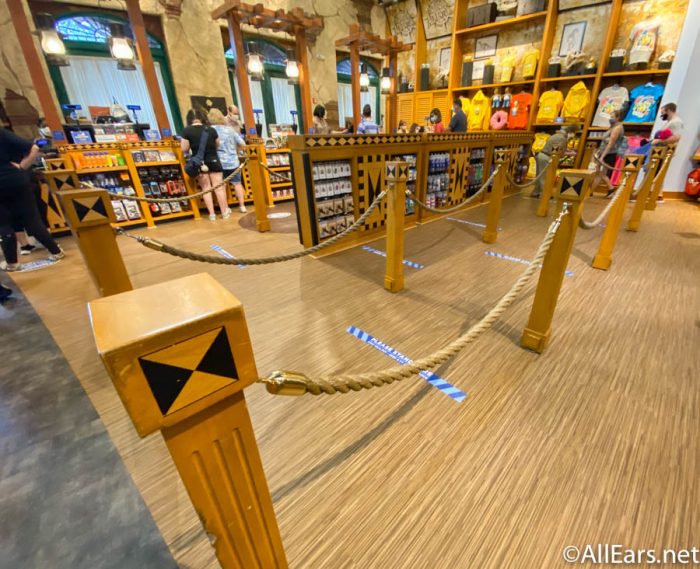 Honeydukes also has roped off its areas where you can make your own candy bag or build your own Bertie Botts box. However, a Cast Member is there to assist you, if you want to mix and match some flavors to take home.
Before you check-out, Honeydukes has designated waiting spots for each party to stand on before reaching the counter.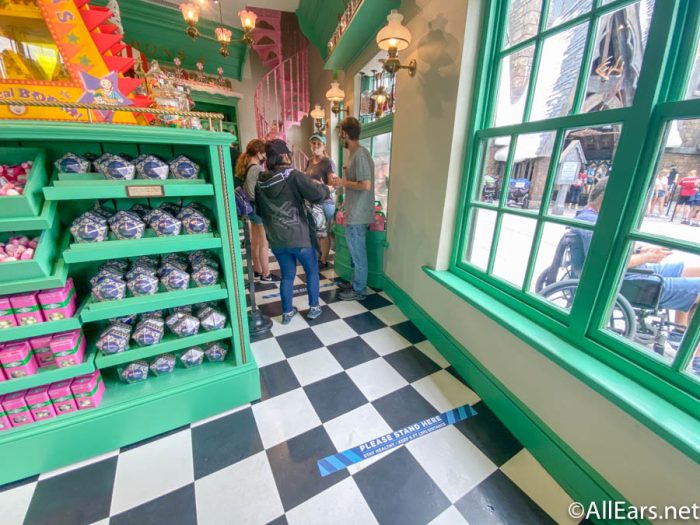 At this time, you can still purchase different treats from the bakery (so you can eat all the Pumpkin Pasties or Cauldron Cakes that your heart desires).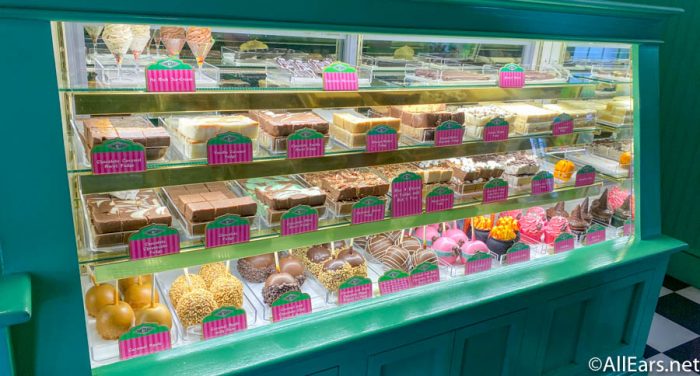 Honeydukes is also selling hand-sanitizer at its counters!
If you pop by stores featuring Harry Potter merchandise, you can also get a free Non-Interactive Wand when you spend $175!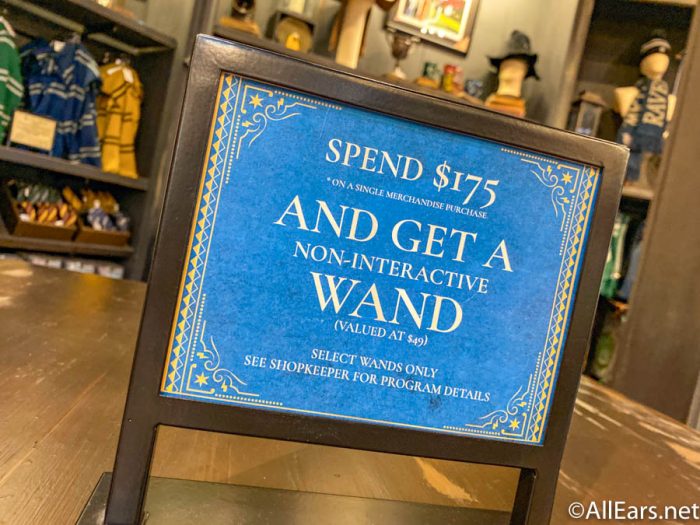 Crowd Levels
Throughout the parks, there are a few places that get a bit more crowded than others. Hogsmeade and Diagon Alley are two of the places to keep in mind for crowds when you're visiting Universal Orlando. However, the farther back into the area you go, the less crowded it becomes (in our experience).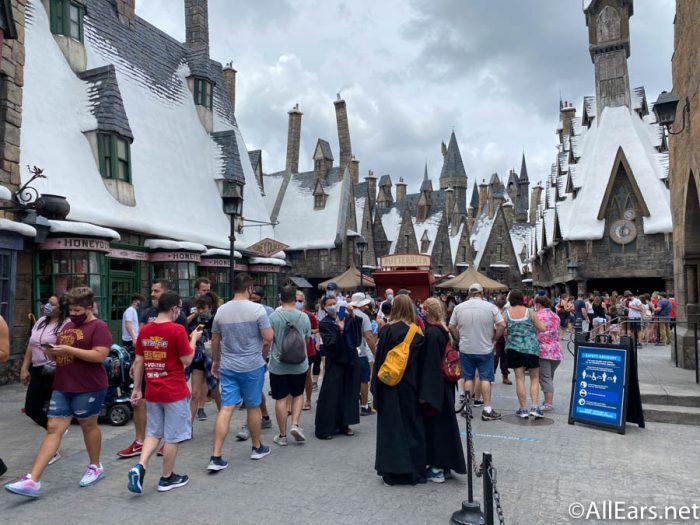 The Three Broomsticks happened to have a huge line that wrapped around different buildings. Cast Members asked that guests placed a Mobile Order before getting in line to speed up the process.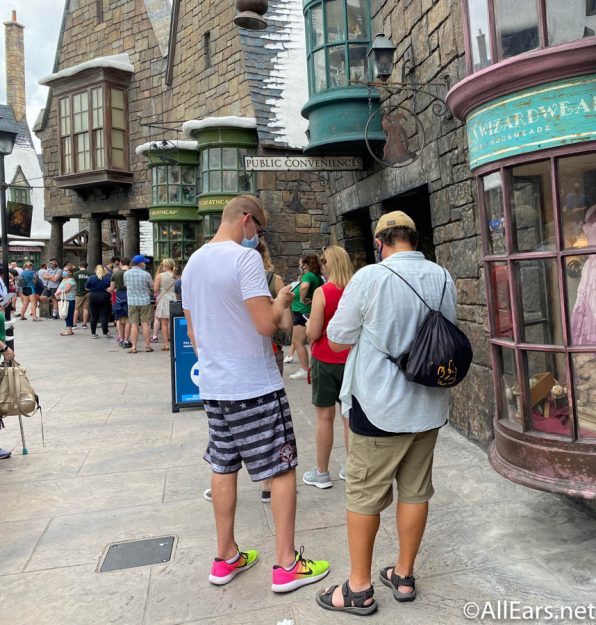 Attractions like Hagrid's Magical Creatures Motorbike Adventure happened to be very popular with virtual queues (no surprise) and took us about 30 minutes to board…
…while the Hogwarts Express had a 55-minute wait at one point to board. However, Cast Members will let you know how long the line is before you scan your ticket to enter the queue.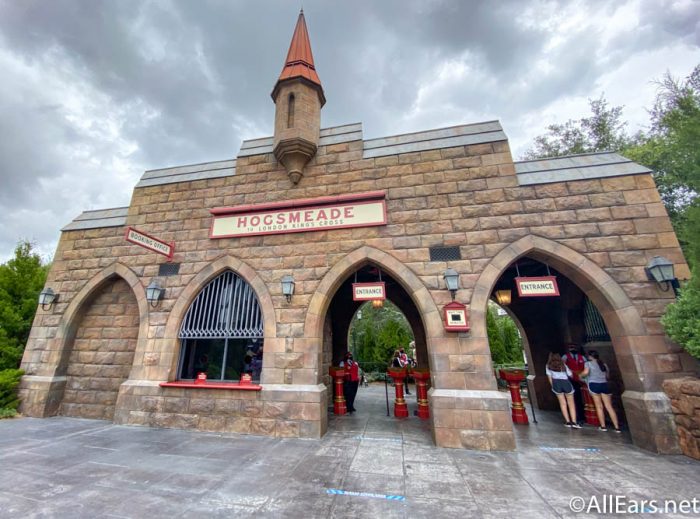 However, there are multiple places around the parks that are a lot less crowded with less guests and smaller wait times.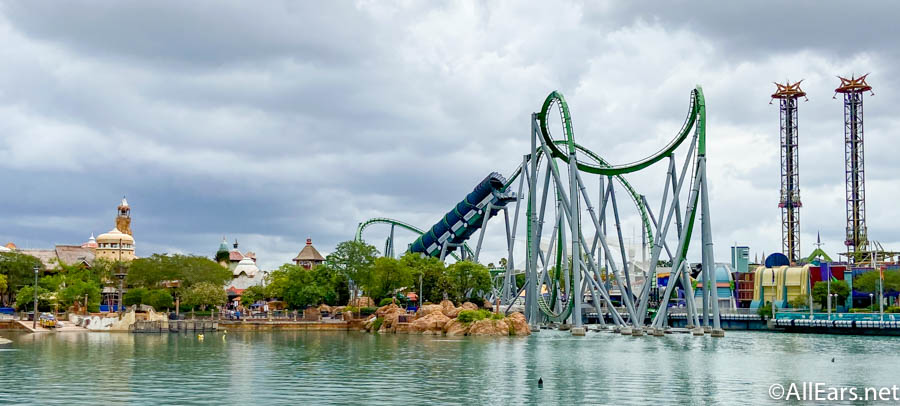 URest Locations
Universal Orlando has implemented URest locations in the park where guests can take off their masks for a moment. Everyone is encouraged to maintain social distancing while they are around other guests.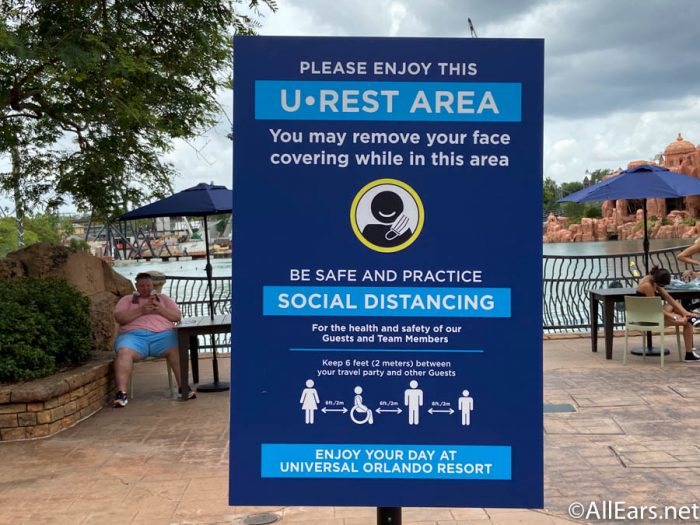 You can find URest spots in these locations:
In Universal Studios:
At the Central Park Lagoon area
Near Fear Factor
In Islands of Adventure:
At the Port of Entry Landing
At The Eighth Voyage of Sinbad Stunt Show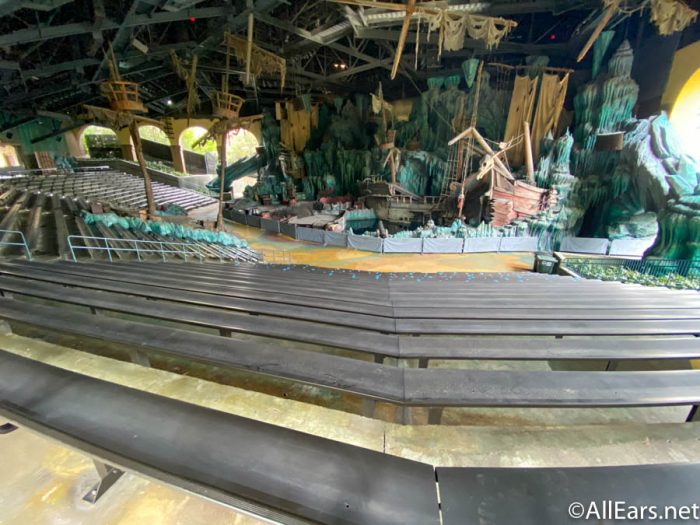 We will continue updating this post throughout the day, so stay tuned as we bring you more from the first day of the Passholder soft reopening at Universal Studios!
Will you be visiting Universal Studios now that it's reopening?  Let us know in the comments.
Join the AllEars.net Newsletter to stay on top of ALL the breaking Disney News! You'll also get access to AllEars tips, reviews, trivia, and MORE! Click here to Subscribe!