There are dozens of dining options at Walt Disney World, so it's easy to get overwhelmed!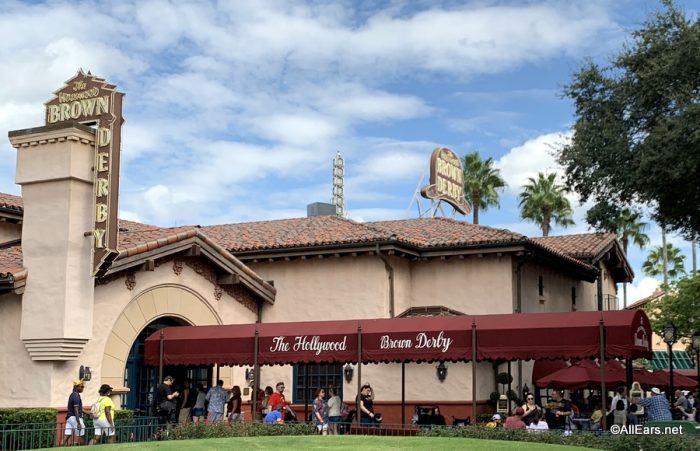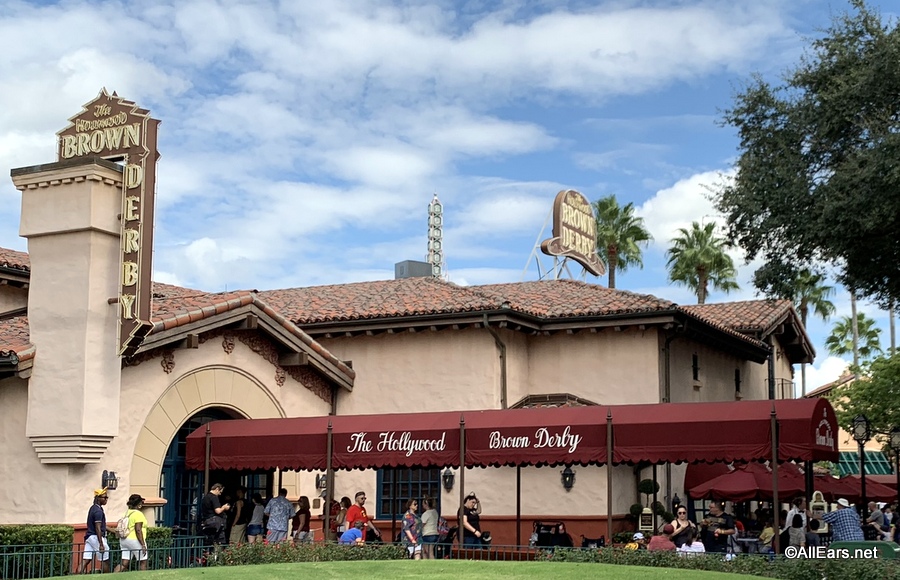 If you're planning a Disney trip, you may be trying to figure out which Table Service spots are worth a reservation and which can be skipped. We've got you covered!
We're ranking all the Table Service restaurants in the parks, according to YOUR reviews. Let's get started!
Magic Kingdom
Our readers' last-place pick for Magic Kingdom Table Service restaurants was the Diamond Horseshoe. There were only 13 reviews, so you may need to take this spot's 6.54/10 score with a grain of salt.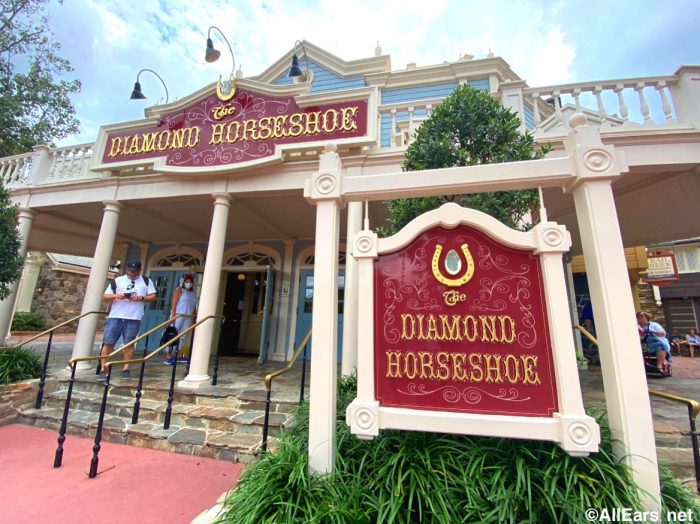 This Old West-style "saloon" serves casual American fare, including some sandwiches and platters.
Coming in 7th place was Tony's Town Square, located right at the park entrance. Although the theming is well-thought-out — guests step straight into Lady and the Tramp — our readers thought the food left something to be desired.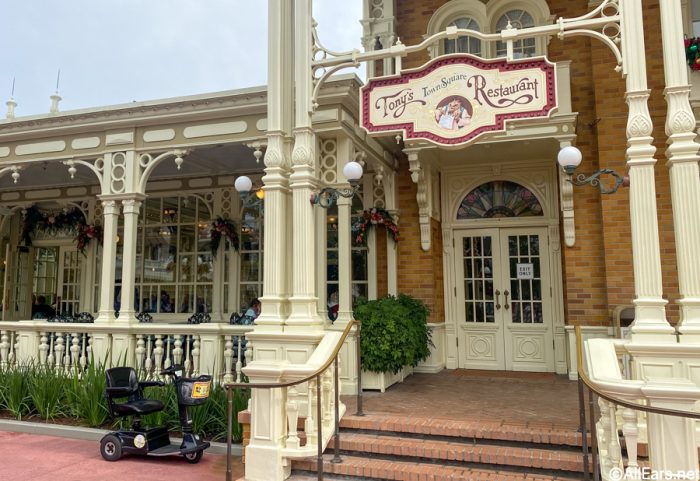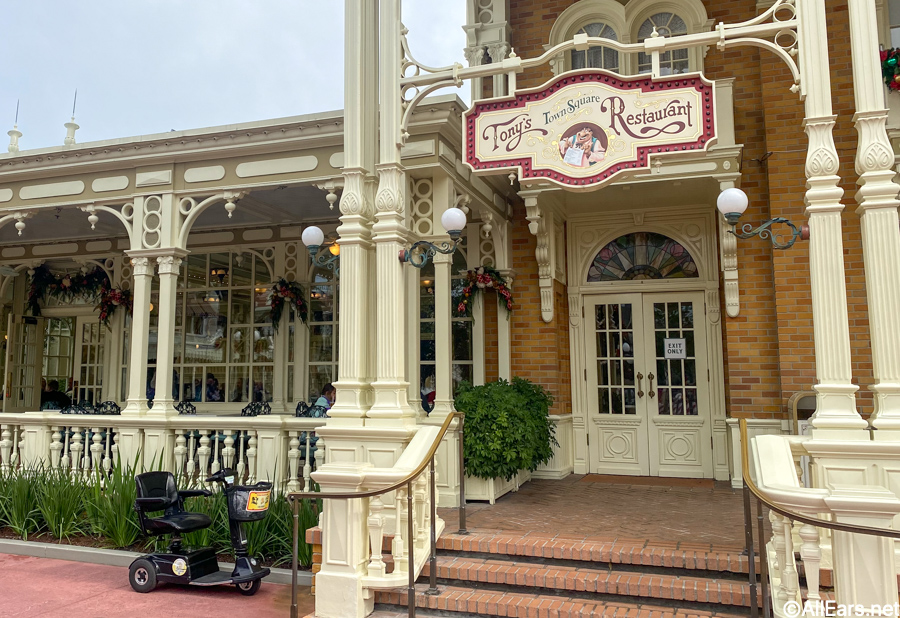 In fact, it only received a rating of 7.06/10! You may want to pick another spot for your Italian cuisine (like maybe Topolino's Terrace or Trattoria al Forno).
In 6th place was Crystal Palace, which was rated a 7.45/10. Out of over 90 reviews, about 80% of our readers still recommend this restaurant. This Victorian-style spot is usually a buffet/character meal combo (although it currently lacks the characters, which could contribute to the lower score).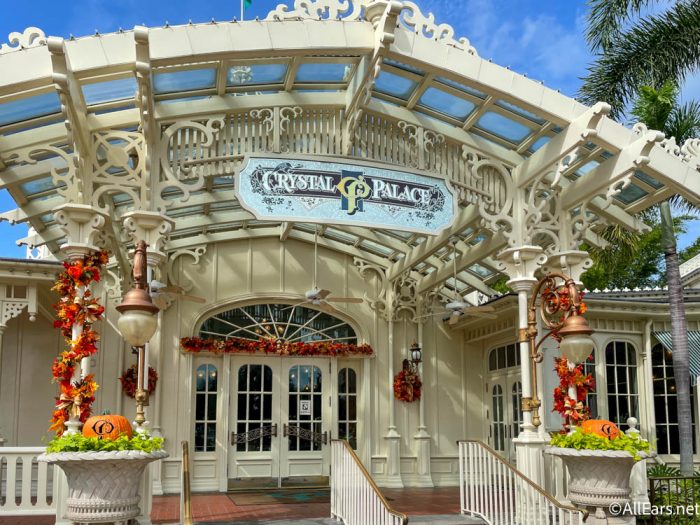 The breakfast was rated significantly higher than the lunch (in fact, 87% of our readers recommended that breakfast!), so if you do want to dine here, book your reservation earlier in the day.
This is one of the best-themed restaurants in Disney World; you get to dine inside the Beast's castle! And due to the immersive theming, those dinner reservations go fast. Both lunch and dinner are table service meals now, and this spot is serving a special prix fixe menu for Disney World's 50th Anniversary.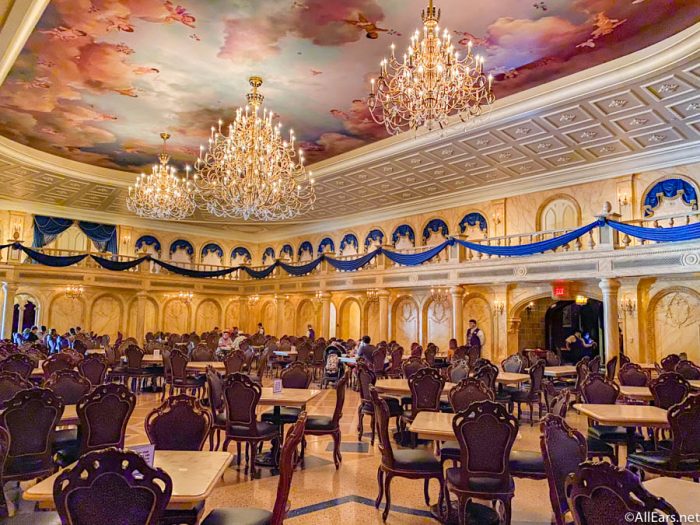 You'll dine on French-inspired classics in either the West Wing, the Ballroom, or the Rose Gallery. And while the restaurant as a whole was rated high, that Table Service dinner only received a 7.59/10.
With an overall rating of 7.6/10, the Plaza Restaurant falls into 4th place. If you've visited the Plaza Ice Cream Parlor around the corner, you may recognize the old-timey feel. You can find burgers, sandwiches, and (of course) ice cream here!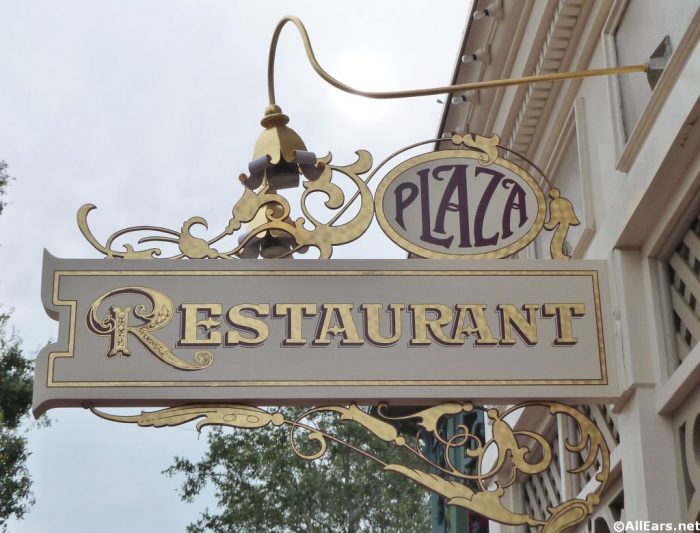 Our readers tend to agree that the dessert's the best thing on the menu here. But if that's all you're in the mood for, you can avoid making a reservation and just visit the Plaza Ice Cream Parlor instead!
And coming in 3rd place is Jungle Navigation Co., Ltd. Skipper Canteen, Magic Kingdom's newest Table Service restaurant! Apparently, this spot has made a great impression in a short time. The spot is staffed by Jungle Cruise skippers who will serve you "World Famous Jungle Cuisine." Spoiler: that includes Char Siu, Thai Noodles, and Falafel!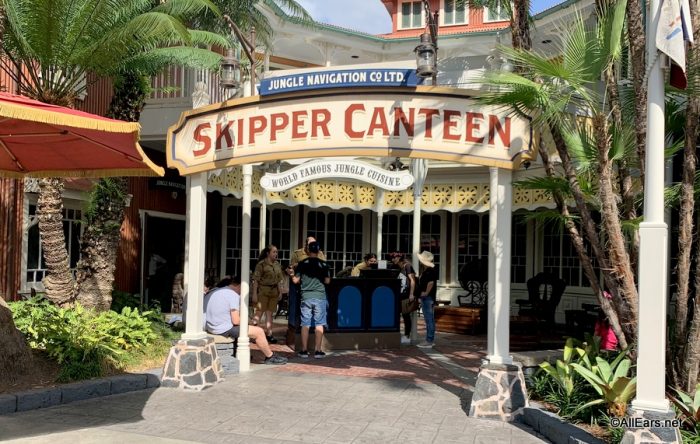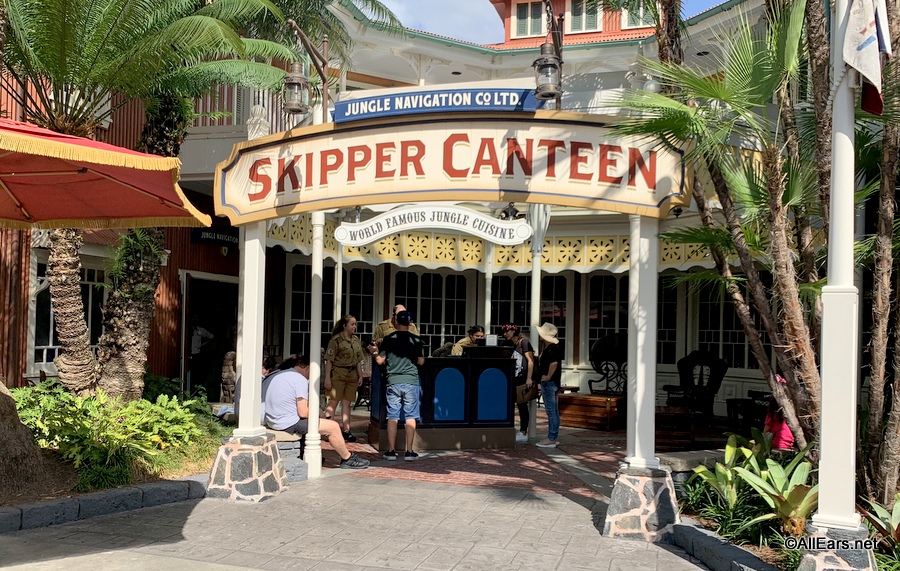 Jungle Skipper Canteen provides some variety to the other menus around Magic Kingdom, which typically offer American or Italian fare. And our readers enjoy it! It's rated a 7.84/10.
Next up, our readers ranked Cinderella's Royal Table as 2nd, with a 7.93/10! There's no denying the appeal of this Table Service spot: you can dine inside Cinderella Castle with a view of Fantasyland below.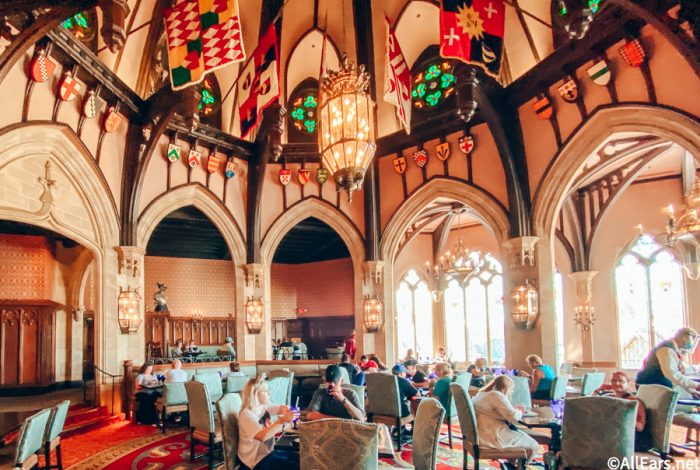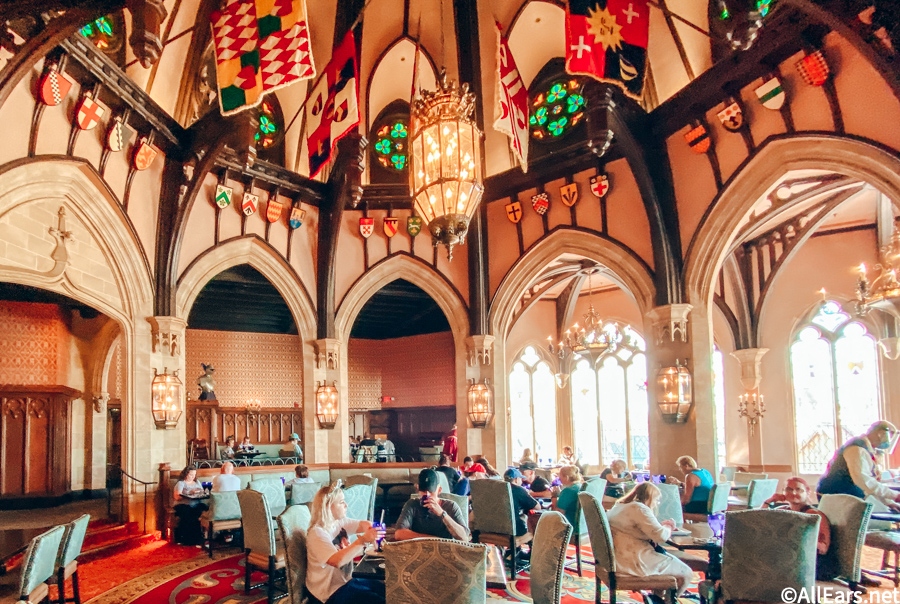 Typically, Disney princesses will interact with you as you dine, but that's been suspended, and Cinderella currently greets guests as they enter the restaurant instead. Keep in mind that this restaurant is pretty pricey — especially without the meet-and-greet aspect — but it may be worth it if you're looking for a memorable meal.
Our readers' top pick for Magic Kingdom Table Service restaurant is Liberty Tree Tavern! With a rating of 8.15/10, this spot took the first prize.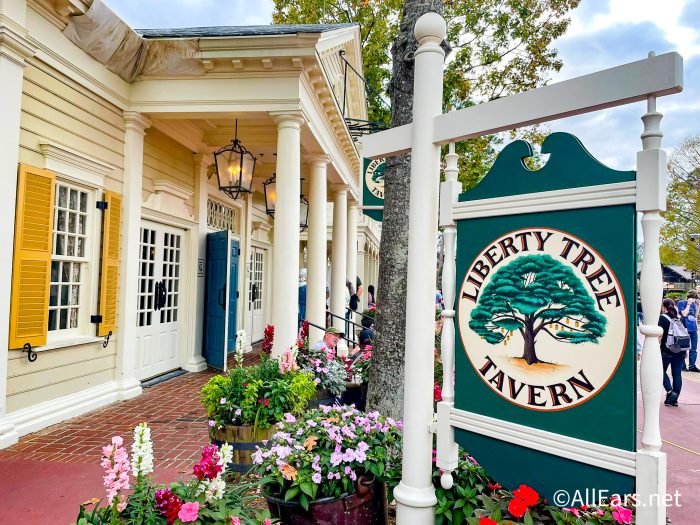 This restaurant serves Thanksgiving food like turkey, mashed potatoes, stuffing, and more in an all-you-care-to-enjoy style. The Ooey Gooey Toffee Cake for dessert is not to be ignored!
EPCOT
Honorable Mentions:
A couple of newer restaurants in this park didn't have enough reader reviews to give them a solid ranking yet, but we wanted to mention them here so that you know they're options!
La Crêperie de Paris has both sweet and savory crêpes in a variety of flavors.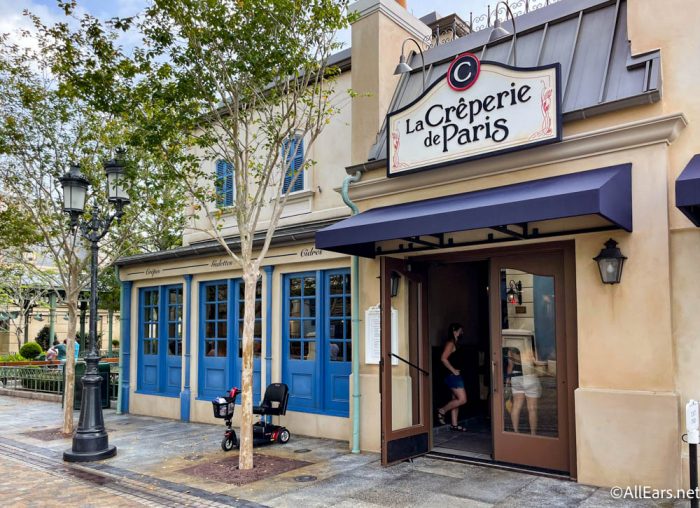 The prix fixe option is a pretty good deal here, as you get an appetizer, one savory crêpe, one sweet crêpe, and a drink (including alcohol).
Space 220 is another new spot, this one located in World Discovery. The restaurant takes you "220 miles above the earth" to dine in a space station!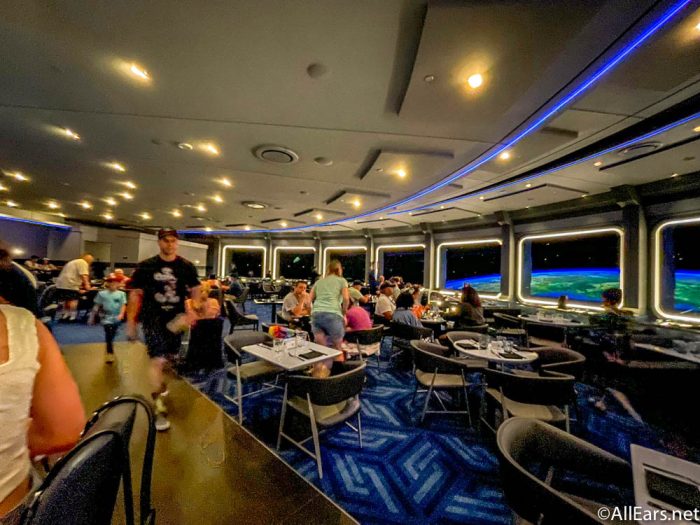 The only option at the restaurant portion of this spot is a prix fixe menu, which is pretty expensive. But you can opt to make reservations at the Lounge instead, which has some a la carte small plates. Either way, the most impressive part of this spot is the experience and atmosphere.
Nine Dragons in the China Pavilion scored a 6.93/10, putting it at the bottom of our EPCOT list. It serves Chinese fare from various regions of the country.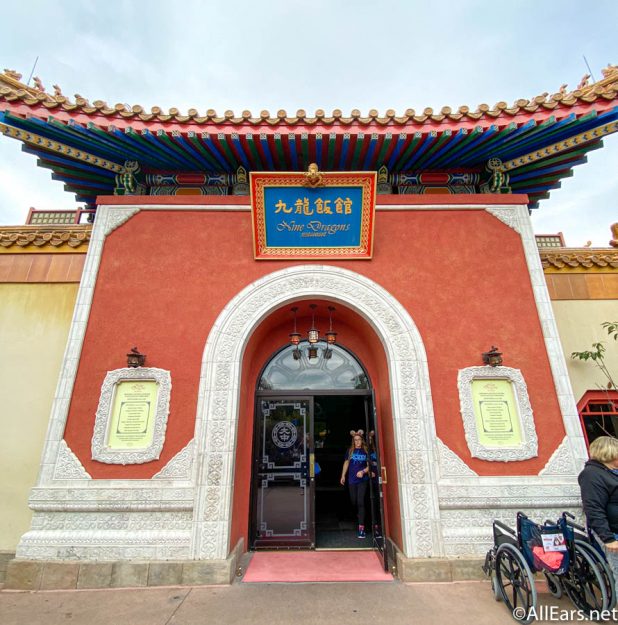 Our readers enjoyed the food but noted that it tasted much like something you could get at your local Chinese restaurant. If you're looking for a truly unique dining experience at EPCOT, you may want to pick somewhere else.
At Coral Reef, guests can dine with a nearly floor-to-ceiling view of the Seas aquarium, giving them the chance to spot sharks, turtles, and more while they eat. But our readers weren't big fans of the food, rating it just above Nine Dragons with a 7.08/10.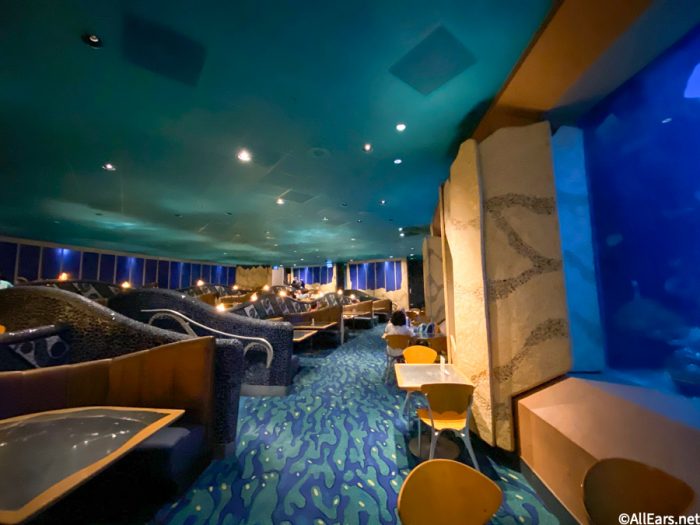 The theming is fun — you may even spot some scuba divers! — but the food was not our readers' favorites. Plus, the fish-centric menu makes dining here tricky for picky eaters.
La Hacienda de San Angel is one of two Table Service options in the Mexico Pavilion. It has a beautiful water view and serves up roasted meats, chicken, and seafood. Our readers rated this one a 7.13/10.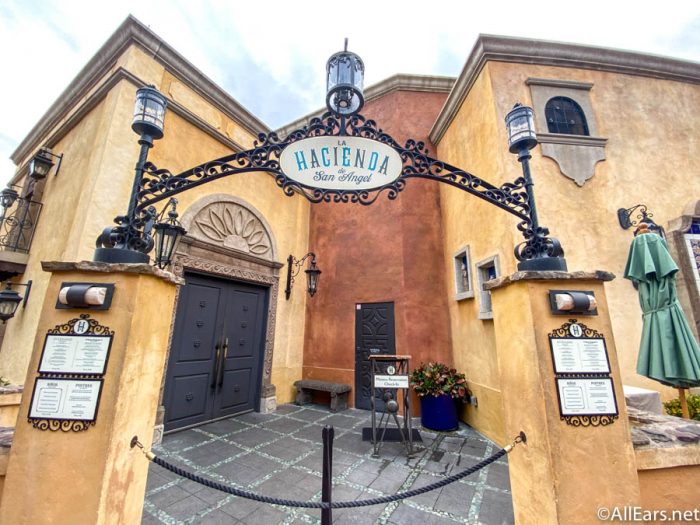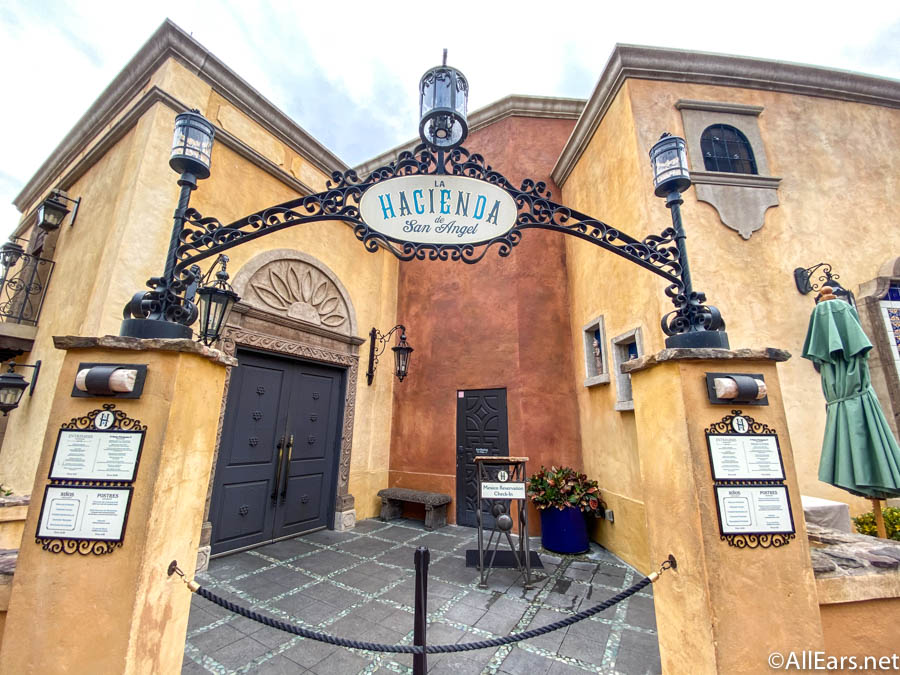 Readers note that when fireworks are available in EPCOT, this restaurant offers a great view. And the food tends to be high-quality, leaning more toward authentic Mexican cuisine recently. However, this spot just isn't a standout.
This steakhouse in the Canada Pavilion serves up Canadian food and featured wines from all around the country. And while it's an incredibly popular Table Service spot — making reservations hard to snag — it only got a 7.42/10 from our readers.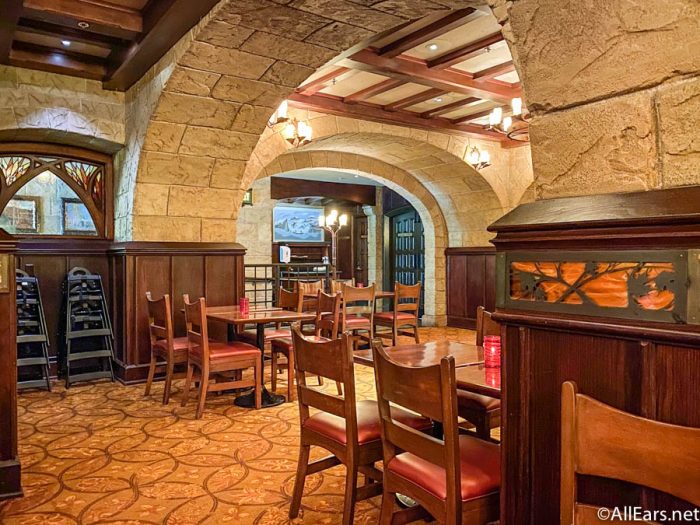 The steak tends to get great reviews here — as one would hope for a steakhouse — but it's quite expensive, and readers warn against the atmosphere. It can be loud and crowded, and there are few windows to open up the space.
Takumi-Tei in the Japan pavilion features a restaurant inspired by traditional Japanese cuisine, including an authentic tea service.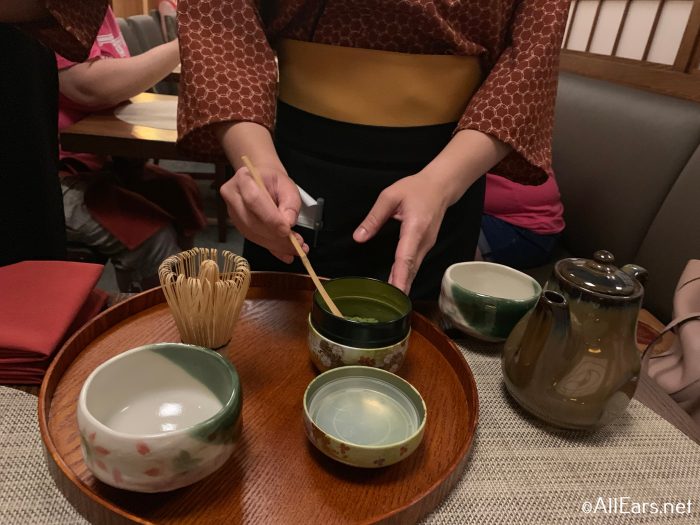 The higher prices mean not all readers were entirely happy with their experience, but most reviews say that the food was delicious and high-quality.
Note that Restaurant Marrakesh is not currently open, at time of writing.
Restaurant Marrakesh has a unique feature: live entertainment! Typically, musicians and a belly dancer will perform during lunch and dinner. The adventurous menu may be a stretch for some, but overall, our readers had great things to say about it.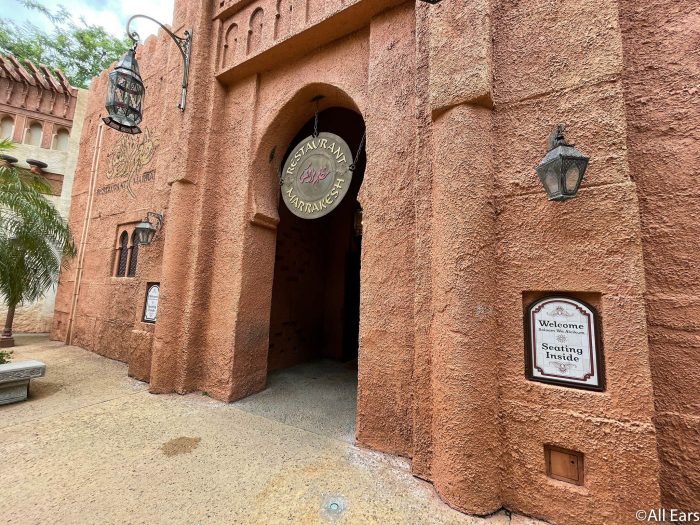 A few noted — somewhat surprisingly — that the food tasted a little bland. Also note that these tables are pretty close together. Overall, it got a rating of 7.5/10!
Tutto Italia was ranked at #12 with 7.67/10. You can find all your standard Italian fare here, like lasagna, cannolis, and spaghetti.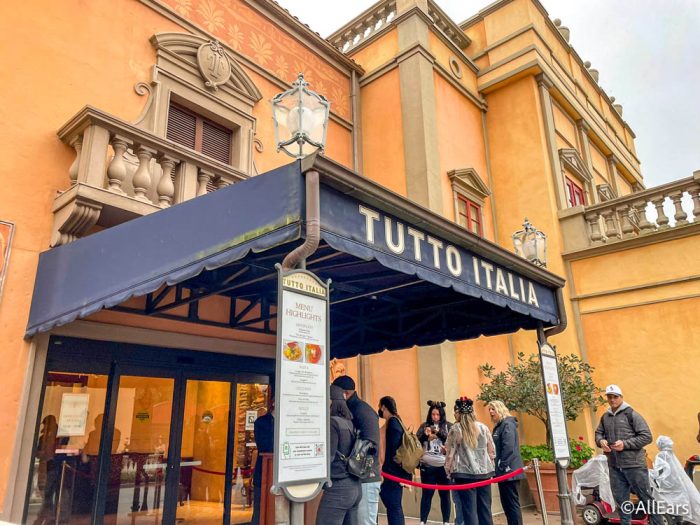 Our readers prefer Via Napoli, the Italy Pavilion's other Table Service restaurant, noting that Tutto Italia's food is pretty basic. But if you're looking for easy — albeit a bit overpriced — Italian, this may be a safe choice.
Tokyo Dining almost broke the top 10 with a rating of 7.86/10. 86% of our readers recommended this spot, which offers traditional Japanese cuisine.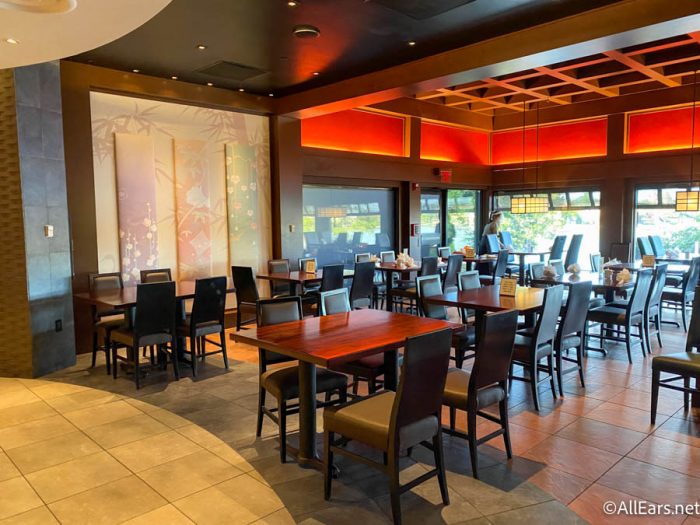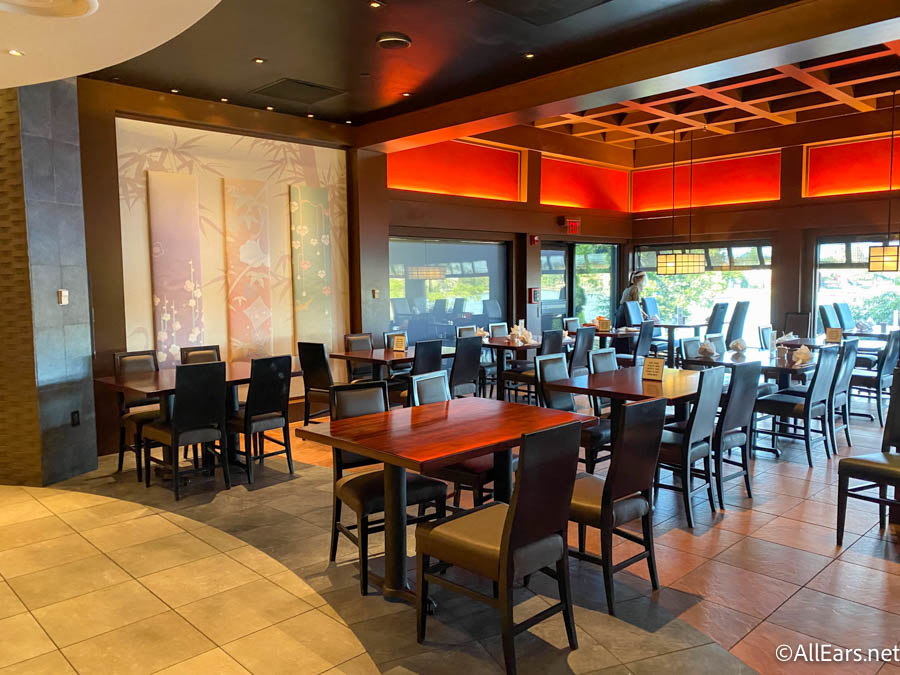 You can find tempura, fresh fish, bento box, and vegetable offerings, along with a special sushi menu.
San Angel Inn is the second Table Service spot in EPCOT's Mexico Pavilion. Here, you'll be able to dine inside the pavilion's iconic pyramid. You'll have a view of a smoldering pyramid and the boats from the Gran Fiesta Tour.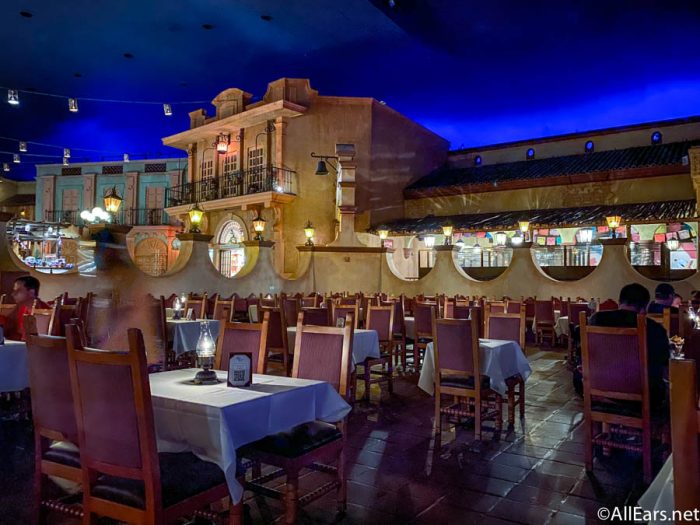 So how does this restaurant compare to La Hacienda de San Angel? Our readers rated San Angel Inn a 7.87/10, citing the amazing atmosphere. And although it's pretty dark in here, readers love feeling like they're in a marketplace at night no matter the time of day.
Biergarten Restaurant is in the Germany pavilion and has a boisterous buffet for lunch and dinner. You'll munch on pretzel rolls and sausages before finishing up your meal with a dessert like apple strudel or cheesecake.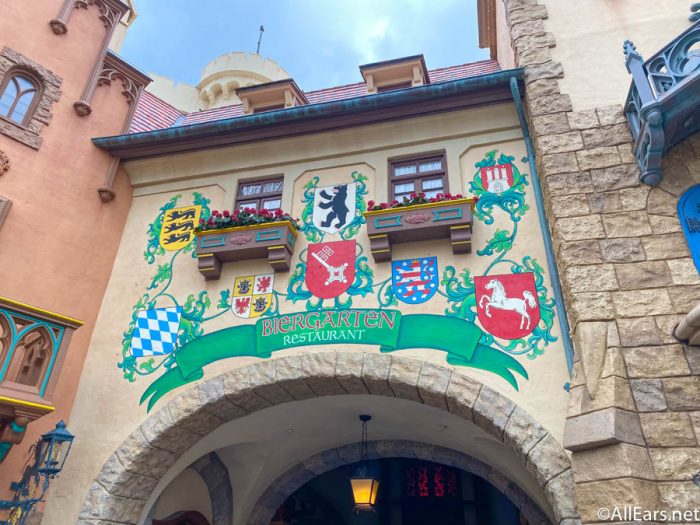 Our readers rated this one a 7.98/10 — they loved the authentic food and live polka band. But you may be seated with random families on the long tables, so if you're trying to enjoy a quieter, private dinner, this may not be the place!
Rose and Crown Dining Room and its adjacent pub are a popular choice for our readers! You can choose to eat inside or outside, chowing down on British classics like Fish and Chips or Bangers and Mash.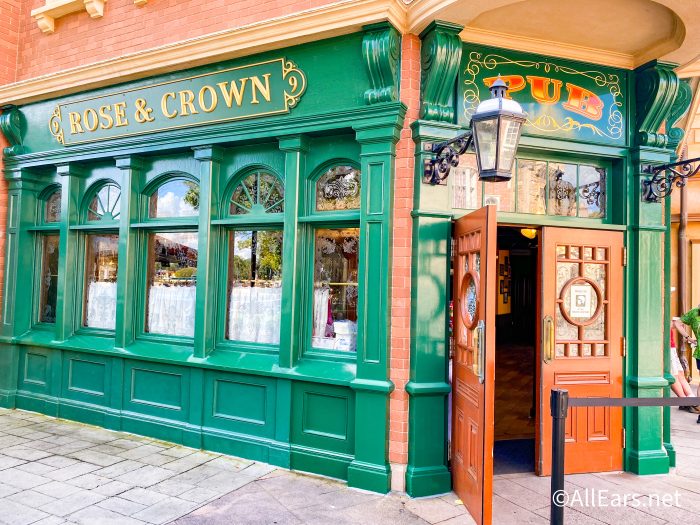 This spot scored an 8.01/10, barely inching ahead of Biergarten with 87% of readers recommending it. You'll be sure to find some hearty, tasty dishes here. You can snag a view of the fireworks here as well.
Les Chefs de France managed that #7 spot with a rating of 8.03/10! With a smaller percentage of readers recommending this spot compared with Akershus (which also got 8.03/10), we gave Akershus the advantage. Chefs de France is full-service French dining, and it'll be one of the pricier Table Service restaurants at EPCOT. You can order the prix fixe menu or dine a la carte.
You'll eat in a beautiful atmosphere with a chance to try authentic French cuisine. Just keep in mind that many of our readers mentioned the food lacked flavor. It also may not be the best place to eat with kids, due to the restaurant's more upscale nature.
Note that Akershus Royal Banquet Hall is not currently open, at time of writing.
Once upon a time, this location offered character dining with the princesses — now, it's closed. But when the restaurant is open, you can eat in a royal setting: a replica of the actual Akershus Palace in Norway!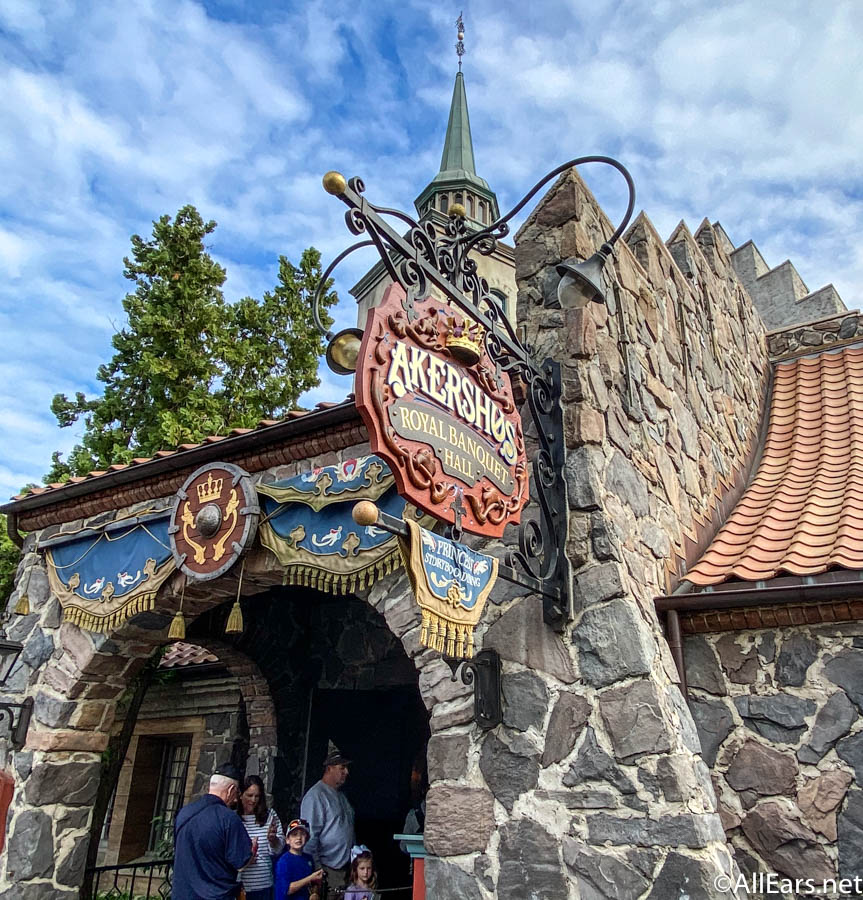 Our readers gave this one an 8.03/10. The breakfast scored a whole point higher than the lunch and dinner — you'll be able to try Norwegian specialties, or you can stick with the simple buffet breakfast.
And EPCOT's second Table Service spot in the Italy pavilion takes 5th place! Via Napoli has famously authentic pizza from wood-fired ovens, plus other classics like spaghetti and tortellini. Our readers rated it an 8.04/10.
The pizza gets incredible reviews, and it's a must-eat for many. However, readers mentioned the restaurant can get pretty loud. If you want to try the pizza without making a reservation, try the walk-up window at the front of the building!
Note that Monsieur Paul is currently closed, at time of writing.
Monsieur Paul is the upscale version of Les Chefs de France, and it's located above that restaurant in the France pavilion.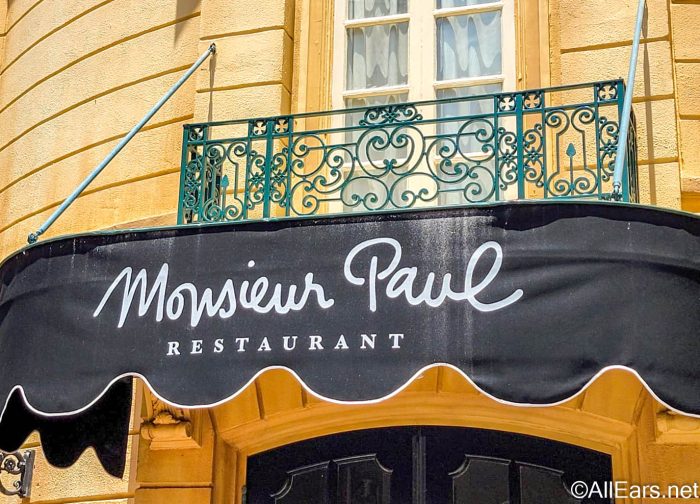 This spot has classic French cuisine at prices that match the luxurious atmosphere. If you're looking for a fancier dinner to celebrate a special occasion, this might be the spot for it!
With a rating of 8.38/10, Spice Road Table takes 3rd place. It ranked much higher than the nearby Restaurant Marrakesh! You'll also find authentic Mediterranean cuisine here, which our readers prefer over Restaurant Marrakesh's dishes.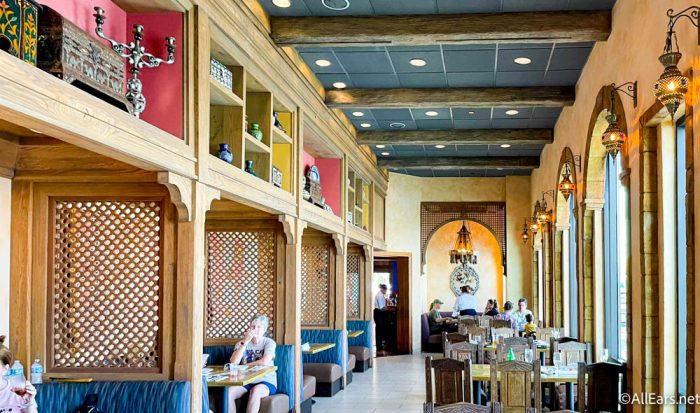 Your food options include small plates like naan spreads, lamb kefta, and hummus fries, all of which readers noted taste light and make for a great quick meal. There's also an outdoor dining area for a change in atmosphere!
Coming in second place in EPCOT is Teppan Edo! This restaurant is located in EPCOT's Japan Pavilion, and (predictably) serves up an authentic Japanese Teppan Grill experience. Parties are seated in groups of 8, so there is a chance you will dine with strangers.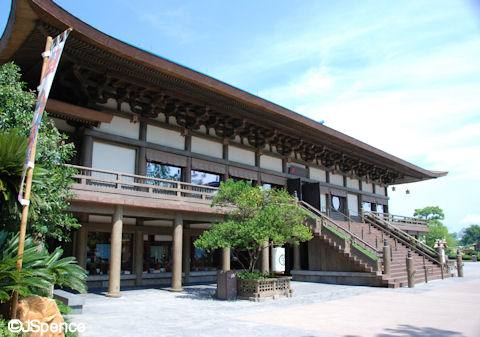 Our readers love this spot, rating it an 8.68/10! A theatrical chef will prepare your food right in front of you, so you'll get dinner and a show. The food gets great reviews, too; you can try edamame, sushi, steak, and more.
Garden Grill in Future World takes first place in EPCOT — and has one of the highest reader ratings of any Disney World restaurant.  This character dining experience rotates slowly so you can watch different scenes from the Living with the Land attraction while you eat. And about those characters — you can meet Chip 'n' Dale, Farmer Mickey, Pluto, and more here!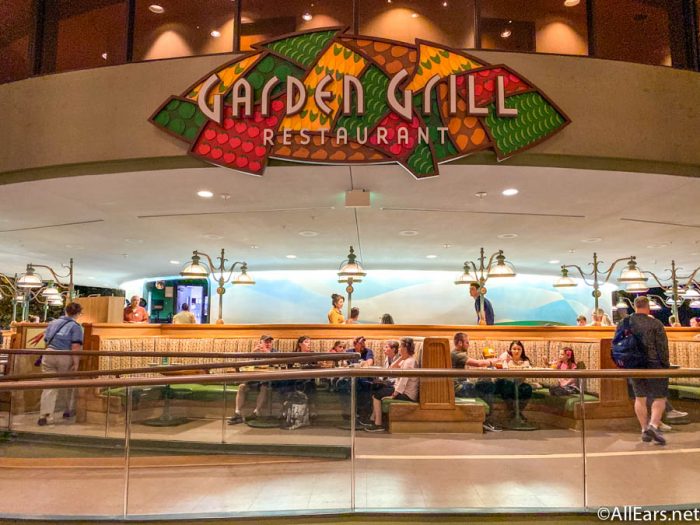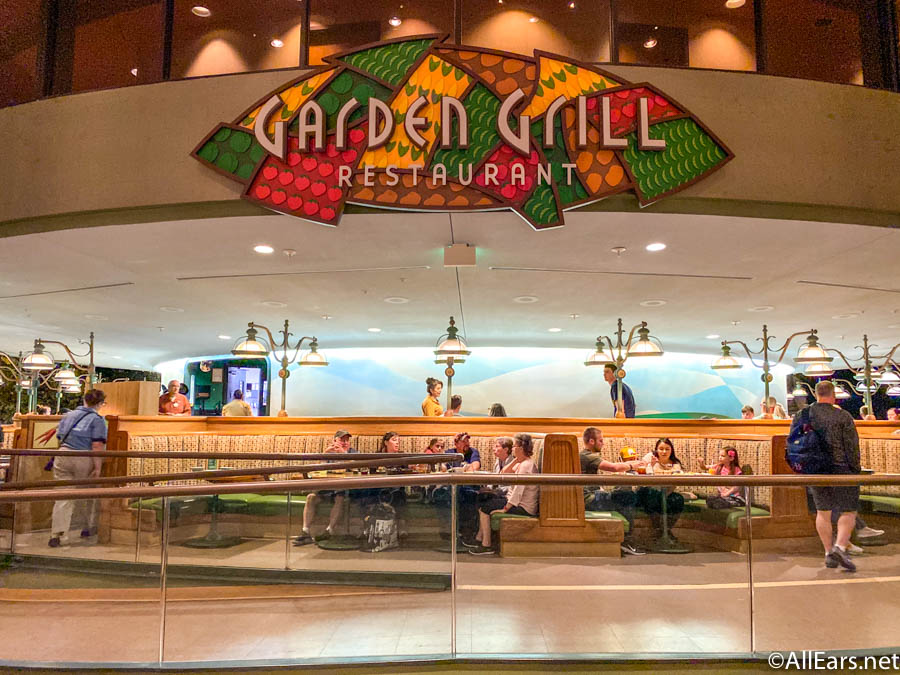 Our readers rated this one an 8.84/10. The meals are family-style with classic American dishes. A few did note that those who get motion sick easily may have a little trouble with the spinning.
Disney's Hollywood Studios
Although it comes in last place, we have to admit that the theming at Sci-Fi Dine-In Theater is top-notch! Guests sit in vintage cars in a drive-in setting, watching 1950s-era science fiction movies while they eat. With a rating of 7.3/10, our readers still really enjoy this spot.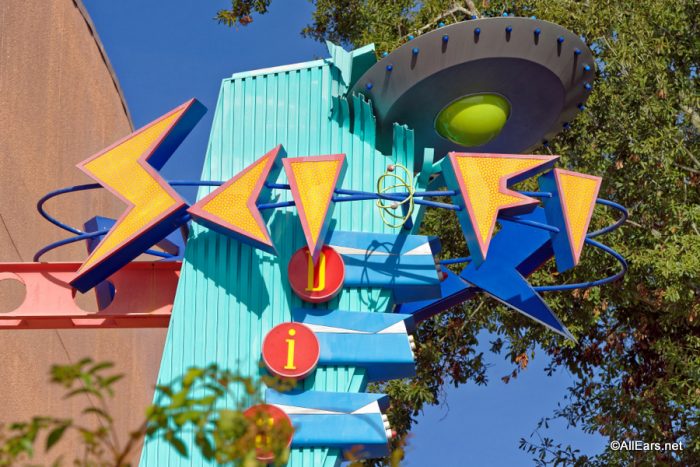 The super unique theming takes the majority of the credit for Sci-Fi Dine-In. While our readers called the milkshakes a "must," the rest of the food is just decent. Expect typical chicken strips and burgers here.
Coming in with 7.44/10 is Hollywood and Vine! The breakfast has a significantly higher rating at 8.09/10 — it's a Disney Junior Play 'n' Dine character breakfast.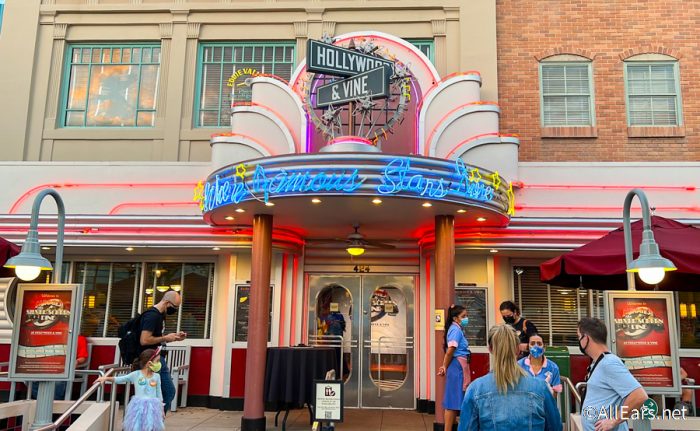 At lunch and dinner, you'll get to meet Mickey and the gang dressed in their seasonal outfits! Readers noted that the food wasn't the best, but if you're looking for a character meal, this is your only option in the park.
Mama Melrose's Ristorante Italiano ranks lower than both Italian restaurants in EPCOT, coming in at 7.4/10. You'll get your everyday pasta, pizzas, and gelato here — and our readers consider the prices decent for the larger portions.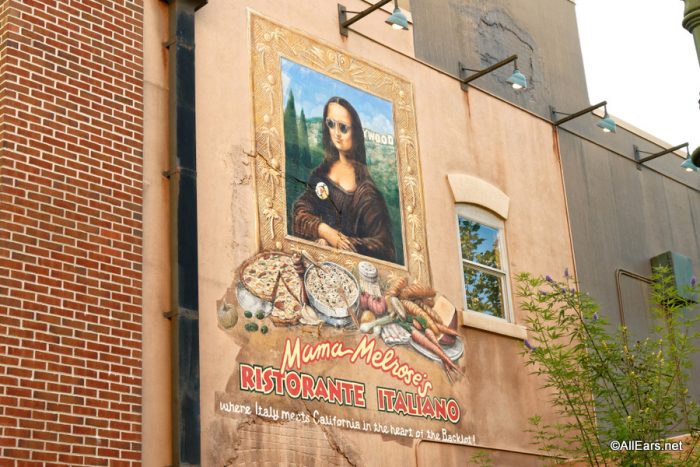 However, the food's nothing spectacular, and it definitely doesn't reach the same level of authenticity as Via Napoli in EPCOT. But if you're looking for something easy — or if you have picky eaters in your family — there's likely something for everyone.
You'll throw it back to the era of the silver screen at the Hollywood Brown Derby! The fare is classic American: filet mignon, a charcuterie board, and the famous Cobb salad.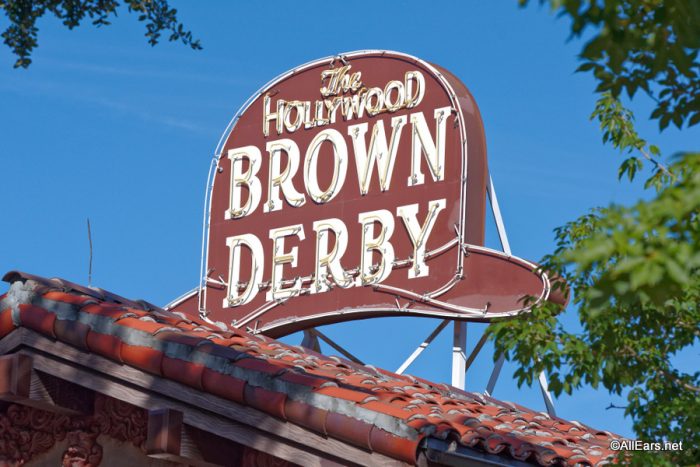 Our readers rated this Table Service spot a 7.8/10. And while they certainly enjoyed that Cobb salad, many noted that it was too pricey and a little boring for kids.
While the atmosphere at Sci-Fi Dine-In is great, '50s Prime Time Cafe just may have it beat. As soon as you walk in you're part of one big (usually) happy family: your server is your "cousin" and "mom and dad" are in the kitchen cooking your meal. Your server will encourage you to keep your elbows off the table and eat your veggies. And if you don't listen, you may be subject to an embarrassing but hilarious punishment.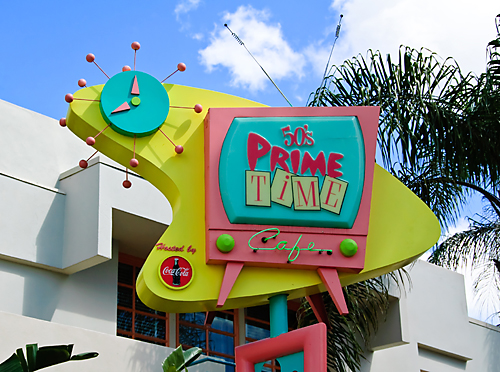 Our readers rated this restaurant an 8.27/10, and many have nostalgic memories of interactions with the servers. However, some thought the theming was a little too much, and they disliked being told what to do by strangers. It all depends on how immersive you want your dining experience to be!
Disney's Animal Kingdom
Rainforest Cafe ranked the lowest out of ALL the Table Service spots in Disney World parks, with a rating of 5.29/10. You'll get to eat among audio-animatronic rainforest animals, with jungle-like sounds and even occasional thunderstorms, but the food tends to get bad reviews.
There is a pretty big menu, and even the pickiest eaters are bound to find something they like. But according to our readers, the subpar food just doesn't justify the price. If you're in Animal Kingdom, you may want to eat somewhere else.
The other restaurants in Animal Kingdom are a huge leap ahead of Rainforest Cafe. In 3rd place, Yak and Yeti was rated an 8.45/10 by our readers. And even though both this spot and Rainforest Cafe are operated by the same company — Landry's — Yak and Yeti's offerings are much stronger.
The Pan-Asian cuisine features wok, noodles, and specialty items. Our readers commented that the portions are huge and the menus have a wide variety. The restaurant is also especially accommodating towards allergies.
Where Yak and Yeti features Pan-Asian cuisine, Tusker House serves up African dishes. The buffet is set up as a marketplace, and you can meet Mickey, Minnie, Donald, Daisy, and Goofy while you eat. They're all decked out in safari outfits!
Tusker House rated an 8.59/10 and takes second place for Animal Kingdom! Just keep in mind that the African flavors may not be for picky eaters.
Tiffins is a relatively new Table Service spot that celebrates the art of traveling! The diverse menu takes inspiration from places all around the globe, many of which are present throughout the park. You can enjoy anything from lobster mac and cheese to Fattoush salad!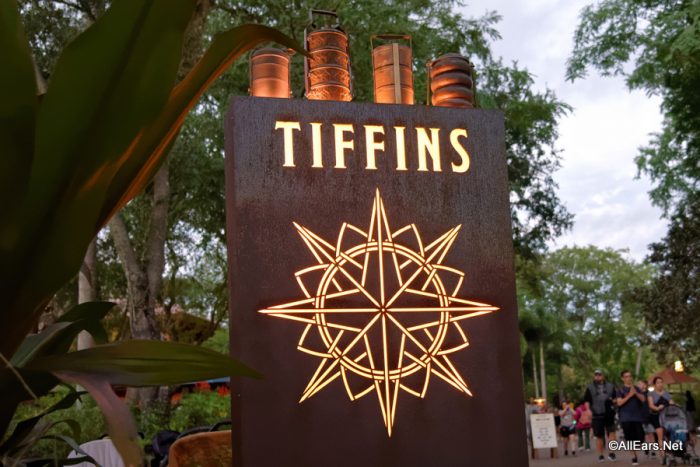 Our readers love the atmosphere and food (hence the 1st place spot), but the primary complaint is the price. One reader mentioned that Tiffins is expensive "even for Disney standards." If you make a reservation here, be prepared for a hefty bill.
Well, that's every Disney Table Service restaurant ranked, according to YOU! Do you agree with these ratings? Let us know!
What's your favorite Table Service restaurant in Disney World? Let us know in the comments!