Hi all,
Before I discuss La Hacienda, I need to let you know of a change in the way you will be posting comments. Because we have been getting a lot of junk email, we have had to implement a new procedure. After sharing your thoughts, there is one more box that needs to be completed before you press "Post." At the moment, you need to write the word "blog" (without quotes) in this field (this word could change periodically). This will let the computer know that a real person is writing us and not some automated program that generates spam. If you don't complete this field correctly, your comment will end up in a "junk" folder.
Thanks for your help and understanding.
Jack
If you've visited Epcot during the last year, you may have noticed that the counter service restaurant in the Mexico Pavilion (Cantina de San Angel) has been surrounded by decorative plywood while this establishment underwent a transformation. Construction is now complete and today, September 16, 2010, two restaurants now stand were there was once just one. A newly designed La Cantina de San Angel will continue to serve counter service meals and a new La Hacienda will offer table service dinners starting each evening at 4pm.
The entrance to La Cantina is located near the bridge that brings guests into the Mexico Pavilion. Just inside are five windows where you can place your order. Although the menu is new, it still offers some of your favorites like Tacos de Carne, Nachos, and Empanadas de Queso. Three varieties of Margaritas and Dos Equis beer can also be purchased here. To see the complete menu, click here.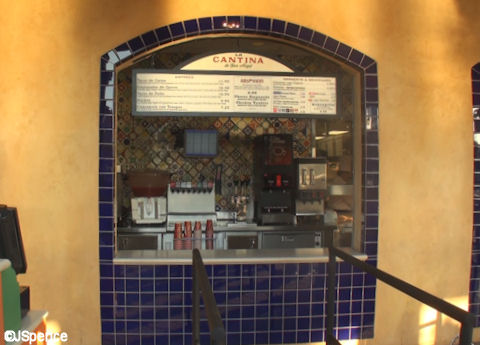 The outside seating area takes advantage of the view of World Showcase and a breeze from the water is refreshing. La Cantina can accommodate 150 guests. However, from 11am until 3ish, guests can also sit in air-conditioned comfort inside the adjacent La Hacienda. The following pictures are of La Cantina only.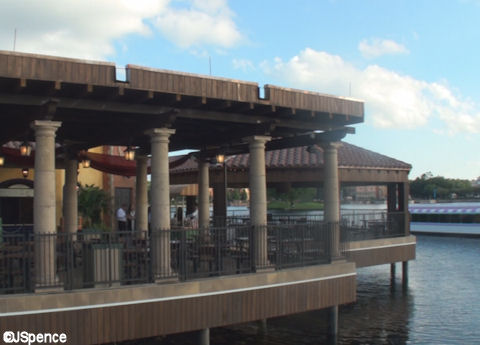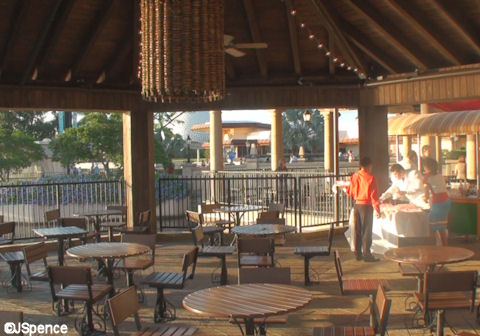 But the real excitement comes with the opening of La Hacienda de San Angel. This 250 seat table service restaurant will open each evening at 4pm. Designed to resemble different living areas of a hacienda, one room creates the feel of a living room while others capture the charm of a grand salon, pantry, and artist's studio. Original pieces of art adorn each room and unique chandeliers hang from the ceiling. The entrance is located across from the pyramid.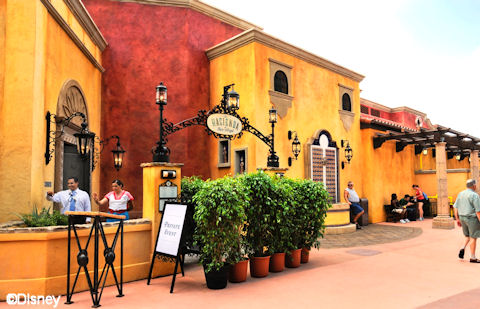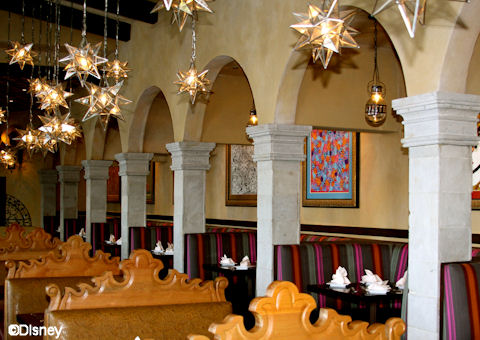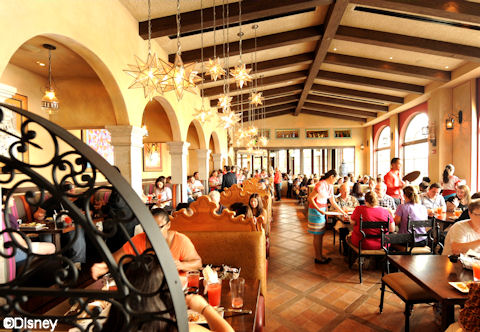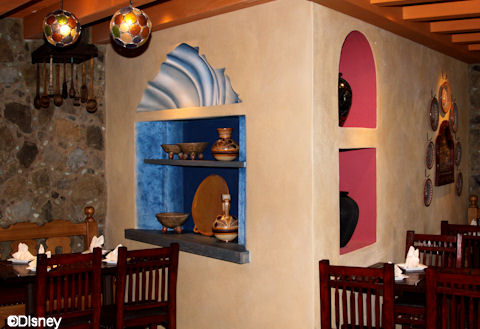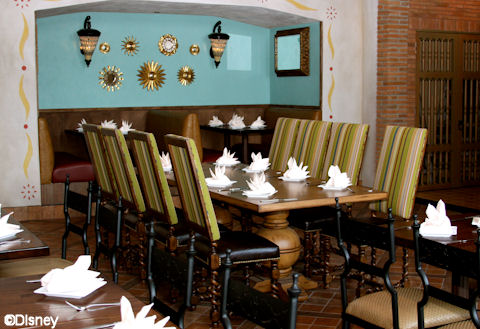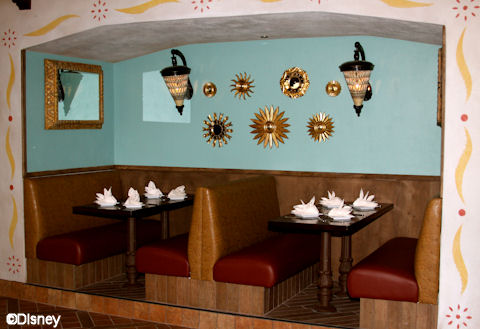 The restaurant is beautiful and that in and of itself is worth a visit. But many will want to plan their meal here to coincide with the presentation of IllumiNations. The Imagineers knew this so they designed large and tall windows to give everyone in the restaurant a great view of this nightly spectacular.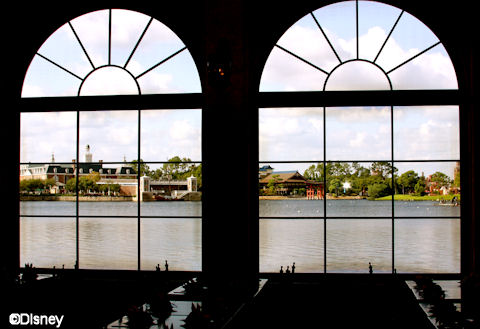 The menu will feature starters like queso fundido (warm cheese with poblano pepper and chorizo) accompanied by fresh homemade tortillas. Entrees include a mixed grill for two with flank steak, chicken, chorizo and vegetables or a seafood version with grouper, shrimp and scallops; roasted shrimp in pepper garlic broth; flank steak with spring onions, refried beans and cactus leaves; and grilled red snapper with roasted corn and cactus leaves. Dessert specialties include chocolate churros, sweet tamales and fruit empanadas. To see the complete menu, click here.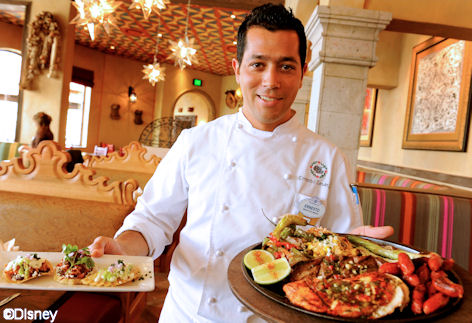 Last night I attended a press event to kick off the opening of these two new restaurants. The evening began on the deck of La Cantina where we were treated to amazing margaritas and samples of many of the dishes that are served in La Hacienda.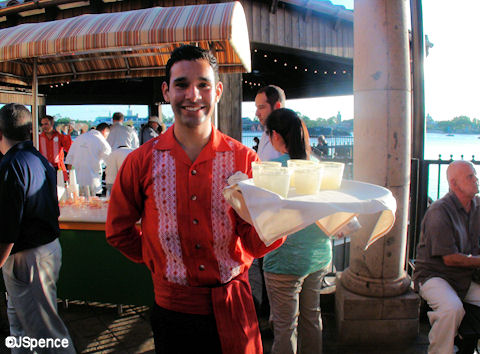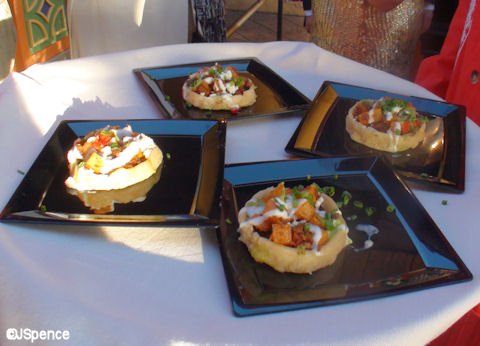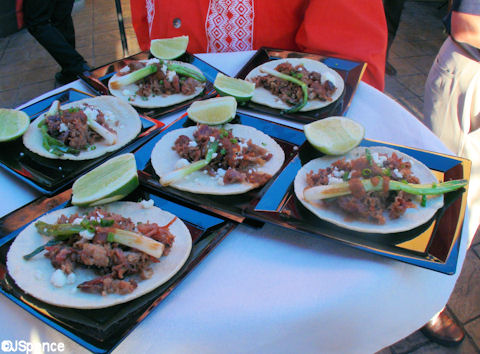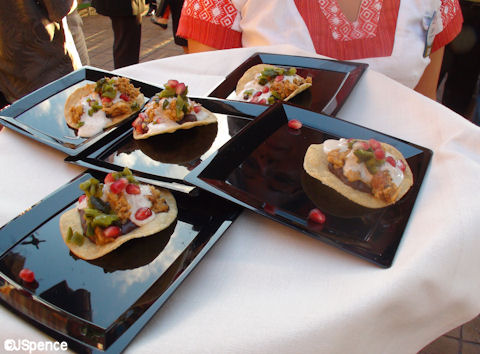 I sampled several different tequila drinks (they were small and I quit drinking well before IllumiNations so I could drive home safely). All were very good, but I think the "Classic Margareta" is by far the best. It had a good strong flavor that made me pucker and smile.
I also enjoyed the many food samples that were being distributed by smiling waiters and waitresses, but without a doubt, the "Tacos de Camarones" were the best – outstanding in fact. The menu describes this dish as follows: Fried shrimp, chipotle-lime aioli, cabbage, lime and salsa verde, all served over flour tortillas. I had seconds and thirds of this taste treat.
I have to be honest with you. I've had hit-and-miss experiences at the San Angel Inn, the restaurant located inside the Mexico Pavilion. I think the atmosphere is fantastic, but the food just misses for me. However, I have every intention of returning to La Hacienda de San Angel. If what I sampled last night is any indication of my future meal, I'm going to be a happy camper.
All three restaurants in the Mexico Pavilion are run by Palmas Services LLC. Their founding began in Mexico City in 1963 when they converted a seventeenth century hacienda into an internationally acclaimed eatery, Restaurante San Angel Inn. The Palmas group also operates the restaurants and lounges at Disney's Coronado Springs Resort. Here, I really enjoy the Pepper Market but I have marginal feelings when it comes to the Maya Grill.
I have created a short video that highlights both La Hacienda and La Cantina. However, since this was a press event, I was not able to shoot people-free shots. You'll have to look through the guests enjoying their appetizers and cocktails to see the restaurant.
As the evening progressed, we ventured inside of La Hacienda for more socializing and opening ceremonies. The speeches ran for almost twenty minutes but I have edited it down to a mere six. The last two minutes show the official ribbon-cutting complete with Donald and Mickey.
As I said earlier, I have every intention of returning to both La Cantina and La Hacienda. The views are spectacular and the food that I sampled was delicious. Reservations are strongly suggested for La Hacienda and can be made online or by calling 407-929-3463.