Gran Fiesta Tour- Mexico – Epcot
INTRODUCTION
Gran Fiesta Tour Starring the Three Caballeros! is located in the back of the Mexico Pavilion in Epcot's World Showcase.
Gentle boat ride has a storyline that features Donald Duck, Jose Carioca (the parrot), and Panchito (the Mexican charro rooster) from the 1944 Disney film "The Three Caballeros."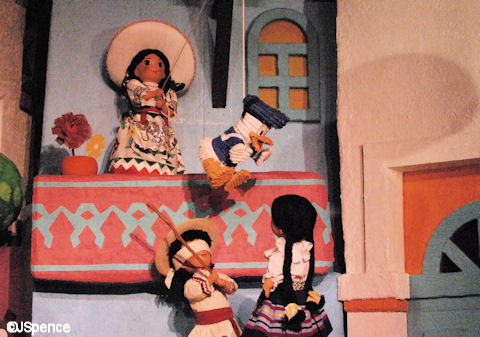 Be aware that this ride is only a little over 5 minutes long
Accessibility:Guests must transfer from wheelchair/ECV. Handheld captioning is available.
Rider Switch (aka Child Swap) is available at this attraction.
Gran Fiesta Tour is what is known as a "dark ride," meaning it's one in which vehicles travel past illuminated scenes of a story. Keep that in mind if anyone in your group has an intense fear of the dark. However, the animated animatronics and other special effects generally keep the attraction lit well enough to not be scary for little ones
Children younger than 7 years old must ride this attraction with someone who is 14 or older.
You will also find lots of Disney Characters at a variety of meet-and-greet locations throughout Epcot. Check your Guide Map or My Disney Experience for times and locations.
Epcot Characters At A Glance Character Meet and Greet FAQ!
Epcot Restaurants At A GlanceMenus From Around the WorldVegetarian and Other Special Diets
This attraction opened April 6, 2007; replacing El Rio del Tiempo.