Andrew Rossi returns with a review of Mama Melrose located in Disney's Hollywood Studios.
When it comes to Italian food, Disney World certainly offers a wide variety of options, from Tutto Italia and Via Napoli at Epcot to Tony's Town Square at Magic Kingdom, Portobello at Downtown Disney, or Il Mulino at the Swan. Each of these restaurants features something a little different in terms of menu choices and atmosphere that allow them to deliver completely unique dining experiences.
Mama Melrose's Ristorante Italiano at the Hollywood Studios is another one of these Italian options. While Mama Melrose's may not be the most authentic nor the most elegant of Disney's Italian restaurants, it still delivers a wide selection of good Italian food combined with an atmosphere that is far from what you would expect from a typical Italian restaurant.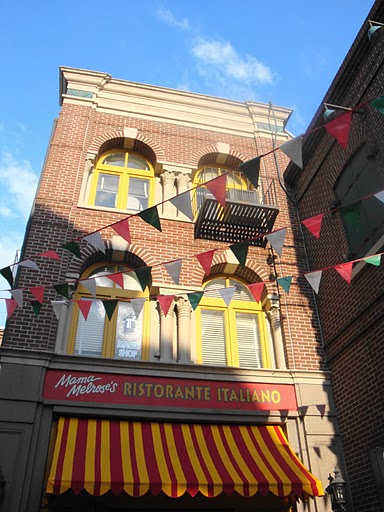 Overview:
Every Disney dining location has its own theme or story, and this is very true of Mama Melrose's even though it may not be as immediately evident as in other restaurants. Mama Melrose's is a restaurant where "Italy meets California in the heart of the Backlot," but even knowing this one may be confused by the strange décor found inside; it certainly does not look like any other Italian restaurant you have seen before. Everything becomes more clear, however, when you learn the restaurant's back-story, but even this is something passed down more through word-of-mouth rather than anything official within the restaurant. The story, as I have heard it, is that Mama Melrose moved from Italy to California to pursue a career in acting, but instead decided to open a restaurant. In her restaurant Mama Melrose displayed numerous items she had brought over from Italy as well as various movie memorabilia she had collected during her time in California. This blend of Italy and Hollywood is seen throughout the restaurant and gives it a very unique feel.
Atmosphere:
As soon as you walk through the door of Mama Melrose's you can tell that this is not your typical Italian restaurant. Upon entering the restaurant you are greeted by walls covered with pictures not of famous Italians, but rather Hollywood celebrities. These "Legends of Disney's Hollywood Studios" are a nice way of paying tribute to the history of the park while also tying in perfectly with the theme of the restaurant.
The interior of the restaurant is fairly dark, with only a few small windows letting in natural light from the outside. The dining room has the feel of an aged, re-purposed warehouse with industrial-looking light fixtures, high ceilings where the wood-beam supports and air ducts are visible, brick walls covered with graffiti, and worn floor boards. All this gives the sense that Mama Melrose's location is much older than it actually is, lending a sense of authenticity and depth to the restaurant's theme.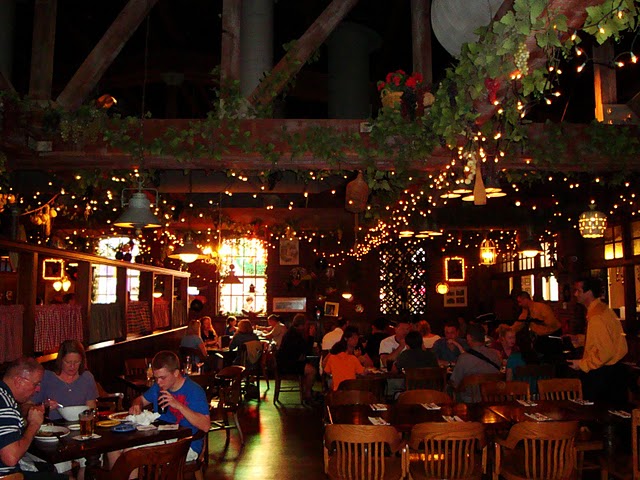 The real attraction of the restaurant's decor, however, is all the memorabilia that litters the walls. In fact, there is very little free wall space available. The level of detail is so great that I am always noticing new things every time I return to eat here. Among the items adorning the walls are numerous Italian references: black and white photographs of famous Italian landmarks, Italian paintings (with the Mona Lisa making several appearances), records by famous Italian singers, Italian soccer flags, Italian movie posters, a wide variety of bottles of wine, and even cooking utensils and garlic cloves handing from the ceiling.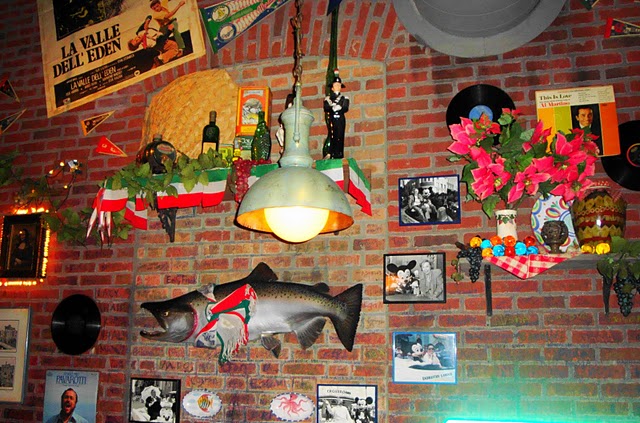 At the same time, there are many other items that are distinctly Californian, such as pennants of California sports teams, posters of the Hollywood sign and other landmarks, photographs of famous movie stars and singers (with Mickey Mouse appearing quite frequently), Los Angeles street signs such as Melrose Ave. and Vine St., and license plates from several states.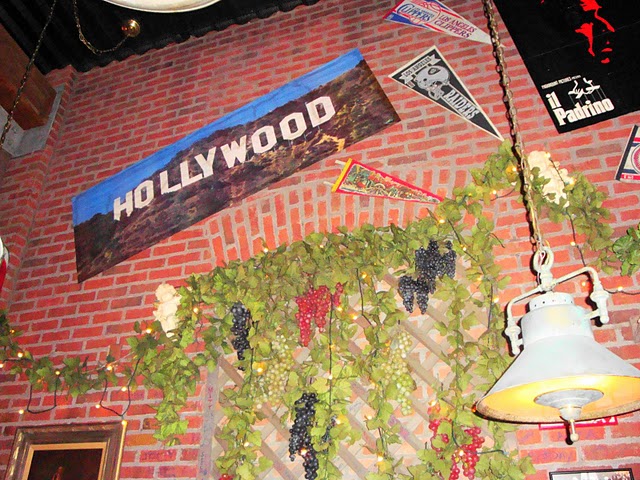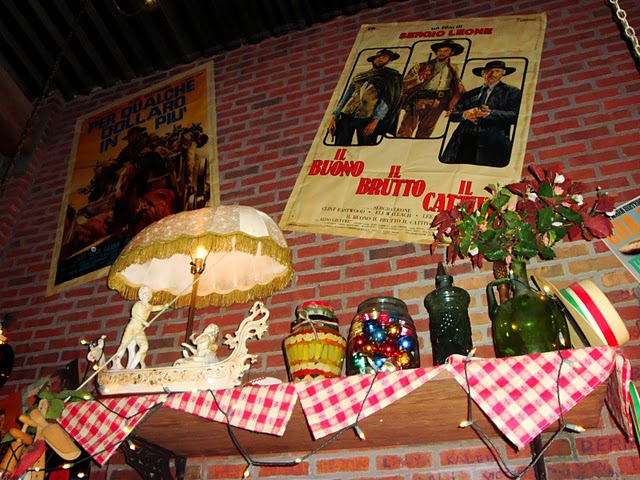 Another alluring part of the Mama Melrose's atmosphere is the open kitchen, which is clearly visible as soon as you enter the restaurant. The most prominent feature of this kitchen is the large brick oven in which the pizzas are cooked. Not only does the open kitchen allow you to see the food be prepared, but it also gives the restaurant a tremendous aroma as the smell of the cooking food spreads throughout the entire dining area. All the activity and noise of the kitchen also lend a sense of action and excitement to the restaurant.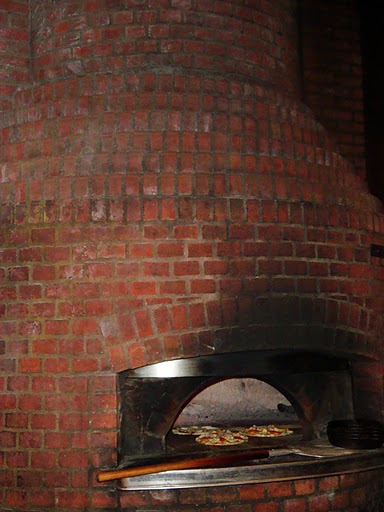 Overall, Mama Melrose's is a restaurant that is very laid-back and relaxing, making it great for families traveling with children. The atmosphere has a certain degree of whimsy and a lot of fun little touches, whether it be the grape vines and Christmas lights hanging all over the ceiling and walls, the big fish with sunglasses, or the huge oil drums of olive oil and marinara sauce. It is all these details that help make the restaurant uniquely Disney.
The Menu:
Mama Melrose's features a menu of many traditional Italian favorites as well as some other less conventional items. It is a menu that offers a lot of variety, whether you are in the mood for seafood, pasta, pizza, or steak. Mama Melrose's did recently undergo a menu change and as a result some long-time menu items have been updated or replaced, but the new menu does include some intriguing new items as well as many of the old menu's favorites.
Among the appetizer selections are Italian classics such as Crispy Calamari ($12.99) served with marinara sauce, Caesar Salad ($5.99), Minestrone Soup ($5.49), and an Antipasto for Two ($14.99) featuring Italian meats, cheeses, and marinated vegetables. One different appetizer is the Clams Oreganatta ($10.99), which features oak-fired clams cooked in butter and served with Italian sausage over foccacia bread.
Like any Italian restaurant, pastas are prominently featured entrees on the menu. One new item is the Spaghetti con Vongole ($19.99) that comes with sauteed clams tossed with spaghetti and a white clam sauce. On the heavier side there are the Penne alla Vodka ($16.99) with a tomato-basil, cream, and vodka sauce and the Chicken Pipette ($17.99) with wood-grilled chicken, artichokes, peas, roasted peppers, and sweet onions in a four-cheese cream sauce (or you can substitute shrimp for $19.99). A For something a little different there is the Goat-Cheese Filled Ravioli ($16.99) that presents a little twist on a classic Italian dish.
If you are not in the mood for pasta, there are a variety of other options available. One traditional Italian favorite is Chicken Parmesan ($16.99), but the menu also features a Charred Strip Steak ($28.99) that comes with Italian roasted potatoes, aged balsamic-shallot butter, and a Chianti wine reduction, as well as a Wood-Grilled Tuna ($22.99) over a seasonal vegetable risotto.
The menu also includes a wide array of flatbread pizzas. The Carne D' Italia ($12.99) is topped with pepperoni, Italian sausage, pancetta, and a spicy marinara sauce. For vegetarians there are the Vine-Ripened Tomato ($11.99) and Four-Cheese ($11.99) flatbreads. One of the more popular flatbreads is the Grilled Chicken ($12.99), which comes with sun-dried tomato pesto, pancetta, and asiago cheese. There is also the Grilled Shrimp and Arugula Flatbread ($13.99), with pesto goat cheese, artichokes, and tomatoes.
Dessert selections at Mama Melrose's include Italian favorites with a twist. There is Mama's Tiramisu ($5.99), which is actually a tiramisu-flavored gelato, Chocolate Cannoli Cake ($5.99), Chocolate Amarettini Cheesecake ($5.99), Crema Limone ($6.99), and various flavors of Gelato ($4.49).
For my meal I decided on something a little different that I would not normally order at an Italian restaurant, the Oak-Grilled Pork Chop ($21.99). The pork chop was cooked absolutely perfectly so that it was still nice and moist but also charred just enough to add a little extra flavor. The pork came served in an onion broth and was topped with tomato jam. Personally, I did not really notice too much of an onion flavor and the "jam" was basically just a light tomato sauce. The tomato sauce paired very well with the pork and also had a definitive garlic flavor, although this was not too overpowering. There was a lot of ground black pepper used in this dish and, while it did add some extra flavor, if you are not a fan of black pepper you might want to ask for them to hold off on adding it on top.
The pork was accompanied by broccoli, but this had very little flavor, as well as garlic bread pudding. This was unlike anything I have ever seen or tasted before. As a word of warning, if you are not a fan of garlic you will probably not like it because it has a very strong flavor. The bread pudding was very soft and moist and it presented a definite contrast to the more mild flavored tomato sauce served over the pork. While its flavor did not overwhelm that of the pork, it had a very distinct taste and texture that added a real kick to the dish.
I was dining with a group and we decided to split several desserts. The desserts were served all together on one large plate that made for a very nice presentation.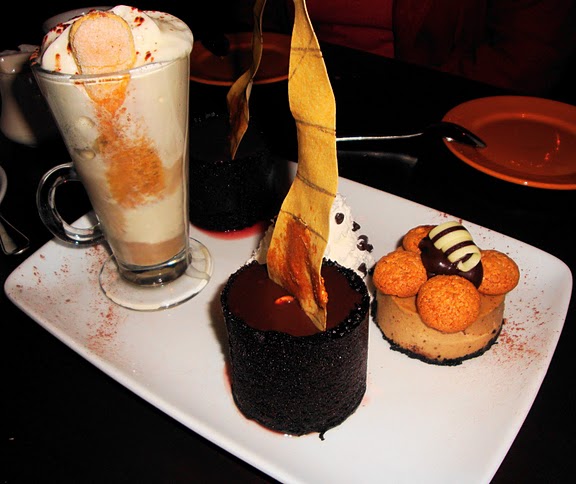 First was Mama's Tiramisu ($5.99) and I was extremely disappointed with this. Mama Melrose's used to have delicious tiramisu, but with the new menu came a change to this classic Italian dessert. Rather than your traditional tiramisu, this dessert is tiramisu flavored gelato served over freshly brewed espresso and topped with amaretto and ladyfingers. The gelato itself did not really have too much flavor and the ladyfingers were made soggy by the espresso. There are many other versions of tiramisu at Disney World that I would rather have than getting the one here again.
Next was the Chocolate Cannoli Cake ($5.99), which is a chocolate cake with a cannoli filling, topped with nutella, and garnished a hazelnut florentine (we decided to order two of these). The chocolate cake was very rich but a little on the dry side. The cannoli filling presented a nice contrast with its light, creamy flavor complimenting the heavier cake. The nutella on top provided additional richness to the dessert and just a slight hint of hazelnut that added just a little extra flavor.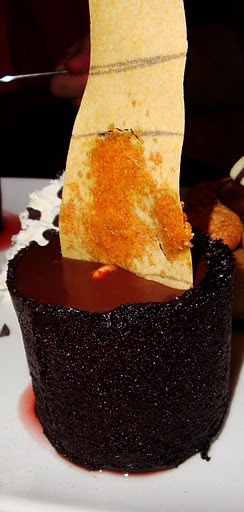 My favorite of all the desserts was the Chocolate Amarettini Cheesecake ($5.49), which is a chocolate-flavored cheesecake with a cookie crust and topped with Italian amarettini cookies. The cheesecake was very light, soft, and creamy with just a hint of chocolate flavor. The crust had the taste and texture of crushed oreo cookies and provided a heavier, richer contrast to the lightness of the cheesecake. The amarettini cookies that topped the dessert were light and fluffy and added a little extra flavor of amaretto without overpowering the cheesecake.
Service:
My server did not speak very good English, which really inhibited communication. This language barrier meant that the server was not too personable and did not really try to strike up any type of conversation. That being said, I could clearly tell that the server was trying her best to make sure we were enjoying our meal. Actually, as a server she was very efficient in taking our order, bringing out the food and drinks, and clearing the table of dishes when we were finished. The meal progressed at a good pace, not too slow but not too fast. It should be noted that there were other servers that appeared to be very friendly and personable, with one actually coming to our table when we were deciding on desserts to give us a little explanation of each and telling us which ones were her favorites.
Dining on a Budget:
Compared with some of the other Italian restaurants on Disney property, such as Tutto Italia or Via Napoli, Mama Melrose's is an affordable option. If you are looking for a good meal at a reasonable price, Mama Melrose's various flatbreads are a great choice. Ranging from $11.99 to $13.99, not only are the portion sizes very large but they are also very tasty. By comparison, an individual size pizza from Via Napoli costs $16. While the flatbreads at Mama Melrose's may not be as authentic as Via Napoli, it does present a cheaper alternative. The Chicken Parmesan is another option that is cheaper at Mama Melrose and is one of my favorite items on the menu. The same dish at Via Napoli costs $22.
Mama Melrose's is one of the restaurants at the Hollywood Studios that offers the Fantasmic dining package. The price is $32.99 for adults and $11.99 for children (not including tax and gratuity) and includes appetizer, entrée, dessert, and a non-alcoholic beverage as well as priority seating to the first showing of that night's Fantasmic. If you are not the type of person who will want to wait an hour (and sometimes more) to get a seat for Fantasmic, then the dining package will be worth it regardless of price. With the dining package you can get to the theater about a half an hour before the show starts and, without having to wait in line, still get a decent seat.
If you decide to go with the Fantasmic dining package at Mama Melrose's, certain combinations of appetizers, entrees, and desserts will make for better values than others. If you do not necessarily mind waiting in line to get a seat for Fantasmic, I would suggest looking at the menu ahead of time to see if what you would potentially order would make the dining package a good deal for you.
For example, if you were to order the Minestrone Soup ($5.49) for an appetizer, the Vine-Ripened Tomato Flatbread ($11.99) for an entrée, and Gelato ($4.49) for dessert your total would be $21.97. At the same time, however, if you were to order a Caesar Salad ($5.99), the Charred Strip Steak ($28.99), and the Chocolate Cannoli Cake ($5.99) your total would be $40.97. My best advice is to do the math to see if the Fantasmic dining package is worth it for you and allowing you to get the most for your money.
The Overall Experience:
Mama Melrose's is the type of restaurant that is a lot of fun to dine at. From its walls covered with Hollywood memorabilia and Italian knick knacks to the Christmas lights hanging from the ceiling and the combination of California surf tunes and classic Italian music playing in the background, the restaurant creates an atmosphere that is laid back and inviting. It is a great place to enjoy a meal with the entire family. The food may not be as authentic or elegant as some of the other Italian restaurants in Disney World, but it still features many tasty Italian favorites that come in large portion sizes for a reasonable price. If you are looking for a traditional, classic Italian restaurant, this may not necessarily be the place for you, but if you are looking for Italian in a way that only Disney could dream of then Mama Melrose's is definitely worth a visit.
Check out Reader Reviews of Mama Melrose's and post your own too!