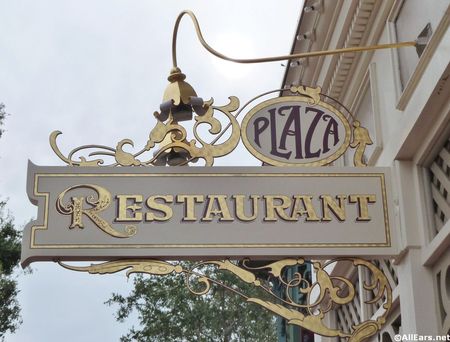 The Plaza Restaurant, located just off Main Street, U.S.A., has been a long time favorite of many Disney fans. I had not been in several years, so I decided to try and get a lunch reservation. Well, I might as well been trying to get a table at Be Our Guest. In fact, that choice came up every now and then as I attempted to secure one for the Plaza.
I found myself in the Magic Kingdom one day and thought I would try a walk up at the Plaza around opening time. I politely asked the Hostess if they had a walk up table for 1. She looked and looked and finally said, Yes!
I explained how I had tried and tried for a reservation and couldn't get one. She told me it is because they only accept reservations for the first hour they are open and after that it is all walk-ups. I found that odd. While I was waiting to be seated, a different hostess came to the podium and I asked the question again and received the same response.
Soon I was on my way to a small table right outside the kitchen door. I gave my server my beverage order and looked at the menu.
I decided to get an appetizer, entree and dessert for the full experience. When my server, (Nour – who was excellent by the way) returned I asked him about the reservation policy. He confirmed what the hostesses had told me. I don't usually ask 3 different cast members, but I thought the policy was so odd, I wanted to make sure I had it correct.
The restaurant was full of mainly families and the servers certainly were hustling. Sudden the Fire Chief came in and announced he was there on the Mayor's behalf to appoint the Citizen of the Day. It was a cute, brief bit and the child selected received a ribbon. From what others have told me, this happens on a fairly routine basis. It was a nice, magical touch. However, no, I have no idea how they select the person.
By now my food began arriving. For an appetizer I selected the Wedge Salad: half wedge of iceberg lettuce served with tomatoes, onions and cucumbers and topped with Gorgonzola and ranch dressing for $8. I asked for mine without onions. While it did not have the depth of lettuce a wedge usually has, it was average and about what I expected from this restaurant.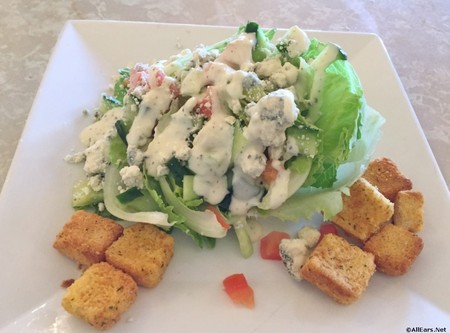 Up next my entree, a Grilled Reuben. The reuben has been a signature item for many years so I thought it was time to try it. Grilled Reuben – thinly sliced corned beef on grilled marble rye with sauerkraut, Swiss, and Thousand Island dressing for $15. Instead of Thousand Island dressing, I asked for mustard.
I was disappointed. The sandwich had little flavor. There was a very thin layer of sauerkraut that melded into the Swiss Cheese, had little flavor and the portion was small. Overall, it was not very good, and I only ate half of it and a few of the chips.
Finally, dessert. I normally do not eat dessert at lunch, but ordered it to get the full experience.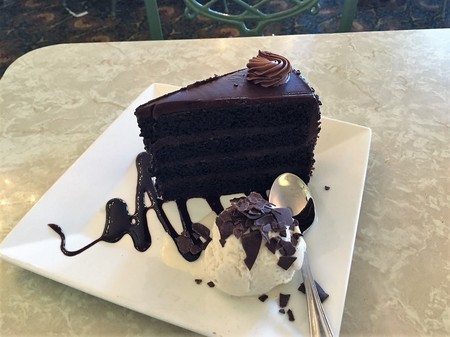 I selected the Signature Chocolate Cake – four-layer chocolate cake filled with dark chocolate ganache for $9. Oh, and the ice cream was $2 extra. This cake was the best part of my whole meal. I wanted to devour it, but I used restraint and only had about half. But it was delicious!
So, let's add it all up.
Wedge Salad $8.00
Reuben with Chips $15.00
Chocolate Cake with Scoop of Ice Cream $11
Diet Coke $3.49
Subtract 20% For a Tables in Wonderland Discount and it comes to $29.99
Add in 18% gratuity and tax for a grand total of $38.69 for a full service lunch in the Magic Kingdom. I don't know about you, but I think that is quite expensive for a mostly average lunch.
I'm glad I had the experience, but won't be heading back there anytime soon. So what do you think about the Plaza Restaurant? Let me know in the comments section.
You can find the full adult and kids menus, photos and links to reader reviews HERE.