The Magic Kingdom's much-anticipated, new table-service restaurant — Jungle Navigation Co., Ltd. Skipper Canteen — opened last month. As the name suggests, the theming is an extension of the classic Jungle Cruise attraction, located nearby in Adventureland. And if that weren't enough to pique your interest, the eatery's décor and menu offer tributes to the wildly popular (and now closed) The Adventurers Club from the former Downtown Disney.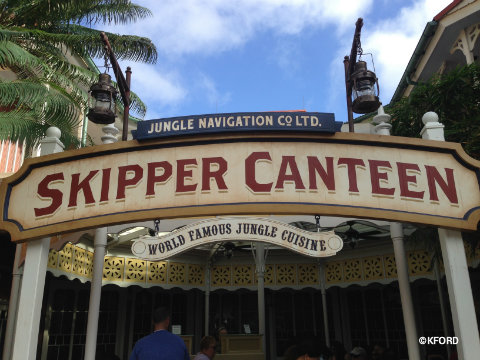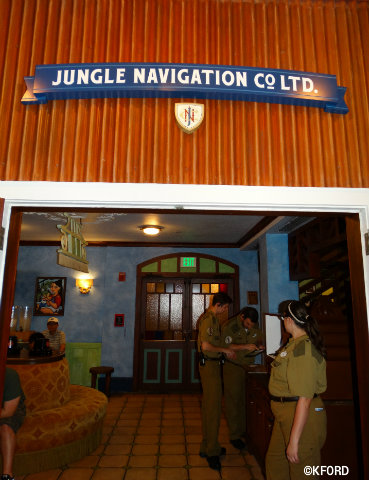 My family and I were among those excited to dine at the first new sit-down restaurant in the Magic Kingdom since Be Our Guest opened in 2012. Our first opportunity was when we were in the theme park on New Year's Eve. Sounds impossible, especially because Skipper Canteen isn't taking reservations, right? We actually didn't think it was that bad because we were prepared to wait to try something new. The wait aside, the overall dining experience didn't live up to our expectations, however, and we left feeling it was a waste of time and money for our family.
Skipper Canteen currently works on a walk-up system; no word yet on when (or if) the restaurant will take reservations. We stopped by in the late morning, and the wait was about 40 minutes. When we returned about 8:30 p.m. on quite possibly the busiest day of the year at Walt Disney World's signature park, the wait was an hour. So, we checked in and were given a pager and invited to hang out in the "open air" rooms. Given how hot and humid the Florida weather was that day, we were wishing for air conditioning. To be fair, though, not many of the Magic Kingdom table-service restaurants offer inside waiting areas.
The 222-seat Skipper Canteen has three themed dining areas: the Crew Mess Hall, which is the largest room; The Society of Explorers and Adventurers (or S.E.A.) Room, which is accessed through a hall lined with bookcases; and the Falls Family Parlor (or the Jungle Room). This set-up reminded us of that at Be Our Guest — one large dining room and two more intimate seating areas. Unfortunately, unlike Be Our Guest, the large seating area just is not as interesting or appealing as the smaller rooms. Yes, there are jungle-exploration artifacts wherever you look, but it just doesn't feel as immersive as the smaller rooms do. My children and I just kept picturing this room as the former space for meeting Tinker Bell. I would recommend requesting one of the smaller dining rooms, but know that could increase your wait time.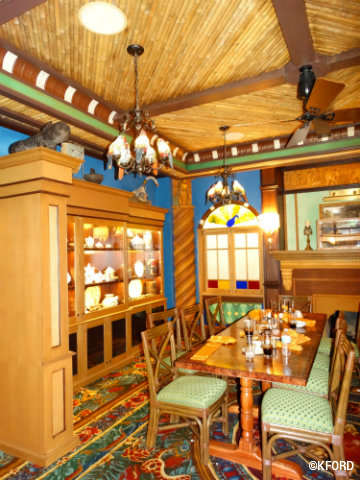 As of this writing, Skipper Canteen serves the same menu for lunch and dinner, and it's one based on "the bold, flavorful cuisine of Asia, South America, and Africa," according to the Disney World website. For the most part, though, we didn't find our dinner selections to be very flavorful, which obviously was disappointing when we invested significant time in the experience. Plus, the cost was not inexpensive for a family of four.
Our meal began with Ambasha bread that is served with a sweet, honey-based dip. Our family was divided on the combination of flavors; two of us enjoyed it and the other two were fine to pass after a taste. The bread is complimentary with all meals.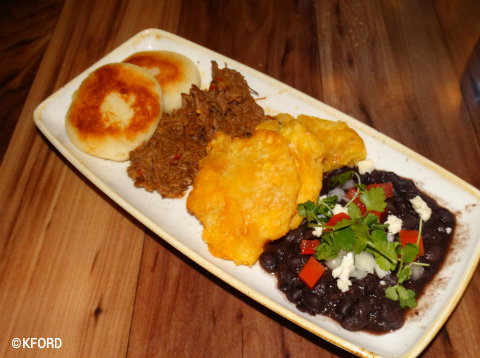 We first ordered Amazon Annie's House-made Arepas, described as "a trip down the Amazon with Slow-cooked Beef, Black Beans, Tostones, and Queso Fresco" for $9.50. This appetizer was the best thing we ordered; even the kids (ages 11 and 13) enjoyed the sampler.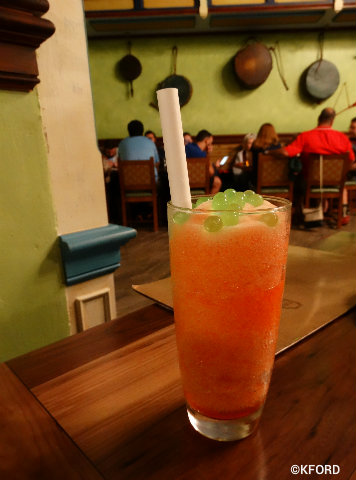 Both children also tried the non-alcoholic Schweitzer Slush, "Frozen Apple Juice and Passion Fruit topped with Bursting Green Apple Boba Balls. First concocted by the noted explorer and humanitarian, Dr. Albert Slush" for $5.50 without the souvenir cup or $14.50 with the cup. This seemed liked a slam-dunk because they both love apple juice and frozen drinks, but only the younger child enjoyed her concoction.
For dinner, I ordered the "A Lot of Steak" Salad, "Thai-marinated Flank Steak tossed with Hearts of Romain, carrots, red peppers, cucumbers, red onions, cherry tomatoes and Asian dressing" for $18. Our Jungle Skipper — um, server — promised that I wouldn't be sorry because it was quite tasty. Although I appreciated the vote of confidence, I didn't end up agreeing with him. I found the salad to be pretty bland and certainly nothing to write home about. Frankly, I rave about the Broccoli Peppercorn Salad at Columbia Harbour House to anyone who will listen, and I wished with every bite I were eating that instead.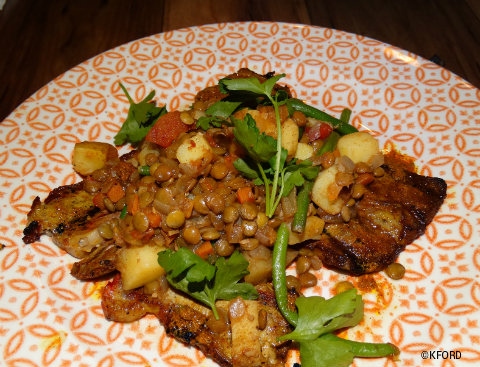 My husband tried the Grilled Lamb Chops, "Seasoned with a North African Berber Spice Blend served with Green Lentil Stew" for $25. He remarked how the presentation of the thin slice of meat seemed to be much the flavor of the dish: uninspired. Even though he finished off his selection, he considered the cost and the long wait for the table and decided, it wasn't something he would stand in line again to get. And the spare serving even left him hungry enough to order another menu item at another restaurant in the park later in the night.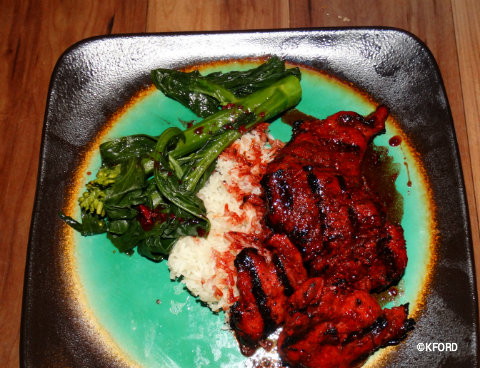 My son and daughter each ordered Char Siu Pork, "Marinated grilled pork tenderloin medallions served with Chinese broccoli and choice of five-grain or white rice" for $23. My son said he thought he would like this meal because he loves barbecue and Chinese food and this seemed like a combination of the two. Unfortunately, it was not, and the flavor was not one he could stomach. My daughter felt the same way, and I have to admit after taking a taste, I didn't like it either.
We asked our server if my son could exchange the dish, and he agreed, after warning us that we'd have a wait for whatever he ordered. We said we understood and asked if he could have the children's portion of the Sizzling Savanna Grilled Flank Steak, which was served with steamed broccoli and fingerling potatoes. My son did like that better, but afterward he said the steak at Be Our Guest was a lot tastier. My daughter opted to stick with the pork, thinking it would grow on her. It did not, and we ended up getting her a meal at Columbia Harbour House afterward.
At this point, I would caution parents to check the children's menu and discuss it with their youngsters. Typical kid favorites are not available at Skipper Canteen; even the mac and cheese is not what you'd expect on most American menus. When we asked about substituting the sides because broccoli and rice are served with many of the meals, we were told there weren't many other options, and certainly not French fries. It seems like a punishment for everyone involved to try to force a child who doesn't like broccoli to eat it at Walt Disney World, of all places.
By this point, we were just turned off by the food and didn't even want to try dessert. However, other diners were excited about the Kungaloosh! — a name of a drink at The Adventurers Club — which was "an African-inspired chocolate cake with caramelized bananas served with cashew-caramel ice cream topped with coffee dust" for $8.
Skipper Canteen accepts the Disney dining plan. Have you dined on the "World Famous Cuisine"? Tell us about your experience in the comments.