Just like it's SUPER hard to pick whether to visit Walt Disney World or Universal Orlando, we've struggled with weighing their water parks. Both offer splashy thrills and lots of fun in the sun — but they're definitely unique in their styling and atmosphere.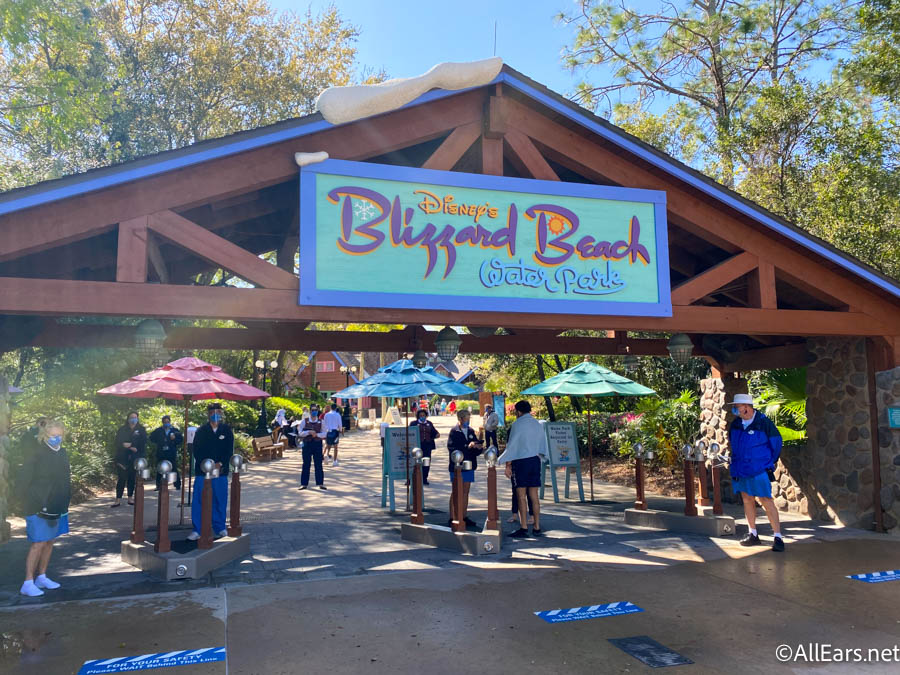 Now that they've both reopened a water park (and we spent full days in each of them), we're reporting back to compare the water parks' attractions.
Get your goggles and your sunscreen because we're giving you a FULL look at whether Disney or Universal does water park rides better!
Attractions
Disney's Blizzard Beach is home to 12 attractions in the water park with various kinds of waterslides and rides available to guests visiting!
Lazy River
The Cross Country Creek at Blizzard Beach is exactly how a "Lazy River" sounds. The calm and relaxing ride through the stream wrapping around Blizzard Beach is a great way to chill out after a long day. Disney isn't handing out as many inner tubes right now in order to distance parties from one another.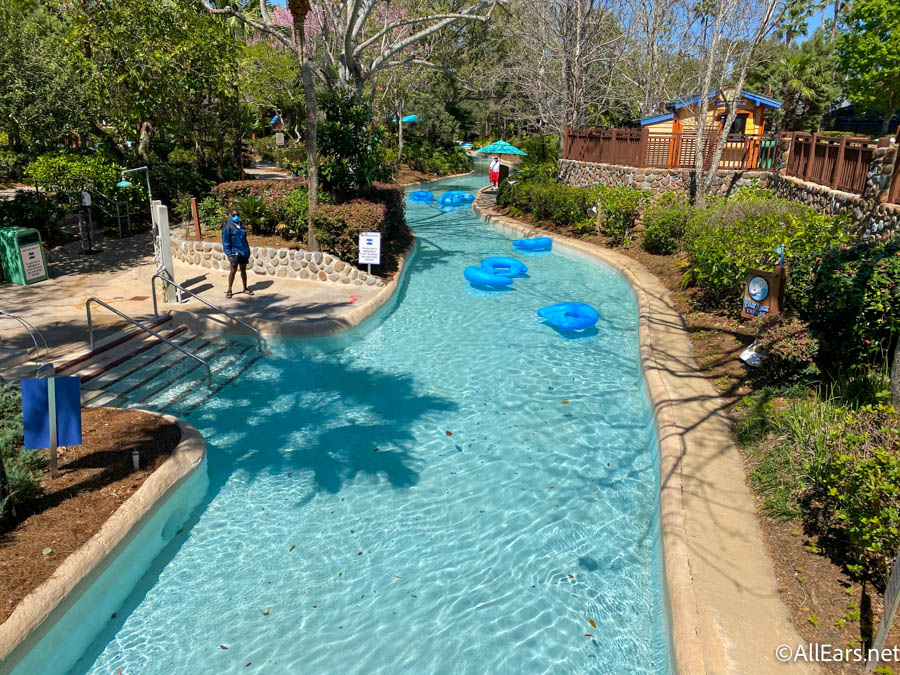 Guests are asked to stay in their tubes at all times in order to place themselves apart from the other people exploring Cross Country Creek.
Raft Rides
Families and friends can set on an adventure together at Teamboat Springs, which is Blizzard Beach's big raft ride down a slide!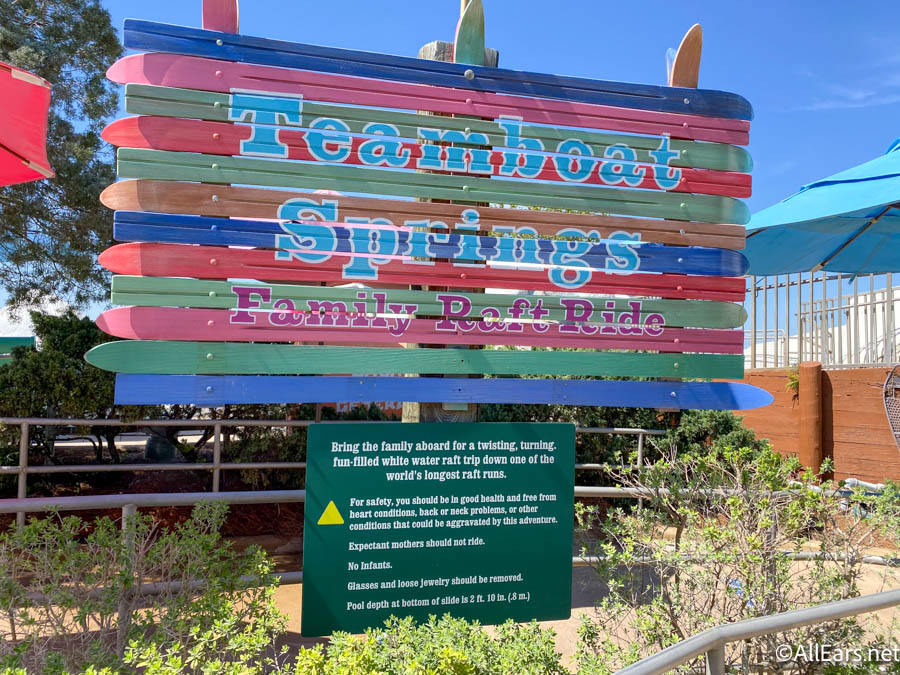 Maybe you can bet with your party who will end up getting soaked the most!
Wave Pool
Whether you are stretching out on one of the beach chairs or floating around in the Wave Pool, Melt-Away Bay is a great choice for everyone in the parks! The waves are big enough for a fun, yet chill experience, where you can chill in the pool or an inner tube.
Guests are encouraged to stay away from other parties. Distancing measures are recommended in the Wave Pool, and the chairs are distanced from one another.
Kids' and Family Areas
There are two more spots where kids and families of all ages can chill out together in Blizzard Beach! Over at the Ski Patrol Training Camp and Tike's Peak, there are interactive activities like a training course, zip line, swimming pools, and more.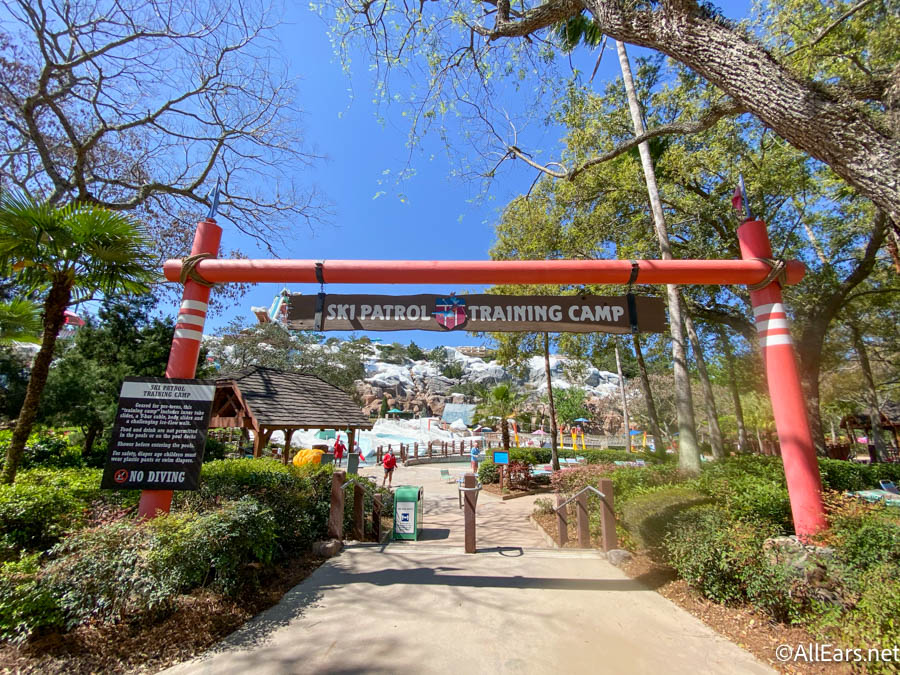 Even your littlest one can enjoy themselves when they're at the water park.
Unique Features
Since the Blizzard Beach atmosphere has the theme of a "ski resort," the actual Ski Lift is an exhilarating feature that the whole family can enjoy! Parties are seated on their own before being carted up to slides like the Slush Gusher and Summit Plummet.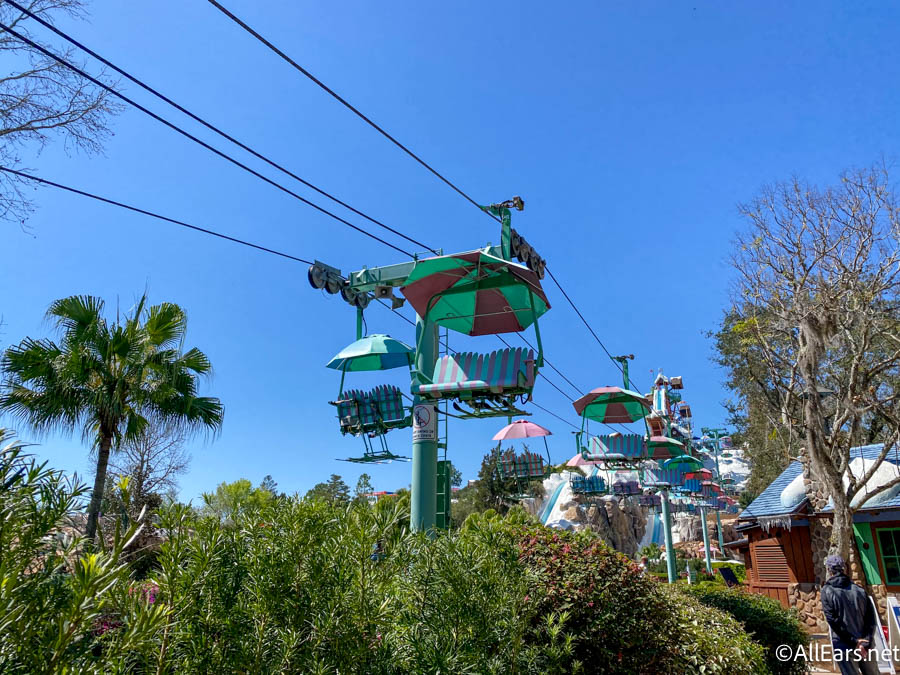 Speaking of which, Blizzard Beach's crown jewel is absolutely Summit Plummet. The appearance makes you believe you're about to shoot off on a ski ramp. In reality, you go nearly 12 stories almost straight down a 360-foot slide that even goes through a darkened tunnel.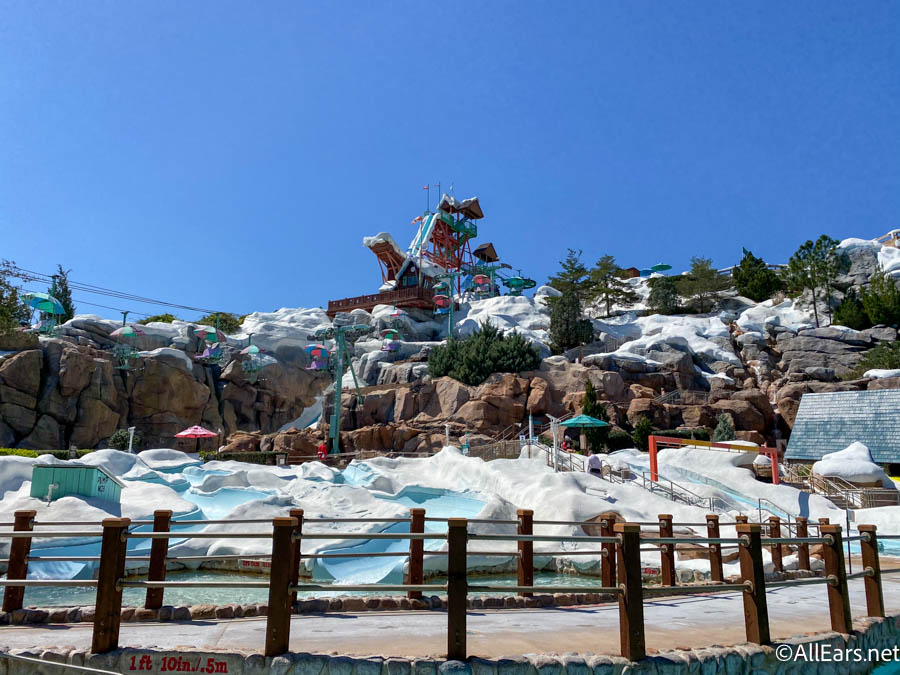 While Blizzard Beach is a blast, that's not the only theme park on this list!
Volcano Bay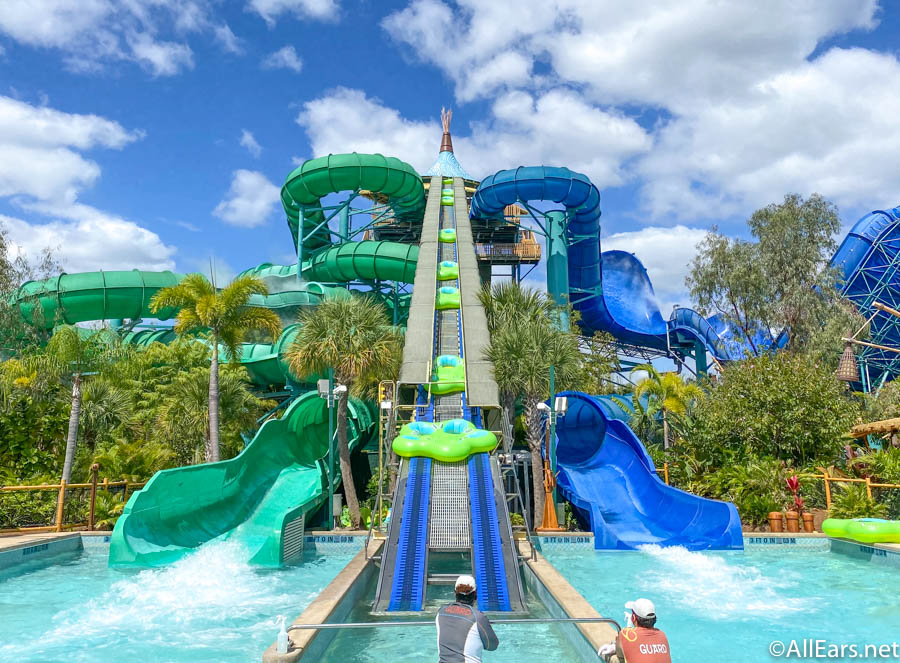 Attractions
Unlike Disney's Blizzard Beach, Universal's Volcano Bay packs an extra amount of thrills with 18 attractions made up of numerous slides, raft rides, and even a water coaster!
Lazy Rivers
Volcano Bay boasts TWO Lazy Rivers, but we promise that they are nothing alike. The Kopiko Wai Winding River is a lot more of a "normal" Lazy River with a serene atmosphere that allows you to relax. But adventurous guests will want to try the more intense TeAwa the Fearless River that takes everyone on a mini rapids-like float through the stream.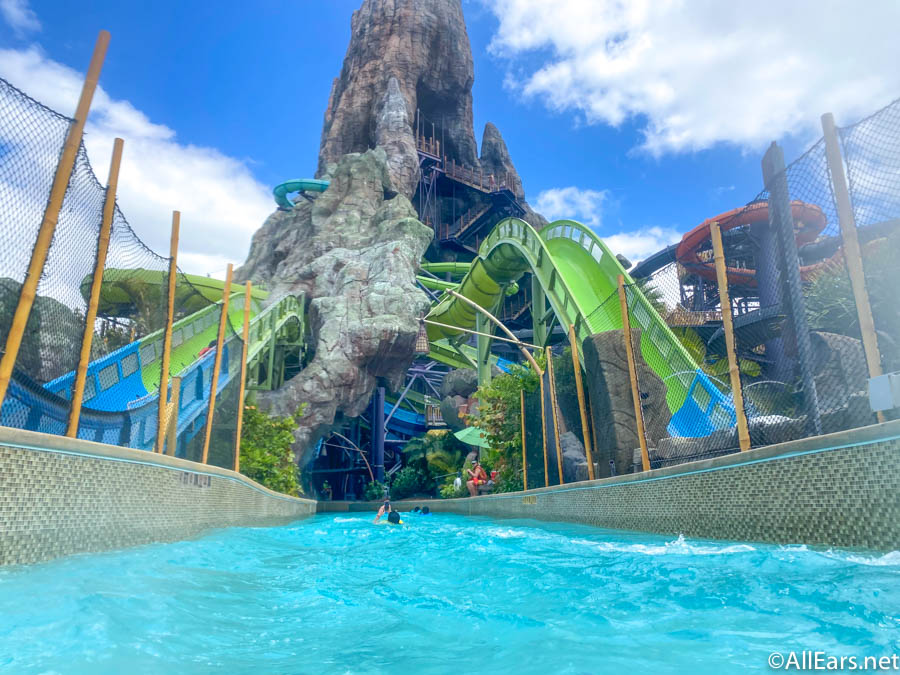 Guests should also keep their distance from other parties on both pairs of rivers.
Raft Rides
Volcano Bay has two specific raft rides for the whole family to enjoy as they go down slides and half pipes together. But you should be warned! The Maku of the Maku Puihi Round Raft Rides and ika Moana of the Honu ika Moana are only available to guests with more than one person in their parties.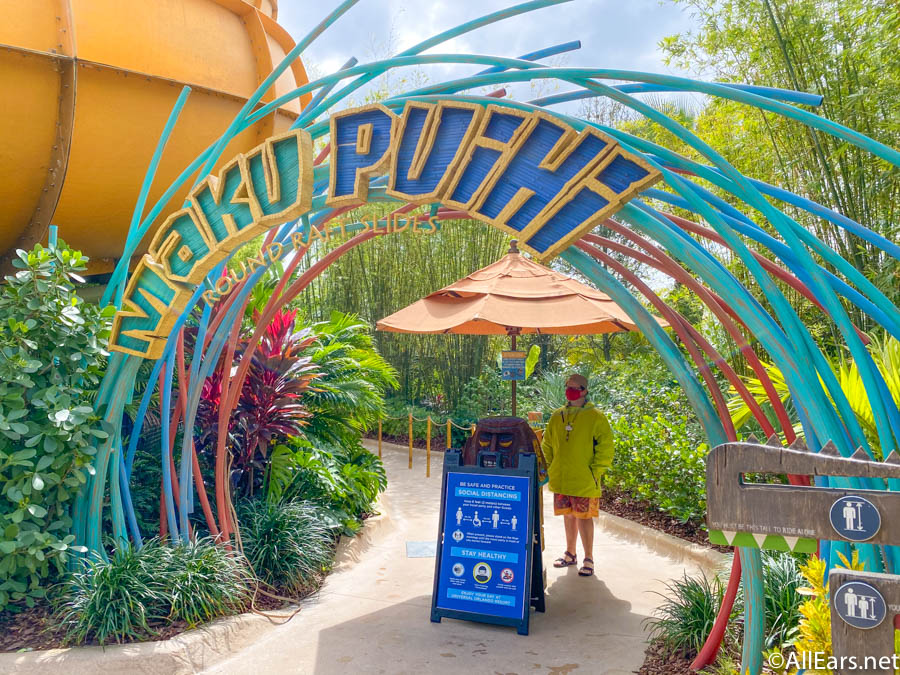 There must be at least two people or 300 pounds in the raft as a safety measure. Since this is not a single rider attraction, you might want to consider that when you're making your plans to go to Volcano Bay.
Wave Pool
Volcano Bay's Wave Pool comes with a view of the giant Krakatau Volcano! Waturi Beach is similar to Blizzard Beach's Wave Pool with sections of beach chairs and umbrellas separated from others. The pool itself is also both relaxing and entertaining as guests float along, listening to the sounds of the water park.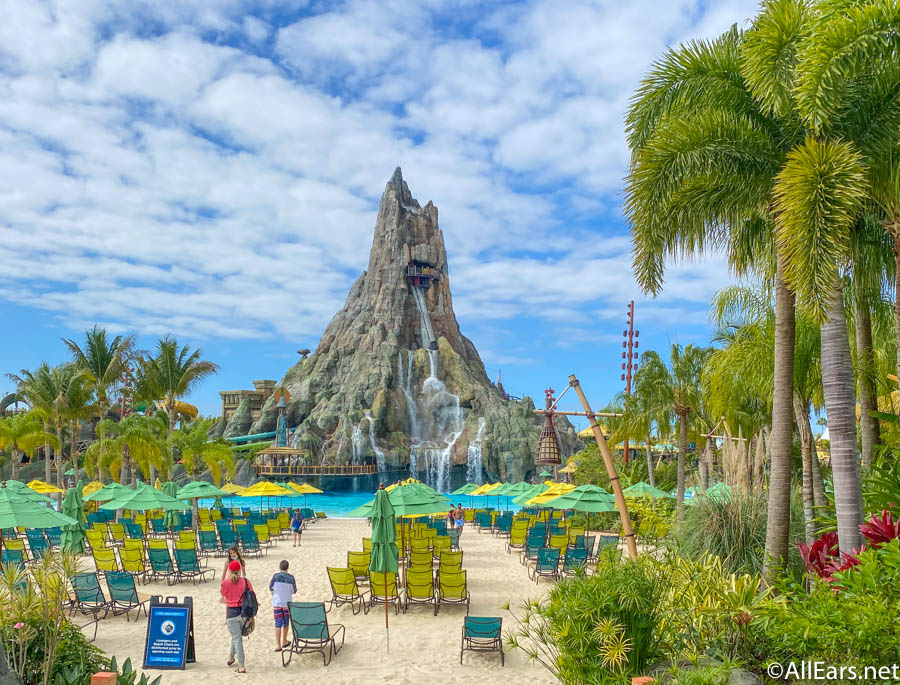 And there's even more fun for families!
Kids' and Family Areas
There are SO many kids' and family areas for everyone to enjoy! Puka Uli Lagoon, Runamukka Reef, The Reef, and Tot Tiki Reef can be accessed by people of all ages with interactive splash areas, obstacles courses, pools, and more.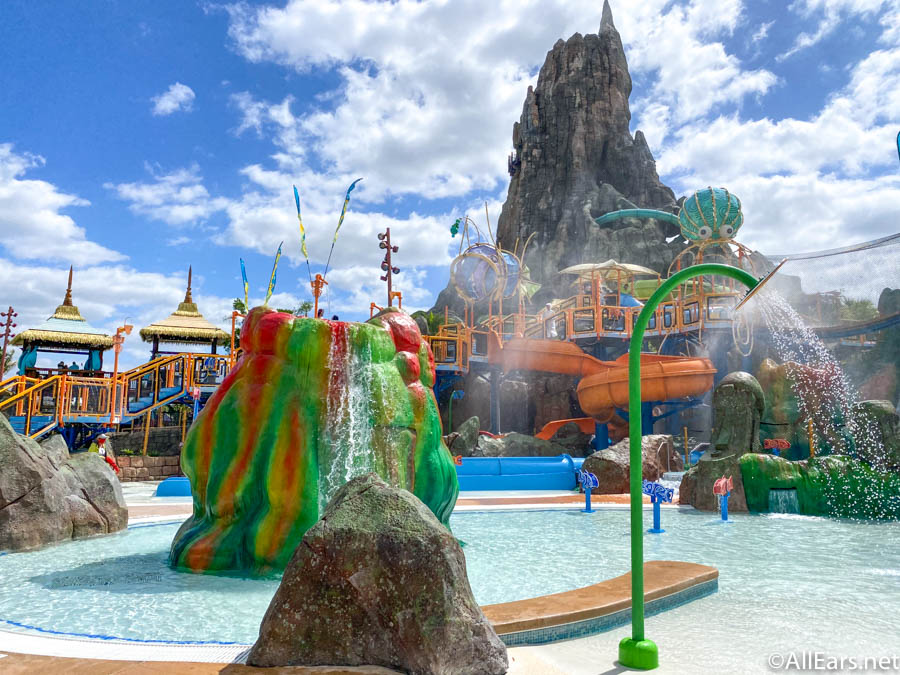 (Anybody else want to climb one of those obstacle courses with us?)
Krakatau Aqua Coaster
Volcano Bay does score some extra brownie points with us since the park has an extra ride that Blizzard Beach does not! The Krakatau Aqua Coaster is a AWESOME with slides, twists, turns, and hills for groups to enjoy on the water coaster.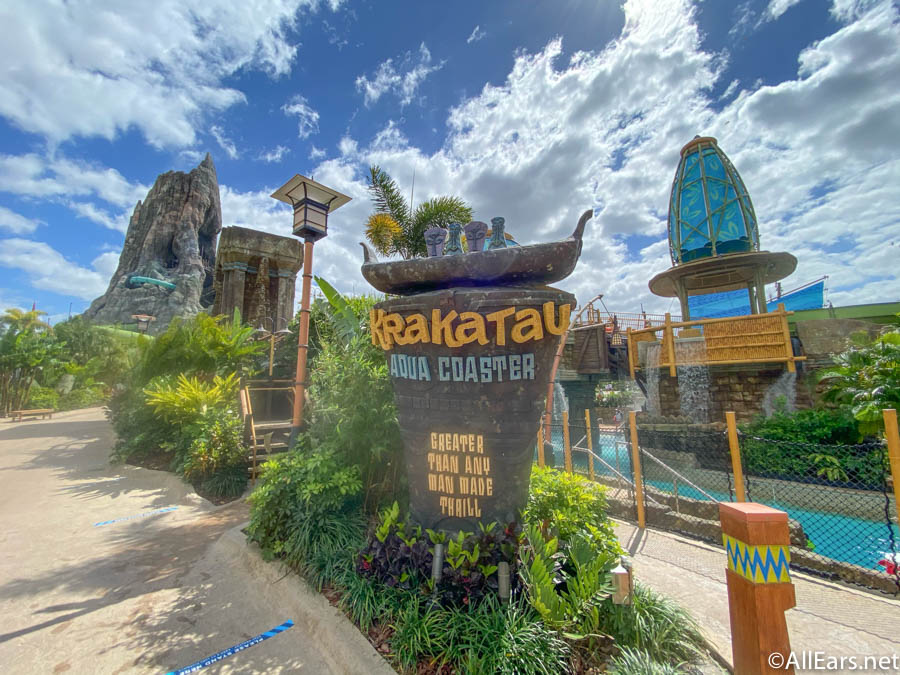 The water coaster doesn't have a pool of water at the end of the attraction, so guests are given sanitizer before they hop on Krakatau Aqua Coaster.
Unique Features
We were totally won over by the Tapu Tapu Virtual Queue in Volcano Bay the minute we saw it! Guests are given wristbands similar to Magic Bands, where they can pop by the stations to make ride reservations. Tapu Tapu only allows guests to reserve a spot at one attraction at a time as they walk around the park and visit other rides.
Guests will then be notified on their wristband when it's time to return to their chosen attraction to ride. Tapu Tapu may say that various spots are available to "ride now," which means that they have a short enough line that the Virtual Queue isn't necessary.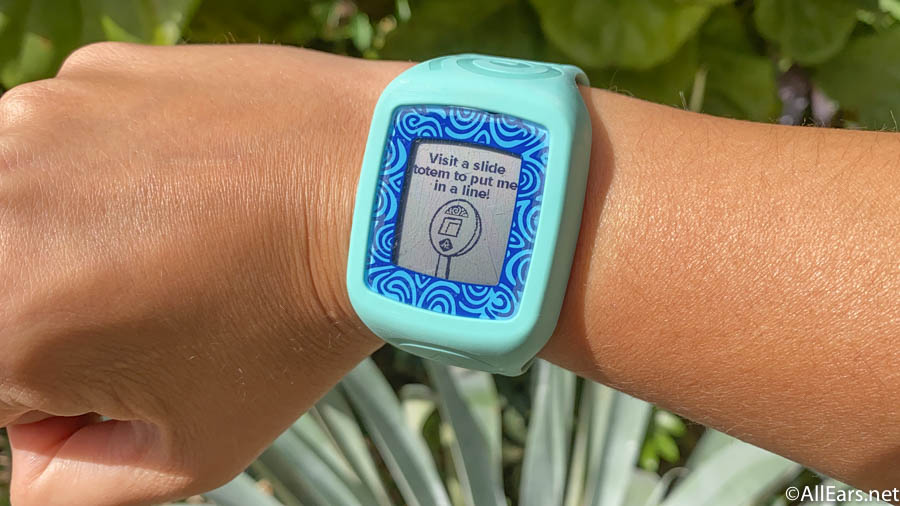 The BEST part of Volcano Bay, though, is the Ko'okiri Body Plunge. The slide is located inside the Krakatau Volcano with a view of the park and a floor that drops out from underneath guests (!!!). Then, riders will fall at 70 degrees through the drop door down 125 feet of water slide.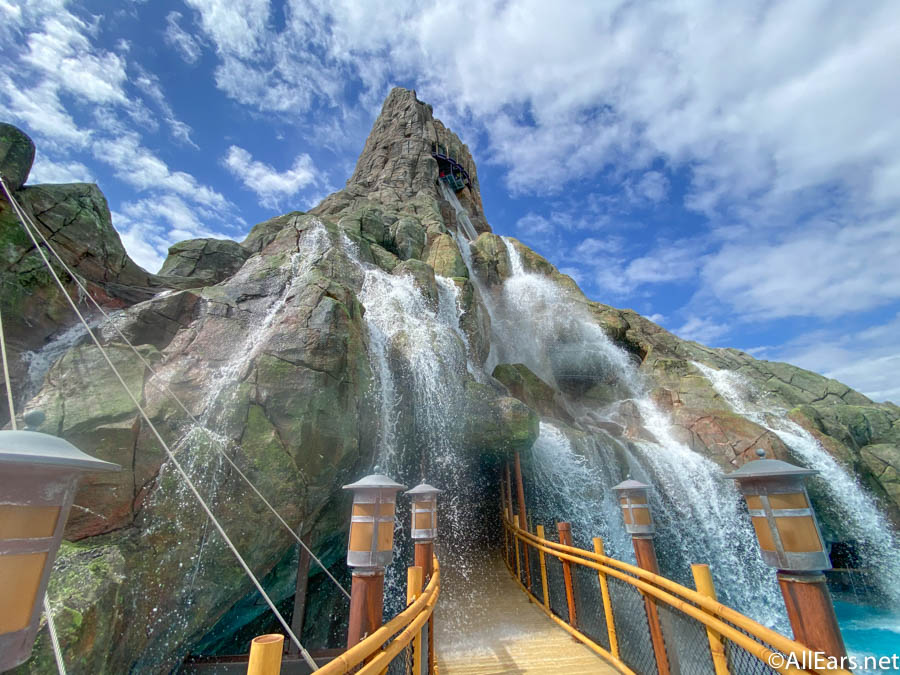 We honestly could ride it over and over again whenever we're in Volcano Bay!
Overall
After considering all the attractions at both water parks, we do have a very clear winner. Universal's Volcano Bay is crowned king in this AllEars throw-down! Volcano Bay has a much wider variety of attractions (not to mention more in general) than Disney's Blizzard Beach. The rides themselves are thrilling with giant drops and even water coasters.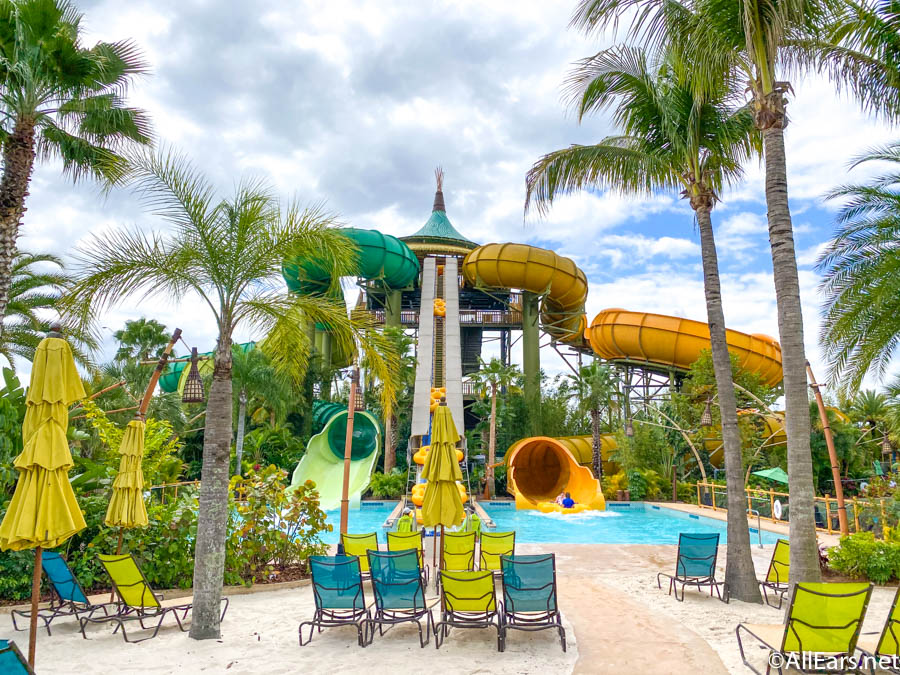 Tapu Tapu was also a BIG factor in our choice. Blizzard Beach only had its wait times posted on signs here and there throughout the park. Volcano Bay not only had the Virtual Queue for busy attractions, but Tapu Tapu also let everyone know which places had way shorter waits.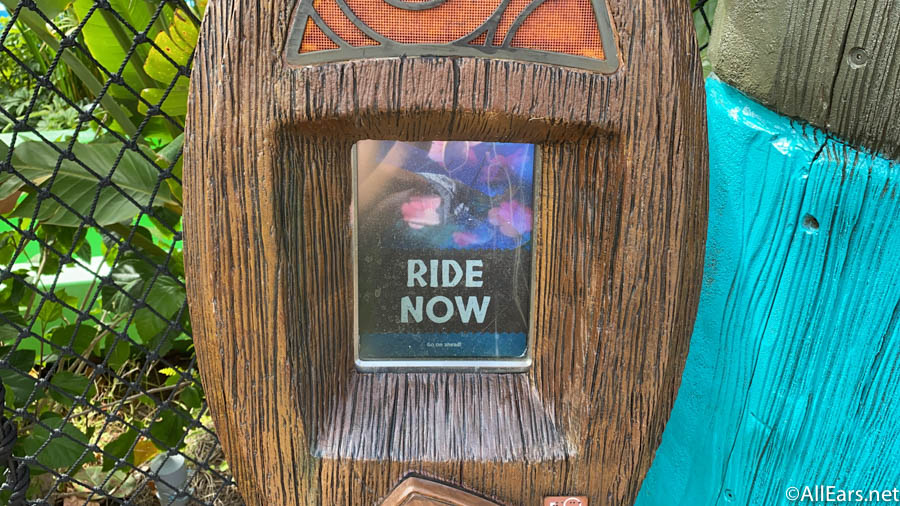 We loved our time at both water parks, but we would hands-down choose Universal's Volcano Bay as our top pick! As we continue to visit all the Universal and Disney parks soon, stay tuned to AllEars for everything you need to know!
What's your favorite Orlando water park to visit? Let us know in the comments below!