Friday, May 27th, was the grand opening day for the Nomad Lounge and Tiffins restaurant in Disney's Animal Kingdom. I'll have a separate review on the Nomad lounge in a few days, but the bottom line is we LOVED the Nomad Lounge! This review will cover Tiffins.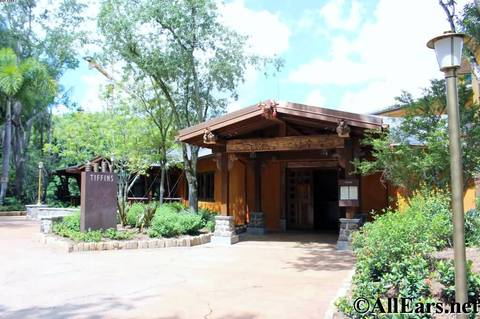 The word "tiffin" means a midday meal or type of container used to carry food while traveling/trekking. Accordingly, the restaurant Tiffins celebrates the art of traveling. Drawings, photographs and notepads from the Imagineers who worked on Animal Kingdom can be found in the restaurant.
First, and perhaps most importantly, the decor, theming, lighting, music, artwork, and woodwork in this space are absolutely stunning. As we walked into Tiffins I got chills similar to when I first stepped into Animal Kingdom in 1998. The place is breathtaking and there is so, so much to explore..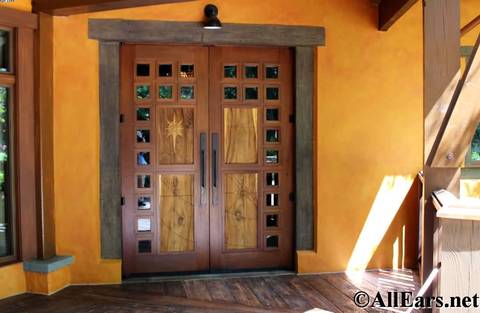 We spent an hour enjoying the Nomad Lounge until our reservation time at Tiffins. Even the check-in podium is beautiful, with artwork and placards that begin your transformation from theme park-goers to trekkers.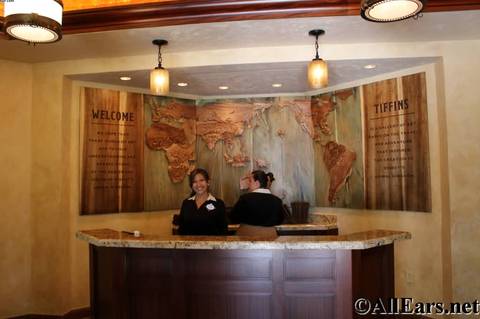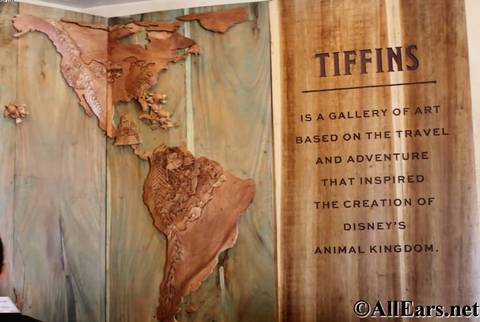 There are three dining rooms, each with its own unique theme.
** The Grand Gallery – Indigenous artists from around the world have lent their talents to Disney's Animal Kingdom. This gallery reflects on some of the folk influences that have led to the design of the park.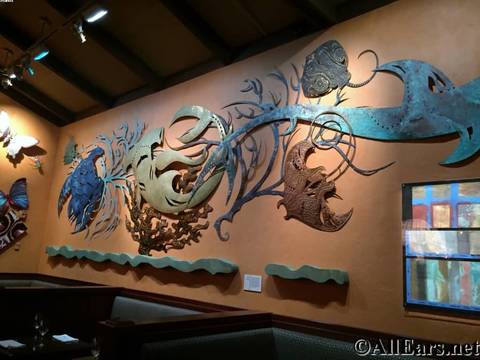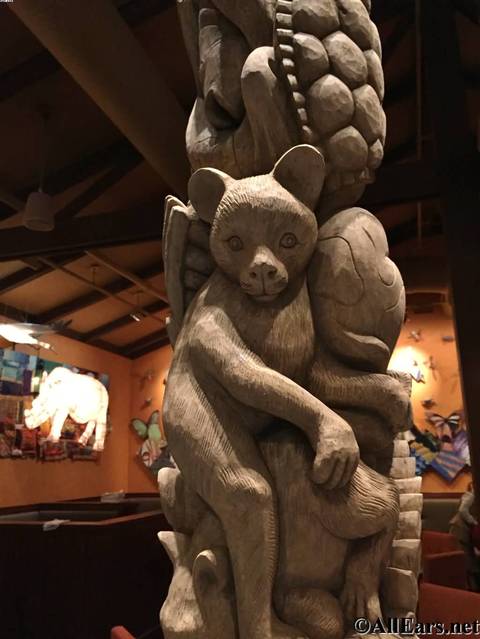 *** The Safari Gallery – Imagineers and animal scientists have explored the towns and savannas of eastern and southern Africa to collect the details that give rise to Harambe. These artworks represent the translation of our overseas adventures into the experiences of Disney's Animal Kingdom.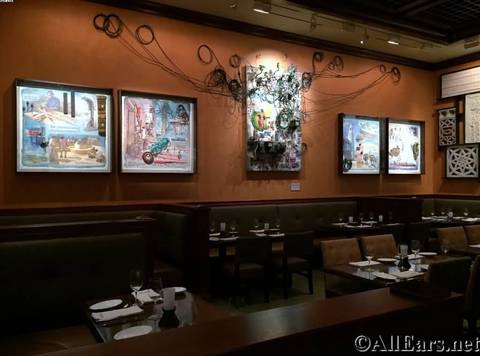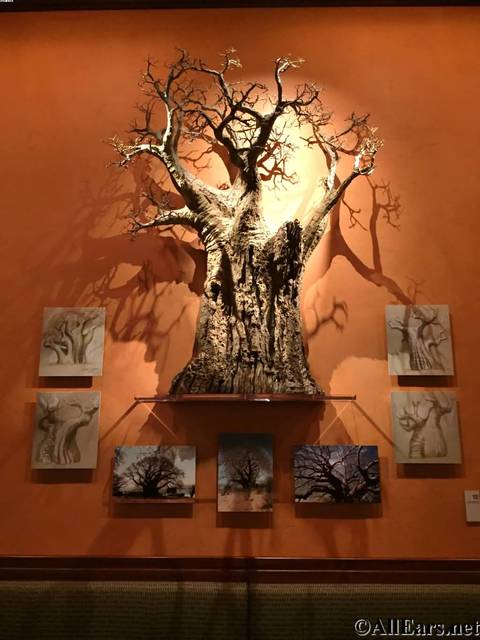 *** The Trek Gallery – Imagineers and animal scientists have traveled throughout South Asia, from Bali to the Himalayas to create the world of Anandapur. These artworks represent the translation of our overseas adventures into the experiences of Disney's Animal Kingdom.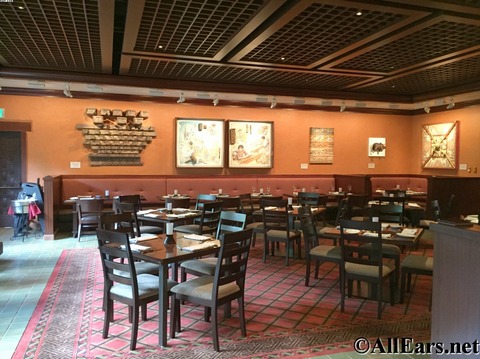 As we were escorted to our table there was much to look at and explore. The Grand Gallery has a full wall representing Rivers of Light. The 3D artwork is beautiful. The centerpieces are five wood-carved totem poles that were relocated here from another area in the park. Can you remember where you saw these before?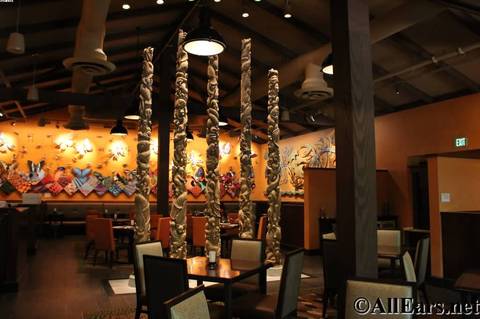 The background music is perfect, soft the way it should be in a signature restaurant. We were able to enjoy the music and talk in normal voices instead of shouting.
Tables are nicely appointed with dark woods, comfortable chairs, silverware, a wine glass and the Tiffins' napkin.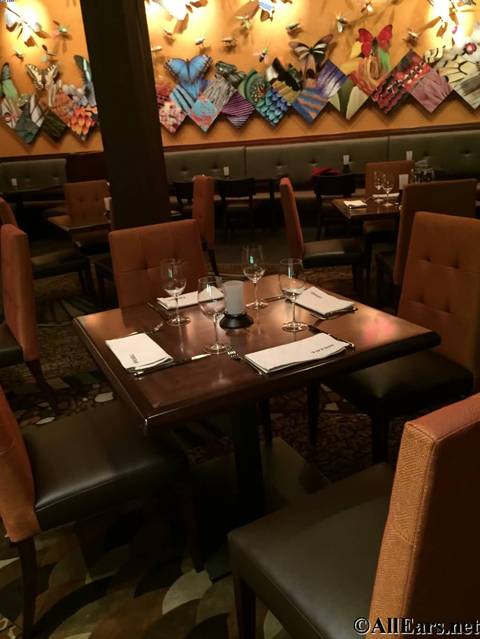 The menu is presented in a beautiful leather travel journal, continuing the storyline perfectly.
In reviewing the food we tried to keep in mind it was opening day (although there had been soft openings with Cast Members), which always means tweaking needs to be done. At the same time, given the price point (and no discount) we reviewed the experience accordingly. As a signature restaurant, we compared it to other Disney top tier restaurants such as California Grill, Flying Fish, Citrico. It is important to note that the Tiffins menu is all day, with the same prices for lunch and dinner. This is my one huge complaint.
Our server, Bob, was excellent. We explained that we wanted to sample a number of items and wanted to take our time. He was most accommodating. To begin, we decided on two appetizer courses, an entree and then dessert.
As we contemplated what to order, Bob brought us the bread service (you can purchase Tiffins Signature Bread Service for $10). The pomegranate foccaccia came with a dipping sauce of molasses and oil. We both enjoyed the bread a lot. It has a mild South African flavor like you might find at Boma or Jiko.
Linda ordered the Lobster-Popcorn Thai Curry Soup – lime-basil emulsion, popped sorghum $13.00. The presentation was wonderful, the bowl arrived with two lobster pieces and the lime-basil emulsion. The server then poured the soup into the bowl.
The soup was tasty and had quite a kick that hit the back of the throat. The flavors of the lobster and popcorn were present. Only order if you like spicy hot foods. Linda does and recommends this.
I began with the Archaeologist Salad – Spring vegetable variations, pumpernickel soil, champagne vinaigrette $12.00. I did inquire as to the nature of the pumpernickel soil prior to ordering and it was explained that pumpernickel croutons were grated. Again the presentation was beautiful. I loved the champagne vinaigrette, and thought the salad was light and flavorful, although the portion was on the small side. The "soil" was under the greens so I initially thought perhaps I should mix them together. Glad I only did a forkful of that. I felt it took away from the delicate salad.
Three wine flights are available; Aromatic Whites, Silky Reds and Robust Reds. I love red wines and especially love the South African wines. I was disappointed that the wine flights and the wines by the glass offerings were so heavily South American wines instead of South African wines. Not sure how I missed the full wine list so I can't comment on that, but I did.
Linda ordered a glass of South African Spice Route Chakalaka ($11) (a favorite of ours). I ordered the Silky Reds Wine Flight ($21). It included a 3-ounce pour of the following red wines: Pinot Noir Alot Limay Select, Argentina 2014, Pinotage Painted Wolf The Den, South Africa 2013, Tempranillo Altocedro Ano Cero, Argentina 2012. I enjoyed the three wines with my appetizers and entree.
For the next appetizer course, Linda ordered the Blacked-Eyed Pea Fritters – Zhough, Yogurt, Peppadew Puree $11.00. The three fritters are lightly breaded and fried, accompanied by spicy peppadew puree and tangy Zhough yogurt (both had heat). The fritters, while delicate and tasty, needed the accompaniments. We both liked them well enough.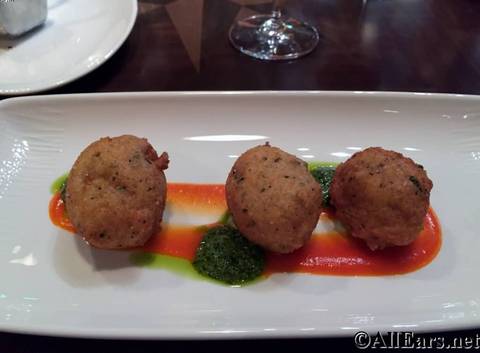 I chose the other salad on the menu Roasted Beet Salad – Goat cheese crema, walnut granola, sun-dried cherry vinaigrette $14.00. Roasted beet salads have become a favorite of mine and I have ordered them in a wide variety of restaurants. Once again, the presentation was beautiful, with yellow and red roasted beet chunks with green leaf garnish on a light wisp of crema. The granola was a bit sweet and crunchy. Unfortunately, as with the Archaeologist Salad, I felt the serving size was very small.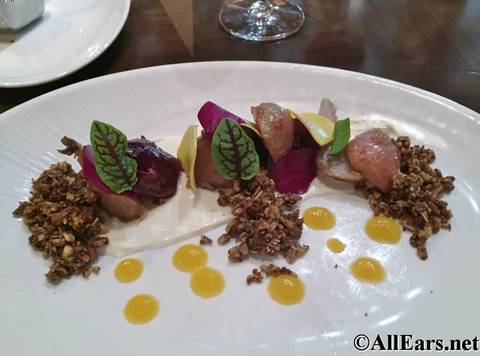 For entrees Linda ordered the Hoisin Glazed Halibut – Forbidden Rice, steamed bok choy, turmeric sauce $42.00
As a picky eater, I had a difficult time deciding on an entree. I considered the chicken but am not an couscous or olive fan. I considered the pork but was concerned the sauce would be too spicy. So, I opted for the Wagyu Striploin and Braised Short Rib – Rainbow carrot, roasted Peruvian potatoes, chimichurri $53.00.
We felt the entree portion sizes were perfect.
We each took a bite of our entrees and looked at each other — the food was lukewarm at best. Our server was apologetic and asked if we wanted fresh entries prepared. At the price, yes, we did. He explained it would take some time and we said we totally understood that. As an "apology" for the entree issue we were served an intermezzo sorbet of Passion Fruit and Kulfi.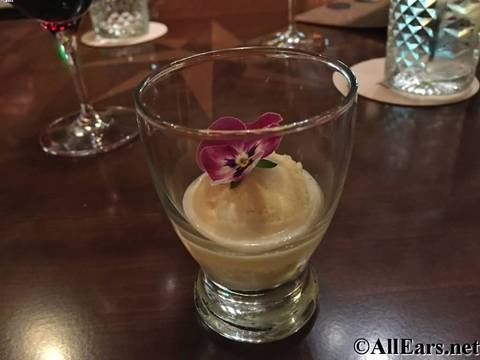 Once our entrees arrived again, we were both anxious to try them. Linda said her halibut was indeed hot. Sadly, my Wagyu beef striploin was lukewarm once again. The short rib, however was closer in temperature to what it should have been.
Linda enjoys halibut, a mild, flaky, white fish. The portion size was comparable to what she's had elsewhere and it was cooked perfectly. The halibut sat on the Swiss Chard, which had the Forbidden Rice inside, placed on the turmeric sauce. Again, great plating! Where it fell short for Linda was the super sweet Hoisin glaze, although others may love it. The sweet glaze helped balance the bitter Swiss Chard, but overpowered the fish. Linda had never had Forbidden Rice before, and found that she didn't care for it — but it may be your favorite.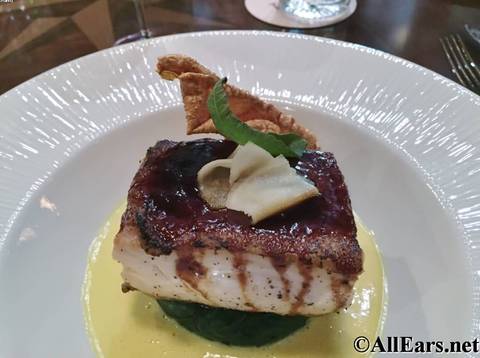 My Wagyu Striploin and Braised Short Rib was a disappointment. Neither of us cared for the Wagyu striploin. I have enjoyed Wagyu burgers before but I have never eaten the strip. I can't really give a fair indication of the quality; just that neither of us liked it. I was surprised by the looks of the braised short rib. What I am used to is basically a nice "chunk" of falling apart beef that is quite tender and tasty. The Tiffins version was different and I'm not even sure how to explain it. Hopefully the photos will show you. In my opinion, it was good, just not great, especially for $53.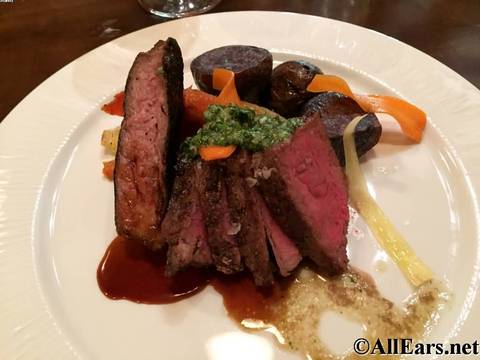 Time for desserts. The menu arrived in a similar leather bound "travel journal." There are several coffee options, including two press pots. For those looking for a sweet beverage for dessert there is also the Mustang Coffee, which is Crown Royal, brown sugar, butter, and organic Columbian coffee ($9.50). There is a nice selection of loose tea, five dessert wines and of course, dessert.
Linda chose the Lime Cheesecake – almond-sesame tuile, green tea sponge $10.00 and I ordered the South American Chocolate Ganache – caramelized banana, cocoa nib tuile $12.00.
The cheesecake itself was very creamy and tasty, and the almond-sesame tuile was a nice accompaniment. The sponge "crust" and topping, however, are just not our thing. We have had a similar sponge on desserts at Morimoto Asia in Disney Springs and didn't care for that either.
The chocolate ganache was very good. The chocolate was deep, rich, creamy and powerful; just like I would expect it to be. The accompaniments blended nicely together. Linda didn't care for it, but she is not a ganache fan.
Particulars
Cost: Let's break down the per person cost, including only one appetizer each:
Linda's meal (appetizer, entree, dessert) came to $64 before tip and tax. Add $11 for the glass of wine, which brought the total to $75. A tip for excellent service at 20% ($15) brought her lunch to $90 plus tax.
My meal came to $77. Adding the wine flight of $21 brought it to $98. Then I added a 20% tip for excellent service ($20), which brought my lunch total to $118.
WOW! This is a very expensive lunch!
Discounts: At this time Tiffins only offers a discount for Cast Members. It is two entitlements on the Disney Dining Plan. Ther are currently no discounts for Annual Passholders, Tables in Wonderland or Disney Vacation Club.
Dining Package: You can purchase a dinner package that includes reserved seating for the new show Jungle Book: Alive with Magic. The price doesn't really save you any money but it does allow you to avoid standby lines for the show. The package includes your choice of appetizer, entree, dessert and non-alcoholic beverage at either lunch or dinner. The Dining Package is $67 for adults, $32 ages 3 to 9, plus tax and gratuity.
Are advance reservations needed? At this time, lunch walk-ups for groups six or fewer shouldn't be an issue. Dinner, on the other hand, especially with the Jungle Book: Alive with Magic package, will probably keep Tiffins busy, so reservations are highly recommended.
Bottom Line
On a scale of 1 – 10 (my rating first, then Linda's)
Theme 10 / 10
Service 10 / 9
Food presentation/plating 10 / 10
Food Quality 8 / 8
Lunch Value 4 / 4
Dinner Value 9 / 8
Overall Experience 9 / 9
We enjoyed our experience, but this really is way too expensive for lunch in our opinion. Lunch specials would make things more affordable. Given the all-day menu, dinner would have been the same price as lunch.
Some items on the menu are vegetarian and several can be made vegan.
Tiffins is beautiful and the cast members are knowledgeable. It is refreshing to have a dining experience of this caliber inside a theme park. Only time will tell what the evening ambiance will be like at a crowded Tiffins with families and folks who may have spent the day in the park. We hope to return at some point in the future.

Check out the full menu and photos!
Leave your review of Tiffins and read others!
PS We absolutely LOVED the Nomad Lounge and look forward to returning there soon! Review coming in a few days.