One rainy weekend afternoon, Vickie and I visited Epcot for dinner in the Coral Reef Restaurant at The Seas with Nemo & Friends Pavilion. I hadn't enjoyed the Coral Reef for a while, so I was looking forward to searching for Hidden Mickeys there. I found a great Mickey image on the lower level of the restaurant, between the first and second booths to the right of the middle aisle, facing the aquarium. This classic Mickey is made of three dark green circular tiles at the upper end of an eel-shaped image on the short wall partition behind the booths. (Thanks to Taricia, Jim Cheslin, and Cameron McGuire).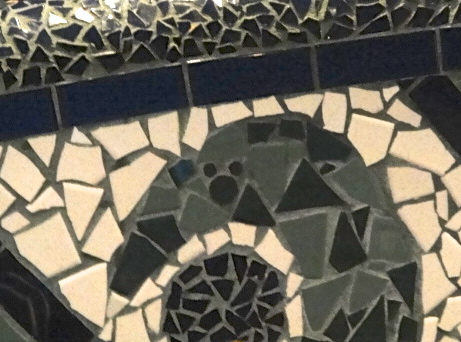 I like to check on another Hidden Mickey whenever I'm visiting the Coral Reef Restaurant. It's made of three dark circular tiles on the upper middle front of a short wall on the right side, as you descend the middle aisle, on the second level. Face the aquarium and crouch low to spot this great image.

We were greeted by a group of divers in the aquarium, including a young boy and his father. Here's the youngster waving at the dry diners.

After I polished off a delicious salmon entree, some of the servers proudly showed me Hidden Mickeys on their vests! You can see several dark classic Mickeys scattered around in the fabric. (Thanks to Alyson Fair).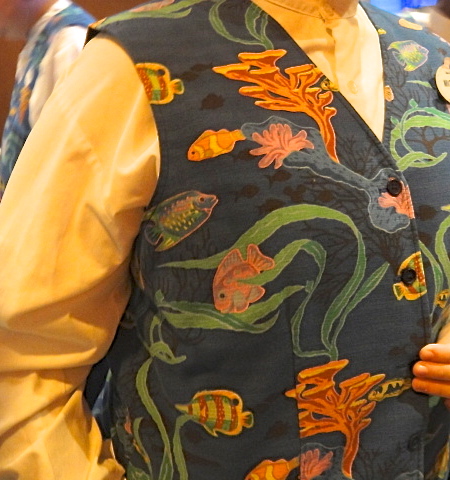 I met up with Marc Lorenzo and Kaylene Jablecki (of the prestigious Disney Moms Panel) and her son Shawn, and we looked for Hidden Mickeys at the Outpost in World Showcase. A piece of brown luggage is perched high on a rear wall in the left room inside the Village Traders shop. The luggage tag is signed "M. Mouse," and a red sticker on the bottom says "Mickey Mouse" and "Disney Magic." Very cool! (Thanks to Darrel Williamson.)