There are lots of things to see, food to eat, and attractions to ride at all four Walt Disney World theme parks. With all those options, you may be wondering, "what are the key things I shouldn't miss?" Don't worry, we've got you covered!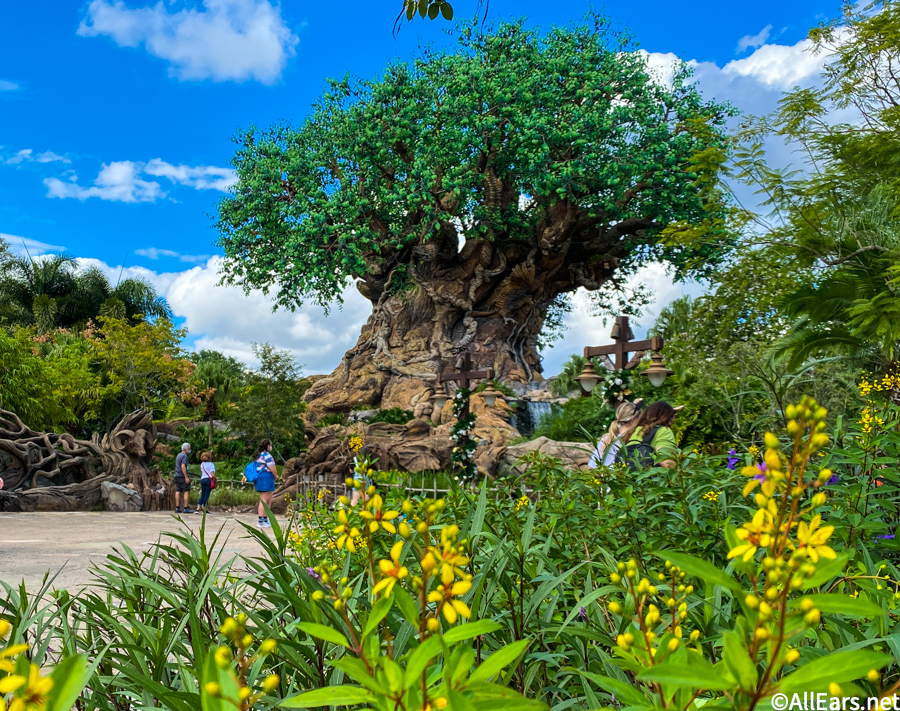 If you're headed to Disney's Animal Kingdom during your next Disney World trip, today we're breaking down the ONE attraction you MUST ride in each of the park's lands so you know exactly how to plan out your trip!
Discovery Island
We begin our wild journey around the beautiful Disney's Animal Kingdom at the first land we reach after crossing through the Oasis area and over the bridge — Discovery Island. While this land isn't home to much in terms of attractions, there is one here that is a real classic!
Located at the base of the Tree of Life, It's Tough to Be a Bug is a 3-D show based on the Pixar movie A Bug's Life. You get to be an "honorary bug" for the day and check out some cute acts from all the bug performers, including special appearances from Flik and more. But, as always, things don't go perfectly to plan, and you may encounter a certain creepy crawly villain during your show!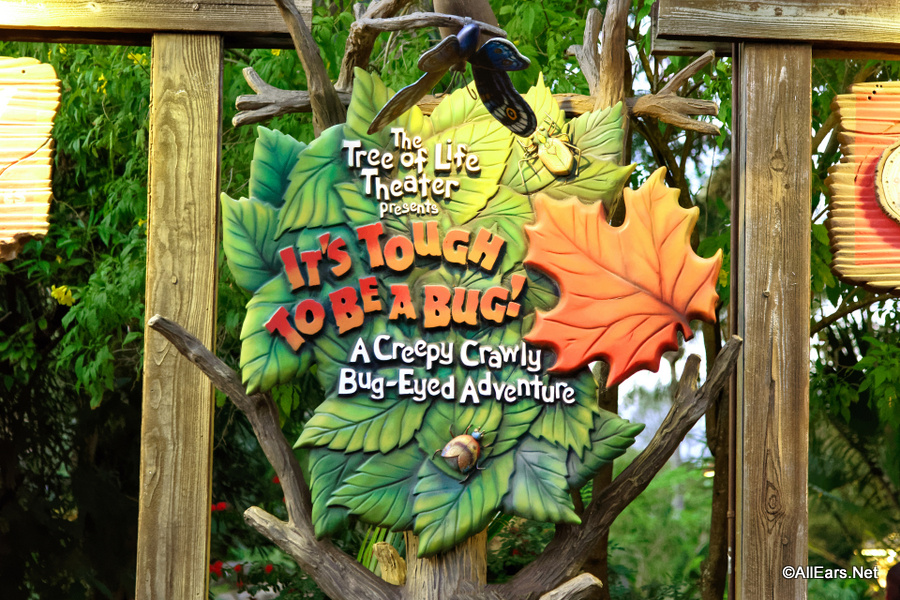 We do have to issue a bit of a warning about this attraction: a few parts of this show can be pretty scary for kids (and even some adults), including spiders falling from the ceiling and "bugs" that crawl under your seat.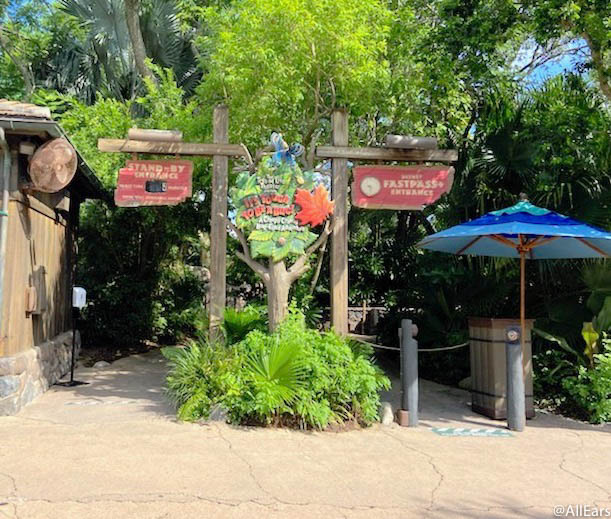 So if you scream at the sight of an ant, this may be a skip for you. Otherwise, we'd say (despite a few Fear Factor-worthy moments) this is a classic attraction that you should definitely check out at least once in your Disney life.
No list is complete without a few honorable mentions, and we had to give one here. Don't forget to check out the Discovery Island Trails while you're in this area near the tree of life. These walking trails give you the chance to see some adorable animals including otters!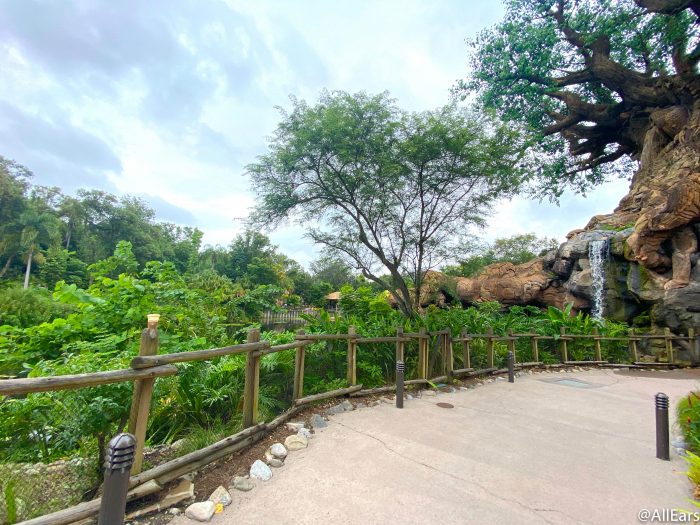 You'll also get some beautiful views of the Tree of Life which are perfect for family photos or awesome Instagram shots. Too often guests walk past the Discovery Island Trails and completely miss them. They're definitely worth at least a quick stop during your visit!
Pandora — The World of Avatar
On this virtual trip, we'll head to the left and over to the next land, which is Pandora — The World of Avatar.
In Pandora, the choice is VERY clear for us. If you only ride one attraction here, we 10000000% recommend you hop on Avatar Flight of Passage. Think of this ride almost like Soarin' meets Star Tours. It's thrilling without being a rollercoaster that goes upside down or anything like that. It's also incredibly immersive.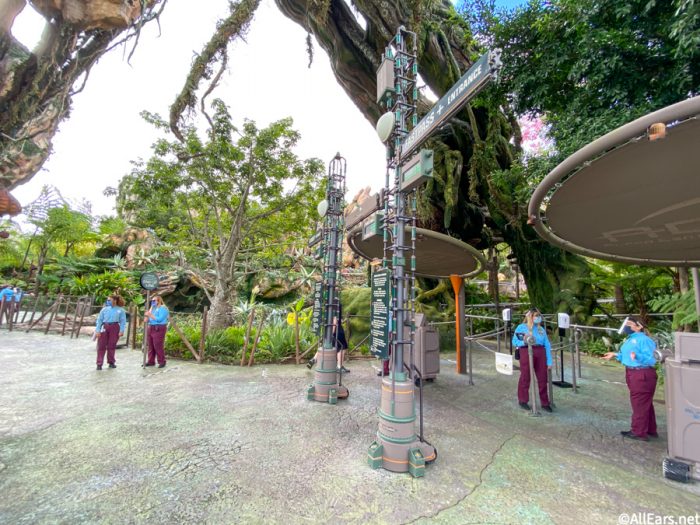 The amazing soundtrack will really make you feel like you're in the movie. But it's truly all the little details here make this a stand-out attraction. The queue is amazingly detailed and even gives you the chance (most of the time) to see a lifelike Avatar in the lab section. The pre-show is iconic (say it with us — "and um…fly!"). And the way that your "banshee" breathes during your flight and how you can feel and smell different parts during the ride really help put you in the story.
Overall, it's an experience that hits all the senses — except taste, but you can hop over to Satu'li Canteen for that!
We have to give an honorable mention, however, to the other attraction in this land — Na'vi River Journey — because it is truly beautiful and is a peaceful ride that even really small children can enjoy. The animatronic at the end here is the true star, though. It's giant, and it's moves are incredibly lifelike.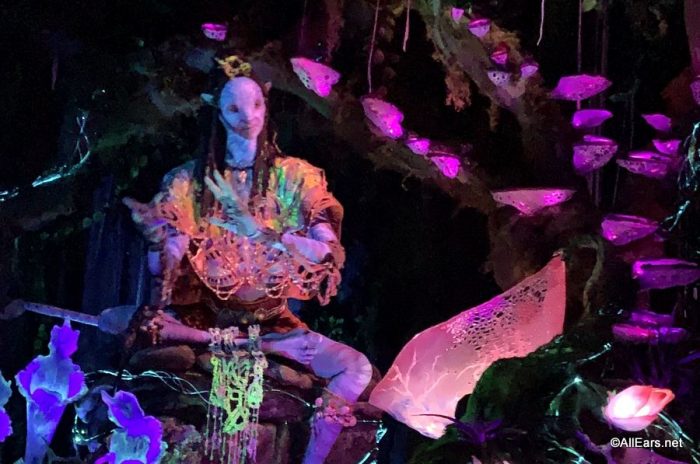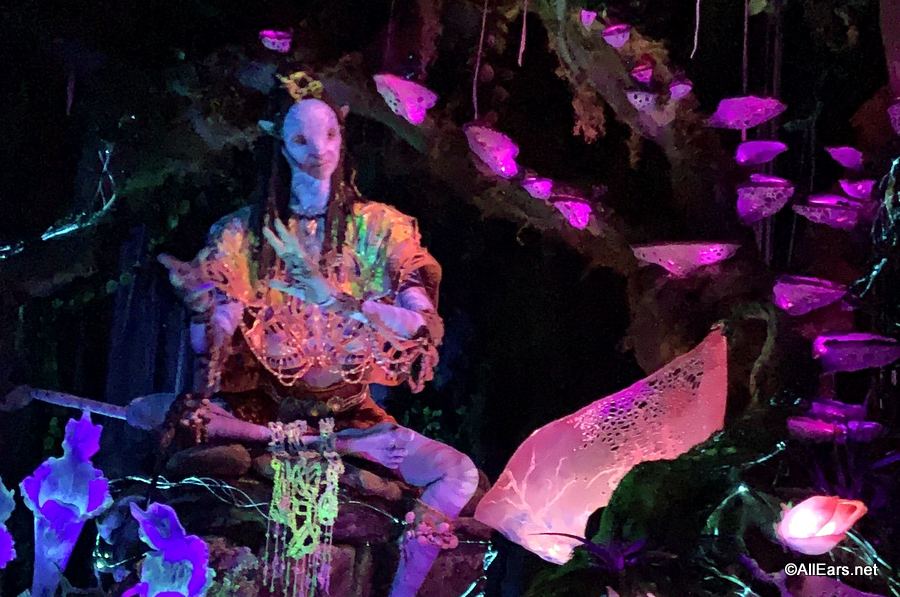 You may even find yourself waving at it, believing it's a real person (spoiler alert: it's not).
Africa
Next, we're headed to Africa for the one ride we'd argue is very much the signature attraction of this entire park.
If you're only going to ride one ride in each land at Animal Kingdom, the choice in the Africa section is VERY clear. Kilimanjaro Safaris is the MUST-DO attraction here! As a whole, the attraction really embodies the magic of this park and the wonder of wild animals, giving you the chance to ride up pretty close to many of them as they roam around your vehicle.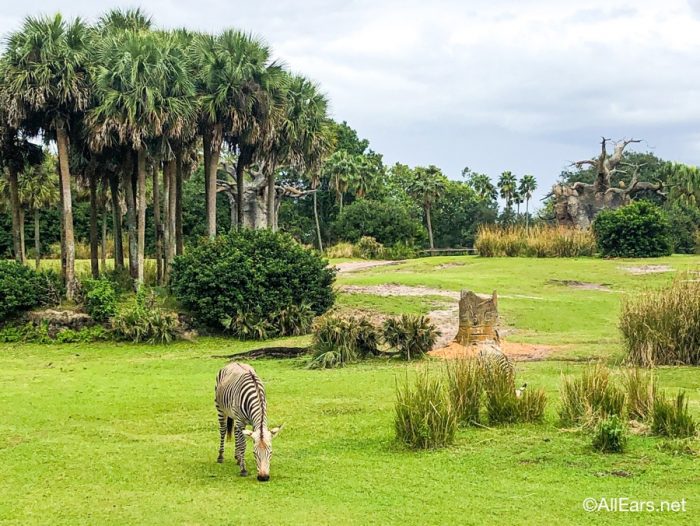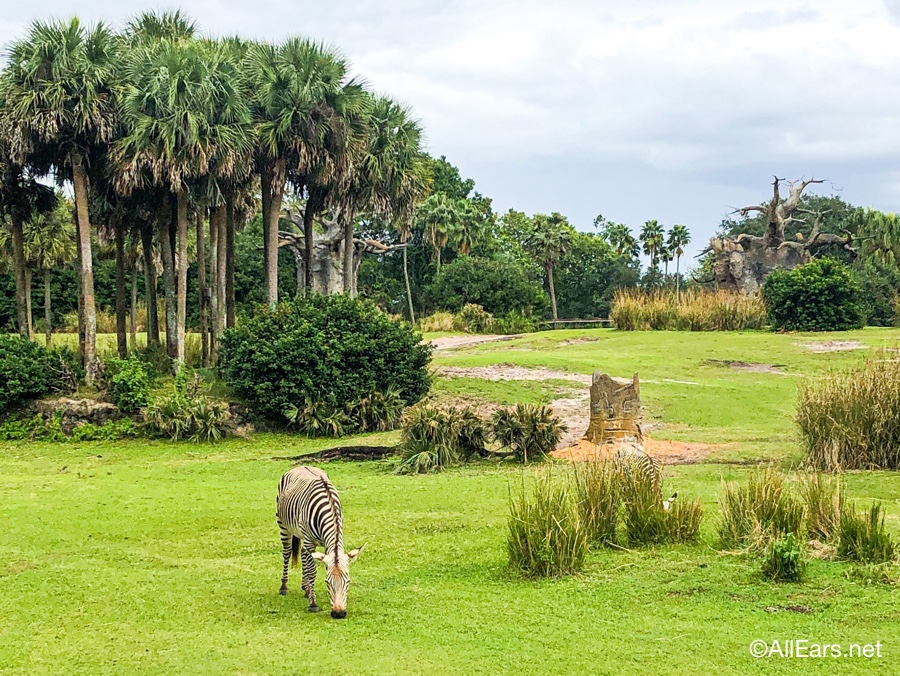 From giraffes to elephants and even lions, you have the chance to see so many majestic creatures during this ride. And while we already miss Warden Wilson Mutua, the ride itself still holds up as an incredible attraction.
And it's a unique experience each time you ride as the animals will wander throughout different areas in the morning versus later in the day, not to mention some animals only come in during the evening safaris or are more active in the evening (or after a rainstorm).
Although Festival of the Lion King is not open at the moment and Cast Members from the show have sadly been laid off, we're certainly hoping this show will return in the future. Bob Iger recently noted that Disney does plan to bring back some discontinued entertainment in the future, and we're crossing all of our fingers that Festival of the Lion King is on that list.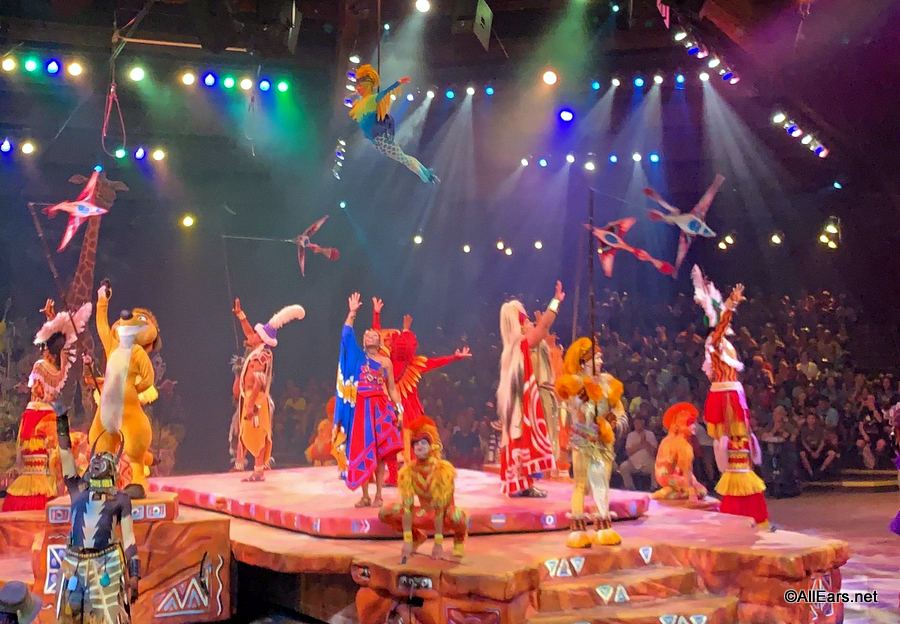 The show is a must-do in Animal Kingdom overall. The music, acrobatics, costumes, dancing, and interactivity of the performance will make you want to come back time and time again.
Rafiki's Planet Watch
Ready for more animal fun? We're hopping on a fun train (that is a great attraction in and of itself) and heading over to Rafiki's Planet Watch. If you're busy hustling and bustling around the park, you may not even be aware of this tucked-away experience, but it's definitely worth some time during your next trip! There are a few things you can look at once you're over in this area, but our number one pick in terms of attractions is something that'll really get your creative juices flowing!
At Animal Kingdom you can see animals, pet animals, and draw animals, too! The Animation Experience at Conservation Station is a 25-minute experience will help you to draw a Disney character with the guidance of a Cast Member.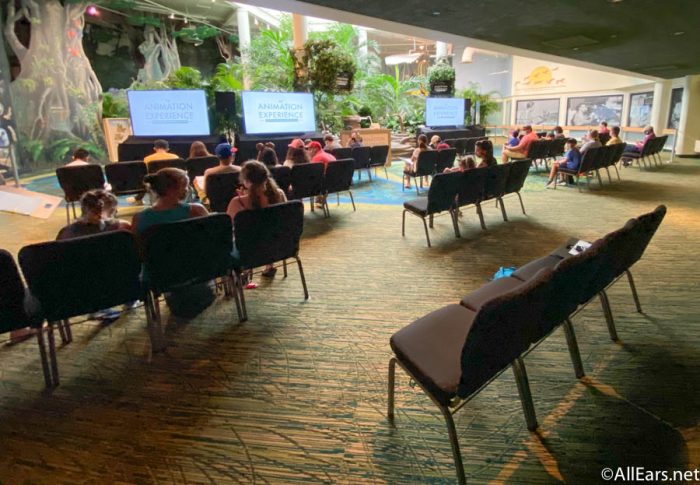 These sessions can be pretty popular and can fill up quickly as there is limited seating available, but there are multiple sessions offered throughout the day — so you may want to consider being there for one of the earlier times so if it fills up, you've still got plenty of other opportunities throughout the day to create your own free, unique Disney souvenir.
Does an animal petting area count as a ride? We're going to say YES since it may be one of the CUTEST things you do all day! Over at Affection Section, you can pet some goats or sheep and get some one-on-one quality animal time.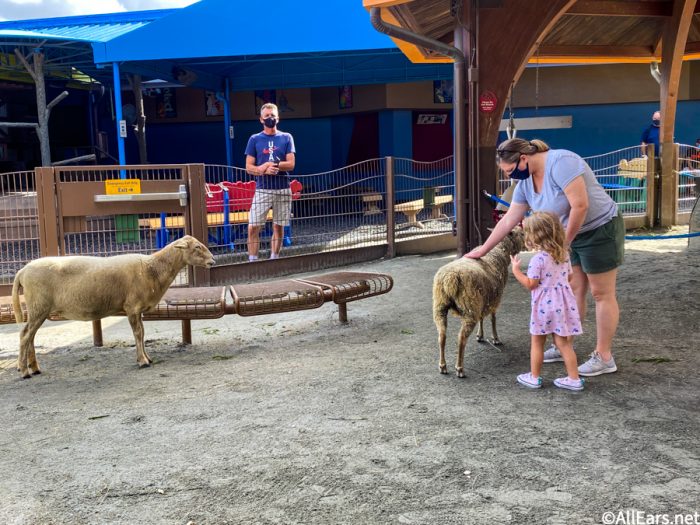 The area recently reopened to guest and has some social distancing and sanitation measures in place for everyone's safety.
Asia
Once you've finished up exploring over at Rafiki's Planet Watch, you can hop on the train back to the main area of Animal Kingdom and continue on your path around the park and toward Asia.
Expedition Everest
If you only ride one attraction in the Asia section, our choice would be Expedition Everest! One of Joe Rohde's fantastic creations, Everest is much more than just a rollercoaster. Like everything at Disney, it's got a full story that starts from the second you enter the queue (and really from even before that as you walk near the attraction).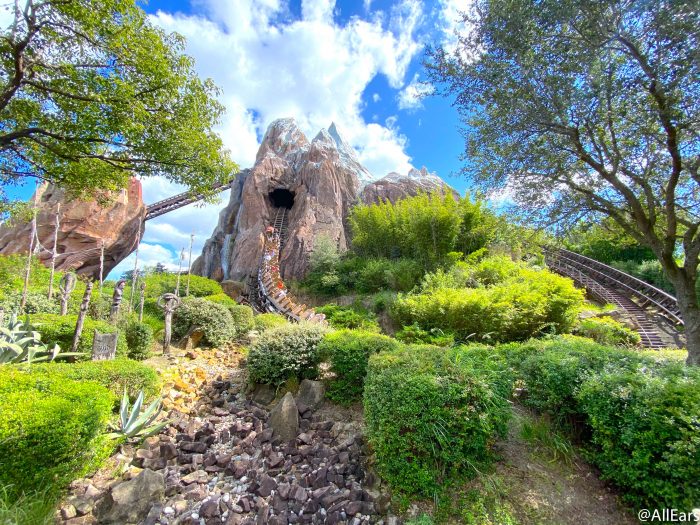 Even if you aren't a huge fan of rollercoasters, we'd say give this one a try (or maybe just walk the queue and then head out before actually getting on the attraction, so you can get a taste of the theming). The coaster itself is also really smooth, so there's no need to be worried about some of that intense jolting you can get on rides like Space Mountain.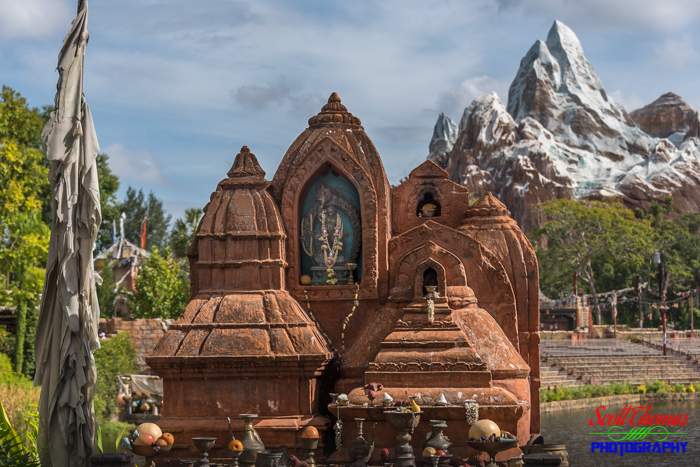 But don't underestimate this coaster, either! With some intense dark scenes, a portion where you go backwards, and a large drop, it's got all the elements for a true thrill ride. Overall, Expedition Everest is a MUST-DO!
While Kali River Rapids is also located in Asia and is a fantastic ride (except maybe for those who don't want to get wet), we're giving our honorable mention here to the Maharajah Jungle Trek. While not a "ride", the true magic of Animal Kingdom is in its animals, and this is one animal trail you won't want to miss.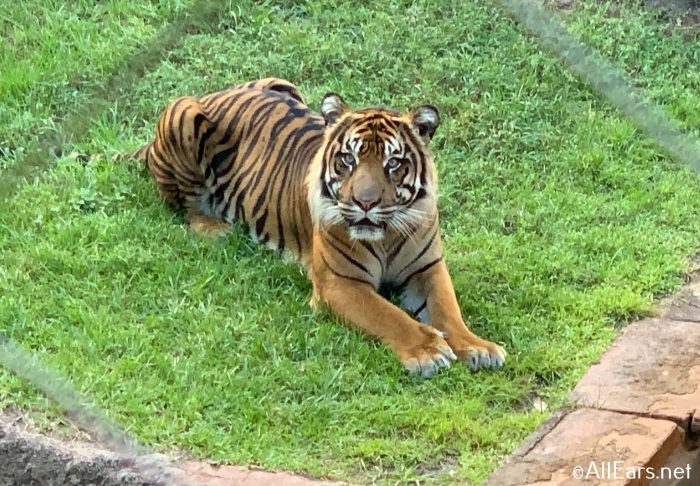 Too often guests walk right past this trail and either don't know what they are or don't make time for them, but it is really beautifully detailed and you'll get the chance to see some amazing animals like tigers, bats, birds, and more!
DinoLand U.S.A.
Finally, as we circle around Animal Kingdom, we reach our last land — DinoLand USA!
DINOSAUR is most definitely our pick for the must-do attraction in DinoLand USA. There aren't too many attractions that you can ride here in DinoLand, particularly with the departure of Primeval Whirl, but DINOSAUR isn't our pick just because it's one of the few still there. It really is a fantastic attraction in its own right.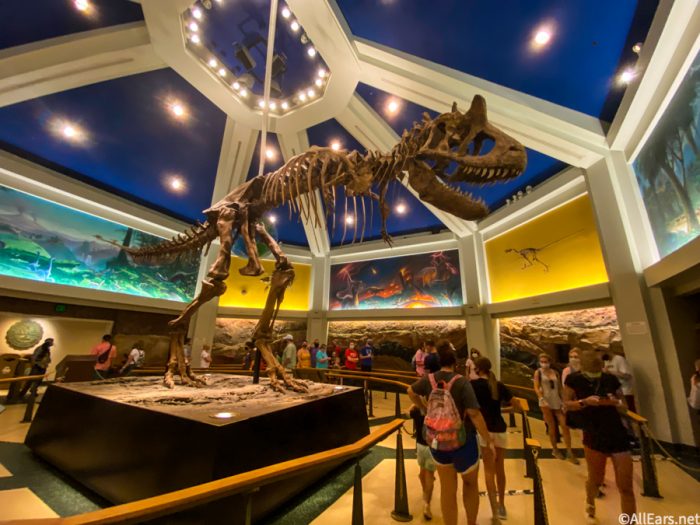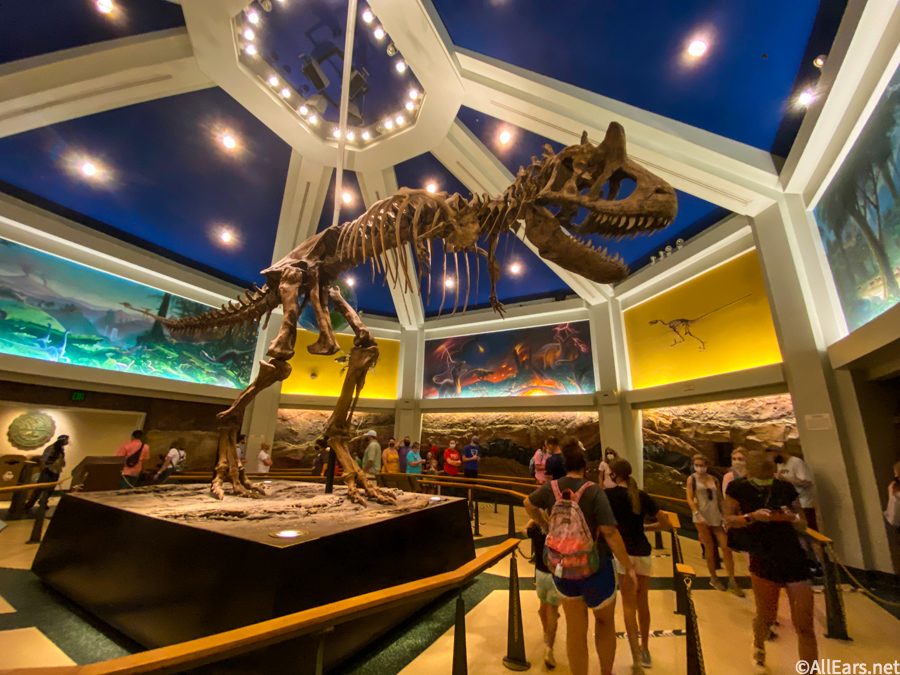 The queue is really detailed and has lots of little things to look at, and then we get that fantastic pre-show (Dr. Seeker, you have our hearts). The attraction itself is pretty intense — we're talking fast, rather abrupt in some parts, dark, and (if you're slightly afraid of giant dinosaurs) pretty scary!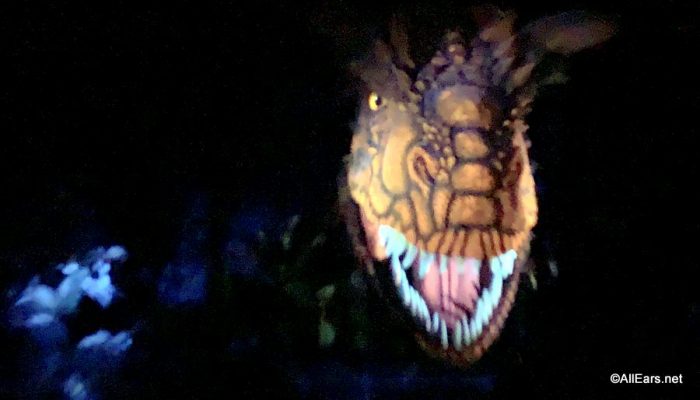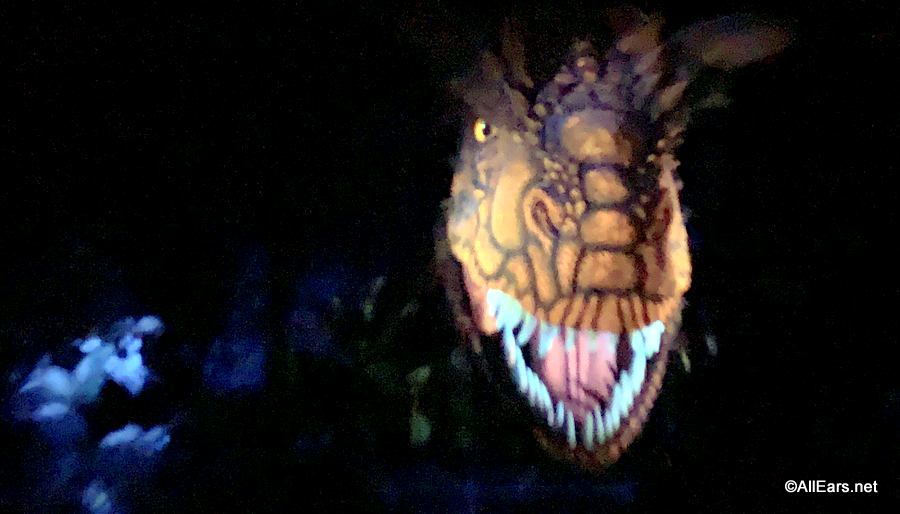 But that's what makes this ride fun! Did you know this ride uses the same track and vehicles as the Indiana Jones: Temple of the Forbidden Eye attraction in Disneyland? Which of those attractions makes the best use of the vehicle and track in your opinion? Let us know in the comments.
Our honorable mention here in DinoLand goes to the beautiful Finding Nemo: The Musical. This show is not available at the moment, and its Cast Members, like those at Festival of the Lion King, have been impacted by the Disney layoffs, but we are really hoping this show comes back in the future. Finding Nemo: The Musical is a full, Broadway-style performance of the story Finding Nemo with some incredible puppets, performers, and original songs.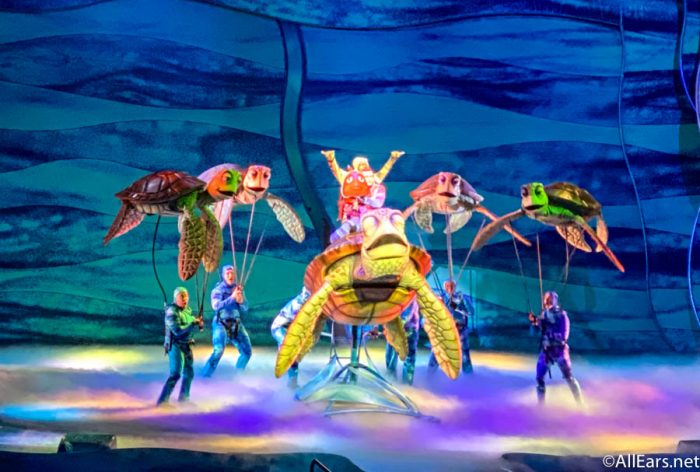 This is a longer show so you'll want to plan accordingly, but it's truly a Broadway-caliber performance. The songs here are absolutely amazing, as are the performers themselves, who often sing or act while suspended in the air or sitting atop a giant turtle or while handling their character puppets. It's colorful, fun, and something the whole family will truly enjoy.
And that's our list for the top attractions you must do in each land at Animal Kingdom! What is your #1 must-do attraction in Animal Kingdom? Let us know in the comments!
Join the AllEars.net Newsletter to stay on top of ALL the breaking Disney News! You'll also get access to AllEars tips, reviews, trivia, and MORE! Click here to Subscribe!