DINOLAND USA Overview Animal Kingdom
COMING SOON: a "dino-tastic" celebration, in which Donald Duck takes over Dinoland, U.S.A.
in time for Animal Kingdom's 20th Anniversary
Are you ready to go back in time over 65 million years? To a time when prehistoric dinosaurs roamed the Earth?
DinoLand USA is a tribute to dinosaurs — real and imagined — from the wacky, tacky souvenir shop run by Chester and Hester to the serious students and professors that make up the Dino Institute!
Heading right, after entering Discovery Island, you cross a bridge and find yourself under a 50-foot-tall Brontosaurus. You can also get to DinoLand USA from Asia (near Expedition Everest).
ATTRACTIONS
The Boneyard – A playground for children
Dinosaur – The Dino Institute – Home to the thrill attraction (originally called Countdown to Extinction)
Cretaceous Trail — Located near the Dinosaur attraction, you can take a short walk back in time to see reproductions of the dinosaurs that lived during the Cretaceous period.
Theater in the Wild – a 1,500-seat indoor theater with a stage show called Finding Nemo: the Musical!
Chester and Hester's Dino-Rama – a mini-land that features a Midway with carnival-style "Fossil Fun Games," TriceraTop Spin (similar to the Magic Kingdom's Dumbo except with dinosaurs), and Primeval Whirl, a "wild mouse" type roller coaster.
Dino-Sue — the largest most complete T-Rex ever found. More than 90 percent of her bones have been accounted for. She is 40 feet long and 13 feet tall.
Check out the Dinoland USA Bits and Bites
PLACES TO EAT
Restaurantosaurus – located in DinoLand U.S.A., is a quick service eatery offering the traditional Disney World quick service fare, with kids' meals being served with a sand pail and shovel.
Trilo-bites – Open Seasonally snacks
Dino Bites and Dino Diner have ice cream and snacks.
Animal Kingdom Restaurants at a Glance
PLACES TO SHOP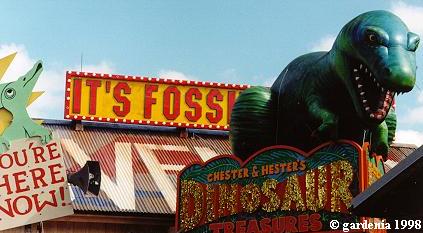 Chester and Hester's Dinosaur Treasures – a former gas station, this is your basic souvenir store with fun theming. The big hit, especially with young boys, are the rather large dinosaurs. Just remember, you have to pack them in your car or carry them on the plane to get them home — most don't fit in the suitcase!
Animal Kingdom Shopping at a Glance