Disney Springs is a dining dreamland located in Walt Disney World. There's something for every sweet tooth and savory snack lover here!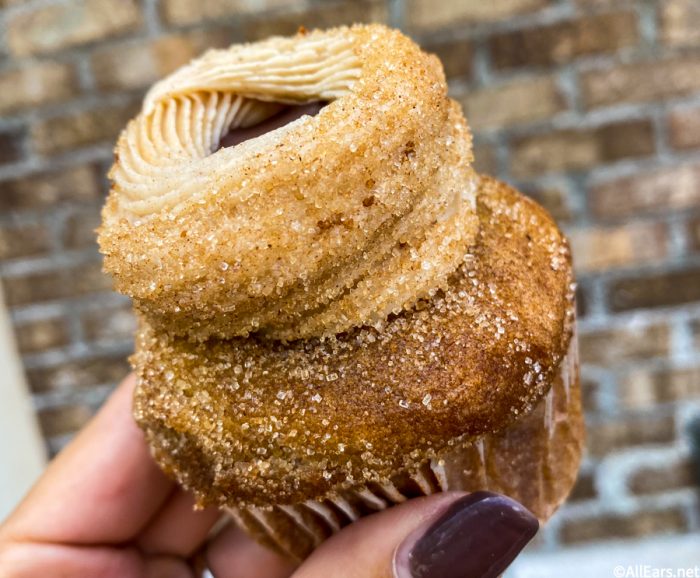 You can have your pick from gelato, cupcakes, decadent desserts, loaded French fries, and even vegan and allergy-friendly treats! First-timers may feel a little overwhelmed with the snack options at Disney Springs. There are food kiosks, bakeries, and ice cream parlors on every corner so it's difficult to know where to start. You want to make sure that you're getting the biggest bang for your Disney bucks! We're here to narrow down your choices with the top 10 underrated snacks at Disney Springs. These are treats that are melt-in-your-mouth-good or will look great on your Instagram feed. Let's get started!
Wine Bar George is the restaurant that has everyone talking about. (The Saganaki on Fire is pretty fantastic, by the way. Cheese lit on fire?? Yes, please!) The signature appetizer is the Crispy Mac and Cheese Bites. Biting into a ball made of oeey-gooey mac and cheese that has been fried to perfection is incomparable. The mac and cheese portion is rich, creamy, and it's fried to a point where it's just crispy enough without being overcooked. You'll want way more than what you're served.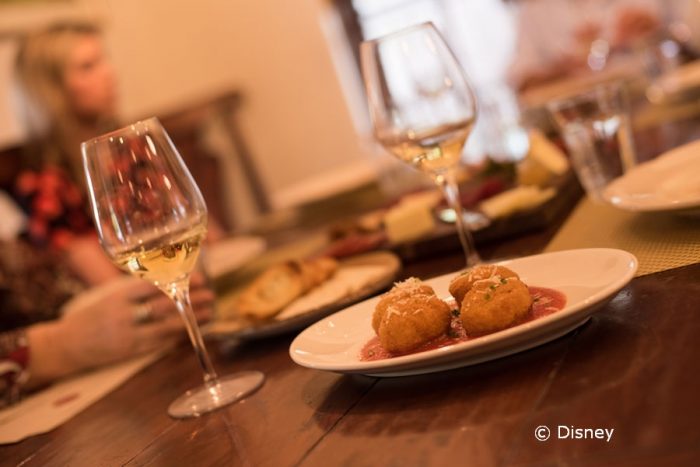 The great thing is, you don't have to go inside the restaurant proper to get this dish! Simply head to The Basket's walk-up window and order it off the menu! Might we suggest the Frozcato to accompany your cheese bites? The frozen Dole Whip with rum is the perfect pairing!
The gelato flavors from Vivoli il Gelato are pretty dang good on their own. (And if you love gelato, you'll love the custom dessert sandwiches where you can choose your own gelato flavor and cookies!) We're not here to talk about gelato, though. We're here to talk about Tiramisu Pops. The treat makes frequent appearances at Vivoli il Gelato in Springs. Every once in a while it will disappear then make a comeback. When it does appear, it's like we've been reunited with the decadent dessert of our dreams.
The Tiramisu Pop is made with layers of Tiramisu Gelato and ladyfingers soaked in espresso. The gelato is so creamy and the ladyfingers soak up the flavors of the gelato nicely. If it's on the menu, it's a must-try! You can usually find this dessert at the Via Napoli Donkey Stand in EPCOT's Italy Pavilion, too!
Ever had the Kitchen Sink from the Beaches and Cream Soda Shop? The Kitchen Sink cups from Erin McKenna's are kind of like that, only way smaller and allergy-friendly. Every morning, the Bakers gather up all leftover pieces of cakes, cookies, and other goodies they baked and put them in large cups. The cups of fresh baked goods are then sold to those who want a little mystery with their dessert!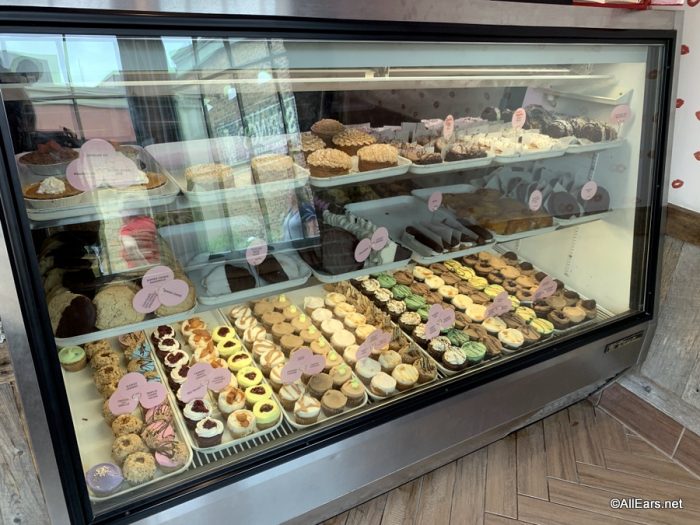 The Kitchen Sink cups are a great way to taste all the different allergy-friendly flavors that the bakery has been cooking up that morning. You'll get a taste of sugar cookies, brownie cakes, and who knows what else!
Yes, Aristocrepes specializes in crepes, but they also specialize in massive bubble waffles. The thick, flavored waffles are topped with a huge amount of goodies and served to you in a heaping pile of goodness. The Salted Caramel Bubble Waffle is a crowd-favorite and loaded with chocolate ice cream, pretzel pieces, whipped cream, crispy pearls, and caramel sauce.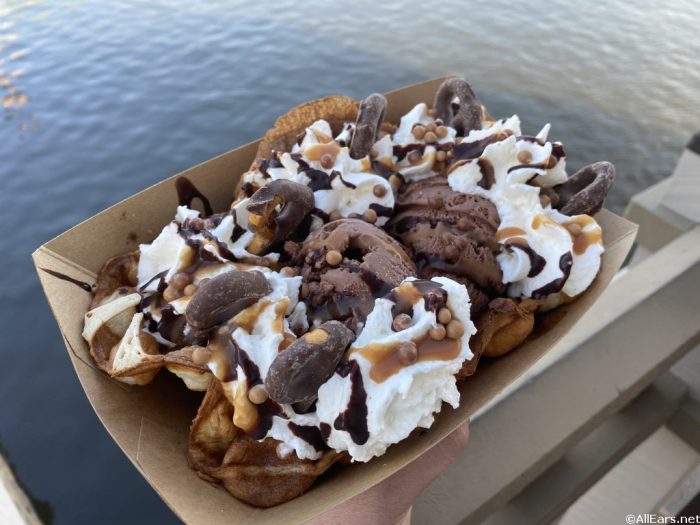 You can smell the fresh waffles being cooked when you walk by the small stand, and it's really tough to resist. And hey, if you don't love waffles, the crepes are really good, too!
Yeah, we said we wouldn't mention anything too popular, but the World Famous Hot Fudge Sundae is really underrated when compared to the other items on the menu. Usually, people opt for the giant sundaes piled with tons of different flavors. We think it's best to keep things simple when it comes to Ghirardelli!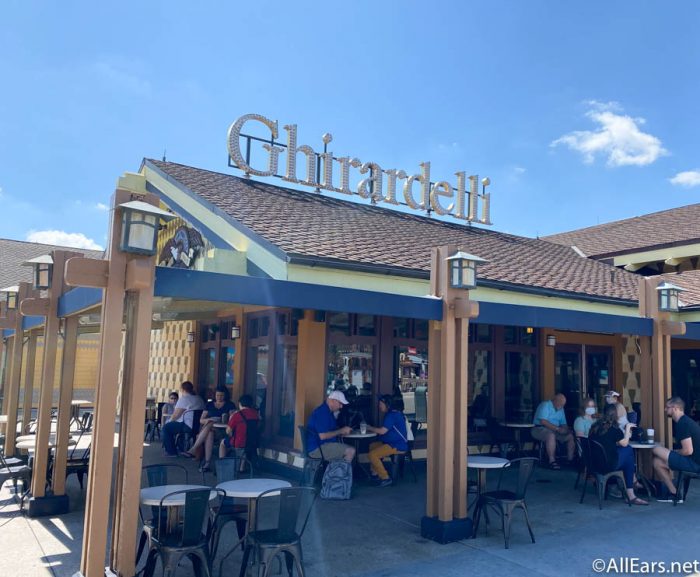 Sometimes, when the ingredients are that good, it's best to stick with the basics. When you order the classic sundae, you'll be able to taste the quality of hot fudge made from Ghirardelli's signature chocolate. The vanilla ice cream is simple but very well-made. Need a little something extra? Order it in a freshly made waffle bowl!
Speaking of chocolate! One of the best places for fantastic chocolate at Disney World is The Ganachery.  You can watch the Chocolatiers mix, dip, and wrap the chocolates from the shop window. The one-stop-chocolate-shop also serves seasonal chocolate treats that are SO indulgent you'll keep coming back for more.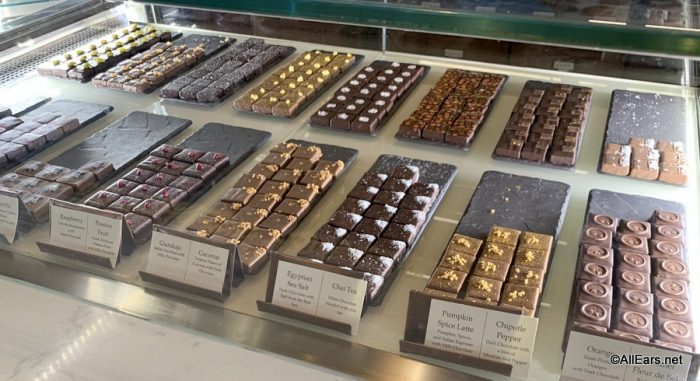 One of our favorite treats is the Housemade S'mores. The Ganachery will serve it as a seasonal dessert, but you can find it many months out of the year. The s'more is made of typical ingredients: graham crackers, chocolate, marshmallow. Only, the ingredients are high-quality and something you'd order from a fancy restaurant. Instead, it's made with torched Vanilla Bean Marshmallow Squares and Salted Caramel Ganache.  It's super melty and super tasty! You'll feel like you're on the bougiest camping trip ever.
Let's take a break from the sweets for just a second! Much like The Basket, Morimoto Asia also has Quick Service dining attached to their Table Service restaurant. It's called Morimoto Street Food, and there are a ton of flavorful, savory eats that make for a quick and quality lunch. It's usually too hot in Florida for a steaming cup of ramen. However, you can now order Morimoto Asia's famous Baby Ribs from the Quick Service location!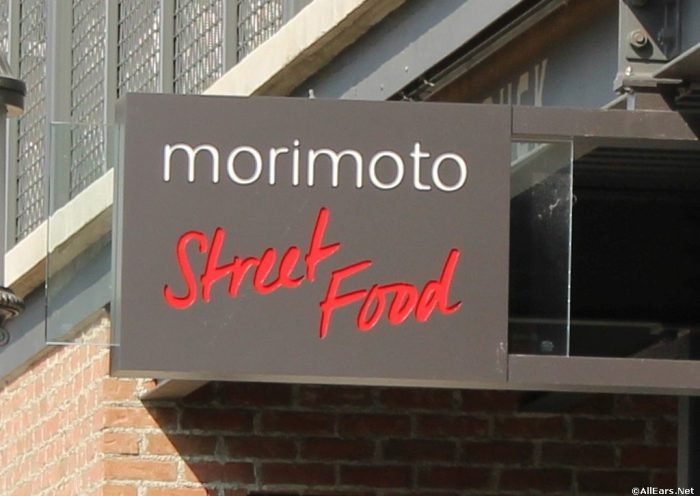 The Baby Ribs are sticky sweet and packed with spices. The rib meat practically falls off the bone. The dish is extremely popular inside the restaurant, but you don't need to make a reservation to enjoy them! Pick up the signature dish to-go and enjoy them now or later!
Ok, back to sweets! Amorette's churns out dome cakes, chocolate mousse, and giant focaccia sandwiches. Many will opt for the cute Mickey Dome Cakes. We can't blame them! They're adorably Disney-fied and quite tasty, too. The most underrated dessert here is the Crème Brûlée. If you're a fan of the signature dessert, this is the place to try it!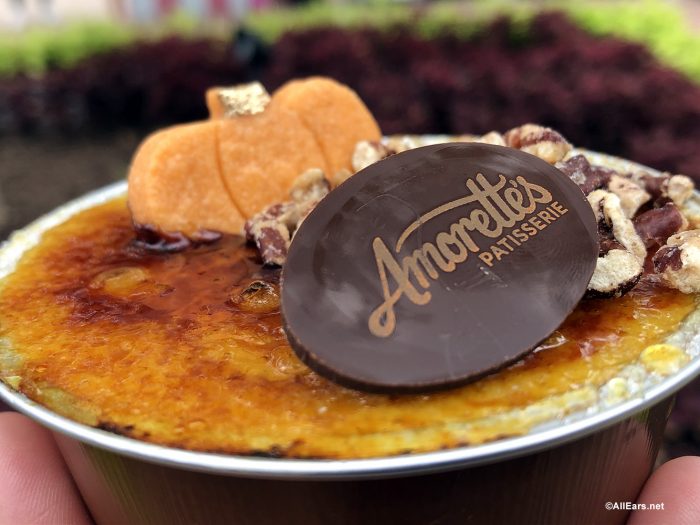 The Creme Brulee is incredibly rich and creamy with hints of vanilla. The sugar is torched just enough to give you that crispy sugar taste without being too thick and solid. Amorette's version is a reminder that when this classic dessert is done right, it's superb.
Disney World is known for its wide variety of churros. You'll find strawberry churros, chocolate churros, churros dipped in milkshakes, pumpkin spice churros, and so much more. But here's the thing. A lot of these churros taste a little stale, and it's hard to find a freshly made churro inside the parks. Sunshine Churros is our standby if we're craving a fresh churro.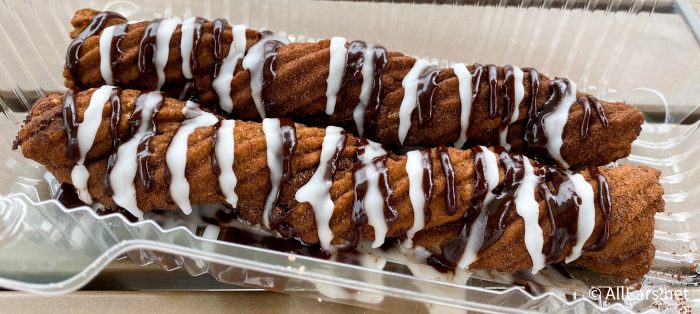 The churros here are massive and make Disney World churros look a little lackluster. Specifically, we're big fans of the dipped churros that come with Nutella or Ghirardelli caramel sauce. What's better than a doughy, sugar stick dunked in Nutella??
Ok, you caught us! Dole Whip is a really, really famous Disney snack and not at all underrated. But have you had Dole Whip Nachos?? Trust us on this one. It will be hard to go back to regular Dole Whip once you've had the Nacho version. Marketplace Snacks takes a heaping portion of Dole Whip then piles it on a bed of broken waffle cones. The soft-serve is then covered in Mango Boba Pearls, pineapple, strawberry sauce, whipped cream, and rainbow sprinkles.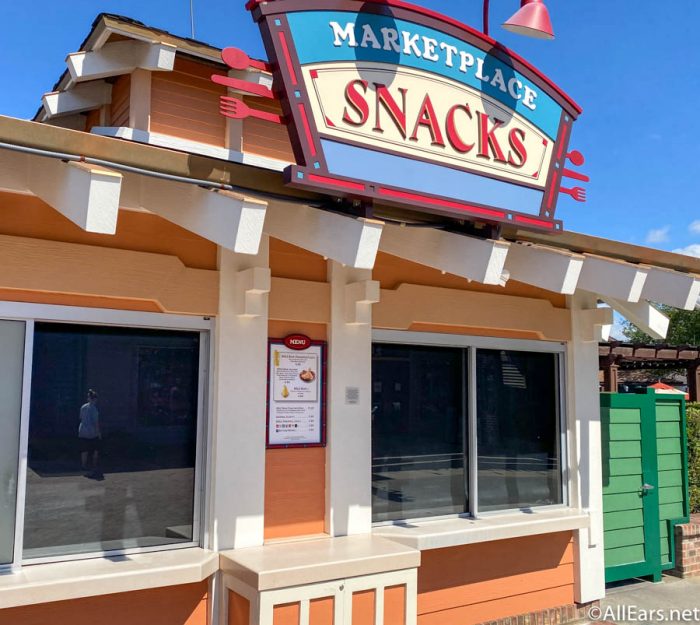 See?? It's not just Dole Whip. It's Dole Whip with a bunch of gorgeous sweets piled on top! Plus, the serving size is huge and easily shareable with 2 to 3 people. The perfect family-sized dessert!
Disney guests flock to Disney Springs once the parks close for the night. The shopping and dining area is usually open until at least 9:00 PM every night. This means it's the perfect place to grab a quick bite before dragging your stuffed self to your dessert. There are so many Quick Service, Table Service, and snack locations that it's hard to go wrong here!
Don't see your go-to snack on the list? Let us know your favorite in the comments! 
Join the AllEars.net Newsletter to stay on top of ALL the breaking Disney News! You'll also get access to AllEars tips, reviews, trivia, and MORE! Click here to Subscribe!