Epcot is one of the most iconic Disney theme parks… and also one of the most unusual. With its distinctive architecture, avant-garde attractions, and long-time refusal to use Disney IP in a Disney Park, there's a lot more to Epcot than food, wine, and festivals.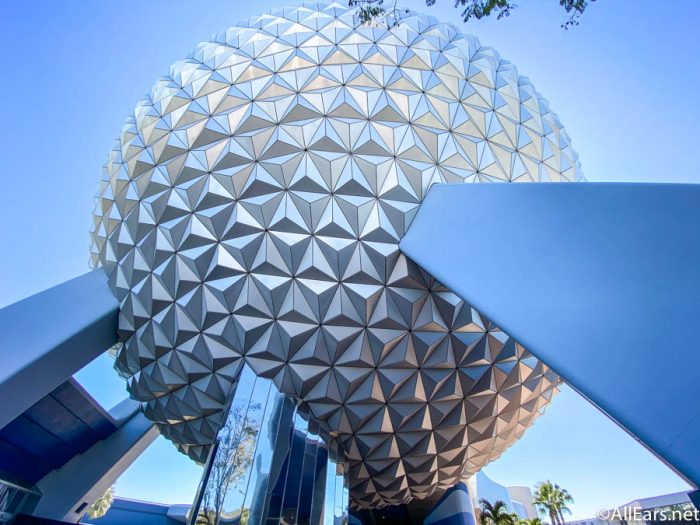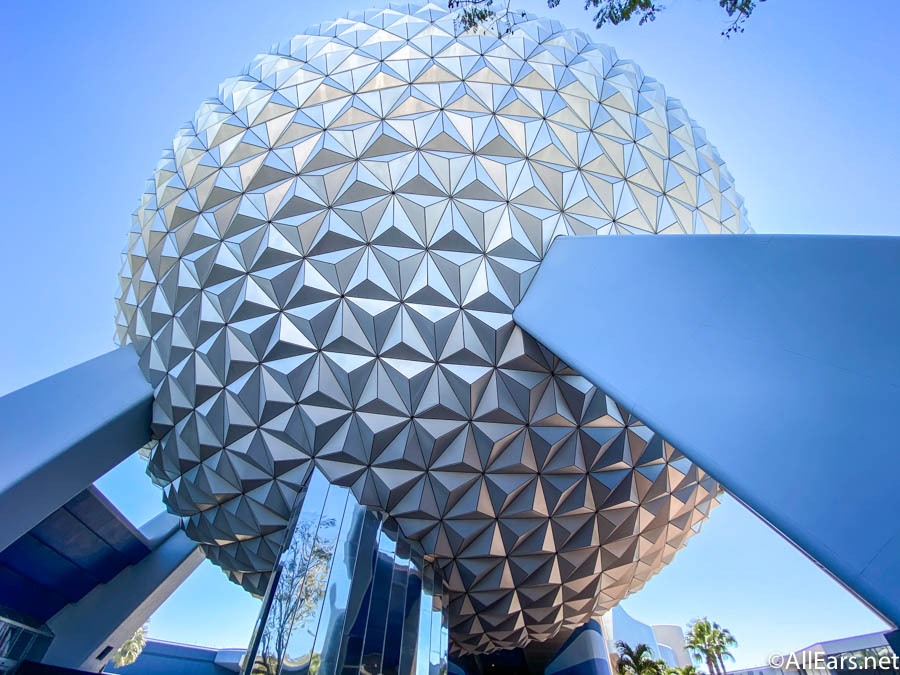 Designed to be a blueprint of the future, Epcot has undergone more fundamental changes than any other park in Disney history. But just how did this most unusual theme park come to be? The story begins with one of the most ambitious ideas Walt Disney ever had…
Progress City
Epcot, like so many Disney creations, began as a dream. It was the 1960s, and Walt Disney was reflecting on his legacy. By this point, he was head of the world's most successful media company, and the creator of the most successful amusement park ever built. He had a loving family, and a gaggle of grandchildren… and he began to consider just what world he was going to leave for them.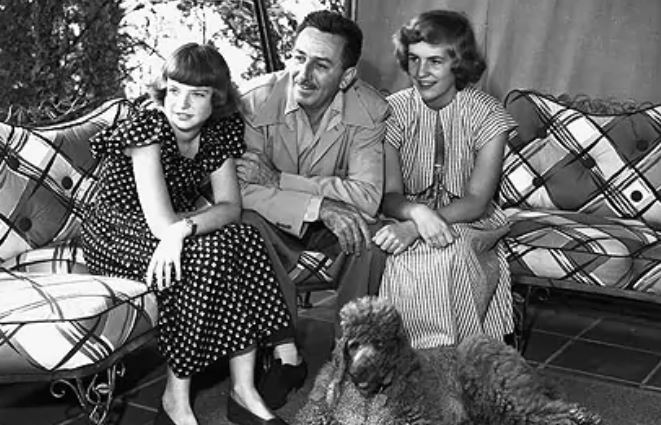 Anyone who has ever been to Disneyland knows that it's an exercise in perfection. Every detail is meticulously planned out, putting it in sharp contrast with the hectic and disorganized cities most were familiar with. While Disneyland was never meant to be a residential area, Disney began to wonder if he could apply the techniques he and his Imagineers learned building Disneyland to urban planning.
Meanwhile, the wild success of the 1964 New York World's Fair, where Disney created multiple pavilions, had convinced Walt Disney that the time was right for an East Coast Disneyland. They had even considered converting the existing fairgrounds in Queens to the park. The Magic Kingdom might have well come to New York, had the needs of this unprecedented new project not driven Walt to seek out vast swathes of undeveloped land. Not to mention the fact that the northeastern weather wasn't conducive to winter holidays. No, Disney needed someplace warm… someplace green… and someplace undeveloped.
The Florida Project
What came next is well known to Disney fans. Using shell corporations, Disney purchased large plots of land in then-undeveloped Orlando, Florida at rock bottom prices, then began petitioning the state legislature for the rights to incorporate them into a city.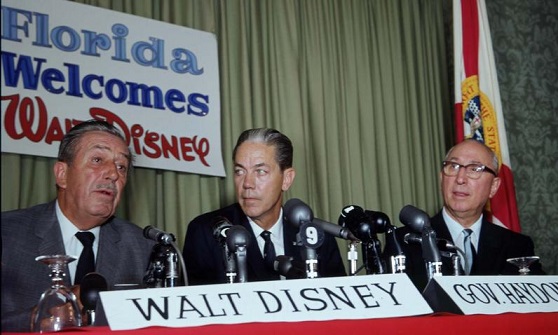 Walt Disney World would have opened with two major elements…the Magic Kingdom and EPCOT. Except the EPCOT Disney promised wasn't a theme park…it was a city.
In 1966, Walt Disney shot a film to announce his plans for the Experimental Prototype Community of Tomorrow: EPCOT. Dedicated to being an ever-changing blueprint of the future, EPCOT would be Disney's utopia, a meticulously planned urban center where every resident would be given the latest technology. Residents would travel via monorail and PeopleMover, while cargo and supplies would be delivered via Utilidoors beneath the city. Everyone would be guaranteed a job, and plenty of leisure time to explore the international shopping arcade and vast green spaces…oh, and to go to the Magic Kingdom, of course.
According to Disney, EPCOT would never be completed. It would be an ever-changing showcase of the imagination and ingenuity of American free-enterprise. Alas, the statement that EPCOT would never be completed proved to be more accurate than anyone thought…
Just over a month after filming, Walt Disney passed away of lung cancer, but he never let go of his dream of EPCOT. Roy Disney, his brother and business partner, once shared an anecdote about how he would use the tiled ceiling of his hospital room to plan out the city mile by mile. Unfortunately, despite the efforts of Roy Disney and future-CEO Card Walker to bring Walt's dream to life, Progress City was doomed to remain a relic of 1960s futurism.
However, even though Disney succeeded in securing unprecedented legal rights for the Reedy Creek Improvement District, Disney executives were reluctant to follow through on the original plans for EPCOT without Walt's guidance… in part because of how much freedom Walt was asking people to give up. Residents of EPCOT would not own land or be allowed to vote on municipal measures, giving Disney total control over just about every aspect of city life. Yes, you'd be given bleeding edge technology and a guaranteed job, but you'd also run the risk of coming home to find people installing new appliances while you were at work as part of a sponsorship deal. Also, you wouldn't be allowed to retire! No job meant no residency.
Disney's mostly entertainment focused executives were reluctant to take that much control over people's lives, so the project was scrapped… mostly. Its technology would make its way to Disney World in various forms; the Monorail, the PeopleMover, the Utilidoors, even the design of the Contemporary Resort. The biggest remnant of Disney's dream, however, is the Epcot we've all come to know and love.
The Eternal World's Fair
EPCOT was Walt's baby, and long-time collaborator and then-CEO Card Walker was not willing to give up the idea entirely. Still, he was forced to concede that building a futuristic utopia in the middle of Florida was a bit beyond Disney's capability at the moment.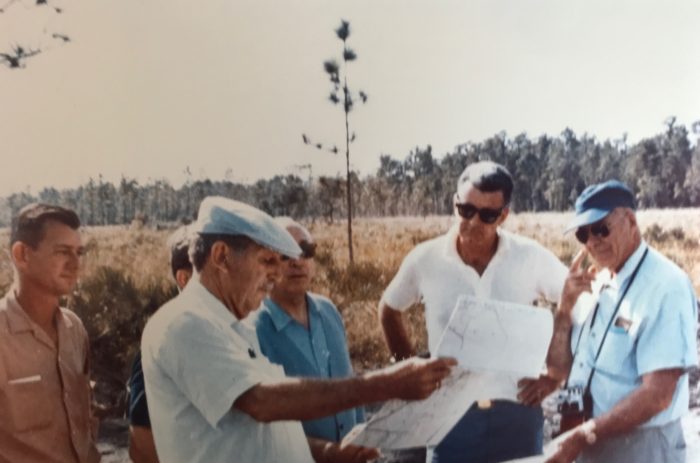 So instead, they decided to take the themes and ideas behind EPCOT and translate them into a brand new theme park, one that embodied the idea of an ever-changing blueprint of the future. The question was how to go about it.
At WED Enterprises, there were two camps. Some Imagineers wanted to build a futuristic theme park: Tomorrowland writ large. It would showcase the latest in technology and embody Disney's dreams for the future. Others were more interested in cosmopolitan aspects of Progress City, such as the international shopping district, and the dedication to food, culture, and leisure. They built a design dedicated to showcasing the customs and culture of various nations around the world. Neither could decide which was better until, according to legend, some unknown Imagineer pushed the two models together, and in a eureka moment, the path for EPCOT became clear.
It would be a World's Fair, like the one which inspired Walt Disney World in the first place. Instead of lands, it would have pavilions dedicated to different nations and concepts, and at the heart of it all would stand a breathtaking monument to human ingenuity on par with icons like the Space Needle and the Eiffel Tower.
A decision was made early on to make EPCOT Center, as it would be named, a distinct entity from the Magic Kingdom. That meant that while Mickey and friends would eventually make appearances in the park, Disney IP would not be the focal point of the attractions like it was at Magic Kingdom.  Instead, EPCOT Center would focus on avant-garde edutainment. Each pavilion would be dedicated to a different concept or nation, and were tied together in a way that no Disney park before or since has been able to replicate.
EPCOT Center would be divided into two main sections, inspired by the two original concepts of the park. The first was Future World, located at the front of the park, which was dedicated to technology, progress, and mankind's relationship with the Earth. The rear of the park was the World Showcase, featuring pavilions sponsored by nine different nations!  While both parts were impressive during the park's opening in October 1982, Future World had the most cohesive design by far.
Spaceship Earth
Before you even entered the park, you'd be greeted by a massive geodesic sphere — Spaceship Earth!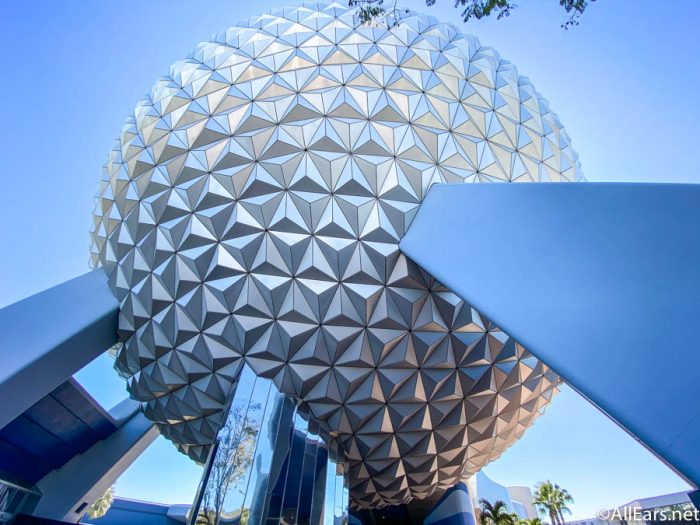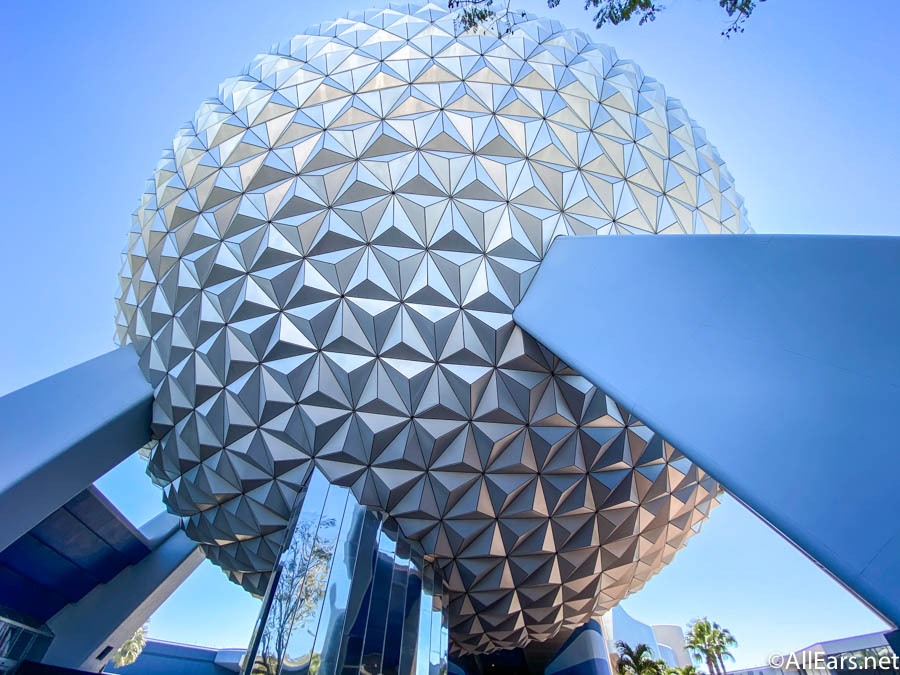 Standing a staggering 180 feet tall, Spaceship Earth was EPCOT Center's answer to the iconic landmarks of other World's Fairs. It was tradition, at the time, to build a marvel of engineering to serve as the centerpiece for any World's Expo, and many of the world's most iconic landmarks emerged from this game of architectural one-upsmanship; the Eiffel Tower, the Space Needle, the Golden Gate Bridge. Needless to say, the giant golf-ball had big shoes to fill.
The icon's name and inspiration came from American architect and futurist Buckminster Fuller, who popularized the concept of geodesic domes; semi-spherical structures crafted from multiple triangles, resulting in a remarkably lightweight and stable structure. The term "Spaceship Earth" was also popularized by Fuller in his 1968 book, Operating Manual for Spaceship Earth, though the concept originated nearly a century earlier. The term refers to the idea that humanity should, rather than competing over resources and harming the planet, instead work together for the common good like the crew of a ship. After all, we only have one Earth, what is the point of being the captain if the entire ship sinks?
The iconic landmark was designed by Simpson Gumpertz & Heiger Inc., who previously built the similar Montreal Biosphere for the 1967 Worlds Fair. Science fiction author Ray Bradbury played a role in the design as well, while also writing the original storyline for the attraction.
Spaceship Earth, from its inception, has been dedicated to the themes of Communication and Cooperation. Using audio-animatronics, guests would be sent on a journey through the history of human communication, from cave paintings to computers.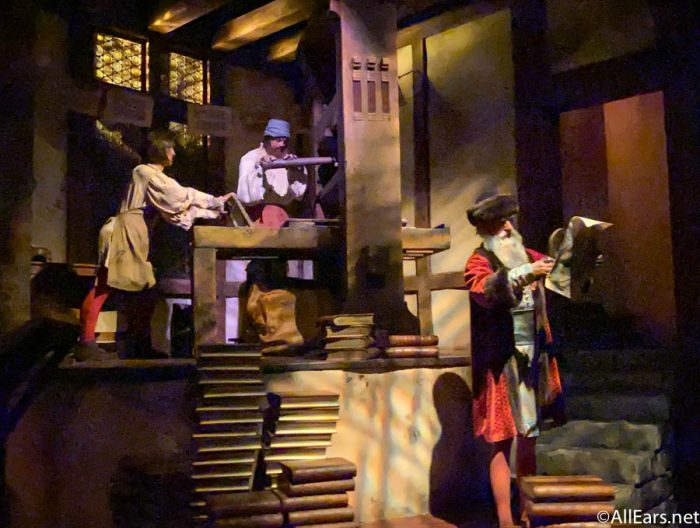 The ride's climax would take place in a planetarium, showing riders a view of Earth from space as humanity began their journey to the stars. While the space exploration theme would later be removed from the ride, the core storyline has remained relatively consistent over the decades, though that could change in the near future.
Located just beyond Spaceship Earth was the Communicore – the park's "main street", and the pavilion which tied most of the attractions together. Contemporary audiences will recognize this area as the recently demolished Future World Plaza, home to dining and shopping options. However, when the park first opened, this seemingly innocuous pair of buildings was to be home to something spectacular.
Communicore was the main hub of Future World, featuring gift shops, restaurants, and exhibits that expanded on the themes of each major pavilion. For instance, after leaving Universe of Energy you could explore exhibits further explaining the importance of energy in your everyday life. However, the main focus was computer technology.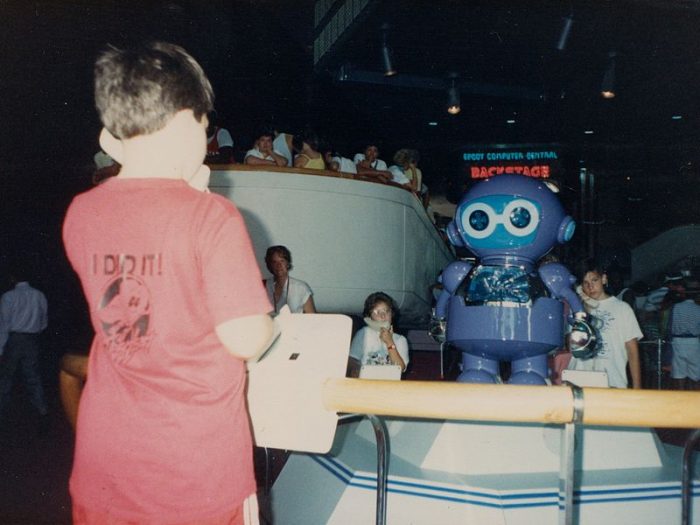 Guests could go backstage to see the computers that ran the park (complete with an original song by the Sherman Brothers), talk to the SMRT-1 intelligent robot (pictured above), design their own roller coaster, and go hands on with computer technology for, what for many guests, would be the first time ever! Early plans even featured a PeopleMover tour of Future World. Eventually, the attraction would be scaled back to Innoventions, but when it opened it was one of the most ambitious areas of the park.
Sponsored by Exxon, this pavilion featured elaborate solar panels and a revolutionary moving theater system that would take guests back through a primeval world to learn the origin of fossil fuels.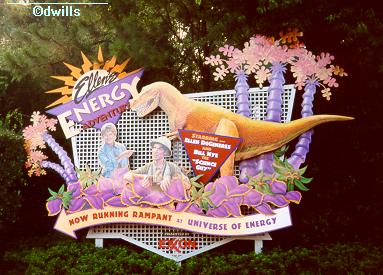 Energy's central role in our lives was the theme here, though Exxon's sponsorship meant there was a large focus on petroleum products, of course.
Sponsored by General Motors, this ride was a humorous tour through the history of human transportation, from blistered feet and wild horses to planes, trains, and automobiles.
At the ride's conclusion, guests would be able to see themselves in a concept car thanks to an illusion similar to the original Hitchhiking Ghosts of the Haunted Mansion.
Dedicated to humanity's relationship with the planet, the Land was one of the most functional of EPCOT Center's pavilions, featuring a fully functional greenhouse and horticultural lab.
The ride Listen to the Land (later Living With The Land) would allow guests to ride a boat through the greenhouse, following a tour through the wonders of our complex ecosystem. Afterwards, guests could enjoy a meal at a rotating restaurant or the Land's food court; though we now know them as Garden Grill and Sunshine Seasons, they were originally known as The Good Turn and the Farmers' Market, respectively.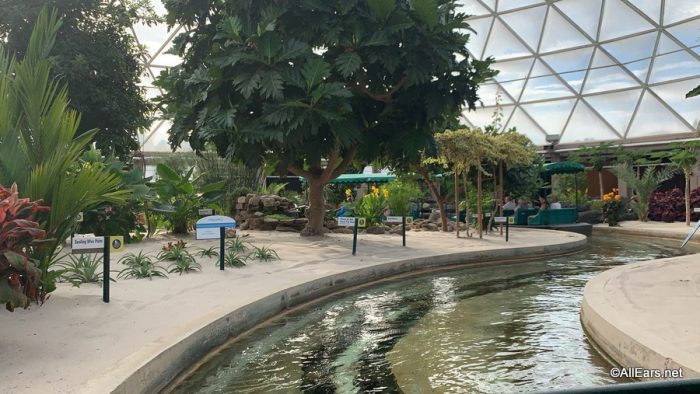 The Land also featured two other opening day attractions. The first was Symbiosis, a film about the damage human's have done to environment and what we're doing to repair it. The second was Kitchen Kabaret, an animatronic show about nutrition and health.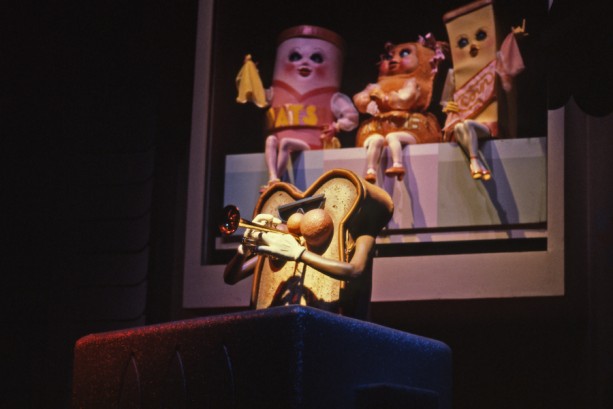 Imagination
As mentioned above, Disney didn't want to use any of their existing IP in the park when it first opened. However, that didn't mean there was no room for characters in the park. They simply needed a place for them — and what better place than the most whimsical pavilion at the park?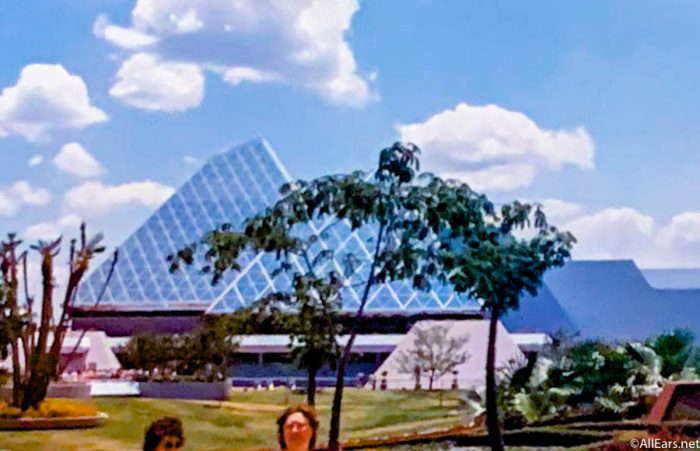 The Imagination Pavilion was dedicated to creativity, wonder, and the one little spark of inspiration at the heart of creation. When the park first opened, it was home to the ImageWorks; a playground of creativity that allowed guests to play with interactive exhibits, including the famous Rainbow Corridor!
It wasn't until several months after the park opened that the pavilion's flagship attraction opened: Journey Into Imagination!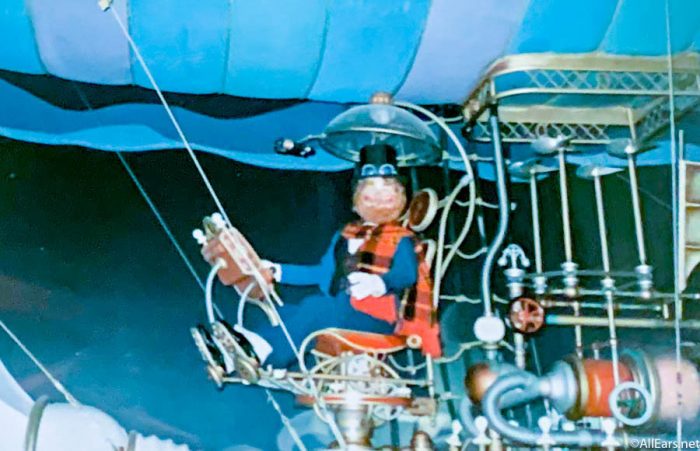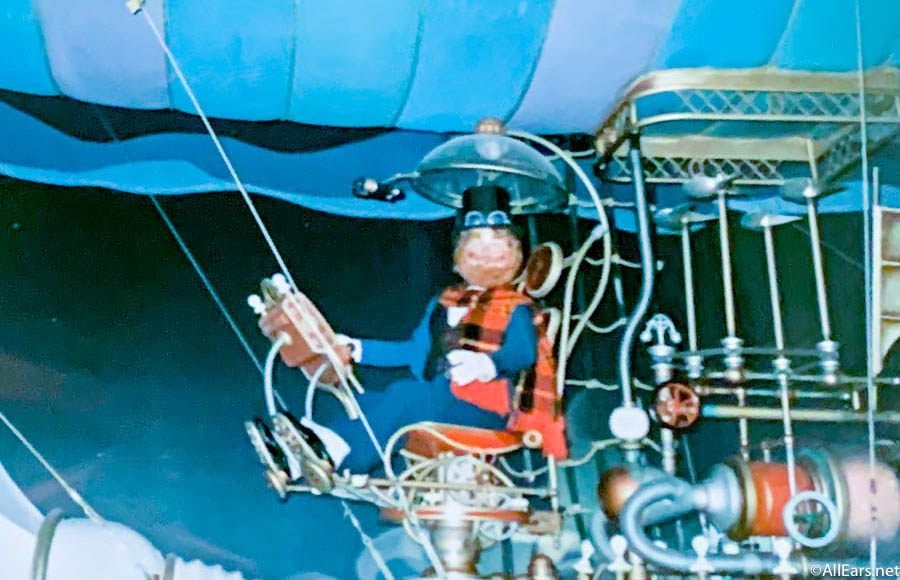 Dreamfinder, a whimsical, Wonka-esque character would take you on a tour of the worlds of imagination, including art, literature, performance arts, and science. Joining him was his little imaginary friend, a mischievous purple dragon named Figment.
The ride also featured the most iconic song on just about any Disney attraction: "One Little Spark!"
Horizons
However,  the most fondly remembered ride in EPCOT Center's history; Horizons!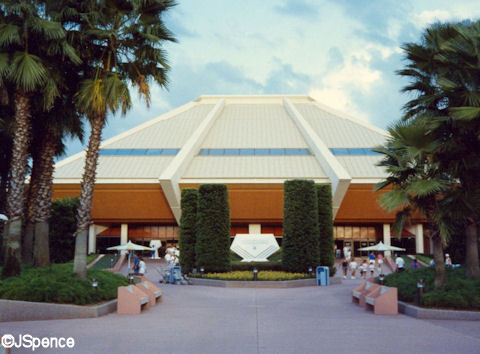 This attraction, a sequel to the Carousel of Progress, tied together the themes of every Future World pavilion, taking guests on a tour of the future.
After a tour of humankind's dreams of the future, your suspended omnimovers would fly you through three visions of the future; deep sea colonization, desert irrigation, and space travel. At the ride's conclusion, you'd get to choose which future you wanted to explore, sending you on a simulated flight to the worlds of tomorrow! The underlying message? The Future World you just explored is being born today. You just need to dream it.
The World Showcase
The World Showcase, by design, didn't have the same level of interconnectedness that Future World did, in part because each pavilion wanted to show off the culture and traditions of their respective nations.
When the World Showcase first opened, it featured nine pavilions: American Adventure, Canada, China, France, Germany, Italy, Japan, Mexico, and the United Kingdom. However, even on opening day there were big plans for more, including Equatorial Africa, Iran, and Israel. While those did not materialize, Norway and Morocco would eventually join the others in this grand tapestry of nations.
Rough Transitions
As a living blueprint of the future, EPCOT Center was meant to be ever changing. In the years since it opened, other major pavilions were added, including the Wonders of Life (dedicated to the human body and health) and the Living Seas (dedicated to ocean life). However, starting in the 90s, EPCOT began to trend downward. There are many things that can be blamed for this, from fading interest in edutainment to a lack of sponsorship. However, there is one major (and often overlooked) factor behind the radical changes EPCOT Center underwent during the 90s.
Euro Disneyland, expected to be an international hit, was a major flop. Not only was it the first Disney park that ever threatened to close permanently, but it shook the foundations of the entire theme park industry. If Disneyland could fail, what did that mean for everyone else?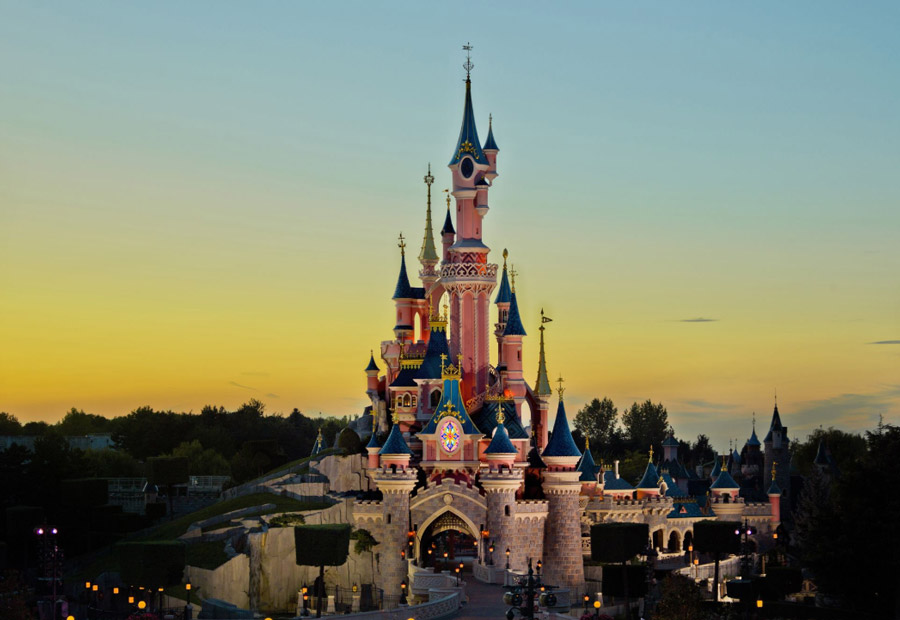 Now, in defense of Disneyland Paris, the failure of the park was due to a culture clash between American and French norms, a huge overestimation of how many people would attend on the first day, and a coincidental recession in the French economy. But the deed was done, and the Disney Parks had to bear the brunt of the impact. Countless projects were cancelled after this financial disaster, including a West Coast version of EPCOT.  Back in the existing parks, however, Disney had to recalculate how many risks they could take…and no park was riskier than EPCOT Center.
This was the era that several of EPCOT Center's opening day attractions were marked for death. Horizons, the attraction that tied Future World together, was partially closed in 1994. It would remain closed for a full year, only to operate seasonally until 1999, where structural issues would force it to close for good.  Both World of Motion and Universe of Energy would close in 1996. While Universe of Energy would open with minor changes in the form of Ellen's Energy Adventure, World of Motion would lay dormant until 1999, when it was replaced by Test Track.
Horizons would remain vacant for years as the building was demolished and rebuilt, eventually being reborn as Mission: SPACE in 2003; a high-speed flight simulator that took guests on a mission to Mars.
This transition to thrill rides was Disney's safe bet. While both rides maintained EPCOT Center's goals of edutainment and futurism, Disney hoped their more intense nature would encourage travelers to spend another day at Disney World as opposed to other parks in Orlando's increasingly crowded landscape.
EPCOT also broke its long-standing ban on Disney characters being the centerpiece of attractions. Symbiosis would be replaced with Circle of Life: An Environmental Fable in 1995, making The Lion King the first Disney film to receive a dedicated attraction at the park.
The 90s also marked a more fundamental change in the park's identity… a change of name. At the beginning of 1994, EPCOT Center dropped the center from its name, and began going as Epcot '94: a name meant to evoke the seasonal nature of World's Fairs. They'd keep up the year-themed branding until 1996, when the park became known as simply Epcot.
It should be clear by now that the 90s were a tumultuous time for Epcot, but they also brought about one of the park's most iconic traditions.
The Rise of The Festival
In 1994, Better Homes and Gardens sponsored the first-ever Epcot International Flower and Garden Festival. It was one of several sponsored events that occurred in 1994. During that same year, one could see Barbie driving around the World Showcase in a hot pink limousine. But this one was different.
The festival was aimed at home gardeners, focusing on how guests could apply tips learned at the festival to their own homes. However… it was also a spectacle. The entire park was in bloom, with floating planters and spectacular flower displays. Guests adored it, so much that Disney decided to make it an annual event. However, the real party was yet to come.
Epcot already had a reputation of being the gourmet theme park. It was, for quite a while, the only Disney park that served alcohol. While Hollywood Studios and Animal Kingdom both offered alcohol selections when they opened, they lacked the raw variety that Epcot offered. Moreover, no other Disney park had the same variety and quality of food as Epcot; where else could you get crepes and sushi instead of churros and hot dogs?
So to capitalize on this already existing market, Disney created a second festival in 1995, meant to celebrate the food and culture of the world! It would be scheduled to take place during autumn slump, when many families were preoccupied with starting school. Then, as the finishing touch, it would be headlined by the world's most iconic culinary celebrity of the time — Julia Child!
This would be the first Epcot International Food and Wine Festival, and it would change the face of the park forever.  With outdoor kitchens set up around the World Showcase, guests (literally) ate this event up! It was so popular that all future festivals would follow the same, food-forward model for years to come.
The Millennium Celebration
As the year 2000 approached, Disney decided that Epcot would serve as the centerpiece for this milestone celebration. Spaceship Earth received a makeover, featuring a massive Mickey wand displaying the year "2000" over the globe. The entry gardens were replaced with "Leave A Legacy" – huge stone monuments guests could purchase engraved dedications on.
The new millennium also saw the launch of IllumiNations 2000: Reflections of Earth, which would go on to become one of the longest running fireworks shows in Disney history.
A new parade, the Tapestry of Nations, was also introduced for the limited run event, featuring an appropriately avant-garde aesthetic.
However, the main attraction was the introduction of a brand new, albeit temporary pavilion: The Millennium Village.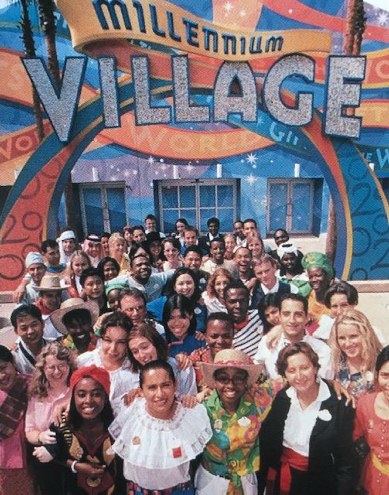 Located in what is now known as the World Showplace, this pavilion featured exhibits from Brazil, Chile, Easter Island, Eritrea, Israel, Saudi Arabia, Scotland, and Sweden. There was also an international food court, a quiz show, and an artisanal marketplace showing off handmade goods from around the world. Also, in a delightful bit of recursion, an exhibit dedicated to the 2000 World Expo was erected to show off the pavilions and exhibits on display there! It was a World Expo inside a World's Fair inside Epcot! The exhibit only lasted the duration of the celebration, but it marked one of the most memorable chapters in Disney World's history.
Welcome to the Future… Or, Should We Say, Your Future!
After the beginning of the 21st-century, Epcot continued to grow and change. New thrill rides like Soarin' were added, and old exhibits like Food Rocks were cast to the wayside. Rides were re`themed, more character encounters were added, and  Disney characters became a prominent presence on attractions, starting with the Three Caballeros taking over the Rio del Tiempo in Mexico.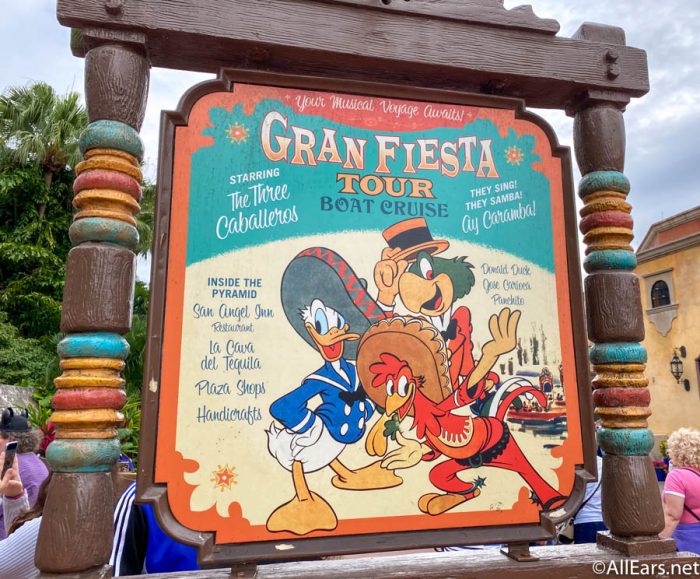 Soon after, the Living Seas would get a make over as The Seas with Nemo and Friends, introducing the popular Pixar property to the park. However, the biggest and most controversial change came when Norway's beloved Maelstrom attraction was rethemed to Frozen Ever After.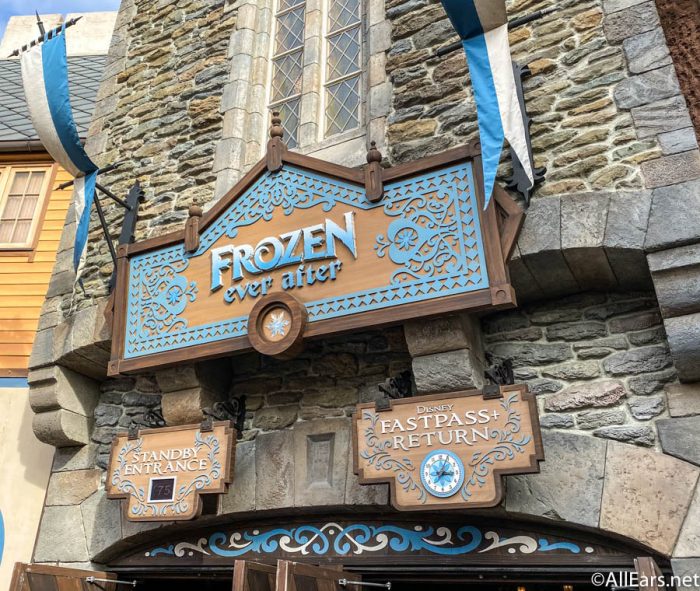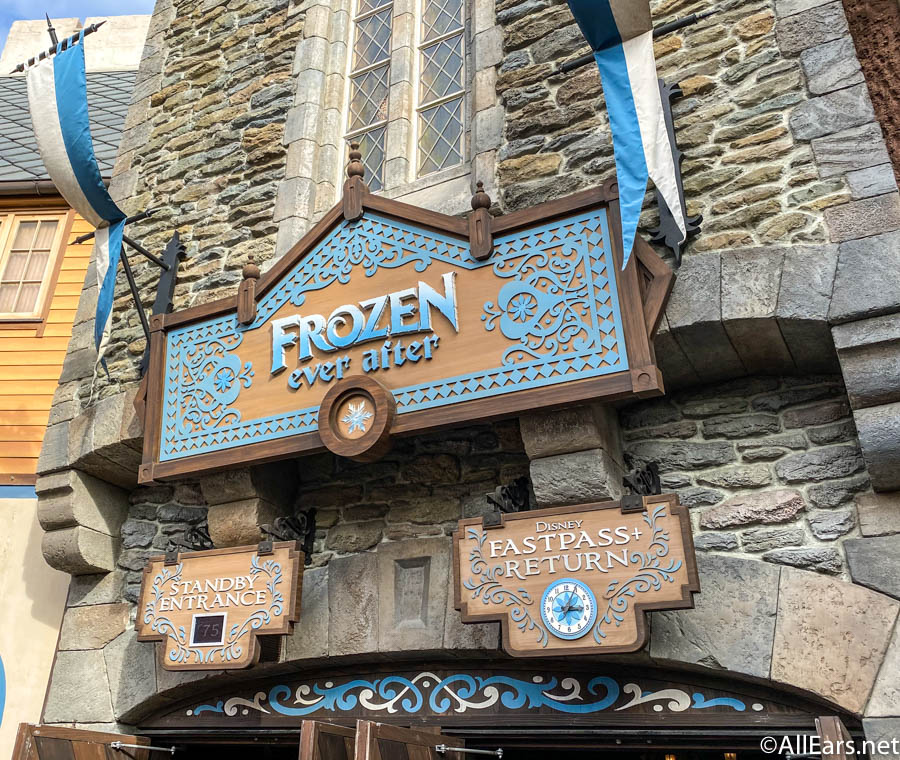 This dark ride, starring Anna and Elsa, quickly became the most popular attraction at the park by far, and brought in huge crowds. But guests were concerned… all the previous Disney-inspired attractions maintained some level of edutainment value. Circle of Life was an environmental parable.
Gran Fiesta Tour, much like the movie that inspired it, was a tour of Mexican culture. Even Nemo and Friends remained primarily an aquarium, with exhibits like Turtle Talk with Crush focusing exclusively on conservation. Frozen Ever After was a celebration of Arendelle, not Norway. What did this mean for Epcot? Would the focus on edutainment be lost?
In short…yes and no. In 2019, Disney announced a radical new direction for the park in an effort to solve the problem that plagued it since its inception, which is how easily it became dated.  The new Epcot will still celebrate the ingenuity and creativity of humankind, but in a much more timeless manner.
Future World is set to be broken up into three distinct neighborhoods: World Celebration (focusing on creativity, imagination, and storytelling), World Nature (focusing on ecology and conservation), and World Discovery (focusing on science, technology, and adventure). This paradigm shift will lead to the transformation of several major attractions: Spaceship Earth will lose its communication technology theme to instead focus on the power of storytelling.
IllumiNations was replaced by Epco Forever, which in turn is set to be replaced with HarmonioUS, a show dedicated to the most memorable songs from Disney's history. Other attractions focusing on Disney IP as opposed to educational messages will also be added, including a Beauty and the Beast Sing-Along, Remy's Ratatouille Adventure, and Guardians of the Galaxy: Cosmic Rewind.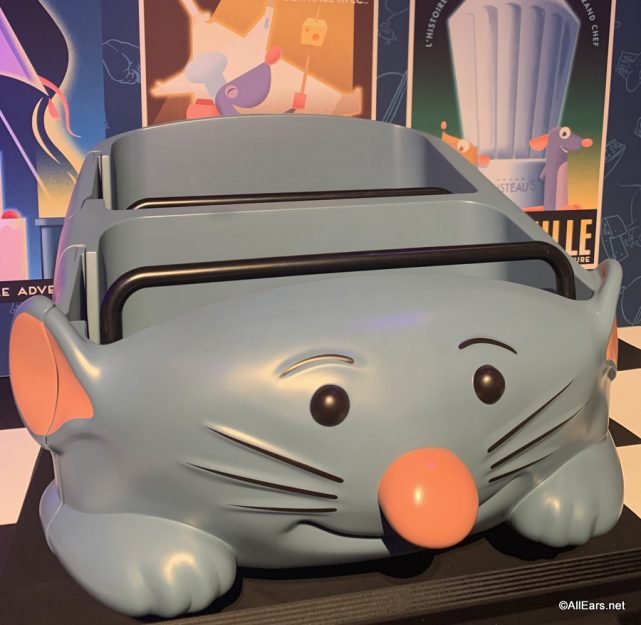 However, the park's educational spirit won't be completely abandoned, as new attractions like Awesome Planet and Moana's Journey of Water combine education with Disney's legendary storytelling skills.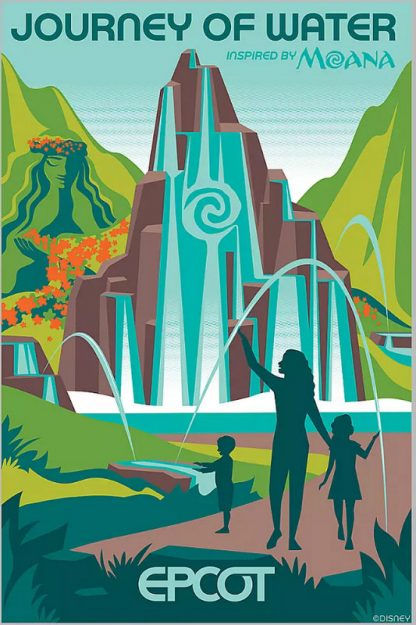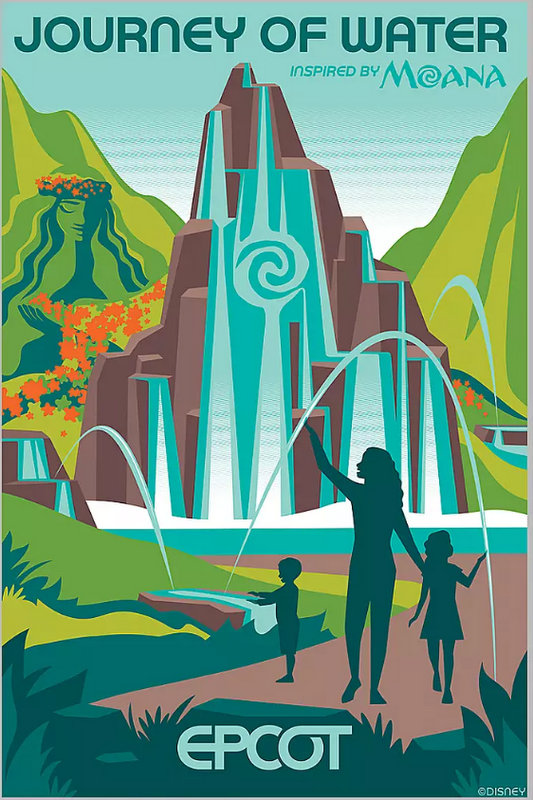 The Future of Epcot is a celebration not just of the stories we tell, but the people who tell them, the places which inspire them, and the lessons they have to teach us. It's more than cotton candy and castles. It's culture, discovery, and the bond we share as passengers on this spaceship called Earth.
Epcot Forever
So as we close the book on Epcot's winding history, the time has come to look beyond the horizon. What awaits in Epcot's future? How will this ever-changing blueprint of tomorrow look in five, ten, even twenty years? We can only imagine what Tomorrow's Child will inherit. But, one thing is certain. Even if the land that bore its name is no more, the Future World is still being born today.
Now, enjoy Disney's own celebration of Epcot's epic history, Epcot Forever. Oh, and don't forget to leave a comment below!
Are you excited for Epcot's transformation? Let us know in the comments below!
Join the AllEars.net Newsletter to stay on top of ALL the breaking Disney News! You'll also get access to AllEars tips, reviews, trivia, and MORE! Click here to Subscribe!