China – World Showcase – Epcot
Journey with the ancient Chinese Poet Li Bai into the ornate Chinese Hall of Prayer and into the history, culture, and lands of China. Stand before the China Pavilion and you will be impressed with the majesty of the presentation.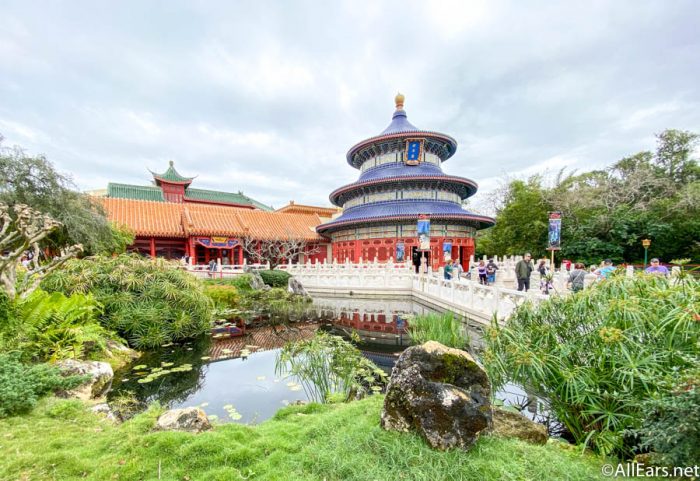 ATTRACTIONS
Reflections of China – This is a CircleVision 360 movie presentation that  debuted May 2003 and ended in 2019. Reflections of China will be replaced by Wondrous China in 2020.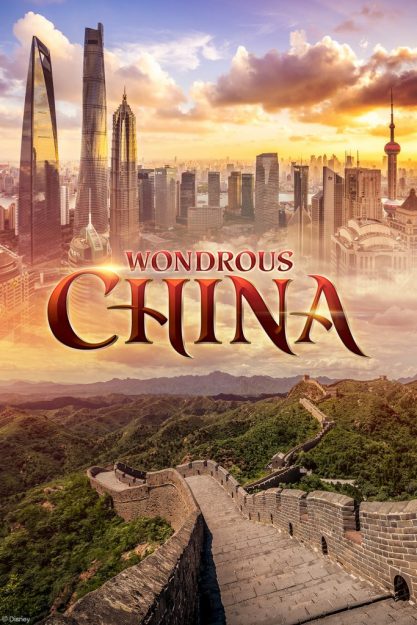 The House of Whispering Willows Gallery now provides an inside look at the Shanghai Disney Resort.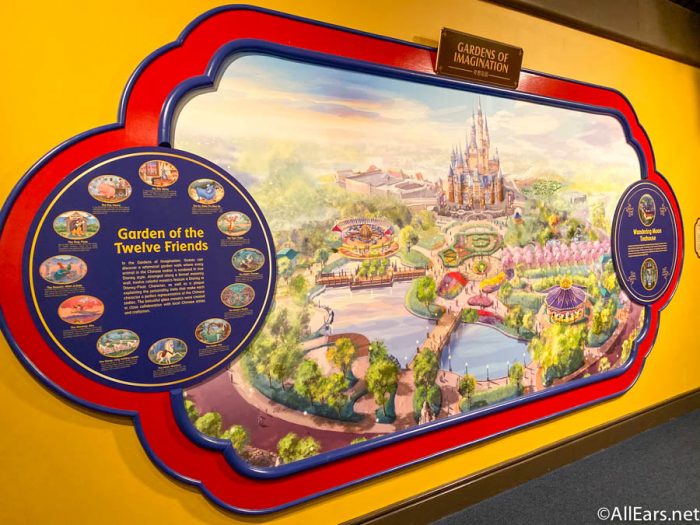 DINING
Nine Dragons – Serving full service lunch and dinner featuring Chinese cuisine.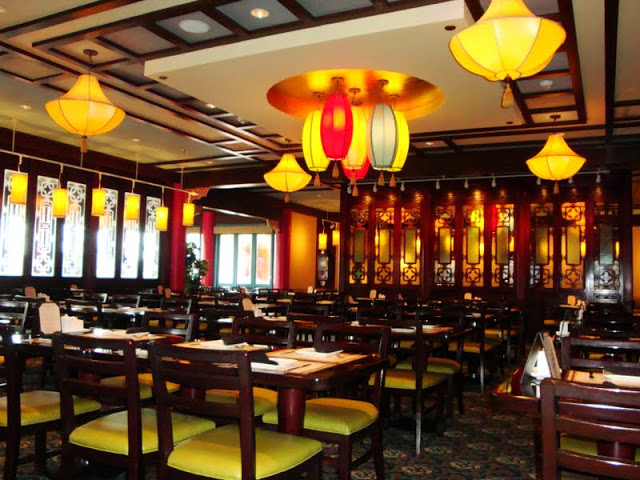 Lotus Blossom Cafe – Counter service which includes stir-fry, egg rolls and a daily special.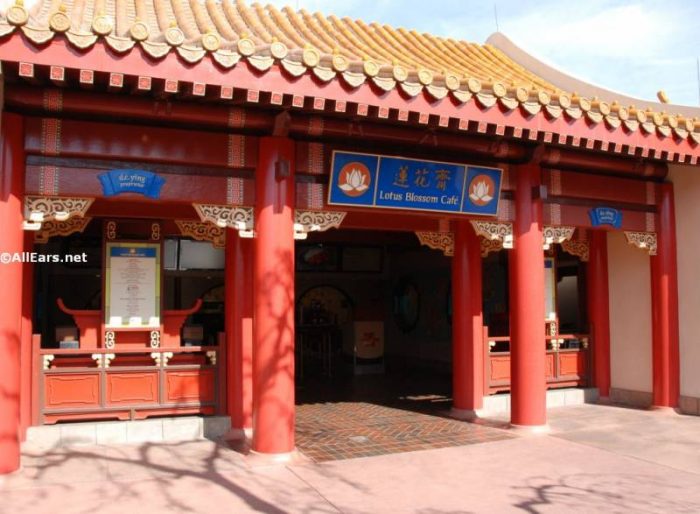 Joy of Tea – serves a variety of hot and iced teas outside.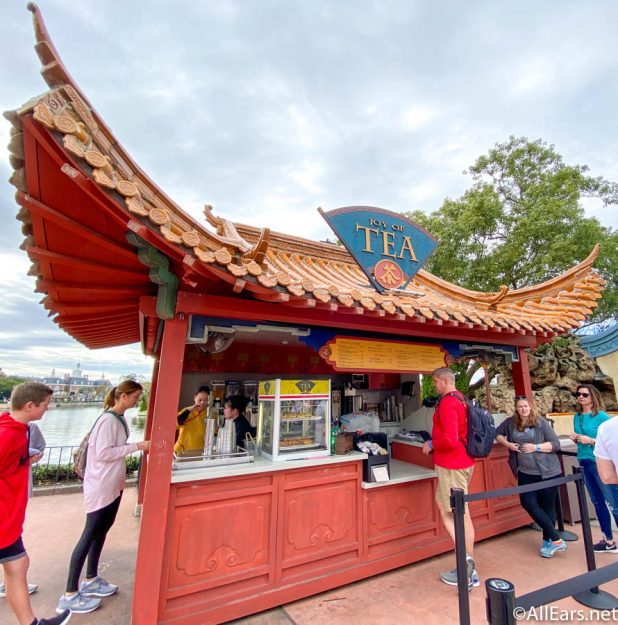 Epcot Restaurants At A Glance
Menus From Around the World
Vegetarian and Other Special Diets
ENTERTAINMENT
Dragon Legend Acrobats – an energetic display of agility, strength and balance by young students from the Pu Yang Academy of Acrobatics in China.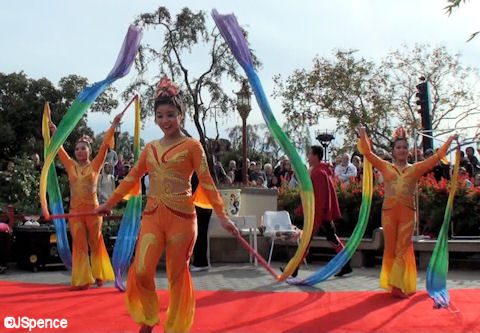 Si Xian – Shanghai region folk music entertain in the Temple of Heaven.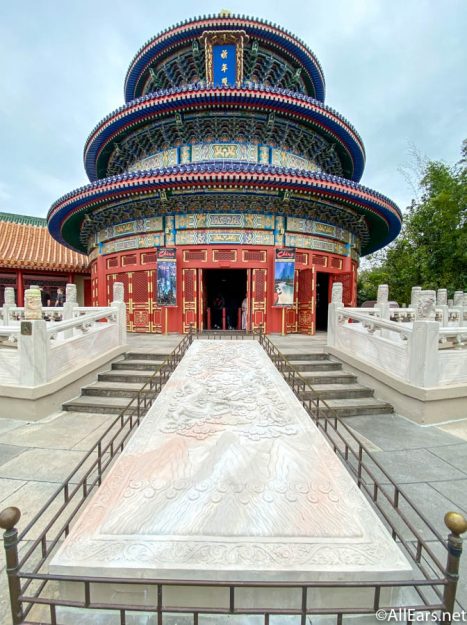 For more information on Epcot Live Entertainment, visit Steve Soares WDW Entertainment Website.
TOURING TIPS
If you go to the temple in China and stand in the very middle of the round room, it is acoustically perfect — so say something! Because it is acoustically perfect, you will hear the actual sound of your voice, which is something we rarely do. Usually we hear ourselves talk through our own head, and that's not exactly how others hear us.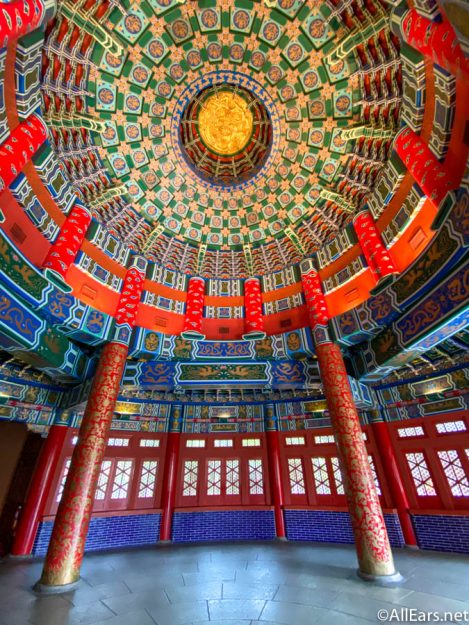 If the 360 degree movie screen for Wondrous China makes you a little dizzy, stand near the back of the room, you'll be able to see most of the film. Remember, this is a standing attraction.
Epcot International Flower and Garden Festival – Highlights include a bamboo garden, exotic water garden, Feng Shui area and a wonderful panda topiary! The water garden has many water lillies just for the Flower and Garden show! Be sure to also check out the stacks of begonia columns that border the walkway to the main pavilion.
Epcot's International Festival of the Holidays features storytellers in each country. In China, the the Chinese Lion Dance is performed (VIDEO)
Assistive Listening Device from Guest Services Can Be Used Here.
Reflective Captioning Available – see Cast Member upon arrival.
KIDS AND CHARACTERS
Each of the World Showcase countries has a special "KIDCOT" area that provides an opportunity for your child to interact with a native of the country you are visiting.
Epcot PassPorts are great fun for kids as they have them stamped at each pavilion around World Showcase.
Mulan appears for a meet and greet most days. Check the times guide for Epcot for specifics.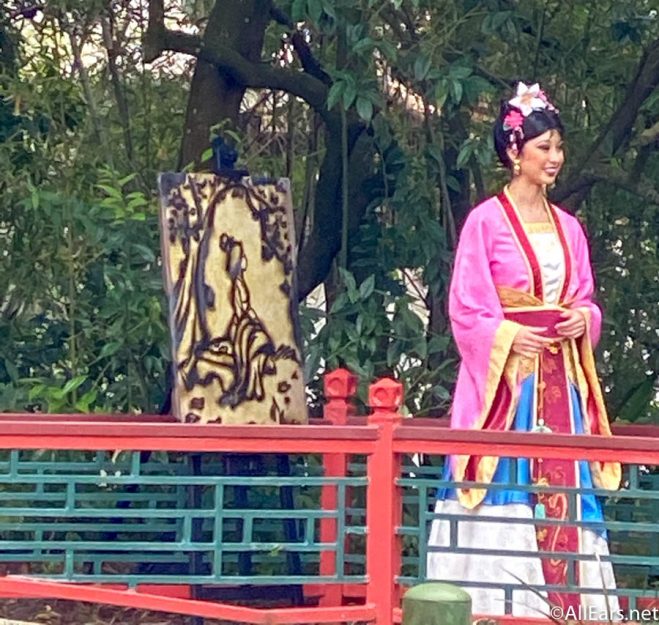 Epcot Characters At A Glance
Character Meet and Greet FAQ!
SHOPPING
House of Good Fortune – A large, multi-room shop selling furniture, kitchenware, rugs, clothing, slippers, silk, paper fans, pictures, cloisonne (jewelry with enamel inlay), and more.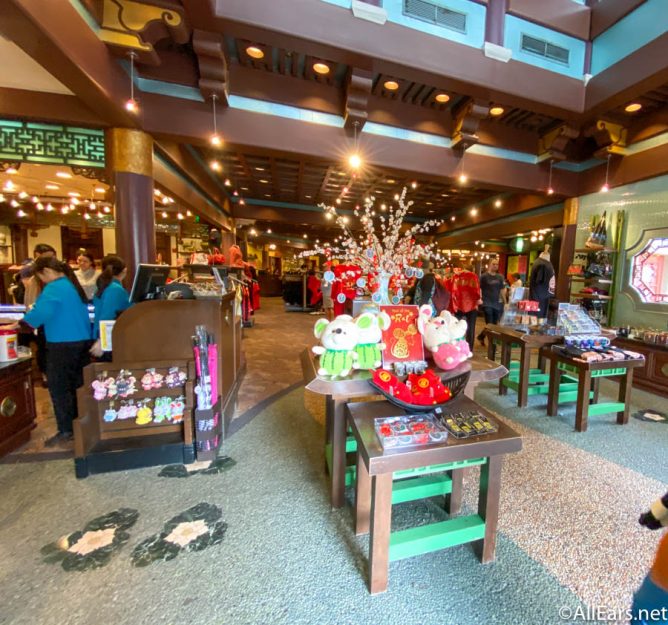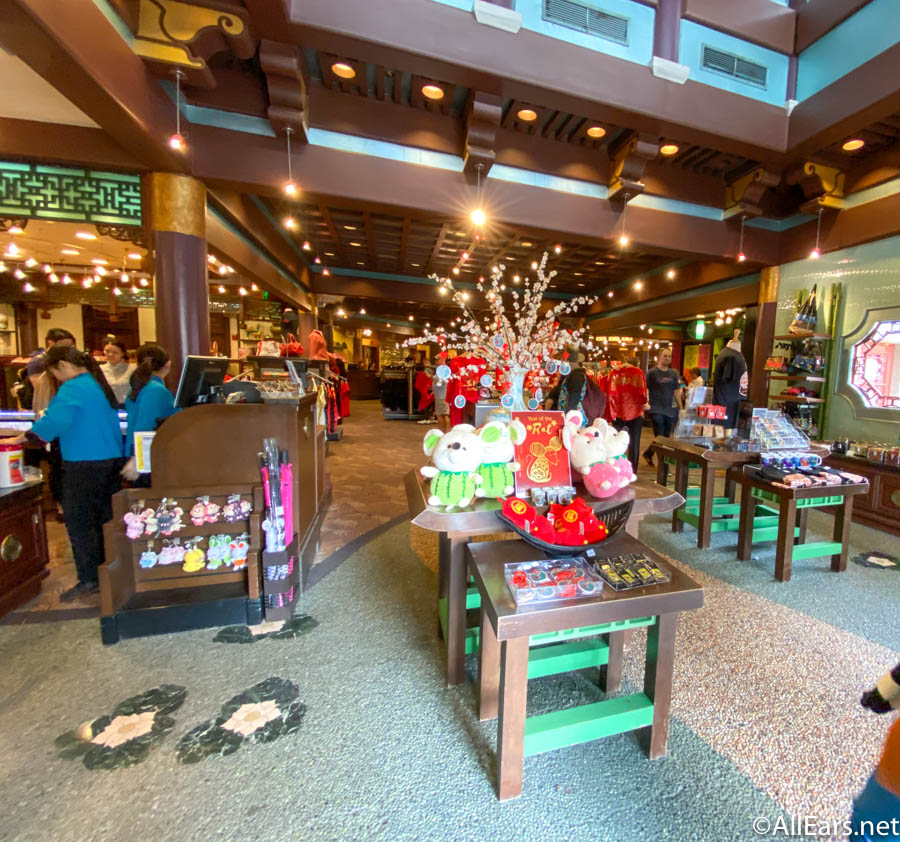 Kiosks near and around the China pavilion sell collectibles like umbrellas and hats.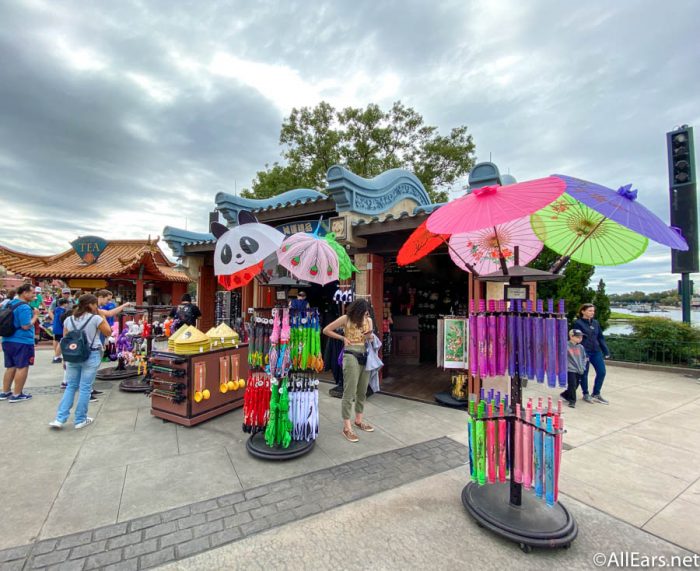 INTERESTING FACTS
The three-tiered, circular Hall of Prayer for Good Harvest is a one-half scale reproduction of its counterpart inside the Temple of Heaven complex near Beijing.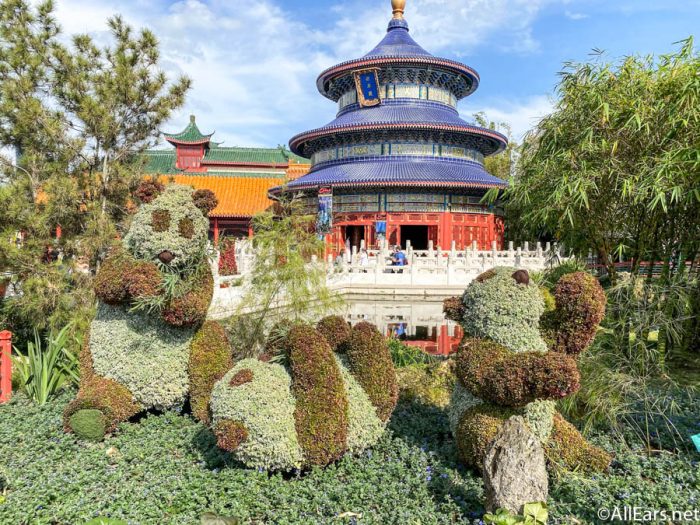 Many of its architectural details, both inside and out, have important significance to the Chinese people. Inside the hall, there are 12 outer columns supporting the roof. They represent the 12 months of the year and the 12-year cycle of the Chinese calendar. Closer to the center of the room are 4 columns representing the four seasons. These columns support a beam, representing Earth, which is topped by a round beam, signifying Heaven.
To reflect the gardening style of China, the pavilion features a very loosely structured landscape. There is no feeling of being either inside or outside of the garden. Chinese gardens are designed to be quiet, still and passive, as in the meditation pool. The zoysia grass is left alone to grow as it would look in China. Plants are used sparingly with the accent on those with unusual color. Several fruit trees, orange, plum and pomegranate are also part of the landscape.
The weeping mulberry, while resembling a tree you might find in China, is actually over 100 years old and was found in New Jersey.
In order to depict the intricate tile work patterns of the original Temple of Heaven, the Imagineers artisans screen printed hundreds of exact replications of its detailed patterns onto each and every tile at Epcot.
The Tomb Warriors exhibit closed in March 2016.