In 2001, Disneyland Resort in California opened it's long awaited second gate: Disney California Adventure. But this controversial and oft-maligned theme park was not what was originally intended to accompany the original Magic Kingdom.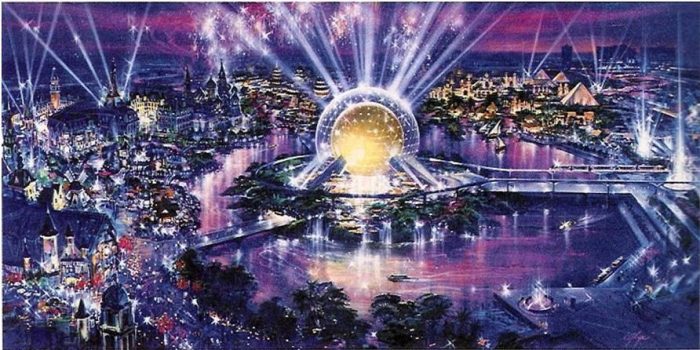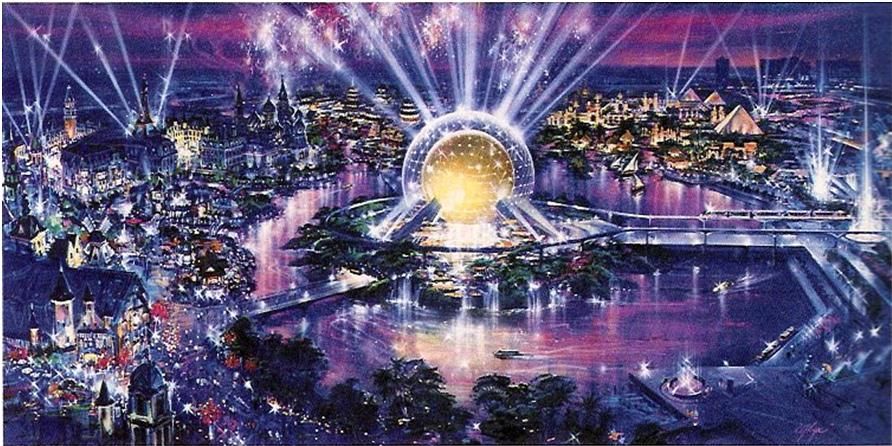 Let me spin you a tale about what could have been… a place that dared to dream of tomorrow, yet was doomed to be just a minor chapter in Disney's past. Let me tell you the tale of WestCOT.
Epcot is widely regarded to be one of the best Disney theme parks, and certainly one of the best that doesn't follow the original Magic Kingdom model. Only Tokyo DisneySEA is viewed with similar reverence.
EPCOT Center, as it was originally known, represented a radical departure from the Magic Kingdom. There were no Disney characters then; only Figment and Dreamfinder, who were created exclusively for the park. Mickey and friends were exclusive residents of the Magic Kingdom at the time. Epcot represented something different. Something new. A vision of the late Walt Disney brought to reality, even if the scale was smaller than he anticipated.
An Experimental Prototype Community of Tomorrow.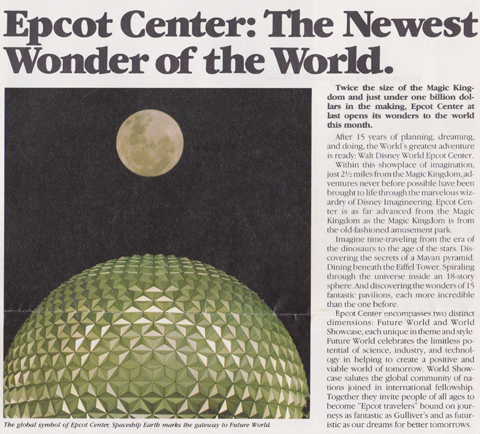 Disney's dream of building an entire city faded with his death in 1966, but that innovative spirit still remained in EPCOT Center. The attractions here harked back to WED's early days, making attractions for World's Fairs.  Carousel of Progress,  it's a small world, and Great Moments with Mr. Lincoln all originated at World's Fairs. EPCOT Center was a return to that form, a permanent World's Fair, built with the improved technology, skill, and budget that WED (now Walt Disney Imagineering) had amassed since.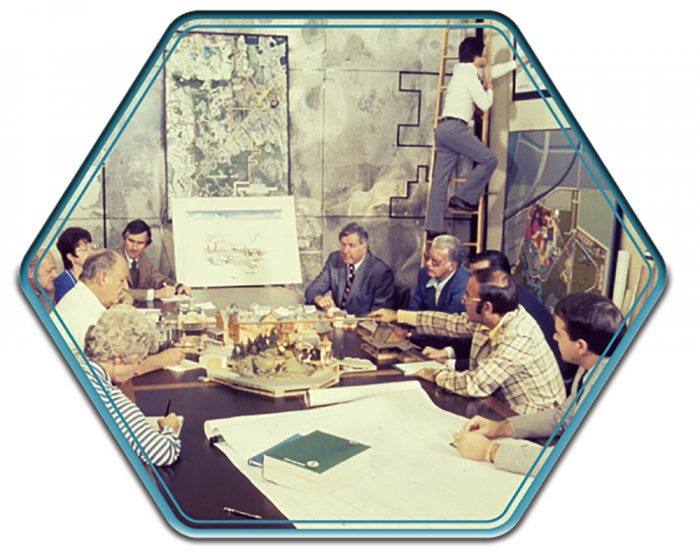 The result was a park that celebrated culture and innovation with attractions like Horizons, Spaceship Earth, and Journey into Imagination still considered to be among the best attractions Disney has ever produced. To this day, Epcot is one of the most popular parks at Walt Disney World resort, especially among older guests. It's a park that feels uniquely Disney without being overtly Disney. A place where you can experience the entire world, even the future, as part of an afternoon stroll.
So when the time came to develop a second gate for Disneyland, replicating the success of Epcot was the obvious choice. But WestCOT would have been so much more than a mere replica…
Welcome to the World of Tomorrow!
Epcot is like a world's fair, a series of pavilions meant to give you a taste of what the world of tomorrow would be like. WestCOT wasn't like that; WestCOT just took you directly to the future.
The first thing you'd see was not a Spaceship, but a SpaceSTATION Earth… a 300-foot golden sphere encased in a lattice of metal. Nearly twice the size of Spaceship Earth, this icon would be one of the largest Disney ever produced.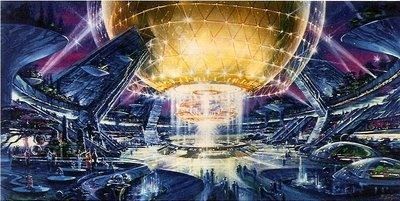 From there, you could either ascend the globe to ride a next-generation upgrade of Spaceship Earth, or head into the Ventureport and explore the Wonders of WestCOT.
Seven Wonders
First there would be Wonders of Living, which would be similar to the long defunct Wonders of Life pavilion at Epcot. Here you'd find Body Wars, Cranium Command, The Making of Me, and even Journey into Imagination.
At Wonders of Earth, you'd walk through sound stages themed to exotic environments like the Arctic or the Desert, experiencing the most wondrous environments the world has to offer.
Wonders of Space would take you through the cosmos, allowing you to explore distant planets and experience the magic of space travel yourself.
And, of course, it wouldn't be a 'COT without a World Showcase. Here, instead of discrete pavilions for each country, the Showcase would be themed to the Four Corners of the World, allowing for a blend of different cultures. Head to the New World, and you'd see a companion to Disneyland's Main Street, USA, with shades of the Canada and Mexico Pavilions. There would also be more indigenous representation, with Inca-, Aztec-, and First Nations-themed shows and attractions.
The Old World would cover all of Europe and the Mediterranean. Epcot mainstays like the UK, France, Germany, and Italy would be represented, but so would newcomers like Russia and Greece. The star attraction would be the Trans-European Express, where you'd engage in a Bond-style chase aboard a speeding train.
World of Asia would incorporate China, Japan, and India, and feature a new addition to the Disney Mountain Range: Dragon's Teeth Mountain. Riding a car designed to look like a Chinese Lion you see in parades, you'd rush along the Great Wall and up the mountains, being engulfed with silks as you reached the highest point.
Finally, World of Africa would allow you to take a rafting expedition down the fictional Cognobezi river or explore an Egyptian palace.
Linking the entire park would have been a boat ride called the River of Time; the longest ride ever designed for a Disney theme park. Doubling as a method of transportation, you could travel across the entire park, stopping at each land, as you experienced scenes relating to the story and culture of the lands you're sailing under. Stop and enjoy a nine-minute trip, or stay for the whole 45-minute journey.
Finally, WestCOT would be the first Disney theme park to feature hotels inside the property, based in each of the World Showcase pavilions. You could spend the night in Asia, Africa, or Europe, then awaken to another day of excitement at WestCOT center. This wasn't the first time Disney experimented with an "in-park hotel" design. The original concept for Tower of Terror was also supposed to be a fully functional hotel. However, the concept wouldn't be visited again until Hotel Miracosta at Tokyo DisneySEA, years later.
This would also just be one small part of Disney's planned expansion of its original resort, including an amphitheater, new lodgings, and a world-class public area. The new Disneyland might never be as big as its younger sibling, but the WestCOT expansion would bring it to entirely new heights.
What Happened?
Unfortunately, WestCOT was never to be for a variety of reasons. Building in Anaheim was, and remains, complicated, no matter how popular Disneyland is. Unlike Disney World, Disney doesn't control the entire surrounding land in Anaheim, meaning that any expansion would interfere with public roads and private properties. This means buying out land, getting grants from the government, and spending taxpayer dollars… not exactly something that endears you to the locals, no matter how cute Mickey Mouse is.
Cost was also a factor. An ambitious theme park like WestCOT would have cost billions of dollars of Disney's own money, in addition to significant taxpayer dollars. But there's one reason that looms bigger than all else. Disney's biggest financial flop of the 1990s, and the disaster that would almost kill all of the Disney Parks and Resorts…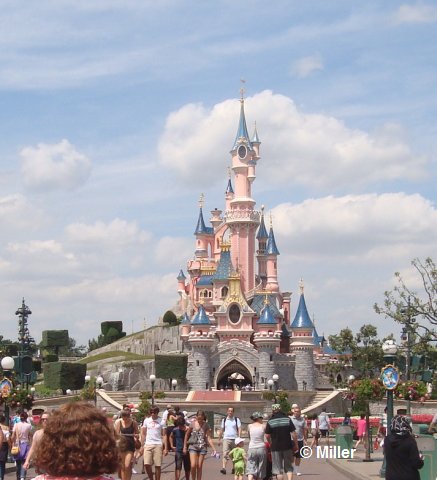 While Disneyland Paris is doing pretty well now, it was on the verge of collapse back in 1993. Disney was hemorrhaging money and questioning if themed attractions were even worth it anymore. Euro Disneyland, as it was once called, faced many of the same hurdles that WestCOT did, particularly a hostile surrounding area and a large construction bill. The fact that a park built in the image of the Magic Kingdom would fail so dramatically gave Disney cold feet about building an experimental park like WestCOT.
So, by 1995, the project was shelved. WestCOT would be no more. Instead, Michael Eisner would promote the creation of Disney California Adventure, a much cheaper endeavor that went from celebrating the world and the future to… celebrating the state you were already in.
WestCOT, one of the most ambitious projects Disney ever dreamed of, would be replaced by a park that was widely considered to be uninspiring when it first opened. Classic attractions like Horizons would be abandoned for duds like Superstar Limo, filled with C-list celebrity animatronics that barely moved, a horrifying agent puppet, and jokes only Michael Eisner found funny. Disney California Adventure did indeed bomb when it was first opened, leaving many Disney fans heartbroken that the ambitious dream of a WestCOT Center was abandoned for what felt like a cheap cash grab at the time. While DCA has seen vast improvements in the decades since it first opened, it still suffers from the shadow of that ill-fated opening.
WestCOT's Legacy
One of the tragedies of WestCOT, even more so than other abandoned Disney park concepts, is how closely it resembles such a beloved Disney property. WestCOT was everything people love about Epcot, but more. Classic rides with newer technology, a World Showcase you could stay the night in, a giant SpaceShip Earth. WestCOT represents a vision of the Lost Epcot; astute fans have likely noticed that the majority of the attractions planned to appear at WestCOT no longer exist. Journey into Imagination, Universe of Energy, Body Wars, Cranium Command, Horizons… these classic rides have all gone to the great Magic Kingdom in the sky. The Epcot of 2019 looks completely different today, and not every change has been well-regarded. While it's true Epcot is in the midst of a massive transformation, one cannot help but look at WestCOT and wonder what could have been. Would Horizons still be around? Would our Epcot expand to reflect the ambition of its west-coast sister? What would that level of ambition mean for Animal Kingdom? For Hollywood Studios?
We'll never know. But we do know that WestCOT's echoes still live on in other Disney attractions today.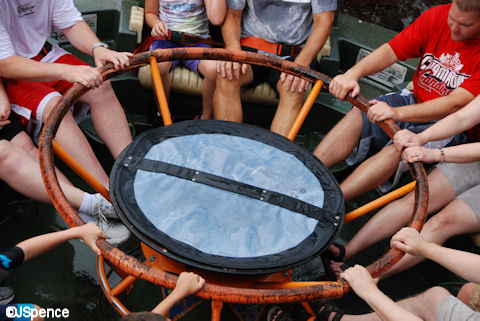 Elements of World of Asia and World of Africa would be folded into Disney's Animal Kingdom. The Congobezi River Rapids ride would be transplanted to Asia and turned into the popular Kali River Rapids attraction we know today. Indian and Tibetan influences would also be included in Asia, while Africa would receive its own themed land in the form of Harambe Village. Animal Kingdom would even become home to a new mountain coaster with Expedition: Everest, combining the high-flying elements of Dragon's Teeth Mountain with a darker and edgier take on the Matterhorn.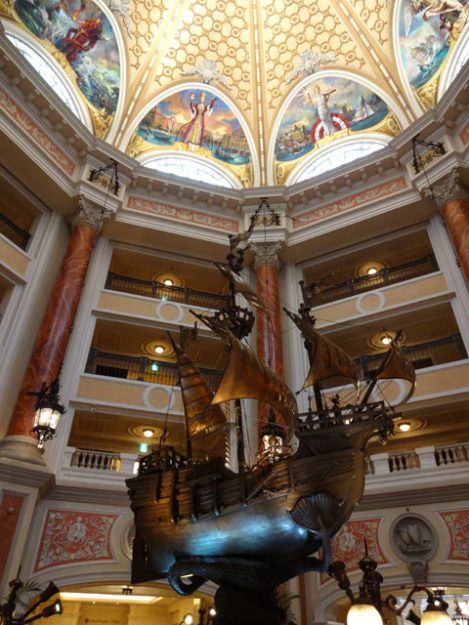 The dream of staying overnight in a Disney park would eventually be realized with the Hotel MiraCosta at Tokyo DisneySEA, the first ever Disney hotel located entirely inside a park. The idea of staying overnight in a highly themed resort will also eventually be brought to life with the Star Wars: Galactic Starcruiser, which will serve as an alternate entrance to Galaxy's Edge.
We owe quite a bit to WestCOT, even if the idea was taken from us well before its time. We can only hope that, perhaps someday, as Disney grows emboldened by the success of Galaxy's Edge, that we can see a similarly ambitious park open its gates to the world.
We hope you liked this article. Don't forget to leave a comment and follow us on social media!
Join the AllEars.net Newsletter to stay on top of ALL the breaking Disney News! You'll also get access to AllEars tips, reviews, trivia, and MORE! Click here to Subscribe!