WONDERS OF LIFE Epcot Archives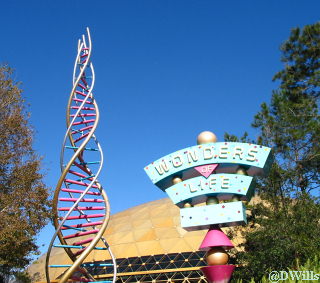 The Wonders of Life Pavilion attractions Body Wars, Cranium Command and The Making of Me reopened November 26, 2006, and stayed open through January 1, 2007.
Otherwise, the Pavilion basically closed as of January 5, 2004. The Pavilion is now used for Special Events.
INTRODUCTION
Set beneath the Wonders of Life golden dome in Future World is a pavilion filled with life-and-health related attractions. Attractions include Body Wars, Cranium Command, The Making of Me, Coach's Corner, Goofy About Health and the Fitness Fairgrounds.
The Wonders of Life pavilion opened in October 1989 and is located between the Universe of Energy and Mission: Space.
ATTRACTIONS
Body Wars — A motion simulator ride that miniaturizes you for your journey through the human body. Upon arriving at the "Body Wars" launch site, you will be "miniaturized" to the size of a single cell and beamed inside the human body. The probe's captain — Jack Braddock (actor Tim Matheson) — prepares to set out on a seemingly routine medical mission. You are a member of the crew of civilian observers accompanying him.
The objective is to rendezvous with Dr. Cynthia Lair (actress Elisabeth Shue), an immunologist who also has been miniaturized and beamed inside a patient to study the body's response to a splinter lodged beneath the skin. Soon, however, the voyage evolves into a high-speed race against time when Lair is swept from the splinter site into the rush of the bloodstream.
Beyond the pounding chambers of the subject's heart and on through the lungs' gale-force winds, the ship rides the body's current in an effort to rescue Dr. Lair. Even after she's safely on board, excitement builds as the ship loses power and heads toward the brain in search of emergency power and escape.
Deb's Mini Review – Body Wars is past its prime and needs to be updated. The film has become very grainy. If you like motion simulators, then ride Body Wars. However, if the lines are long, I see no need to spend your time waiting for this ride.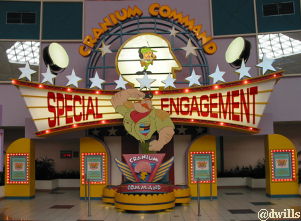 Cranium Command – Join Buzzy, an Audio-Animatronic, as he takes control of a 12-year-old boy's brain. "Use Your Head, Don't Lose Your Head" is the message in this humorous look at adolescence. You'll recognize some of the stars in this show who play key organs in Bobby's body. There is a five-minute standing pre-show that introduces the storyline. Cranium Command is a training center for brain pilots led by General Knowledge. You will want to make sure to see the pre-show. Continuous shows every 18 minutes. Don't miss this one!
The Making of Me — a film on human development and birth starring Martin Short. Continuous shows every 15 minutes; theater seats 100.
The Fitness Fairgrounds — a collection of shows, displays and hands-on exhibits including:
Frontiers in Medicine – exhibits on leading-edge developments in medicine and health
Sensory Funhouse – interactive, hands-on exhibits. Highlights include the Disneyland Video exercise cycles.
Goofy about Health – a multi-screen presentation
DINING
The food venue is closed. Closest place for something quick to eat is the Electric Umbrella in Innoventions Plaza.
Epcot Restaurants At A Glance
Menus From Around the World
Vegetarian and Other Special Diets
ENTERTAINMENT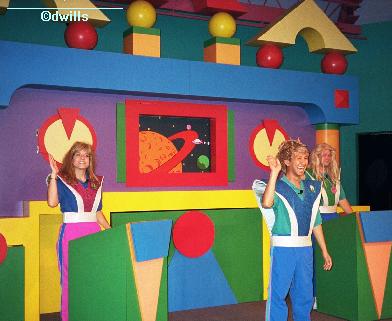 Anacomical Players – No longer playing at Wonders of Life. Their last show was in August 2000. The routine began with some "groaners" like… What do you get when you cross a bear and a skunk? Winnie the Pew! The three sketches were Body Court; Computer Technology Today with Dr. Manela, Dr. Sal Manela; and Flost in Space with Prince Ginga Vitis and Commander Molar.
For more information on Epcot Live Entertainment, visit Steve Soares' WDW Entertainment Website.
TOURING TIPS
Some people report motion sickness during and immediately following the Body Wars experience.If you are prone to motion sickness, think twice about this ride.
Guests with health restrictions and expectant mothers may wish to bypass Body Wars.
Body Wars has a minimum height requirement of 40 inches.
Body Wars is the attraction that gets lots of attention, but I enjoy the other part of Wonders of Life much more. I do not recommend waiting more than 10 minutes for this ride.
Hidden Mickey Sighting: Body Wars — in the mural above the entrance
Parents should first see The Making of Me alone to decide if your child is ready to see the film.
There is usually no line for The Making of Me.
WDW At Large Notes: Body Wars – the ride CANNOT and WILL NOT launch until every guest has his/her seatbelt fastened. Some guests who are on the "heavy" side, refuse to fasten their seatbelt because they feared being uncomfortable or embarrassed. Unfortunately, that calls attention. There are L.E.D. indicators that determine which seatbelts haven't been fastened, so here's a tip: If you pull the seatbelt ALL THE WAY OUT before fastening it, and pull it ACROSS the arm of the chair, it's much easier to fasten and it can be done quickly, it CAN be fastened over the arm.
Assistive Listening Devices from Guest Services Can Be Used Here.
Reflective Captioning Available in the theater.

KIDS AND CHARACTERS
Check your Daily Epcot Times Guide for times and locations.
Epcot Characters At A Glance
Character Meet and Greet FAQ!
SHOPPING
Well and Goods Limited shopping area is closed.
INTERESTING FACTS
The Wonders of Life Pavilion is 100,000 square feet, the dome is 50,000 square feet and the dome is 65 feet high. The entrance features a 75 foot tall DNA double helix!
Forty passengers can ride in each of the four 26-ton Body Wars simulators resembling those used in pilot training — which provide the sensation of fast movement. All the excitement of a thrill ride is created by combining this movement with the 70mm motion picture footage projected inside the simulator.
The Body Wars film was directed by Leonard Nimoy, known worldwide for his portrayal of Mr. Spock in the "Star Trek" television series and films and as director of the Touchstone comedy hit, "Three Men and a Baby."
To ensure the authenticity of Body Wars, a prominent team of advisers specializing in the teaching and practice of medicine was consulted.
Look for now famous actors Tim Matheson and Elisabeth Shue in the Body Wars film.
Actors in Cranium Command include such well-known comedians as Dana Carvey, Jon Lovitz, Bobcat Goldthwaite and Kevin Nealon. Also featured are Charles Grodin and George Wendt.
MetLife ended its sponsorship of the Wonders of Life pavilion in June 2001.
The Wonders of Life Pavilion in Epcot basically closed as of January 5, 2004. (Sports Fitness Area – become involved with your favorite sport in this electronically enhanced exercise area.)