Epcot Archives Tapestry of Nations
The Tapestry of Nations Parade, originally created for the Millennium Celebration was extended into 2001 and became the Tapestry of Dreams Parade!
Tapestry of Nations is actually 3 identical processionals, which occur concurrently in the World Showcase. Parade A can be seen between Mexico and Germany, Parade B between Germany and Morocco and Parade C between Morocco and Canada.
There are two shows nightly, (times vary seasonally) at 6:30 p.m. and 8:15 p.m., with the first parade running east to west (e.g. the Mexico/Germany parade runs from Mexico to Germany), while the second parades reverse direction, heading west to east (e.g. the Mexico/Germany parade runs from Germany to Mexico). This show has a very different look and feel depending on the time of day you view it, whether during the daylight, or when the park is dark.
The larger than life puppets are very interactive with the crowd, which especially seems to delight the children. Looking around I saw many smiling faces, people of all ages moving to the music and lots of dancing and applauding!
As a guest, be aware that once the parade begins, passage through World Showcase is VERY difficult!
The music is an original score by Hollywood film composer Gavin Greenaway and can be found on the new WDW Millennium CD.
**********
DEB'S OPENING NIGHT REVIEW (10/1/99) : WOW! After witnessing the beginning of Disney's Millennium Celebration in Epcot, I am practically speechless! It's amazing to me that even though I just spent a week at WDW in June, there were SO SO many NEW things for me to experience during this visit!
Tapestry of Nations — the new parade/processional in Epcot's World Showcase. I was mesmerized!
The artistry and excitement that exudes from this production is very impressive — from the music, to the creative puppets, to the smiles on the Cast Members, to the costumes and all the colors….it is vibrant and alive! Led by the Sage of Time, this blending of cultures is one of Disney's longest parades ever — ranging from 23-32 minutes and including over 100 performers.
While I enjoyed each and every moment of it, I understand that Tapestry of Nations will be shortened by about 10 minutes in the very near future. For the majority of guests, this will work much better!
Tapestry of Nations is a NOT TO BE MISSED event!
Here are some Tapestry of Nations Facts according to the WDW Press Release: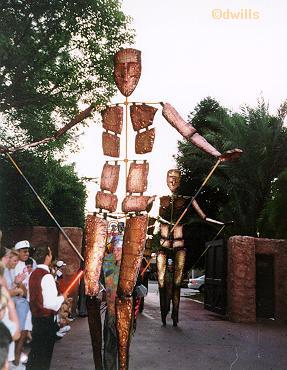 A Twice-Nightly Celebration: Two performances take place each evening during the 15-month Walt Disney World Millennium Celebration. The nightly millennium celebration culminates with the performance of IllumiNations 2000: Reflections of Earth.
Puppets: Towering 18 feet above the ground, each of the 120 puppets is engineered to move effortlessly with the breeze.
Each puppet is manned by costumed performers who interact with Epcot guests. The figures were designed by artist Michael Curry, whose famous creations include the award-winning puppets for The Lion King on Broadway.
Torch Towers: Nineteen giant torch towers, with flames at nearly 30 feet above World Showcase Lagoon, ignite the spirit of celebration.
Drums: Fifteen massive, rolling percussive units carry a total of 720 drums and 30 drummers.
Performers: More than 150 costumed performers star in Tapestry of Nations.
Orchestral Arrangement: The original score for Tapestry of Nations was written by British-born composer Gavin Greenaway, noted for his work on Hollywood movies, and supervised by Hans Zimmer, Oscar-winning composer for he Lion King. The music was recorded at London's Abbey Road Studios made famous by The Beatles.
Production: Senior Show Director – Gary Paben Producer – Paul Marosi Managing Producer – John Haupt
***Photos on this page are copyright Linda Eckwerth or Deborah Wills, all rights reserved. Photos may not be used without express written consent.