IllumiNations Reflections of Earth Epcot
Individual Attraction Selection
Walt Disney World has announced that after nearly 20 years, "IllumiNations: Reflections of Earth" will end its run in the second half of next year. "IllumiNations: Reflections of Earth" is planned to run until the end of summer 2019. The Disney Parks Live Entertainment team is currently creating a new show that will debut immediately following the conclusion of "IllumiNations," to continue the tradition of nightly entertainment on World Showcase Lagoon.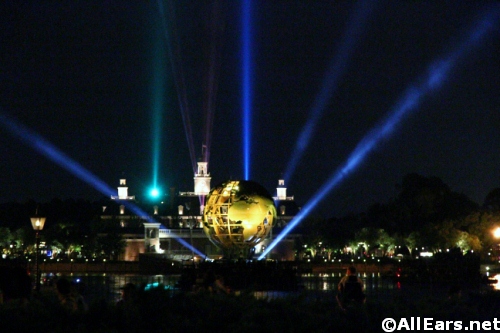 "Good evening, and welcome.
We've gathered here tonight, around the fire,
as people of all lands have gathered for thousands and thousands
of years before us,
to share the light and to share a story
an amazing story, as old as time itself
but still being written.
And though we each of us have our own individual stories to tell
a true adventure emerges when we bring them all together as one.
I hope you enjoy our story tonight —
Reflections of Earth."
Disney's Millennium Celebration debuted the evening show at Epcot called IllumiNations 2000: Reflections of Earth. It was so popular, that it's been extended indefinitely.
Fast Facts
A 13-minute night-time spectacular on and above World Showcase Lagoon.
Earth Globe is the world's first spherical video display system, wrapped in 15,000 LEDs (Light-Emitting Diodes).
1,105 shells are used for each show; 34 firing positions. Shells come from China, Italy, U.S. and Japan.
Shell types: comets, candles, mines, shells, tailed shells, crossettes, scattering bees, whistles, reports/salutes, ground effects, floaters.
Four fountain barges each pumping 4,000 gallons of water per minute.
A 150,000-pound inferno barge uses 37 nozzles to shoot propane flames skyward.
A full color spectrum of lasers, including four custom Disney colors (lagoon blue, mint green, pumpkin orange and lavender).
Walls of flames and a giant torch climb 40 feet above World Showcase Lagoon.
Managing producer John Haupt, show director Don Dorsey, symphonic score composed by Gavin Greenaway.
Special IllumiNations "tags" are performed on the 4th of July and also during Holidays Around the World (late November – late December). These "tags" are special fireworks/music added to the end of the regular show. You don't want to miss them!
Watch the 4th of July Finale performed to Glory Glory Hallelujah.
Watch the Holiday Finale "tag" which features narration from Walter Chronkite.
Watch the Epcot 30th Anniversary Finale "tag" which features music from Epcot's past.
What are Your IllumiNations Viewing Tips?
The number one tip is to pay attention to the wind direction so that you don't have all the smoke blowing your way during the show. Once you know that, you can choose one of many locations around the lagoon.
Folks staying in the Epcot Resort area that want a quick exit back to their hotel can stand on the bridge between the United Kingdom and France. It's a great viewing area and you are close to the International Gateway.
While it is possible to see the fireworks from some locations outside of Epcot the best way to experience the show and the message is from inside the park. If you watch outside the park, you miss the music, the fountains and the globe itself. Throughout the show the globe has projections on it that tie to the music.
The spot where we enjoyed watching the show was at Rose and Crown Pub. We made sure we got there early enough to get a front row seat and also enjoy a great meal. After our meal we ordered a couple of pints and enjoyed the show. (Lawrence and Jennifer Fisher)
IllumiNations Reflections of Earth is by far my favorite show! I do have to say that World Showcase Plaza is my favorite viewing point. (Jason)
My favorite places to watch the show are as follows. If Epcot is where you are ending your day, then I suggest watching from the bridge at Italy, it has a fantastic view. But, if you are in a rush to see another late show like FANTASMIC! or the Electrical Parade then I suggest next to the 2nd planter to right of the first gift shop at the entrance to the World Showcase. You are close to the action, can feel the fire, you are right next to the speaker, and are close to the exit. ( Michael Peters)
We found a great spot near Paris, a little enclave surrounded by park benches, gave us privacy and a great viewing area for the parade and fireworks as well. (Mark Savitt)
We are in awe at the IllumiNations fireworks we have seen. We had the best spot going. We rented a pontoon boat, met it at the Yacht Club dock at 8:15p.m. with a bottle of wine and our daughter in tote. The driver (Bobbie) took us around the whole area of water that was nearby. Then we parked right under the bridge that divides Epcot from the Boardwalk-Yacht Club area. We broke open the bottle of wine and just sat back and relaxed and enjoyed every minute of the show. At the end of the show we were brought back to the Yacht Club dock and off we went with no crowds near by. Can't wait to do it again. (Ellie)
Regarding the best spot to see IllumiNations: from a purely practical viewpoint, we prefer to stand near the entrance to the World Showcase because when the show is over you can just turn around and sprint for the exit and beat out 95% of the people leaving Epcot at the same time. As the park closes after the show, there's no reason to dawdle, and the parking lot, monorails, and buses all get really congested. (Teresa Anderson)