Mission: SPACE Epcot
Mission: SPACE Highlights:
Launch into space on this simulated space adventure
INTRODUCTION
Mission: SPACE, blasted off with a soft opening August 15, 2003 and an official Grand Opening in early October 2003. Located in Epcot's Future World between Test Track and Wonders of Life, Mission: SPACE replaces the former Horizons attraction.
From a Disney press release: "Guests who accept the mission will engage in a one-of-a-kind astronaut experience that launches them into a simulated space adventure — from pulse-racing liftoff to the sensations of traveling though outer space on a mission to Mars. The new attraction is the most technologically advanced ever created by Disney. In association with former NASA advisors, astronauts and scientists, Walt Disney Imagineering developed Mission: SPACE as the first ride system ever created to take guests straight up in simulated flight.
ATTRACTION
Pre-Show — The setting for the attraction is several decades into the future, some time after the year 2035, a time where anybody can travel into space if they have the proper training. That's what the International Space Training Center is for. Guests arrive at the Planetary Plaza of the ISTC and are visually guided to start thinking in terms of orbits and curves by the large scale planets scattered around. They are also provided with inspirational music and quotes from well-known astronauts and astronomers, from Galileo to Carl Sagan to astronaut Kalpana Chawla, who died in the February 2003 Columbia space shuttle accident.
IMPORTANT: You have an option as to which Mission: Space ride you wish to experience. The GREEN or EARTH mission, was introduced in August 2017 and is better suited to those who experience motion sickness or who have other health concerns, as well as to younger children. It does not use a spinning centrifuge. Signs are posted outside of the attraction, explaining the two different experiences and providing health advisories for both.
Before you go inside, the CM is waiting at the entrance to the ride and asks if you want regular or milder ride. Then they give you either a green card or an orange card, and direct you to the appropriate line. The Green card is for the LESS intense ride.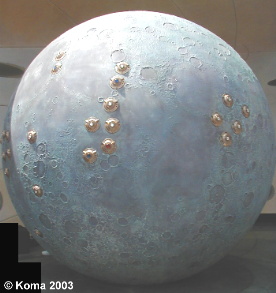 As you advance along the switchback queue, ostensibly to receive training for the ultimate space mission, enter the "Sim Lab", a large warehouse-like training area similar to one that might be found at Kennedy Space Center. Pass by a huge rotating wheel with chambers that is supposedly used for simulating gravity for trainees. Along the queue are a number of interesting visuals, including a genuine Lunar Rover on loan from the Smithsonian. From there, pass into the Command Room, where Cast Members sit behind a glass wall and multiple control panels. On the wall are plaques commemorating outstanding "firsts" in space travel — First Man in Space, First Man on the Moon, etc., up to the fictitious "First Family in Space" and "First Deep Space Mission." At the end of this queue, you are standing in front of four color-coded Ready Rooms, into which you will be dispatched in teams of four. You are given the roles to assume during the training mission — commander, pilot, navigator or engineer. As you wait for your assignment, peruse the astronaut uniforms on the walls, and watch a video from CapCom. There is also a chance at this point for those who don't wish to ride to exit.
Mission: SPACE — After final briefings from CapCom, buckle in to the X-2 Rocket for lift-off.
The Orange, or more intense, mission: According to a Disney press release, "When the countdown reaches zero, the most unique and exhilarating ride experience ever begins. The earth begins to rumble, white clouds of exhaust start to stir as the ascent toward the sky starts and guests are rocketed into the galaxies. Guests hear from CapCom and are asked to perform vital tasks that will land their spacecraft safely on Mars. Each guest will assume the role of Commander, Pilot, Navigator or Engineer. But there is no mission without surprise as guests encounter unexpected twists, turns and other challenges that test every astronaut. Quick thinking and fast reactions are needed by each guest to successfully complete the mission." The video for the Orange mission was updated to HD to make it even clearer as part of a 2017 refurbishment.
The Green/Earth, or less intense, mission: Rather than traveling to Mars, Green mission participants are launched into space and then are treated to an orbit around the planet Earth, passing identifiable landmarks along the way. Guests 40″ to 44″ can obtain booster seats from a cast member.
Post-Show — There are four sections in the post-show, set up along the lines of the Global Neighborhood at the end of Spaceship Earth. In this Hewlett-Packard sponsored "Advanced Training Lab," guests of all ages have an opportunity to explore interactive space experiences, which include:
Space Base — A play area for young children with a space theme.
Expedition: Mars — A joystick video game in which the four-minute mission is for an astronaut (you) to find four other astronauts on the surface of Mars.
Postcards from Space — Guests can email a short video of themselves with one of the space-themed backgrounds and create a great souvenir of their Mission: SPACE experience.
Space Race — Two teams compete against each other in a race to send their rocket from Mars back to Earth. Nearly 60 people can play the high-energy game at one time.
ALL EARS® Senior Editor Deb Koma says: Space Race was a lot of fun! It's like a big video game, with two teams, Triton and Orion. There are 24 stations for each team on the floor (6 rows of 4), plus four more stations per team up on the stage, allowing 56 players at one time. At each station there is a diagram of your rocket, one big control button and four directional arrow buttons. The object of the game is to get your team back to Earth by "fixing" the "problems" that light up on your rocket's diagram using teamwork. (The guy standing next to me said it worked something like Tetris, a game I'm not familiar with, but if he says so…) Each person controls a different aspect of fixing (propulsion, life support systems, navigation, and ??? I forget the fourth one!) and after all the problem areas are fixed, your teamwork rating is calculated. If your team fixed all the problems and also had a cooperation rating of 90 percent or better, your team wins. (My team won when I played, by the way.) It took about 10-15 minutes to play, and was thoroughly enjoyable.
TOURING TIPS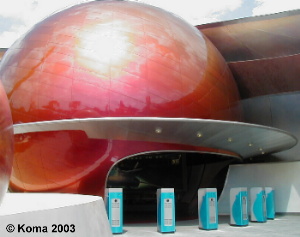 Guests with health considerations are strongly advised AGAINST riding the ORANGE (high intensity) Mission: SPACE ride — in fact there are numerous warning signs posted at many locations before you enter and all along the queue.
One of the warning signs reads: "For safety you should be in good health, and free from high blood pressure, heart, back or neck problems, motion sickness or other conditions that can be aggravated by this adventure."
Another sign states, "CAUTION! You may experience motion sickness on this adventure! Mission:SPACE is a realistic and intense simulation of space flight. It is unlike anything that you have ever experienced."
The Orange mission of this attraction can leave you feeling disoriented, woozy and even, as some riders report, with a headache for the rest of the day. There are air sickness bags available in the capsules.
You are given multiple chances to change your mind about riding Mission: SPACE and are asked repeatedly if you're sure you want to continue. Just before you step into the seating area, the cast member asks you to give a "thumbs up" sign, if you're still ready to go.
Lightning Lane access for Mission: SPACE is available with the purchse of Genie+. Although the ride portion of this attraction is relatively short, you should allot about an hour to experience Mission: SPACE in its entirety, including the post-show activities.
Note that the "capsule" that you're strapped into for the attraction is very dark, and very closed in. There is a harness that pulls down over your head and shoulders to restrain your movements, and the control panel in front of you moves forward to be very close to your face. Although there is a steady stream of cool air blowing into your face, if claustrophobia is a concern for you, you may want to skip this ride.
If you have any doubts about how you will react to this ride, you should opt out.
You must be 44″ tall to ride the Mars/Orange Mission. The Green mission (Earth) has a 40″ height requirement. Children 40″ to 44″ may get a booster seat from a cast member.
SIZE ISSUES: "Being a larger person at Disney can be difficult at times, especially on the older attractions. However, it appears that the Imagineers have recognized this and the newer rides are designed to accommodate us. Mission Space is no exception. I have the chance to ride MS and I wanted to let anyone who had fears about being stuck or not fitting – not to worry. I am a 6'2″ 350-lb. person and I had no trouble at all fitting. In fact it was rather comfortable. TS"
INTERESTING FACTS
It took more than 650 Walt Disney Imagineers more than 350,000 hours (the equivalent of 40 years of time) to develop Mission: SPACE. The Imagineers' efforts took place over a five-year period.
Imagineers also state that much of the technology used for Mission: SPACE had to be invented to make the attraction possible.
Mission: SPACE is the first Disney attraction built specifically with the original FASTPASS system in mind.
Nearly 100 shades of red were mocked up before Imagineers decided on the color of the red planet that dominates the dramatic facade of Mission: SPACE.
The 29 missions that the United States and the Soviet Union sent to the moon between 1959 and 1976 are each designated on the moon sphere in the Planetary Plaza of Mission: SPACE.
The LRV (Lunar Rover) suspended from the ceiling in the Sim Lab is on loan from the Smithsonian. According to Walt Disney Imagineering, it is the only LRV constructed by NASA that is not on the moon.
Jupiter, at 16 feet in diameter, is the biggest celestial body in the Planetary Plaza of Mission: SPACE. Earth is 10 feet in diameter and the moon is 12 feet in diameter. (As they exist in our galaxy, Earth is 7,926 miles in diameter; the moon is 2,160 miles in diameter and Jupiter is 88,700 miles in diameter.)
It would take 13,136,640 jellybeans to fill the Earth sphere in Planetary Plaza; 22,702,080 to fill the moon sphere and 53,809,920 to fill the Jupiter sphere.
Close inspection of the Gravity Wheel reveals the logo for the one-time Epcot attraction Horizons affixed to the hub of the wheel. Horizons, which was located on the site of Mission: SPACE, featured a look at plausible future habitats, including … space!
There are 10 legendary quotes by famed space explorers and supporters of space exploration located around the walls of Planetary Plaza.
In the 2017 revamped version of the attraction actress Gina Torres (left, from USA Network's "Suits") takes over the role of CapCom, previously played by actor Gary Sinise.
Guests travel in the X-2 rocket on their mission to Mars. The design of the rocket is based on advanced propulsion technology, which could conceivably take astronauts into deep space in the future.
The music you hear during the exit of the ride is custom-written and scored for this attraction. Trevor Rabin, a one-time member of the rock band Yes and a prolific composer of motion picture scores, composed the music for Mission: SPACE.
Other notes:
With a career in the NASA space program that spanned more than 30 years, six-time NASA shuttle astronaut Story Musgrave is an ongoing consultant to Disney's Mission: SPACE project. Musgrave describes the attraction as "a place where guests can imagine our future in space and their role in it, walking in the footsteps of heroes and building on the wealth of technology we've developed to date."
Mission: SPACE replaced the Horizons attraction in Future World.