Norway Epcot
INTRODUCTION
A visit to the Norway pavilion (located between Mexico and China pavilions) will put you right into Scandinavia as you enter the picturesque town square, designed to represent the Norwegian towns and cities of Bergen, Oslo, Alesund and Setesdahl.
This pavilion features the Frozen Ever After attraction, The Royal Sommerhus Meet and Greet with Anna and Elsa, and a replica Stave Church with an exhibit (currently "Gods of Vikings").
ATTRACTIONS
There are three main attraction components to the Norway Pavilion. Click on the links for complete information on each attraction:
Frozen Ever After ride
Royal Sommerhus Meet-and-Greet featuring Anna and Elsa
The Stave Church
DINING
Princess Storybook Dining – dine in the Akershus Royal Banquet Hall for breakfast, lunch or dinner with Disney's Princesses: Belle, Jasmine, Snow White, Princess Aurora (Sleeping Beauty), Pocahontas, Mary Poppins, and Mulan. Occasionally, Ariel will don her ball gown and circulate around the restaurant. Not all princesses/leading ladies appear at each meal, generally there are 4-5. VIDEO REVIEW
Kringla Bakeri og Kafe – for a great pastry, stop in here for breakfast or dessert or just a treat in the middle of your day. Desserts include Sweet Pretzels and Rice Cream, a wonderful, rich rice pudding with strawberry topping!
NOTE: Kringla Bakeri og Kafe closed in February 2018 to be expanded. During this refurbishment, a kiosk has opened on Norway's promenade. Called Midnattssol, it features several of Kringla's signature items, such as school bread and rice cream.
Epcot Restaurants At A Glance
Menus From Around the World
Vegetarian and Other Special Diets
ENTERTAINMENT
Two Norway Vikings roam around the pavilion looking for their ship! Be sure to spend a minute interacting with them.
TOURING TIPS
FastPass+ is a MUST for the Frozen Ever After attraction!
Check out the statue of World Class Runner Greta Waitz on the grounds of the Norway Pavilion.
See if you can identify the four Norwegian architectural styles (explained in Interesting Facts).
Epcot International Flower and Garden Festival – Norway is home to the woodlands with wildflowers and a sometimes funny Troll Topiary!
Epcot International Festival of the Holidays features storytellers in each country. At Norway, meet storyteller Sigrid who tells you about the mischievous Christmas Gnome, Julenissen.
KIDS AND CHARACTERS
Anna and Elsa greet guests daily in the Royal Sommerhus portion of the Norway pavilion
Each of the World Showcase countries has a special "KIDCOT" area that provides an opportunity for your child to interact with a native of the country you are visiting.
Epcot Passports are great fun for kids as they have them stamped at each pavilion around World Showcase.
Epcot Characters At A Glance
Character Meet and Greet FAQ!
SHOPPING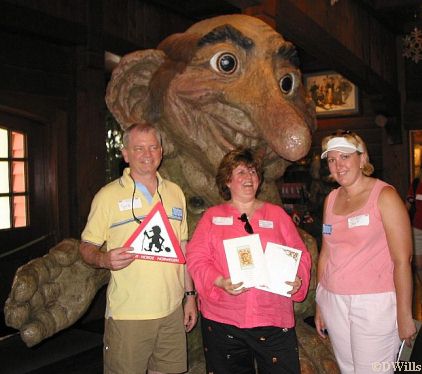 The Puffin's Roost features hand-knit woolens, trolls, glass, porcelain, pewter, and toys. There is also a store filled with merchandise related to Frozen!
INTERESTING FACTS

Four uniquely Norwegian architectural styles can be seen here. Setesdal style, with grassy roofs and thick logs, projects a rough woods look in The Puffin's Roost and Kringla Bakeri og Kafe. Bergen style, captured here in the Fjording Shop, is marked by gabled windows on close-set wooden buildings. Oslo style is marked by the surrounding walls of the Akershus Castle. Alesund style is typified by the white stucco and stone-trimmed information building.
The Restaurant Akershus has the same name as the famous 14th century castle which stands in Oslo's harbor and is of the same stone construction.
A simple picturesque landscape is the key to Norway's design which uses lacy, woodsy style, with architectural elements such as stone, wood and tile. The addition of natural elements, such as waterfalls, helps create an authentic feeling.
The Norwegians built the first Stave Churches, or Stavkirke, around the year 1050. When St. Olaf brought Christianity to Norway, the Norwegians turned to the craft they knew best, woodworking, to build their new churches. They blended Christian symbols with Viking images to create these impressive buildings. note the wooden dragon heads decorating the eaves. Other European countries built wooden churches, but only Norway's are still standing. Of the 1,000 Norwegian Stave Churches built in the Middle Ages, 28 survive today.
"Norway has its own kind of Santa Claus – Julenissen has existed in Norwegian folklore throughout the ages. He was one of the "little people". The barn nisse toiled on the farm from morning till night. He was hard working and loyal when the farmer treated him well, but vengeful if anyone insulted him. The same goes for the wood nisse, the house nisse, the church nisse, yes, even the ship's nisse. Each had his own function. And so who is this Julenissen – the Norwegian term for Santa Claus? Today many believe he is the barn nisse." (Excerpt from VisitNorway.com)
The Maelstrom attraction closed October 2014 to make way for a Frozen themed attraction. Maelstrom's description read, "Leave present day Norway to journey back in time to the Norway of old aboard dragon-headed 16 passenger boats. Travel to a 10th century Viking Village and enter the shadows of a mythical Norwegian forest populated by trolls. One of the creatures cast a spell on the boat and you suddenly are traveling backwards into the rapids of the Jutenheimen mountain country. Just as you are about to topple backwards over the waterfall, the boat moves forward to a rocky passageway in the North Sea where you find yourself in an ocean storm. Soon, you enter the calm fishing village where your boat docks. A door will open into the theater. There is a wide-screen movie that takes you on a tour of Norway and introduces you to its people."
At one time, a great play area for kids was located at Norway – a huge Viking ship. Disney replaced the Viking Ship play area with a flower garden but some of the remains of the ship were kept.
Norway was added to World Showcase in 1988.