Innoventions Epcot
INTRODUCTION
In the past, Innoventions featured exhibits with cutting edge technology and lots of hands-on interactivity. The exhibits changed regularly, and most were designed to appeal to guests in a wide range of ages. Recently, however, a number of exhibits have closed, and Innoventions seems to be undergoing some changes. Stay tuned to see what happens with this space in the coming months.
Innoventions is located on both sides of the center of Future World, and the buildings are referred to as Innoventions East (on the Mission: SPACE side) and Innoventions West (near The Land).
Innoventions opened in 1994 in the area formerly known as Communicore, which was the home of Epcot Computer Central and the World Key Information System. Since then, it has undergone two major renovations.
ATTRACTIONS
INNOVENTIONS WEST
All exhibits are closed in Innovations West as of this writing (November 2017).
INNOVENTIONS EAST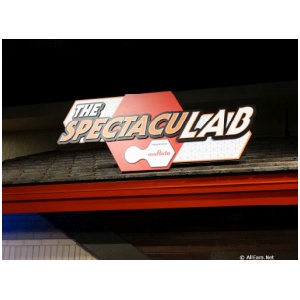 The SpectacuLAB, developed in partnership with electronic components manufacturer Murata and Disney Parks Live Entertainment, debuted in Innoventions on November 13, 2017. The show was designed by Science from Scientists, a non-profit organization dedicated to teaching and inspiring children to solve real-world problems by improving literacy in Science, Technology, Engineering and Math (STEM). In it, guests can interact with real scientists and their intern as they demonstrate scientific principles. Read Kristin Ford's report on the grand opening HERE. And see more photos HERE.
Colortopia – presented by Glidden
There are 3 zones to experience. The Power of Color – short standing presentation of the psychology of color! The Color Lab is an interactive area where you can play Color Mix n Match. Color Our World allows you to use a magic paintbrush and bring colors from the magic paint can to an interactive black and white screen. There is also a downloadable app so you can continue to play with colors in Epcot. To learn more you can visit: experiencecolortopia.com (Opened fall 2015)
DINING
Club Cool is the place to go to cool down and sip a free beverage or two. Sponsored by Coca-Cola, this "exhibit" situated near Innoventions West, offers free samples of soft drinks from around the world, as well as Coca-Cola merchandise.
The Electric Umbrella, located in Innoventions East, serves lunch and dinner. Menu items include burgers, chicken, and salads. Be sure to check out the tables on the second level for a peaceful break away from the crowds.
Fountainview Cafe is a Starbucks location.
Epcot Restaurants At A Glance
Menus From Around the World
Vegetarian and Other Special Diets
ENTERTAINMENT
The Disney Imagineers are masters at taking a few simple elements, such as light, water and sound, and creating beautiful "attractions." Their expertise is obvious in the Innovention Fountain located in Innoventions Plaza in Epcot's Future World. The elaborate display, designed by imagineer Mark Fuller, is based on a 180-foot x 120-foot oval. Computer-controlled pumps send 29,000 gallons of water per minute cascading down its tiered walls. More than 108,000 gallons of water swirl throughout the fountain.
The fountain "performs" throughout the day every 15 minutes to a random selection of music. For a spectacular view, stand at the end of the fountain facing Spaceship Earth after dark when the fountain is lit.
At night, the walkways in Innoventions Plaza may become illuminated.
TOURING TIPS
Innoventions is a good place to head if it starts raining. Of course, others will have the same idea, but there is enough room for many guests.
In the evening, be sure to look down at your feet! There are fiber optics in the concrete outside the two Innoventions buildings that light up at night.
Club Cool is often crowded — especially in hot weather — and navigating in a wheelchair may be difficult.
In the area behind Club Cool is a hallway featuring large photographs of various inventions by Walt Disney and The Walt Disney Company. Hanging from the ceiling in this hallway are large banners featuring the words "Creation," "Collaboration," "Perspiration" and "Inspiration" — values Walt held close in his business ventures. Back in the Communicore days, this area was an exhibit called Expo Robotics, which was later used as Imagineering Labs.
KIDS AND CHARACTERS
Character Spot -Late 2018, you can meet Ralph and Vanellope from Ralph Breaks the Internet at Innoventions West, though their location may change later in the winter.  Also across the way is Baymax from "Big Hero 6" and Joy and Sadness from the film "Inside Out".
The KIDCOT stations in Innoventions and Future World have closed. They only are located in the World Showcase country pavilions.
SHOPPING
MouseGear is the second largest shop on WDW property (World of Disney at Disney Springs is the largest.) It is themed both inside and out with working gears complete with sound effects. The shop sells clothing for kids and adults with areas specific to men and women. There also is an assortment of plush, toys, pins, key chains, magnets, luggage, hats and all things Disney. This is one of the places at Epcot that sells a variety of Epcot-specific merchandise, that can only be purchased within the park. Cast members at each entrance are eager to welcome guests and trade pins.
The Pin Station between Innoventions West and Innoventions East is the hotspot on property for pin trading and purchasing. Pin workshops are held daily by Cast Members. Trading occurs here throughout the day. This Pin Station tends to have the most pins on property. Limited Edition pins may also be available.
The Art of Disney store is one of four on property. Disney collectibles, animation cels, sculptures, and prints are available for purchase or enjoyment. For those on a tighter budget, postcards of some prints are also available.
Inside Club Cool is a gift shop selling Coca-Cola merchandise in several languages.
INTERESTING FACTS
The magical Innovention Courtyard Fountain has been part of Epcot since opening day. As part of the opening ceremony for Epcot Center in 1982, various countries from around the world were invited to bring water from their homelands to pour into the fountain as a symbol of peace and community.
The original fountains were refurbished in 1993 — with 304 nozzles and "shooters" that can propel water over 150 feet in the air. It took three months of computer programming to design the water ballets that run every 15 minutes. At night, the fountains take on another dimension as 1,068 colored lights focus on the streams of water.
Innoventions Fountain Facts:
212 MicroShooters located in the upper pool; each propels 2 gallons of water up to 80 feet in the air.
40 MiniShooters located in the lower pool; each propels 5 gallons of water up to 100 feet in the air.
12 SuperShooters located in the upper pool; each propels 50 gallons of water up to 150 feet in the air.
60 Spray nozzles Air accumulators for the SuperShooters™ activate with pressures of 30 PSI to 120 PSI.
190,000 feet (35 miles) of electrical wire and 22,000 feet (4 miles) of conduit.
If all of the shooters triggered simultaneously, there would be 2,000 gallons of water in the air.Note that Shooter™, MicroShooter™, MiniShooter™, SuperShooter™ are registered trademarks of WET Design.
Innovention Fountain Musical Selections – The selections played for the water ballets are rotated every quarter hour in no specific order. People always inquire about purchasing the soundtrack for the regular and holiday shows, but none have been produced.
Music List for Innoventions Fountain Regular Season Shows:
Selection from Disney's animated feature "Rescuers Down Under." Soundtrack is available on iTunes.
Instrumental from the "Air Battle" sequence from Surprise in the Skies, a former daytime lagoon show at Epcot (Soundtrack never produced for retail sale.)
Selection for a proposed Epcot show "Around the World with Mickey Mouse" (Soundtrack never produced for retail sale.)
Selection from the Disney live-action feature film The Rocketeer (Soundtrack is available on CD )
"Day One" by John Tesh (Song is available on the Tour de France and Live at Red Rock Albums.)
"Standing in Motion" by Yanni (Song is available on the Out of Silence, In Celebration and Live at the Acropolis albums.)
Selection from the Disney live-action feature film Iron Will (Soundtrack is available on iTunes.)
ARCHIVE:
Most of the exhibits in Innoventions West closed in 2015 and 2016.
The Sum of All Thrills – presented by Raytheon – closed September 14, 2016
This attraction allowed guests to digitally design their own roller coaster, bobsled, or jet plane experience and then ride it in a simulator. A similar attraction — CyberSpace Mountain – was located at Disney Quest, but this version was far more intense.  Once your design was complete, a cast member directed you to a second-floor boarding area. There you were asked to take everything out of your pockets and store them in a free locker. Attached to a significantly impressive robot arm were two seats. After being seated, the cast member lowered a large apparatus over your head and informed you that an emergency stop button was located between the seats. If at any time the ride became too intense, you could slap your hand down on this knob and the ride would immediately stop. (Opened October, 2009) For more information, read our comprehensive blog (with photos).
StormStruck – presented by FLASH (Federal Alliance for Safe Homes)
– closed September 14, 2016
Experience the power of a weather event complete with wind, rain and lightening, and learn how best to prepare your home to withstand potential weather damage at this exhibition. In addition, kids can build a storm safety kit, and everyone can participate in the "Weather Safe" Kiosks. Guests begin their experience by picking up 3D glasses and entering a very small theater with three rows, which has seating for approximately 35 people. This virtual reality show is quite realistic, with special effects simulating wind and rain. After the 3D movie ends, there are questions on a monitor at each seat to test a guest's knowledge of home-protection techniques. (Opened August 2008)
Heed the warning sign outside of the theater: "StormStruck is a simulation of a severe weather event that takes place in a dark theater and includes loud and unexpected noises. This attraction may be frightening to children." Parents, please take this warning seriously. There is a child area outside the theater, so that "child swap" is possible.

Innoventions received a major update in 1999 in anticipation of the Millennium Celebration. The exhibits continue to change as new vendors come onboard.
Innoventions opened in 1994 in the area formerly known as Communicore. Communicore was the home of Epcot Computer Central and the World Key Information System.
Test the Limits Lab – presented by Underwriters Laboratories, Inc. – Test the Limits Lab is designed to be an interactive, kid-powered test lab. The exhibit's six kiosks allow Epcot visitors to get a hands-on feel for how UL annually tests the safety of more than 18,000 products. Guided by cast members, guests can "implode" television screens, put vacuum cleaners through their paces and even drop 55-gallon barrels on firefighters' helmets to see whether they can withstand the impact. This area is loud, and kids usually love it. (Opened in 2003-2015?.)