"Frozen" is one of Disney's most successful character franchises ever, but its instant popularity seemed to come as a surprise to the company that struggled to catch up with merchandise, attractions and other ways for fans to interact with the characters. Over the past two-and-half years, Anna, Elsa and Olaf have worked their way into the hearts of children, who could not get enough of "Frozen." Many parents, however, reached their saturation point much sooner.
This week, however, the first attraction based on "Frozen" opened at Walt Disney World, and the excitement drew crowds that were willing to wait in five-hour lines. That's a lot of indulgent parents!
Our own Deb Wills has a report of opening day for the Frozen Ever After attraction. I rode it that day, too, and have some tips for parents.
** This is likely to be THE most popular attraction in the park this summer, so get a FastPass reservation, if at all possible. Lines for the new Soarin' have not been as long as the queues for Frozen Ever After, so choose to visit Arendelle when making your selections. (Soarin', Test Track and Frozen Ever After are all in the same tier, from which you can only pick one FastPass selection.)
** If you choose to wait in the long line, be prepared — for yourself and your children. Bring snacks, drinks and something for everyone to do. These days, that often means a photo or electronic tablet, but it doesn't have to. Anything that's portable will work, like a family card game or coloring books. One of my favorite ideas is to give kids a travel journal so they can document their vacation memories during this down time. I've actually seen some journals in Walt Disney World gift stores, or you can create your own. (I did this once for a Disney Cruise Line trip, and all the kids in our group used the journals at the three-course dinners.)
** Be realistic. If you have very young children, they likely are not going to be able wait peacefully in an hours-long line, even with distractions. I waited 90 minutes to ride Frozen Ever After and saw plenty of older children waiting without meltdowns. However, there also was a family with several toddlers who were miserable and making everyone around them miserable with their behavior and screaming — and the adults just would not "let it go" when they really should have.
** Frozen Ever After is what is known as a "dark ride," meaning it's one in which vehicles travel past illuminated scenes of a story. It doesn't have to actually be dark, but in this case, it really is. However, the animated animatronics and other special effects generally keep the attraction lit well enough to not be scary for little ones.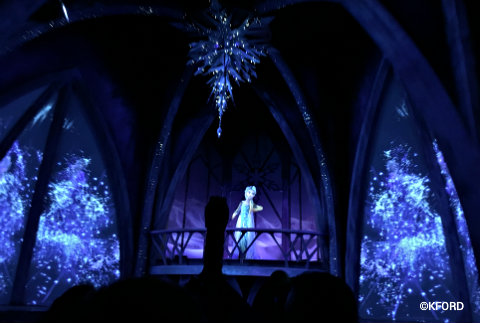 ** Without giving away too many spoilers, this attraction follows the same track as its predecessor, Maelstrom, which means there are two small hills. Both make the boat ride fun without being frightening. Think Pirates of the Caribbean, not Splash Mountain.
** Children younger than 7 years old must ride this attraction with someone who is 14 or older.
** Like most Disney Parks attractions, Frozen Ever After releases its passengers and then they must exit through a gift shop. This is definitely a good place to locate "Frozen" souvenirs. You'll find the original Elsa and Anna costumes as well as gowns from the "Frozen Fever" short; plush animals and dolls; Snowgie T-shirts; jewelry; trading pins; a collection of baby outfits; and so much more. If you don't see what you're looking for, a second gift shop carrying Frozen merchandise recently opened in the Norway pavilion adjacent to the Elsa and Anna meet-and-greets.