Horizons
I miss Horizons. This was a wonderful attraction that allowed me to be immersed in science fiction and science fact with a touch of Disney magic. It was grand in scope and possibilities. I'm sure when the Imagineers were designing Horizons they believed they were creating another Pirates of the Caribbean or Haunted Mansion – an attraction that would live on and on. But alas, it didn't work out that way. What is to follow is a brief history of this once illustrious attraction and then a trip down memory lane as we take one last ride.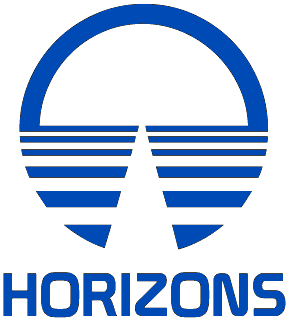 Horizons officially opened on October 1, 1983, exactly one year to the day after the opening of Epcot. Sponsored by General Electric (GE), the story of Horizons was designed to be a sequel to the story presented in another GE sponsored attraction, Carousel of Progress.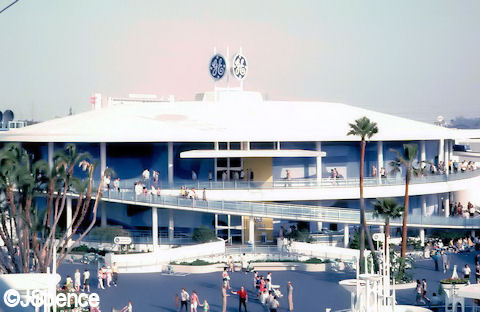 At the New York World's Fair, Disneyland and the Magic Kingdom, Carousel of Progress told the story of a family dealing with new technologies in the 20th century. Horizons continued this story by presenting us with a family living in the 21st century. But unlike Carousel of Progress where the family remained physically close, in Horizons adult children move to the desert, beneath the ocean, and out into space.
The Horizons building was unique in its design. Imagineer George McGinnis and architect Bill Norton created a structure that looked like a spaceship to some and a giant multifaceted gem to others. In either case, their desire was to present viewers with a structure like they had never seen before – something that would help guests transition their thinking from the present into the future.
During the early planning stages of Horizons, the attraction was to be called Century 3. This was to honor the third century of the United State's existence, 1976-2076. But as Epcot began to take on a more international flavor with the inclusion of World Showcase, it was decided that a less "country specific" name was in order. Next came the name FutureProbe. However the word "probe" had a negative connotation and it too was abandoned. Finally the name Horizons was selected as the word conveyed the future ahead of us. It's interesting to note, the name "Century 3″ could be seen on a space vehicle during the ride.
Representatives from GE worked closely with Imagineers during the development of this attraction. Early concepts centered around the inventions of Thomas Edison and the creation of the General Electric company. As time passed, the idea evolved into a presentation of America's progression into the future. But like the attraction's name, a more international subject was needed. In order to appeal to a global audience, it was finally decided to offer a view of man's future as seen through the eyes of scientist and authors both past and present. But unlike the original Carousel of Progress whose focus was on technology, Horizons would put the emphasis on humanity.
Horizons' ride mechanism was similar to the Peter Pan attraction in the Magic Kingdom. Vehicles were suspended from an overhead rail and the track determined the direction the carriage faced. The ride had 174 vehicles that each held up to four guests. Horizons had a capacity of 2,784 riders per hour and lasted a little over fourteen and a half minutes. Fifty-four Audio-Animatronics figures and 770 props were used on 24 sets. In addition, twelve projectors and two Omnimax screens were incorporated into the ride.
The show was narrated by a couple living in the future and voiced by Bob Holt and Dena Dietrich. Holt was primarily a voice actor who also appeared in a number of movies including Disney's "Bedknobs and Broomsticks." Dietrich guest starred on many television series but is best remembered for playing Mother Nature in Chiffon margarine commercials.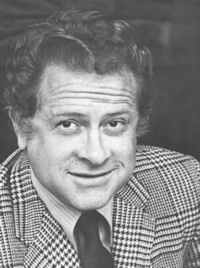 Horizons was unique in that it allowed guests to select their own ending to the ride. Toward the end of the journey, riders could choose between Desert (Mesa Verde Reclamation Project), Ocean (Sea Castle Floating City), and Space (Brava Centauri Orbiting Station) from buttons position in front of them. As the vehicle continued to move forward, individual monitors appeared before each car and a 31-second video was played showing a simulated adventure over land, under water, or through space. To create the videos, scale models were built and a camera swept across and through the futuristic terrains. These models were some of the largest ever created at the time.
From October 1, 1983 to March 10, 1985, GE sponsored two attractions at Disney World, Carousel of Progress and Horizons. But when their ten-year Carousel of Progress contract expired, they chose not to renew. GE also sponsored various incarnations of IllumiNations from January 30, 1988 until September 21, 1999.
The closing of Horizons came on January 9, 1999 and was generated by several events. First, changing public tastes. Most guests were no longer content to sit for almost 15 minutes and watch one vignette after another pass by. Lines for this attraction were practically nonexistent in the later years. Next, General Electric, sensing that this attraction had seen its day, let their contract expire. This forced Disney to pick up the operating costs for a tired attraction. And finally, it was alleged that along with major roof problems, a sinkhole was discovered under the building in 1998. Something needed to be done.
Some sort of Space Pavilion had been envisioned for Epcot since the parks inception so Disney decided that maybe now was the time to move forward with this idea. But the first step would be to demolish the Horizons building. For a number of months during 2000, cranes and bulldozers chipped away at the building. A large amount of the structure's materials were recycled.
A number of the props were acquired by the Imagineers and others found their way to Disney parks around the world. The picture below was taken while I was riding the Tram Tour at the Walt Disney Studios in Paris in 2005. Here we see the submarine from the Underwater City scene and a hover craft from the Mesa Verde farming scene.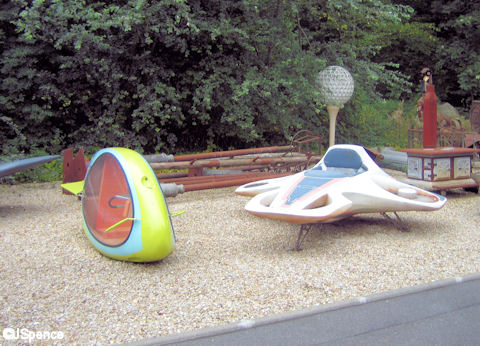 That's it for Part One. Check back tomorrow when we take a ride on this great attraction.