Ever since Disney World reopened, there have been several new health and safety measures in place.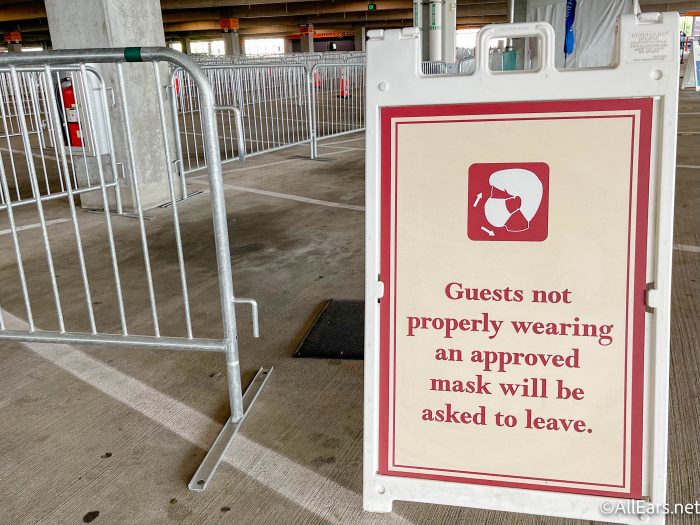 The safety measure that has perhaps changed the most is the physical distancing requirements in the parks! We've seen updates for rides several times, as well as new rules in place. So…what does social distancing like in the parks right now? Let's break it down.
Queues
One of the biggest places where you'll notice physical/social distancing in Disney World is the lines and queues.  Lines all around Disney World have ground markers. You'll spot them outside of gift shops…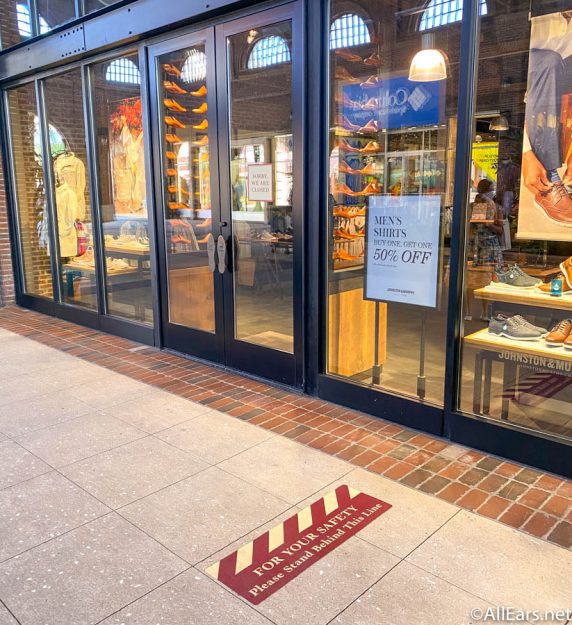 …as well as in queues for rides. Each marker is at least 6ft apart to abide by CDC recommendations.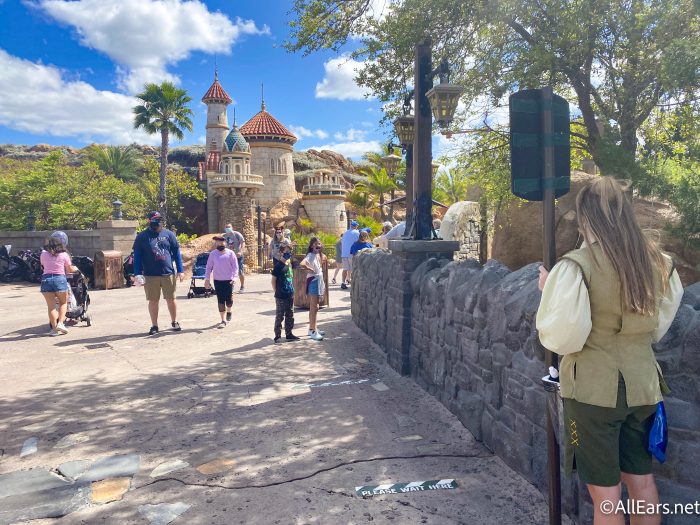 In spots where markers can't be 6ft apart or where Disney needs to create more space, there are plexiglass dividers in the queue.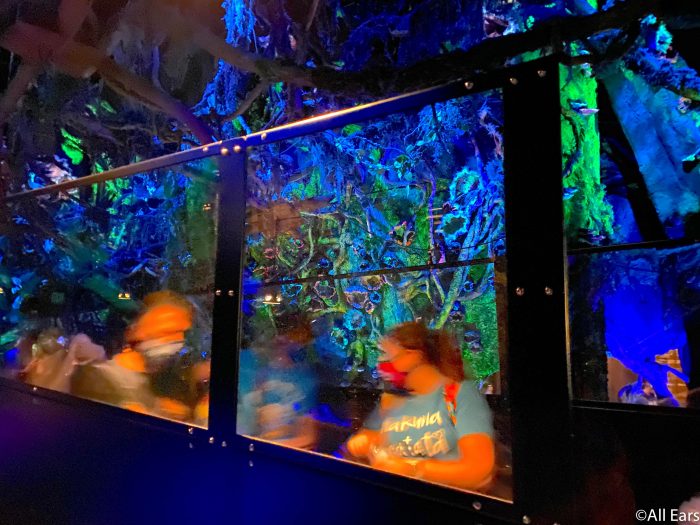 Guests are encouraged to stay on their ground markers, but occasionally you'll find people who forget or accidentally walk past their spot. If you encounter this situation, just hang back a little further to accommodate or kindly remind the other guests to keep the distance. If Cast Members notice, they'll often say something.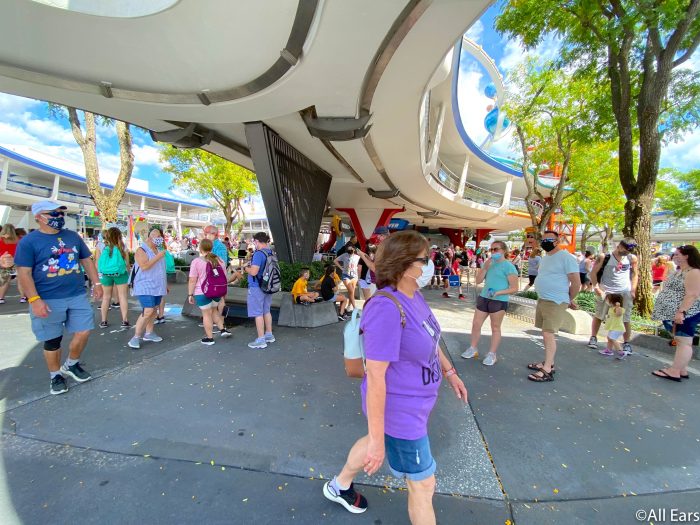 For parties of more than 3 or 4 people, it's usually pretty difficult for everyone to stay on one marker. We recommend splitting up between two lines or dots if that is the case. (This was Disney's policy briefly, but then they removed the signs from the parks.)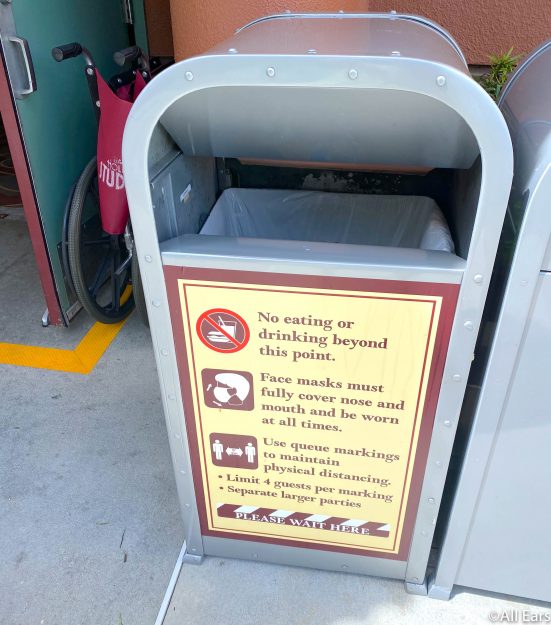 Ride Vehicles
Procedures with physical distancing on Disney rides have changed quite a bit over the last few months. When the parks first reopened, most rides allowed for plenty of space between guests, but now we're seeing more and more that some ride vehicles are seating every row. Several rollercoasters are operating this way around the parks.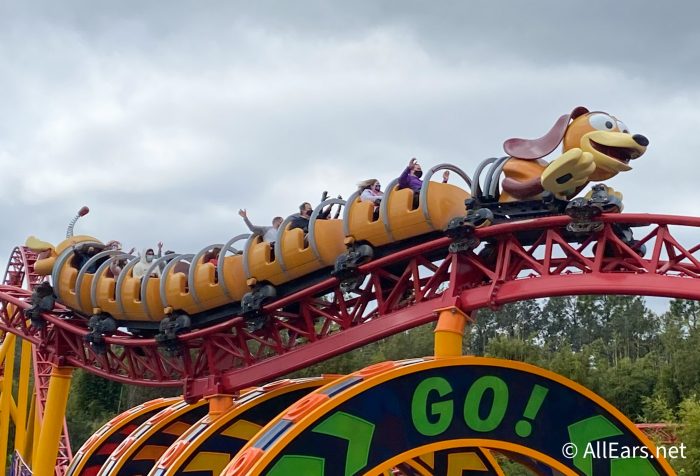 In addition to coasters, some omnimover rides are now loading every car. On other ride systems, we've seen the addition of plexiglass to seat more parties.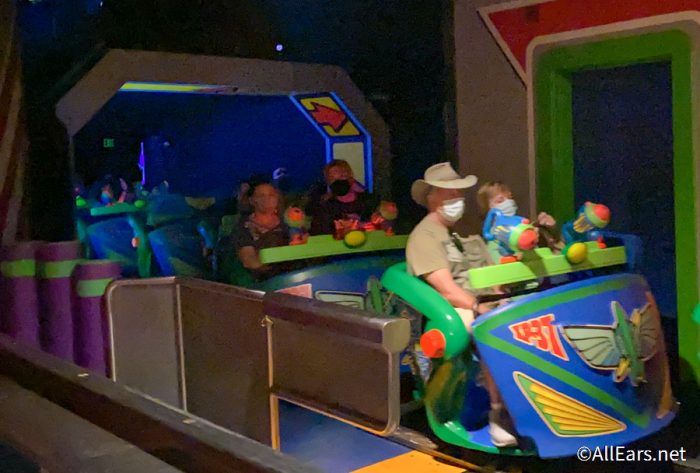 Some examples of this include DINOSAUR, Rise of the Resistance, Mickey and Minnie's Runaway Railway, and Millennium Falcon: Smugglers Run.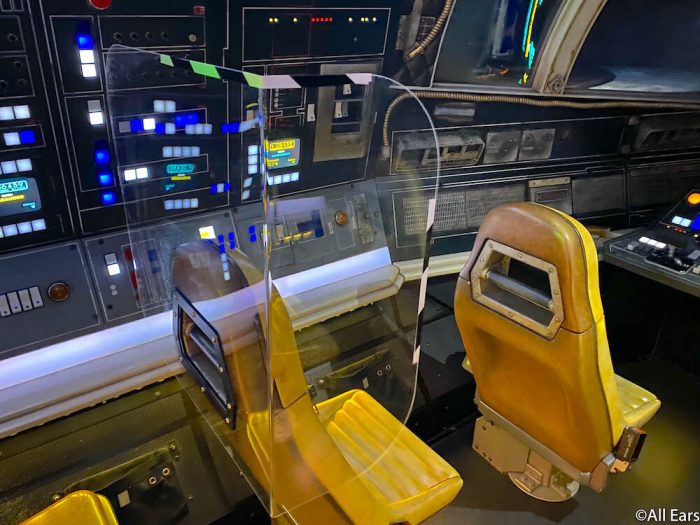 Shows
If you're headed to an indoor show at Disney World, the seating process is very different right now. First of all, when you're in the pre-show or loading area, your group will be sent to a floor marker to stand and wait.
Once it's time to enter the theater, guests are ushered into the theater in small groups. You'll only be able to seat four people together, so if you have 5 or more in your party, you'll be required to split up.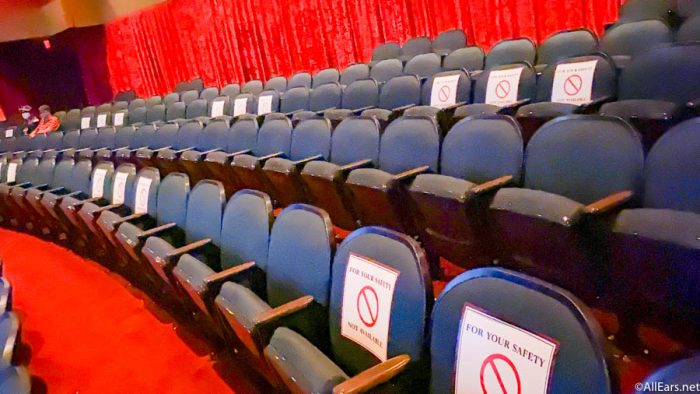 Certain seats in the theater are blocked off so that guests are distanced from one another. Remember to keep your face coverings on throughout the show!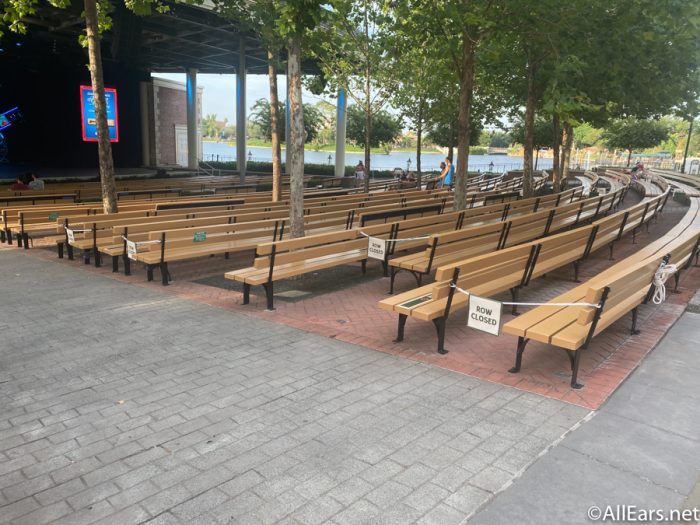 Character Interactions
In some areas where character cavalcades pass by, you'll spot social distancing markers on the ground. The most prominent place we've seen this is on Main Street, U.S.A.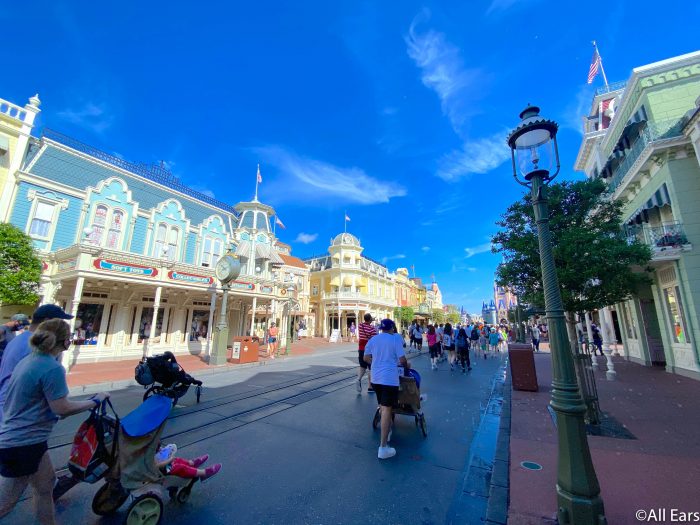 When characters pass by in the parks, things tend to get pretty chaotic, with tons of people rushing to the edge of the sidewalk to watch their favorite pals go by. Even if you choose a socially distanced spot to stand, you may find that you're soon surrounded by people.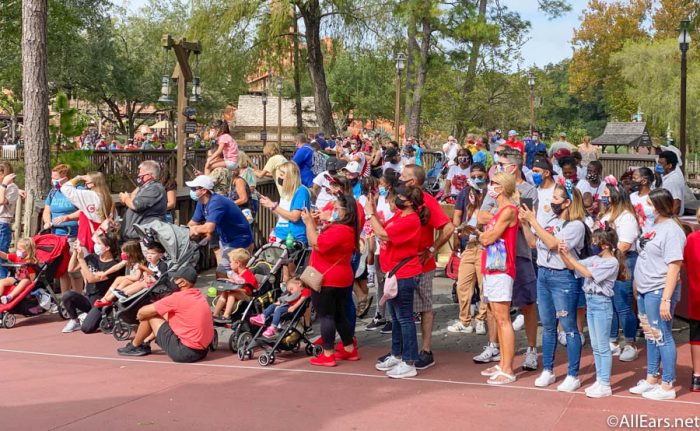 In that case, we recommend looking for the little-known and less crowded places to watch the cavalcades go by. Avoid main bridges in Animal Kingdom, instead going for the quieter areas between Africa and Pandora. In Magic Kingdom, don't pick a spot on Main Street or Frontierland — find somewhere quieter in-between.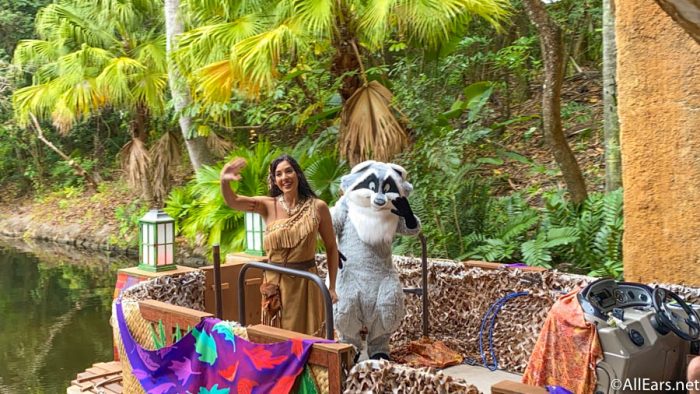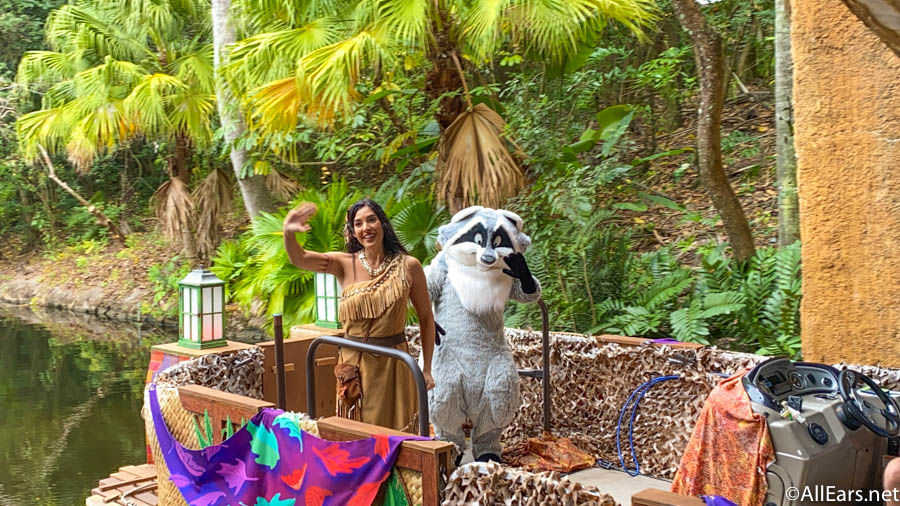 For EPCOT, the crowds fluctuate around the World Showcase, but usually, the lagoon side of the walkway is less crowded for stopping than the side with all the pavilions. In Hollywood Studios, most places outside of Hollywood Boulevard should be calmer.
The same goes for other physically distanced character interactions. If characters come out to wave from a distance, guests like to rush up and take photos right in front. Try choosing a spot off to the side or in the back to snap your pic.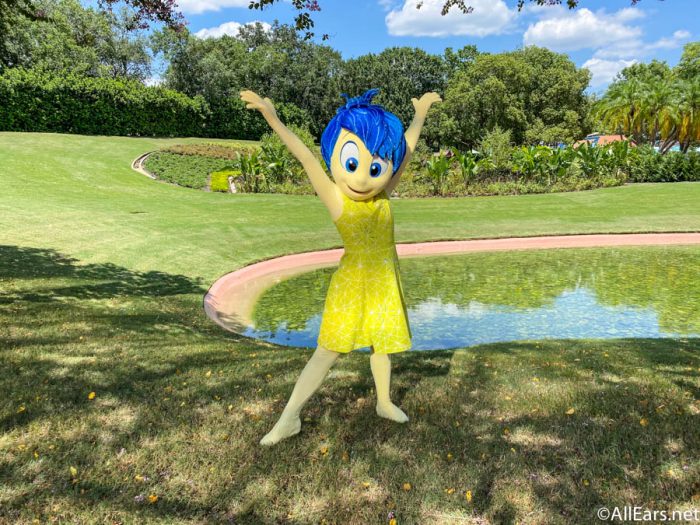 If that doesn't work, just wait a little bit and the other guests may move away, allowing you time to take your photos in peace. Patience pays off!
Dining
If you're heading to a restaurant to eat, you shouldn't have to worry too much about safety — these places are well-regulated right now!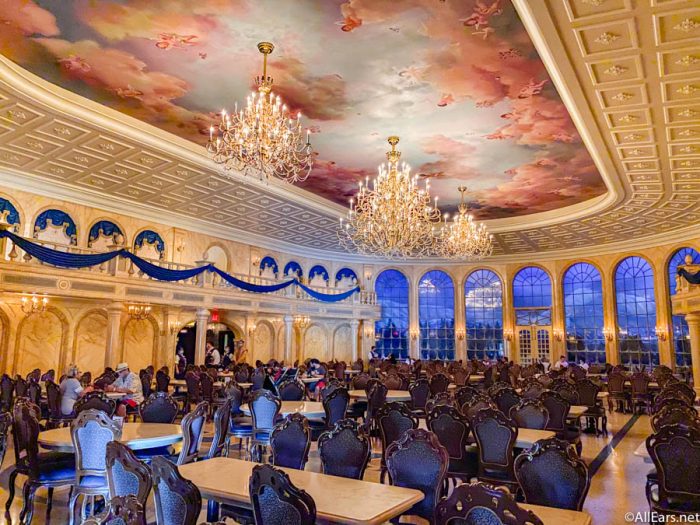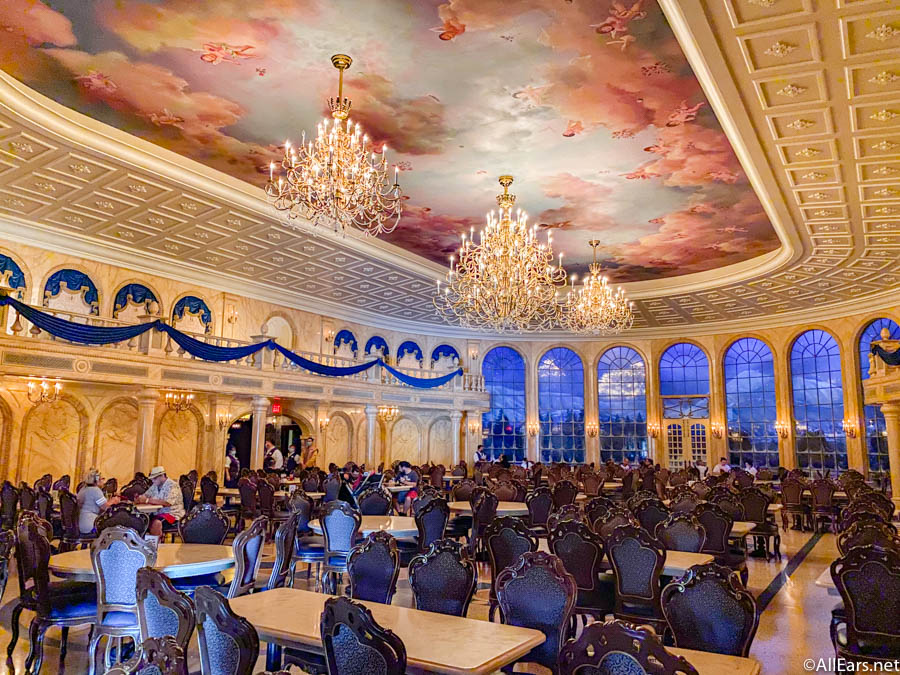 Tables that are too close to one another are removed or marked off. If you're dining in a table service restaurant, the host or hostess will seat you. If you're dining at a quick service, simply choose a spot that doesn't have a sign on the table.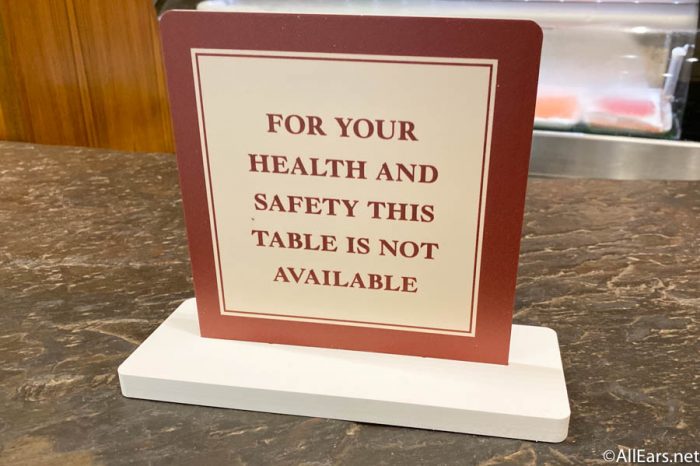 During peak meal times, it can be a little harder to find a place to sit in a quick service, so keep in mind that you may have to go outside. If you get up at any point to throw away trash or get condiments or utensils, remember to put your mask back on before you leave the table.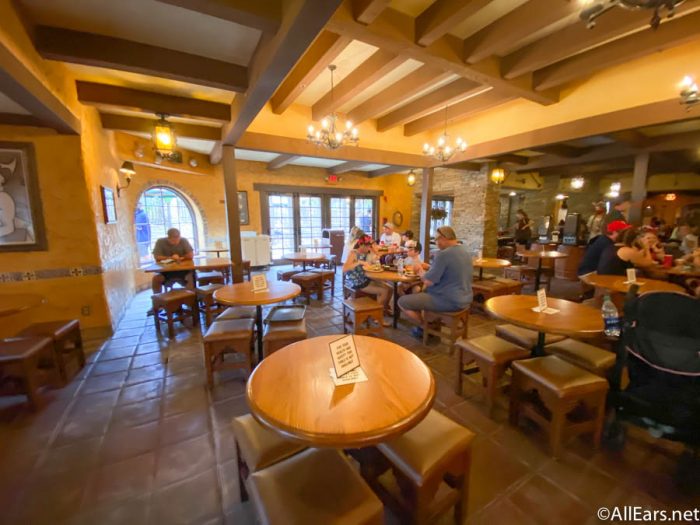 If you're eating a snack or taking a sip of your drink while out and about in the parks, you're required to move to the side and be physically distanced from others before removing your mask. Many guests consider the "stationary" part of this rule, but not the "physically distanced" part, so remember to step away from others. Don't stop in the middle of the walkway.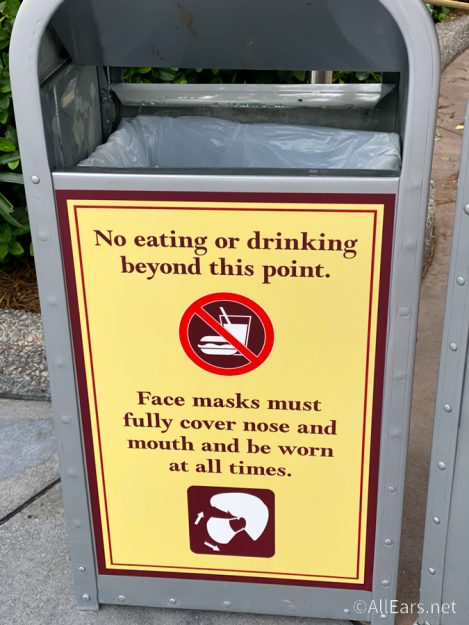 Transportation
Disney World transportation follows social distancing guidelines as well. Buses are divided into sections, and your driver will seat you in a numbered area based on the size of your party.
On the monorail, you'll be directed to a number to stand on as you wait for the next train to arrive. Your party will then load the car in accordance with the spot where you're standing. To increase capacity, Disney added dividers in the monorail cars.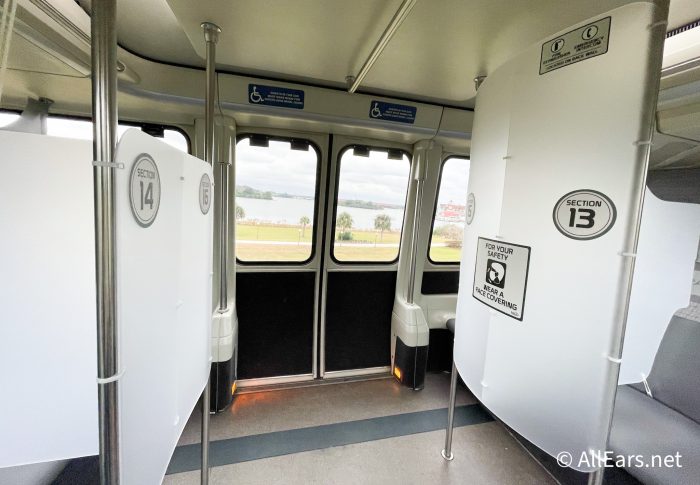 For the Disney Skyliner, gondolas are still being boarded with one party at a time.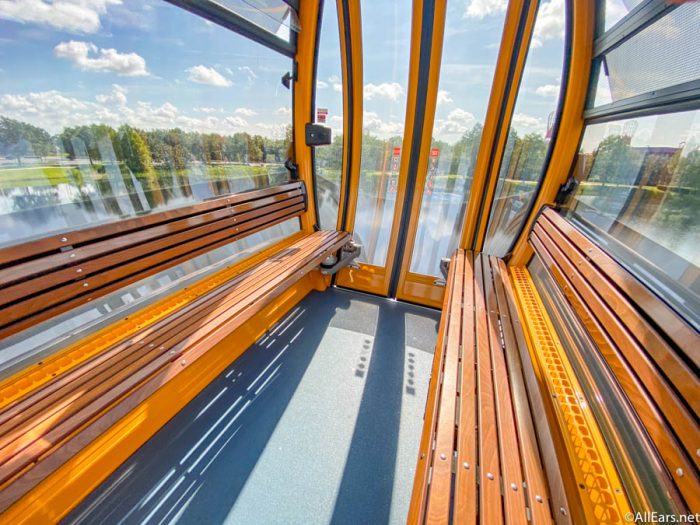 For the ferryboat to Magic Kingdom, guests must choose a physically distanced dot for their party to stand on. While some bench space is available, other spots are marked off. With smaller boats, you'll want to pay attention to the signs on the seats as well.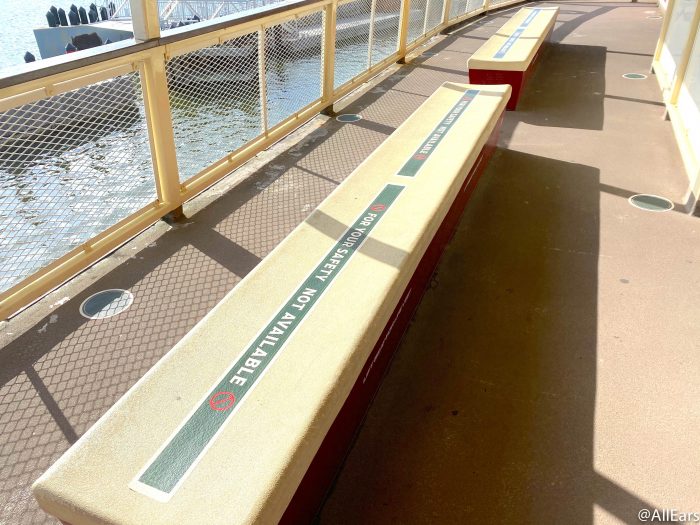 When it Rains
The biggest problem with social distancing in Disney World right now is the rain. When bad weather comes around, nearly everyone likes to huddle up under all the dry places of the park, and physically distancing tends to be the last thing on guests' minds.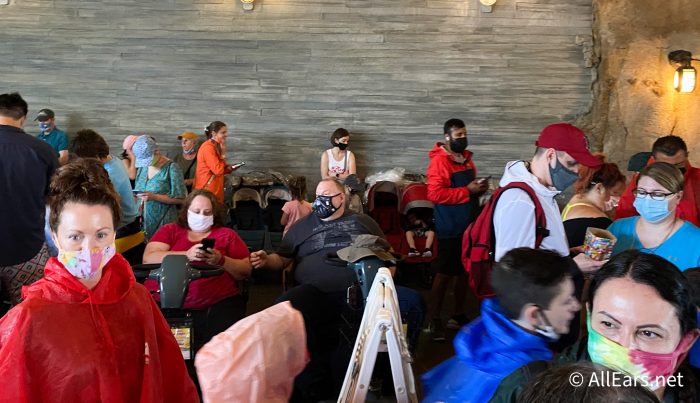 Be prepared for this situation ahead of time — bring your own rain gear and put it on once you see the skies start to darken. If you're decked out and ready to go, you won't need to crowd under an awning to stay dry.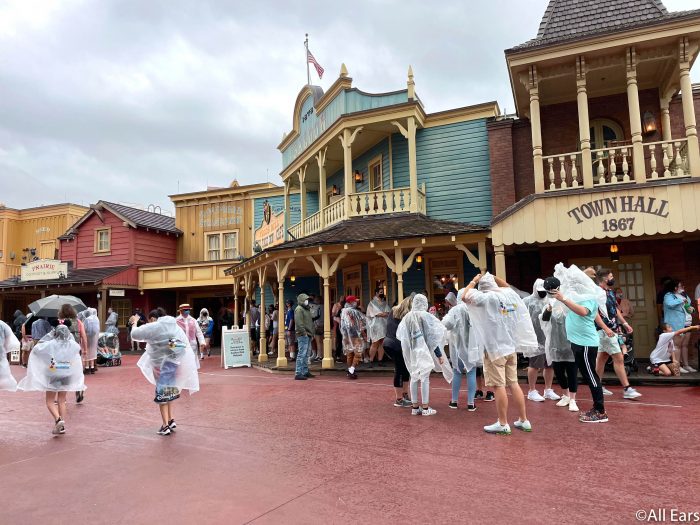 If you find yourself in a situation where you're unprepared, just remember to be mindful of the space of others.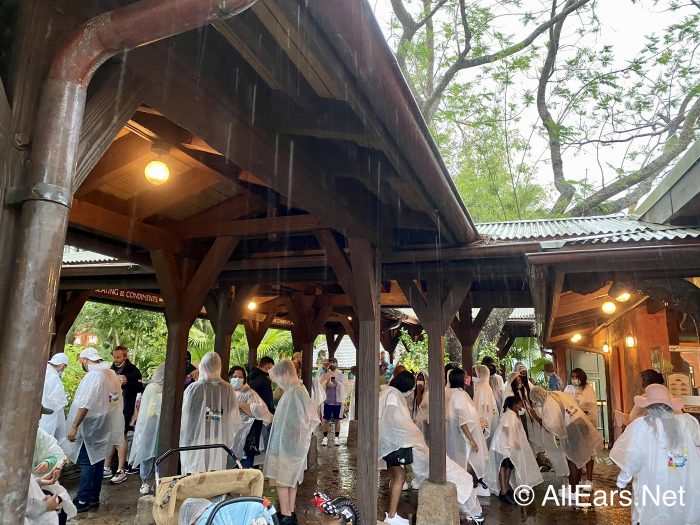 In General
While walking around the park, you may notice that physical distancing isn't as easily observed. Guests still walk in large crowds and there are still a few bottlenecks around the parks.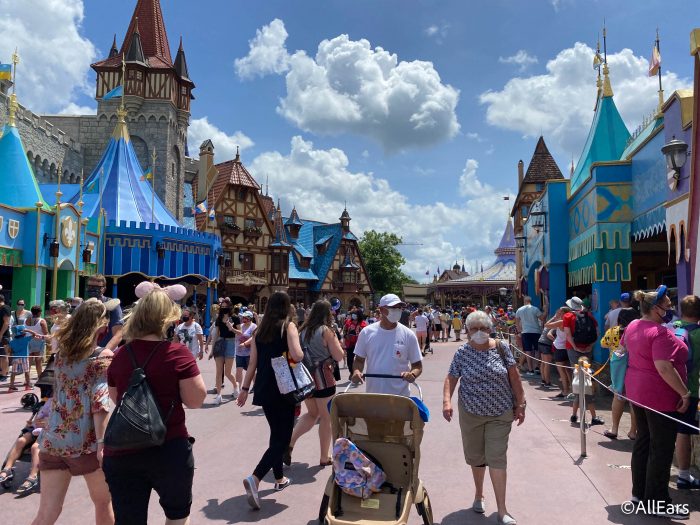 Things get especially packed during holidays and times when students are out of school. There have been days where we've seen walkways filled across with people. 
If you want to avoid these kinds of crowds, we first recommend visiting the parks during the "off" times. Arrive early in the morning, go on weekdays, avoid holidays to ensure that you're minimizing the number of people in the parks.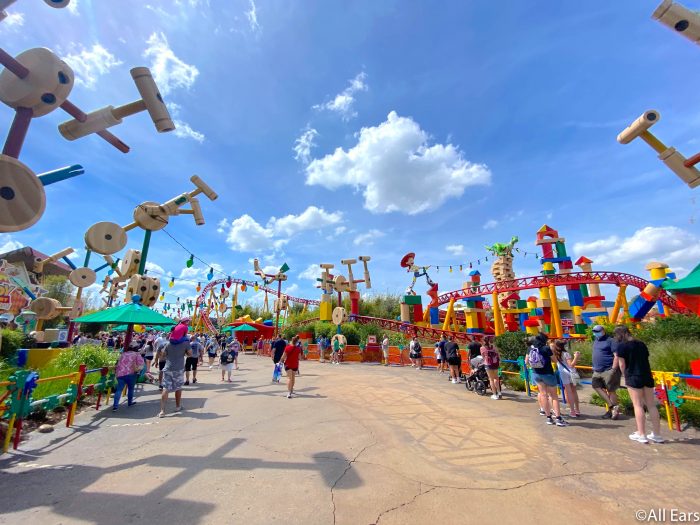 Besides that, avoid places that you know are bottlenecks or hit those popular spots first thing in the morning and last thing at night. If you do that, you'll likely be able to enjoy those areas even more without having to squirm around other guests!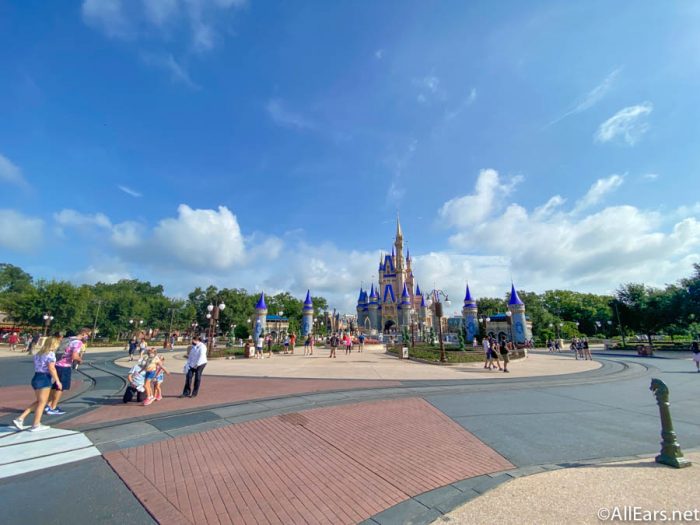 Physical distancing can be a bit tricky in Disney World right now, especially with guests visiting from all over. The most important thing to remember these days is to be aware of your own surroundings!
Stay tuned to AllEars for more updates and news live from the Disney World parks. We've got the details on all the health and safety measures you'll find, and we'll make sure to keep you in the know!
Have you been to Disney World since the reopening? What was social distancing like when you were there?
Join the AllEars.net Newsletter to stay on top of ALL the breaking Disney News! You'll also get access to AllEars tips, reviews, trivia, and MORE! Click here to Subscribe!