Going to Walt Disney World is obviously really exciting — but it can also be very overwhelming!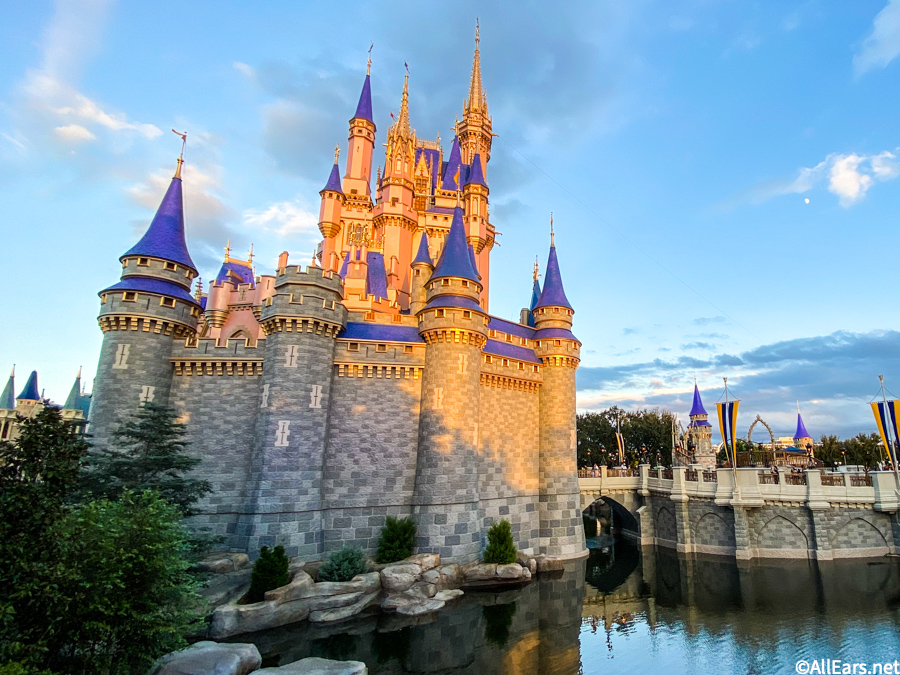 And in this post-closure world, even veterans of the parks can find themselves lost in planning during the "new normal" — us included!
But through our days in the parks, filming and reporting, we've picked up a lot of tips and best practices for visiting Walt Disney World these days — and we're happy to share them with you!
9 Tips We've Learned by Going to Disney World Every Day Since the Reopening
1. Prioritize Your Must-Dos
This is great advice any time you visit a theme park, but especially now. Without FastPass+, you're potentially looking at longer waits throughout the day. It's important that you plan for your must-do's, and then anything else is a cherry on top.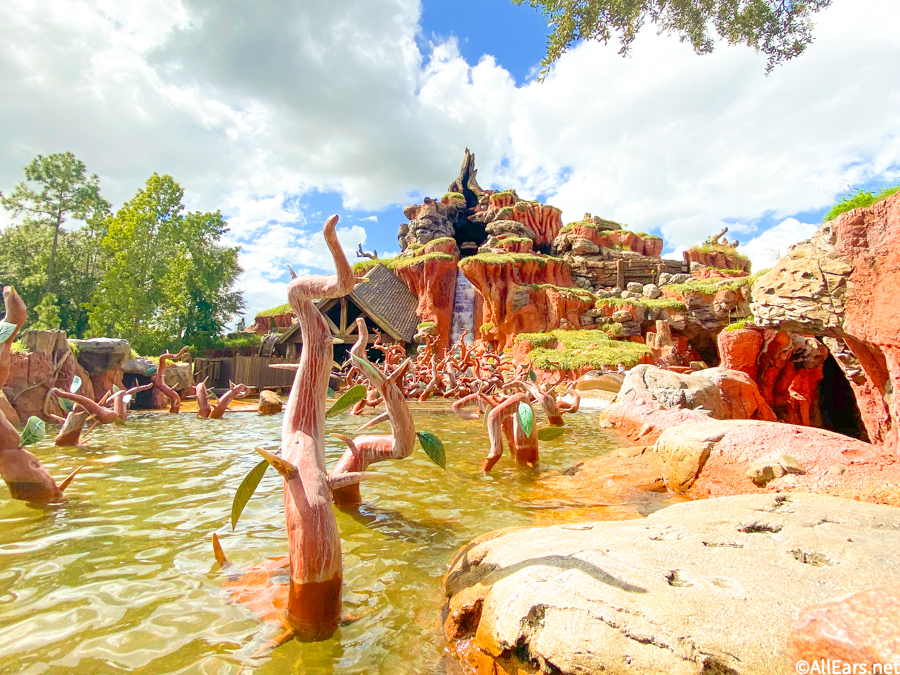 We suggest listing out 5 or so must-ride attractions per park, plus top snacks you'd like to enjoy. Make sure those are worked into your day's plan at some point, and you're basically guaranteed to have a good day if you get to check off your list.
2. Know Where to Go First
Now, just because we're telling you to prioritize your must-dos, doesn't mean you should necessarily head there first. For example, we've found the waits on Flight of Passage to be much shorter in the mid-afternoon, versus first thing in the morning when everyone else heads to Pandora. I recommend doing Kilimanjaro Safaris first at Animal Kingdom — you're likely to have a shorter wait PLUS the animals are usually more active first thing.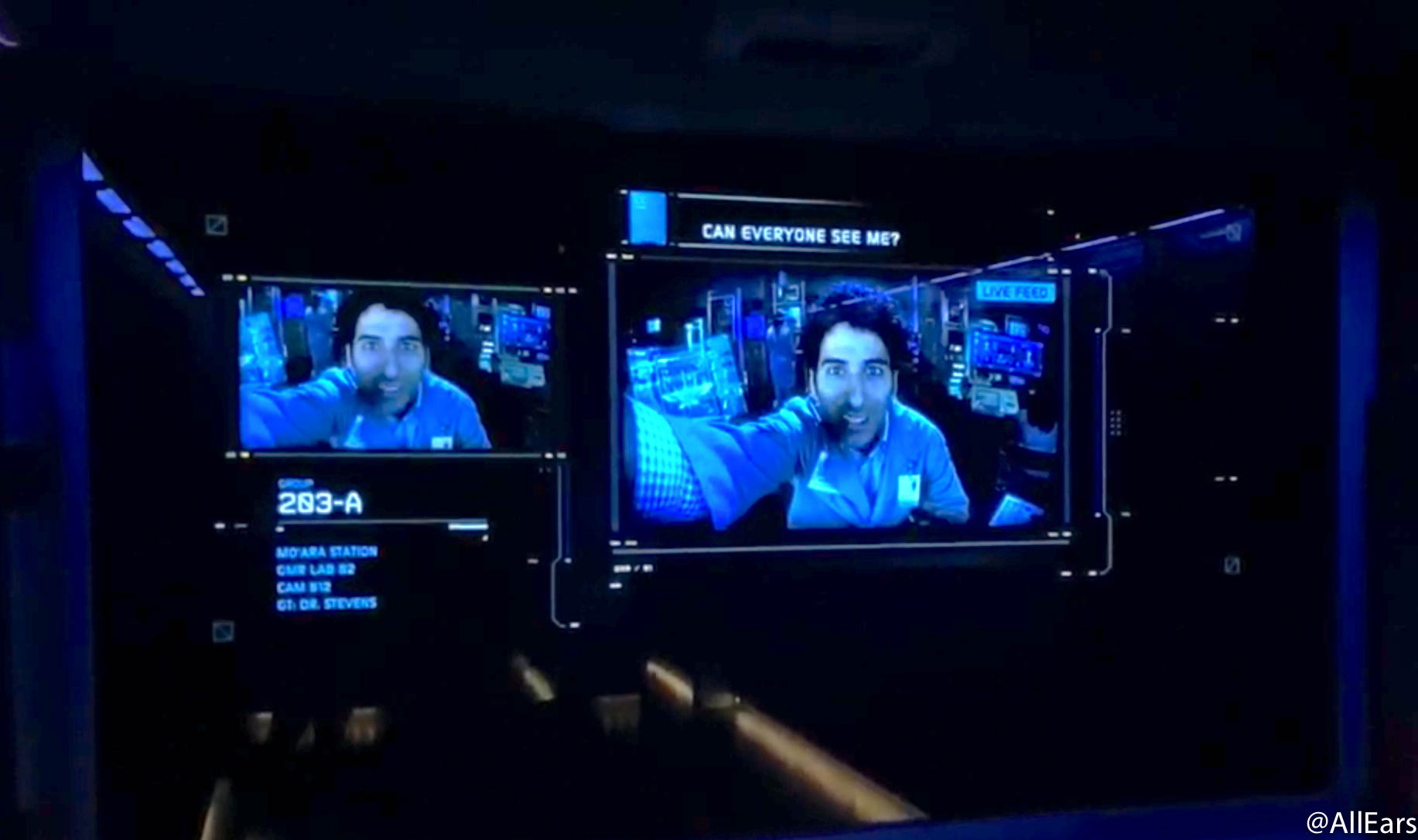 The same thing goes for Mickey and Minnie's Runaway Railway at Hollywood Studios — the line tends to be very long first thing in the morning, and then drops significantly in the afternoon. In my trips to Hollywood recently, it seems like heading down Sunset Boulevard to knock off Tower of Terror and Rock N' Roller Coaster first is the smartest plan.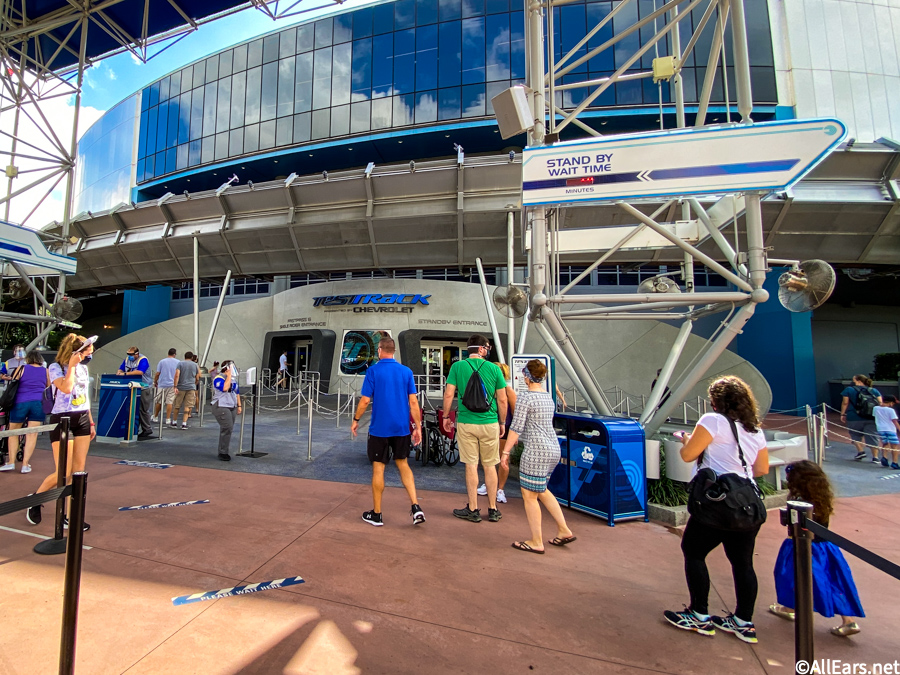 We would recommend headed to Test Track or Splash Mountain early though if those are on your list. Both tend to have long lines all day long, and both have frequent downtimes due to technical difficulties. It would be horrible to wait all day, only for it to close!
3. Wait Times Aren't Always What They Appear
For many frequent visitors, the idea of Disney World without FastPass+ can be scary — especially when you see long lines at attractions that normally don't have them! Seeing a 45-minute line at Muppet Vision 3-D or Mad Tea Party can be disheartening.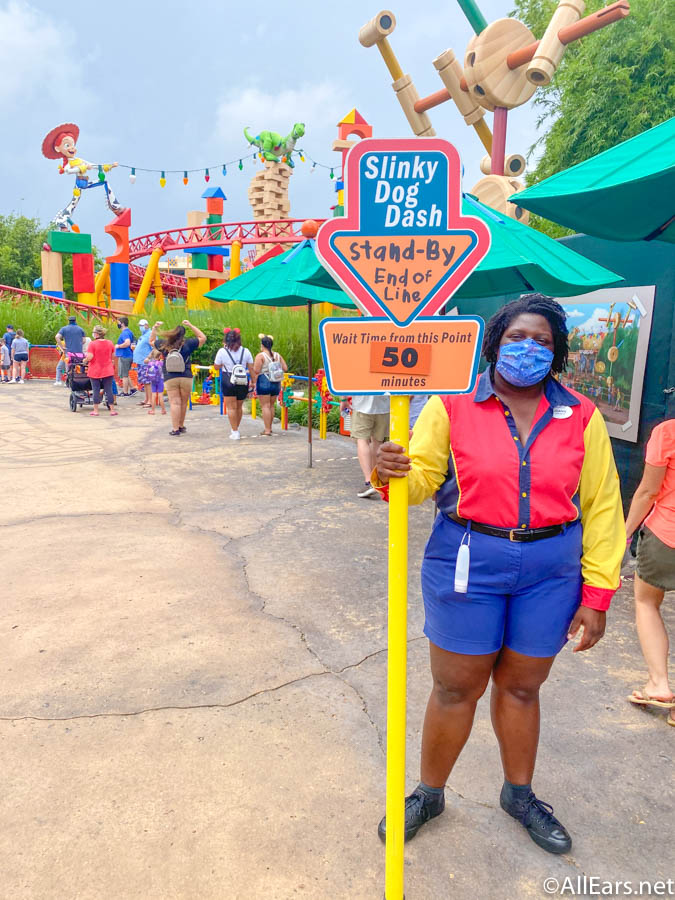 But…things aren't always what they appear. For starters, they LOOK much longer than they are. Even though the Pirates of the Caribbean line may have woven its way back to Frontierland, it's likely not going to take hours and hours. Remember, that parties are spaced out with at least six feet in between parties, which makes them look much longer than they are.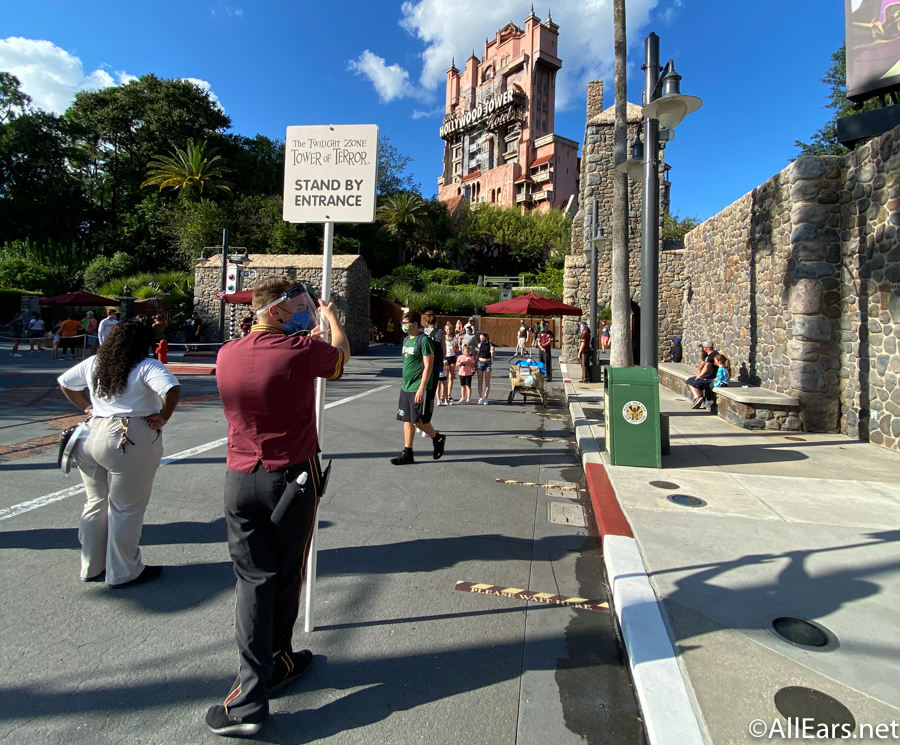 Additionally, we've found that wait times are often inflated (though not always, mind you). But we've done the leg work and waited in many, many lines (someone has to 😉 ), and several times the waits were shorter than the posted time. This may be due to overcompensating due to the lack of pre-shows, or maybe it's just hard to judge waits with everyone spaced out. All we're saying is not to be disheartened if every line in the park seems too long. We're not saying they will ALL be significantly shorter than posted, but there's a fair chance a few will be.
4. Take a Bus
If you're parking at the Transportation and Ticket Center for your Magic Kingdom day, you'll have to decide how you want to get across the Seven Seas Lagoon. Typically the choices are Monorail or Ferry Boat…but on busy days, you may also get the option for a bus.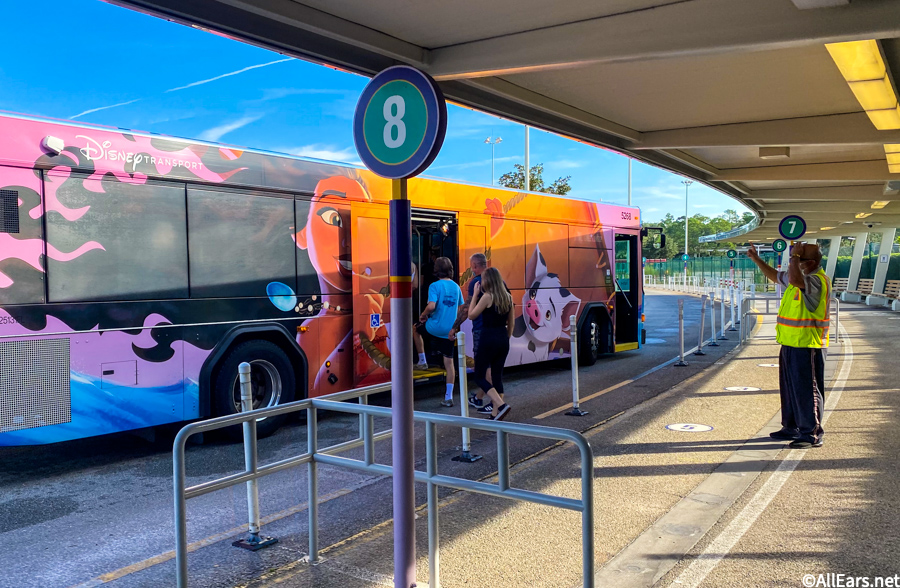 While it's not as scenic or iconic as a monorail, we highly recommend taking a bus if they're available. In our experience, they are MUCH faster than either a monorail or ferry boat, with much shorter lines. That way you can get to the magic faster — and you can always ride a monorail on the way back.
5. Pack These Things
Our backpacks have had a few new things inside them since the parks have re-opened. These little items won't take up much room, but could greatly improve your day!
Extra Masks — whether you lose yours (it happens!), it gets wet or dirty, or simply sweaty, it's important to pack backup masks. Perhaps you'll want to put on a fresh one after a meal, or you get ice cream on it…either way an extra mask could come in very handy.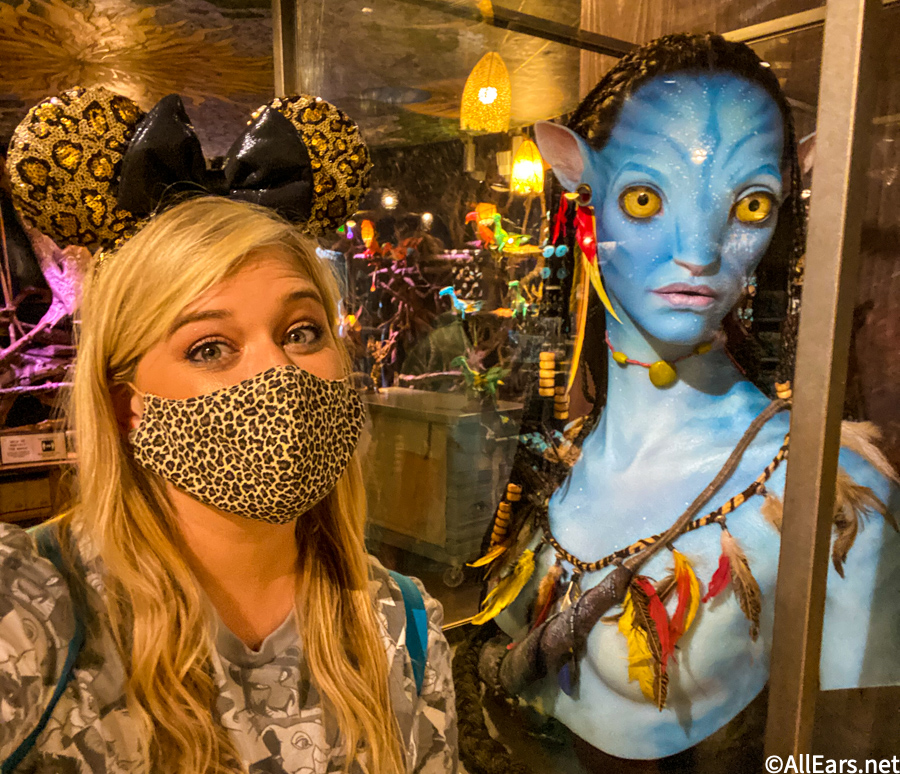 Chapstick — wearing a mask all day can really dry your lips out, so chapstick is a must!
Hand Sani — while Disney has hand sanitizer stations all over the place (every restaurant, queues, getting off attractions, stores, and beyond), we still highly recommend bringing your own. That way you can apply as you need — especially if one in the park  is crowded or needs to be refilled.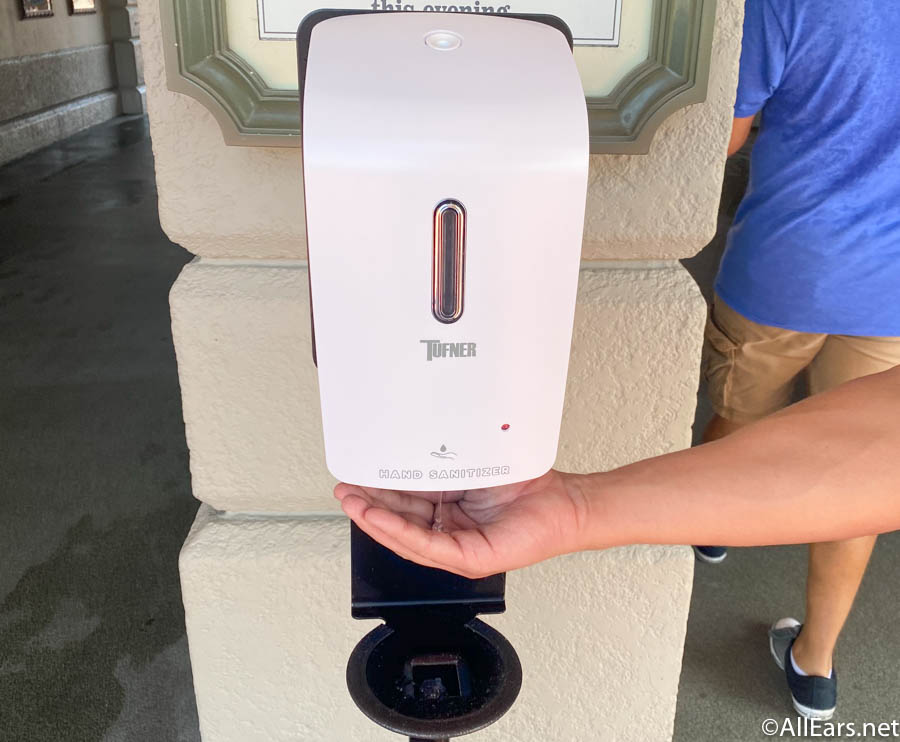 Moisturizer — using a lot of hand sani can dry out your hands a LOT. I carry a small bottle of lotion for my hands and it's a lifesaver!
6. HYDRATE
It's important to hydrate no matter what in Florida, but even more so with a mask! And it's easy to forget with one on — especially because you have to be stationary to remove your mask to drink.
I found myself drinking a lot less water when the parks first reopened because I'm always on the move, and didn't want to stop to drink. But this doesn't make you feel very well! Make sure to carve out some time in your day to stop and enjoy a snack and water, and take advantage of the relaxation stations if needed.
7. Listen to the Music 
While parades and meet and greets aren't happening currently, there is still plenty of chances to see the characters in the daily cavalcades! But how do you know when one is coming, considering they're completely at random?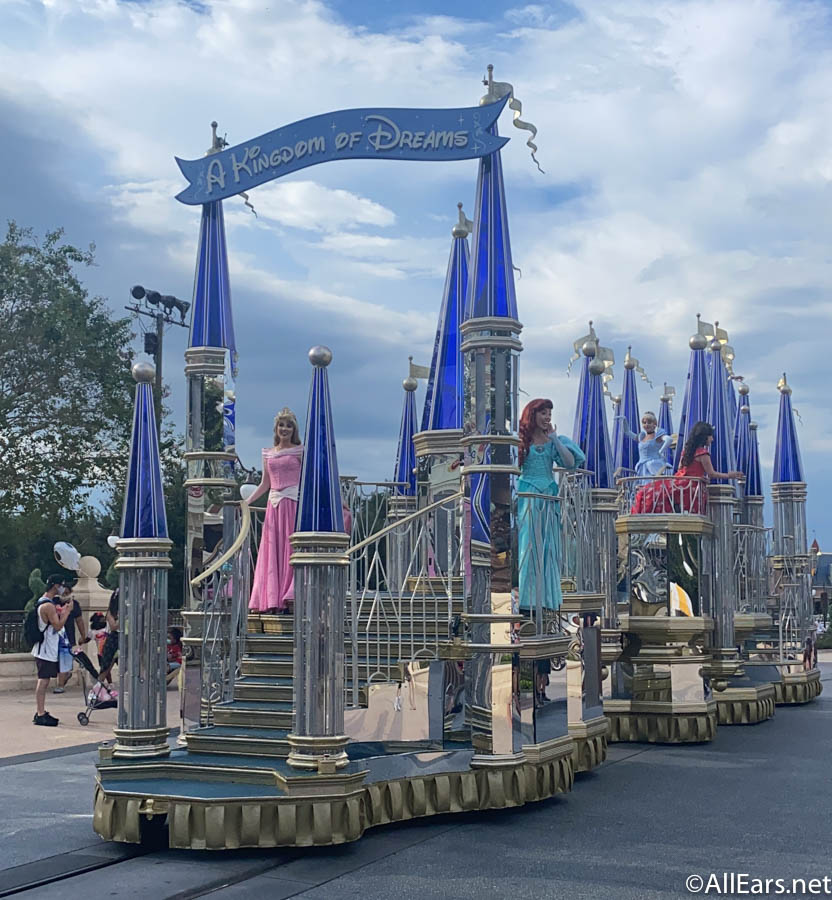 Listen for the music! The soundtrack of the cavalcades can be heard before they can be seen, so if you're on the cavalcade route and hear the music change or a new melody off in the distance, stay put! Characters could be coming down the road any moment.
8. Eat Off-Peak Time
When headed to a quick service or walk-up dining experience, try to eat off-peak meal times. Most Quick Service spots are strongly urging (or requiring) guests use mobile order, and will ask you to wait outside once you've placed your order until it's ready due to social distancing requirements and limited capacity.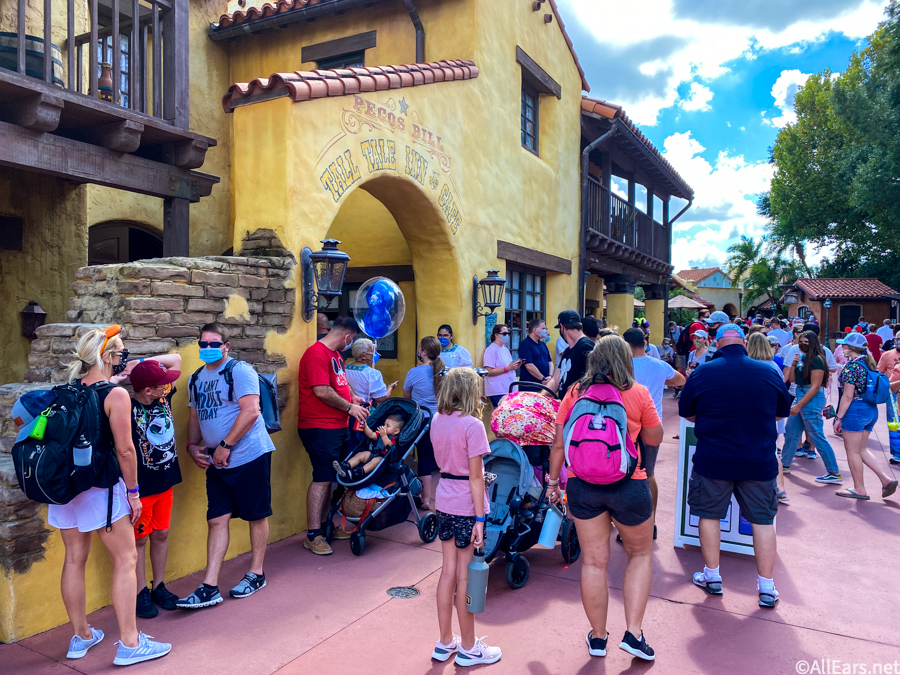 During peak meal times (11:30AM to 1:30PM-ish for lunch and 5:30PM to 7:30PM-ish for dinner), you could find yourself waiting 15+ minutes for your food to be ready, and then find it hard to snag a table (especially one indoors.)
If you can eat in the off-peak times, you'll likely find that your meal is ready quicker and it'll be easier to get a table!
9. Wear Your Patient Pants
Even months later, everyone is still figuring out the new normal at Walt Disney World. Policies and offerings change on the daily, transportation and attraction loading is slower due to social distancing, and you may have to wait in line to enter a store due to limited capacity. BE PREPARED TO WAIT AT SOME POINT and give yourself extra time to get around the property so you aren't stressed if things take longer than before.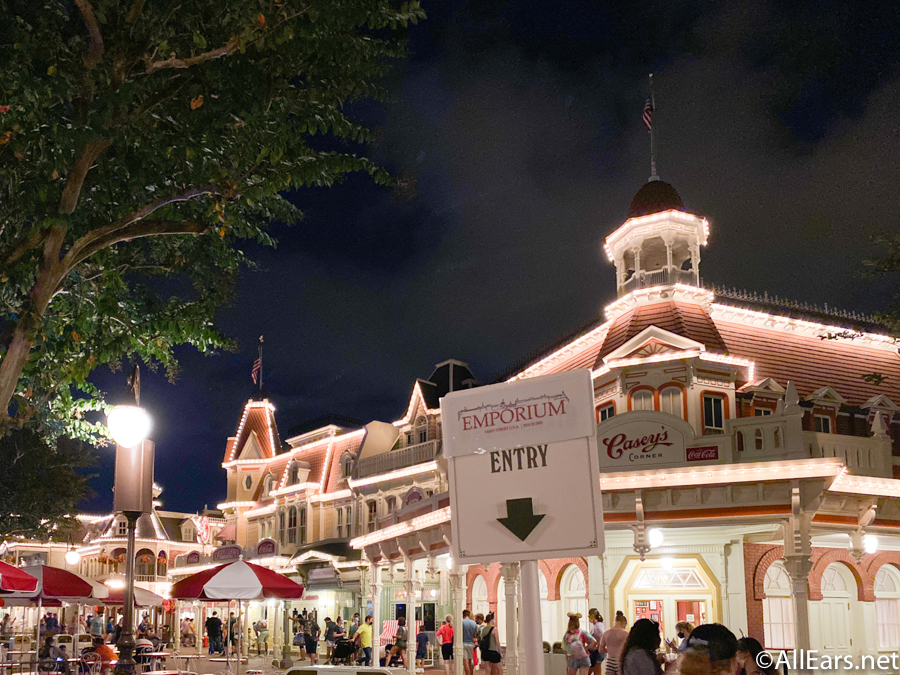 Do your best to patient, especially with the Cast Members who are just doing their best to enforce new policies and make your trip enjoyable. We are all navigating this new reality out together, and getting worked up won't help. Your trip might be different, but it will still be magical.
Have you been to Disney World since it reopened? Share your best tip in the comments!
Join the AllEars.net Newsletter to stay on top of ALL the breaking Disney News! You'll also get access to AllEars tips, reviews, trivia, and MORE! Click here to Subscribe!