Spring break is traditionally a busy time of the year for Disney World, but since this is the first spring break season since the parks reopened, we weren't sure what to expect in terms of crowds! Despite a recent poll showed a decline in Americans who said they had spring break travel plans this year, it sounds like Orlando is bracing for an INCREASE in spring break crowds.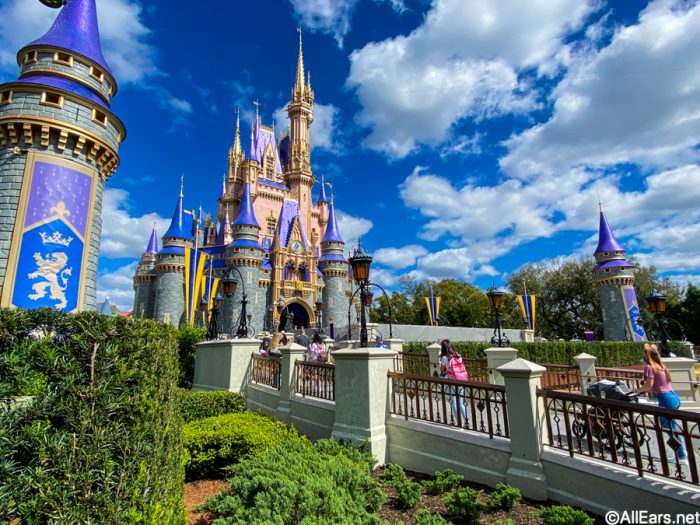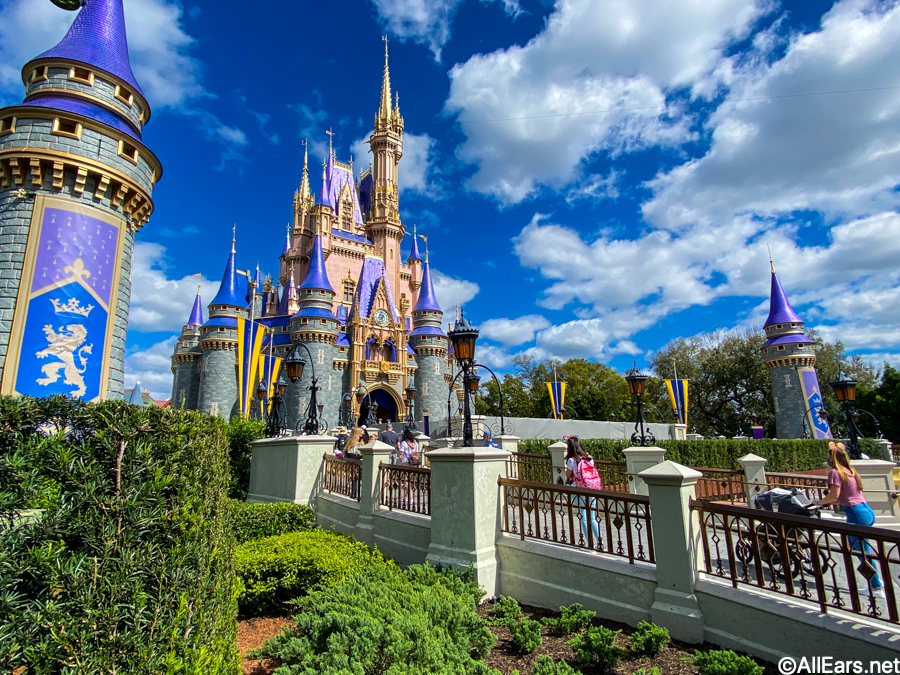 If the Park Pass Reservation calendar was any indication, those busy spring break days would soon be upon us — and as we visit the parks this week, it's clear that the crowds have indeed arrived!
Let's take a look at some of the crowding that we spotted in the parks so far this week. At Magic Kingdom, crowds were spotted across several of its lands and attractions.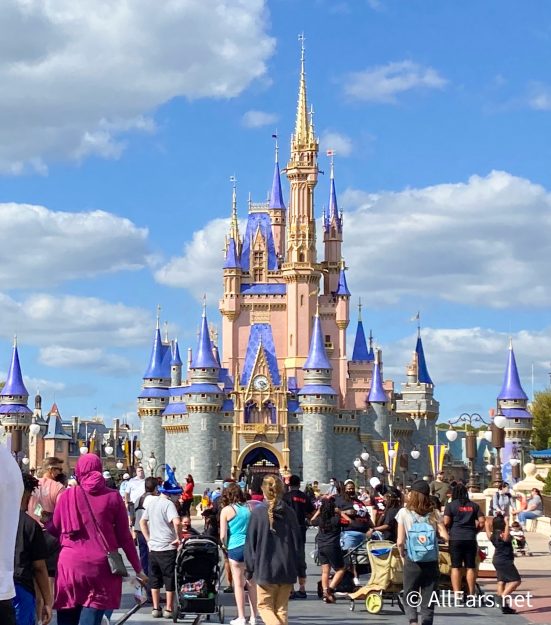 On Sunday, March 7th, we started to notice some moderate crowding appear in Fantasyland, around "it's a small world." This is one of those infamous "pinch point" places in Magic Kingdom known for its crowding.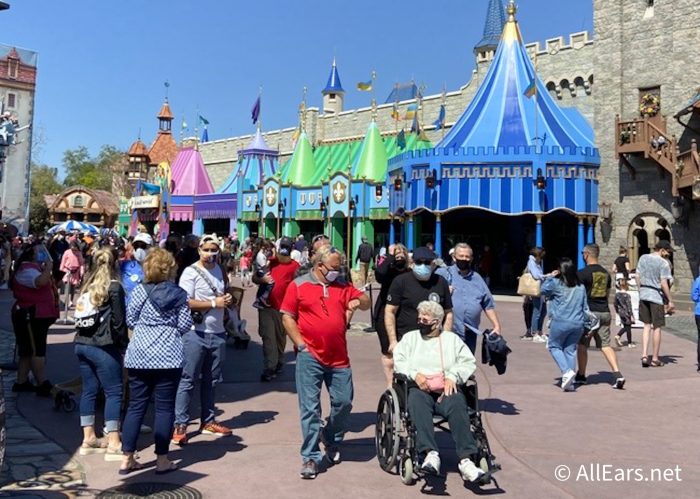 While this part of Magic Kingdom can definitely get more crowded, we could tell that spring break was upon us!
We spotted additional crowding this week in Liberty Square, Fantasyland, and Adventureland.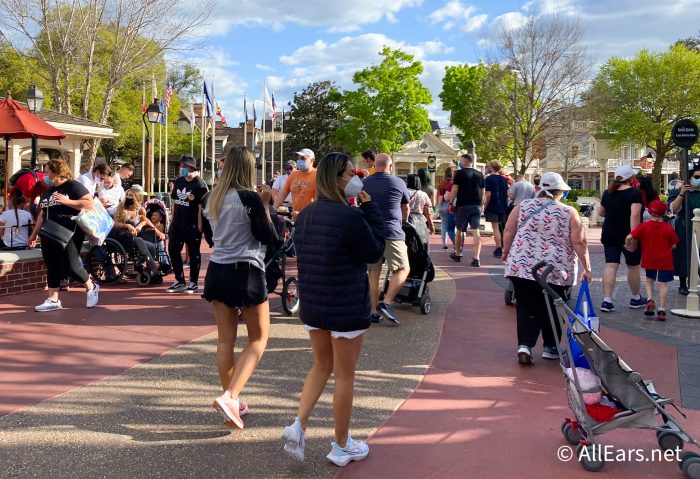 Seven Dwarfs Mine Train, arguably the most popular ride in Magic Kingdom, had a posted wait time of 65 minutes when we walked by.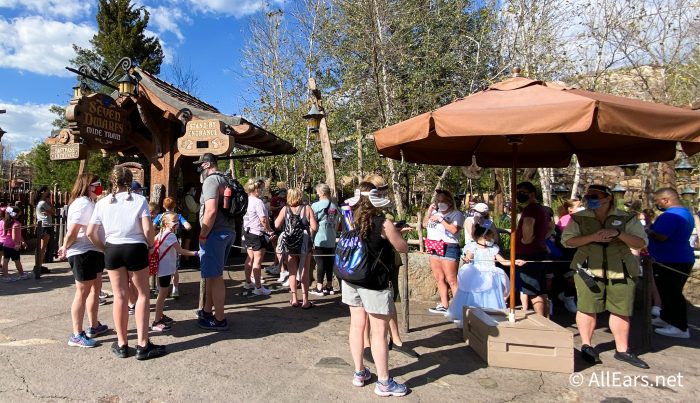 Pirates of the Caribbean had a long extended queue as well that stretched beyond the entrance to the attraction's building.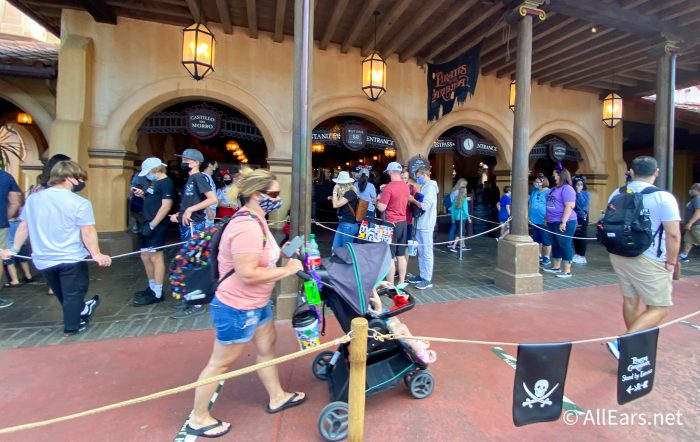 The spring break crowds were out in full force at Disney's Animal Kingdom, too. Several of the park's rides had extended queues, even the ones that aren't as popular!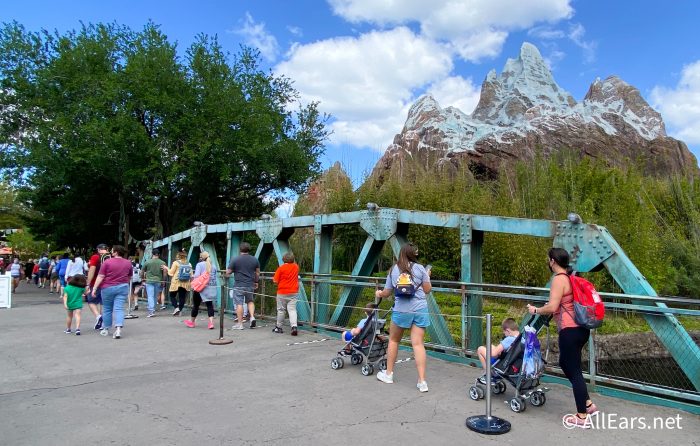 Na'vi River Journey had a posted wait time of two hours when we were in Pandora!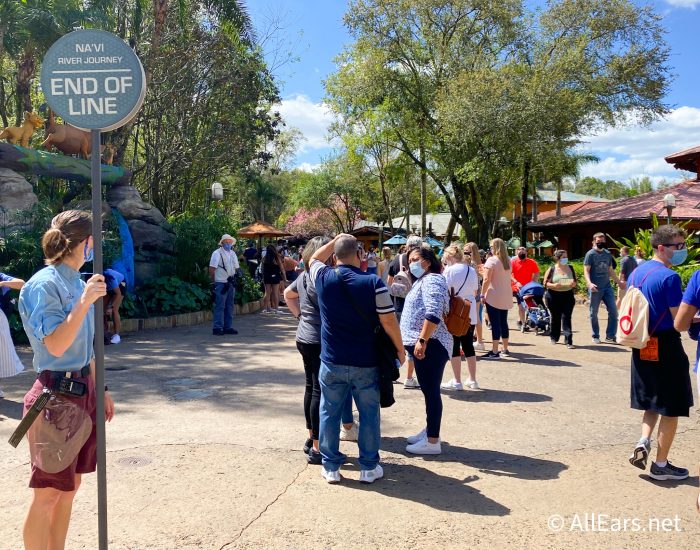 Flight of Passage also had a rather lengthy extended queue. This is one of Animal Kingdom's most popular rides, so a long wait time is to be expected…but this is especially long!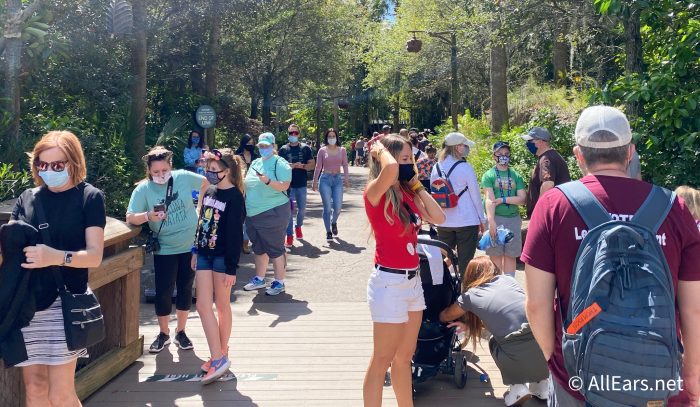 The queue for Expedition Everest stretched all the way into DinoLand U.S.A.! We were standing by Trilo-Bites when we snapped this photo of the line.
We even saw an extended queue for TriceraTop Spin! That is how you know it's a busy day in Animal Kingdom.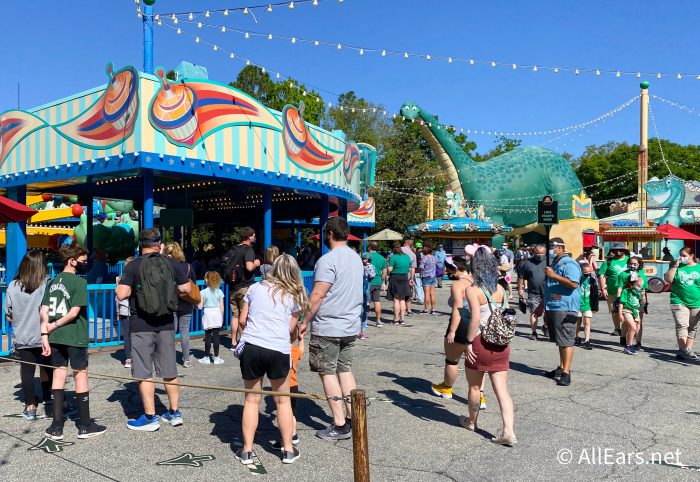 Disney Park Pass Reservations are slim pickings for much of the month of March, so we expect these crowds to remain in the parks for the next few weeks, especially on weekends. If you're traveling to Disney World this month, be sure to pack your patience!
On Wednesday, March 10th, the crowds were still pretty heavy in Magic Kingdom. Here's what the line looked like to get on the monorail in the morning.
When we made it to Fantasyland, things weren't much better. It looks like Gaston's Tavern is the breakfast place of choice this morning!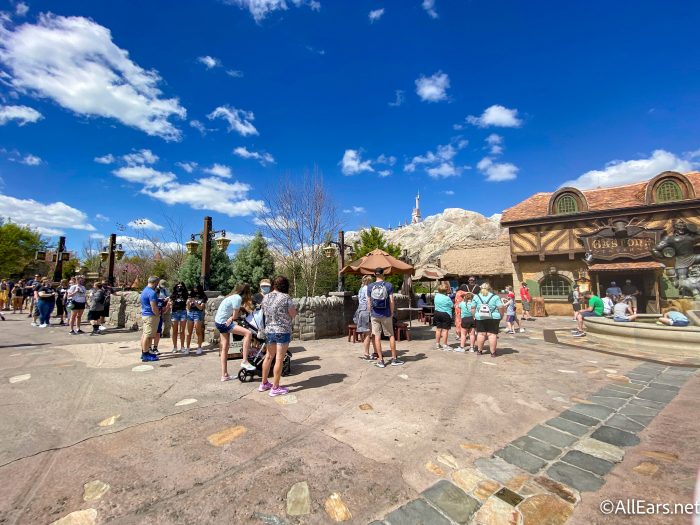 The traffic flow in the various lands wasn't too bad — it was still possible to stay distanced from others.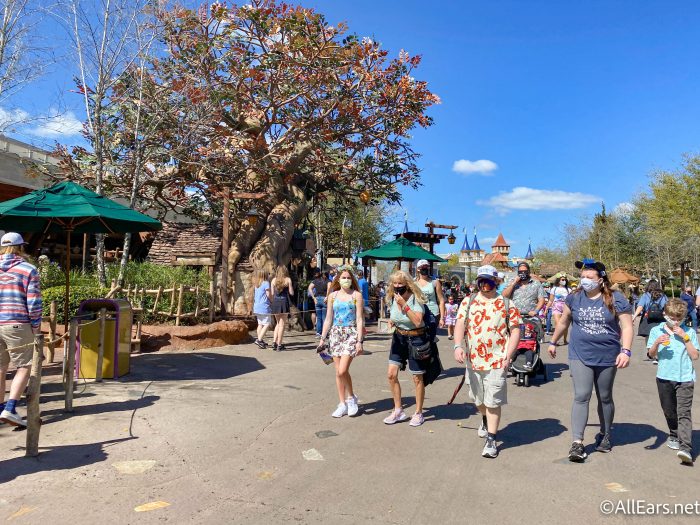 The queue for Seven Dwarfs Mine Train was backed up pretty far, though. If you want to ride Magic Kingdom's most popular ride, then you'll be waiting a while before you even make it to the regular part of the queue.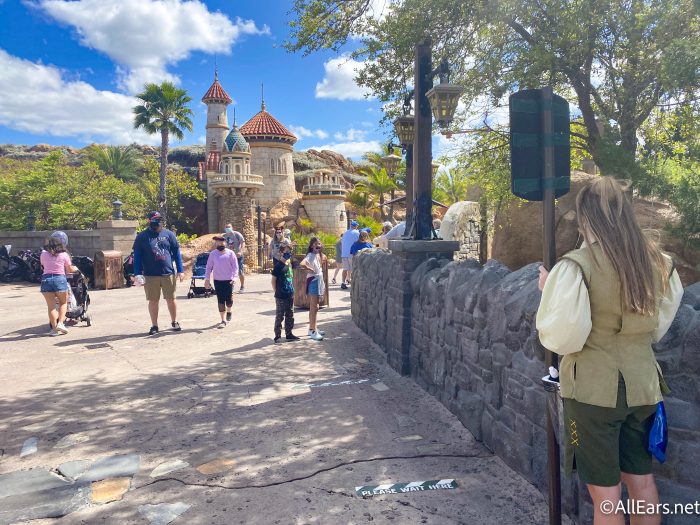 The same was true over at Space Mountain, where the line zigzagged through Tomorrowland before even reaching the entrance to the ride building.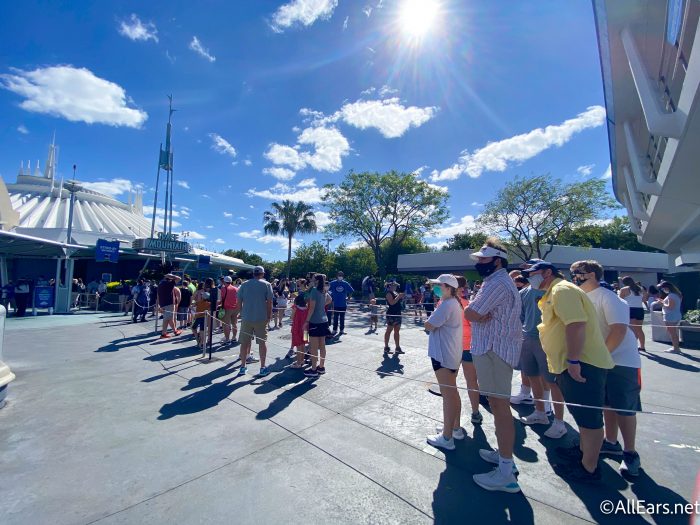 Keep in mind that oftentimes, an extended queue may look long but it will still move at a decent pace. Due to physical distancing requirements, a ride's queue may look longer than what the actual wait time ends up being.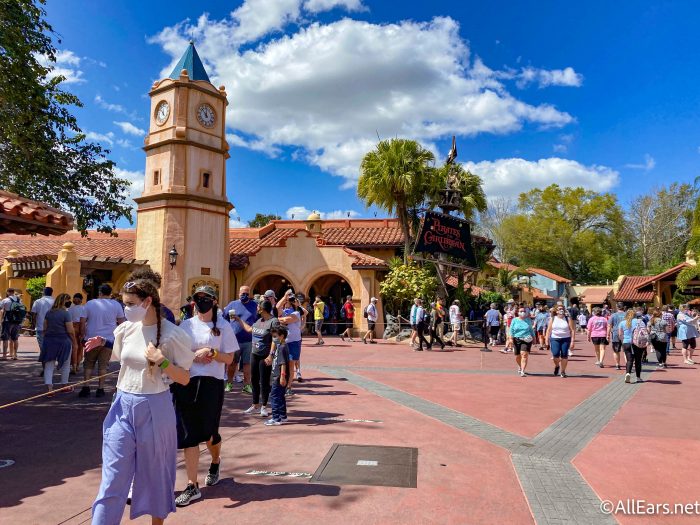 In the afternoon, we started to see crowds picking up all around the park. It got harder to move around in the areas with bottlenecks, like this spot in Fantasyland.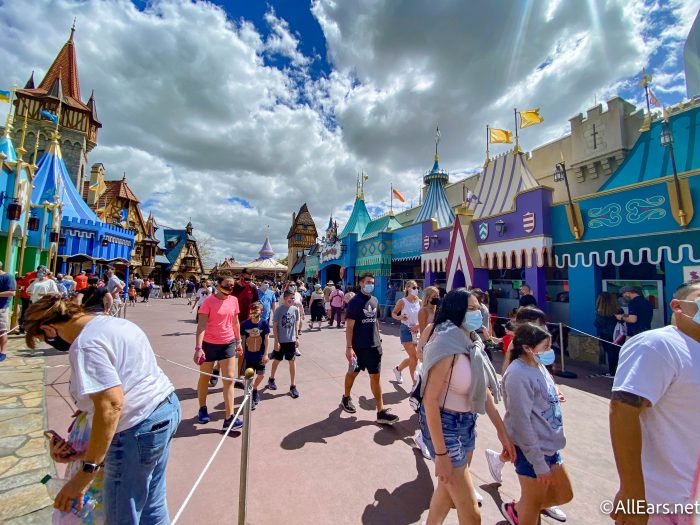 Liberty Square was also really busy, especially with the Haunted Mansion queue off to the side. If you're coming during this time of year, you'll have to pay close attention to your surroundings in the afternoon, because it would be really easy to bump into several people.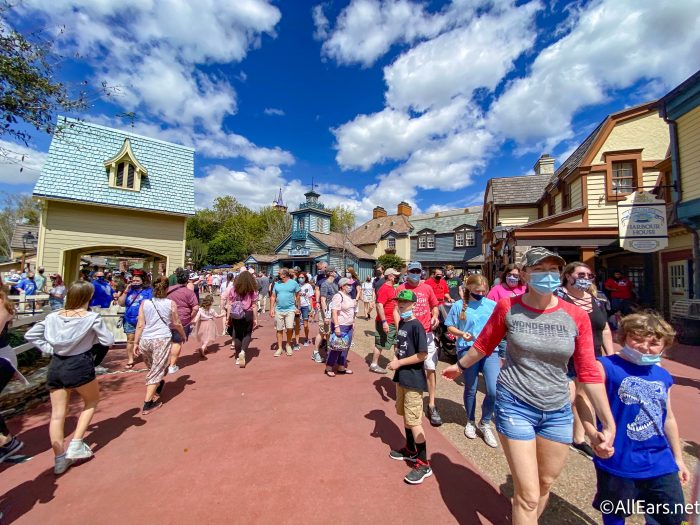 We started to see the wait times get higher as well. Peter Pan's Flight was up to an hour.
Splash Mountain was listed as an 85-minute wait, and the line stretched through a large part of Frontierland. With both the Splash and Big Thunder queues, this area can get a little cramped.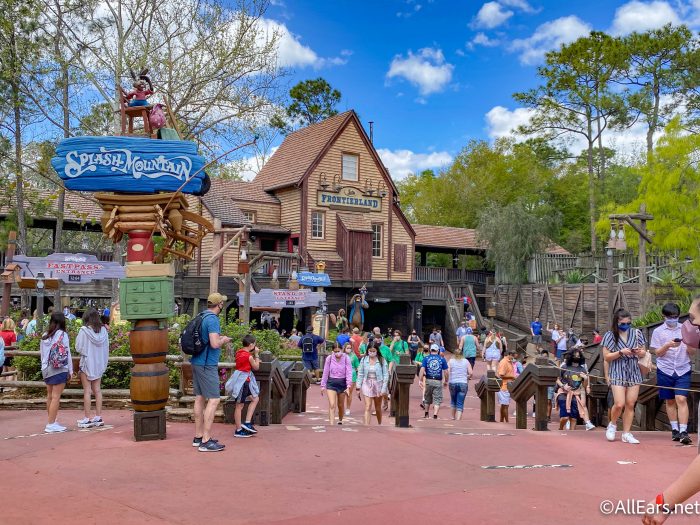 And it wasn't just the section over by the two rides, the whole of Frontierland got VERY busy around lunchtime. We're curious to see how these crowds change throughout the day.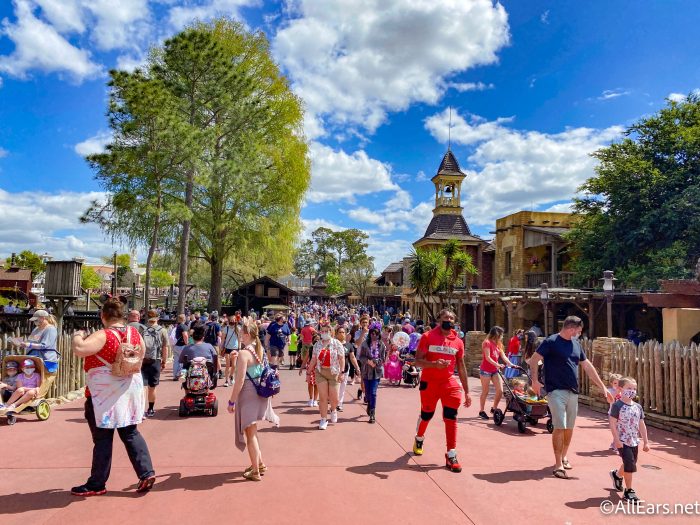 On Thursday, March 11th, we noticed there was still substantial crowding in Magic Kingdom. Frontierland looked especially congested as the Splash Mountain line stretched through most of the area.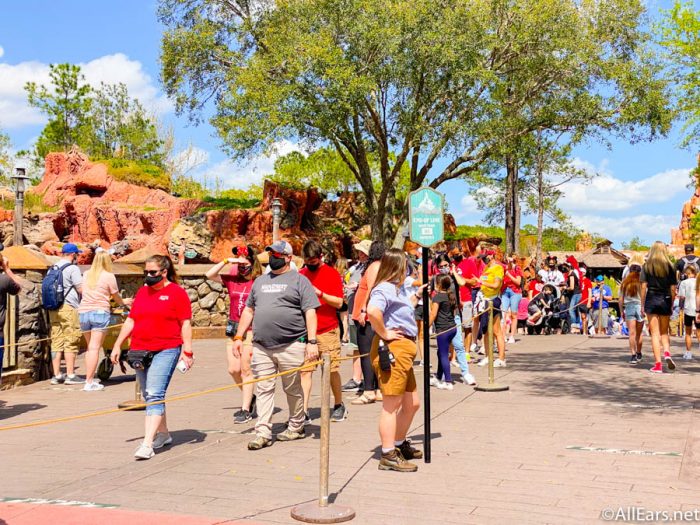 And during lunchtime, the crowds grew yet again. The area around Pecos Bill Tall Tale Inn & Cafe was hectic — further down, there wasn't much room to cross into Adventureland.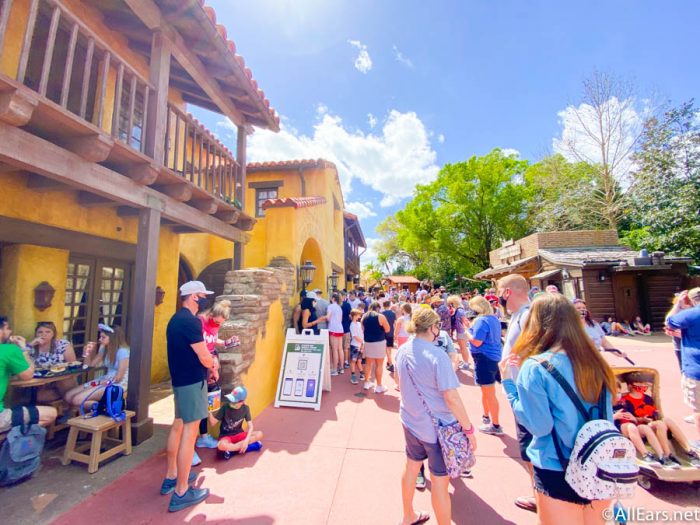 The Friar's Nook had a long line during lunchtime, too. We're noticing the crowds do tend to get heavier around this time.
By Aloha Isle in Adventureland, though, there was plenty of space to walk. We've seen the line stretch much longer here, so this emptiness was somewhat a surprise.
In Disney's Animal Kingdom, the crowds started out low in the morning. There wasn't the typical congestion around the Flight of Passage line, which we see when traffic needs to cross through the queue.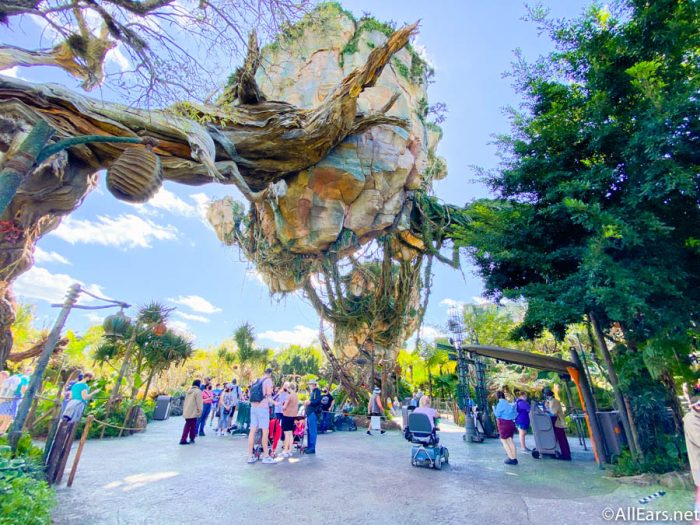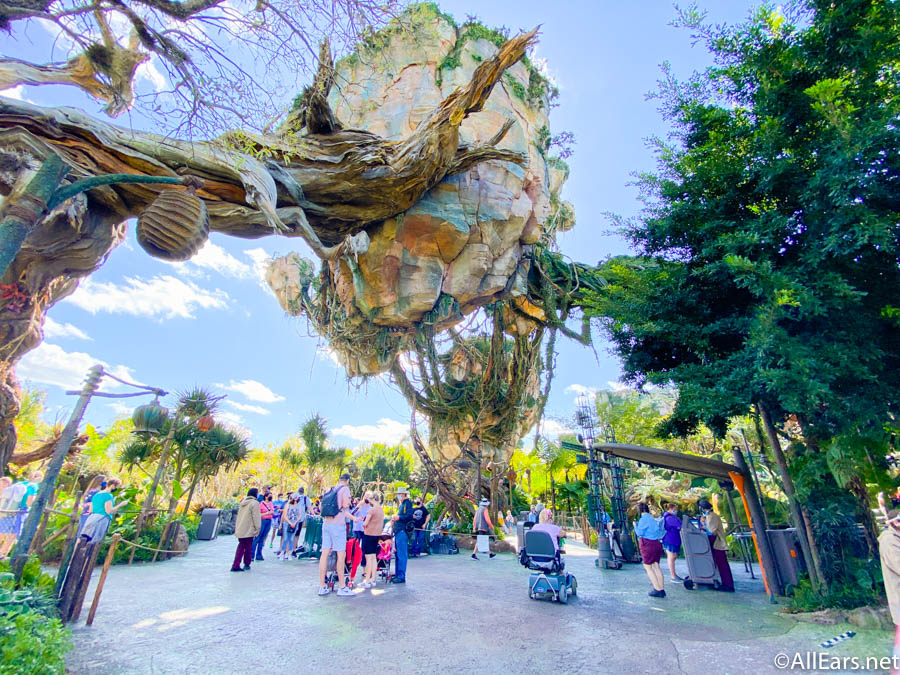 However, the park grew busier in no time. Just a few hours after opening, heavy crowds mingled with the line for Dinosaur.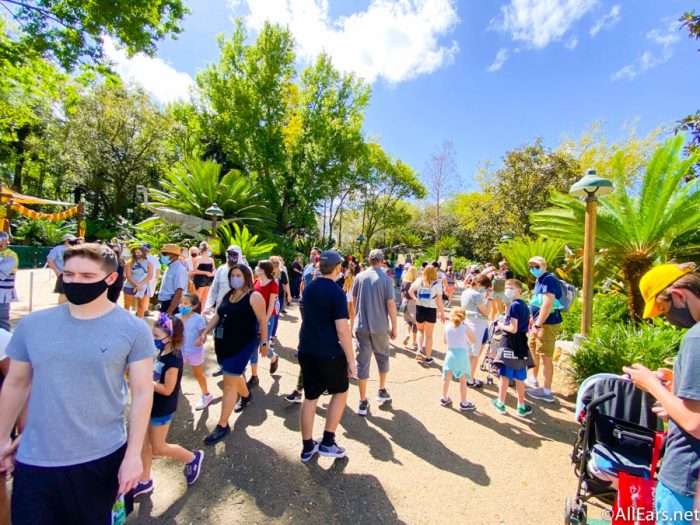 And TriceraTop Spin still had a longer wait than usual — it was 20 minutes at 11:30AM! Before Spring Break crowds, this ride tended to be have little to no line.
We'll continue to keep an eye on crowd levels throughout the Spring Break season and keep you updated, so stay tuned to AllEars.
Are you traveling to Disney World this year for spring break? Let us know in the comments!
Join the AllEars.net Newsletter to stay on top of ALL the breaking Disney News! You'll also get access to AllEars tips, reviews, trivia, and MORE! Click here to Subscribe!