Without a doubt, World Disney World Transportation is truly one of a kind. The intricate system allows visitors to remain fully immersed in their vacations with multiple forms of transportation at their avail, including bus, rail, boat, and gondola.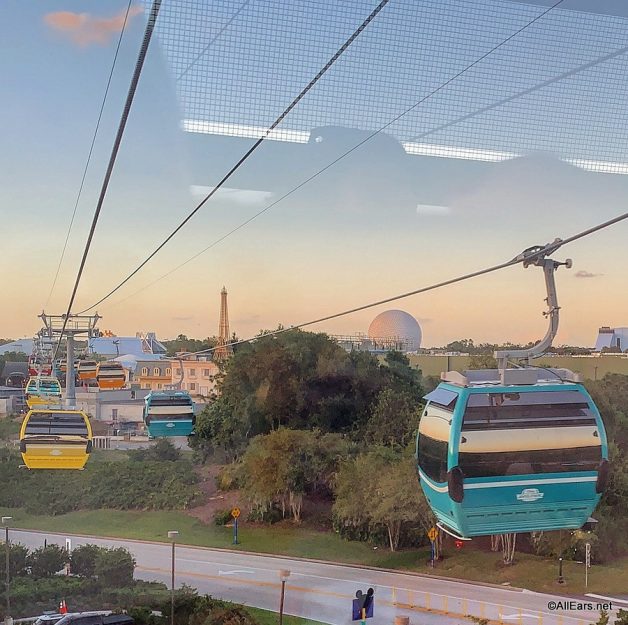 That being said, Walt Disney World transportation's complexity also makes it a challenge to navigate.
It's common for guests to book their Walt Disney World Resort accommodations blindly without considering how that property's  transportation options can greatly impact their vacations.
We're going to break down all of the World's modes of transportation to help you determine which resort may be best for you.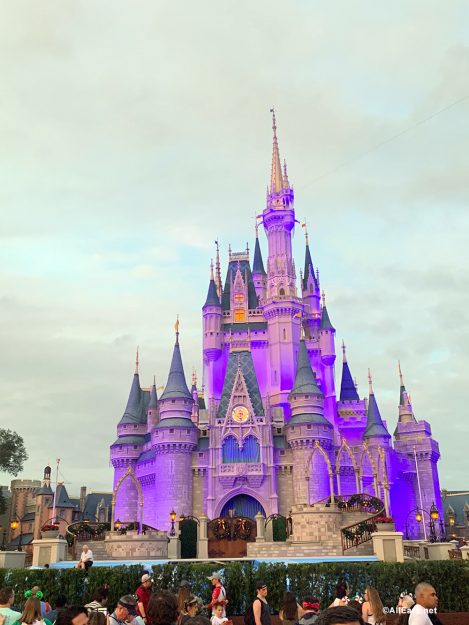 Walt Disney World Bus Transportation
This fleet of over 300 buses promises to save you time, money, and the (very real) hassle of parking. Almost anywhere you could possibly go at Walt Disney World is serviced by the bus system.
Pros: If you're lucky enough to get a seat, you can relax in a temperature-controlled environment as you make your way around the World. Newer buses have even added in the popular feature of USB Charging Ports. Travel time between each resort and Disney Park varies greatly. We urge you to consider this when planning which resort you will be staying at. This is an available option for nearly every Disney resort.
Cons: Perhaps with full confidence, we can say the bus system is the most unreliable of the bunch. From inaccurate wait times, to mechanical error, traffic, etc, there's so much that can go wrong when it comes to the buses. They can also get very crowded at park opening and park closing, making for an uncomfortable ride whether you have a seat or not. Not only is this potentially the most frustrating form of transportation, it is also the most widely used, thus having a big impact on the vast majority of visitors.
Walt Disney World Monorail System
The monorail system is comprised of three separate lines that service Magic Kingdom and its three area Resorts (Disney's Contemporary Resort, Disney's Polynesian Resort, and Disney's Grand Floridian Resort & Spa), in addition to the Transportation and Ticket Center and Epcot.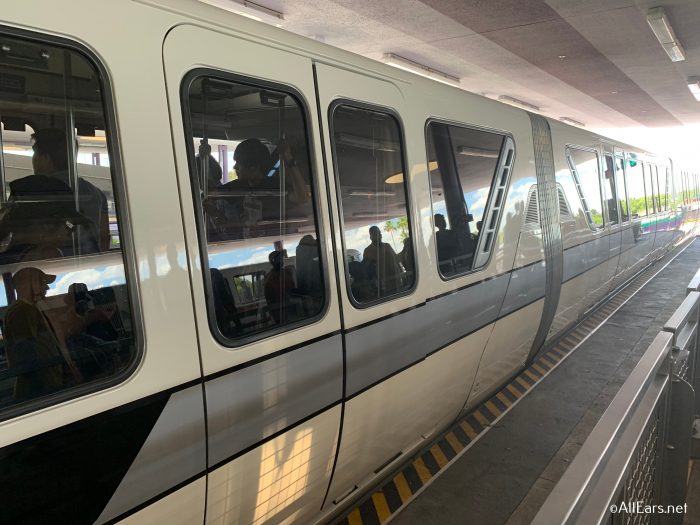 Pros: Perhaps the most beloved of all transportation options, this is a speedy and unique mode that can quickly get you around Seven Seas Lagoon or from the Magic Kingdom area to Epcot. Relax in a temperature-controlled environment while riding the highway in the sky. This mode of transportation infrequently receives updates, though recently Monorail Silver and Monorail Green received updates. Additionally, wait times between trains are usually just minutes, and travel time is relatively short.
Cons: Maintenance issues are fairly common and result in schedule delays. They tend to pack these out as well, so getting a seat can be challenging at times, especially at peak times like after fireworks. They really cater to the Magic Kingdom resorts: the Grand Floridian, Contemporary, and Polynesian, so if you aren't staying at any of these properties it may not be of assistance to you. However, if you want to expand your resort dining beyond your own resort, the Monorail does make these three more accessible.
Walt Disney World Boat System
The Walt Disney World Boat System includes water launch, boat, and ferryboat service between a selection of Disney Parks, Resorts, and Disney Springs.
Pros: While not temperature controlled, this can be a relaxing and scenic form of transportation. A large number of resorts are served by this system and make for a scenic journey that avoids any potential traffic jams. If you're looking for a leisurely way to transport from one location to another, boats are a great option.
Boats are offered: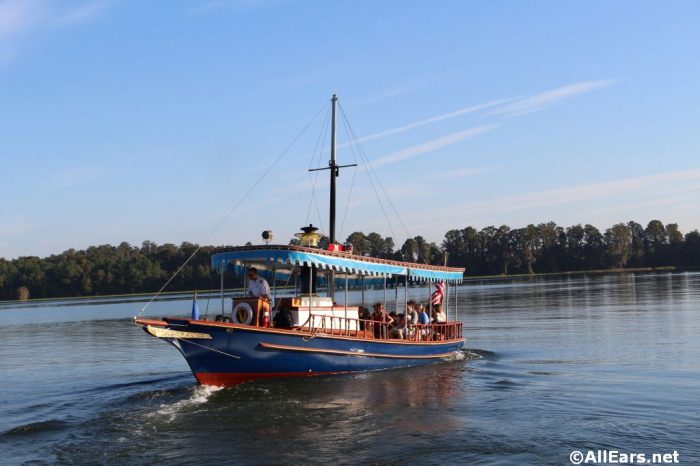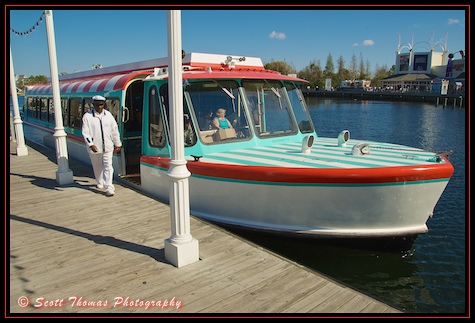 Cons: These boats tend to pack out and can very hot on a humid Florida day. They can also be painstakingly slow. The ride from Epcot to Hollywood Studios seems to drag on forever and will you have envying the folks that decided to use their own two feet to get around.
Walt Disney World Gondola System
The Walt Disney World Skyliner is the newest transportation option to hit Walt Disney World having just opened in fall 2019. The uniquely-themed gondolas transport you in record speed with scenic views along the way.
Pros: The newest and most talked about form of transportation in recent times shuttles you in record time between five Skyliner stations located at the International Gateway at Epcot, Disney's Hollywood Studios, Pop Century, Art of Animation, Disney's Riviera Resort, and the hub located at Caribbean Beach Resort. Staying in a Skyliner resort gives you quick access to two of the World's theme parks. Offering stunning views, there are over 300 continuously-loading gondolas making for little to no wait time. This smooth ride provides a  ventilation system to keep you cool so long as the line is in motion.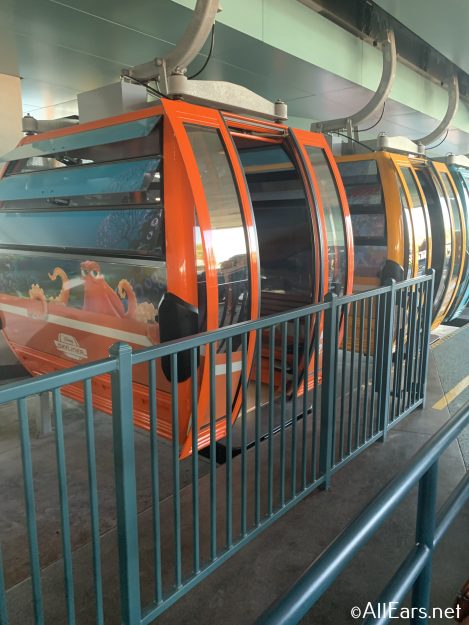 Cons: One week into operation saw a pretty major incident that resulted in guests being stranded for over three hours in the sky. If/when a line encounters delays, your "quick trip" could get very long (and potentially terrifying). If you are prone to motion sickness, this may not be the most suitable option for you. And the Skyliner remains yet untested on the hottest Florida Days. Last con: Skyliner resorts have begun reducing their bus transportation to Epcot and Hollywood Studios, causing some stress for guests.
What transportation concerns factor into your Walt Disney World Resort decisions? Share with us in the comments!
Join the AllEars.net Newsletter to stay on top of ALL the breaking Disney News! You'll also get access to AllEars tips, reviews, trivia, and MORE! Click here to Subscribe!