Grand Floridian Resort and Spa – Deluxe Resort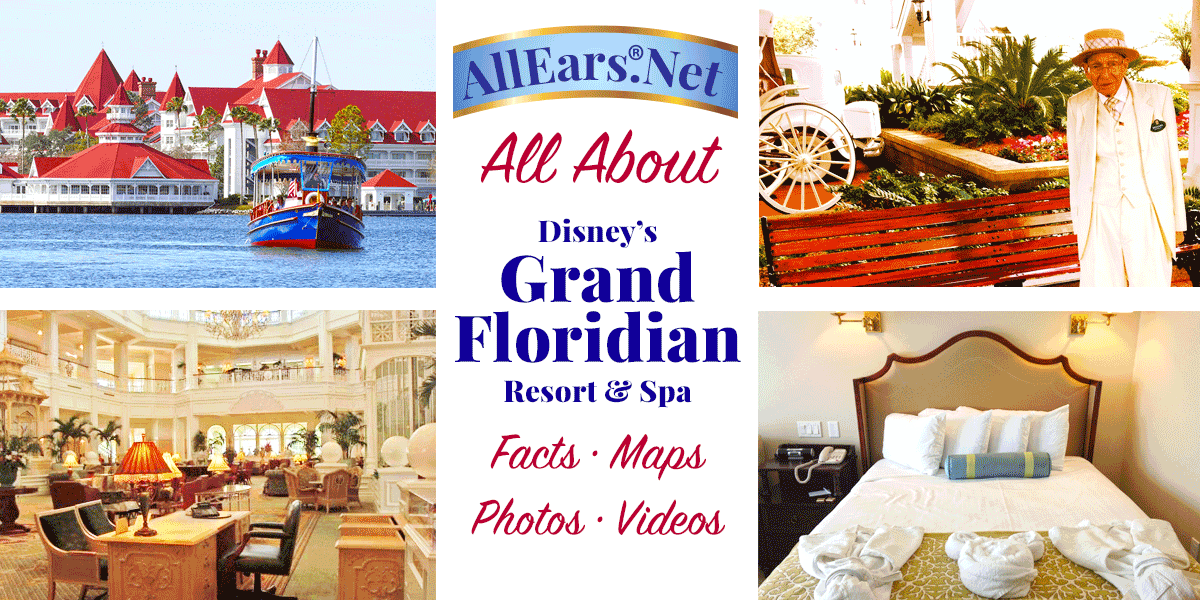 What is the Grand Floridian Resort and Spa and what sets it apart from other Disney resorts?
Disney's Grand Floridian Resort and Spa (GF) is a 900-room facility located on the shores of Seven Seas Lagoon and is located directly southwest, and one monorail stop, from the Magic Kingdom (MK). It occupies 40 acres and is styled in a turn-of-the-century Victorian theme. The red and white structure features gabled roofs and a five-story Grand Lobby, topped with a stained glass ceiling and chandeliers. The atmosphere is elegant, but in a Disney way, so as not to be overbearing. The GF opened in August 1988 as WDW's 5th resort hotel. It is considered the flagship of all WDW resorts.
This seems like an ultra-nice resort. Will I feel out of place?
Not really. Even though it is the most expensive resort at WDW, it is not filled with "ultra-rich" folk. It is filled with people like you and me, who have always wanted to stay there, and have finally saved enough money. If you are into ultra-luxury, there is plenty here. On the other hand, if you are used to the simpler things, there is plenty of that, too. Shorts and T-shirts in the lobby are more the rule than the exception. After all, in what other luxury resort could you find a mouse, and it be considered appropriate?
What are the room prices?
The Grand Floridian Resort is a "Deluxe" resort hotel, and its prices are among the most expensive offered at Disney. These are regular rate prices and do not include the Florida Sales Tax nor the county resort tax. Standard rooms have a maximum four-person occupancy per room. No charge for children under 17 years old when in the same room as the adults. If you have more than two adults in the room, there will be a $25 per night charge for each extra adult. Maximum of five per regular room, six per suite, plus a child under 3 in a crib.
Walt Disney World Resort rates vary by season (there are nine seasons now), and also by day of the week. The holiday season is the most expensive time of the year. It runs from mid-December to early January as well as during Easter Week.
There are 20 room categories for the Grand Floridian. Listed below are the standard rooms and club level rooms. What is NOT listed are all the deluxe, 1 and 2 bedrooms and suites.
The rates for a:
— Garden View Room range from $574 – $750 (Holidays up to $830)
— Lagoon View Room range from $585 – $810 (Holidays up to $891)
— Theme Park View Room range from $684 – $982 (Holidays up to $1,082)
— Outer Lodge Club Level Room range from $688 – $1,002 (Holidays up to $1,082)
— Main Building Club Level Standard Room range from $905 – $1,291 (Holidays up to $1,414)
— Main Building Club Level Magic Kingdom View Room range from $1,020 – $1,460 (Holidays to $1,615)
Is there a fee to park at the Grand Floridian Resort and Spa?
For reservations booked after March 21, 2018, there is a fee for overnight self-parking at Walt Disney World Resort hotels. Click HERE for current pricing and other parking-related information.
It seems so expensive! How can I save a few dollars?
Try booking during Value Season. Annual Pass Holders are also eligible for room discounts, although they are usually announced only a month or two in advance and are very limited.
I hear that there are no more room key cards at Disney resort hotels. How do I get into my room?
What are my choices for room views?
Garden View rooms feature balconies overlooking the GF's landscaped gardens. The Pool/Marina view has balconies with views of either the courtyard pool or the GF marina off Seven Seas Lagoon. Lagoon View features a view of the waters of Seven Seas Lagoon, but may or may not include a view of the MK. The Main Building also has some Magic Kingdom view/castle view rooms – the Jacuzzi honeymoon rooms for one. Other room choices include Lodge Tower rooms, Concierge rooms with Garden/Pool/Marina views, Deluxe and Honeymoon Concierge rooms, and a variety of Suites.
How do I let the resort know of my room preference?
If booking online yourself, be sure to make your request(s) known when you complete the reservation form. If booking via telephone, or via a travel agent, make sure to tell the agent of your preferences.
What is the difference between a standard room and a dormer ("attic") room?
Both types of rooms are furnished the same and contain the same features. The dormer rooms are actually a bit smaller (3 feet smaller) than the standard rooms, but seem larger, since dormer rooms feature vaulted ceilings. Standard rooms sleep 5 people, while dormer rooms sleep only 4. Dormer rooms are also the only rooms to feature a private balcony. Note the Dormer Room balconies are about half the "regular" room size. Standard rooms have balconies, but they are not private. From the outside of the resort, you can easily tell the two types apart. Rooms on the lower floors with wide balconies are the standard rooms. Rooms on the upper floors with balconies under peaked portions of the roof are the dormer rooms.
What is a lodge tower room?
The lodge tower rooms are located in the semicircular protrusions you can see on the outside of some buildings. They include all of the features of a standard room. They also have a separate sitting area, with additional furniture, TV and phone. There are views out of five windows, as well as a separate balcony.
Can I get a crib for my room?
Yes, and a highchair and playpen, too! Request cribs when you make your reservations. All are complimentary for GF guests.
Are there smoking and nonsmoking rooms?
Which rooms are closest to…
…the beach? – Guest rooms in the Main Building and in Big Pine Key are located just along the beach of Seven Seas Lagoon (no swimming is allowed in the lagoon).
…the monorail? – Guest rooms in the Main Building are an elevator's ride away from the monorail station. Rooms in Sago Cay, Sugar Loaf Key, and Big Pine Key are all about equally the next closest.
The buses? – The bus stop is located just outside and below the monorail station. Room proximity to the buses is about the same as for the monorail.
The restaurants? – Guest rooms in the Main Building are located only a few floors above all restaurants, with the exception of Narcoossee's. Rooms in Conch Key are actually closest to Narcoossee's. Besides those in the Main Building, rooms in Big Pine Key and Sugar Loaf Key are quite near the main restaurants. Sugar Loaf Key is particularly convenient to both Gasparilla Grill & Games and the Grand Floridian Cafe.
The marina? – Guest rooms in Sugar Loaf Key and Conch Key are located just outside of the marina. These rooms, as well as those in Sago Cay, all have rooms that overlook the marina.
The pool? – Guest rooms in Boca Chica, Big Pine Key, and Sugar Loaf Key all are closest to the courtyard pool, as well as the kiddie pool.
Which rooms have the best Magic Kingdom view?
The majority of these rooms are in Boca Chica. You will have to reserve, and pay a premium for, a theme park view.
Which rooms are the quietest?
Guests attending conventions at the Grand Floridian are often put in the Sago Cay lodge since this is the closest building to the Convention Center. Often, only adults occupy these rooms. On the other hand, guests with children request the Big Pine Key lodge as it is closest to the pools and beach.
Which is better — lagoon view or pool view?
Lagoon views are usually thought of as the best. They offer views of the Magic Kingdom or the Seven Seas Lagoon. However, pool views and garden views are sometimes just as good. Views of just the other buildings in the complex are actually very nice, people-watching is at a premium, and the architecture and landscaping of these views sometimes fits in better with the overall Grand Floridian Resort and Spa atmosphere.
It's my honeymoon! What is the difference between the octagon and Jacuzzi honeymoon rooms?
Octagon rooms do not have a balcony or a Jacuzzi tub. However, this room is bigger than the Jacuzzi room, has a wet bar, and has windows almost all of the way around, providing a greater view. Jacuzzi rooms do have a balcony and Jacuzzi tub, but no wet bar or walk-in closet. Jacuzzi rooms are also located on a part of the second floor with no through traffic, providing a quieter atmosphere. Both rooms include all concierge benefits.
What is on the third, fourth, and fifth floors of the main building? How can I get there?
All Concierge rooms and about half of the suites are located here. Concierge desks on the third floor offer very personalized services to only those guests occupying rooms on these floors. A lounge on the fourth floor is the spot for continental breakfasts and evening refreshments, once again only for those guests on these floors. Unless you are staying in one of these special rooms, you cannot get to the third, fourth, or fifth floors of the main building. Access is by private elevator only. The "Sugar Loaf " building also offers full concierge service.
We want some quiet, romantic time. Is that possible here?
Children are at the resort; you are at Disney World, after all. A meal at Victoria & Albert's or Citricos will probably have fewer children than other hotel restaurants. Victoria and Albert's has a policy that children under 9 are not allowed.
When families are spending their time at the theme parks it will be quieter in the lobby. Finding quiet, romantic time for yourselves should be no problem. The lobby area is usually bustling in the mornings and evenings with the 1900 Park Faire character meal on the first floor.
Is this a kid-friendly environment where we will be comfortable bringing children?
Yes. Children and families with children will not feel out of place.
Besides the theme parks, there are a number of activities for children (special ticket/reservation required) including a Wonderland Tea Party.
Make sure to request an Activities Flyer at check-in so that you can see what is available durin your stay. There are often outdoor movies in the evenings.
Children can enjoy the pool, boats at the marina, and the video games at Arcadia Games.
Are any king size beds available?
Yes. Request one when making your reservations.
Are there any in-room safes?
Each room has a small in-room safe. They are small, but large enough to hold money, jewelry, and that sort of thing.
What about a refrigerator?
A small refrigerator is available for each room at no additional charge. If your room doesn't have one, request it. The refrigerators are handy for snacks, sodas, and baby supplies.
Is there Internet Access available in the rooms?
Complimentary Wi-Fi service available is available in all Walt Disney World hotels. See our Internet Access page for details.
Can I get turn-down service?

The Grand Floridian Resort and Spa does offer Nightly Turndown Service, but it is NOT provided in a standard room UNLESS you request it. If you'd like this service, each evening between 5:30 p.m. and 9:30 p.m., housekeeping will turn down your beds and leave chocolates and a Disney-themed "goodnight" note. If this service is not convenient, you may request turndown at a specific time.
Someone left some nice robes in the closet! What's up?
Two very nice robes are left in each room for your use. Some people wear them down to the pool, or just use them inside their room. If you have children in your party, you can request children's sizes. A very polite note reminds you not to take the robes home, but they do invite you to visit the Sandy Cove Gift Shop, where you can purchase them.
I know where I'm going, but how do I get there?
The monorail, located on the second floor of the main building, provides direct transportation to the MK Contemporary Resort, the Transportation & Ticket Center (TTC) and the Polynesian.
You can reach Epcot by transferring monorails at the TTC.
Boat service from the GF dock can take guests to the MK and the Polynesian.
Bus service, just outside the main building, provides transportation to Disney's Animal Kingdom, Disney's Hollywood Studios, Disney Springs (The Landing and Marketplace),  and the TTC.
Can I walk from the GF to the MK?
While it looks like you should be able to, there is no walkway between the two hotels.
What is the monorail?
The best ride at WDW! The monorail is an elevated train that makes a loop between the Magic Kingdom and the Monorail Resorts. Its purpose is transportation, but it really makes a great ride to see all the sights, too. After boarding the monorail at the GF station, it makes stops at the MK, the Contemporary, the TTC, and the Polynesian (in that order). An extension of the monorail runs between the TTC and Epcot.
Hey! The monorail did not stop! Why?
In addition to the Local Monorail (described above), there is also an Express Monorail. However, the Express Monorail provides service only between the MK and the TTC , and actually travels in the opposite direction. It does not stop at any of the resorts. If a monorail passes the GF without stopping, it was the express. The local should be along within a few minutes, from the opposite direction, and will stop at all Monorail Resorts in this order: Grand Floridian, Magic Kingdom, Contemporary, Transportation and Ticket Center, Polynesian, then back to the Grand Floridian.
I'm not used to all this luxury! How does valet parking work?
Just drive your vehicle up to the front entrance of the resort. From there, someone will park your car for you for a charge. You may have this charge linked to your hotel room. Tipping the attendants is recommended for good service whenever they pickup or dropoff your car. Visit our Valet Parking page for more information.
What are the restaurants like?
Victoria & Albert's is the dining centerpiece of GF, if not all of WDW. It is ultra-elegant, with a menu selected daily by the chef.
Citricos is an upscale, expensive restaurant with Mediterranean cuisine.
1900 Park Fare is a character buffet restaurant and features American cuisine. At breakfast daily, a Supercalifraglistic time can be had with Mary Poppins and friends from 8 to 11 a.m.  In the evening, Cinderella's Happily Ever After Dinner is served from 4:30 to 8:20 p.m.
Narcoossee's features seafood, with steak and chicken entrees, in waterside setting. Allow an extra five minutes once you arrive at the Grand Floridian to walk to the restaurant. Open daily from 5:30 – 10 p.m.
The Grand Floridian Cafe is the GF's casual restaurant, featuring Southern cooking, salads, and sandwiches. Breakfast is served from 7 to 11 a.m., lunch from 11:30 a.m. to 2 p.m., and dinner from 5 to 9 p.m.
Gasparilla Island Grill is a 24-hour take-out, quick-serve establishment, with the usual assortment of burgers, hot dogs, sandwiches, chicken, and ice cream.
What are Rapid Fill Mugs?
The Rapid Fill beverage program allows Disney Resort guests to buy (or receive as part of the Disney Dining Plan) a resort mug that can be refilled for a certain period of time as designated at time of purchase. These mugs are enhanced by an RFID bar code that enables the mug to deactivate when the designated time is complete.
Should I wear a dress or coat and tie to eat in the restaurants?
Jackets for men are required in Victoria & Albert's (neckties optional), and fancy attire is suggested for the ladies. Citricos and Narcoossee's require a "business casual" dress code, i.e., no swimwear or tank tops. At the other restaurants, casual is in. Although the surroundings may make you feel like dressing up, families in theme park wear are often the norm.
I want a no-fuss meal. What is my best choice?
Your best bet is Gasparilla Island Grill. It is a quick-serve restaurant, featuring pizza, bakery items, sandwiches, salads, snacks, ice cream, yogurt and pizza. Gasparilla is open 24 hours a day.
What is that music/noise coming from 1900 Park Fare?
That's Big Bertha, sitting 15 feet above the floor in the restaurant. It is a band organ, built in Paris by Gavoli & Co. and used from 1909 to 1955 in Ramona Park, an amusement park in Grand Rapids, MI., and almost 100 years old. Periodically through the meal, it will play a short concert, featuring pipes, drums, bells, cymbals, and a xylophone, all playing at the same time.
What and when is Afternoon Tea?
The Grand Floridian Afternoon Tea is the same as the very traditional tea time you've always heard about. This Tea features a variety of rare teas, tea sandwiches, scones, and berries with champagne. Ultra-nice Royal Doulton china, too! It is served in the Garden View Lounge from 2 p.m. until 6 p.m. Reservations are recommended.
Where can I meet the characters?
1900 Park Fare hosts a Character Breakfast and Dinner. Currently breakfast has Mary Poppins, Alice in Wonderland, Mad Hatter, Pinocchio and Geppetto. The Character Dinner features Cinderella and friends including Prince Charming, Lady Tremaine, the evil Stepmother, and Anastasia and Drizella, the Stepsisters.
There is also a My Disney Girl's Perfectly Princess Tea Party on Sunday, Monday, Wednesday, Thursday and Friday from 10:30 – Noon in the Garden View Lounge. Little princesses have a chance to meet Princess Aurora. The event culminates with the "Grand Princess Parade" through the resorts lobby. Make reservations by calling 407-WDW-DINE. Read more about this Tea Party HERE.
What are the pools like?
There are two pools at the Grand Floridian. The original, larger of the two pools is called the Courtyard Pool and it is open 24/7, weather permitting. There are NO LIFEGUARDS at this pool. It is a large pool of about 300,000 gallons located directly behind the main building.
The other "'themed pool" is the Beach Pool (maximum depth 4 feet) which includes a rock waterfall and waterslide. It is located on the south end of the main building. The Beach Pool also has zero-depth entry access, which means there is no step down into the pool — you can just wade right in or wheel a wheelchair right into the water. There are lifeguards are on duty at this pool. The Beach Pool is open 7 a.m. to midnight for the summer (lifeguard and slide from 10am-8pm). After Labor Day, the hours are 10 a.m. to 8 p.m. There is a path to the tennis courts, the Spa & Health Club, the Wedding Pavilion and the Polynesian Resort next to the pool deck entrance. In addition, there is pool bar nearby that is open 10 a.m. to 8 p.m.
Is there a Jacuzzi?
Some GF rooms have an in-room Jacuzzi as part of its features. Otherwise, there is a spa (hot tub) located at the Courtyard Pool.
I have a few extra dollars (no, really!), so where can I go to shop?
All shopping is located in the main building.
Summer Lace, on the first floor, features women's' designer fashions, Grand Floridian robes and logo items, character apparel, swimwear, accessories, jewelry and fragrances. Open daily 9am-10pm.
Sandy Cove Gift and Sundry Shop is located on the first floor and sells gourmet gifts, fine chocolates and candies, Grand Floridian logo merchandise and sundry items. This shop also sells CDs by musicians who perform at the Grand Floridian, as well as cold beverages and snacks. It also sells and processes media for Disney Digital cameras. This shop is open from 8am-10pm.
Commander Porter's, located on the second floor, offers men's designer clothing such as Tommy Bahama and Ralph Lauren Polo. Men's fragrances, golf apparel, and gift items are also available here. Open daily from 9am to 10pm.
M. Mouse Mercantile can be found on the second floor near the monorail station. Disney souvenir items including children's apparel, toys, books, pins, and watches can be purchased here. This shop is open from 8am – 10pm.
Disney's PhotoPass Kiosk – Next to M. Mouse Mercantile. You can view your Disney's PhotoPass photos here and place orders for them. Open daily 8 a.m. – 10 p.m. Read more about PhotoPass HERE. Professional portrait sessions can also be arranged here.
Basin White – 2nd floor as you're approaching the doors to go out to the monorail, sells beauty and bath products. Open daily from 10am-10pm.
What is that neat-looking building off to the side of the parking lot?
That's the Grand Floridian Resort and Spa Convention Center. It has 27,037 square feet and includes a Grand Ballroom, as well as eight smaller rooms. The Business Center, located here, can assist with any typing or copying needs.
Will I be able to do laundry? Will someone do it for me?
Coin-operated washing machines and dryers are located in all of the buildings. For a price, laundry and dry cleaning service is available, featuring one-day service.
Where can I go to watch the MK fireworks?
If you don't have a room with a Magic Kingdom view, there are still some great spots to watch. The GF beach and the boat dock are great places to watch the fireworks.
Can I watch the Electrical Water Pageant from the GF?
Yes. The pageant is held each evening on Seven Seas Lagoon, and can be viewed from both the GF beaches and the boat dock. The pageant usually passes the GF between 9:00-9:20pm. Check with Lobby Concierge for times.
How can I get married at the GF?
The GF has the Fairy Tale Wedding Pavilion on a private island off the resort. It has a near-perfect view of Cinderella Castle, and can hold up to 250 guests. Characters are available to attend your wedding, and you can book packages that include just about anything you would like for your wedding, as well as your honeymoon. Disney's Fairy Tale Weddings & Honeymoons can provide more information at 407-363-6333.
I've got a few minutes to spare. Are there any Hidden Mickeys I can look for?
Look for Hidden Mickeys in the following places: on the back of the grand piano in the main lobby, on the weathervanes on top of the roof, in the woodwork around the storage area on the trolleys used to transport luggage, and on the lute in Victoria & Albert's.
Is there a spa at Grand Floridian?
The spa at the Grand Floridian is formally named Senses – A Disney Spa at Disney's Grand Floridian Resort. Senses is a full-service spa, with 15 treatment rooms, and everything from rejuvenating citrus facials and herbal wraps to couple's massages. Even young spa-goers can get the VIP treatment. The organic and vegan product lines are an appreciated touch. Membership at the health club is free to resort guests for the length of their stay. The spa is open from 8 a.m. to 8 p.m. daily. To schedule treatments, call (407) WDW-SPAS or (407) 939-7727 as far in advance as possible.
As of January 16, 2013, all Disney World spas, salons and fitness centers are owned and operated by Disney.
I have a "day off" from the parks. What can I do at the GF?
Plenty! Two lighted clay tennis courts are available to the south of the resort, and private tennis lessons are available for $80/hour from 8 a.m. to 7 p.m. There are also Junior Tennis Clinics daily at 4 p.m. for children 6-8, or 5 p.m. ages 9-12, for $25 per child. Racquets available at no extra charge. Call 407-621-1991 to make reservations.
Recreational watercraft, including Sea Raycers, sailboats, and water-skiing, are available for rent at the marina from 10 a.m. to 5 p.m.
Jogging, volleyball, croquet, and swimming are all available, as well as unique shops. Lobby Concierge in the Main Lobby can provide other suggestions.
What else can Grand Floridian Resort and Spa Lobby Concierge do for me?
Lobby Concierge is your stop for practically everything. They provide you with assistance in purchasing theme park tickets and making dinner show and dining reservations. They can give you any general information about Walt Disney World, suggest ideas for things to do, and locate any item you are searching for. And…
I forgot my (fill in the blank)! What can I do?
Lobby Concierge should be able to help you out here, too. Any item you may have forgotten to bring with you, they will do their best to locate. Sometimes they can find an item for you to borrow while you are there. If not, they will point you in the direction of where to go to purchase it. Housekeeping can also help. They can provide irons, ironing boards, highchairs, cribs, small appliances, grills and even charcoal!
Any thing else I might want to know?
The Ivy Trellis Barber and Beauty Shop, located on the second floor of the main building, is open daily from 9 a.m. to 6 p.m.
A portrait artist is available daily 5 to 10 p.m. between Garden View and Sandy Cove in the main building. No appointment necessary.
On Mondays and Thursdays, the Grand Floridian Ladies twirl their way to work through the courtyard with their parasols.
A special Mickey Cake is available through Private Dining. Order at least 24 hours in advance, price is approximately $40.
There's a walking/jogging trail that starts at the Beach Pool entrance and loops past the Polynesian Resort's beach and back for about a mile.
Is there a timetable of when things happen or are open?
Times are approximate and seasonal:
Summer Lace – Open 9 am – 10 p.m. daily
Commander Porter's – Open 9 am – 10 p.m. daily
Sandy Cove Gift and Sundry Shop – Open 8 am – 10 p.m. daily. Resort Package Pickup is located here. You can also purchase stamps here, and have items gift-wrapped.
M. Mouse Mercantile – Open 8 am – 10 p.m.
Basin White – Open 10 am – 10 p.m.
The Portrait Artist is located near Sandy Cove, and is there daily from 5 – 10 p.m. No appointment necessary. The prices range from $45-up.
Ivy Trellis (beauty salon) is open from 9 am – 6 p.m.
Poolside Cabana (at the Beach Pool) is open from noon – 4 p.m., selling pool toys, character beach towels, children's swimwear, accessories, magazines, water cameras and suntan supplies. Hair Wrap available 10 a.m. – 5 p.m., weather permitting.
The Senses Spa hours are 8 am – 8 p.m. daily.
The Electrical Water Pageant goes by each night at 9:15 p.m.
The Pianist in the lobby, whose CD you can purchase in Sandy Cove, starts playing at 3 p.m. and alternates with the orchestra until 9:45 p.m.
Citricos is open 5:30 p.m. – 9:30 p.m.
Narcoossee's – 5: 30 p.m. – 10 p.m., 7 days a week
Grand Floridian Cafe – Breakfast from 7 – 11:30 am, Lunch from 11:30 am – 2:00 p.m., Dinner 5 – 9 p.m.
Garden View Tea Room – 2 – 6 p.m.
1900 Park Fare – breakfast with Mary Poppins & friends from 8 – 11 a.m.; dinner with Cinderella & Friends from 4:30 – 8:20 p.m.
Gasparilla Island Grill is open 24 hours/7 days, near the marina.
Mizner's Lounge – is currently closed (as of April 2019) for refurbishment. It will reopen with a Beauty and the Beast theme in Fall 2019.
Disney's Grand Floridian Resort and Spa is a Monorail Resort, in the Magic Kingdom resort area of WDW. It has received AAA 4 Diamond, Mobil 4 Star, and was voted one of the top 50 resorts in the world by readers of Conde Nast Traveler.
It is located at 4401 Grand Floridian Way, Lake Buena Vista, FL 32830. The phone number is 407-824-3000, and the fax number is 407-824-3186.