Saratoga Springs Resort & Spa Disney Vacation Club Resort
What is the Saratoga Springs Resort and Spa?
The Saratoga Springs Resort and Spa is a Disney Vacation Club resort overlooking the lakefront district at Disney Springs.
The resort is themed in Victorian architecture with the historic influence of horse racing. In fact, the motto for the resort is "Health, History, Horses." The lakeside community recaptures the heyday of upstate New York country retreats in the late 1800s.
The resort consists of studio, one- and two-bedroom, and three bedroom grand villas. There are also 60 Treehouse Villas as part of Saratoga Springs resort.
Wait – I am not a DVC Member. Can I stay here?
Yes! Anyone can stay at a DVC Resort or in a DVC Villa Room as long as there is space available. You can book it like any other Disney hotel room — either on Disney's website, calling Disney's Reservation Line, or with a travel agent.
What are the different room options?
Studio Villas:
Sleeps up to four adults

One queen-size bed
One double-size sofa bed

One full bathroom
Kitchenette with coffee maker, microwave, and mini fridge
Laundry facilities located near the pool
Private Porch or Balcony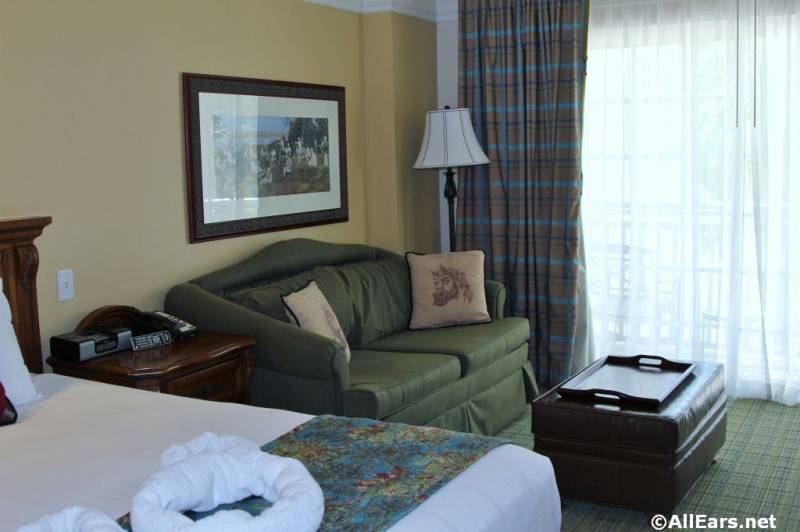 For more photos of a Saratoga Springs Studio, check out our photo gallery!
One-Bedroom Villas:
Sleeps up to 4 adults

Master Bedroom with King Bed
Queen Sleeper Sofa in living area

One Full Bathroom
Full Kitchen with stove, dishwasher, coffee maker, and microwave
In-room laundry with washer and dryer
Private porch or balcony
For more photos of a One Bedroom Villa, check out our photo gallery!
Two-Bedroom Villas:
Sleeps up to 8 adults

Master Bedroom with King Bed
Additional Bedroom with Two Queen Beds
Queen Size Sleeper Sofa in Living Room
Two Full Bathrooms
Full Kitchen with stove, dishwasher, coffee maker, and microwave
In-room laundry with washer and dryer
Private porch or balcony
Some of the two-bedroom villas are dedicated (entities unto themselves) and some are "lockouts" meaning a one-bedroom and a studio are combined for a two-bedroom.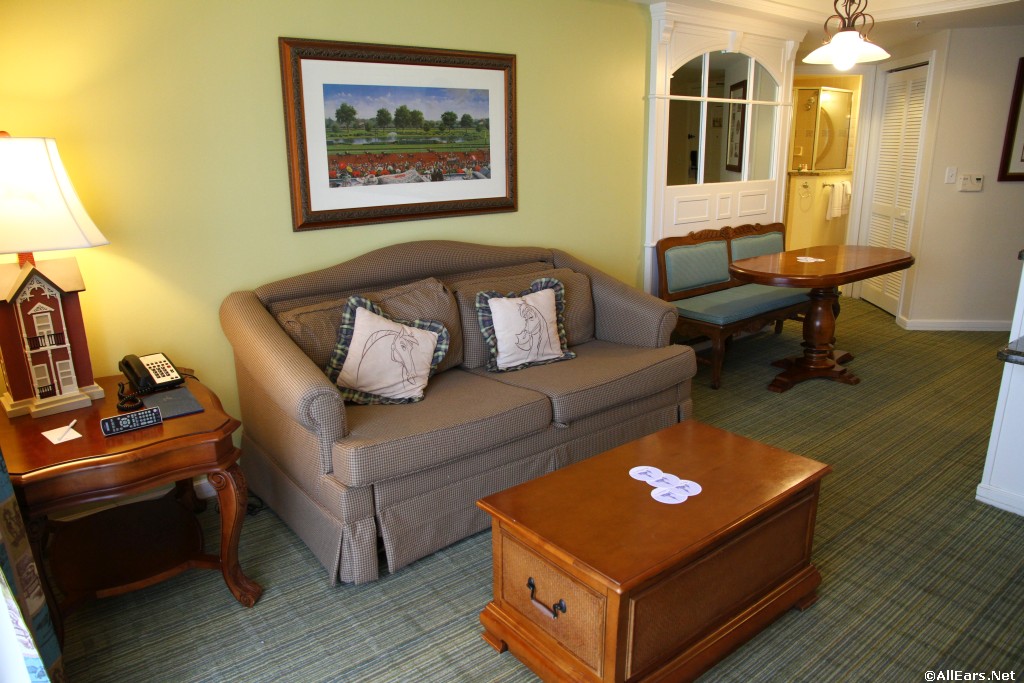 For more photos of a Two Bedroom Villa, check out our photo gallery!
Grand Three Bedroom Villa:
Sleeps up to 12 adults

Master Bedroom with King Bed

Master Bathroom with Whirlpool Tub

Two Additional Bedrooms with Two Queen Beds Each
Queen Sleeper Sofa in Living Area
Four Full Bathrooms Total

Two Story Layout
Full Kitchen with stove, dishwasher, coffee maker, and microwave
In-room laundry with washer and dryer
Private porch or balcony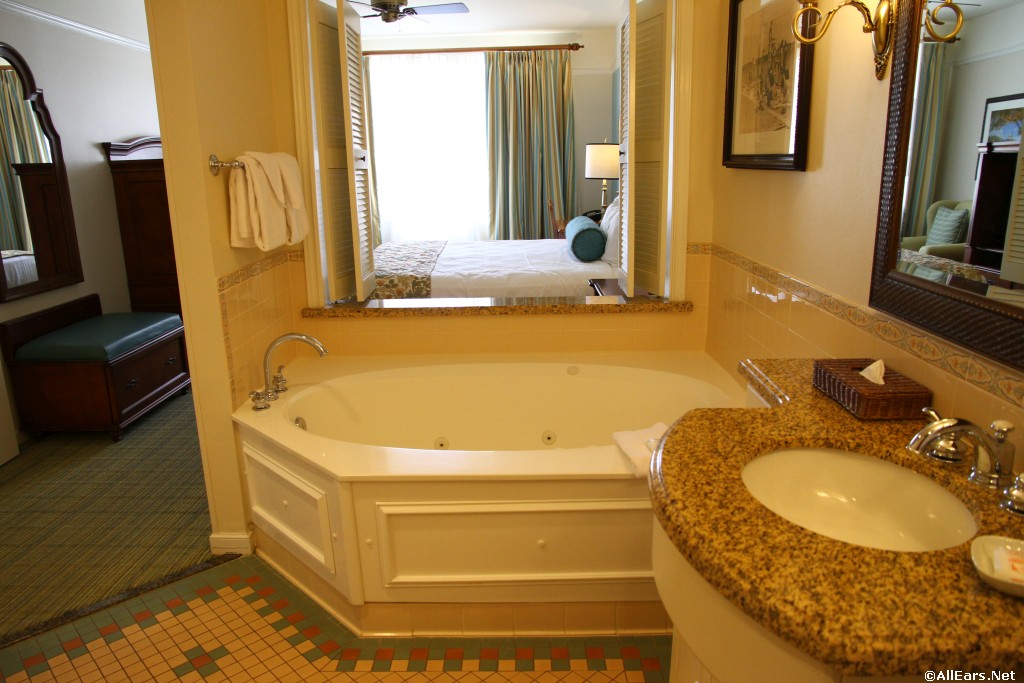 Treehouse Villas:
Sleeps up to 9 adults

2 bedrooms with one queen bed each
One bedroom with bunk beds
Queen Sleeper and Single Pullout Chair in Living Room

Two full bathrooms
Full Kitchen with stove, dishwasher, coffee maker, and microwave
In-room laundry with washer and dryer
Private porch or balcony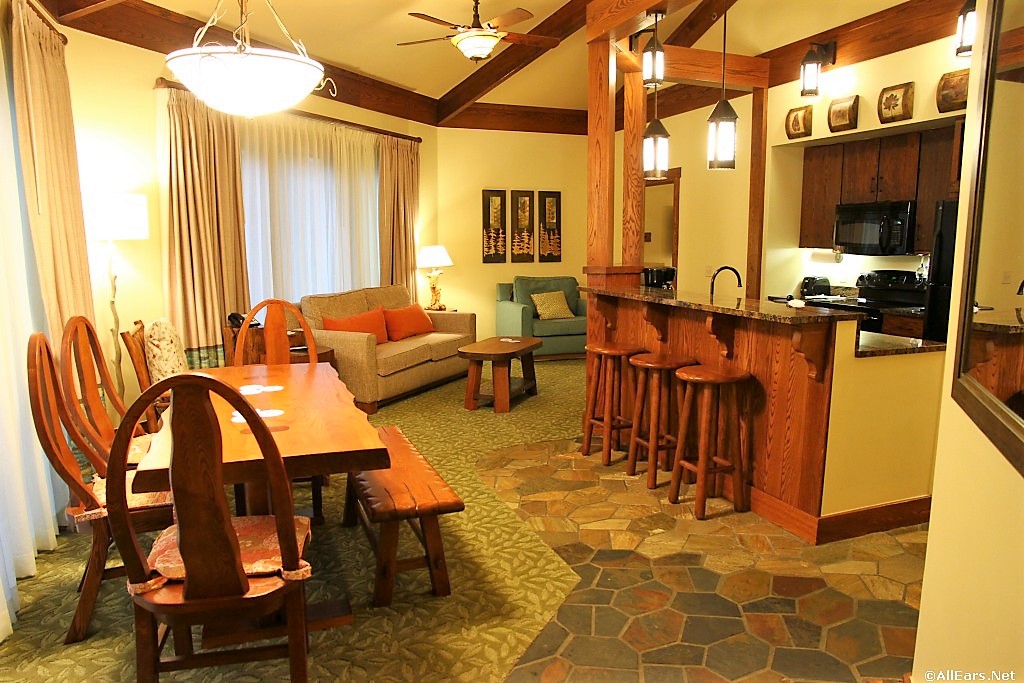 To learn more about the Treehouse Villas, check out this fact sheet.
Fully accessible rooms are also available in some villa styles. (All accessible rooms are also hearing-impaired ready.) Accessible room features include:
–electrical switches 48″ above the floor (including thermostat)
–touch switch lamp
–additional low entrance door viewer
–fire strobes
–hand held shower attachment
–grab bars at toilet
–vanity open below sink (roll under)
–lower countertops/cabinets
–countertop microwave
–roll-in showers
–low threshold at balcony
Make sure to request an accessible room if needed when booking.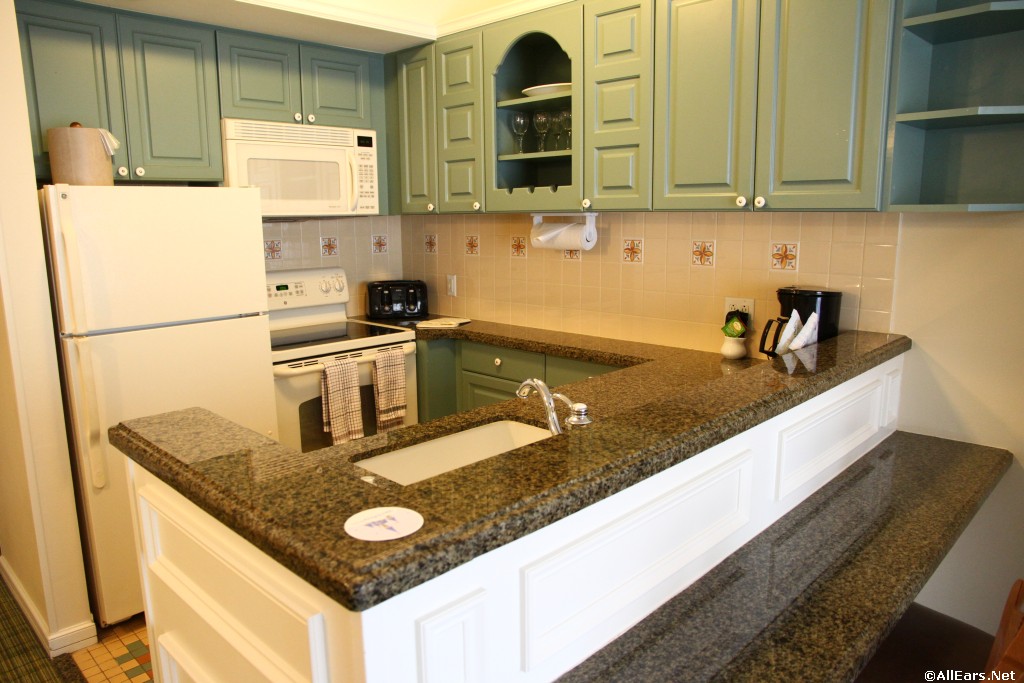 What are the room prices?
Saratoga Springs is a Disney Vacation Club Resort. While DVC Members can book with points, you can also rent the villas for "cash" . These are regular rate prices and do not include the Florida Sales Tax nor the county resort tax.
Walt Disney World Resort rates vary by season (there are nine seasons now), and also by day of the week. The holiday season is the most expensive time of the year. It runs from mid-December to early January as well as during Easter Week.
Your room location — Standard or Preferred — will affect the price as well.
The rates for a:
— Deluxe Studio range from $375 – $697
— 1 Bedroom Villa range from $512 – $971
— 2 Bedroom Villa Room range from $743 – $1576
— Treehouse Villa range from $925 – $1680
— 3 Bedroom Grand Villa Room range from $1571 – $2737
Are there smoking and nonsmoking rooms?
All Disney resorts and guest rooms are now smoke-free. There are designated outdoor smoking areas. Check the resort map or with a Cast Member for locations.
Is there a fee to park at Saratoga Springs Resort and Spa?
Disney Vacation Club Members – will not be charged for standard overnight self-parking when staying at a DVC Deluxe Villa, regardless of whether they use vacation points or another form of payment. Members also will not be charged to park when using vacation points to stay at a Walt Disney World Resort hotel.
Click HERE for current pricing and other parking-related information.
What are the standard amenities?
Iron and ironing board; television in each bedroom and living room; ceiling fans; fire extinguisher; Graco Pack 'N Play portable crib; hair dryer; coffee maker; microwave; shampoo/conditioner; complexion soap; deodorant soap; drinking glasses; ice bucket; clock radio; wall safe in closet (laptop size); vacuum cleaner; DVD player in living room (except Studios); whirlpool tub (except Studios); closed captioning available on all television sets. A limited number of full-size wooden cribs are available upon request.
Amenities available upon request (no charge) include: bed boards; bed rails; full size cribs; extra portable cribs; down pillows; high chairs; electric mixer; booster seat; shower seat and toilet seat for disabled; smoke detector and telephone for hearing impaired; electric adapters; hand lotion; and tea bags and decaf coffee. Rollaway beds are not available.
Walt Disney World Resort made complimentary Wi-Fi service available in all of its hotels as of March 2012. See our Internet Access page for details.
What are the various buildings called and what the sections are close to?
Congress Park (1101-2836) is closest to Disney Springs. The bus stop is located near 2101-2436 at the edge of the parking lot. These are considered preferred rooms.
The Springs (Sections 3101-4436) are closest to the Carriage House which houses check-in, Artist Palette shop and quick service, the Turf Club Bar and Grill, Magical Express Bus pickup/drop off, boat transportation, guest laundry (for those staying in Studios), recreation rentals (bikes, etc), the main swimming pool and the Win, Place or Show arcade. The Springs also has a bus stop. These are considered preferred rooms.
The Paddock (4501-6836) is a long stretch of buildings on the opposite side of the lake. There is a guest laundry facility, playground. There is a large feature pool with adjacent kids water play areas also. The Paddock pool also has a quick service grill that serves breakfast (seasonally) and lunch. There are 2 bus stop options here. The first is actually the Carousel bus stop near Paddock 4501-4836 and 5101-5436. The other bus stop is near 5501-5836.
The Carousel (7101-7836) The bus stop is on Union Avenue near 7101-7436.
The Grandstand (8108-9836). The bus stop is located at the edge of the parking lot. It is the first stop for arriving buses, close to a leisure pool with kid's play area and a pool bar. This is also the stop you can walk to/from the Treehouse Villas.
What time is Check-In/Check-Out?
Check in is at the Carriage House, which is the main Guest building at Saratoga Springs.
Online Check-in is available through the My Disney Experience App. Look for the special Online Check-in line at the resort's front desk.
Check-in is at 4pm. Upon arrival head to the front desk to check-in. Rooms are not guaranteed to be available until 4pm, but you can request Early Check-in when you do Online Check-in.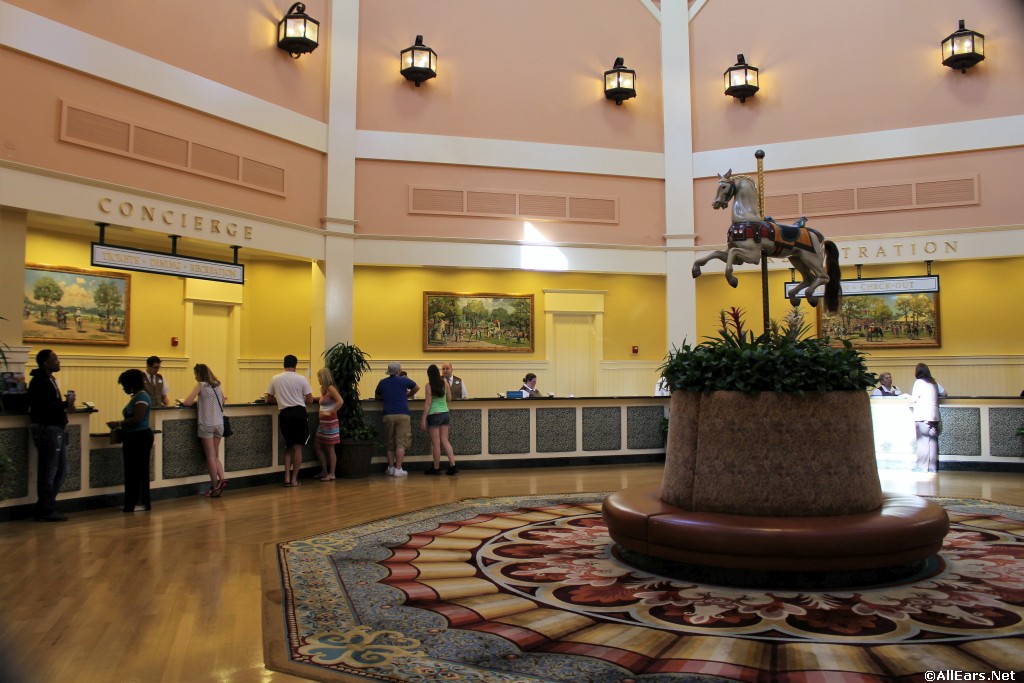 Early check-in allows you to leave luggage with bell services, get your Magic Bands (if you don't already have them) and head off to the parks or relax around the resort. You will be get a notification on My Disney Experience when you Room is ready. You will then be given your room number and your Magic Band will open your door! You can also use the app on your phone to open your door.
Check-out time is 11am. Express Check-out is available to all guests paying with a credit card, arrange for this service at check-in. A detailed hotel bill is delivered to your door by 7am. If the bill is correct you simply leave. Your Magic Band serves as a Disney souvenir. Late Check-out of noon can be requested without additional cost (very limited availability). If you need Late Check-out, request it at Check-In and as soon as possible the morning of check out (the number of eligible rooms are limited).
Resort Airline Check-In Service at your Disney resort is only available if you are flying domestically (includes Puerto Rico) on specific airlines It is a complimentary (free) service and allows you to check your luggage.
I hear that there are no more room key cards at Disney resort hotels. How do I get into my room?
Walt Disney World has converted their room keys and admission tickets from plastic cards to MagicBands, flexible plastic wristbands, resembling a watch or bracelet, that use Radio Frequency (RF) technology. Your MagicBand is linked to your My Disney Experience (MDE) account and acts as your Disney resort room key. Simply touch the Mickey symbol on your MagicBand to the RFID reader near your room door to gain entry. Read about using MagicBands for park admission, FastPass+ and more HERE.
How do I get around Walt Disney World?
Bus Stops are located around the resort, making it easy and convenient from your room. Complimentary buses are available to take you to the Theme Parks and Water Parks.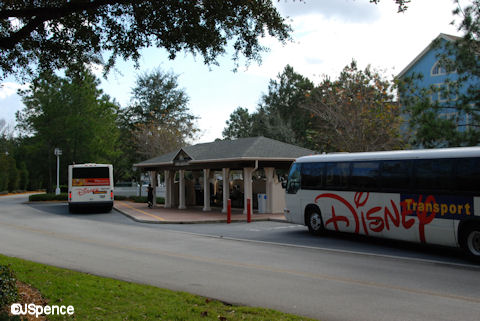 Note that while the bus stops are conveniently located near the buildings, they buses will likely do loops around the resort before or after picking you up. Make sure you factor extra time for then when traveling.
To get to Disney Springs, you can either take a boat or walk. The boat launch is located near the Turf Club.
How does the Housekeeping work at a DVC resort?
When you arrive at your room, a standard compliment of towels, soap, shampoo, laundry soap and coffee are in the villa. Persons staying on DVC points do not have daily housekeeping. If you are staying on "cash" you do have daily housekeeping!
If you are staying 7 nights or fewer, you will receive trash and towel service on the fourth day of your stay. Trash will be emptied and towels replaced.
If you are staying more than 8 nights, you will receive full housekeeping on the 4th day of your stay and trash and towel service on the 8th day. On the 12th day you will again receive a full cleaning and if you are there on the 16th day service will be trash and towel.
You are able to request additional supplies for a fee. Approximately $1 for laundry soap, $6 for towels, $5 for soap and shampoo and $5 for coffee.
If you are staying on points and would like to pay for daily housekeeping service please call housekeeping and provide 24 hour notice. As of August 2009, a full clean for a Studio is $30, One Bedroom $45, Two Bedroom $60 and a Grand Villa $75. If you wish trash and towel service for a Studio $15, One Bedroom $20, Two Bedroom $25 and a Grand Villa $35.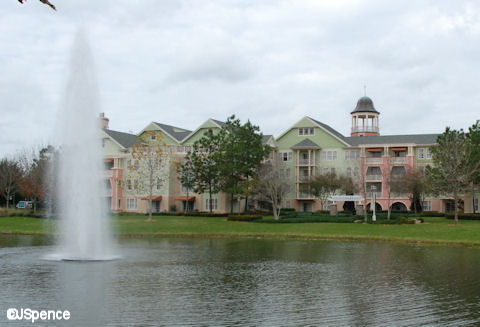 What about Dining and Shopping?
Artist's Palette is the eatery, grocery, and market. It is located in the Carriage House and offers counter service dining, snacks, and merchandise. It is open for breakfast, lunch, and dinner.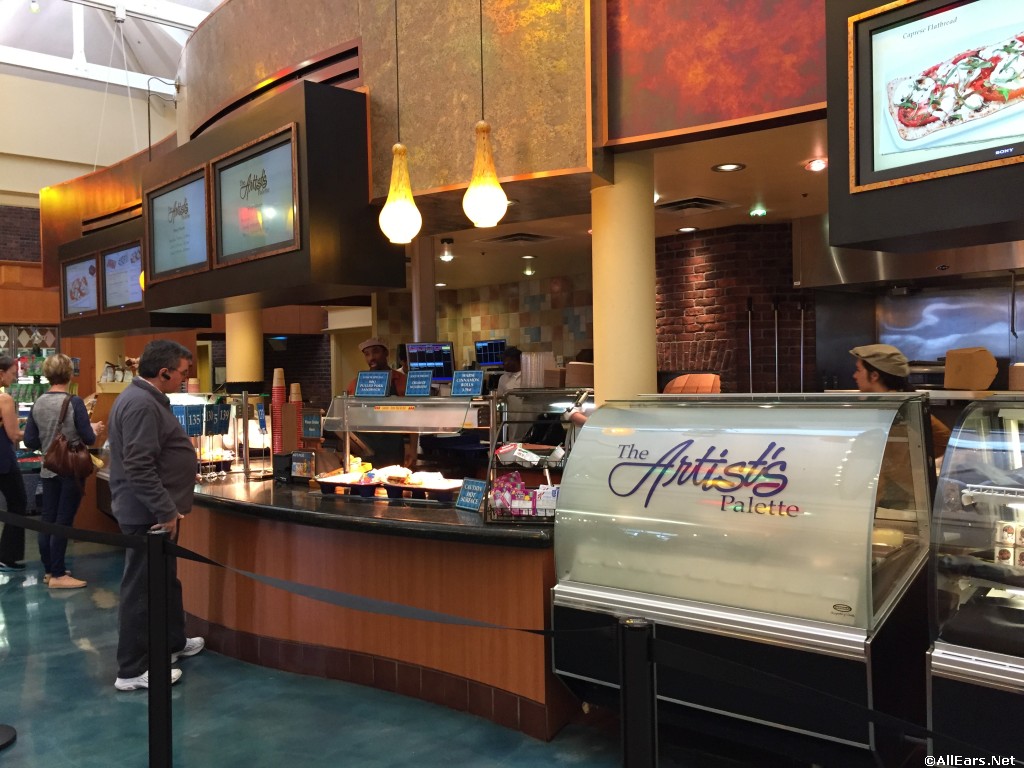 There are both prepackaged (ready to go) and fresh-made foods, including salads, soups, sandwiches,flatbreads, and desserts..You can either take food back to your villa, sit in the indoor seating area, or grab and go pool-side.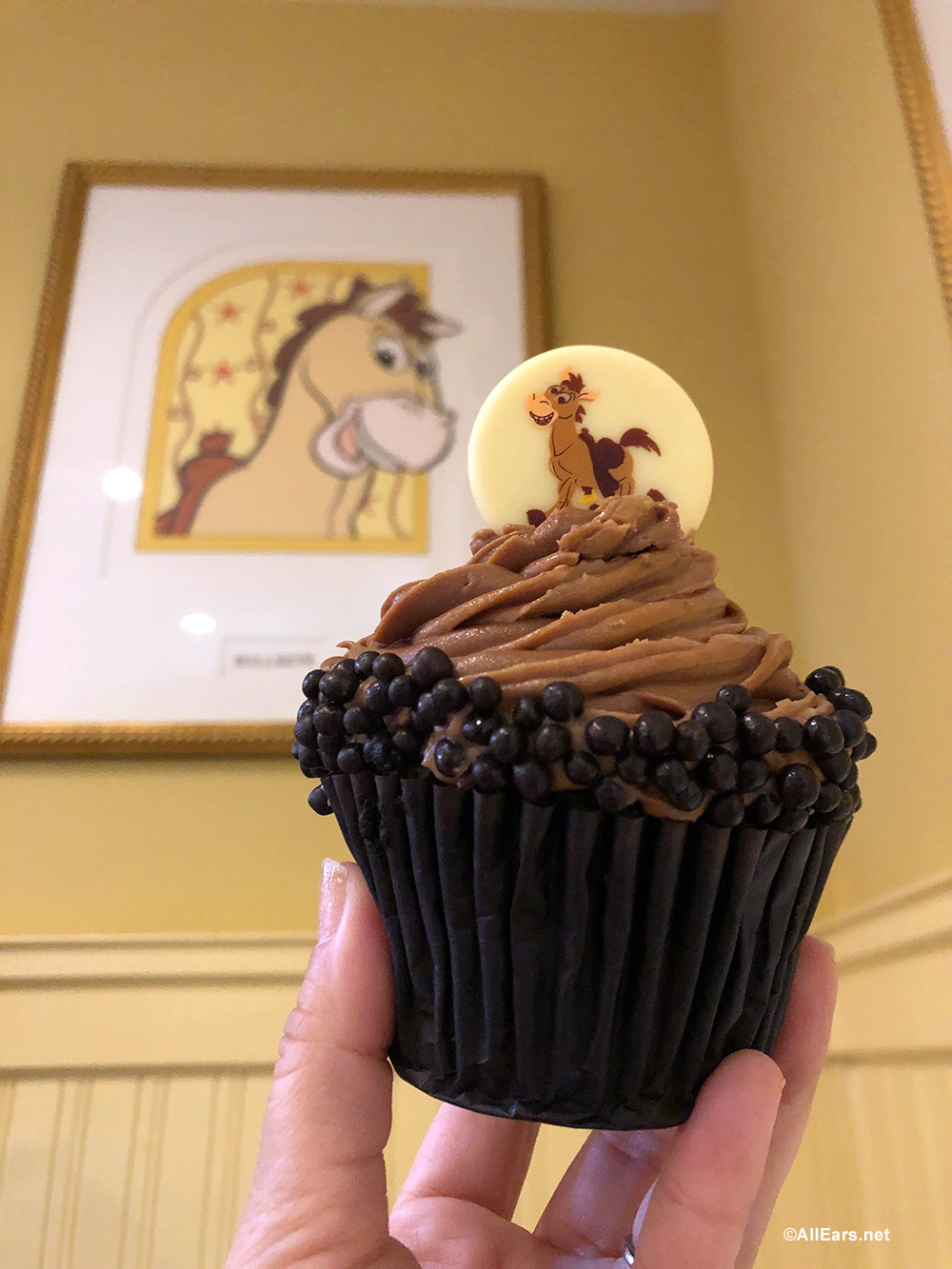 Merchandise items include: Men's and women's resort wear, logo merchandise, grocery items (including milk, juice and soda, snack items, cereal, beer, wine, liquor), character merchandise, plush toys, books, magazines, newspapers, infant supplies, jewelry, sundries, film.
Packages delivered from the parks can be picked up at the gift shop.
The Turf Club Bar and Grill is a casual table service restaurant serving dinner with seating inside and out. It is inside the Carriage House located near Artist's Palette and also offers a lounge that features a billiard table, casual seating and large screen TV.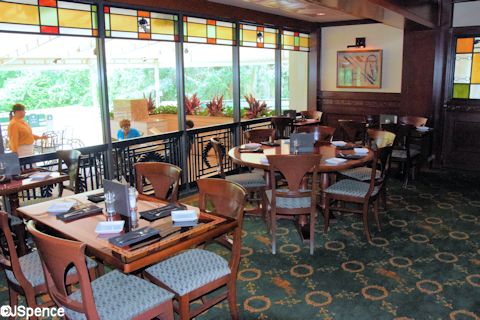 Paddock Grill : Located at the Paddock Pool and is a quick service walk up counter that serves burgers, sandwiches, and other light bites as well as cocktails and beer. They are open for breakfast, lunch, and dinner.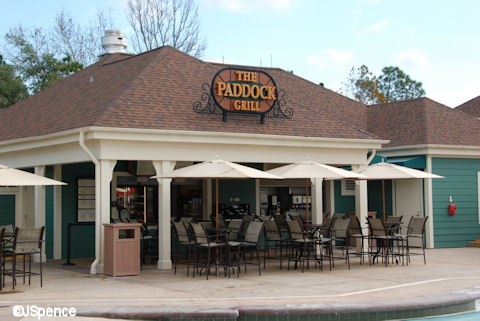 Backstretch Pool Bar is open seasonally with limited food and beverage service located near one of the leisure pools.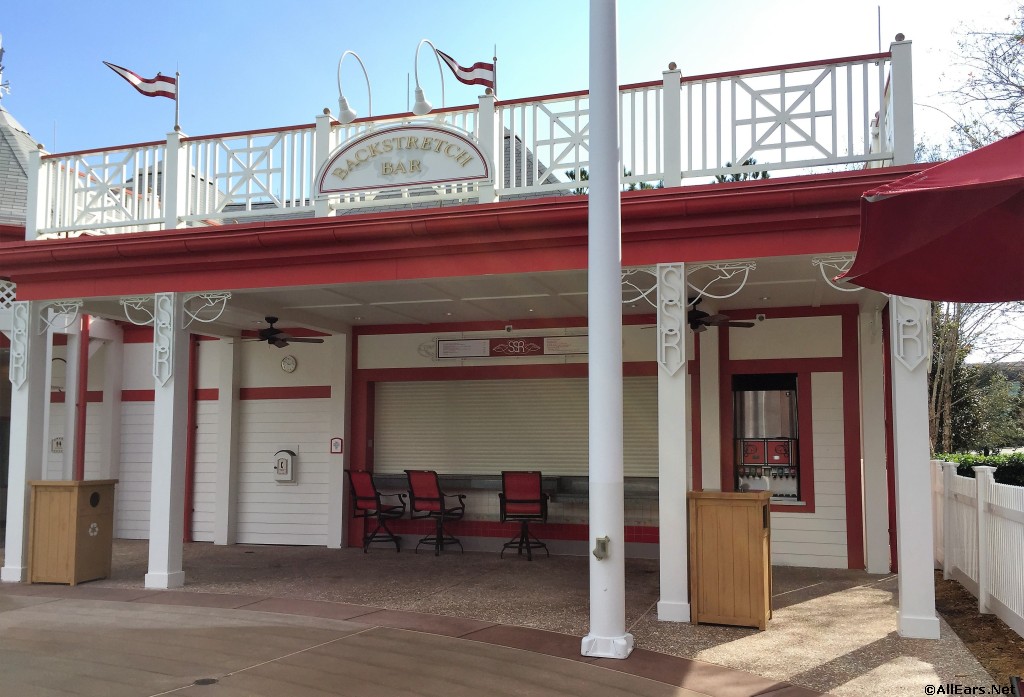 On-the-Rocks Pool Bar is located at the main pool, the High Springs Pool. They serve a wide array of beverages, and while they don't serve food, you can order pool-side delivery from Artist's Palette from the bartender.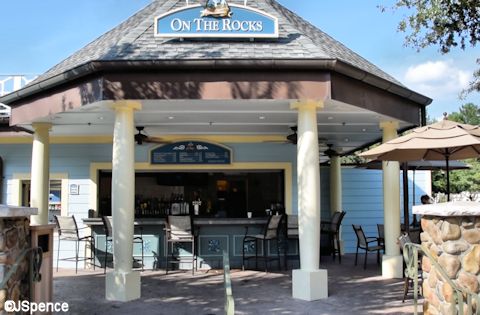 Pizza delivery is available from the Sassagoula Pizza Express for dinner and late night.
What are Rapid Fill Mugs?
The Rapid Fill beverage program allows Disney Resort guests to buy (or receive as part of the Disney Dining Plan) a resort mug that can be refilled for a certain period of time as designated at time of purchase. These mugs are enhanced by an RFID bar code that enables the mug to deactivate when the designated time is complete. Read more about Rapid Fill Mugs here.
What are the Saratoga Springs Pools LIke?
The main pool is called the High Springs Rocks Pool. There is a slide with twists and turns through the rock work, which passes under a bridge and then empties into the pool. There are two whirlpool spas and a zero entry.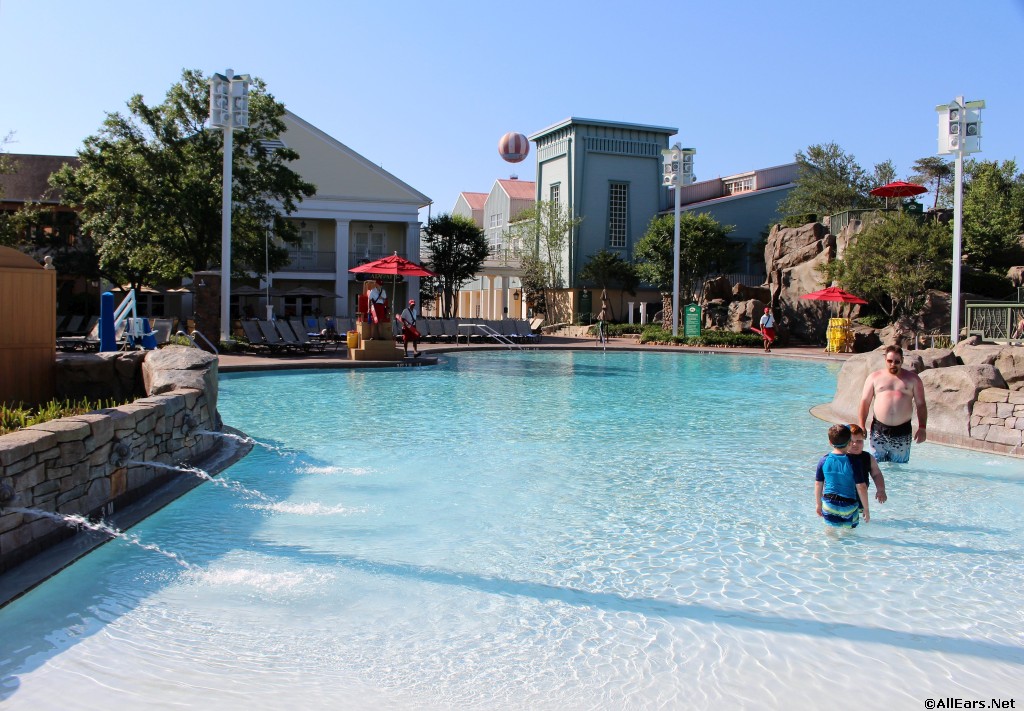 There is a children's themed interactive wet play area with pop-jet fountains.
The second largest pool is the Paddock Pool. It has a smaller slide and kid's play area.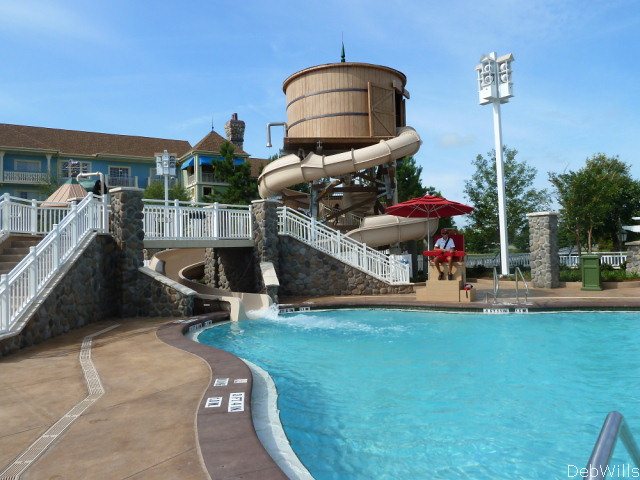 There are 3 "Quiet" leisure pools are also at the resort near the clusters of resort room buildings.
What other types of recreation are available?
Be sure to pick up a Recreation Activities sheet at check-in or lobby concierge. These are generally printed monthly and have various activities listed for each day of the week. Pool-side movies are available on select nights!
Playgrounds and BBQ areas are located near the leisure pools.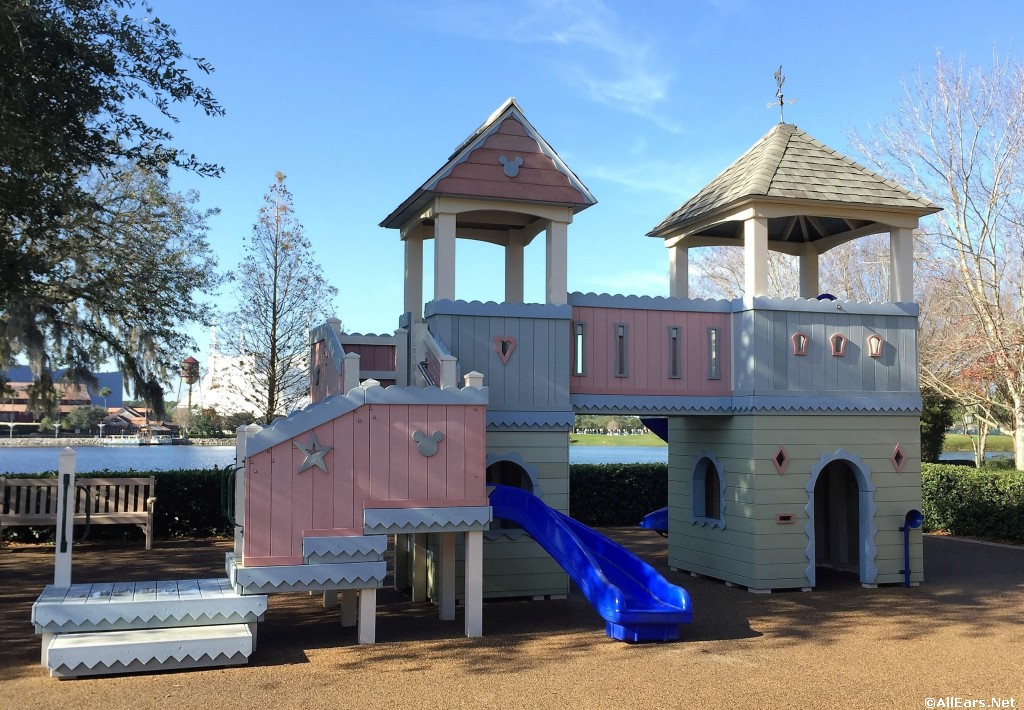 Horsing Around Rentals, located at the lower end of the High Rock Spring pool, rents bikes and surrey bikes, as well as tennis, basketball and shuffleboard equipment. Its hours are generally 9 a.m. to 9 p.m., but are subject to change seasonally.
NOTE: Must be 18 years old to rent and drive surrey bikes; must have legal guardian 18 or older to sign waiver for bike rentals.
Information about Fishing Excursion, Specialty Cruises, Water Sports and additional recreation offerings is also available at Horsing Around rentals.
You can also rent DVDs at the Horsing Around Recreation Rentals (no charge for DVC members).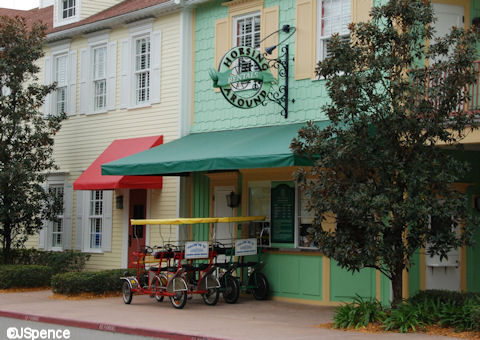 Tennis courts are located near the Carriage House and are typically open 9 a.m. to 10 p.m.
Win, Place or Show is the arcade, located near the main themed pool, and it's usually open 8 a.m. to 10 p.m.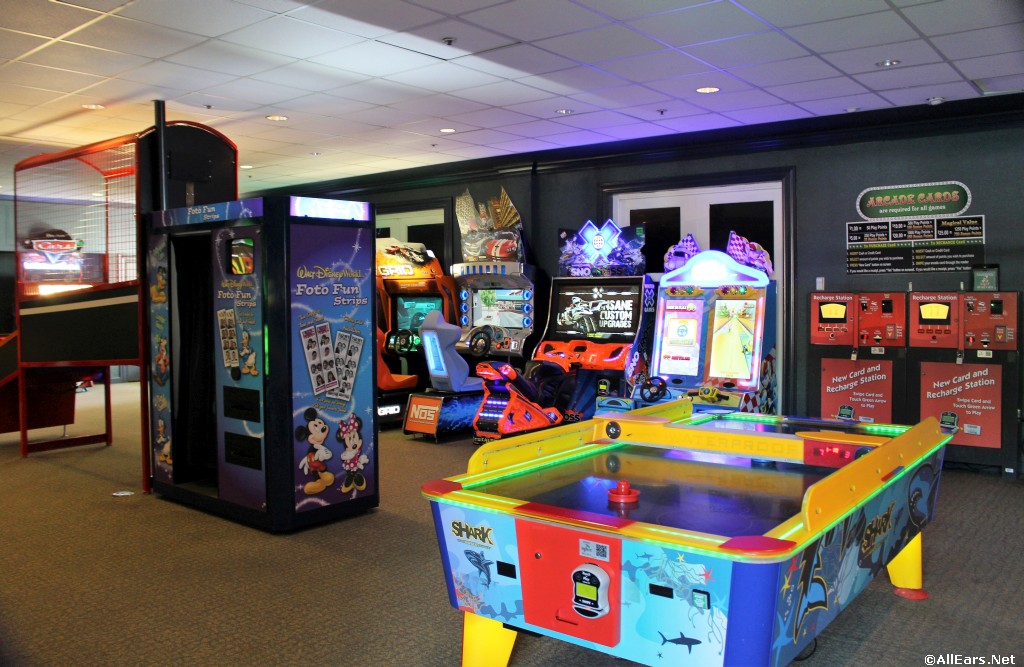 There's a golf course near by?
Yes! The Lake Buena Vista Golf Course is right next to Saratoga Springs. In fact, you'll be able to see the course throughout the resort.
The Pro-shop is located underneath the Turf Club Restaurant, where you can purchase golf apparel and equipment, rent clubs and golf carts, and pick up snacks for the golf course.
If you're interested in golfing at Disney, it's highly recommended to book your Tee Times in advance by calling 407 WDW GOLF.
For more information on Disney Golf, check out our Golf Page.
What about the spa?
The Spa at Disney's Saratoga Springs offers a full range of services in the tradition of the healing spas found in upstate New York, from facials and massages to manicures and pedicures. There is also a fully equipped fitness center. You can call the Spa to arrange for an in-room massage.
For more information on Disney's Spa Services, check out this page.
To go on a tour of Saratoga Springs, and check out what the resort has to offer, check out this AllEars TV Video!
Where is Saratoga Springs Located?
Disney's Saratoga Springs Resort & Spa
1960 Broadway
Lake Buena Vista, FL 32830
To get to Saratoga Springs from the Orlando airports, visit our Driving Directions page HERE.
Phone: 407-827-1100 (8-293-1100)
Fax: (407) 827-4444
Room Reservations: 407-W-DISNEY (407-934-7639)
Other information about Saratoga Springs:
Phase I opened May 17, 2004 with 184 vacation homes, the check-in lobby, dining/merchandise areas, the Spa, and boat/bus transportation. Phase II saw the opening of an additional 368 units in 2005. Phase III opened in 2007 bringing the total number of units to 828, making it the largest DVC property to date. The Treehouse Villas opened June 2009.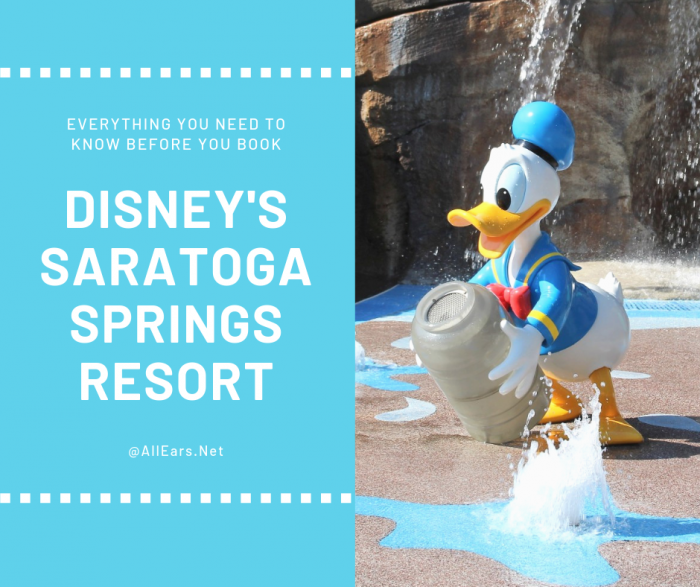 Overview
Phone: 407 827-1100
Address: 1960 Broadway, Lake Buena Vista, Florida 32830
Transportation Options (2)
Activities & Recreation (8)
Playground
Splash Playground
Arcade
Running Trail
Poolside Movies
Tennis Courts
Gym
Health Spa
Room Options (9)
Deluxe Studio
Deluxe Studio - Preferred
1 Bedroom Villa
1 Bedroom Villa - Preferred
2 Bedroom Villa
2 Bedroom Villa - Preferred
Treehouse Villa
3 Bedroom Grand Villa
3 Bedroom Grand Villa - Preferred