Spas, Salons, Health Clubs/Fitness Centers at the Walt Disney World Resorts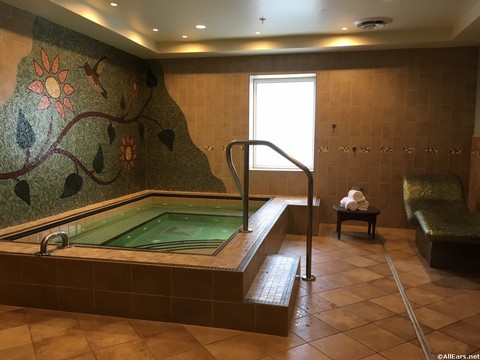 The Spas, Salons and Fitness Clubs at Walt Disney World Resorts are operated by Disney. (They were previously operated by Niki Bryan, Inc.) In addition to two full-service spas, there are a number of fitness centers and salons located throughout the Walt Disney World deluxe and moderate resorts.
The Mandara Spa at the Walt Disney World Dolphin is owned and operated separately.
Spa services generally include massage, facials, manicures, pedicures, body treatments; children's services; couples' services. Spa hours are generally 8 a.m. to 7 p.m., by appointment.
AGE REQUIREMENTS — For guests 4-12 years there are selected treatments to introduce a healthy lifestyle. Guests 12 years and older are welcome to receive Spa treatments. Guests under 18 years must be accompanied by an adult while in the Spa and during massage, water or body treatments.

GIFT CERTIFICATES may be purchased at the Spa reception desk. Phone and mail orders are accepted by calling 407-824-2332.

CANCELLATION POLICY — Not canceling appointments four (4) hours in advance will result in a cancellation fee per service. Packages require a 24-hour notice to avoid charges. No-shows will be charged the full value of the treatments reserved.
Salon services generally include: Hair cut, color and up-dos. Men's services include haircuts and trims. Children's services available. Manicures, pedicures and hair services are available at all salons. Salon hours are generally 9:00 a.m. – 6:00 p.m. daily; appointments recommended.
Fitness Centers feature a full line of state-of-the-art exercise equipment and free weights. Personal training is available in each fitness center. Usage is available at no additional charge for resort guests 14 and over. Those 14-17 must be accompanied by parent or guardian. The purchase of a spa treatment includes use of the adjacent fitness center for the day of treatment. Personal Training is available upon request, 24-hour notice required. Hours are generally 6 am to 9 pm.
FULL SERVICE SPAS:
Senses Spa at Disney's Saratoga Springs Resort & Spa — Guests of Senses Spa at Disney's Saratoga Springs Resort can choose from a wide array of specialty skin and body-care treatments designed to relax, renew and invigorate the body. Inspired by the celebrated spring waters of Saratoga and a variety of healing elements found in nature, popular treatments include a maple sugar body polish, Adirondack stone therapy massage, mineral springs hydrotherapy treatment and a rosemary spring therapeutic bath.

A rich body masque of essential oils and natural clay with trace minerals, followed by a thermal wrap, a cool shower and a massage, are part of the aromatherapy treatments that use aromatic botanical essences to stimulate the senses and aid relaxation.

Personalized treatments include:

Massage therapies: Release tension and boost circulation with a heated stone massage or the spa's signature treatment — the Mystical Forest — a combination of reflexology and Swedish massage.
Hydrotherapy treatments: Unique to this spa, guests can wash away stress, hydrate and heal with hydrotherapy treatments featuring various herbs, salt scrubs and essential oils.
Body treatments: Considered by some to be the ultimate spa therapy, body treatments include a paraffin treatment, herbal body scrub, and a marine algae masque and wrap.
Facials: Choose from a selection of cleansers, moisturizers and masques that help balance, purify and replenish the skin.
Hand and foot treatments: Polish off your beauty regimen with a relaxing manicure, pedicure and paraffin treatment.
Children's massages, mini facials, manicures and pedicures are available.

Treatments can be selected individually or in a variety of packages. The 12,600-square-foot Spa at Disney's Saratoga Springs Resort features private treatment rooms and separate locker facilities for men and women. Both locker areas include a steam room, sauna and indoor whirlpool.

Guests can reserve spa treatments by calling 407/827-4455.

Senses Spa at Disney's Grand Floridian Resort — This spa is a sanctuary for the mind, body and spirit with full-service pampering and wellness offerings designed to engage all the senses. Some 15 treatment rooms offer all the indulgences you would expect from Disney — from water therapy and sugar exfoliation treatments to citrus facials and couple's massage.

Step through a Victorian-style entryway past a lavish mural of old Florida and escape to a timeless haven of pampering and relaxation, where scented elixirs, calming lighting and comforting music invite you to break away from the everyday. Utilizing therapeutic and revitalizing techniques, Senses – A Disney Spa boasts a soothing confection of unique therapies — facials, massages, body wraps and aromatherapy — designed to elevate the mind and have you looking and feeling your best.

Treatments can be selected individually or in a variety of packages. The spa features private treatment rooms, a couple's treatment room and lounges. Both women's and men's locker areas include a steam room, sauna and indoor whirlpool.

Guests can reserve spa treatments by calling (407) WDW-SPAS or (407) 939-7727.

Mandara Spa at the Walt Disney World Dolphin — The Mandara Spa blends the unique Walt Disney World Swan and Dolphin architecture with Mandara's signature Balinese style to provide a fresh and original setting where guests can indulge in world-class pampering and beauty services.

Guests at the Mandara Spa will find their senses aroused from the moment they enter this unique respite. Two beautiful interior gardens provide an exotic retreat for relaxation prior to spa rituals. Gracious massage therapists escort their guests to soothing treatment rooms, where time stops and blissful treatments begin.

A massage at Mandara includes The Ten Cultural Touches of Elemis, a new sequence of massage movements inspired by an exotic blend of cultures and techniques. Elemis, Mandara's signature product line, was created in 1990 as a lifestyle brand of aromatherapy products, emphasizing holistic treatments using essential plant oils and marine extracts mixed in natural bases.

The Mandara Spa at the Walt Disney World Swan and Dolphin offers an array of healing treatments, such as:
Swedish Massage
Balinese Massage
Reflexology
Elemis Aroma Stone Massage
Deep Tissue Massage
Nurturing Massage
Novalash – Eye lash extensions

Ionithermie Cellulite Reduction Treatment
Elemis Cellutox Aroma Spa Ocean Wrap
Elemis Musclease Aroma Spa Ocean Wrap
Traditional Javanese Lulur
Exotic Frangipani Body Nourish Wrap
The following is a chart showing the all the resort spas, salons, and health/fitness centers on Disney property.
RESORT
SALON
SPA/FITNESS CENTER
SERVICES AVAILABLE
Animal Kingdom Lodge/Villas
Animal Kingdom Villas: Survival of the Fittest Fitness Center

Animal Kingdom Lodge: Zahanati Massage & Fitness Center

407-938-4715

Sample spa services:
Swedish Massage 50 & 80 minutes $115/$175; Custom Facial $140

Full line of Cybex equipment, including a Smith machine. The cardiovascular area has Life Fitness Treadmills, Stairmasters and Bicycles (regular and recumbent).

Boardwalk Inn and Villas
Muscles and Bustles Massage and Fitness Center

407-934-2370

Sample spa services:
Swedish Massage 50 & 80 minutes $115/$175; Custom Facial $140

Massages by appointment only.

Fitness center has free weights, Life Fitness, Stairmaster and Cybex exercise equipment. Also available are: steam room, sauna, tanning bed.

Contemporary
Olympiad Massage and Fitness Center
Cybex and Life Fitness machines. Treadmills, bicycles (regular and recumbent) and ellipticals are available to Guests looking for a cardiovascular workout. For those wanting to pump some iron, free weights and weight machines are also on site.
Coronado Springs
La Vida Salon

407-939-3965

La Vida Massage and Fitness Center

407-939-3030

Fitness center has full line of strength equipment, free weights and cardiovascular machines, including treadmills, stair steppers and stationary bicycles (upright and recumbent).
Grand Floridian Resort and Spa
Ivy Trellis

407-824-3000 ext. 2581

Character Couture Packages for Guests of all ages.

Storybook Style: $50 (child ages 4 to 12); $80 (adult) Classic character-inspired hairstyle
Magical Makeover: $75 (child ages 4 to 12); $105 (adult) Classic character-inspired hairstyle and makeup
Timeless Transformation $90 (child ages 4 to 12); $120 (adult) Classic character-inspired hairstyle, makeup and nails

Senses
Spa and Health Club

407-824-1840

or

407-WDW-SPAS

Hours: 8 a.m. to 8 p.m.

Sample services:
Sample spa services:
Swedish Massage 50 & 80 minutes $115/$175; Custom Facial $140

Health club features Treadmills . Stair steppers . Upright and recumbent cycles . Elliptical cross trainers . Life Fitness and Precor® full-circuit of strength equipment . Smith machine . Cable crossover . Free weights

Old Key West
The Fitness Center at R.E.S.T. (Recreation Exercise Swimming Tennis) Beach. Massages are available by appointment at Slappy Joe's Massage Room.
Fitness center features treadmills, cardiovascular and strength training equipment, locker rooms, showers and a sauna, and is open daily from 6:30 a.m. to midnight.
Polynesian Village
No health club on site, but guests at this resort may use the Grand Floridian's facilities.
Saratoga Springs Resort and Spa
Senses Spa at Disney's Saratoga Springs

407-827-4455

Sample services:
Sample spa services:
Swedish Massage 50 & 80 minutes $115/$175; Custom Facial $140
Shades of Green
Fitness Center
Walt Disney World Dolphin
Health Club and
Mandara Spa
Dry Saunas
Co-Ed Whirlpool
LifeFitness Strength Equipment
Free-weights
Stairclimber
Treadmills
Life Cycles
Elliptical Crosstrainers
Tennis Racquet Rentals

Use of the Health Club is included in the Resort Service Fee and is available for guests age 16 and older.

Mandara spa offers massage, facials, manicures, pedicures, body treatments and some salon services. Services and prices HERE.

Walt Disney World Swan
Health Club
LifeFitness Strength Equipment
Free-weights
Stairclimber
Treadmills
Life Cycles
Elliptical Crosstrainers
Tennis Racquet Rentals

Use of the Health Club is included in the Resort Service Fee and is available for guests age 16 and older.

Wilderness Lodge/Boulder Ridge and Copper Creek Villas
Sturdy Branches Health Club

407-938-4222

Fitness center feature the latest in fitness equipment: treadmills, ellipticals, bicycles (regular and recumbent) and stair climbers. The weight room includes weight machines and free weights. End a workout in the sauna.

Sample spa services:
Swedish Massage 50 & 80 minutes $115/$175; Custom Facial $140

Yacht and Beach Club/Beach Club Villas
Ship Shape Salon

407-934-3260

Special Occasion/Bridal Hair and Makeup Packages.

Character Couture Packages for Guests of all ages.

Storybook Style: $50 (child ages 4 to 12); $80 (adult) Classic character-inspired hairstyle
Magical Makeover: $75 (child ages 4 to 12); $105 (adult) Classic character-inspired hairstyle and makeup
Timeless Transformation $90 (child ages 4 to 12); $120 (adult) Classic character-inspired hairstyle, makeup and nails

Ship Shape Massage and Fitness Center

407-934-3256

Equipment includes Nautilus, Hammer Strength and aerobic machines as well as a spa, steam room, sauna and massage therapy. Massages by appointment only.

Sample spa services:
Swedish Massage 50 & 80 minutes $115/$175; Custom Facial $140