Walt Disney World's Spas, Salons, Health Centers, and Fitness Centers
The Spas, Salons, Health Clubs, and Fitness Clubs at Walt Disney World Resorts are operated by Disney, with the exception of The Mandara Spa at the Walt Disney World Dolphin. In addition to two full-service spas, there are a number of fitness centers and salons located Walt Disney World's Deluxe and Moderate Resorts.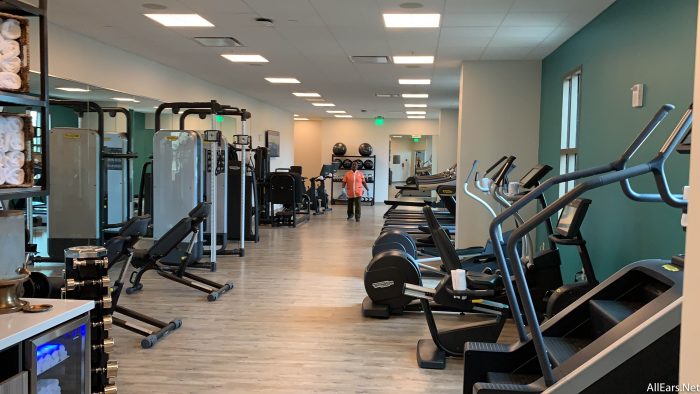 Spa Services
Spa Services can be reserved at two Senses spas. One is located at the Grand Floridian Resort & Spa; the other is located at Saratoga Springs Resort. Coronado Springs has a spa in its La Vida Health Center. Animal Kingdom Lodge has the Zahanati Health and Fitness Center. A fifth spa at the Dolphin is called The Mandara Spa and is operated by Steiner Spa.
Note: the purchase of a spa treatment includes use of the adjacent fitness center for the day of treatment.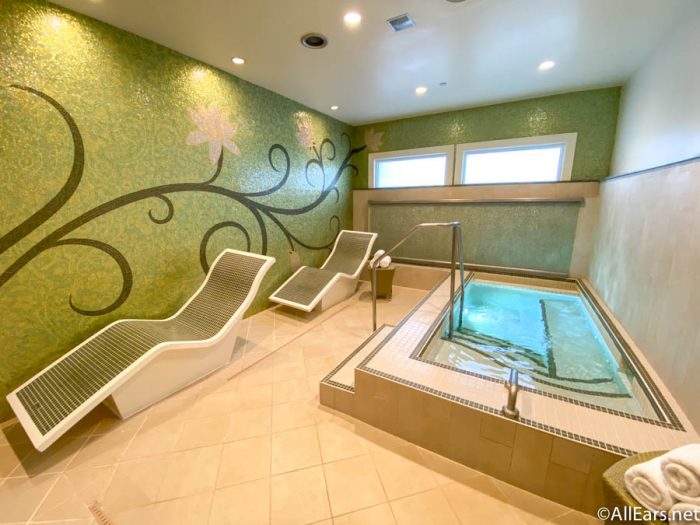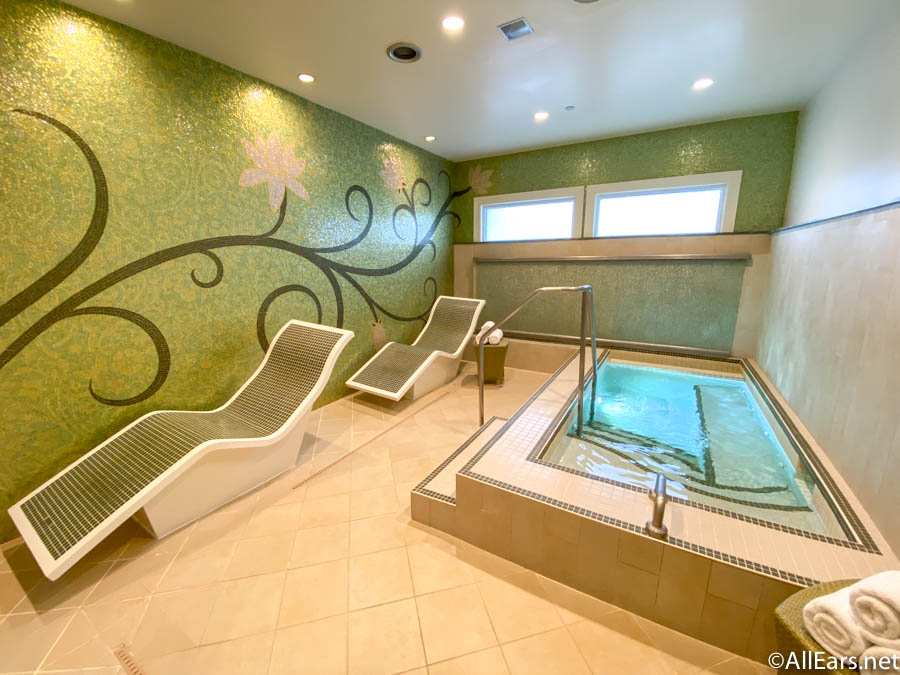 Spa services generally include massages, facials, manicures, pedicures, body treatments; children's services; and couples' services. Spa hours are generally 8AM to 7PM, by appointment. Call  (407) WDW-SPAS for an appointment. Call (407) 934-4772 for The Mandara Spa.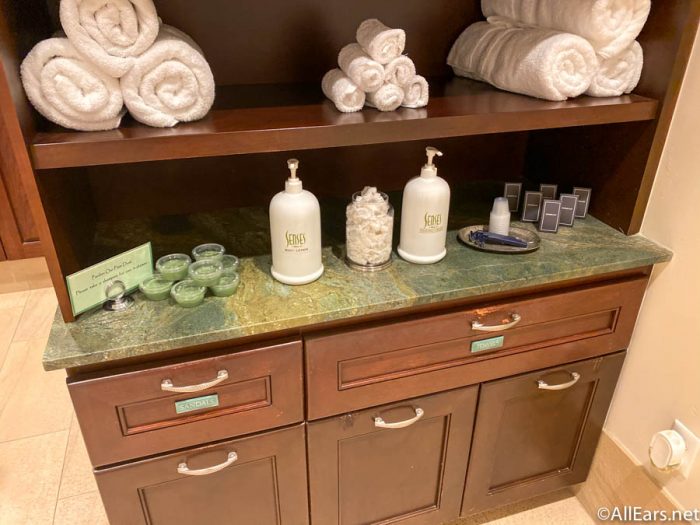 Note that gratuities are included in the price of spa services. Additional gratuities are at the discretion of guests.
Age Requirements for Spa Services
Spa services do have some age requirements.
For guests ages 4-12, some select treatments are designed as an introduction to a healthy lifestyle.
For guests ages 12 and older, all spa offerings are available.
Guests under 18 must be accompanied by an adult while in the spa and during massage, water, and body treatments.
Gift Certificates for Spa Services
Guests can purchase gift certificates at the spas' reception desks or by calling (407) 824-2332.
Spa Cancellation Policy
Guests must cancel spa services within six hours of their appointments, or they'll be charged the full amount for the missed service.
Salon Services
Salon services generally include: hair cuts, coloring, and up-dos. Men's services include haircuts and trims. Children's services are also available. Manicures, pedicures, and hair services are available at all salons. Salon hours are generally 9AM to 6PM daily. Appointments are recommended and can be made by calling (407) WDW-GLAM.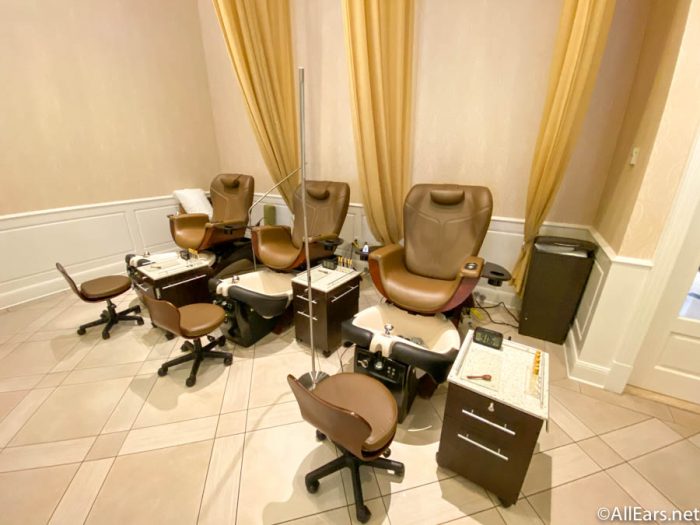 Salons can be found at the Grand Floridian's Senses Spa and Salon, Ship Shape Salon at the Yacht Club, La Vida Salon at Coronado Springs, Salon by the Springs at Wilderness Lodge,  and the Dolphin's Mandara Spa.
Salon Services Pricing
Hair services are priced as such (as of 2/2020):
Lady's haircut and blow-dry: $80 (short); $100 (long)
Gentleman's haircut with shampoo and style: $35
Gentleman's haircut and style: $25
Beard/mustache trim: $15
Child's haircut: $20
Bang trim: $15
Shampoo, blow-dry and style: $55
Express style (i.e. simple braids): $25
Blow out: $45
Hair chemical services: $90 and up based on consultation
Haircut with chemical service: $45
Special occasion/bridal hair and makeup packages: call for pricing
Character Couture
Character Couture is a service provided for guests of all ages who wish to "express [their] individual style" and receive styling and makeovers inspired by Disney characters. Pricing as of 2/2020 is:
Hairstyling: $75 ($60 for Guests 12 years and under)
Makeup: $50 ($40 for Guests 12 years and under)
Nails (add on): $20 ($15 for Guests 12 years and under)
In-Room Services: Additional fee of $25 per reservation
Character Couture can be found at the following locations:
The Salon at Disney's Grand Floridian Resort & Spa
Salon by the Springs at Disney's Wilderness Lodge
La Vida Salon at Disney's Coronado Springs Resort
Ship Shape Salon at Disney's Yacht & Beach Club Resort
In-room services are offered for an additional fee at participating Walt Disney World Resort hotels.
Fitness Centers
Fitness Centers feature a full line of state-of-the-art exercise equipment and free weights. Personal training is available in each fitness center. Usage is available at no additional charge for resort guests 14 and over. Those 14-17 must be accompanied by a parent or guardian. Personal Training is available upon request, 24-hour notice required.
Fitness Centers are accessible 24 hours a day to resort guests who will scan their MagicBands to gain access.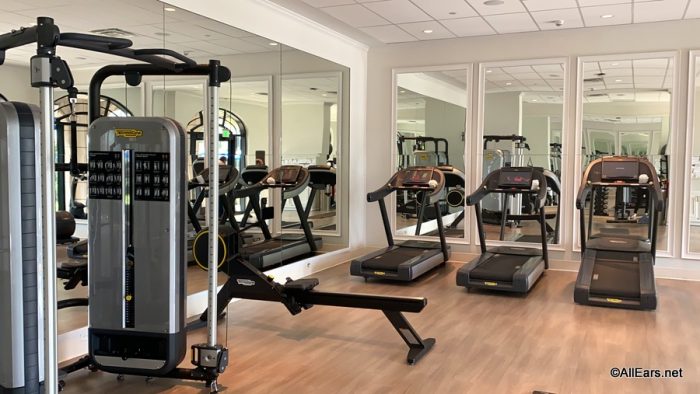 Athletique Fitness Center at Riviera Resort
La Vida Health Club and Fitness Center at Coronado Springs Resort
Fitness Center at Coronado Springs' Gran Destino Tower
Muscles and Bustles Health Club at BoardWalk Inn & Villas
Old Key West Exercise Room at Old Key West Resort
Olympiad Fitness Center at Contemporary Resort
Ship Shape Fitness Center at Yacht & Beach Club Resorts
Sturdy Branches Health Center at Wilderness Lodge
Zahanati Massage & Fitness Center at Animal Kingdom Lodge