Disney's Art of Animation Resort — Value Resort — Walt Disney World
Disney's Art of Animation Resort brings animated favorites to a larger-than-life format, creating distinct environments as seen in some of our favorite Disney and Pixar films.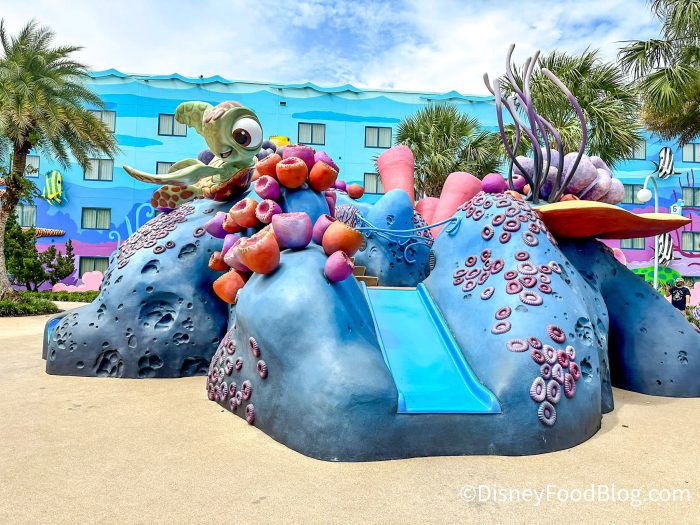 Art of Animation Resort Highlights
Features Disney animation-themed buildings and amenities
One of only a few Disney Resorts that have family suites
Located on the Skyliner line of transportation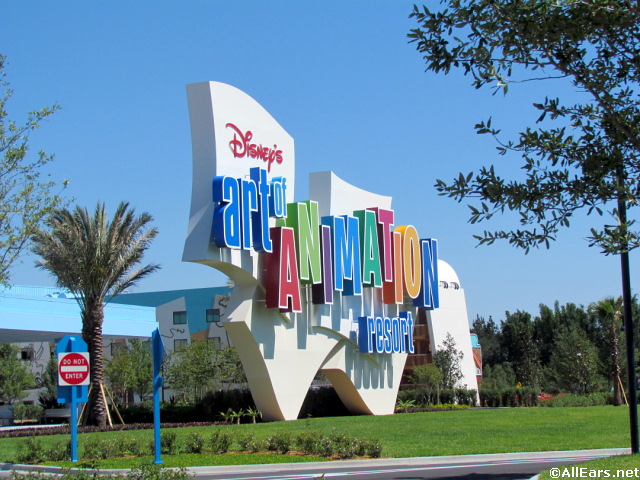 Art of Animation Resort Basics 
The Art of Animation began its phased opening on May 31, 2012, and continued through September 15, 2012. The Resort has nearly 2000 family suites with themed room interiors and 864 standard rooms in The Little Mermaid (non-suite) wing.
The Art of Animation Resort is located in the area that was originally planned to be the Legendary Years section of Pop Century. The Little Mermaid section of Art of Animation is located where the first Legendary Years buildings had originally been built.
Animation Hall is the Resort's main building with front desk, concierge, the Ink & Paint Shop, Landscape of Flavors food court, amenities like ATMs and phones, and an arcade.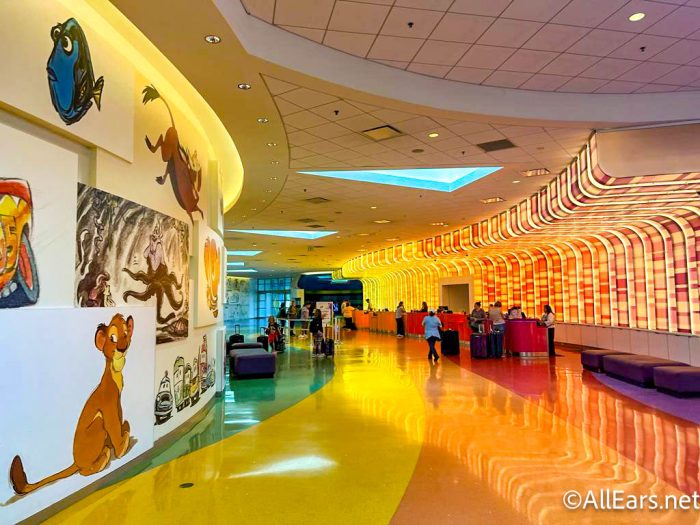 Room Types
The Little Mermaid Standard Rooms
Designed to accommodate up to four guests (plus a fifth guest, age three or under, in a crib), The Little Mermaid Standard Rooms feature two double beds and a seemingly endless array of imaginative touches inspired by the world of Ariel, Sebastian, and Flounder.
Family Suites
Family suites are designed to comfortably accommodate up to six guests (seven if an under-three-year-old child is in a crib) in the Finding Nemo, Cars, and The Lion King sections and include:
Two separate bathrooms
A master bedroom
A pull-out couch that converts to a double size sleeper sofa
A work/dining table that includes an Inovabed that can sleep 1 or 2. The table is 3′ x 4′, and the double bed opens to 4.5′ by 6′.
Queen-size bed in the master
Mini-kitchen with microwave, coffee maker, sink, and small refrigerator
Two flat-screen TVs
In-room wall safe
Complimentary WiFi
Hairdryer
Iron and ironing board
Crib available upon request
Wheelchair-accessible rooms are available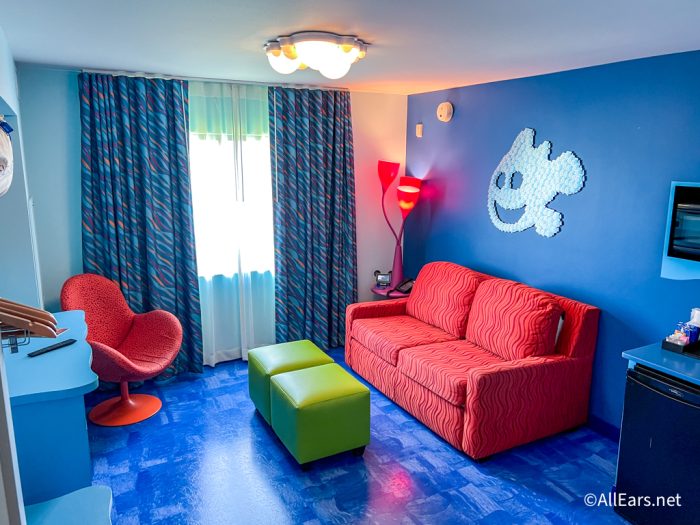 What is the price range for rooms?
Standard rooms have a maximum four-person occupancy per room. There's no charge for children under 17-years-old when in the same room as the adults. If you have more than two adults in the room, there will be a $10 per night charge for each extra adult. Maximum of four per regular room, six per suite, plus a child under three in a crib.
Walt Disney World Resort rates vary by season (there are nine seasons now) and also by day of the week. The holiday season is the most expensive time of the year. It runs from mid-December to early January as well as during Easter week. Higher prices in the range below reflect holiday pricing.
The rates (including a 12.5% tax) are:
Little Mermaid Rooms range from $180 – $330
Finding Nemo Family Suites range from $449 – $771
The Lion King or Cars Family Suites range from $428 – $764
I hear that there are no more room key cards at Disney resort hotels. How do I get into my room?
Walt Disney World has converted their room keys and admission tickets from plastic cards to MagicBands. MagicBands are flexible plastic wristbands, resembling a watch or bracelet, that use Radio Frequency (RFID) technology.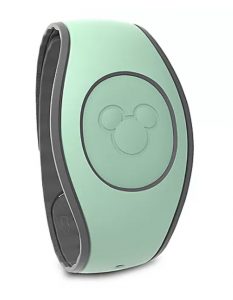 Your MagicBand is linked to your My Disney Experience (MDE) account and acts as your Disney Resort room key. Simply touch the Mickey symbol on your MagicBand to the RFID reader near your room's door handle to gain entry. Read about using MagicBands for park admission, Genie+, and more here.
Can I Bring My Pet to Stay at the Art of Animation Hotel?
Walt Disney World has made four hotels pet-friendly, one of which is Disney's Art of Animation. Read our page on Pet-Friendly Hotel Rooms for more details.
Pets may also be boarded at the Best Friends Pet Care kennel across from Port Orleans Riverside.
Dining
Landscape of Flavors offers Quick Service dining for breakfast, lunch, and dinner. It serves a wide variety of items, from hearty cuisine to healthier fare across five distinctive stations.
This Quick Service venue features:
A menu of traditional food court favorites like pizza and burgers
Better-for-you options, including buckwheat pasta, egg-white frittatas, and low-fat smoothies
Foods with an international flare
Four onstage tandoor ovens that are used for baking naan bread and roasting chicken, shrimp, sausage, and acorn squash
Pizza Delivery is available 4PM to midnight.
Drinks and limited snacks are available at the Drop Off Pool Bar, located adjacent to the Big Blue Pool.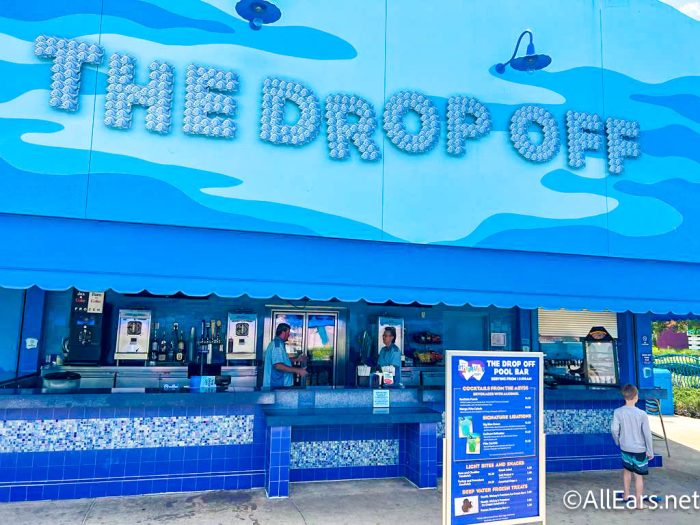 Transportation
One bus stop, located in front of Animation Hall, provides transportation to Disney theme parks, water parks, and Disney Springs.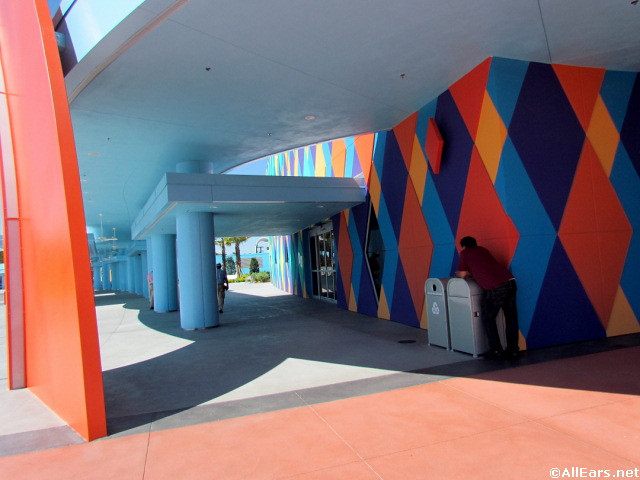 Art of Animation also has a Skyliner gondola system station. This is a station shared with Pop Century, and it's located on Generation Gap Bridge.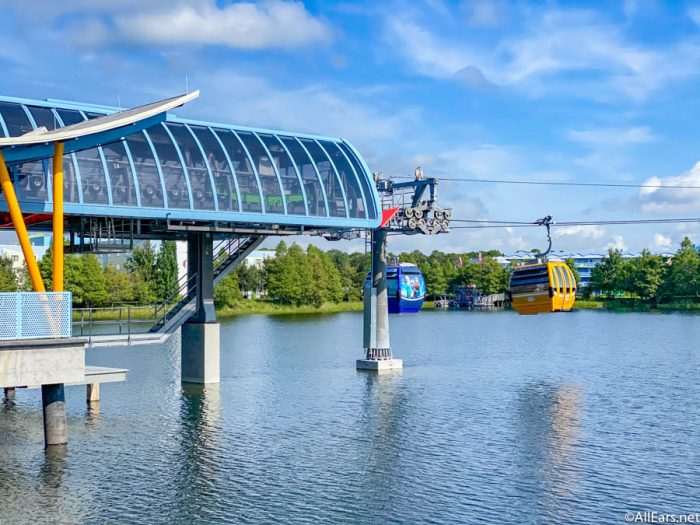 Recreation
Pixel Play Arcade is located in Animation Hall across from the Ink & Paint Shop.
Three swimming pools offer fun and refreshment. The largest, The Big Blue Pool, is located in the Finding Nemo courtyard and features a pool bar (the Drop Off Pool Bar).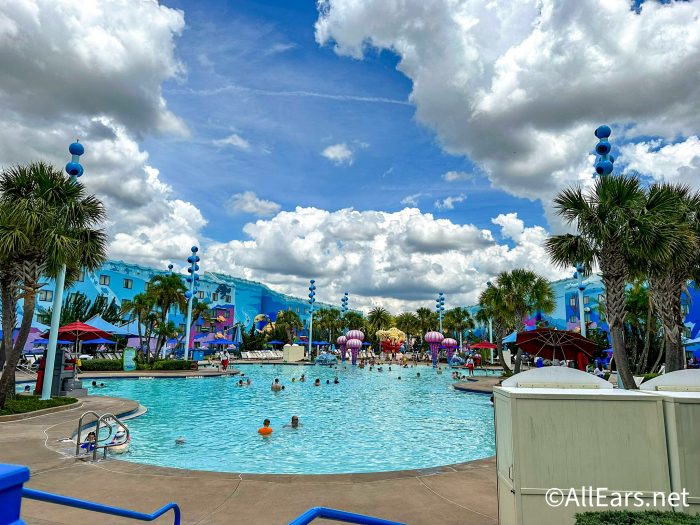 Two smaller pools, located in the Cars (Cozy Cone Pool) and The Little Mermaid (Flippin Fins Pool) courtyards, provide additional refreshment.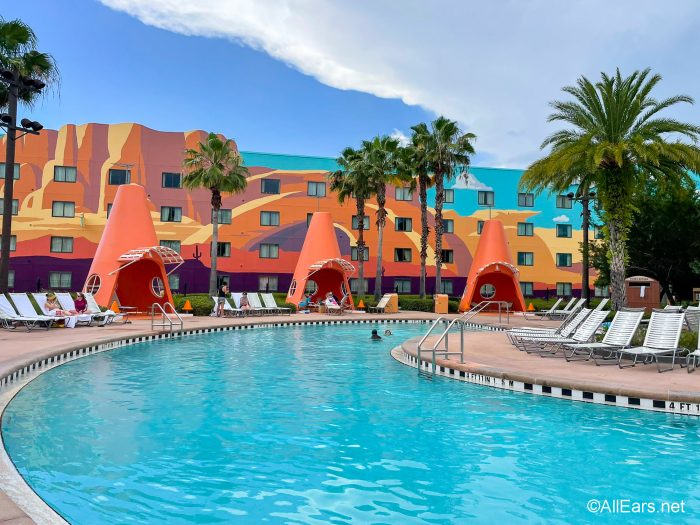 The Big Blue Pool has three sections — the actual pool (swim underwater to hear sounds from Finding Nemo), the School Yard wet play area, and Squirt's Righteous Reef (a play area with no water).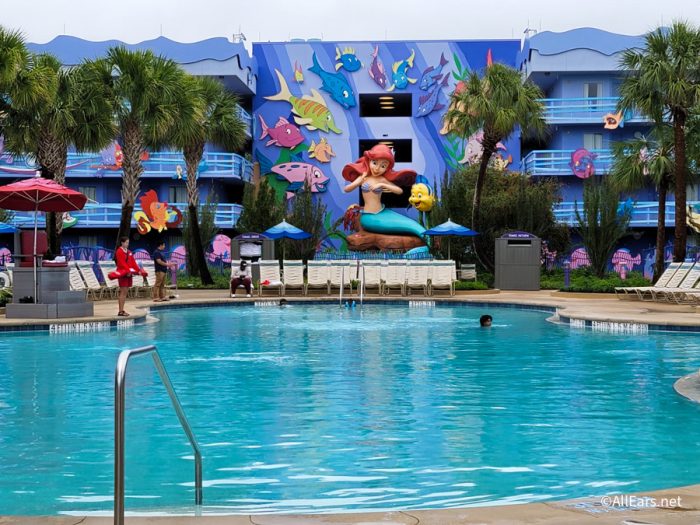 The Lion King area offers a "playground" called the Elephant Graveyard, but it doesn't have much in the way of play equipment.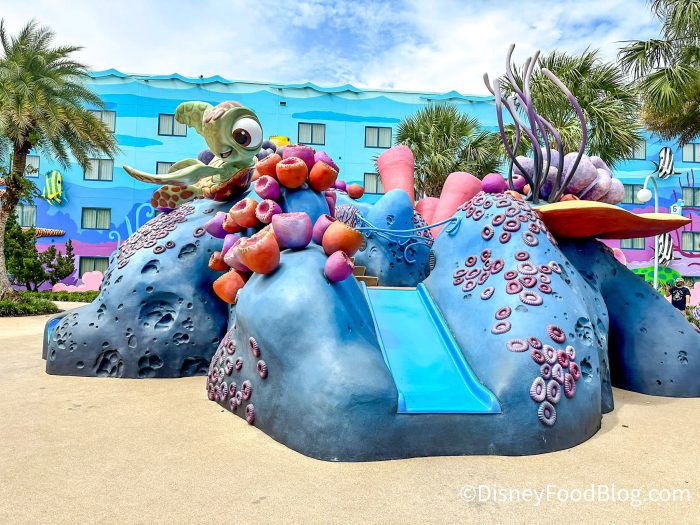 There is a 1.3 mile walking/running trail around Hourglass Lake. Learn more about walking/jogging trails at Walt Disney World here.
Sculptures
The Art of Animation Resort has more sculptures than any other Resort. These make for great — and one of a kind — photo ops. In the Nemo section, Crush and Mr. Ray watch over the pool area. In the Cars section, find your favorite automobile from the movie. In The Lion King area, Rafiki greets guests, and larger-than-life scenes are depicted around and above you. In The Little Mermaid section, see Ursula, King Triton, and Ariel herself!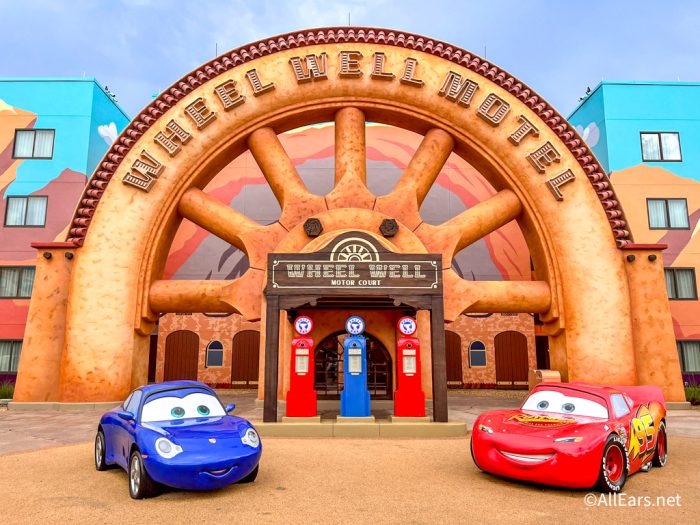 Environmental Enhancements
Guests have the opportunity guests to help save wildlife and nature by contributing to the Disney Worldwide Conservation Fund. The Resort uses energy-saving LED lighting in the Ink & Paint Shop, the Resort's merchandise shop, and other areas of the Resort.
Reusable plates and utensils are provided in the Landscape of Flavors food court (rather than the disposable items typically found in Resort food courts). Recycle bins are located in key locations in the Resort's public areas (the most for any Resort on property), and recycling bins are placed in every guest room.
Environmental information integrated into cast members' overall training and guidelines.
Fun Facts
With an area of 11,859 square feet, the feature pool (called the "Big Blue Pool") in the Finding Nemo wing of the Resort is currently the largest swimming pool at Walt Disney World Resort outside of the water parks. There is also a dry play area called "Squirt's Righteous Reef".
When completed, the new Resort hotel will feature 9,400 doors, which, if stacked flat would be taller than the Empire State Building.
The 227,000 lineal feet of carpet used on the project would be enough to stretch from Orlando to the Kennedy Space Center in Titusville.
Total property size: 87 acres
If you combined all the swimming pools, you could park 125 cars inside the pools.
The flooring in Landscape of Flavors is made from all recyclable materials. And guests will dine with real silverware on melamine, reusable dishware instead of paper and plastic.
Guests can enjoy the convenience of a self-service business center, the first one to be offered at a Value Resort.
The Pixel Play arcade is cashless; guests use a swipe card and can recharge the card at provided recharging stations.
There are over 529,000 square feet of ceramic tiles enough to cover a standard two-lane road four miles long.
There's enough metal railing to wrap around the new Amway Center eight times.
The project used 23,000 gallons of paint, which is enough to fill a typical backyard swimming pool.
There are over 2,300 parking spaces at the Resort.
More than 800 construction jobs were created to build the Resort, and at full operation it creates 750 Resort hotel jobs.
Other Information
On May 12, 2010, the Art of Animation Resort was formally announced by the Walt Disney World Resort.

Disney's Art of Animation Resort, the 26th Resort at Walt Disney World, 
Art of Animation Resort is located at:
1850 Century Drive
Lake Buena Vista, FL 32830
TO LEARN MORE ABOUT WHAT ART OF ANIMATION HAS TO OFFER, CHECK OUT THIS ALLEARS TV VIDEO!
Overview
Phone: (407) 938-7000
Address: 1850 Animation Way, Lake Buena Vista, Florida, United States, 32830
Transportation Options (2)
Activities & Recreation (5)
Playground
Splash Playground
Arcade
Running Trail
Poolside Movies
Room Options (5)
The Little Mermaid Standard Room
The Lion King Family Suites
Cars Family Suites
Family Suites
Finding Nemo Family Suites