Disney's Pop Century Resort — Value Resort — Walt Disney World
Welcome to Disney's Pop Century Resort, where larger-than-life icons of past decades bring big-time fun to your Walt Disney World vacation!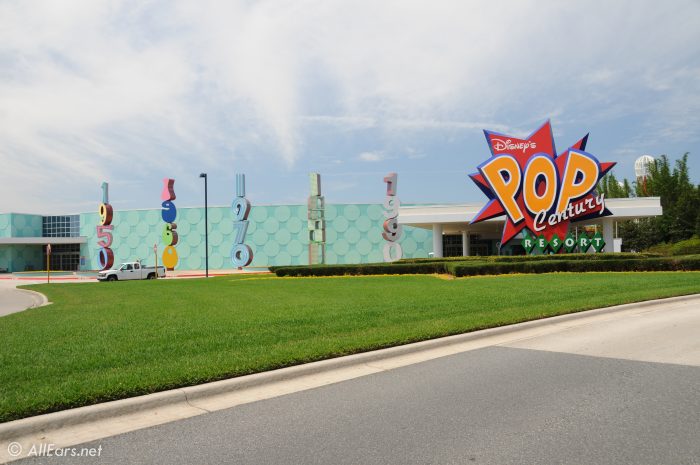 Pop Century Resort Highlights
Value Resort with over 2800 rooms
Buildings themed after the different decades, ranging from the '50s to '90s
What is the Pop Century Resort?
Announced in December 1999, Disney's Pop Century Resort is a Value Resort. It is located near Disney's Hollywood Studios at Osceola Parkway and Century Way and encompasses 177 acres. Originally the Resort was to have two completely different areas: the Classic Years (50s to 90s) and the Legendary Years (00s to 40s). The Legendary Years section was never completed, however, and was "reimagined" as Disney's Art of Animation Resort.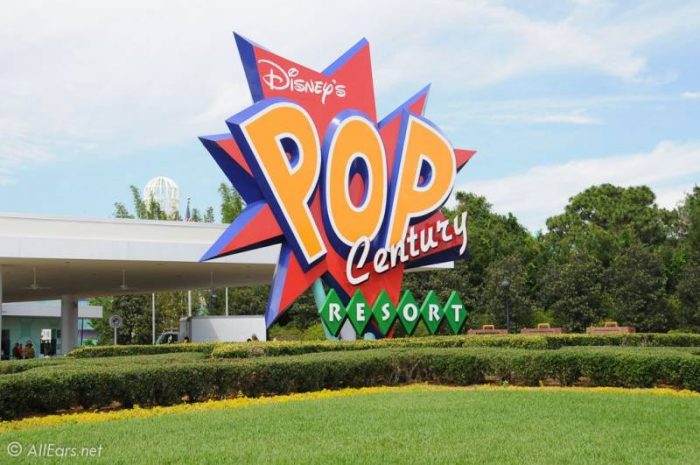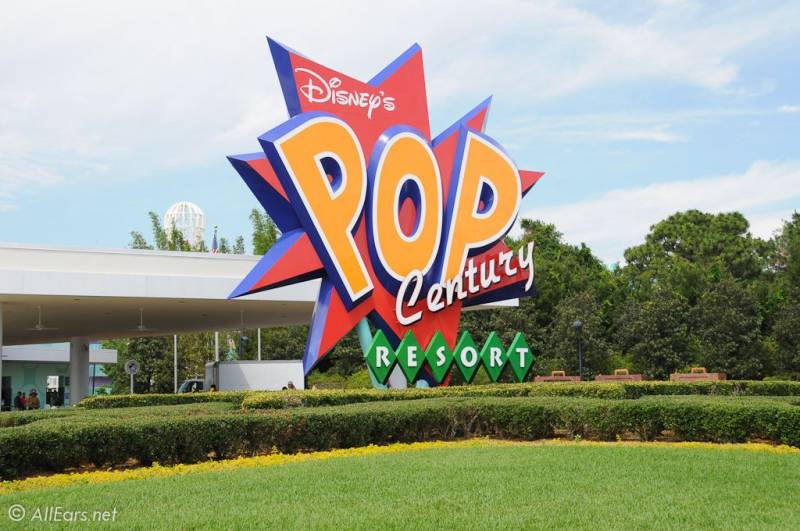 What is the Theming?
Pop Century Resort spans 20th century pop cultures and reflects (to an extent) the way people lived, played, and communicated. It is similar to the All-Star Resorts with oversized icons located throughout the grounds. Silhouettes illustrating dances of the decade adorn the front of each building, and the roofs are lined with catch-phrases of the time.
Disney Imagineers worked with some of the original manufacturers to recreate the Resort's icons. Original toys and objects were obtained and then digitized. A machine then created a full-size foam replica based on the exact measurements of the icon. The foam was replaced with steel armature and covered in fiberglass. The final covering completed the creation of the icon.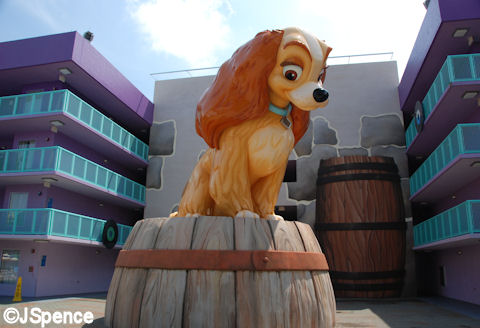 See below for more in-depth descriptions of themes and photos of the Resort!
What are the room prices?
Like the All-Star Resorts, Pop Century is considered a Value Resort, and prices are among the least expensive offered at Disney Resorts. There is no charge for children under 17-years-old when in the same room as their adults, but if you have more than two adults in your room, there is a $10 per night charge per extra adult. Pop Century rooms have a maximum capacity of four guests per room, and a child under three can stay in a crib (for a total of five guests in a room).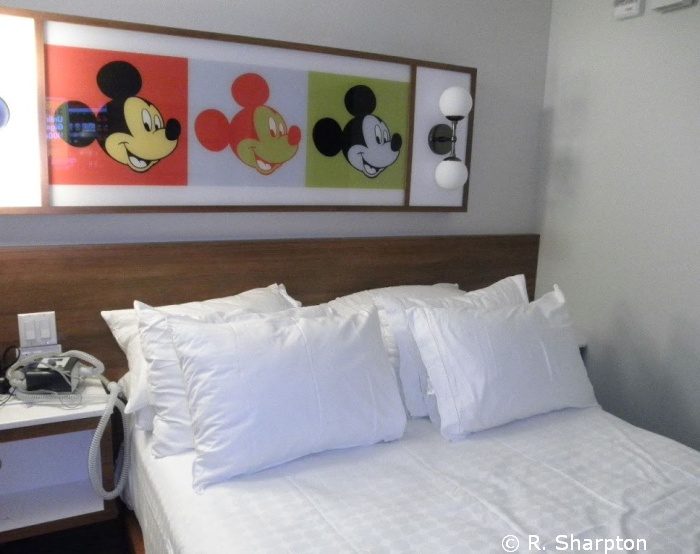 Walt Disney World Resort rates vary by season (there are nine seasons now) and also by day of the week. The holiday season is the most expensive time of the year. It runs from mid-December to early-January as well as during Easter week (typically spring break for families around the country).
These rates include a 12.5% tax. The higher end of this range reflects holiday pricing. Because pricing varies wildly from day to day and season to season, check DisneyWorld.com for up-to-date pricing.
Standard Room range from $154 – $316
Preferred Room range from $171 – $338
Standard Pool View Room range from $161 – $317
Preferred Pool View Room range from $182 – $336
Keep in mind:
Rooms do not have private balconies or patios or interior entrances. Windows overlook a public, outdoor walkway. If you aren't planning to open your curtains much or if you will be spending the majority of your time in the Parks, it may not be a good value to pay for a pool or water view room.
Connecting doors between adjacent rooms allow friends and large families to easily visit each other. Be sure to ask for this option when making your reservation. Adjoining rooms are not guaranteed.
Often, preferred rooms and pool view rooms are louder due to more traffic flow in these areas. If you prefer a quieter stay, consider a standard room on an upper floor.
Is there a fee to park at Pop Century?
For reservations booked after March 21, 2018, guests in Disney Resort hotels pay a fee for overnight self-parking. Click here for current pricing and other parking information.
What are the themes?
1950s
The 1950s area features giant sock-hoppers dancing on the sides of the buildings, possibly be-bopping to rock-and-roll tunes from the 40-foot-tall tabletop jukebox that anchors the courtyard. A bowling pin-shaped pool provides a cool dip.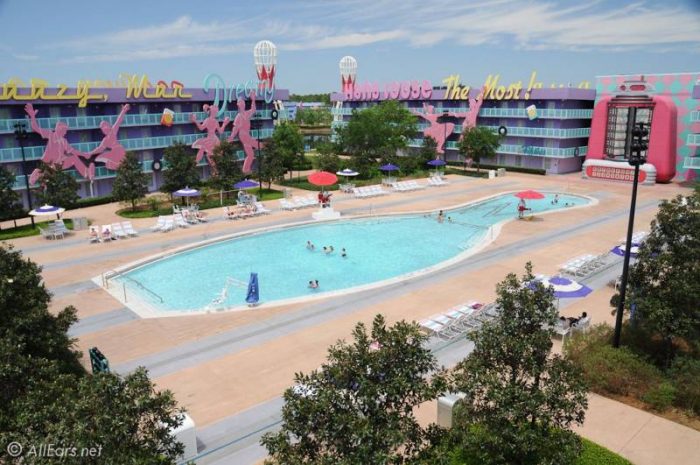 The canine character stars from Disney's "Lady and the Tramp" animated feature film (released to theater audiences in 1955) gaze at each other across the courtyard.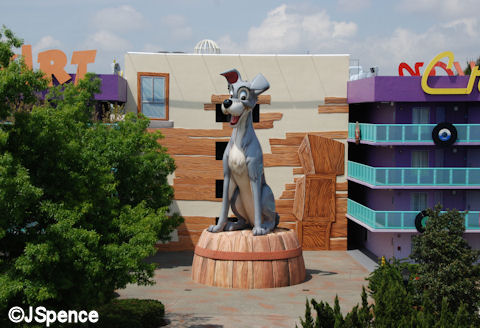 1960s
Tie-dyed hues and psychedelic colors are the focus of the 1960s buildings. Play-Doh Pete, the artful child that adorned Play-Doh labels in the 1960s, is featured on a giant can of the popular modeling compound. Peeking out the top of the can are several Play-Doh animal creations, including a blue elephant and a yellow giraffe. See if you can spot the "thumbprints" on the elephant's ears, seemingly created by the child who modeled the Play-Doh pachyderm.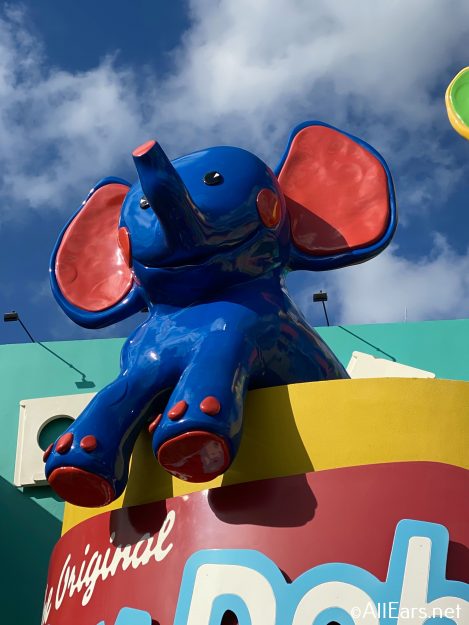 Baloo and Mowgli from Disney's "The Jungle Book" (released in 1967) are hand-in-hand across the courtyard. Giant Duncan Imperial-model yo-yos, with "strings" that measure more than one-foot in diameter, bookend each 1960s building. The centerpiece of the area is the Hippy Dippy Pool, a flower-shaped pool complete with squirting petals on the periphery.
1970s
In the 1970s courtyard, a colorful Big Wheel riding toy gets ready to roll, while a classic Mickey Mouse rotary-dial telephone calls from across the way. Between the two towering icons, foosball players stand at the ready for guests to wander amidst their imaginary game. Eight-track tapes, the popular musical medium of the decade, corner each building.
1980s
In the 1980s area of Disney's Pop Century Resort, the most "puzzling" toy of the decade, the Rubik's Cube, towers more than 40 feet tall on each building. (Walt Disney Imagineers designed the different cubes to represent different stages of the solution process.)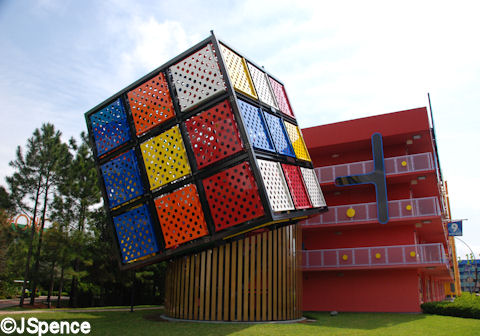 Across the courtyard, one of the original Sony Walkman models, and accompanying headphone set, anchors the building.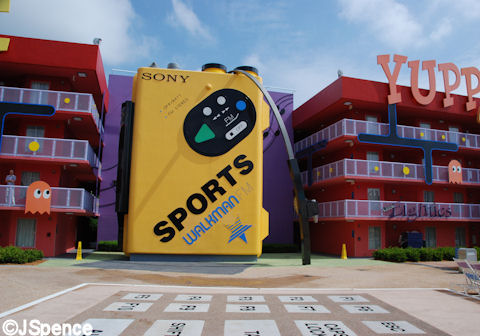 1990s
Closing out the century, the 1990s area pays tribute to two personal technology marvels — the cellular telephone and the computer. A giant laptop computer is the centerpiece, while early-model cellular telephones stand at each corner.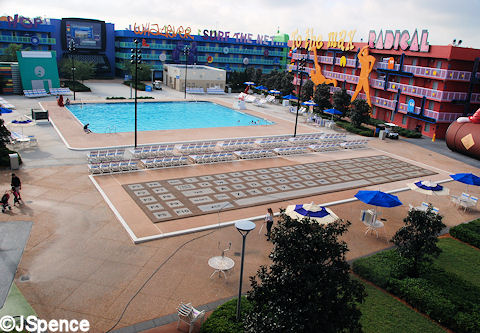 What other buildings and services are there?
Classic Hall features a check-in lobby, the Everything POP Quick Service food court offers stations with various dining options and grab-and-go eats and drinks in a cooler section. Everything POP also features the Resort's gift shop.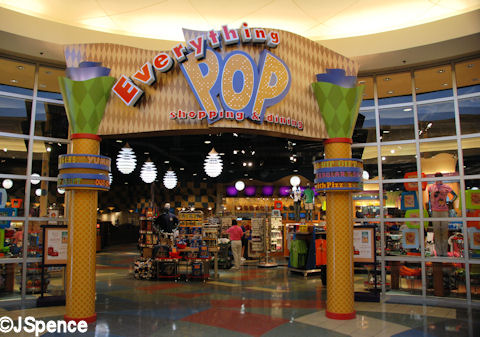 There is also an arcade (Fast Forward), and an exterior waiting area for bus service to and from the attractions.
There are three pools and one playground. Bowling Pin Pool is near the 1950s buildings, the Hippy Dippy Pool near the 1960s buildings and a Computer pool near the 1980s and 1990s buildings.
There's also a playground to help the kids burn off excess energy, and you can expect Movies Under the Stars by the Hippy Dippy Pool every night.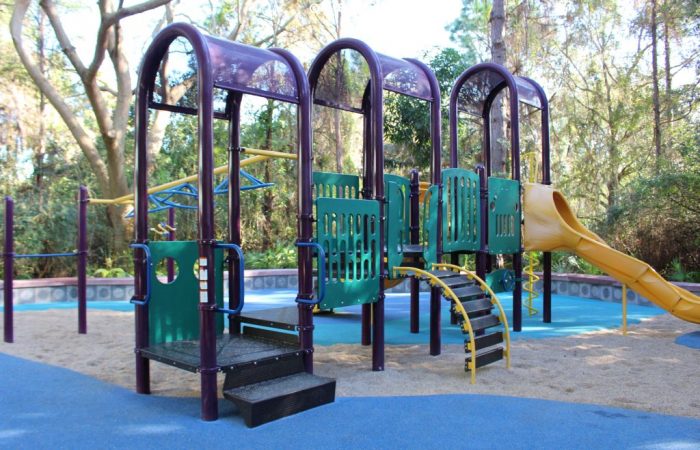 What else can you tell us about the Pop Century Resort?
The Resort is built on the shores of Hourglass Lake and features a bridge, originally called Generation Gap Bridge, that connects Pop Century with the Art of Animation Resort. It's on the bridge that guests of Pop Century and Art of Animation can access the Skyliner gondola system. Skyliner connects the Resorts to Caribbean Beach Resort, Riviera Resort, EPCOT, and Disney's Hollywood Studios.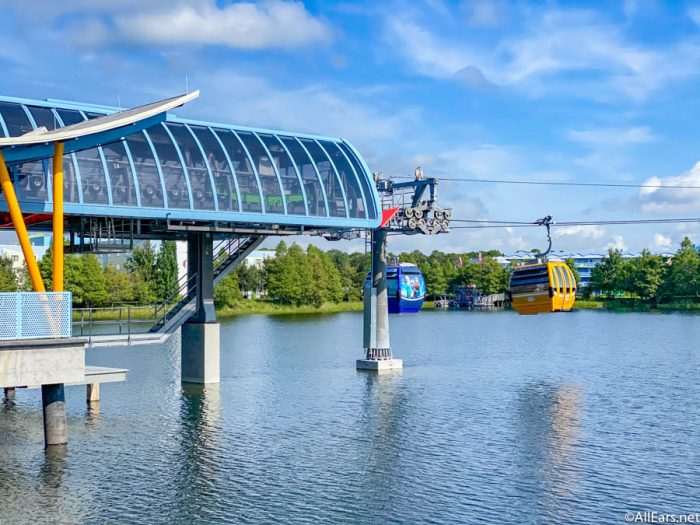 I hear that there are no more room key cards at Disney resort hotels. How do I get into my room?
Walt Disney World has converted their room keys and admission tickets from plastic cards to MagicBands. MagicBands are flexible plastic wristbands, resembling a watch or bracelet, that use Radio Frequency (RFID) technology.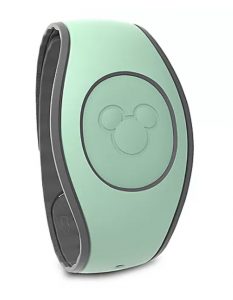 Your MagicBand is linked to your My Disney Experience (MDE) account and acts as your Disney Resort room key. Simply touch the Mickey symbol on your MagicBand to the RFID reader near your room's door handle to gain entry. Read about using MagicBands for park admission, FastPass+ and more here.
Also note: you can now use your My Disney Experience app to open your Resort hotel room throughout Walt Disney World property. And more features of the MagicBand are coming to MDE, so Disney is phasing out complimentary MagicBands beginning in 2021. Learn more here.
What is check-in and check-out time?
Check-in is at 3PM and check-out is 11AM.
Online Check-in is available ten days prior to your stay. Look for the special Online Check-in line at the Resort's front desk or await a text with your room number on your arrival day.
Resort Airline Check-In Service at your Disney Resort is only available if you are flying domestically (includes Puerto Rico) on specific airlines. It is a complimentary (free) service and allows you to check your luggage at your Resort. Pop Century Resort does offer Resort Airline Check-In.
Describe the accommodations.
Rooms at Pop Century were refurbished in 2017-2018. Rooms are 260 square feet with two queen beds (one is a Murphy bed) or one king bed, a table and chairs (the table is the backside of the Murphy bed), vanity area and sink with separate bathroom (with shower/tub — with new glass doors — and toilet), a large flat screen color television, in-room wall safe, iron/ironing board, a mini-refrigerator with additional storage, a clothing rod and shelf, and telephones with voicemail.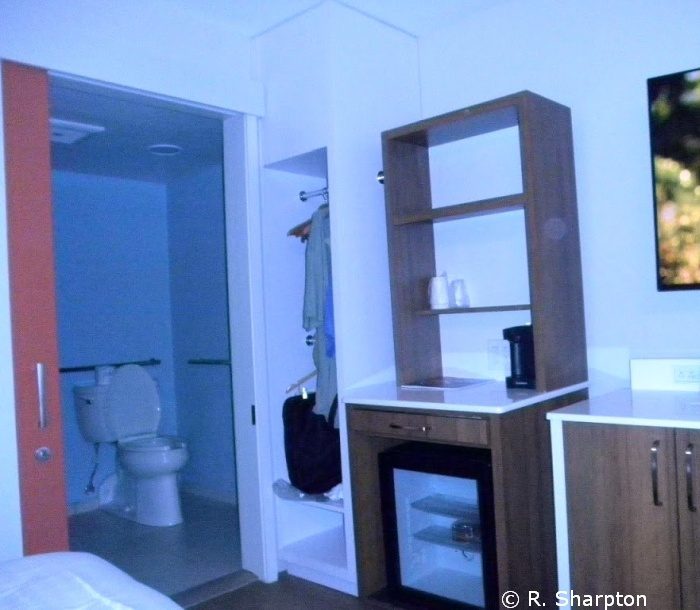 When rooms were refurbished, more outlets were added, including some USB charging ports.
Available on request: rooms accessible to guests with disabilities, hearing-impaired TDD telephones, visual smoke alarms, bed boards and bed rails, and cribs.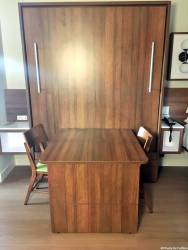 Are there smoking and nonsmoking rooms?
Is there Internet Access available in the rooms?
Walt Disney World Resort made complimentary Wi-Fi service available in all of its hotels as of March 2012. See our High Speed Internet Access page for details.
What are my food and beverage options?
Offerings include Everything POP, a 640-seat food court; pizza delivery to guest rooms; and Petals Pool Bar (located adjacent to Hippy Dippy Pool).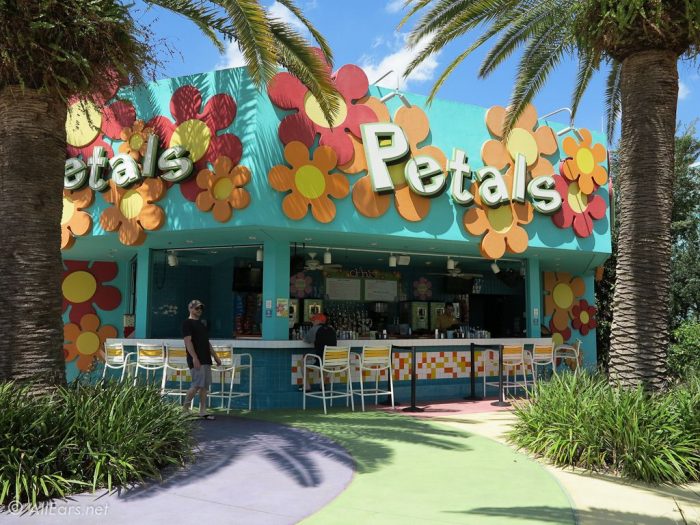 Everything Pop, the food court, has five stations: Bakery & Cafe, Market, Grill, East meets West, and Pizza and Pasta plus a self-serve grab-and-go area.
What are Rapid Fill Mugs?
The Rapid Fill beverage program allows Disney Resort guests to buy (or receive as part of the Disney Dining Plan) a refillable mug that can be refilled for your length-of-stay. These mugs are enhanced by an RFID chip that enables the mug to deactivate when the designated time is complete (i.e. at the end of your stay).
Can I shop here?
A 5,000-square-foot retail center in Classic Hall offers a very small variety of Resort-specific merchandise and mostly generic Walt Disney World souvenirs. It is also the location where you can pick up your Disney purchases that you sent to your Resort. You'll also find a limited number of practical items like toothbrushes, baby needs, and medications if you forgot items at home.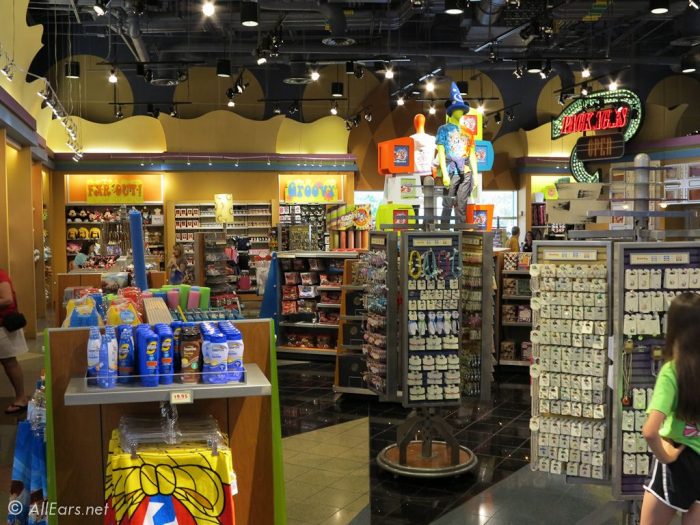 What other amenities are available here?
Guests can access laundry services near the Resort's three pools. Disney Resorts now use LaundryView to check on machine availability. Click here for more information about laundry services and LaundryView.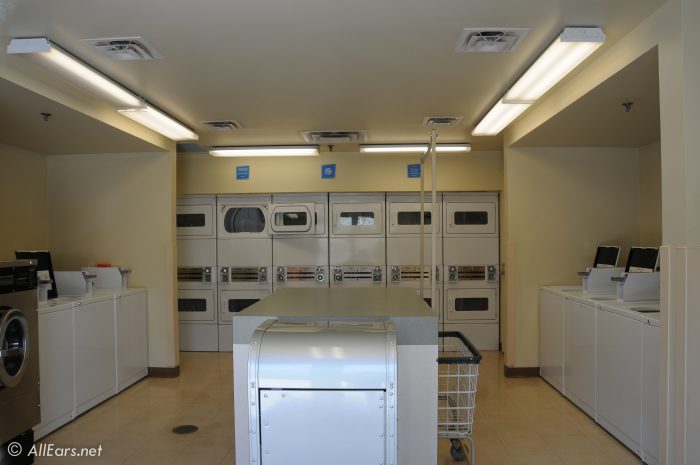 The lobby also has pay phones, Resort phones, and ATM machines.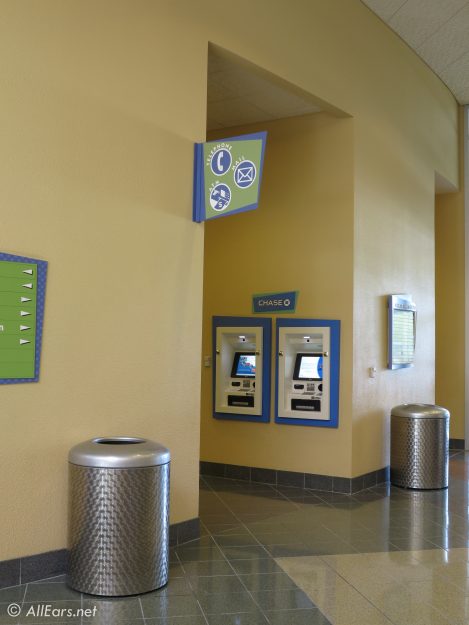 How about recreation?
The Resort has three pools — the Bowling Pin Pool, the Hippy Dippy Pool, and the Computer Pool; a kiddie splash area; a playground; and the Fast Forward arcade.
Goofy stands watch over Pop Jet Playground, a playland of popping water located near the 1970s lodge buildings.
There is a 1.3 mile walking/running trail around Hourglass Lake (Look for signage.) Click here to learn more about running/walking trails at Walt Disney World.
Note: Life Jackets are available on a first come, first served basis at the Resort's pools.
Tell me about the special displays in the lobby.
From mood rings to 8-track tapes, surfboards to pet rocks, Superman to saddle shoes, so much nostalgia pours from Disney's Pop Century Resort that a lobby hobby for guests could be "Walkin' the Wall."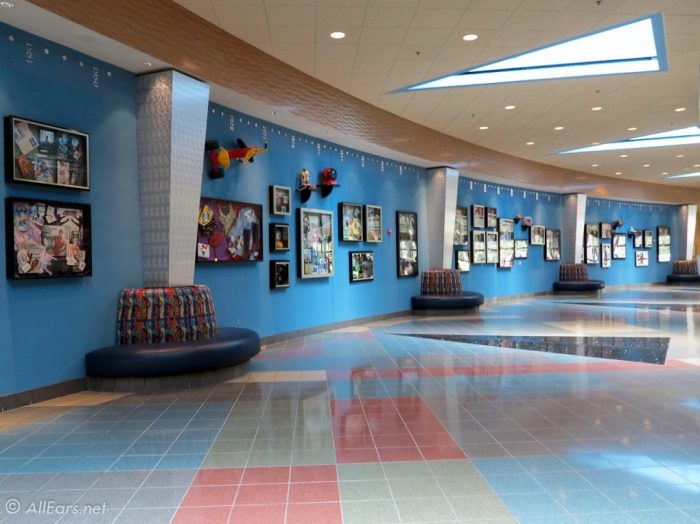 The Wall, in this case, is a memory lane of wall-mounted "shadow boxes" brimming with the fads, fashions, music, toys and trinkets from the 1950s, '60s, '70s, '80s and '90s. It's across from the check-in desk.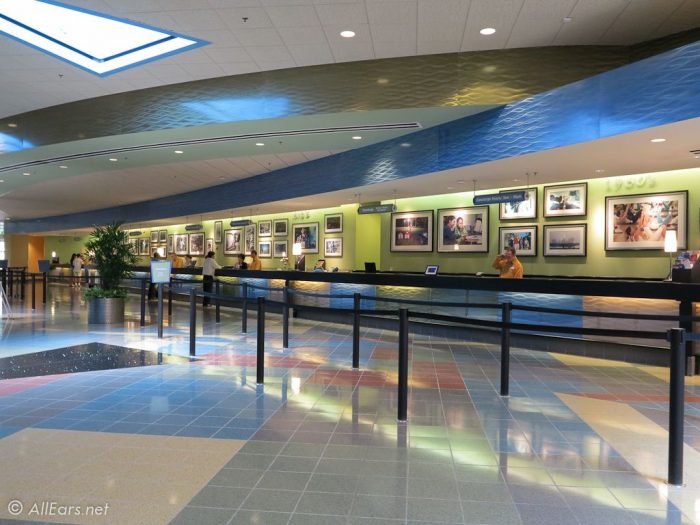 For more details on the lobby display, read here!
Where is the Pop Century Resort?
Pop Century is located adjacent to the Art of Animation Resort and near the ESPN Wide World of Sports Complex. It is also close to the Caribbean Beach Resort. The physical address is:
1050 Century Drive
Lake Buena Vista, FL 32830
Phone: 407-938-4000
Fax: 407-938-4040
For directions on getting to Pop Century from the Orlando airports, visit our Driving Directions page HERE.
Fun Facts
The bowling pin icons tower more than 65 feet high. A regulation bowling pin is 15 inches tall.
If you count the giant bowling pin icons, there are nine standing around the resort. Where's the tenth? It's actually the bowling pin pool in the courtyard!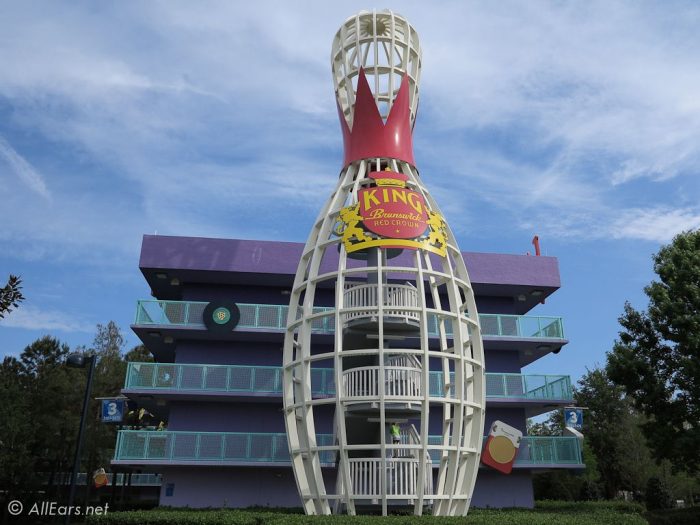 Take a closer look at the pool deck around the bowling pin pool, and you'll spot the triangular lane markings that are seen on bowling alleys everywhere.
The Rubik's Cube icons reach a peak of 41 feet off the ground. By comparison, a Rubik's Cube puzzle toy stands nearly four inches at its tallest point.
The resort's 8-track tapes are more than 35 feet tall, with "tape" that is more than one-foot in width. A real 8-track tape is a mere five-and-one-quarter inches tall, with a tape that is only one-quarter inch wide.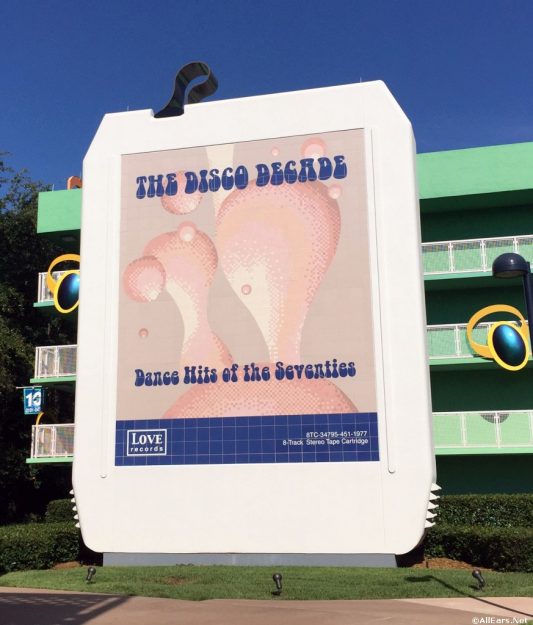 The table soccer players are more than 12 feet tall, and the "toy" ball is more than two-and-one-half feet in diameter.
Nearly 125,000 gallons of paint were used to create the bright colors and tie-dyed hues on the buildings' interior and exterior walls.
In the 1960s area, giant "thumbprints" can be spotted on the ears of the elephant peeking out of the giant Play-Doh canister. And can you name the child depicted on the Play-Doh can? That's Play-Doh Pete!
The giant Big Wheel icon could "accommodate" a child rider that weighs up to 877 pounds (or so says the sticker on the towering riding toy). That matches the stickers that were affixed to the original Big Wheel toys of the 1970s that designated a "recommended child weight."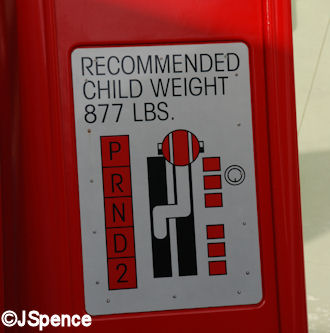 Service and equipment buildings are cleverly disguised all over the Resort. At the 1950s bowling pin pool, the laundry looks like a bowling shoe storage bin. In the 1990s, an equipment building appears to be a larger-than-life stack of computer floppy disks.
The 1970s courtyard pays tribute to the age of disco, with a motion-based disco light mounted in the middle of the courtyard. This color-changing light sends streams of light across the '70s-inspired outdoor "dance floor."
"Peace of Pizza" delivery trucks resemble old Volkswagen vans complete with roof-mounted surfboards.
Other Information
When did the hotel open?
Phase I, originally known as the Classic Years, opened on December 14, 2003. Reservations were accepted beginning April 22, 2003.
Phase II was to be the Legendary Years, representing the 1900s to the 1940s. It was also to have 2,880 rooms. But the plans were changed in 2011 when Disney announced the construction of the Art Of Animation Resort which opened May 2012.
The original projected opening dates (as of August 2001) were:
1950s – March 8, 2002
1960s – March 8, 2002
1970s – May 5, 2002
1980s – August 18, 2002
1990s – August 18, 2002
1940s – November 29, 2002
1930s – February 14, 2003
1920s – April 21, 2003
1910s – August 2, 2003
1900s – August 2, 2003
Overview
Phone: 407-938-4000
Address: 1050 Century Drive, Lake Buena Vista, FL 32830
Transportation Options (2)
Activities & Recreation (5)
Playground
Splash Playground
Arcade
Running Trail
Poolside Movies
Room Options (4)
Standard Room
Standard Pool View
Preferred Room
Preferred Pool View