Disney's BoardWalk Inn Deluxe Resort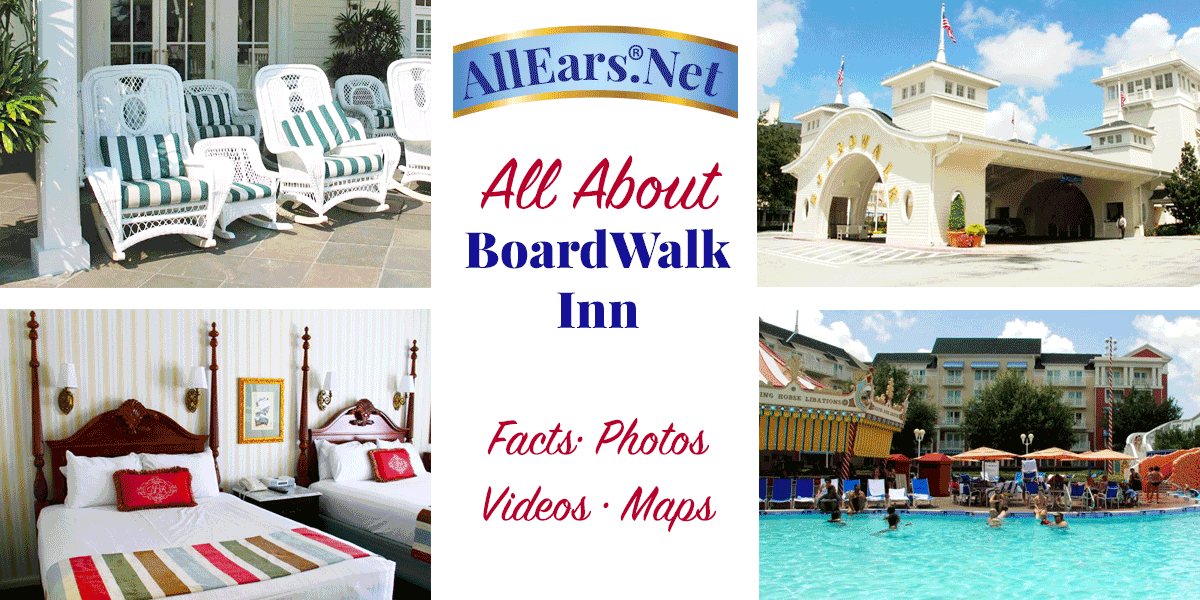 Boardwalk Inn Highlights:
Walking distance to Epcot and Disney's Hollywood Studios (also accessible via boat or Skyliner)
Great for those who want nightlife! The Atlantic City style boardwalk host a variety of lounges, restaurants, and entertainment venues.
Amazing location! You can also walk to Disney's Yacht & Beach Resorts and the Walt Disney World Swan and Dolphin Resorts for additional variety in restaurants and entertainment.
The BoardWalk Inn is modeled after a turn-of the-century Atlantic City resort. Situated on Crescent Lake, this hotel has a variety of dining and entertainment experiences available on its Coney Island-style boardwalk. It is located minutes away from both Epcot and Disney's Hollywood Studios.
Contact Information:
2101 North Epcot Resorts Boulevard
Lake Buena Vista FL 32830-8442
(407) 939-6200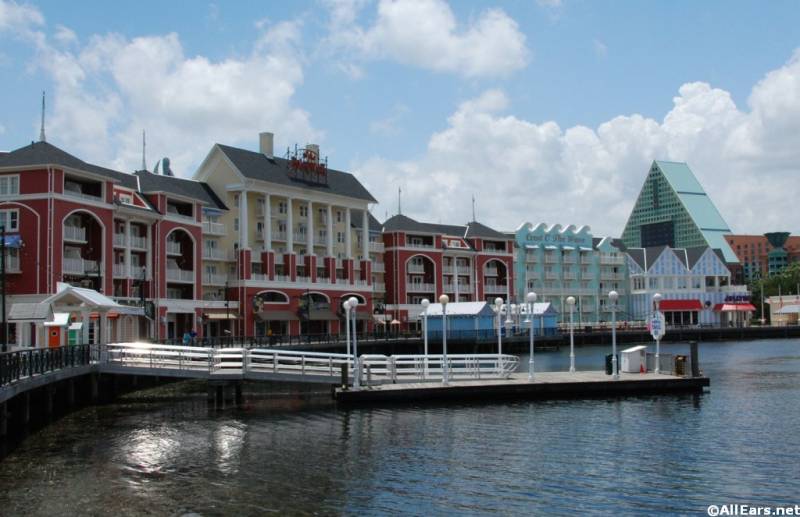 What is the theming of the BoardWalk Inn?
The 378 room BoardWalk Inn captures the feel of the '20s and '30s Eastern Seaboard. Set on the shores of Crescent Lake, it is a beautiful place to stroll. The Boardwalk itself is reminiscent of an easy going era of entertainment, dining, and vacation fun. The lighthearted, yet elegant atmosphere is pleasing to just about any age.
The lobby has beautiful furnishings, whimsical carousel rugs, interesting models of roller coasters and carousels, and music that will take you back to the Great Gatsby era. The window seats along the hall of the lobby are inviting conversation areas. The chandeliers and hard wood floors add an air of elegance to this lively, fun at heart resort. Outside the lobby is a wonderful deck with chairs to sit back and people watch, read a book, or just take a few moments to relax.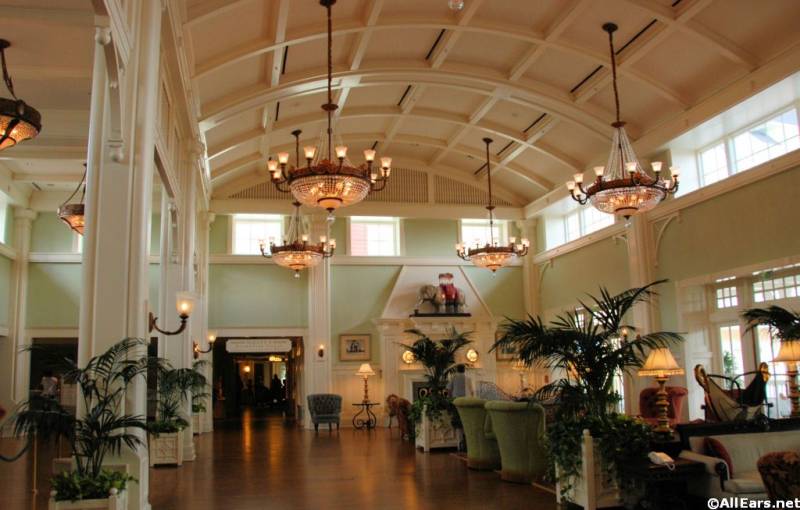 The Boardwalk Inn shares common spaces with the Disney Vacation Club Boardwalk Villas.
Other deluxe resorts are nestled in the Crescent Lake area. The Yacht and Beach Clubs blend in beautifully and the theme fits perfectly with the three resorts around the lake. The Swan and Dolphin are a short walk away and add to the idea of whimsy and fun.
What are the advantages of staying at the Boardwalk Inn?
The close proximity to Epcot and Disney's Hollywood Studios make this a convenient place to stay. Having four other premium resorts within walking distance makes the Boardwalk a sure bet for great dining and entertainment options. The promise of entertainment and fun on the Boardwalk is great for those who love a little nightlife on their vacation. Being a deluxe resort, the Boardwalk Inn lures those who want to be pampered and enjoy all of the amenities a deluxe resort has to offer.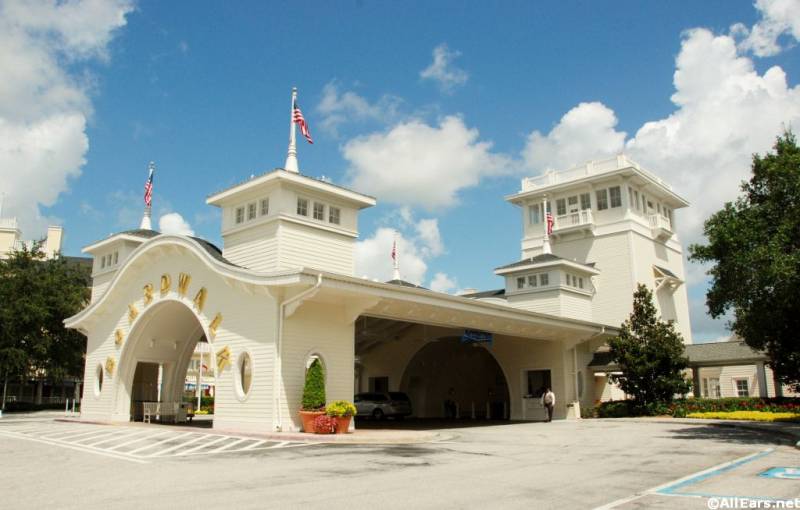 What's the difference between the Boardwalk Villas and the Boardwalk Inn?
Disney's Boardwalk Villas are part of the Disney Vacation Club. These are larger accommodations that include either a kitchenette or full kitchen, washer and dryer (in all but the studios). The same Disney resort privileges apply, however, the DVC villas do not have daily housekeeping as part of their nightly cost.
Disney's Boardwalk Inn is a Disney hotel in the "Deluxe Resort" category.
ROOM INFO:
What types of rooms and room views are there?
The Standard View category can either overlook the manicured grounds near the entrance of the resort, with the parking lot beyond that; or they can overlook beautiful gardens and walkways and the quiet pool. These Standard Views seem to be the most private since they are closed off from the Boardwalk and the parking areas.
The Water View room category overlooks Crescent Lake and the Boardwalk, and tends to be more lively in the evening hours. These Water View rooms are sometimes referred to as Preferred Views. A Variable View is usually used in conjunction with discounted rooms and means you won't have a guaranteed view because of the discount.
Standard Rooms are for all guests, including Concierge Club. Deluxe rooms are much larger and only available as part of the Concierge Club.
Are there connecting/adjoining rooms?
Yes, connecting rooms are available, but can not be guaranteed. Make sure to make your request when you make your reservation.
Are there rooms equipped for those with special needs?
Accessible rooms are available.
What amenities are in the rooms?
The rooms are well appointed with either two queen beds and a daybed, or a king-size bed and a daybed. An armoire houses the flat screen television and provides drawer space for your belongings. There is a desk, with a built-in power bar and a small table that pulls out, one chair, a spacious closet, a chest of drawers, and a private balcony or patio. All rooms have an individual climate control, mini refrigerator, ceiling fan, and coffee maker. The closet contains an ironing board, iron, portable crib, small safe for your valuables, and hangers. Alarm clocks are available upon request.
The bathroom is great for more than one person trying to get ready in the morning. The toilet and bathtub are separate from the vanity area. The vanity has two sinks, plenty of counter space, and a full-length mirror on the door. The vanity also contains a hair dryer and has a make-up mirror mounted on the wall.
What about Concierge Rooms?
The Boardwalk boasts Concierge Service (the Innkeeper's Club) and beautiful Garden Suites, in addition to its already well-appointed rooms.
Concierge service offers four types of rooms: the Standard room, Deluxe Room, Boardwalk View and Garden Suite. All have added amenities such as: robes, TV speaker in the bathroom, nightly turn down service, DVD player, and several food offerings throughout the day. Most rooms are on the 4th floor. Concierge level guests have their own private lounge and private access. Epcot's fireworks can be seen nightly from the balcony in the Concierge Lounge.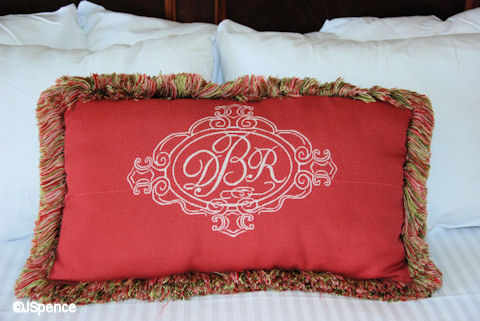 The Concierge Lounge "Innkeeper's Club" hours of service are: Continental Breakfast from 7 to 10 a.m.; Refreshments from 11:30 a.m. to 2 p.m.; Tea and Sweets from 3 to 4:30 p.m.; Wine and Cheese Selections from 5 to 6:30 p.m. and Cordials and Desserts from 7 to 9 p.m.
The Garden Suites are two stories, and are designed for Honeymooners but can easily accommodate a family of four. There are 14 Garden Suites and all but three have private entrance courtyards. The three that do not, have private balconies. The yards are separated by white picket fences that are about 3 feet tall. Each of the front yards are individually landscaped. At the gated entrance to the yard, there is a small decorative bird house with the room number on it. These front yards lead to the one and only entry way of the suite, and are being grown into manicured rose gardens. All of the Garden Suites are separate from the main building, so you must walk outside to access the Concierge Lounge.
There is a living room on the first floor and a bedroom loft on the second floor. The first floor has a TV, 1/2 bath, wet bar, and a queen size sofa bed. The 2nd level loft, in most cases, overlooks the lower level which creates a very large, vaulted ceiling effect. The three with private balconies have more of an actually separate second level. Either way, the second level features an elevated King size bed. Upstairs you will also find an additional TV, and a full bath with a giant Jacuzzi tub that will easily accommodate two people. There is even a third mini TV for viewing while in the Jacuzzi tub.
What sort of Internet access does the room/resort have? Is there a fee?
Walt Disney World Resort has complimentary Wi-Fi service available in all of its hotels and parks. See our Internet Access page for details.
What are the room prices?
The Boardwalk Inn is considered a "Deluxe" resort hotel, and its prices are among the more expensive offered at Disney. Walt Disney World Resort rates vary by season (there are nine seasons now), and also by day of the week. The holiday season is the most expensive time of the year. It runs from mid-December to early January as well as during Easter Week. These are regular rate prices and do not include the 6.5% Florida Sales Tax nor the 6% county resort tax.
Rates are based on double occupancy. No charge for children under 17 years old when in the same room as the adults. Most rooms have a maximum five-person occupancy per room. Prices are per room, and there is an additional adult charge of $25 per adult per night for more than two adults in a room. Outer Building-garden Room Club Level sleep 2 guests only.
The rates for a:
— Standard View room range from $491 – $807
— Garden View room range from $518 – $824
— Water View room range from $617 – $878
— Standard Club room range from $710 – $1,112
— Deluxe Club Level room range from $860 – $1,362
— Outer Building Garden Room Club Level range from $925 – $1,464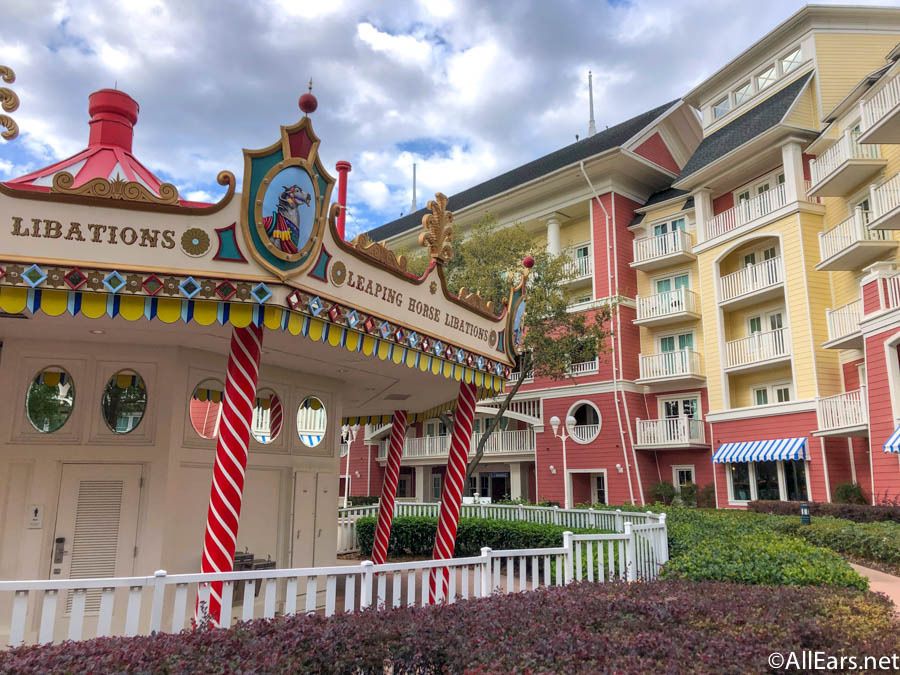 Is there a fee to park at the Boardwalk Inn?
There is a fee for overnight self-parking at Walt Disney World Resort hotels. Click HERE for current pricing and other parking-related information.
Are any discounts available?
There are some ways to save a few dollars on your accommodations at WDW. Disney offers several resort "seasons" throughout the year including a Value Season. Annual Passholders can save by visiting during annual Passholder specials. Florida residents get a break for living in the same state as the Mouse. Don't forget holidays are the most expensive time to visit, along with most of the summer. Generally, planning your trip during the off-season can save you money right off the bat. There are a variety of discounts available; see our Walt Disney Discounts Summary page for details.
How do I find out about packages?
There are several packages and discounts available for Walt Disney World's hotels and parks. If you are considering a package, be sure to cost it all out and see if you are getting what you want at a reduced price. Packages may offer a number of items you wouldn't normally pay for or purchase. Especially cost out Free Dining packages, as they often offer no discount on your accommodations. See our Packages (Magic Your Way) page for details.
I hear that there are no more room key cards at Disney resort hotels. How do I get into my room?
Walt Disney World has converted their room keys and admission tickets from plastic cards to MagicBands, flexible plastic wristbands, resembling a watch or bracelet, that use Radio Frequency (RF) technology. Your MagicBand is linked to your My Disney Experience (MDE) account and acts as your Disney resort room key. Simply touch the Mickey symbol on your MagicBand to the RFID reader near your room door to gain entry. Read about using MagicBands for park admission, FastPass+ and more HERE.
Are there elevators?
Yes, there are several elevators available at the Boardwalk. One elevator is located just outside of the Bellevue Lounge, across from the staircase, and runs between the first floor Lobby level and the ground floor Boardwalk level. Two more elevators, located to the right when facing the bar, go from the Lobby level to the room floors.
On the Boardwalk Villa side, there is another elevator located next to the Boardwalk's Muscles and Bustles Health Club that runs from the ground level up to the first floor Lobby.
GENERAL HOTEL INFO:
How can I make special room requests?
When you make your initial room reservation, be sure to indicate your room preferences. Then, up to 60 days before your arrival, there are specific room requests that you can make if you are using Disney's online check-in system (see discussion below). During online check-in you will be given the option to pick two room requests from several listed choices, which may include items such as floor level or distance from the elevator. If you want to make requests that are not part of the online check-in, you will have to call and talk to a reservation agent. This is the time to request particulars like adjoining rooms, balconies, a king size bed, a specific location, etc. The cast member will make notations in the computer file. Note that WDW will not guarantee any of your requests; but they do make every effort to accommodate your needs.
How does Check-in and Check-Out work?
Online Check-in is available through the My Disney Experience App. Look for the special Online Check-in line at the resort's front desk.
Check-in is at 3pm. Upon arrival head to the front desk to check-in. Rooms are not guaranteed to be available until 3pm, but you can request Early Check-in when you do Online Check-in.
Check-out time is 11 a.m. Express Check-out is available to all guests paying with a credit card, arrange for this service at check-in. A detailed hotel bill will be sent directly to your email address. If the bill is correct you simply leave. Your MagicBand serves as a Disney souvenir. Late check-out can be requested without additional cost (very limited availability). If you need Late Check-out, request it at Check-In and as soon as possible the morning of check out (the number of eligible rooms are limited).
Resort Airline Check-In Service at your Disney resort is only available if you are flying domestically (includes Puerto Rico) on specific airlines It is a complimentary (free) service and allows you to check your luggage.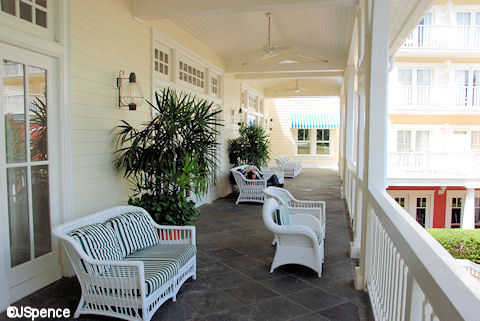 What type of parking is available?
Self-park: There is a lot (actually, two lots separated by the drive up to the front entrance) where you can park your car. It's a long walk from your room to the car, unless you want to pay for valet parking. If you choose to self-park, we recommend that you drop your luggage off at the front of the resort before parking your car.
Valet parking: Valet parking is $33 per car for the day, even if you are staying at the Boardwalk.
Does the Boardwalk Inn have a Security Gate?
Yes, the Boardwalk complex has a guarded security gate. Upon initial arrival, simply explain to the guard you are checking in. They will require that you show a photo I.D. Once you have checked in, your Magic Band will also serve to open the security gates (pull on the right side to activate the guest gate). Be sure to have your Magic Band ready when reentering through the security gate. During busy times ONLY Boardwalk resort guests may be allowed to enter the parking area.
What is the smoking policy?
All Disney resorts are smoke-free. There are designated outdoor smoking areas. Check the resort map or with a Cast Member for designated outdoor locations. A $250-$500 room recovery fee, plus tax, will be charged for smoking in Guest Rooms, on balconies or patios.
What are the services, facilities, and amenities at the Boardwalk Inn?
Some great services, in addition to those normally provided at a resort, are: business center (which ships packages), concierge service, express check-out, 24-hour front desk, disabled-accessible rooms, laundry/valet services, meeting and banquet facilities, valet parking ($ per day/car), and room service.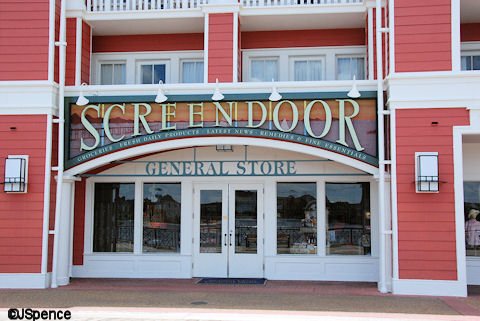 What shopping is available?
Dundy's Sundries (very small) is located just off the lobby on the Villa side. It stocks resort logo merchandise and some basic necessities and toiletries.
Disney's Character Carnival, Screen Door General Store, and Thimbles and Threads are all located on the Boardwalk. The three stores comprise one giant store and feature character merchandise, clothing for the whole family, as well as groceries and snacks.
Wyland Galleries showcases contemporary, environmental art on the Boardwalk. Sports fans can find ESPN merchandise at the ESPN Club.
Help! I've run out of clean clothes! Can you point me in the direction of the laundry room?
A self-service laundry room is located on the 3rd floor of the Boardwalk Inn; it is accessible only to Inn guests via their MagicBand. There are three washing machines, one commercial sized washing machine, and six clothes dryers. Each of these machines costs $2 a load to run. Additionally there is a television, a large table on which to fold your laundry, two chairs, three rolling laundry baskets, a telephone and a vending machine selling laundry supplies (Tide, Cheer, Bounce (2 sheets), Clorox 2) at a cost of $1 per box.
Dry-cleaning and valet services are also available. Just call "Housekeeping" on your in-room phone to schedule a pick-up. Laundry bags and price lists are located in the closet. Services are charged to your room and are payable upon checkout.
Can anyone recommend a baby-sitter for the evening?
The BoardWalk no longer has any child care facilities. For information on child care alternatives, visit our Child Care FAQ.
DINING
What are the dining options?
Dining options at the Boardwalk are endless. Not only are Epcot and all of its restaurants just a stroll away, but you have all of the dining options at the Swan/Dolphin and the Yacht and Beach Club nearby as well. The Boardwalk itself boasts many great options, ranging from ice cream to fine dining.
The Ample Hills Creamery is a re-imagined take on a turn-of-the-century ice cream parlor. The Brooklyn-based company is known for its creative approach to all things ice cream. This is its first location outside of New York City. Open 11 a.m. to 11 p.m.
The Belle Vue Lounge is located on the Boardwalk Inn side of the complex. In the morning, it is open from 6:30 a.m. to 11 a.m. (hours subject to change seasonally), and serves coffee, cappuccino, espresso, tea, milk, and juice. They also have a limited continental breakfast menu that includes baked goods. In the evening, it is a full service bar where you can relax and get a drink, from 5 p.m. until midnight.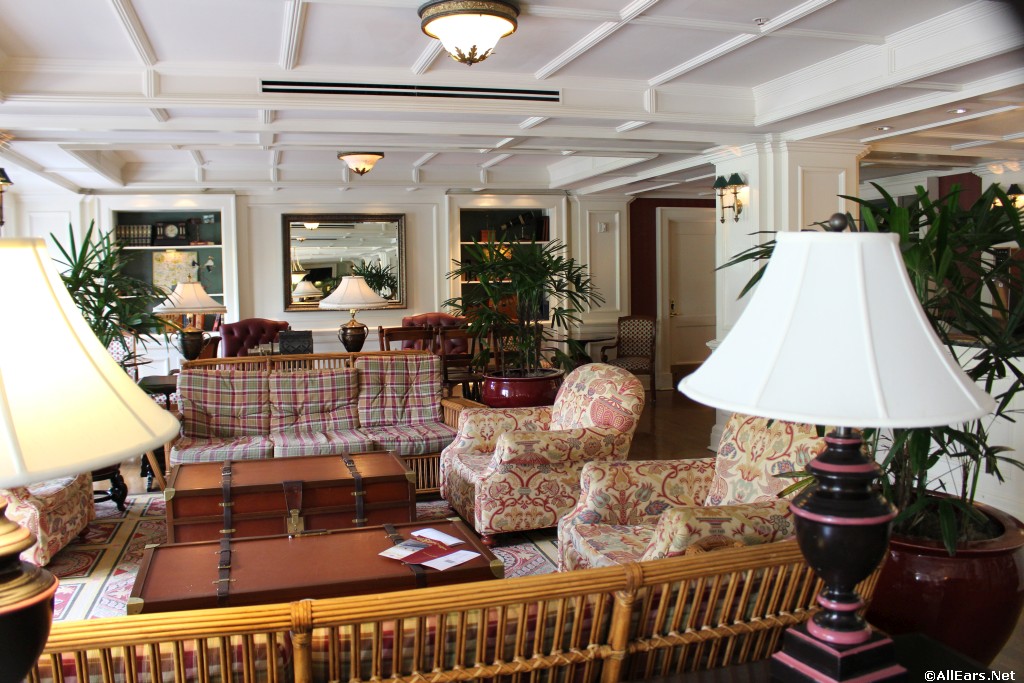 Big River Grille and Brewing Works is a must for any ale or micro-brew fan. Big River has tempting selections of beer breads, sausages, gourmet burgers and salads. A lighthearted atmosphere for a casual meal. Open 11 a.m. to 11 p.m. Dine in or out on the Boardwalk.
The BoardWalk Bakery offers baked goods, espressos, and cappuccinos, 6:30 a.m. to 11 p.m. (hours subject to change seasonally). Expect long lines in the morning, especially before Trattoria al Forno opens.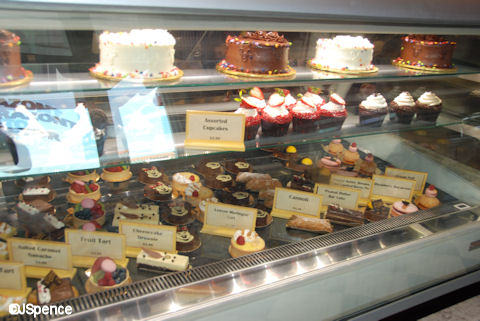 The ESPN Club is a sports club with sports aplenty on the TVs that dot the establishment. The food is standard sports club fare such as burgers, sandwiches, drinks, appetizers, and desserts. The atmosphere is fun and inviting to families for lunch and dinner.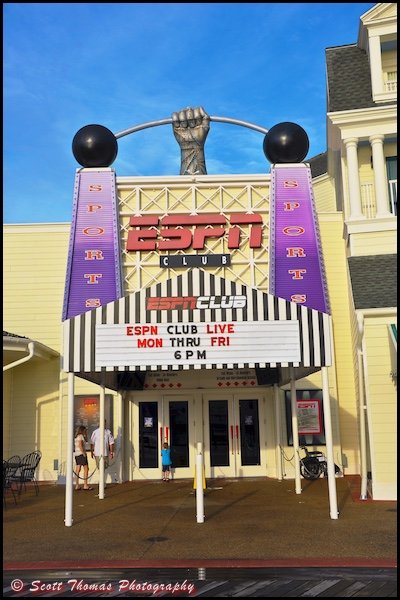 The Flying Fish is a Fine/Signature dining experience, and is only open for dinner, from 5 to 10 p.m. It was recently refurbished, but still features an open kitchen and a chef's table option. The menu includes a wide range of seafood, along with other land based choices. An extensive wine list, cocktails and desserts are also available.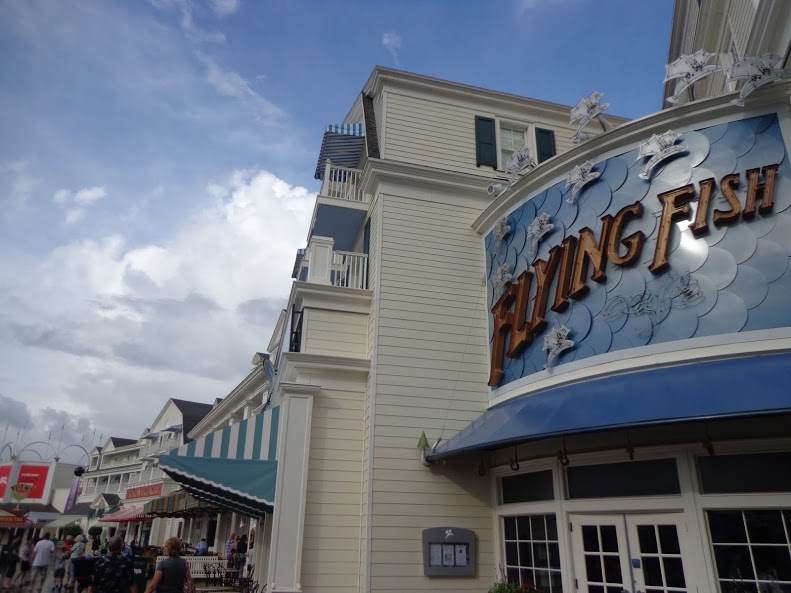 Trattoria al Forno offers classic Italian cuisine including handcrafted mozzarella made daily, fresh cavatelli pasta and pizzas baked in wood-burning ovens. At breakfast, Trattoria al Forno hosts the "Bon Voyage Adventure Breakfast" where you'll be joined by characters! Typically Ariel, Prince Eric, Rapnunzel, and Flynn Rider come to your table!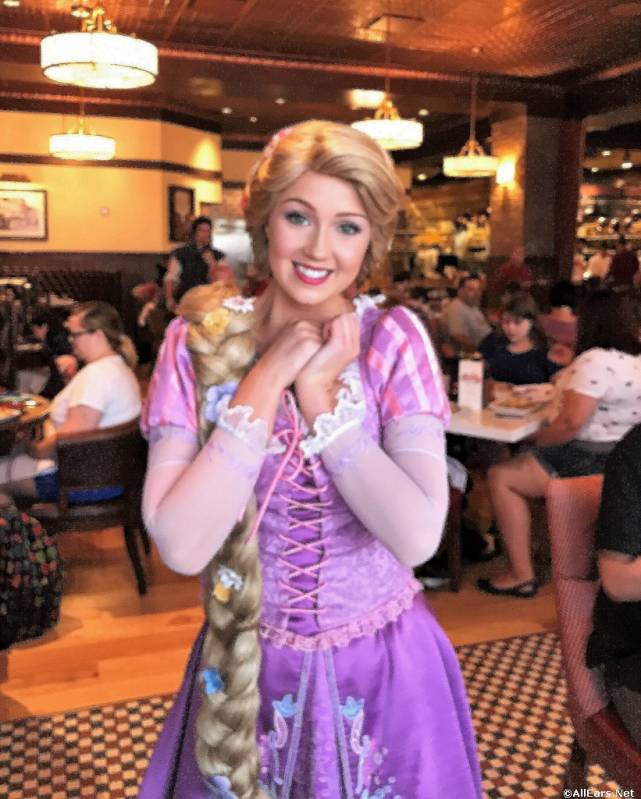 The Boardwalk also has a Pizza Take-Out window. Open noon to midnight.
Leaping Horse Libations at Luna Park water area is a great place for a sandwich or hot dog and poolside cocktail, generally open 11am til dusk.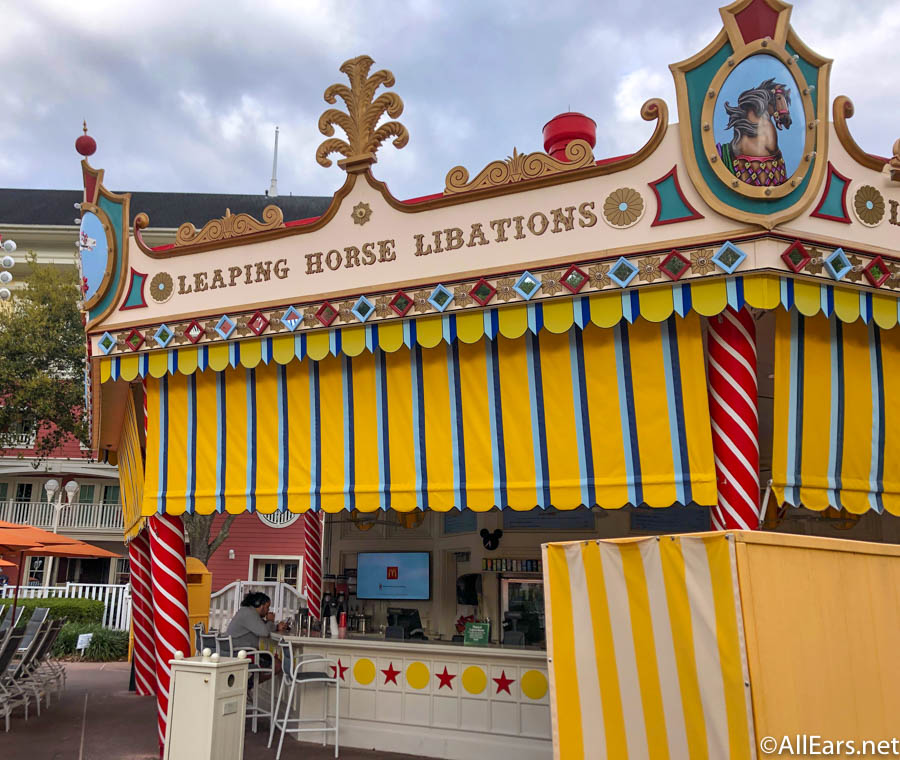 There is a cart on the Boardwalk that serves freshly brewed coffee, cappuccino, espresso, flavored coffees and assorted pastries. Its hours are subject to change seasonally.
There are several other carts along the Boardwalk, mainly open in the evenings, such as the Boardwalk Hot Dog Cart and the Funnel Cake Cart.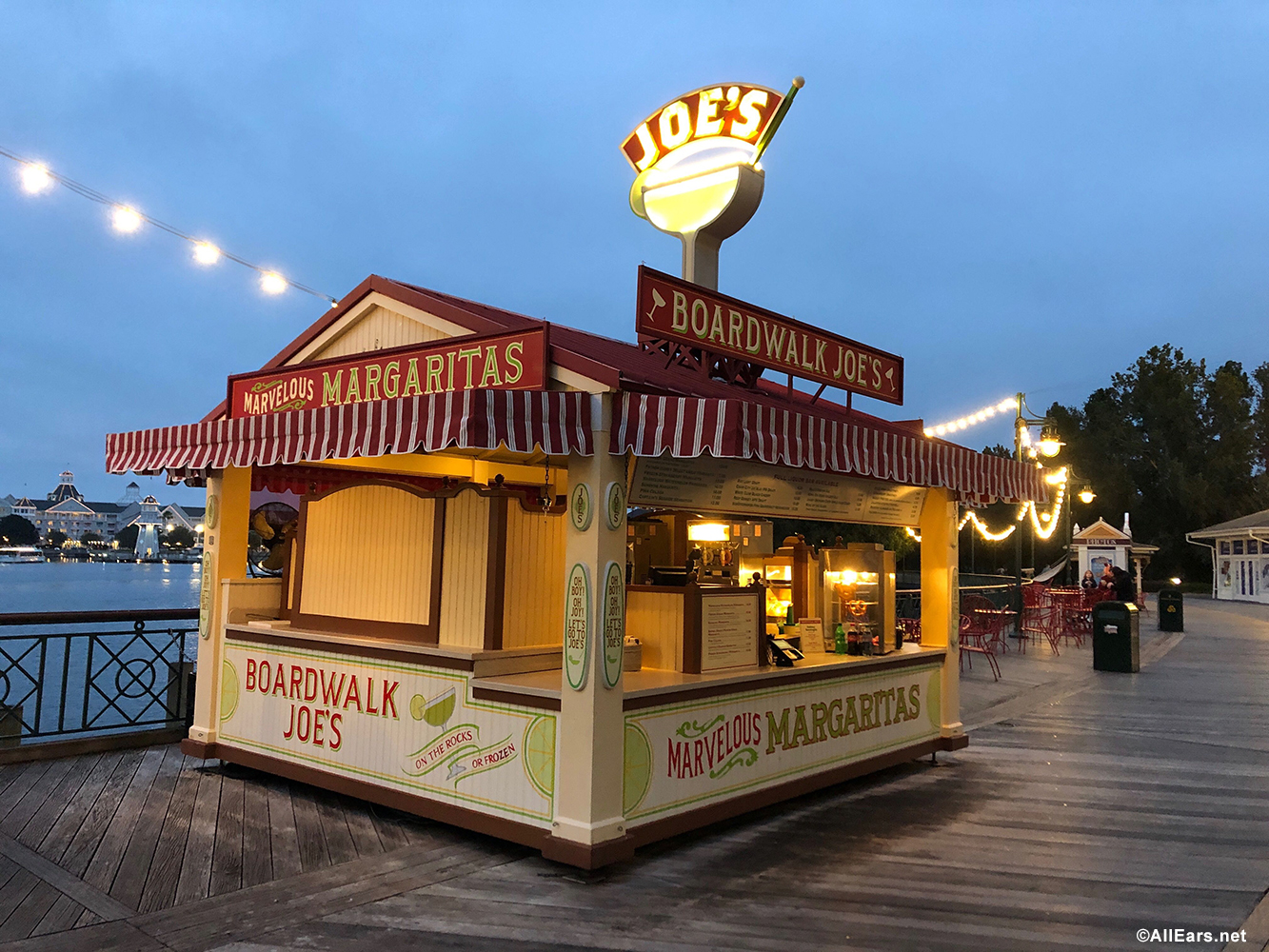 Is Room Service an option?
Room Service is available from 6 a.m. to midnight.
Is there a 24-hour place?
The closest 24-hour dining option is Picabu, which is located on the first floor of the nearby Dolphin.
What are Rapid Fill Mugs?
The Rapid Fill beverage program allows Disney Resort guests to buy (or receive as part of the Disney Dining Plan) a refillable resort mug for the flat rate of $17.99 for the length of their resort stay, no matter how long that may be. For complete details visit the Rapid Fill/Refillable Mug page.
ACTIVITIES/RECREATION
Tell me about the pools and other recreation options.
The Boardwalk's themed swimming area is known as Luna Park, and features a large pool with a 200 foot water slide called the "Keister Coaster." The pool area has the theming of a turn-of-the-century carnival. Even the water slide looks like a wooden roller coaster. There are playful elephants to shower you before entering the pool. The play area for the resort, Luna Park Crazy House, is also located here. Life guards are only on duty at Luna Pool.
There is a Poolside bar, Leaping Horse Libations, conveniently located at Luna Park for drinks and snacks. You can't miss it, the bar is shaped like a giant carousel.
Swimming tubes, noodles, and towels are available at a stand near the pool, where they also check resort ID.
There are two quiet pools: one is located within the Inn's Rose Garden Courtyard, the other next to Community Hall in the Villa area.
Muscles and Bustles Health Club offers free weights, Life Fitness, Stairmaster and Cybex exercise equipment. Also available are: steam room, sauna, tanning bed and massage therapies. The health club is located near Luna Park and is open 24 hours a day, 7 days a week. Membership is free to Boardwalk resort guests for the length of their stay. Disney Vacation Club members may use the facilities free if they are staying at a Disney resort. Guests from other Disney resorts can use the facilities for $/day, based on availability.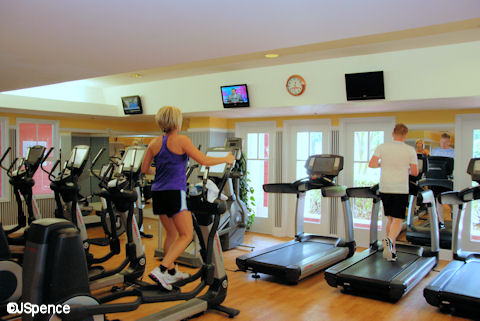 The paths around the Boardwalk Inn and Villas make for a beautiful run or walk. An Epcot resort jogging trail map is available from the Health Club.
Community Hall offers a wide range of equipment to pursue just about any recreational inclination. Community Hall is on the Villa side and rents bikes ($7.00/hour), tubes, noodles, videos ($3.18), and tennis rackets ($5.30). You can also play ping pong, croquet and more. You can also inquire about fishing trips at the Hall.
There are two lighted surfaced Tennis Courts located on the Villa side of the resort. Courts are free to Boardwalk Inn and Villa guests. Make reservations at Community Hall. Rental equipment is available.
Marine activities are only as far away as the Yacht Club harbor. Bicycles are a great way to motor around the Crescent Lake area and see all of the hotels and their grounds.
If you are hooked on fishing, be sure to inquire about the guided fishing excursions!
What other types of activities can be found on the Boardwalk?
The Boardwalk offers a wide range of activities that differ from day to day. Seasonally, you will find midway games, jugglers, entertainers, hand wax molds, food vendors, and magic shows. Bike riding along the Boardwalk is a popular past time. At night, the night clubs and restaurants spring to life and bring with them music, laughter, and people.
One of the favorite activities for families and groups are renting the Surrey Bikes. You can pedal your way around Crescent Lake over to the Beach/Yacht Club, Swan/Dolphin. Surrey bikes are not allowed on the walkway to Epcot's World Showcase. Rentals are available on the Boardwalk itself.
Visit our BoardWalk section for more details.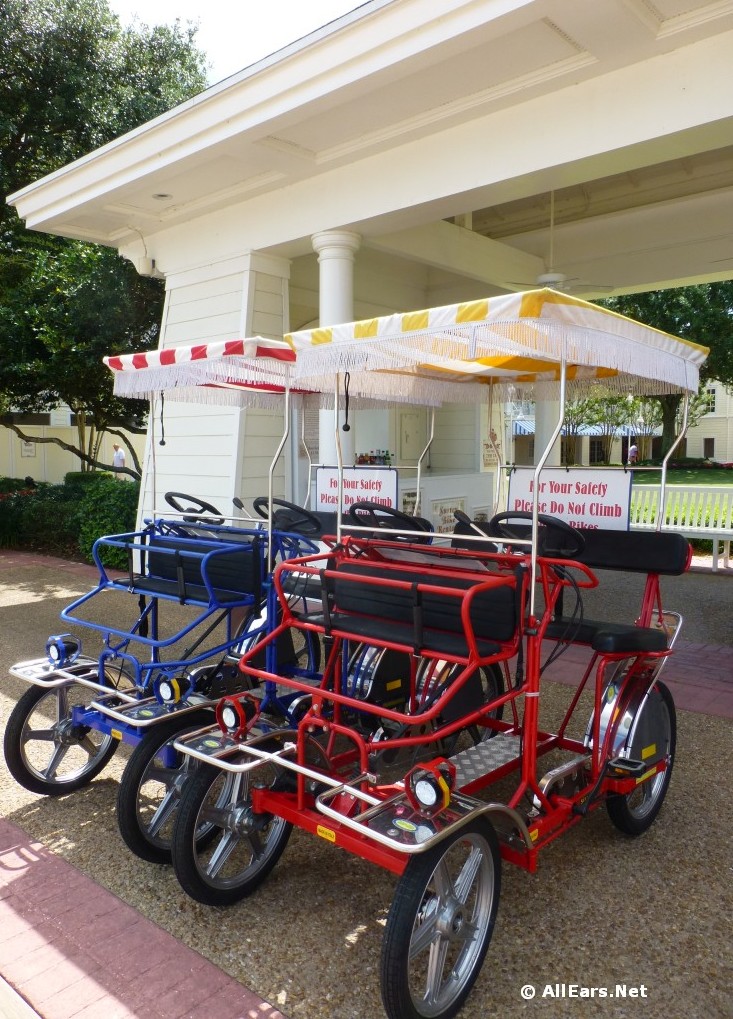 What about night spots on the Boardwalk?
The Boardwalk itself has live entertainers who invite you to participate in the magical silliness. During inclimate weather, you can sometimes find the entertainers in the Boardwalk Lobby.
Atlantic Dance has DJ music and dancing most evenings.
Jellyrolls features nonstop live entertainment on two dueling pianos as you join in the fun with singing and surprises (cover charge applies).
AbracadaBar is located between the Flying Fish and Trattoria Al Forno. It is said to have been a secret lounge of illusion during the golden age of magic. According to legend, magicians and illusionists would gather there after every show, attempting to out do each other with incredible tricks before creating new cocktails. Open from 4 p.m to 12 a.m.
Check HERE for more information about the Boardwalk at night.
Does the Boardwalk have Epcot Fireworks Cruises?
You can rent a Pontoon from the nearby Yacht and Beach Club Marina to enjoy Epcot's fireworks! This can also be a birthday cruise and will include a driver, cake, balloons, lights snacks and of course the fireworks.
TRANSPORTATION OPTIONS
How do I get to all of the wonderful places at WDW?
You picked a great resort because it is all about Location! Location! Location!
Epcot is a pleasant 5 minute stroll from the Boardwalk Inn. You'll enter the park through International Gateway. Or if you choose you can catch a Friendship boat from the boat dock right outside on the Boardwalk. The boats leave every 20 minutes and those on the right side of the dock will bring you to the International Gateway, right at Epcot's ticket gates.
To reach the Disney's Hollywood Studios you have three options:
You could take a leisurely 15 to 20 minute stroll (approximately one-mile) on the path along the waterway connecting the Epcot resort area with the Disney's Hollywood Studios.
You can take the Friendship boat from the left side of the boat dock on the Boardwalk, making stops at the Yacht and Beach Club dock and then the Swan and Dolphin dock before continuing on to the Studios. Don't worry if you just miss the boat and don't want to wait the 20 minutes for the next one, and don't want to walk all the way to the Studios. Just walk on over to the Swan and Dolphin dock and pick up the boat there. (This is likely the slowest route.)
You can take the Disney Skyliner from the International Gateway Station. You'll need to transfer at the Caribbean Beach Station to the Hollywood Studios line.
There are direct buses in front of the hotel to the Magic Kingdom, Animal Kingdom, Blizzard Beach, Typhoon Lagoon, and Disney Springs. You can connect to other Disney resorts from either the Disney Springs bus depot or from the parks.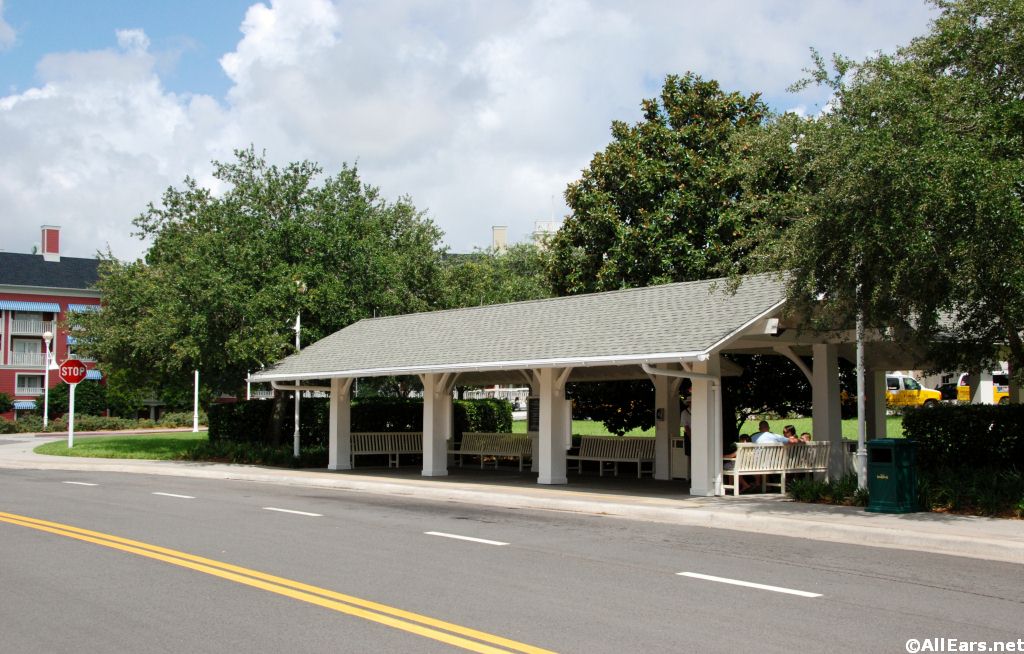 Are taxis and rideshare available?
Yes, it usually takes only 5 minutes to get a taxi. Go to the valet station at the front of the Boardwalk and they will call a taxi for you. Trips to destinations on property range in cost from $20 to $30.
You can also use your phone to request an Uber, Lyft, or Minnie Van.
Where can I find driving directions?
For directions on getting to the Boardwalk from the Orlando airports, visit our Driving Directions page.
TIPS AND OTHER INFORMATION
My child is celebrating a birthday during our stay. Is there something special we can do at the Boardwalk?
Birthday party facilities are available at the Boardwalk Inn/Villa complex. Parties can include decorated party room, personalized cake, hot dogs and hamburgers, chips and sodas, balloons, candy, and swimming at Luna Park and free video arcade. Check with Cast Members at Community Hall.
What other tips will help me make the most of the Boardwalk Inn?
The Boardwalk resort complex has been beautifully landscaped; be sure to stroll the grounds. Not only can you find colorful flower beds, but you can also enjoy quiet surroundings, fountains and benches.
With a fresh cup of morning coffee, there are many wonderful places to sit and enjoy the view — Luna Park, the quiet pools, the balcony off the lobby, or even the Boardwalk itself.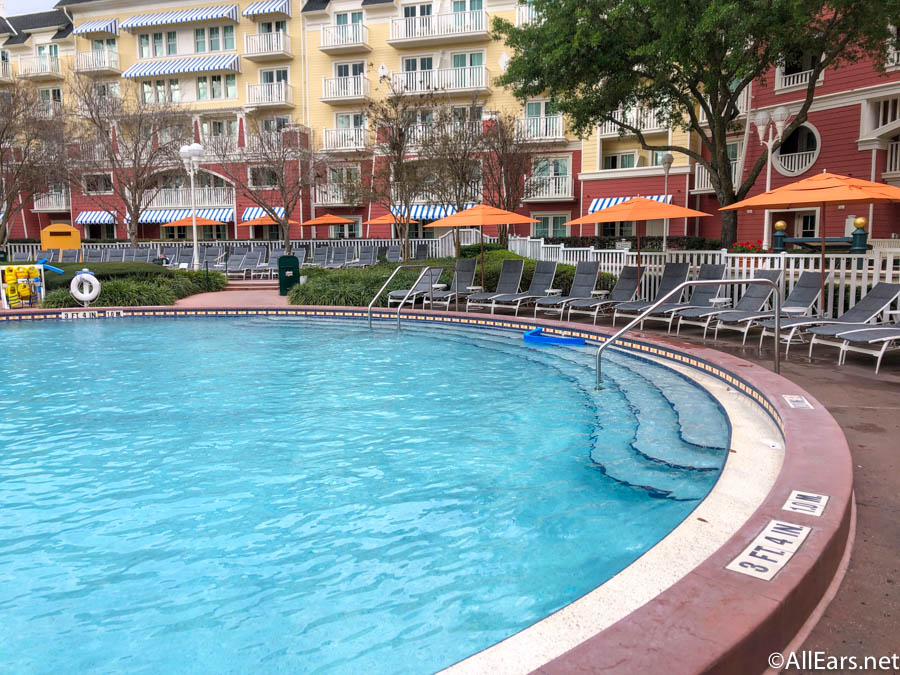 What else may I want to know?
Guests cannot access the Boardwalk directly from the garden and quiet pool areas. You have to go into the lobby first. This is to ensure guests' privacy and security.
To learn more about Disney's Boardwalk, check out this AllEars TV Video!
Overview
Phone: 407 939-6200
Address: 2101 North Epcot Resorts Blvd, Lake Buena Vista, Florida 32830
Transportation Options (2)
Activities & Recreation (7)
Playground
Arcade
Running Trail
Poolside Movies
Tennis Courts
Gym
Health Spa
Room Options (5)
Standard View
Water View
Standard Room - Club Level
Deluxe Room - Club Level
Outer Bldg - Garden Room - Club Level Access