Ever dreamed about getting escorted to your ceremony in a grand horse-drawn carriage? Maybe it's your dream to walk down the aisle and with Cinderella Castle acting as a backdrop on your special day.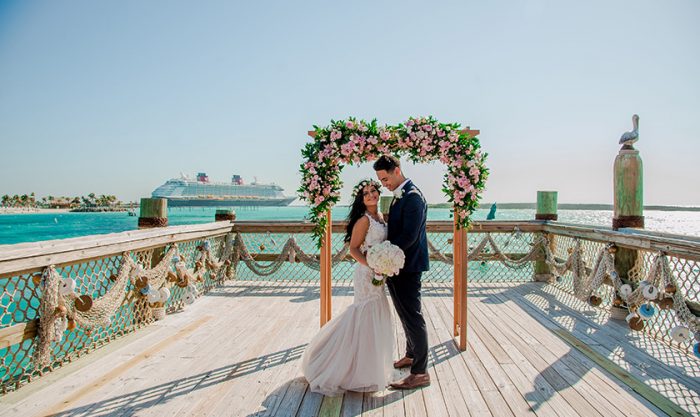 You've set the date and know that you want your big day to happen at a Disney destination. The next step is considering the cost of everything. We broke down the cost of a Disney Fairy Tale Wedding in 2019 and things have changed quite a bit since then! Disney has implemented a new pricing system that is based on locations and extra add-ons.
We're here to give you a basic pricing breakdown and all the things you can add onto your magical day!
Walt Disney World Fairy Tale Weddings
Previously, Disney offered four packages that ranged from Memory, Escape, Deluxe, Premium. The prices of the packages varied depending on locations, and the price included extra amenities like food, musicians, and the number of guests attending the ceremony. Disney World weddings are now given an event minimum price that is determined by the ceremony venue, day, and time of the ceremony. The ceremony venue fee and Disney Wedding Service elements can be applied toward your event minimum.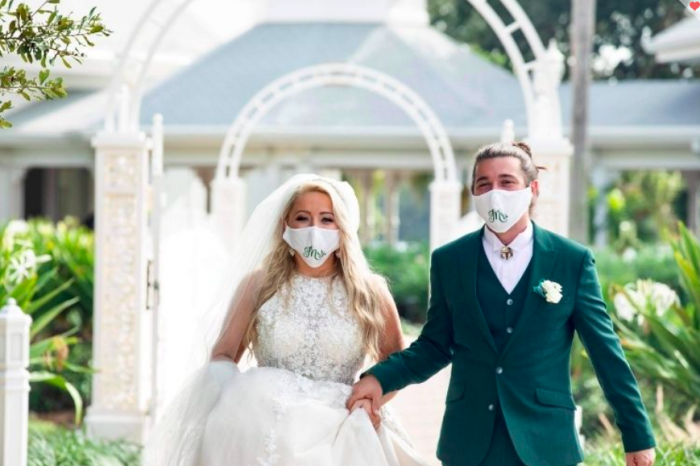 Unlike other Disney destinations, Disney World hosts Franck's Bridal Studio where you can meet with a planner to choose your cake, linens, floral arrangements, table settings, and other details. Let's take a look at all the Disney World locations you can tie the knot and the event minimums for each!
Disney's Polynesian and Grand Floridian offer a few select locations for the minimum event pricing ranging between $5,000 – $15,000. All four also have a ceremony venue fee of $2,500 which, as mentioned before, can be applied towards your event minimum.
Where You Can Get Hitched:
Conch Key Marina – Disney's Grand Floridian Resort and Spa
Luau Beach – Disney's Polynesian Village Resort
Luau Pointe – Disney's Polynesian Village Resort
Sago Cay – Disney's Grand Floridian Resort and Spa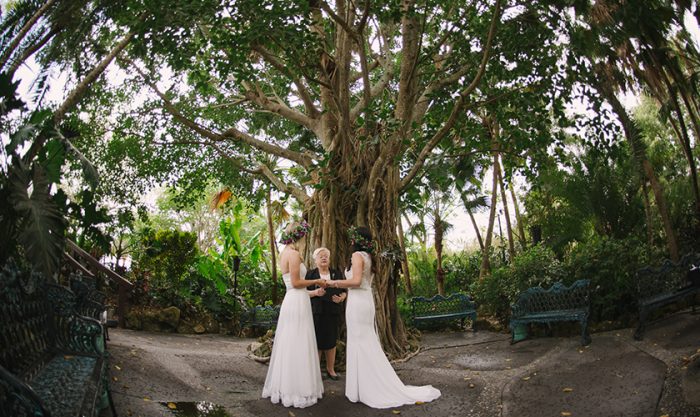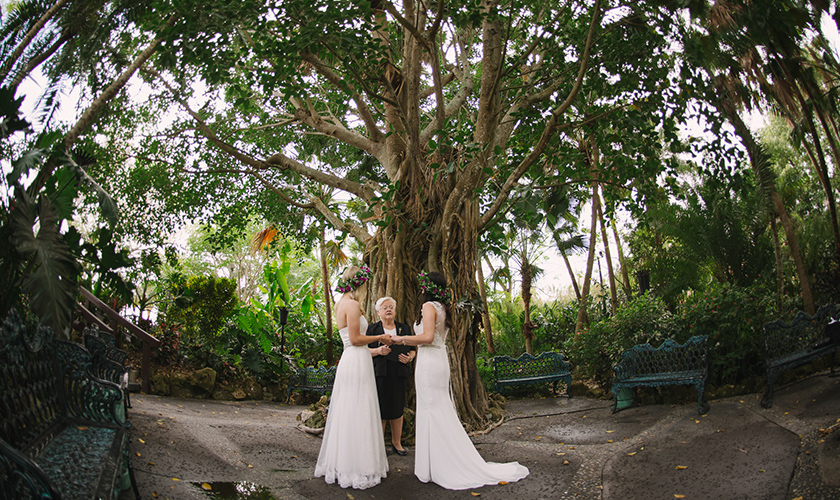 The Grand Floridian's famous Wedding Pavilion is at a higher price range, which we'll get to in a bit!
EPCOT's World Showcase is full of beautiful buildings and scenery inspired by countries from around the world. Can't get married in Italy? EPCOT's Italy Pavilion could be the next best thing!
Where You Can Get Hitched: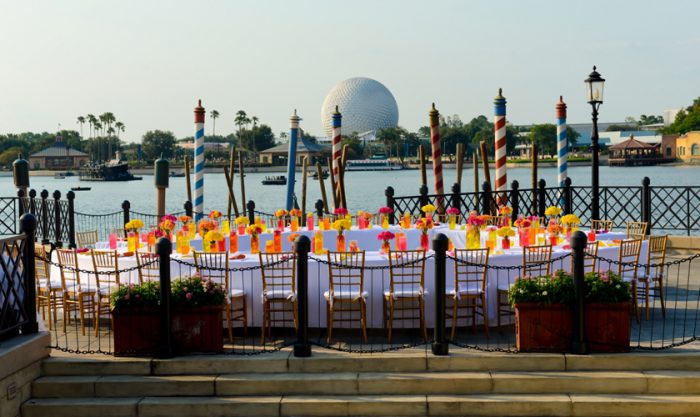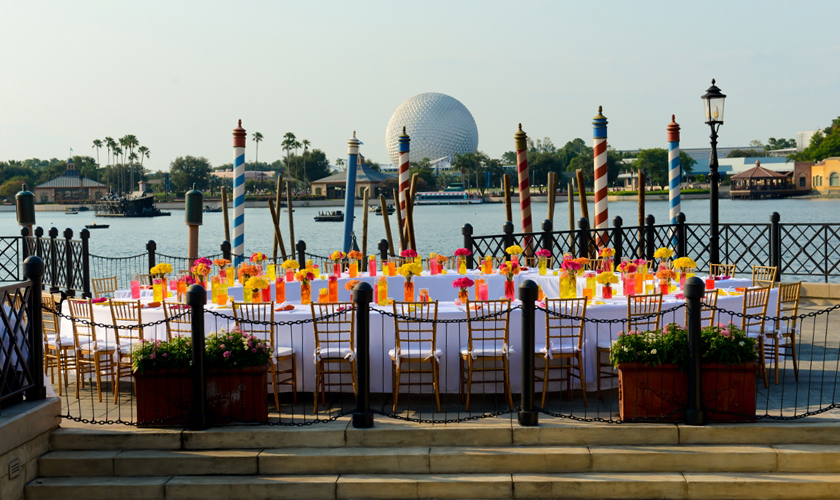 You can get married in six of the country pavilions, and the event minimums range from $7,000 – $17,000. The ceremony venue fee for EPCOT is $4,500.
Additional Disney World Resorts
Many of the Moderate and Deluxe Disney World resorts are incredibly lavish and exquisite in theming. The foliage is beautiful and well-groomed while the resort buildings are expansive and detailed. That's why many couples use the gorgeous Disney hotels as the venue for their ceremonies.
Where You Can Get Hitched: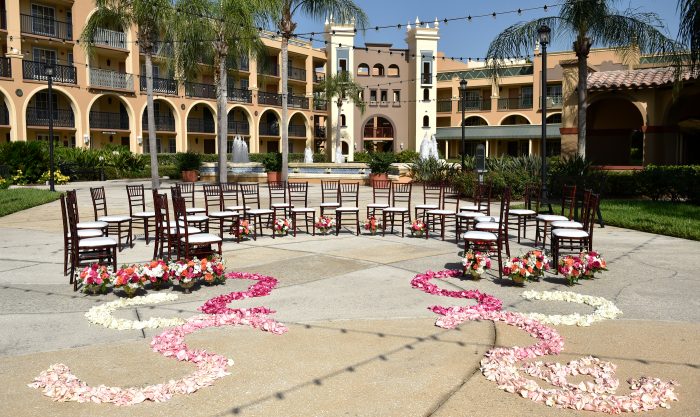 Disney offers 5 resort locations with an event minimum ranging from $8,000 to $20,000 and a venue fee of $4,000. 
Disney's Grand Floridian Resort and Spa Wedding Pavillion
The Wedding Pavilion was built specifically with fairy tale weddings in mind. The ceremony pavilion is located on Grand Floridian's property and is your one-stop-shop for wedding preparations. The building hosts rooms for the couple getting married and wedding party rooms where everyone can get ready.
The Wedding Pavilion minimum ranges from $10,000 to $35,000 with a ceremony venue fee of $5,000.
You can also have Animal Kingdom or Hollywood Studios provide the atmosphere for your special day! How cool would it be to get married in front of the beautiful Tree of Life or the iconic Twilight Zone Tower of Terror?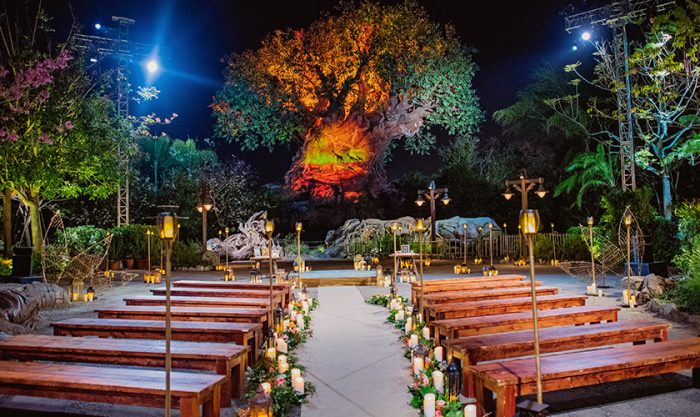 Both locations are available to reserve and have an event minimum between $15,000 to $25,000 with a venue fee of $4,500.
Ok, the moment you've all been waiting for! The Magic Kingdom is the perfect place to make your "ever after" dream come true! The place is practically bursting with fairy tale adventures and romantic views. It's almost a given to go all out with that horse-drawn carriage escort here!
Where You Can Get Hitched:
Magic Kingdom East Plaza (The Hub) – Ceremony Venue Fee of $2,500
Magic Kingdom Train Station (Entrance) – Ceremony Venue Fee of $1,500
Magic Kingdom After Hours (Cinderella Castle) – Ceremony Venue Fee of $30,000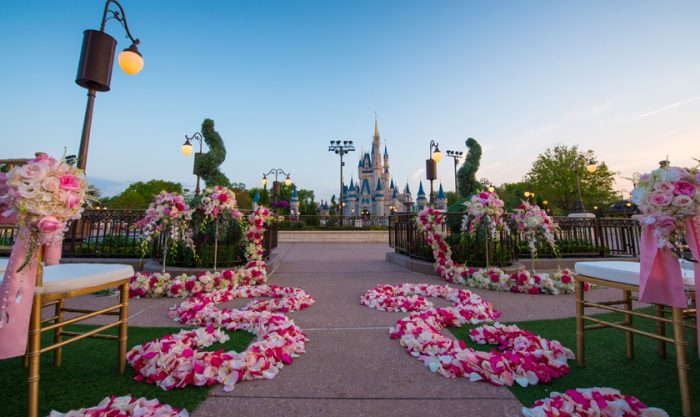 There are three locations inside Magic Kingdom where you can exchange vows. All three have an event minimum of $15,000 to $25,000 and have varying ceremony fees.
Additional Pricing
The event minimum can also be put toward extra catering, floral arrangements, entertainment, Disney character appearances, and more. Consider the following additional costs when pricing out your Disney Fairy Tale Wedding.
Catering

– Brunch (140/person), Lunch (165/person), Dinner (190/person)

Floral Arrangements – Bouquets, Boutonnieres, Ceremony & Reception
Photography, Videography, and Portrait Sessions
Entertainment – Musicians, Themed Entertainment (like fireworks), and Disney Characters
Transportation – Cinderella's Coach, Landau Coach, and Motorcars
Live closer to the West Coast? Disneyland also offers a handful of locations around the resort for couples looking to get married on Disney property. Pricing is a combination of ceremony venue fees and the reception catering. Much like Disney World weddings, you can add on additional enhancements. Unlike Disney World, the ceremony venue fees are included in the event minimums.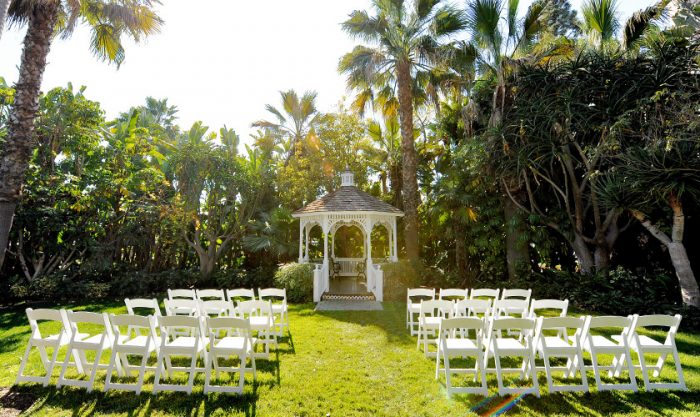 The Adventureland Gazebo in the Disneyland Hotel is a small pavilion located behind the Adventureland resort building. The backdrop is large, full trees and tailored shrubs behind the gazebo. You can also choose the Wedding Garden in Disney's Grand Californian Hotel and Spa which is located on a manicured lawn behind the resort. Both locations have ceremony fees ranging between $2,000 to $6,000.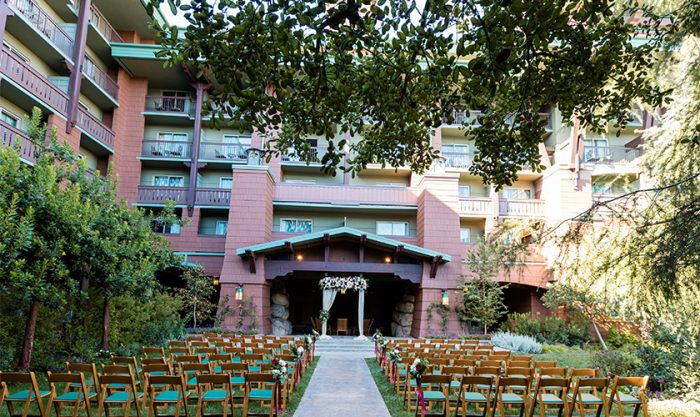 You can also get married on the Magic Kingdom Lawn in the Disneyland Hotel, which is a more expansive area of the hotel and can accommodate more guests. The Brisa Courtyard in the Grand Californian is located underneath the monorail track so you can watch the iconic trains whiz by while you say your vows. Lastly, Parkview Terrace offers an overlook of Disney California Adventure Park. These three locations have ceremony fees from $3,000 to $8,000.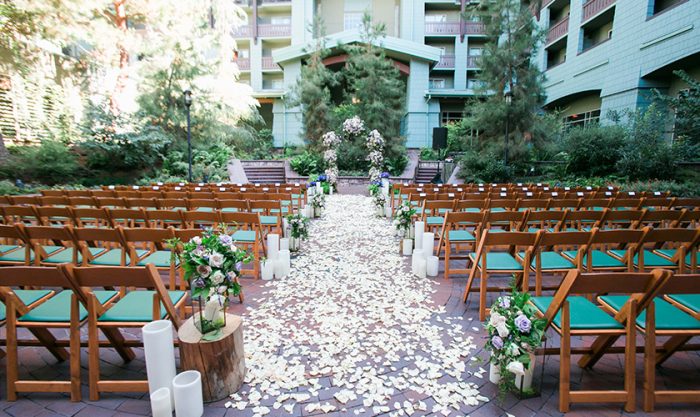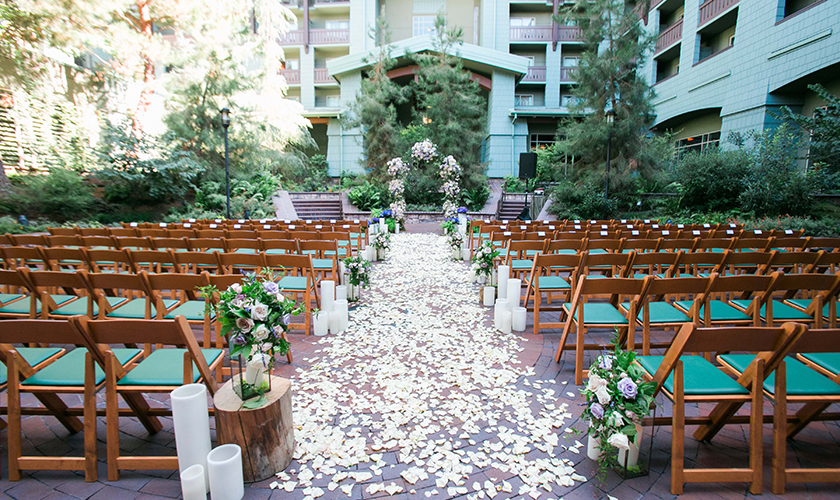 The last location is the Rose Court Garden in the Disneyland Hotel. It's the largest wedding gazebo at the resorts The lush rose bushes and foliage offer some privacy for your guests and ceremony.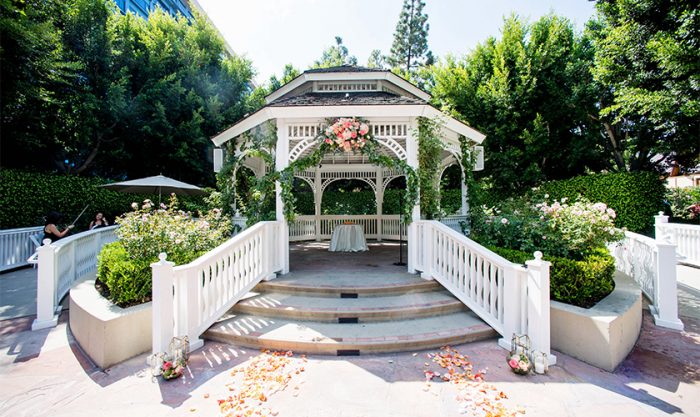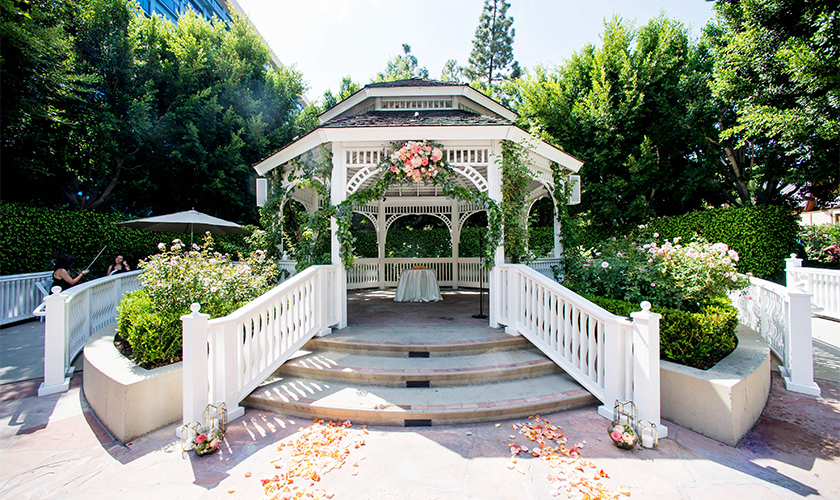 The ceremony fee is the highest starting at $4,000 to $10,000.
Additional Pricing
Like Disney World, you can choose from additional enhancements for the ceremony. The prices vary and some of them are only available for certain venues.
Catering – Brunch (140/person), Lunch (165/person), Dinner (190/person)
Floral Arrangements – Bouquets, Boutonnieres, Ceremony & Reception
Decor – Ceremony, Reception, Themed Room
Entertainment – Musicians, Crystal Coach Escort (Rose Court), and Disney Characters
The Disney resort in Hawaii offers a huge amount of amenities like onsite dining, activities, and even a private beach. It's no wonder that Disney offers weddings inside the massive resort. The Aulani weddings are offered in two packages: the Lōkahi Package for a customizable ceremony and reception and the Pilialoha Package for a small ceremony up to 18 people.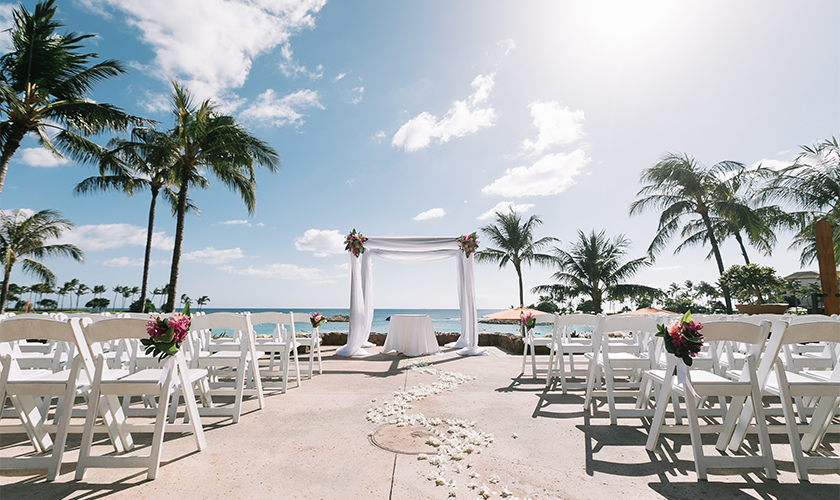 Lōkahi Celebrations
The Lōkahi packages have a starting price of $10,600+ and a few of the locations have an additional venue fee as well. The locations vary everywhere from outdoor patios to the beach to huge resort ballrooms.
Where You Can Get Hitched:
`AMA`AMA Patio – Outdoor patio facing the beach with an added venue fee of $3,500
Aulani Beach – Ceremony held right on the sandy beach.
Halawai Lawn – The Halawai Lawn is located on the Ka Wa'a stage where nightly luaus take place. This venue has an added fee of $3,500.
Kaʻala Ballroom
Kaiona Ballroom
Lanikuhonua – This is a huge, expansive lawn that is surrounded by palm trees and a view of the beach. Lanikuhonua has an added venue fee of $10,000.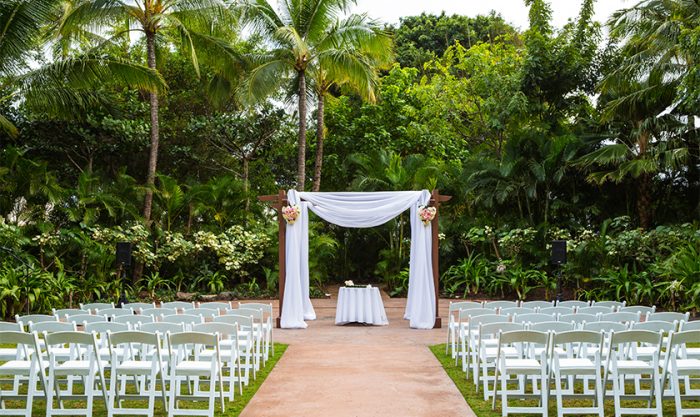 Pilialoha Celebrations
The smaller, intimate ceremonies start at $5,400+ and don't have extra added venue fees.
Where You Can Get Hitched:
Alohi Point – This venue is located near the zero entry pool with the white sand beach in the background.
Kula Wai – You can get married in the floral outdoor hydrotherapy garden. The venue has an added fee of $500.
Sunset Alcove – This venue is located close to the beach and lawn chairs that look towards the ocean.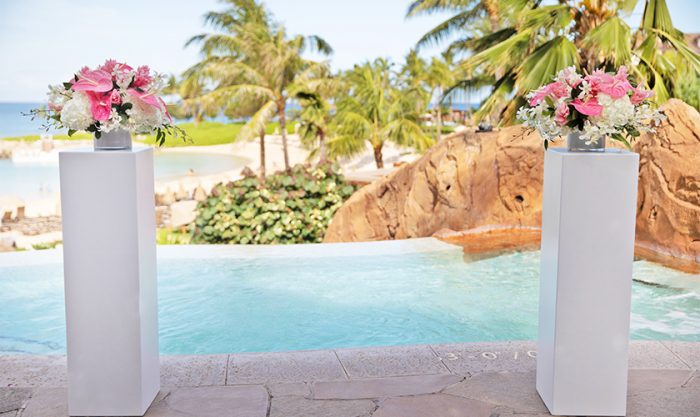 Additional Pricing
You can have the option to have additional enhancements for Aulani wedding like extra catering, photography, and Hawaiian entertainment.
Catering – Lunch (125/person) and Dinner (175/person)
Floral Arrangements – Lei and Tropical Bouquets
Photography Sessions
Entertainment –  Musicians, Characters, Hawaiian Entertainment
Disney Cruise Line Weddings
The last venue you can choose from is a Disney Cruise! You can board a cruise, get married, then celebrate with your loved ones on the same boat. You get a lot of perks for getting married on a cruise. Enjoy your reception onboard, romantic excursions, and beautiful destinations. Cruise ceremony packages include up to 16 guests plus the couple. Every additional guest ages 3 and up is $20 per person.
Onboard Celebrations
There are a few different places you can choose from if you'd like to get married onboard the ship. Each onboard celebration starts at $3,500 and there are no additional fees for the different location. Some celebrations are specific to certain cruise ships.
Where You Can Get Hitched:
The Atrium – This the grand staircase that you see when you first enter the cruise ship. (Disney Dream, Disney Magic, Disney Wonder, and Disney Fantasy)
Deck 10 Aft Overlook – The rear deck is the only full outdoor ceremony venue on the Disney Magic and Disney Wonder.
Meridian Patio – The Meridian is a swanky lounge, and you can get married outside on the patio with a view of the ocean. (Disney Dream and Disney Fantasy)
Outlook –  This lounge is located on Deck 14, Midship. You can have your ceremony then host your reception in the same room. (Disney Dream and Disney Fantasy)
Offboard Celebrations
Offboard celebrations can be booked if you take a cruise that stops at Disney's private island, Castaway Cay, in the Bahamas. The ceremony happens on the beach then you will head back to the ship for cake and champagne! Each celebration starts at $4,500.
Where You Can Get Hitched:
Castaway Cay – Get married on the sandy beach facing the ocean and view of the ship.
The Wedding Pointe – The Wedding Pointe is a large deck that sits over the ocean. Couples will get married under the floral archway!
Additional Pricing
Floral Arrangements – Bridal and wedding party enhancements can be arranged.
Entertainment – Pianist is included with your package price!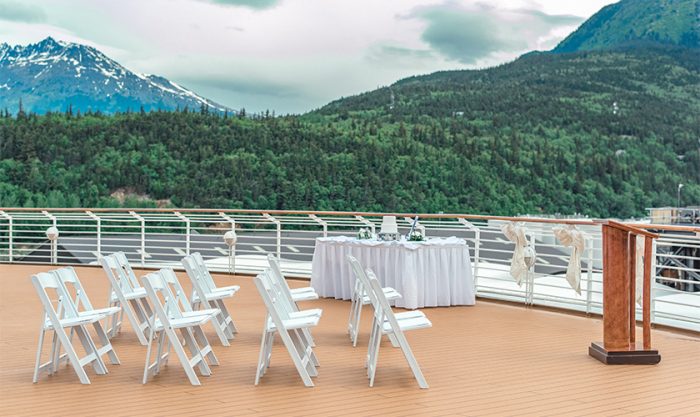 These are just base prices that will get your wedding budget started. You'll also have to consider transportation, hotel, and vacation costs that won't be included in your event minimums. You can contact Disney Fairy Tale Weddings to get an accurate quote based on your preferences. Wanna get pumped for your Disney wedding? Tune into Disney's Fairy Tale Wedding series on Disney+! It's the perfect way to get ideas rolling for your big day!
Have you dreamed of having a Disney wedding? Let us know your dream destination in the comments!
Join the AllEars.net Newsletter to stay on top of ALL the breaking Disney News! You'll also get access to AllEars tips, reviews, trivia, and MORE! Click here to Subscribe!