Disney's BoardWalk and the Epcot Resort Area
INTRODUCTION
DISNEY'S BOARDWALK is an entertainment, dining, and shopping complex at Walt Disney World that hugs Crescent Lake, connecting several of the Epcot resorts and within easy walking distance of both Epcot and Disney's Hollywood Studios. Unique Jersey-shore style live entertainment is also available nightly.
Renowned architect Robert A.M. Stern envisioned Disney's BoardWalk as a "village across the water," a respite for tired tourists who wanted some time away from the frenetic pace of the theme parks. He modeled the area after turn-of-the-century seaside towns in the Mid-Atlantic and New England. Architectural touches remind visitors of Cape May, N.J., but there's a slightly Coney Island feel to the Boardwalk area itself.
Anchoring the entertainment complex, which opened in 1996, are the BoardWalk Inn and Villas resorts. Across Crescent Lake are Disney's Yacht and Beach Club resorts, and a short distance in the other direction are the Walt Disney World Swan and Dolphin Resorts. The proximity of these various resorts and their attendant amenities (restaurants, shops, pools), coupled with walkways to Epcot and Disney's Hollywood Studios, make the BoardWalk a very appealing and easily accessible location.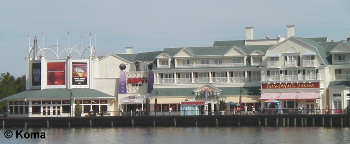 WHAT'S AT THE BOARDWALK? A variety of activities, with something to please almost everyone! Visit our other sections on Disney's BoardWalk and the Epcot Resort Area by clicking on the links below:
RESTAURANTS AND LOUNGES abound in the Boardwalk and Epcot resort area with everything from intimate dinners for two, or large-crowd fun.

(You can find menus for the restaurants listed by following the links on their names.)

The BoardWalk's premier restaurant, the Flying Fish is now open with an entirely new look and brand new menu. Also nearby, Trattoria al Forno spotlights Italian cuisine at breakfast and dinner. The new AbracadaBar lounge sits between the Flying Fish and Trattoria. The decor suggests it was a former stomping grounds for local magicians.

If you're looking for more than just food, the ESPN Club has 100 televisions (some even in the restrooms!) and a 108-square-foot screen. Its menu includes a smattering of typical American fare, including pasta, sandwiches, salads and hamburgers. Rounding out the full-service establishments right on the BoardWalk itself is the Big River Grille & Brewing Works, a restaurant and brew pub that produces its own beers.

Interested to relax after dinner? You might want to stop by the BoardWalk Inn's Belle Vue Lounge, a quiet spot with overstuffed furniture and antique radios playing old-time radio dramas (which also offers a light breakfast in the mornings). There are also other lounges located in the nearby Epcot Area resorts, such as the Crew's Cup Lounge (open for lunch and dinner) in the Yacht Club, and Martha's Vineyard in the Beach Club.

If all you want is a light snack, try the BoardWalk Bakery, with sweet rolls and sandwiches, or the Boardwalk Pizza Window. There are also a number of kiosks with typical BoardWalk fare, such as cheese fries and chili dogs!

What's a boardwalk without ice cream! The Ample Hills Creamery is a turn of the century ice cream parlor. The Brooklyn-based company is known for their creative approach to all things ice cream. This is its first location outside of New York City.

As you stroll the Boardwalk you will also find several kiosks selling funnel cakes, specialty margaritas and more.

SHOPPING — Along the BoardWalk you'll find the Screen Door General Store, with a variety of Disney merchandise, as well as sundries and some grocery items. Disney's Character Carnival on the BoardWalk, features adult and golf apparel, accessories, plus Disney character merchandise for all ages. Thimbles & Threads has ladies, children and infant apparel, plus Disney character plush, toys and accessories. The unique Wyland Galleries, located near the entrance of the BoardWalk Inn, is a classic gallery of marine life, featuring internationally renowned artist Wyland and others. Plus, the BoardWalk features a well-stocked Pin Station to satisfy even the most avid collector. A wide variety of shops are a short walk away in the nearby Yacht & Beach Clubs, and the Swan and Dolphin resorts.

ENTERTAINMENT — There is no admission fee to Disney's BoardWalk itself, but certain venues may have cover charges. Self-parking is free for Disney guests, Valet Parking is $25 (valet parking is free to Tables in Wonderland members with a valid receipt). The entertainment available at the BoardWalk ranges from nightclubs to free live outdoor entertainment.

There's Jellyrolls, with its uproarious sing-alongs and dueling piano players. Or if dancing is more your thing, then visit Atlantic Dance, which features video music or a DJ on certain nights.

On any given night, strolling along the BoardWalk from 6:30-10:30 p.m. you may see jugglers, a tarot card reader, a New Orleans style jazz trio… you just never know.

WATER ACTIVITIES — If you'd like to spend a little time on the water, rather than just looking at it, the BoardWalk and Epcot Resort Area offer a number of fun alternatives. There are opportunities to rent boats of all types, even charter a fishing excursion!
HOW TO GET THERE:
Resort Guests can get to Disney's BoardWalk a number of ways:
By Disney World Bus: From any Disney theme park, take the bus to the Boardwalk Inn and Villas, walk through the lobby and voila! You're there!
By Boat: The BoardWalk shares boat transportation with the Swan, Dolphin, Yacht and Beach Clubs. The route from Disney's Hollywood Studios is: 1) Swan/Dolphin, 2) Yacht & Beach Club, 3) Boardwalk, 4) Epcot. The entire trip (one-way) lasts about 25 minutes.
From Disney's Hollywood Studios, catch Friendship boat launch to the dock on the BoardWalk.

From Epcot, catch a Friendship boat launch directly to the BoardWalk.

From the Yacht and/or Beach Club, catch the launch at the marina.
On Foot: Disney's BoardWalk is easily reachable by foot from many destinations:
From Epcot — Depart through the International Gateway and follow the signs. The walk is about .5 miles.

From Disney's Hollywood Studios — Take the path that starts in the park's parking lot and follow the signs. The walk is about 1 mile.

From Swan/Dolphin — It's a short walk from the entrance of either hotel, over the bridge to the BoardWalk. Just follow the signs.

From Yacht & Beach Club — Walk around the lake to reach the BoardWalk on the opposite shore.
By Cab: Valet or Bell Services at any Disney hotel will be glad to call a cab for you.
By Car: The Boardwalk Parking lot is restricted during certain times of the year. You may not have access unless you are a guest or have a reservation. There is a parking lot on the opposite side of the street you can use.
Take I-4 to Exit 64-B (Epcot). Take 2nd exit (Epcot Resorts/Disney's Hollywood Studios). Turn right at 4th traffic signal. The Boardwalk will be on the left.
HOURS OF OPERATION vary according to individual locations and seasons, but most shops are generally open until 11 p.m.
If you have comments or tips to share with others about touring Disney's BoardWalk and the Epcot Resort Area, please email us. Thank you.