Cinderella Castle Magic Kingdom
INTRODUCTION
There is only one symbol that springs to mind when you think of the Magic Kingdom in Walt Disney World — Cinderella Castle. You know you are truly someplace magical when you spy that beautiful structure looming large in the background as you gaze down Main Street, USA.
ATTRACTION
Cinderella Castle opened when the Magic Kingdom debuted on October 1, 1971. Painted in grey, blue, and gold, the Castle represents the Walt Disney Imagineers' concept of a French palace-fortress. The base of the Castle is medieval in nature, while the turrets and graceful spires on the the upper level represent the architecture of a more Gothic era.
The Castle was completed in July 1971, after about 18 months of construction. No bricks were used, and, contrary to a popular legend, the Castle can NOT be taken apart in the event of a hurricane. It was, however, built to withstand hurricane winds of at least 90 miles per hour. The inner structure is steel covered with fiberglass, secured to a concrete foundation. The turrets and towers also have internal steel framing and were lifted by crane, then bolted permanently to the main structure.
Measuring 189 feet high, the castle is the tallest structure in the Magic Kingdom.
TOURING TIPS
Don't just walk through the Castle archway — take the time to look around you! Inside the main hall, the tale of "Cinderella" is told on five mosaic murals, each a Gothic arch 15 feet high and 10 feet wide.
The Castle is wheelchair/ECV accessible.
Don't miss Tinker Bell's nightly "flight" from the Castle down toward Tomorrowland to kick off the evening's fireworks display. Tinker Bell flies 750 feet, averaging 15 miles per hour. It takes approximately 34 seconds for the trip.
KIDS AND CHARACTERS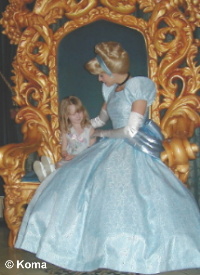 Disney Characters can be found around the Castle throughout the day. Many times characters will appear unannounced in the rear of the castle.
Check your daily Times Guide for times and locations of other Meet and Greet opportunities in the Magic Kingdom.
Cinderella's Royal Table, located upstairs in the Castle, hosts an extremely popular character breakfast every morning. You can also have lunch with Cinderella and for dinner, the Fairy Godmother is usuallyu around.
Magic Kingdom Characters At A Glance
Character Meet and Greet FAQ!
DINING
A circular stairwell or a themed elevator takes you to the second floor of the Castle so you can dine at Cinderella's Royal Table for breakfast, lunch or dinner. Younger guests are treated like royalty, called "princes" or "princesses," while adult guests are addressed as "lords" or "ladies."
Magic Kingdom Restaurants At A Glance
Menus From Around the World
Vegetarian and Other Special Diets
SHOPPING
The Bibbidi Bobbidi Boutique — A boutique salon that transforms little girls into Disney princesses with hairstyling, make-up, and manicures. This location (another salon is located in Disney Springs) opened in the Magic Kingdom in Cinderella Castle in September 2007.
Just beyond the Castle in Fantasyland you'll find Castle Couture, which is a great place to go for costumes, and Sir Mickey's, themed to the cartoon "Brave Little Tailor."
INTERESTING FACTS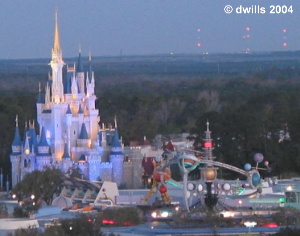 There are 18 towers with their corresponding spires on Cinderella Castle. They were pre-fabricated near the site, then slated, gilded, and hoisted into place.
There are 13 gargoyles on the outside of the castle.
A decorative portcullis (iron grating suspended by chains hung over a gateway of a fortified place, normally used to prevent passage) that is permanently raised is located above the gateway to the main hall.
The mosaic in the Castle archway was designed by Disney artist Dorothea Redmond and created and crafted by a team led by the world-famed mosaicist Hanns-Joachim Scharff.
The five murals contain about 500 colors and a million pieces of glass, many of them fused with real silver and 14-karat gold. Smooth-faced Venetian glass and rough-surfaced smalti (enameled or glazed glass) traditionally used by Italian craftsman were incorporated into the design. It took a team of six people more than two years to complete the murals. Note that each of Cinderella's wicked stepsisters has her own special facial tint. One sister is red in tone, to show that she is "red with rage," while another is greenish ("green with envy"), as they both look on as Cinderella tries on the glass slipper — a perfect fit.
Tinker Bell embarked upon her first flight from Cinderella Castle on July 4, 1985.
In honor of Walt Disney World's 25th Anniversary, Cinderella Castle was transformed into a giant pink castle cake (known by some as the "cakestle"), decorated with gum drops, Life Savers, lollipops and red candy hearts. The castle cake reigned for 15 months, from October1, 1996, through January 31, 1998. At the conclusion of the 25th Anniversary Celebration, Cinderella Castle was transformed back to its original traditional blue-and-gold-spired, storybook splendor.
Prior to April 28, 1997, Cinderella's Royal Table was called King Stefan's Banquet Hall, which opened with Cinderella Castle on October 1, 1971. Walt Disney Imagineers had wanted to give the restaurant a regal name, and since there were no well-known characters from "Cinderella" that met their criteria, they instead took a little dramatic license and chose the name of Sleeping Beauty's father King Stefan.
The columns situated in the walkways that curve around either side of the forecourt to Cinderella Castle are decorated with mice and birds from the Disney animated feature film "Cinderella." The characters were sculpted by Blaine Gibson, who also sculpted the "Partners" statue on Main Street, U.S.A. and the Cinderella Wishing Well statue located on the walkway between Fantasyland and Tomorrowland.
There are more than 40 coats of arms on display inside Cinderella's Royal Table restaurant. Each coat of arms refers to someone who has played a significant role in the heritage and history of the Walt Disney Company. These are just some of the noteworthy Disney people whose family names are represented: Roger Broggie, Sr.; Marc Davis; Roy Disney, Sr.; John Hench; Diane D. Miller; Dick Nunis; Marty Sklar; Card Walker. To learn more about the heraldry located inside Cinderella's Royal Table, visit the restaurant itself.
There is a penthouse inside Cinderella Castle that was intended to be an apartment for Walt Disney and his family when they were in Florida. After Walt Disney died in 1966, the apartment was never finished. Instead, the penthouse served as the operations area for Vista United Telecommunications (switchboard operators). It now serves as dressing rooms for the entertainers performing in the shows at the Castle Forecourt Stage.
There is also a two-bedroom "Cinderella's Guest Suite" in the Castle that was occupied on a nightly basic by one lucky family as a prize in the Year of a Million Dreams promotion.
If you have comments or tips to share with others about touring the Magic Kingdom, please send them to us. Thank you.