Weddings may be the most joyous and memorable moment of a couple's life, but they can also be one of the most expensive. In fact, according to a 2018 survey conducted by the independent research company The Wedding
Report, the average cost of a wedding in the U.S. is just under $25,000!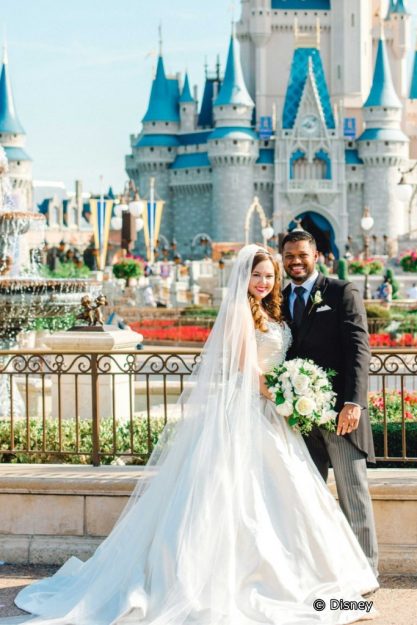 You might think that the price for getting married on any Disney property would shoot well above that number, but you'd only be half right.
Disney's theme parks in Anaheim and Orlando, the Disney Cruise Lines and Disney's Aulani all offer wedding packages that vary in price from affordable to "Wait… HOW much?" We went through the prices offered by Disney's Fairy Tale Weddings and Honeymoons  and broke them down based on their locations, venues and special amenities before the taxes, service charges and other applicable fees kick in to the final bill. Let's take a look!
Walt Disney World
The Walt Disney World resort in Florida offers three general options for wedding ceremonies and receptions: Memories, Escape and Wishes.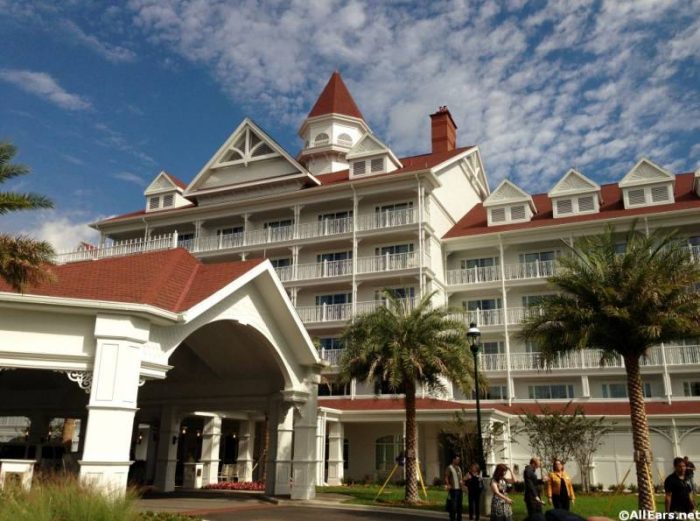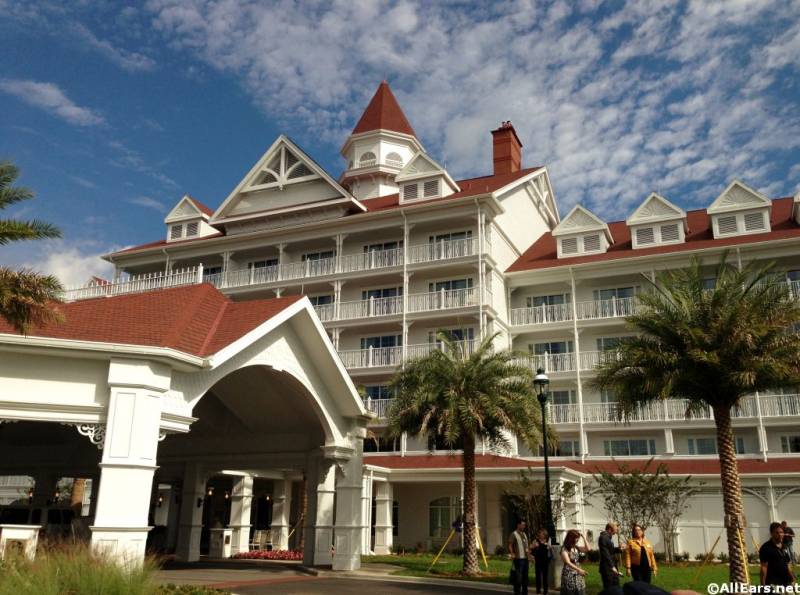 The Memories package is the cheapest and simplest of the three with a starting price of $3,500. The package comes with a ceremony that can includes up to four people including the couple and offers three venues for the ceremony: the Conch Key Marina at Disney's Grand Floridian Resort & Spa or Luau Beach or Luau Pointe at Disney's Polynesian Village Resort. The package also comes with:
a violinist
a limousine charter for three consecutive hours
a one-hour session with a Disney photographer
The price of the ceremony can go higher depending on differing seasonal and holiday rates, as well as additional features for the ceremony and reception. Couples are also required to book a two-night minimum stay at any Disney Resort hotel.
The Escape package has a starting minimum price of $7,000 (not including a $1,000 deposit) and offers invitations for up to 18 people include the couple. The package offers two collection options: the Deluxe and the Premium Escape collections.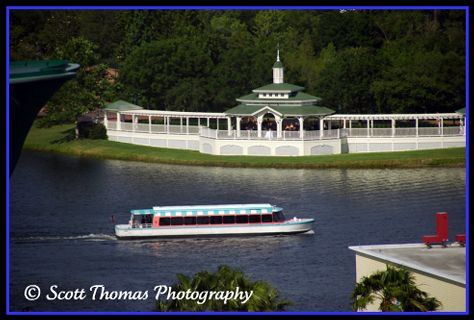 The Deluxe Escape collection is the cheaper of the two, with a $7,000 starting price tag. Couples can have their ceremony at Sea Breeze Point at Disney's BoardWalk Resort or The Wedding Gazebo at Disney's Yacht Club Resort for the same starting price.
The Premium Escape collection offers more choices for venues such as Luau Pointe at Disney's Polynesian Village Resort and the Canada Pavilion in Epcot for $7,500 and Disney's Wedding Pavilion for $8,000.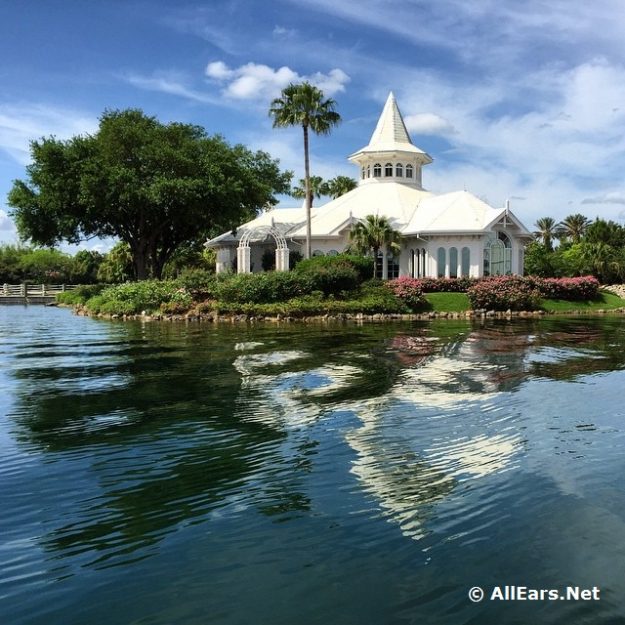 Each collection also comes with:
personal floral options for the couple
a violinist
cake and champagne
a limousine charter for four consecutive hours for the couple on the wedding day
a two-hour session with a professional Disney photographer who delivers digital photos of the ceremonies along with a Jasmine themed wedding album
an on-site wedding coordinator
The price for the Memories and the Escape packages climb the more a couple wants to personalize their wedding, with additions like floral arrangements that cost a minimum of $422 for the ceremony or altar and other individual arrangements. Additional themed entertainment options include an English butler and/or a Major Domo who acts as a ring bearer and delivers the couple's rings in a glass slipper, each starting at $975, and a herald trumpeter starting at $770 or a trumpet duo starting at $1,350. Walt Disney characters are available for $1,375 for one character or $1,975 for two characters. There are also additional musician options from a flutist starting at $695 to a string quartet starting at $2,175.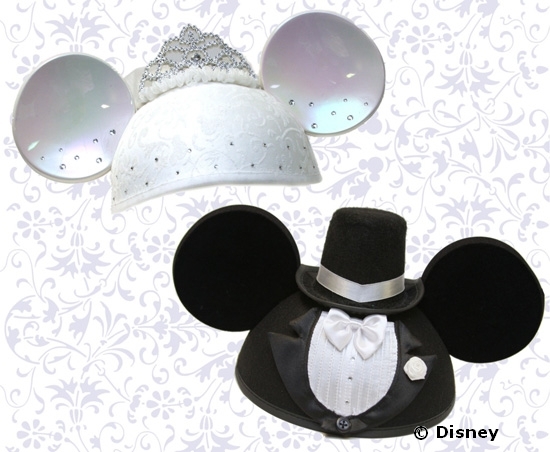 The Wishes package is the most expensive of the three and starts at $12,000 for a ceremony and reception with at least 20 people in attendance. Venue options include any of the Walt Disney World resorts for $4,000, Epcot, Animal Kingdom or the Hollywood Studios for $4,500, or the Disney Wedding Pavilion for $5,000, the latter of which includes an organist.
The Magic Kingdom is also available for wedding ceremonies and offers three options: the Magic Kingdom train station starting at $15,000; the East Plaza Garden for $25,000; or an after-hours venue option for $50,000. All of the Magic Kingdom options require booking a charter bus to transport guests and additional fees for floral arrangements and decorations.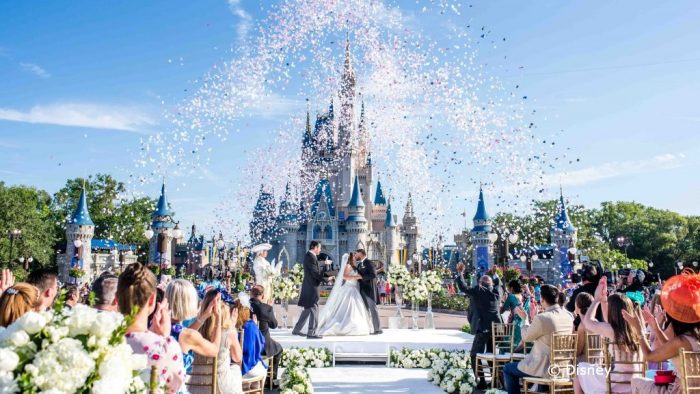 Receptions are also available with the Wishes package: brunch for $140 per person, lunch for $165 per person and dinner for $190 per person. Receptions at the Magic Kingdom's train station will cost $10,000 and the East Plaza Garden will cost $15,000.
Disneyland
If you and your guests live closer to the west coast or would just rather have a wedding in California, the Disneyland park in Anaheim is also available and offers two wedding packages: Escape and Wishes.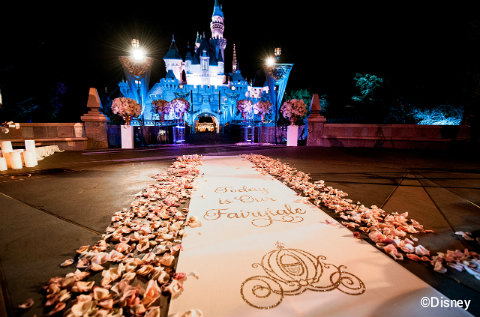 Just like the Florida packages, the Escape package is the cheaper option, starting at $6,500 for up to 18 guests including the couple. Amenities in the base price include an officiant for the ceremony, a CD player for ceremony music and a bridal bouquet and boutonniere.
The reception comes with a three-course luncheon or dinner selection, a house champagne or cider toast and a two-tier wedding cake. Additional floral options include boutonnieres starting at $15 each, wrist corsages at $30, flower girl baskets at $50 and bouquets at $100. Floral decor at the ceremony include a cluster of flowers for $325 and rose petals for $150 for the aisle that can also have a white runner for $85 (only for venues without lawns because green and brown never work in weddings unless you're a bridesmaid).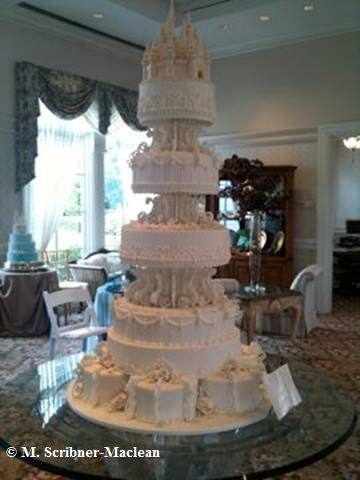 Reception additions such as linens, napkins, chair covers, Chivari chairs, flower centerpieces and guest favors will cost from $2.50 to $100 per guest and chair covers and Chivari chairs must start at a total price of $250. The wedding cake can also be customized with an additional starting charge of $200.
Couples with more bucks to spend can arrange special transportation to the ceremony such as Cinderella's horse-drawn, uncovered Crystal Coach for $3,500 with a Major Domo and driver for an additional $1,200 or a Vis-a-Vis carriage (a covered carriage where the riders sit facing each other instead of straight ahead) for $2,000.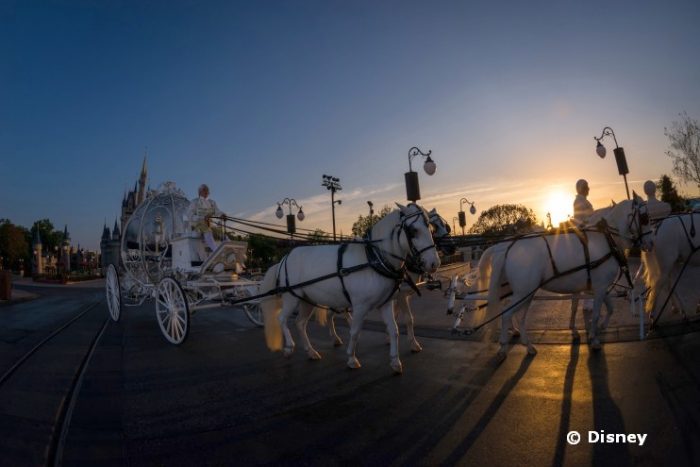 The ceremony can also have two fanfare trumpeters for $1,245 or four for $1,985. Entertainment options are limited to a DJ for the reception starting at $1,995 or just a simple music patch at $100. Couples can also hire Mickey and Minnie Mouse to appear at their wedding for a 30-minute set starting at $1,700. Music accompaniment runs from $835 for a bagpiper to $8,500 for a full live band. Themed entertainment options include Major Domo for $1,565 during the ceremony and an additional $100 for the reception. Mickey and Minnie can make a 30-minute appearance starting at $1,700.
The Wishes package comes with a $15,000 starting price also for a minimum of 18 guests. Three Disney venues are available for the ceremony including the Disneyland Hotel and the Grand Californian Hotel starting at $4,000 and the Sleeping Beauty Castle in the Disneyland park for $62,200 in the morning or $180,000 in the evening. Reception venues are located at the California Adventure park, including the classy, crystal covered Stage 17 reception space for $72,100 or the cartoon-themed Disney Animation room for $82,485. A lunch reception costs $150 per person or dinner for $175 per person. Theme
park receptions cost $200 per person for lunch and $300 per person for dinner.
The Aulani Resort in Hawaii
Just like the California park and hotel options, packages at the Aulani resort include an Escape and Wishes package.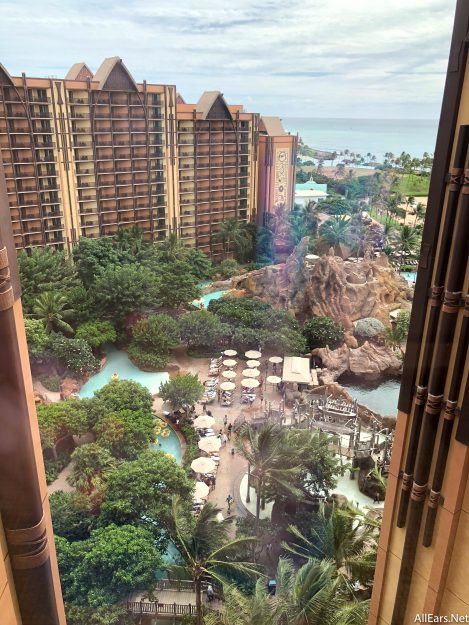 The Escape package starts at $4,700 for up to 18 guests including the couple with a $1,000 deposit. The package includes a one-hour ceremony, a photographer for couple and group photos, an officiant, a guitarist or ukulele player, bottled water for everyone and a signature wedding gift. A lei, bouquet or boutonniere is also included. A four-night minimum stay at the resort is also required for the couple and their guests that starts at $1,976 depending on the type of room and seasonal pricing. Venue options include Aloha Point, with a breathtaking view of the Pacific Ocean; the Kula Wai outdoor space for night weddings; and Sunset Alcove for beach weddings.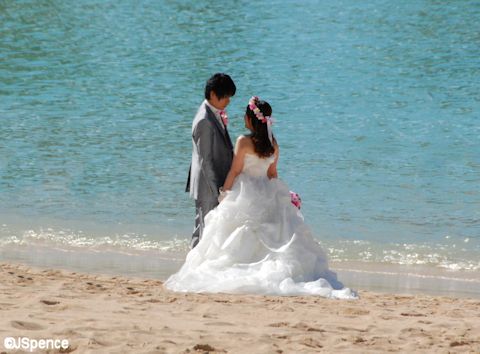 The Wishes package starts at $11,600 also for an 18-guest minimum. The ceremony includes two hours of time with a photographer, music from a ukulele player, a guitarist or a harpist, an audio technician, an officiant, a rehearsal ceremony and many other amenities. Three venues are available for the ceremony: the Halawai Lawn and 'AMA 'AMA Patio for $9,600
each, or the Lanikuhonua lawn with an ocean view for $18,600.
Seven venues are available for the reception:
the Kaiona Ballroom covered in the base price of the package
the Lanikuhonua for $9,000
the 'AMA'AMA Patio for $2,000
the Halawai Lawn for $2,500
the Rainbow Reef Patio for $2,000
Aulani Beach for $5,000
Wailana Pool for $3,000
The reception is $100 per person for a lunch gathering or $150 per person for dinner. Couples and guests are required to book a 10-night stay. All bookings come with a $2,000 deposit except for the Lanikuhonua lawn area, which comes with a $4,000 deposit.
Disney Cruise Lines
If you really want to get away from everything for your wedding, then the Disney Cruise Lines should be your choice. The price starts at $3,500 and does not include prices for boarding the vessel and rooms for you and your guests. Couples can have their ceremony on the ship's deck or on the cruise line's private island Castaway Cay for a starting price of $4,500.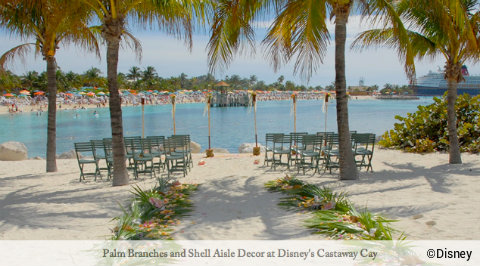 The base price for both comes with fresh floral arrangements for the couple, a pianist for the ceremony and the reception, a wedding cake, champagne and an officiant. The cruise package also offers features outside of the ceremony and reception in the standard price including a dinner for the couple on the ship's five-star Northern Italian restaurant Palo, a clothes steaming service and a $100 credit to the ship's stateroom.
So are you ready to run off and get married Disney-style now? Or have you already had a Disney Wedding? Let us know with a comment below!
Read more about Disney weddings, honeymoons and vow renewals here!
Be sure to follow @allearsnet on Instagram and Twitter!
Check out our YouTube Channel for reviews, news, information and more!
Click below to subscribe to the AllEars® newsletter so you don't miss any of the latest Disney news!