If you're planning your dream Disney World honeymoon, you might be overwhelmed by the sheer number of hotels on property. Don't worry — we're here to help!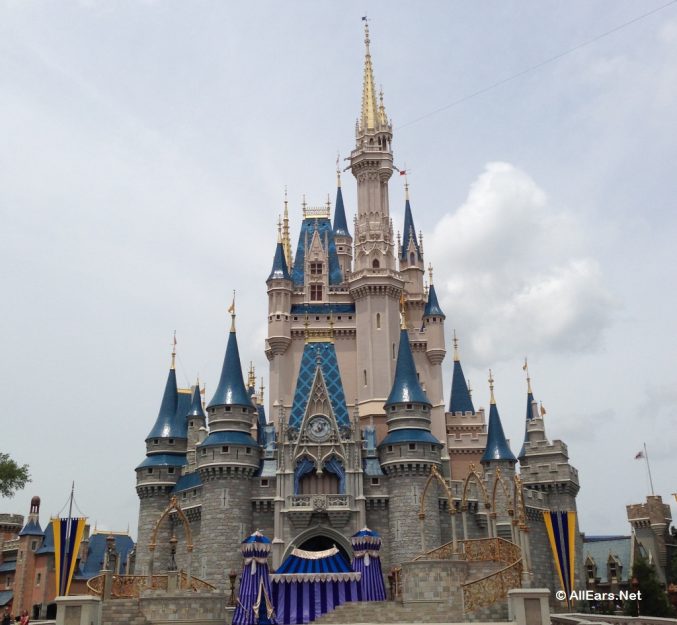 We've taken everything we know about each and every Disney World resort and compiled a list of the resorts we think are best for a Disney honeymoon!
Now, we realize these opinions are completely subjective, so we're simply going to mention which ones are our personal favorites and will tell you a bit of why we love them for a romantic getaway to Disney World.
Let's get started!
Polynesian Village Resort Provides a Tropical Atmosphere
Many newlyweds choose a tropical beach destination for their honeymoons, so why not have the best of both worlds at the Polynesian Village Resort?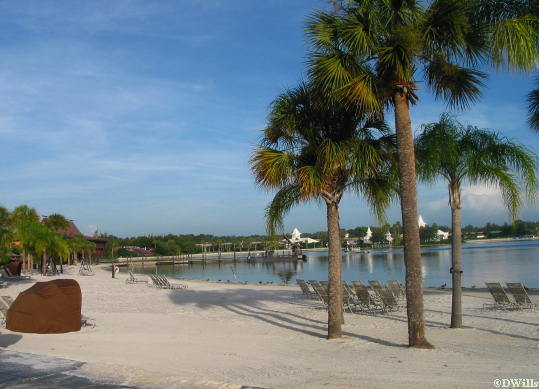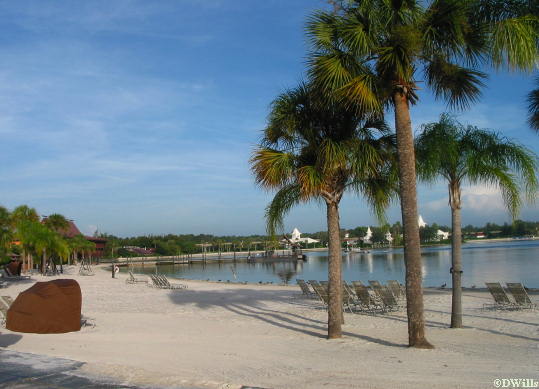 The Poly truly allows guests to feel like they're on vacation. Sure, the resort is right across from the hustle and bustle of the Magic Kingdom, but it offers a relaxing beach, awesome pools, and Trader Sam's Grog Grotto, of course!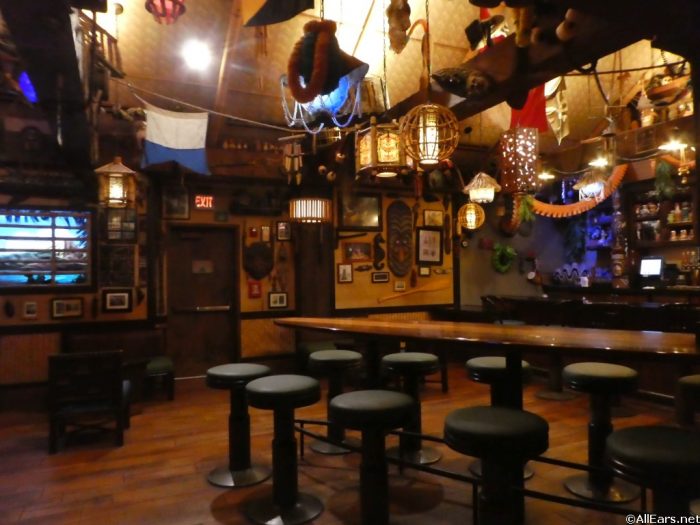 The downside of this resort is the lack of a signature dining location, but 'Ohana, Kona Cafe and Capt. Cook's are still pretty great. And, the wonderful restaurants at The Contemporary and The Grand Floridian are just a monorail ride away!
Animal Kingdom Lodge Offers Truly Great Food
It's no secret by now that Animal Kingdom Lodge is a visual masterpiece. Between the animals outside and the sweeping lobby, the resort is truly stunning. Equally stunning? The FOOD.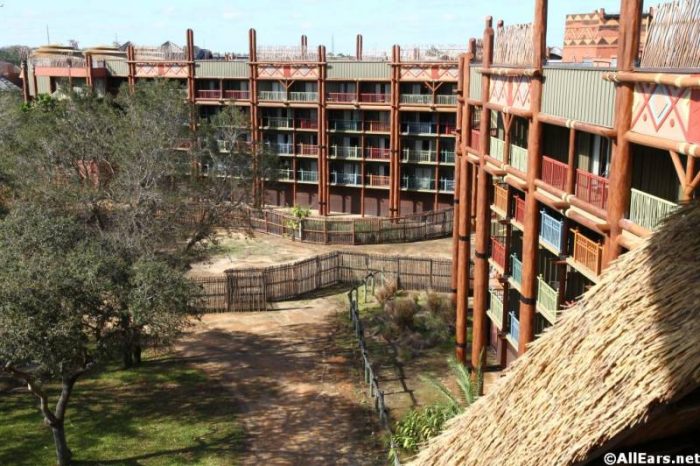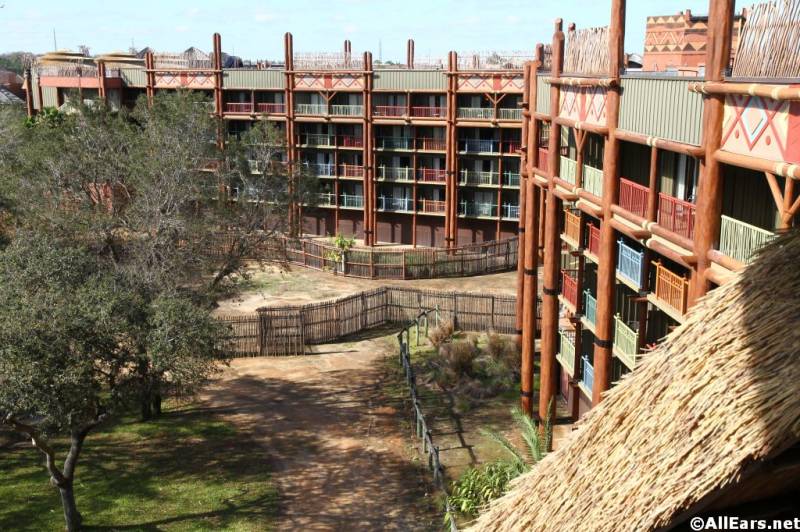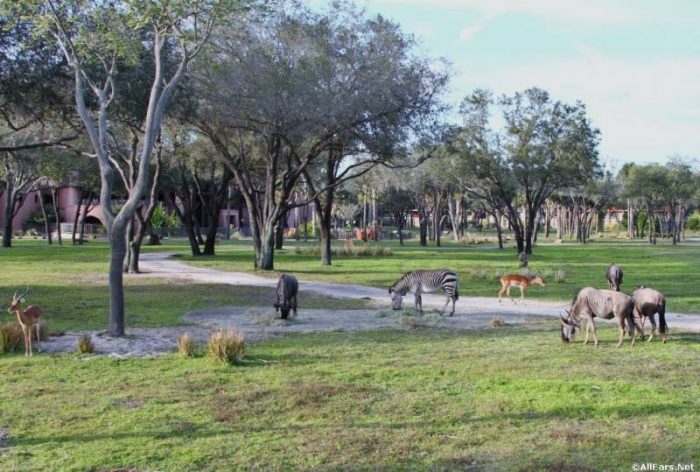 We enjoy a lot of restaurants around Disney World, but we especially love Sanaa and Jiko. Jiko offers a wide array of South African wines and excellent dishes. If you're in the mood to expand your palate, don't miss it!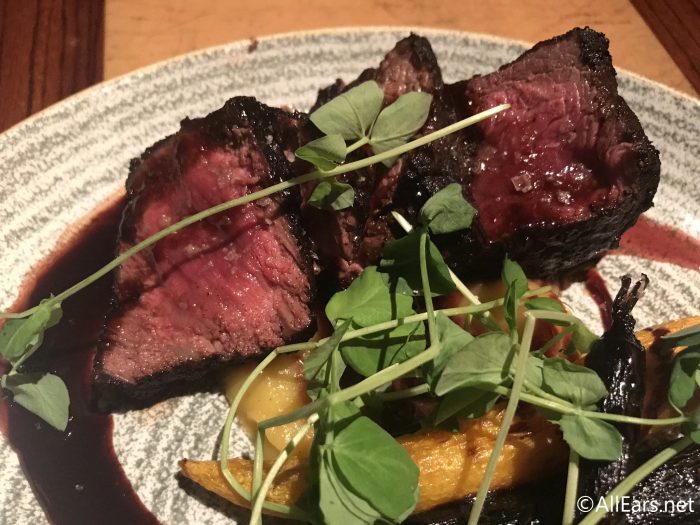 Potential downsides for Animal Kingdom Lodge are the smaller room size (for the Deluxe category) and the lack of great transportation options. If you can get past those two things, Animal Kingdom is a truly wonderful resort!
The BoardWalk Inn Has Excellent Nightlife
The BoardWalk Inn is a wonderful choice, as it's within walking distance of two theme parks and boasts fabulous nightlife. Jellyrolls, Ample Hills Creamery and Flying Fish are two fan-favorite locations in close proximity to the resort. The many restaurants at the Yacht Club and Beach Club Resorts are only a short walk away as well.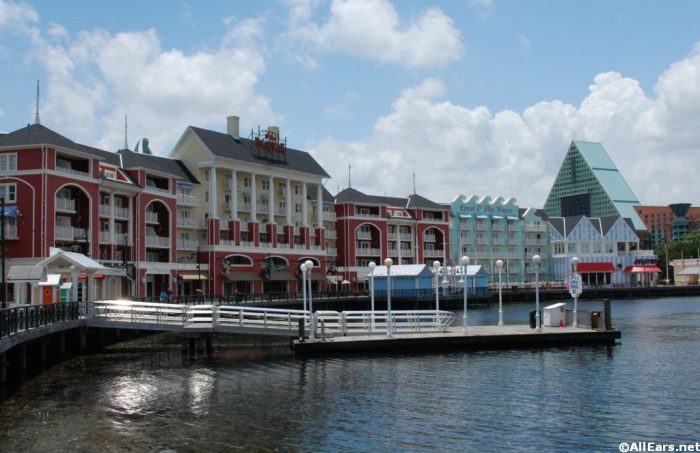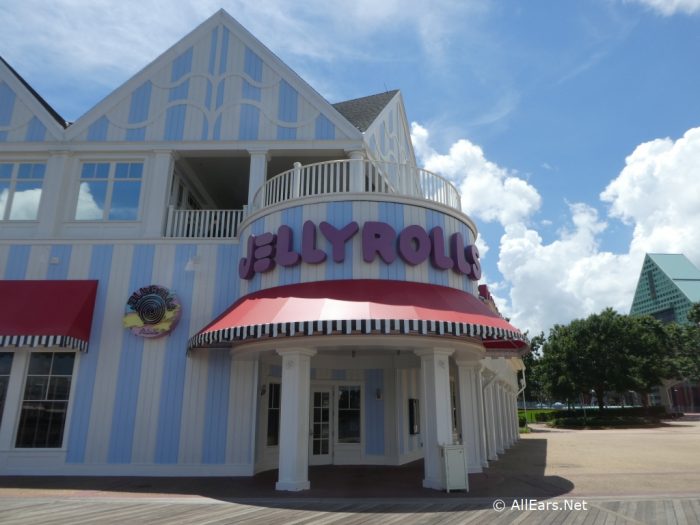 We'd particularly recommend a concierge-level Garden Suite at the BoardWalk. They are two stories and specifically designed for honeymooners. There are 14 Garden Suites and 11 of them have private entrance courtyards. Those that don't have a private entrance do have a private balcony. How's that for some privacy?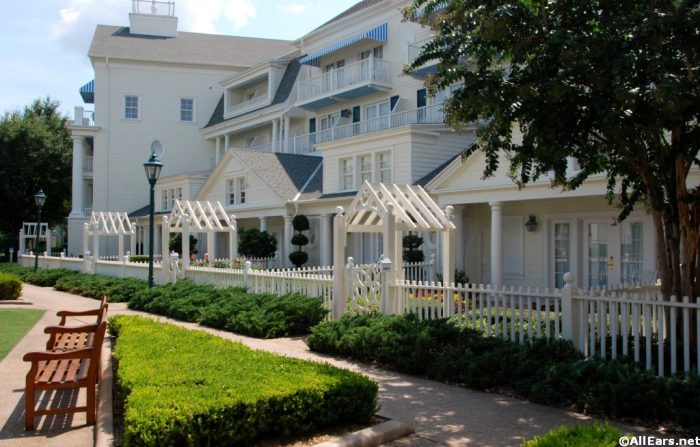 One important thing to note is that the Garden Suites are separate from the main building, so you'll need to walk outside to access the Concierge Lounge.
Contemporary Resort Offers Modern Theming
Just like the Polynesian, The Contemporary Resort is a Disney World classic. Its sleek and modern design may not be for everyone, but we really do love it. For couples who might want to get away from all the Disney theming when they return to their hotel, the Contemporary is a great option. Plus, did we mention you can WALK to the Magic Kingdom from this resort? That's a huge benefit all on its own.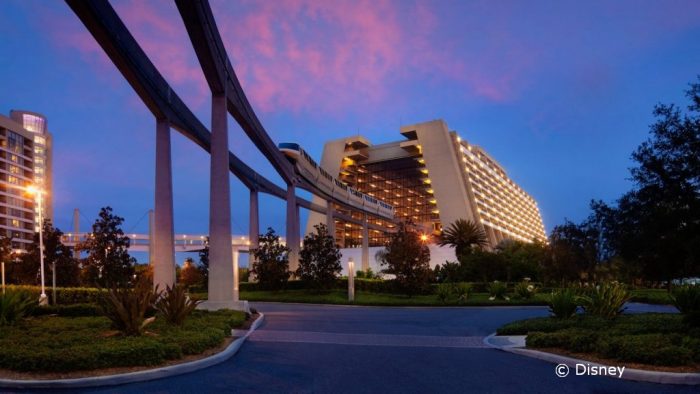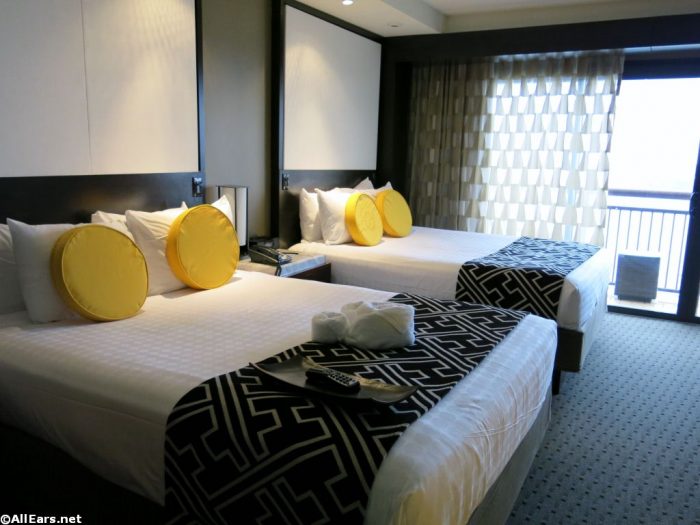 The food is also a wonderful aspect of the Contemporary. You can find great counter-service food at Contempo Cafe and a stellar dining experience at California Grill (complete with a fireworks view!). The Contemporary is also home to a popular character meal at Chef Mickey's, but we'd recommend some other character meals over this one.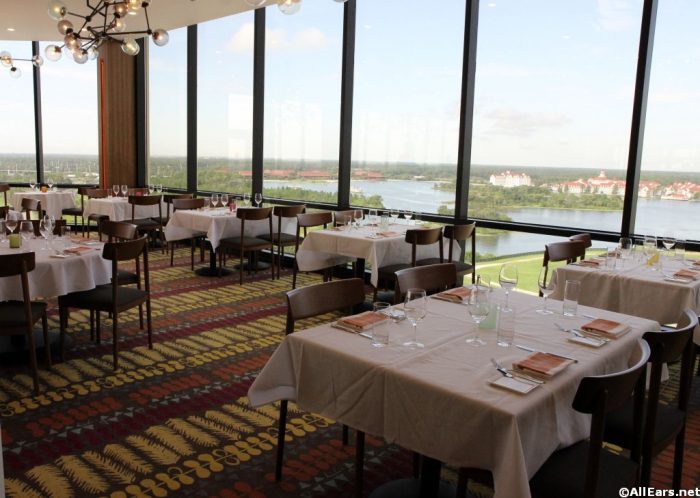 With its sleek look, proximity to the Magic Kingdom and great food, The Contemporary sure is hard to beat.
Port Orleans Resort – French Quarter Evokes Quiet Charm
Both sections of Port Orleans Resort – Riverside and French Quarter – are wonderful, but we specifically want to mention French Quarter. It's a bit less expensive than several others on this list, which makes it a great budget-friendly option. Another great thing about this resort is its size. Its small footprint makes getting around the resort extremely easy, and there's only one bus stop to worry about.
French Quarter has lots of little "streets" to walk down, and a walk along the peaceful Sassagoula River is about as romantic as it gets. You can even take a convenient ferry over to Disney Springs from this resort, if you're ready for some shopping or a little fun nightlife.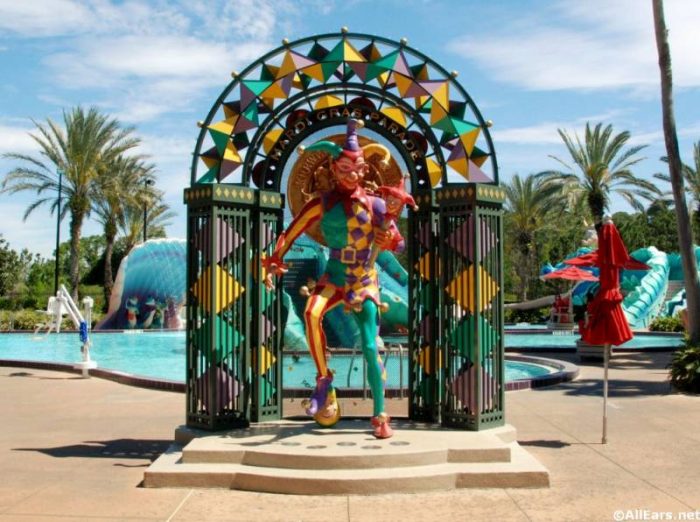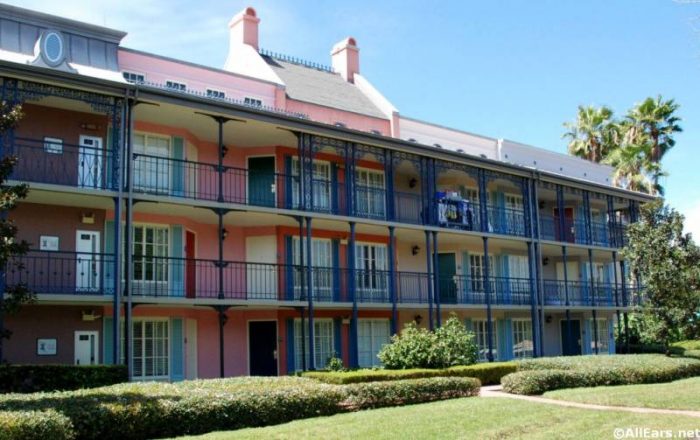 French Quarter is home to some fabulous beignets, and Sassagoula Floatworks & Food Factory is one of our favorite resort food courts.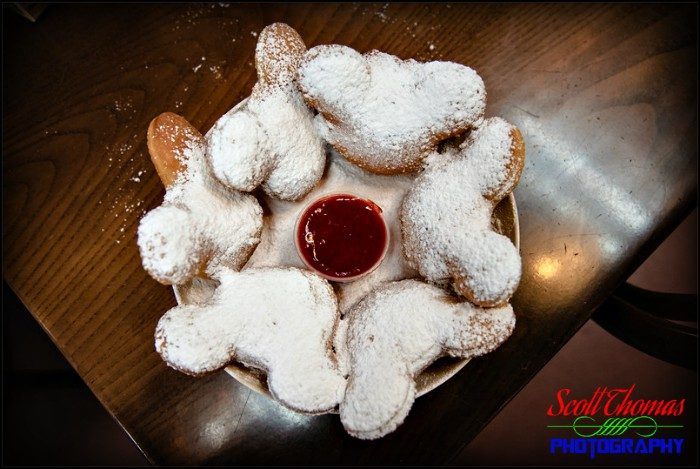 What are the downsides of Port Orleans – French Quarter? It does not have its own table service dining location and bus transportation isn't always the greatest. On the whole, though, French Quarter is a great resort for a mid-level budget.
Grand Floridian Resort Is for a Big Splurge
If you really want to splurge for your honeymoon, Grand Floridian Resort & Spa will certainly fit the bill! This resort is considered by some as the height of Disney World luxury. It boasts several wonderful restaurants like Citricos, Narcoossee's, and the award-winning Victoria & Albert's.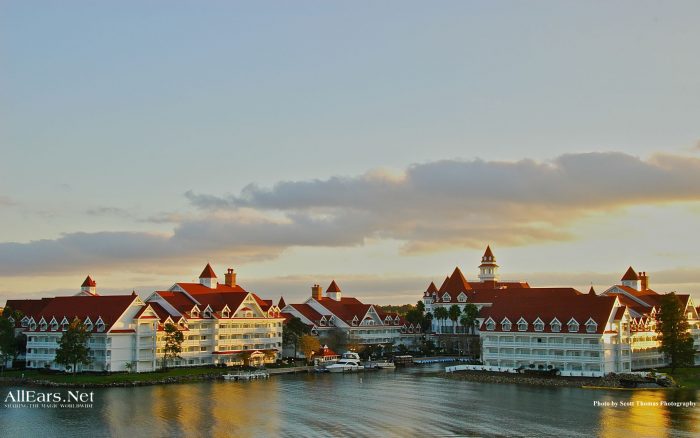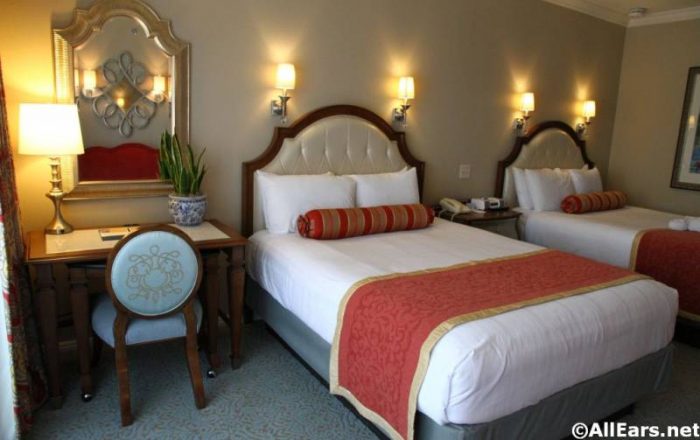 The Grand Floridian is a bucket-list destination for many Disney World fans, but it certainly comes with a high price tag! But hey, if there's any time you should splurge, it's your honeymoon.
Pop Century Resort Provides Over-the-Top Theming
If you enjoy animated, over-the-top theming, you might want to consider Pop Century Resort. This resort is riddled with fun Disney theming everywhere you look. This type of theming is certainly not for everyone, but it may be right for you!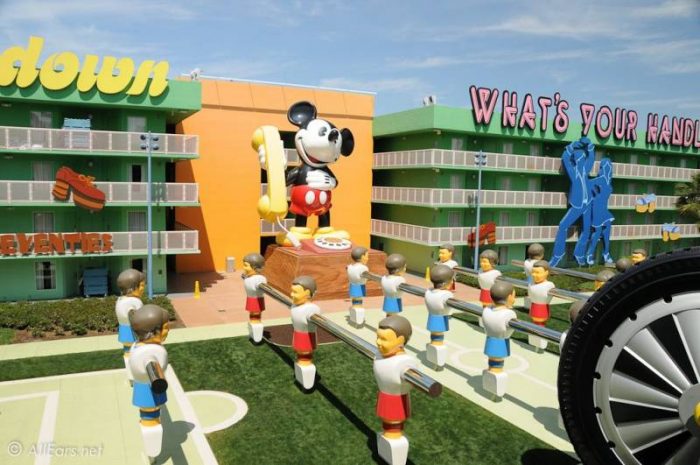 Pop Century is priced lower than all other resorts on this list, which makes it a great option for budget-minded honeymooners. You can still visit the theme parks, without necessarily breaking your newlywed budget!
Wilderness Lodge and Fort Wilderness Resort & Campground Provide Tranquility
It's hard to imagine finding a secluded spot in Disney World, but Wilderness Lodge and Fort Wilderness come pretty close. Both of these resorts are only a boat ride away from the Magic Kingdom, but feel far away from everything.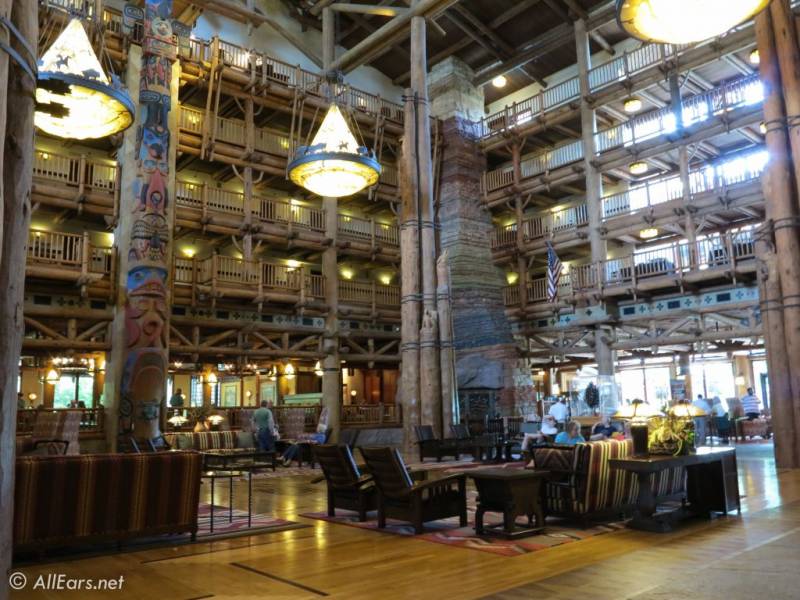 Wilderness Lodge is one of the least expensive Deluxe resorts. You'll be treated to a beautiful lobby and wonderful restaurants at this resort. The rooms are a bit smaller than some on this list, but the seclusion is most definitely worth it.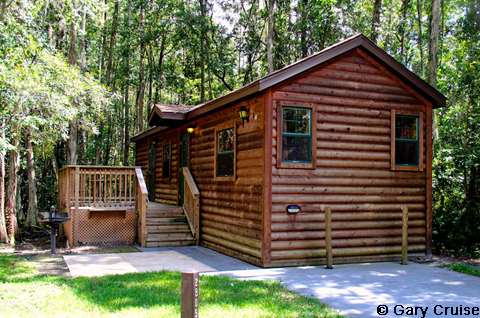 You have two options at Fort Wilderness. You can either rent a campsite or book a cabin. The campsites are a great option for outdoorsy folks, while the cabins are roomy and very well-appointed. We'd personally opt for one of the cabins — you can have all the fun of camping, without having to worry about pitching a tent or hooking up an RV. Be sure to check out Hoop-Dee-Doo Musical Revue while you're there!
So there you have it – our favorite resorts for a Disney World honeymoon! Did we leave anything out? If so, be sure to let us know in the comments!
Be sure to follow @allearsnet on Instagram and Twitter!
Check out our YouTube Channel for reviews, news, information and more!
Subscribe to the AllEars® newsletter so you don't miss any of the latest Disney news!