You've been asked the question before: Who would you love to have dinner with, any person, living or dead? The possibilities are endless! It makes you think, doesn't it?
Well, we decided to put a Disney spin on that idea and have a little fun with it. Which Disney characters would we like to have at OUR AllEars.Net Dinner Party? And why?
For the purposes of this little fantasy, I'm talking strictly Disney — no Marvel or Star Wars characters, because otherwise my tablemates would be Han Solo, Lando Calrissian (Donald Glover edition), Thor, Iron Man, Star-Lord, Kylo Ren (without the mask), Ant-Man and Black Panther. I mean… come ON.
Ahem. Anyway, who do you think we would invite to, as Lumiere might say, Be Our Guest? Play along with us!
Well, the obvious choice is the Main Mouse, right? We have to have Mickey seated at the head of the table! I'm not sure whether Mickey actually cooks, but I'm sure Minnie wouldn't let him show up empty-handed. He'll preside over the evening's festivities, telling jokes and impressing everyone with his charming personality.
But who else? Let's make it a pot luck dinner so that everyone would have to bring a covered dish. Less work for me!
After Mickey, my Number 1 invitation would go to Mary Poppins — and no offense to Emily Blunt, but it has to be the Julie Andrews version of Mary.
Besides the fact that I've loved her since I was a little girl, I'm just dying to ask her how on Earth she fit all that stuff in her bag! I try and can't even come close, although my husband would probably argue that point.
Mary would start us off with an aperitif of Rrrrrrrum Punch! Or something similar from her special bottle!
I would also love to invite Basil of Baker of Street, from the Great Mouse Detective. Everyone loves a good Sherlock Holmes story, so he'd be sure to entertain everyone with his tales of intrigue, chasing the nefarious Ratigan. I'm not sure what sort of dish he would bring to the table, but I'm sure he'd concoct something… interesting!
Maybe I'm showing a bit of bias, but I would ask one more elegant Brit to dinner — Eglantine Price from Bedknobs and Broomsticks! I've always wanted to talk to her about the Isle of Naboombu, and let's face it, everyone could use a good witch as a friend. As for dinner, Eglantine could bring anything she wanted… as long as she got the spell right.
One guy I'd be sure to send an invitation would be Kronk from Emperor's New Groove, but he'd have to promise to bring his spinach puffs along with him!
In addition to getting the recipe, I want to ask him how a nice guy like him ended up with a rotten boss like Yzma. I'd also like to find out where he learned to speak squirrel — where I live, that seems like it could come in handy.
Because I enjoy fine dining, I'd want to be sure to include a few good cooks and ask them to bring some of their best dishes. For starters, I'd invite Tiana from The Princess and the Frog. We all know what a marvel she is in the kitchen.
If we were lucky, she'd bring some of her lighter-than-air beignets, but I'd settle for some authentic N'awlins gumbo!
I wouldn't just want her there for her baking abilities, though — I'd really like to know about that whole "being turned into a frog" thing. It looks like it was quite the experience!
Then of course we'd have to invite the Little Chef, Remy from Ratatouille. I hope none of the other guests is rodent-phobic, which could prove a little awkward!
I'd ask this amazing little culinary artiste for some of his best secrets — I like to dabble in the kitchen myself, even though I have never actually attempted to make ratatouille. I'm sure he could teach me a thing or two!
Dessert, dessert… who could we ask to dinner that we want to meet AND that we could rely on for a really great dessert?
Maybe a couple of the other princesses? They seem to have a thing for sweet treats.
Finally, I'd have to include Mrs. Potts from Beauty and Beast. Besides knowing how to orchestrate the whole evening, I just know that Mrs. Potts would be gracious enough to help serve coffee and dessert after the main meal. And then she'd serenade us with a sweet song, or two.
Then, just because this is my dream Disney dinner, at the other end of the table, opposite Mickey, would be the Guest of Honor, Walt Disney. I know, I know… he's not strictly a Disney "character," but let's face it — it may have started with a Mouse, but it was all built on Walt's imagination.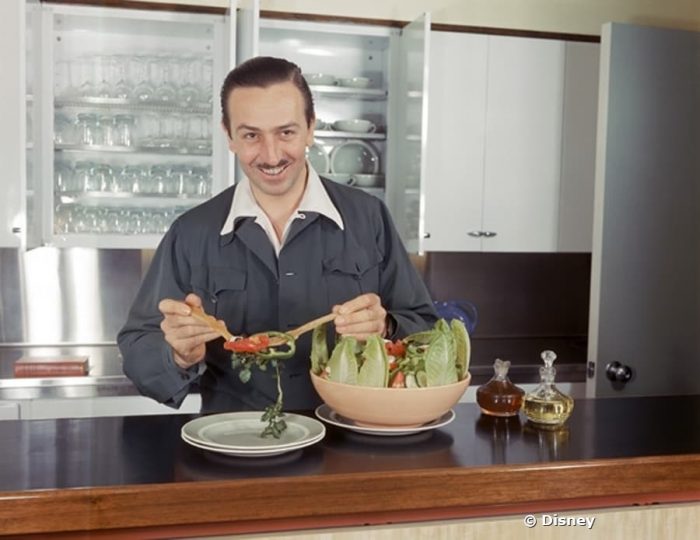 I wouldn't require him to bring a pot luck dish, not at all. But I would ASK him to dish — I have a MILLION questions for him, from where all of his ideas came from to what he thinks about the state of The Walt Disney Company today.
Looking back on this list, I guess I would need a lot longer than just one dinner to meet and converse with everyone! Not to mention a MUCH bigger table!
What about you? Who would you invite to your dream Disney dinner, and why? Drop us a note in the comments!
Be sure to follow @allearsnet on Instagram and Twitter!
Check out our YouTube Channel for reviews, news, information and more!
Click below to subscribe to the AllEars® newsletter so you don't miss any of the latest Disney news!